Nestled in along the southern coastline of Asia, Bangkok is a vibrant metropolitan city where modern hotspots like rooftop bars, theme parks, and world-class restaurants collide with centuries old temples and a culture that dates back thousands of years. For those who are planning to be in the country for business or pleasure, there are plenty of places to visit in Bangkok that are sure to spark creativity and a sense of adventure. Here are some of the most popular destinations to keep on your radar.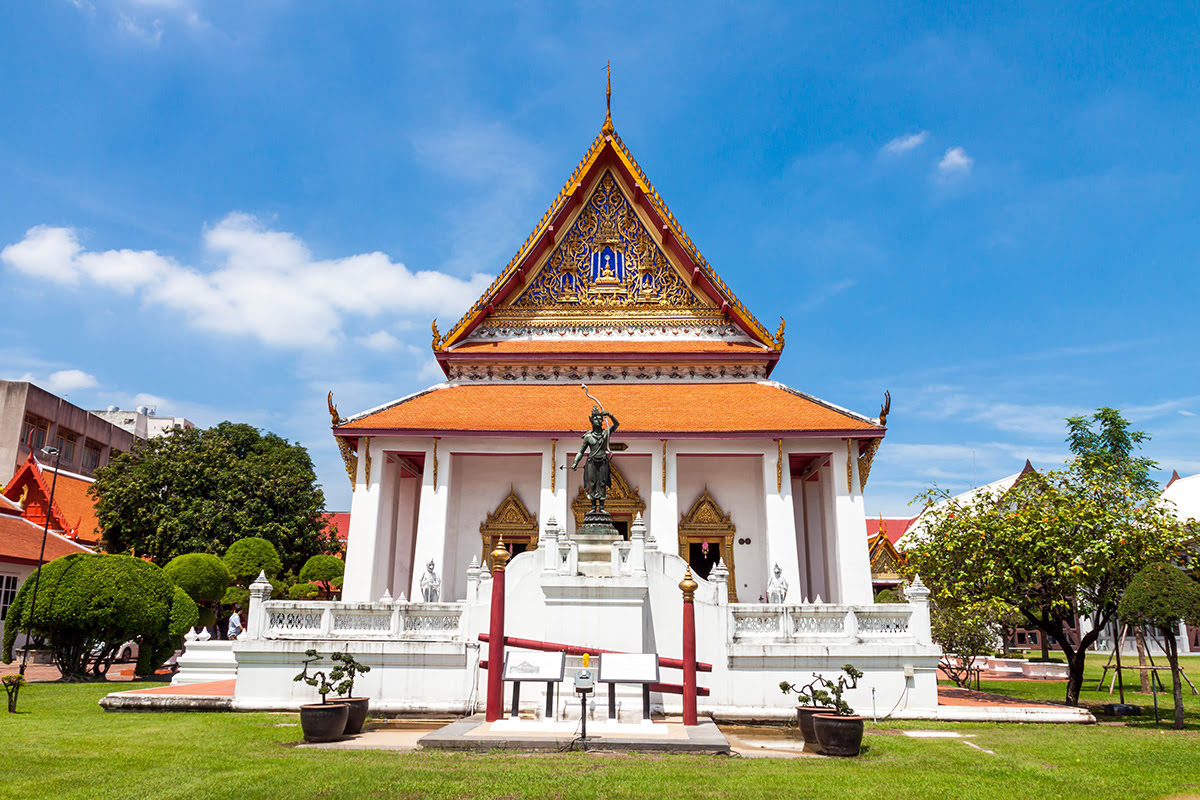 Bangkok National Museum
Located just down the street from The Grand Palace, the Bangkok National Museum brilliantly displays some of Bangkok's most treasured art collections and artifacts. This museum was established starting with the personal collection of King Rama V and has expanded over the years to include even more thought-evoking pieces.
Both the interior and exterior of this fascinating museum are decked out in ornate designs that stay true to the Thai culture. Within the 12 halls of Bangkok National Museum visitors can check out antique furnishings, decorative Buddhas and sculptures, ceremony objects, documents, photos, art pieces, clothing, jewelry, and a life-size elephant replica. The museum is open to the public every Wednesday-Sunday from 9am to 4pm.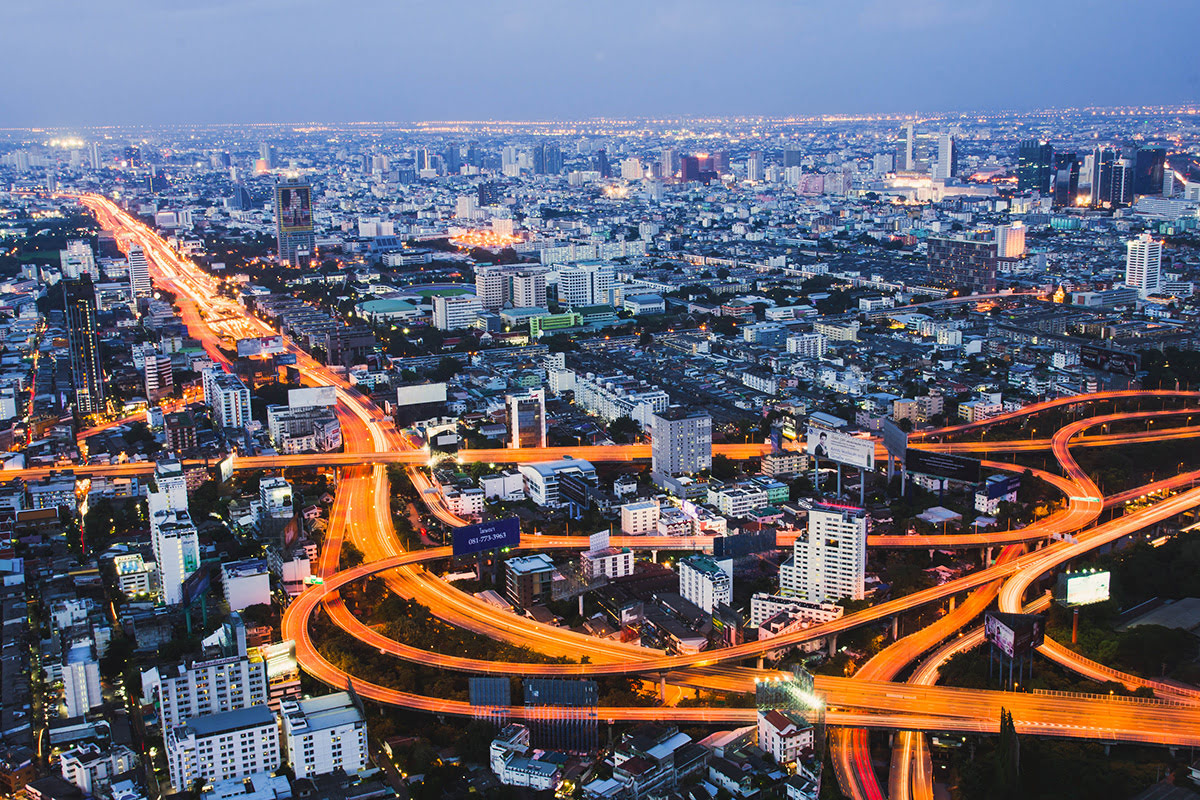 Baiyoke Tower II
Boasting 88 stories of hotel rooms that provide fabulous views of the city below, Baiyoke Tower II is considered to be one of the icons of the city. Baiyoke Tower II is a luxury hotel building that is designed for the ultimate in rest and relaxation. It was constructed in 1997 and was named the tallest hotel in Southeast Asia. The building is now the forth tallest building in Thailand.
For visitors who are brave enough to go all the way to the top of the building, there is an observation room where you can get a 360 degree birds-eye-view of downtown Bangkok below. The first six floors of the tower are devoted to retail space so visitors can shop until they drop and score some excellent deals while they are at it. Travel up to floors 76 & 78 to enjoy a delicious seafood meal at Bangkok Sky Restaurant or to floor 82 where Crystal Grill is proudly serving up grilled meats and an assorted international menu.
Baiyoke Tower II is also within easy walking distance of Pratunum Market, one of the most popular shopping attraction which features many vendor stalls selling bulk clothing and other merchandise at wholesale prices. The more merchandise purchased, the cheaper the prices will be.
Bangkok Art and Cultural Centre
Need a quiet respite from all of the busy shopping centers around the city? Stop by Bangkok Art and Cultural Centre and experience contemporary art that showcases the true culture of modern-day Bangkok. The facility is just as interesting as the art pieces within. It features a bright white interior, black spiral staircases that seem to cascade into the heavens, and plenty of brilliant lighting to make every piece on display pop. Bangkok Art and Cultural Centre is open to the public on Tuesday-Sunday from 10am to 9pm and admission is free!
Inside Bangkok Art and Cultural Centre, visitors can explore art in many different mediums from local artists as well as temporary exhibits featuring artists from all over the world. There is also a library and bookstores where visitors can enrich their experience further. Stay for a while and eat a quiet meal while sipping on some hot coffee or tea at the cafe. Seating areas are located throughout the center so guests can rest and reflect on the beautiful art pieces they discovered.
MBK Center
Presenting over 2000 stores in an eight-story shopping complex, MBK Center is the place to go for a remarkable dose of good old-fashioned retail therapy! The exterior of this mall boasts a welcoming and playful feel that entices shoppers from near and far to go in and stay a while. MBK Center is one of the most coveted shopping experiences in Bangkok and it appeals to both tourists and locals alike. This mall is open from 10am to 10pm daily.
The interior of this mall is designed with an open-space concept, which makes it feel huge and airy. Guests can wander through each floor and find an abundance of bargain prices on merchandise like clothes, jewelry, electronics, media, books, furnishings, accessories, food, home decor, and so much more. Looking for something handcrafted to commemorate your trip to Bangkok? Head over to the 6th floor of the mall where there is a craft market featuring local vendors selling their handmade goods. The main floor of the mall is home to an authentic Thai grocery store and the 5th and 6th floors both offer large food courts that doll out local and international cuisine.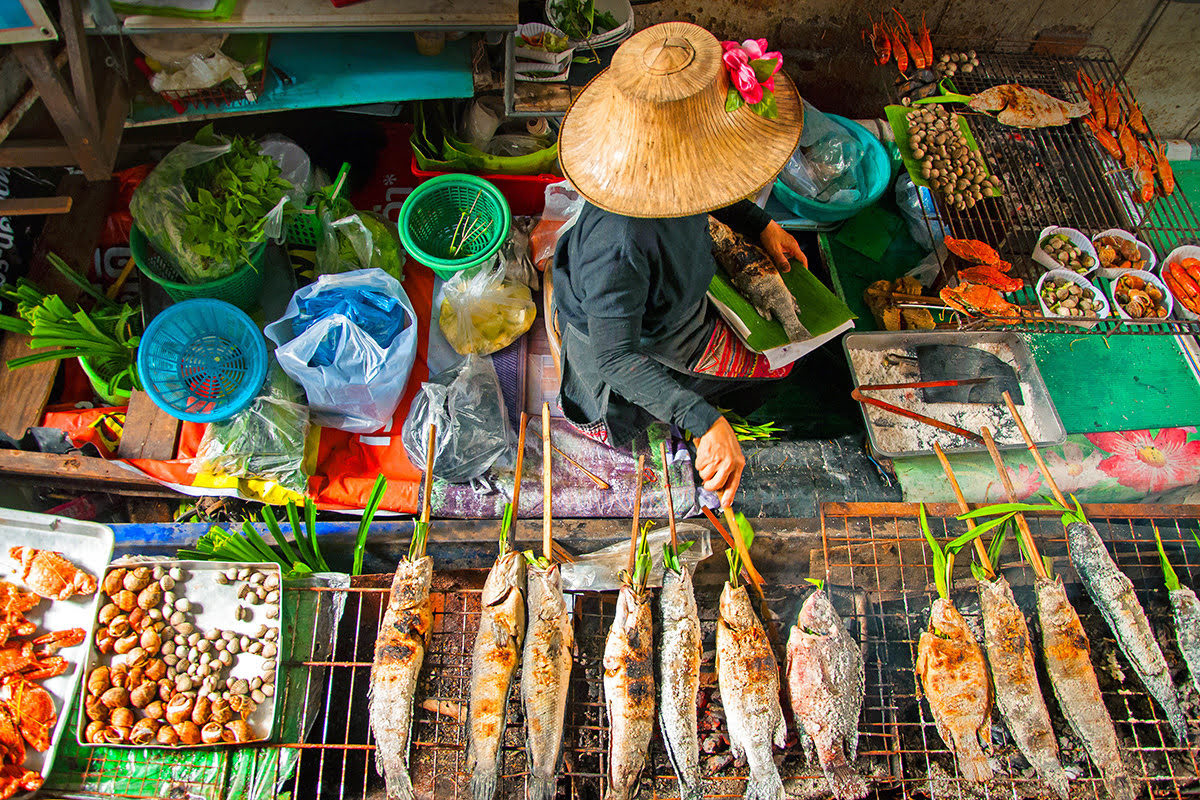 Taling Chan Floating Market
Ready to experience the culture of Thailand in a new and unique way? For visitors who are lucky enough to be in Bangkok on the weekend, be sure to check out Taling Chan Floating Market. It is a market where visitors can either sit at the dock edge waiting for the entertainment to come to them or hop in a boat and chase down the goods and food they wish to purchase. Taling Chan Floating Market is considered to be the most authentic floating market and features a variety of fun foods to eat and gifts to try. Authentic Thai food is prepared right on the boats so it is always fresh and piping hot. The market is open from 8am to 5pm on Saturdays and Sundays. Be sure to get there early to avoid the crowds and get the best choices of items to buy.
FIND & BOOK A HOTEL IN BANGKOK TODAY
The National Gallery
A stunning collection of art, furnishings, documents, and other historical artifacts that date back as far as the 17th century, The National Gallery is a must-see attraction for history buffs from near and far. This museum is housed in the former National Mint building and encompasses two stories. It is home to thousands of interesting objects that tell a story about the Royal Family of Thailand, the military of the region, creative minds, and even the commoners who have made their mark in the history of Thailand.
The National Gallery is open on Wednesday-Sunday from 9am to 4pm and admission is 200 baht for non-citizens and 30 baht for citizens. The exterior of the gallery is designed in colonial-style architecture that is warm and inviting. The inside of the building is adorned in rich dark colors that make the art and artifacts stand out. Visit the gallery between February-June when local artists set up a marketplace in the courtyard.
SEA LIFE Bangkok Ocean World
Also known as Siam Ocean World, SEA LIFE Bangkok Ocean World is a fascinating underwater adventure where visitors can get an up-close and personal look at some of the most extraordinary creatures of the sea. It is located within walking distance of Siam BTS Station and is open daily from 10am-9pm. Non-resident admission price for adults is 1090 baht and 890 baht for children. Book an early-bird weekday ticket for 25% off. Purchase tickets ahead of time or book a combo package to get an even better discount.
Inside of SEA LIFE Bangkok, visitors can watch sharks swim around and hunt for prey in the Shark Walk exhibit, check out seahorses at Seahorse Kingdom, learn about creatures of the jungle at the Tropical Rainforest, and discover ocean oddities like giant octopus at the Rocky Hideout.
New in 2019 is the Penguin Ice Adventure! Visitors can observe as these adorable land and sea birds frolic and play like they do in the wild. This fun and realistic exhibit comes complete with cold arctic breezes and snow. Visitors are also invited to explore the depths of the ocean at the Ocean Tunnel exhibit. There are benches located throughout the walkway for guests to sit down and watch fish, rays, and sharks swim all around them.
Before leaving SEA LIFE Bangkok, be sure to head over to the gift shop where there are plenty of ocean theme toys, gifts, books, stuffed animals, and DVDs for sale. Located within the facility are three food stops where visitors can eat a meal or grab a snack. Ocean's Cafe dolls out popcorn, drinks, ice cream and snacks. Nescafe is the perfect spot to grab baked goods and piping hot cups of coffee or tea. Popcorn Station is located within the main aquarium and offers sausages, beverages, and…you guessed it, popcorn!
ICONSIAM
Located along the riverfront, ICONSIAM is a large-scale shopping center and multi-use complex that opened to the public in 2018. Along with having one of the top shopping malls in the city, ICONSIAM is also home to two luxury condominiums, The Residences at Mandarin Oriental and Magnolias Waterfront Residences, and an auditorium that seats up to 3000 guests. It is a forward-thinking multiplex that supports fun, business, and leisure in downtown Bangkok on the banks of Chao Phraya river.
ICONSIAM is considered to be a mega-mall with more than 500 stores to choose from. Visitors can wander through designer label stores like Gucci, Hermes, Dior, Louis Vuitton, and more mainstream stores such as H&M and Apple. ICONSIAM encompasses six-stories and 525,000 square meters of retail space and entertainment outlets that are worth checking out. Along with all of the shopping opportunities, ICONSIAM is home to over 100 restaurants featuring authentic cuisine from all over the world and several well-known quick-serve favorites. Interested in something even more unique, be sure to stop by the indoor floating market on the first floor where local vendors sell fresh produce, hand-crafted goods, and indulgent Thai food. ICONSIAM is open from 10am to 10pm daily.
Lhong 1919
Converted from a historic mansion to a new-age shopping center and entertainment venue, Lhong 1919 offers an interesting way to have fun in the city. Along the riverfront side of the building, there is a coffee shop where visitors can get a hot cup of coffee or tea and a snack that can be enjoyed on the outdoor patio. It is the perfect place to enjoy a nice and sunny day in downtown Bangkok. The first floor of the mall is loaded with stores selling clothes, electronics, and other household goods.
For those who are looking for an authentic cultural experience, be sure to look for the Mazu Shrine at the center of this eclectic mall. It is a fascinating piece of religious art that welcomes all visitors. Within the area of the shrine, visitors can tap into their creative side when visiting the dozen arts and crafts stores in the vicinity. This mall provides visitors with a unique perspective of the city. It is open from 8am to 8pm daily. Check ahead of going to this mall to see if there is a live event going on when you are in town.
Baan Silapin (Bangkok Artist's House)
Housed in a 200+ year old building along the edge of the river, Baan Silapin (Bangkok Artist's House) appeals to the inner artist in everyone. It is home to thousands of contemporary, abstract, still life, and traditional works that were created by local artists. Guests to this gallery can wander around looking at the art and watching the artists work hard on their latest masterpiece as well as purchase the perfect piece. Baan Silapin (Bangkok Artist's House) provides the ideal place to connect artists with art enthusiasts. Thailand is known for its puppeteering, and depending on when you plan your trip to the riverfront, you just may get lucky enough to be able to take in a show.
Hungry guests can find a bite to eat at one of the many locally owned restaurants and cafes located along the waterfront. This is the perfect place to get some authentic cuisine without spending a lot of money. Take some time to mingle with the shop owners and locals to learn more about the culture of the area. Along with art, guests will also find an assortment of gift shops in the area that sell everything from postcards to keychains! Baan Silapin is open from 10am to 6pm daily.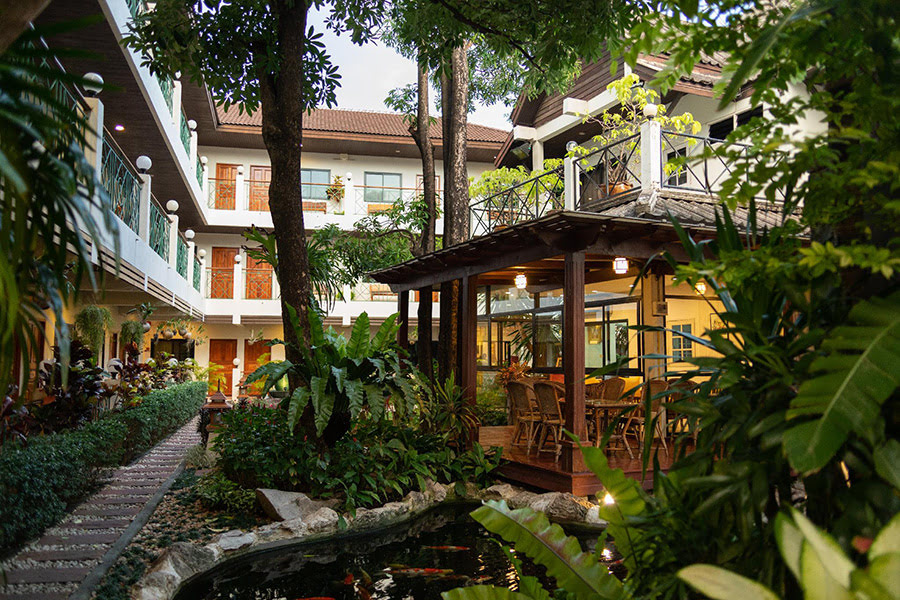 FIND & BOOK A HOTEL IN BANGKOK TODAY