Phuket is a diverse tourist destination with a wide array of things to see and do. To help you decide where your travels should take you, here is a look at all of the very best things to do in Phuket. Some travelers come for the beach scene and exciting nightlife in Patong while others want to explore the stunning natural landscapes at places like Phang Nga Bay. There are also several interesting cultural landmarks like the Big Buddha Phuket that can enrich your visit to this beautiful island. With so many attractions to choose from, you can truly plan an itinerary that's right for you.

1. Explore Phuket's top beaches
One of the main reasons that people visit Phuket is to experience the tropical beaches. You'll find some of the most picturesque beaches in the world along the coast, complete with soft white sand and clear, warm water. It's easy to spend days swimming and lounging in the sun with a cold drink in-hand if you're mainly looking to relax. If, on the other hand, you're craving some adventure, then Phuket's beaches also offer many water sports that will keep you occupied. Take your pick from activities like surfing, snorkeling, sea kayaking, scuba diving, wakeboarding, kite surfing, jet skiing, parasailing, windsurfing, and more! Every beach in Phuket has its unique charms, and each one is worth a visit for one reason or another. Since it's impossible to see them all in a single trip, let's take a look at a few of the most popular beaches on the island.
Patong Beach
Patong Beach is the most famous beach in Phuket. It is located in the beach resort town of Patong, which is known for its party atmosphere. The beach itself is a 1.77-mile stretch of sand and turquoise water with perhaps the best selection of beach activities on the island. There are plenty of vendors and restaurants nearby, as well as sun loungers and umbrellas available for rent. It is a lively beach that is almost always full of tourists, but you can find quieter areas the further north or south you go. Beachside resorts abound, allowing you to step right out onto the sand from your room. Patong Beach is definitely worth experiencing at least once.
Freedom Beach
Freedom Beach is one of Phuket's top hidden treasures and considered by many to be the most beautiful beach to visit. Only about 900-feet long, this strip of sand leads out to the bluest water and is backed by verdant jungle. It is a fantastic place for swimming, sunbathing, and snorkeling, as there are no motorized water sports. The best and most common way to get to this hidden cove is via longtail boat from the south end of Patong Beach, a journey of about 10 minutes. A roundtrip to Freedom Beach usually costs about 1,200 to 1,500 baht per person.
Kata Beach
A mile-long expanse of idyllic sand and sea, Kata Beach is a lively and family-friendly resort where you can enjoy your dream vacation. The south end of the beach offers great spots to sit back and enjoy a relaxing massage, while the north end provides a host of exciting activities like scuba diving and sea kayaking. There are a variety of restaurants serving a wide range of international cuisine nearby as well. Though geared more towards families, the town also has an excellent nightlife.
Kata Noi Beach
Kata Noi Beach is a smaller but perhaps even more gorgeous beach located just south of Kata Beach. The calm and inviting waters offer a perfect place to swim, particularly during the high season, and both ends of the beach are ideal for snorkeling. During the low season, the beach is very popular among surfers. Some of the most luxurious beach resorts and high-end restaurants can be found on Kata Noi Beach, and the sunset bars are second-to-none.
Karon Beach
Karon Beach is located to the south of Patong Beach and the north of Kata Beach, and it offers the perfect balance between the two. Generally quieter than its northern neighbor, the long and wide beach never feels too crowded, making it a great choice for couples and families. Still, the central part of the beach is very lively and known for its shopping, dining, and nightlife. The southern end of Karon Beach also has some good snorkeling spots, and you can easily rent snorkeling equipment from the vendors.
FIND & BOOK A HOTEL IN PHUKET TODAY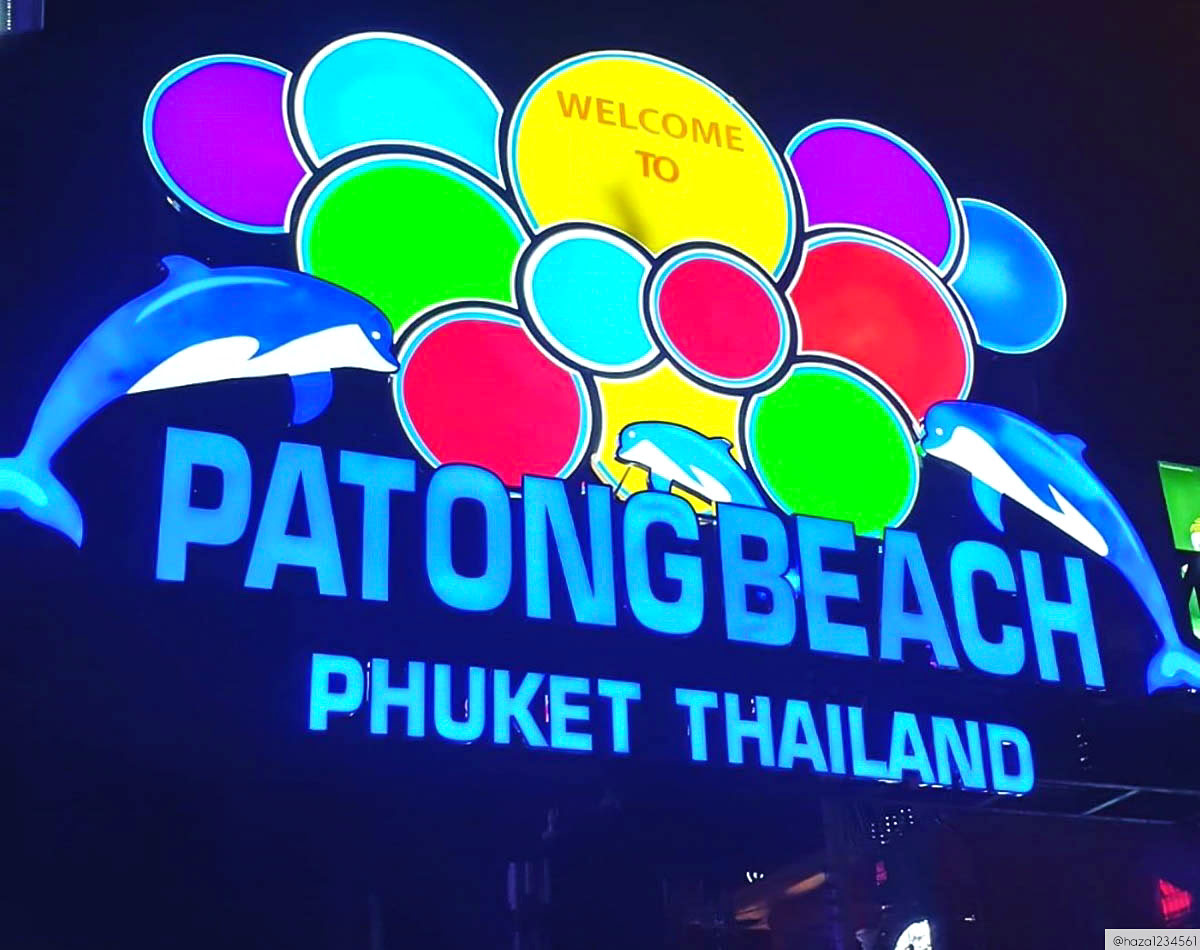 2. Experience the nightlife on Bangla Road
Bangla Road in Patong is a 400-yard street that starts at Patong Beach and serves as the main nightlife hub in all of Phuket. At sunset, the road closes to vehicle traffic, and the crowds filter in from the beach for a night of revelry. Most of the street is lined with beer bars, but the bars are regularly interspersed with multi-level dance clubs and discos. Live music venues are also common and popular in Patong, and the performers are incredibly talented. There are numerous smaller streets branching off Bangla Road, each with a unique mix of establishments. First-time visitors may find Bangla Road a little overwhelming, but you can have a fun night if you focus on finding an activity you will enjoy. Maybe that means dancing the night away in one of the many clubs or people-watching from a laid-back bar. There's something for everyone on this legendary road, which is why it continues to be Phuket's most famous nightlife spot.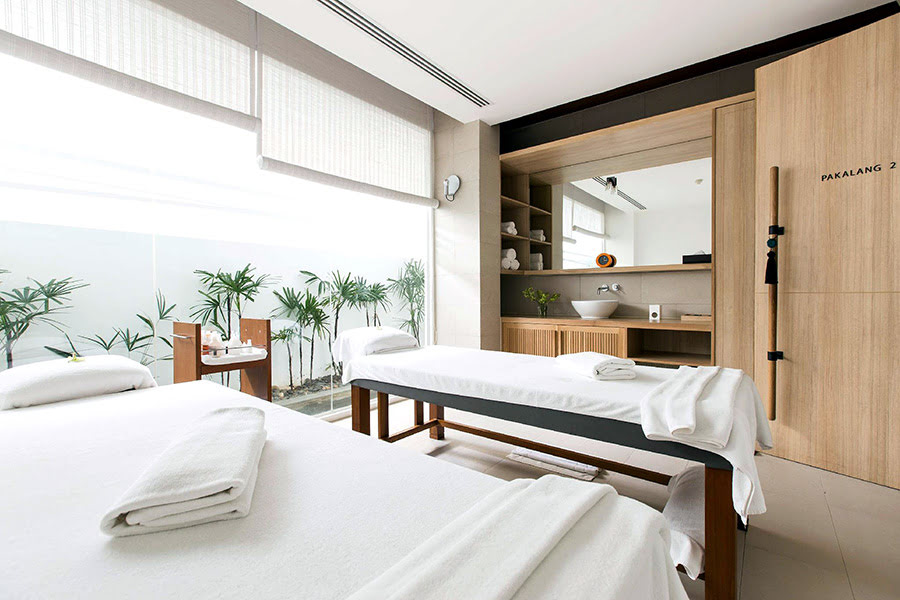 FIND & BOOK A HOTEL IN PHUKET TODAY
3. Take a day trip to a beautiful locale
Phuket offers several fantastic opportunities for day trips away from its main cities. A day trip is a good opportunity to enjoy some time in nature and away from the crowded streets and beaches of the main tourist areas. If you have some time to go exploring during your vacation, then you should book a trip to one (or more!) of the following locales.
Phang Nga Bay
Phang Nga Bay, most of which is protected as Ao Phang Nga National Park, is one of the most magical places in Thailand and a wonderful day trip from Phuket. You can book a tour, or you can hire a car or a taxi and explore the bay yourself. The distinctive feature of Phang Nga Bay is the craggy limestone islets that rise out of the deep blue water. There are more than 40 islets scattered throughout the bay, with the most famous being James Bond Island, so-called because of its appearance in the 1974 Bond flick "The Man with the Golden Gun." Another popular place to visit is the floating village of Koh Panyi, which is a great place to stop for lunch and souvenirs.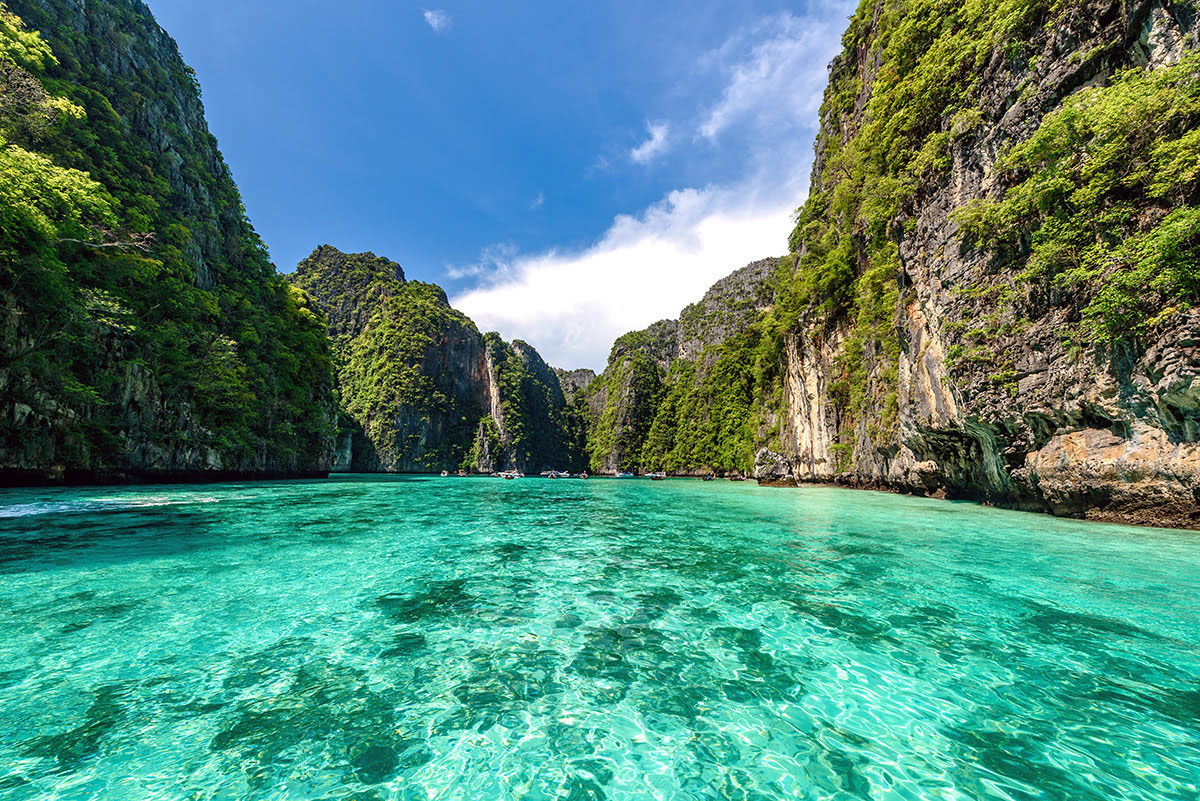 Phi Phi Islands
It is not an exaggeration to say that the Phi Phi Islands are one of the most unforgettable destinations in the whole world. The islands experienced an explosion of tourism after they were made famous in the 2000 film "The Beach" starring Leonardo Decaprio. They are a group of six islands located between Phuket and the coast of Thailand, the largest of which, Phi Phi Don, serves as the center of tourism and nightlife. Phi Phi Leh, though uninhabited, is the site of the famous Maya Bay, where the movie was filmed. The impressive rock formations, unbelievable turquoise water, and colorful marine life make the Phi Phi Islands a veritable paradise. They can be reached via a two-hour ferry ride from Phuket City.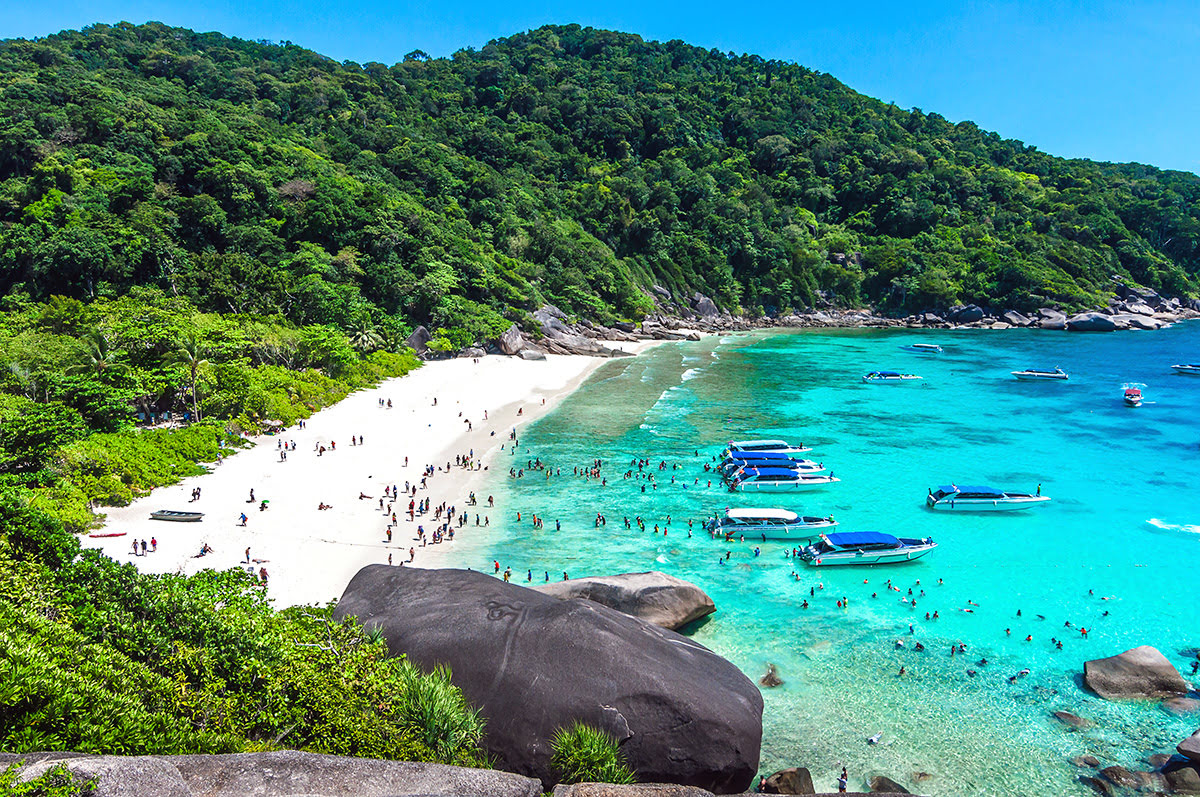 Similan Islands
The Similan Islands are an archipelago located northwest of Phuket in the Andaman Sea. They are surrounded by clear, shallow waters that are full of tropical fish and colorful coral, which makes the islands a top spot for snorkeling and diving. Giant granite boulders litter the shoreline and the coast, creating interesting topography both above and below the water. The islands are also home to several white-sand beaches and lush rainforests. It can take from one to three hours to reach the Similan Islands from Phuket, depending on the type of boat you take. Note that boat service to the islands is generally only offered between mid-October and mid-May.
FIND & BOOK A HOTEL IN PHUKET TODAY
4. Enjoy the sights from Phuket's amazing viewpoints
Phuket is very hilly, which means that it has many breathtaking viewpoints overlooking its incredible landscapes. Some viewpoints treat you to the sight of rolling jungle, while others face out over the ocean. Get ready to take some amazing pictures of the scenery and some awesome selfies as well. Adding some of these viewpoints to your itinerary is a great way to explore Phuket and make some lasting memories. Here are a few of the most highly recommended spots.
Karon Viewpoint
Karon Viewpoint offers perhaps the most stunning view in Phuket. Looking north, you will see the bays of Kata Noi Beach, Kata Beach, and Karon Beach, all in one single vista. Note that Karon Viewpoint used to be called Kata Viewpoint and is still commonly known as such. It is highly accessible and located along the road just past Kata Beach. You'll know you've come across it when you reach a small parking lot and some shops. There is a pavilion where you can stand to take in the impressive scene.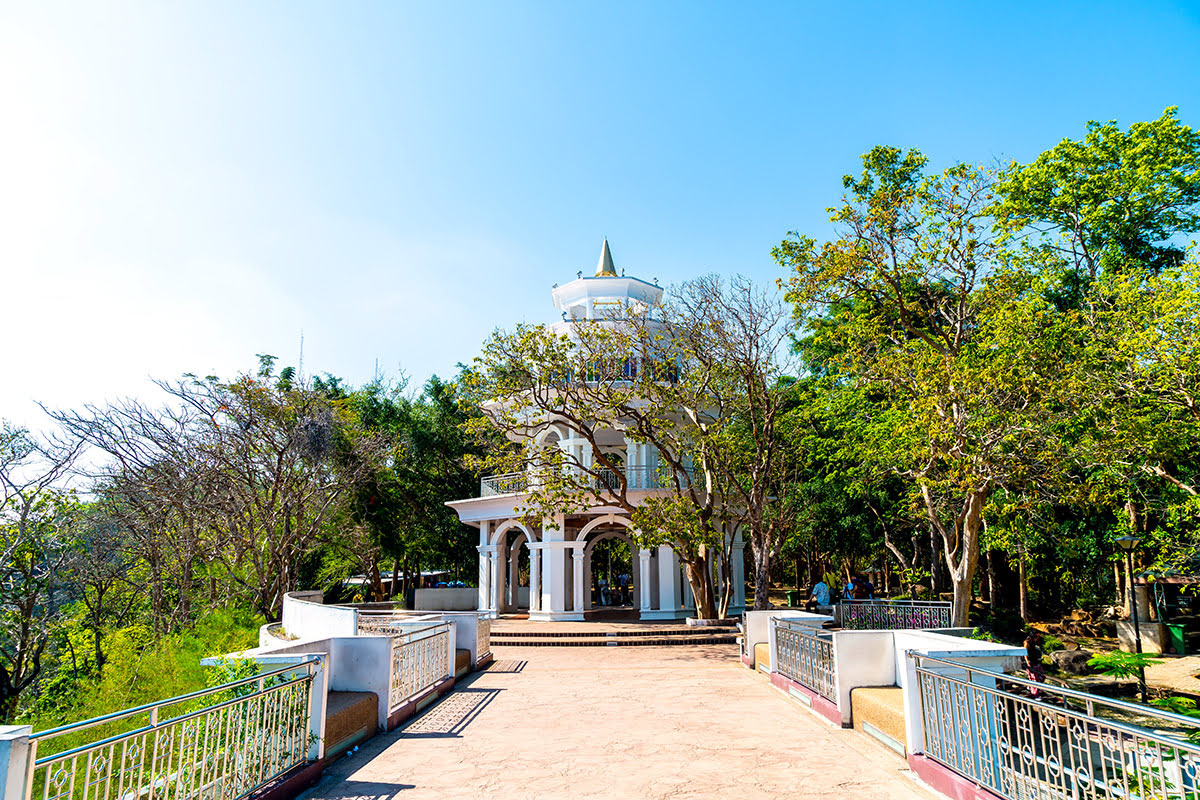 Khao Rang Viewpoint
Khao Rang Viewpoint is one of the top places to visit in Phuket City. The viewing platform is located on a hill northwest of the city center, and the vista is a mix of both natural and urban landscapes. It offers views over the city and all the way to the coast and the islands beyond. The hill is also home to a restaurant and a cafe, both of which are nestled in the jungle and provide wonderful views while you dine.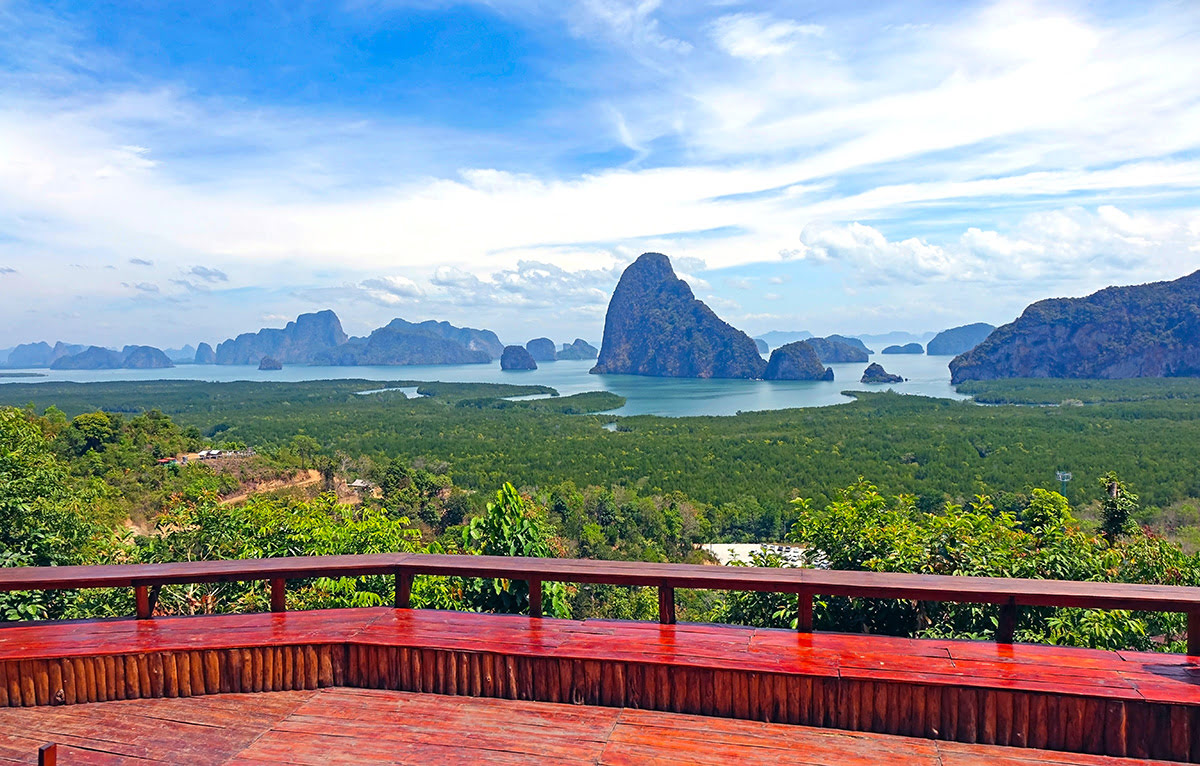 Samet Nangshe Viewpoint
About a 30-minute drive from Phuket City, Samet Nangshe Viewpoint offers astounding views east over the islets of Phang Nga Bay, behind the intervening jungle. Many people visit the viewpoint early in the morning or stay overnight to see the Milky Way, which is often visible thanks to the lack of light pollution. Then, between 5:30 and 6 a.m. depending on the season, the sun rises over the bay to the wonderment of the onlookers. It's an incredible experience that you don't want to miss if you have the chance.
Promthep Cape
Promthep Cape is the most southerly point of Phuket, and it is also one of the island's most photographed locations. The lookout point offers views over the cape and the sea, and it is particularly popular for its stunning sunsets. Hundreds of tourists get their cameras and phones ready as the sun dips in the sky. If you're feeling up for a small hike, you can follow the trail to the end of the rocky headland. The walk down is relatively easy, but you will have to trek back up!
Black Rock Viewpoint
For an even more expansive view of the south end of Phuket, consider taking the challenging but incredibly rewarding hike up to Black Rock Viewpoint. Here, you can enjoy vistas of Promthep Cape and the small islands off the coast from much higher up. Though growing in popularity, Black Rock Viewpoint tends not to be overly crowded and can feel very secluded. To find it, you must continue past Karon Viewpoint, down the road that leads to Nui Beach. You will reach a parking area where the trail leading up to the viewpoint begins.
FIND & BOOK A HOTEL IN PHUKET TODAY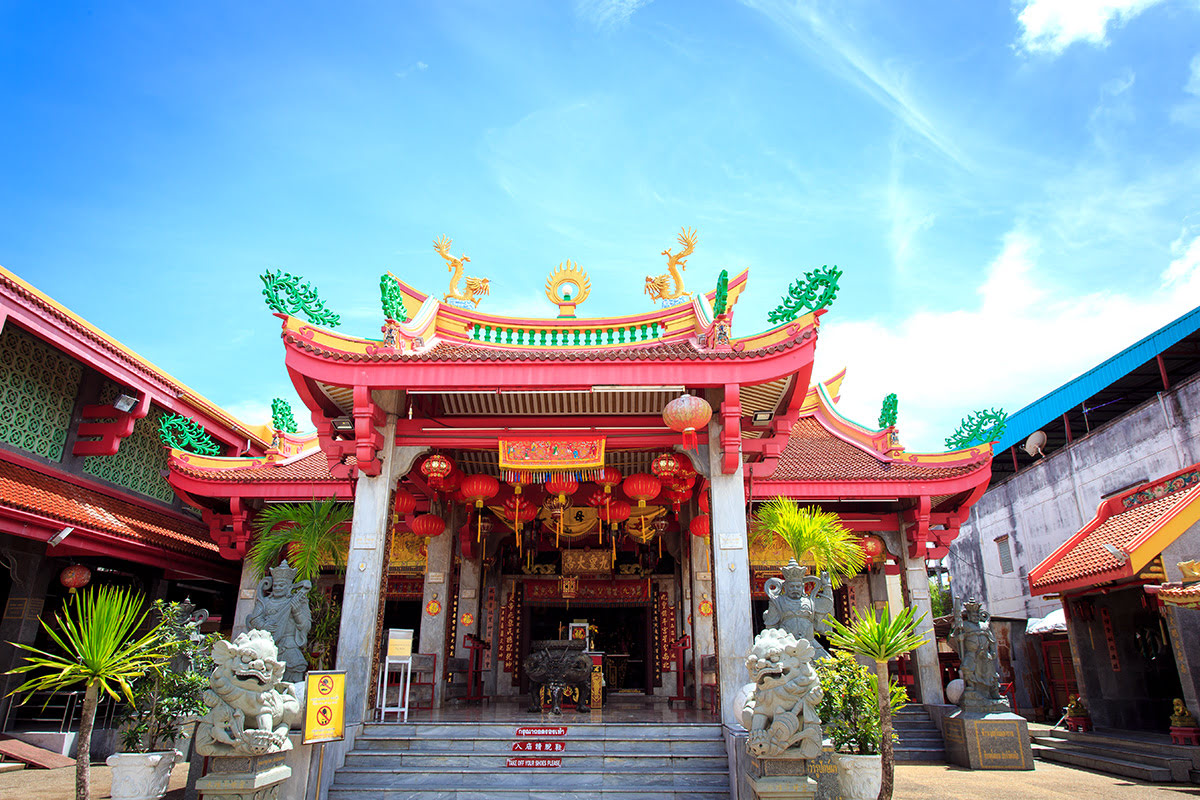 5. Visit the most important cultural and religious sites
Phuket is primarily known for its excellent beaches, breathtaking scenery, and lively nightlife scene, but it is also home to some interesting cultural and religious sites. If you want to get to know the island, its history, its culture, and its people a little better while you are there, then try to add a stop to these three fantastic sites during your travels. Be aware that visitors are asked to dress modestly when visiting religious sites in Phuket. Sarongs are usually available for those that need them.
Big Buddha Phuket
Big Buddha Phuket is a giant statue of the seated Buddha built atop Nakkerd Hill near Chalong. The statue stands 148 feet tall on a base 83.5 feet wide. It is one of the most important landmarks on the island and, thanks to its large size and lofty position, it can be seen from all over southern Phuket. Construction began in 2004, and the areas around the statue are still being finished. The Buddha is made out of concrete and covered with white marble that gleams in the sun. On top of being a significant landmark, the statue also counts as one of Phuket's most incredible viewpoints, offering 360-degree views of numerous surrounding towns.
Wat Chalong
Wat Chalong is the most revered of all the Buddhist temples in Phuket. It is located in Chalong and is just a quick drive from Phuket City. The temple is an important place for local devotees and an excellent place for tourists to come and learn a bit about Buddhism. It is dedicated to two important monks, and the grand pagoda on the temple grounds houses a relic of the Buddha. The pagoda has many paintings that tell the story of the Buddha's life, and there is an exhibition hall with wax models of venerable monks and beautiful antique Thai furniture. Wat Chalong offers a unique chance to get in touch with Phuket's spiritual side.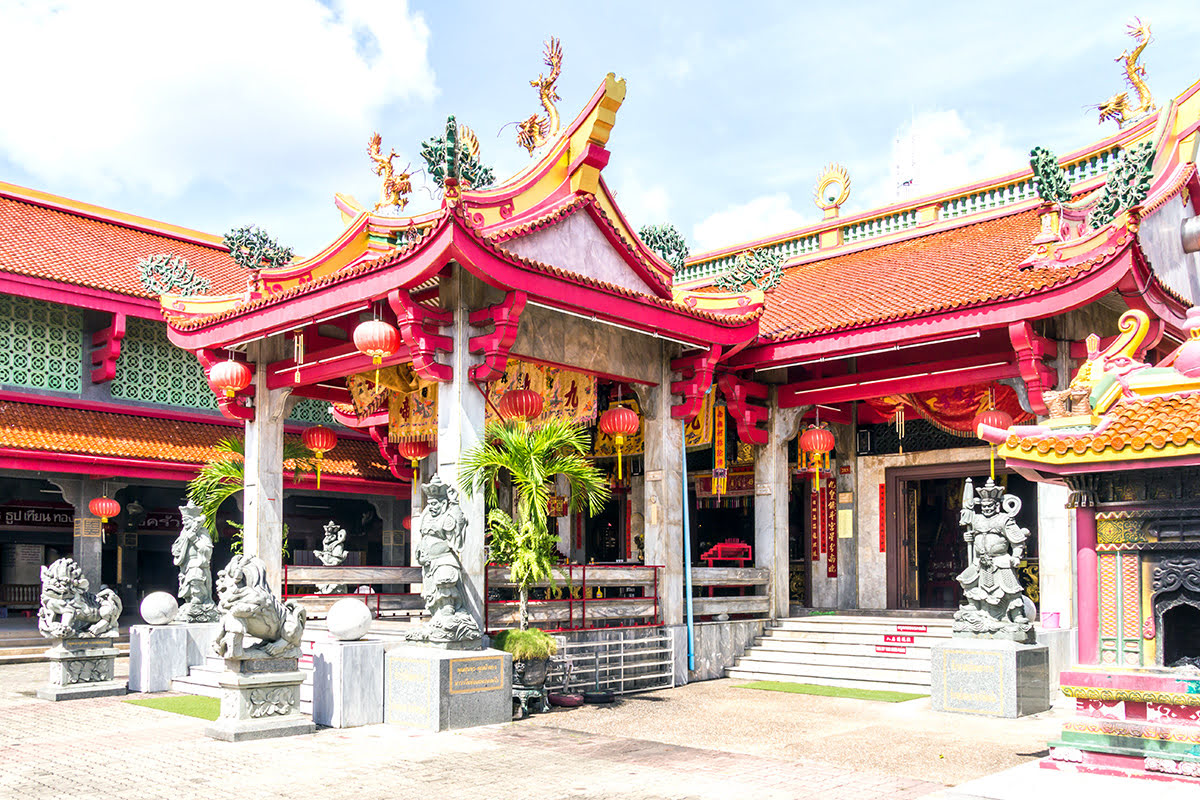 Jui Tui Shrine
Jui Tui Shrine is a traditional Chinese shrine that was founded in 1911, making it one of the oldest religious sites on the island. It is located in Phuket City and plays a central role in the annual Phuket Vegetarian Festival. Locals also use it for other important life events, like weddings and birth celebrations. The bright complex and its lively red buildings are dedicated to Tean Hu Huan Soy, the Chinese god of artists, dancers, and performers. One of the top activities at Jui Tui Shrine is to find out your fortune, and the colorful Firecracker House is a must-visit as well. There are also numerous delicious vegetarian restaurants nearby.
FIND & BOOK A HOTEL IN PHUKET TODAY
6. Spend some time exploring Phuket City
Phuket City is the capital of Phuket Province. It is located on the southeastern coast of the island, making it easy to get to most of the major beaches and attractions. Though it is often used as a jumping-off point for other adventures, Phuket City is a worthy landmark in and of itself and a lovely place to spend a couple of days. It is full of historic buildings constructed in a unique architectural style that features both European and Chinese elements. A few of the significant landmarks in Phuket City have already been discussed (Jui Tui Shrine and Khao Rang Viewpoint), so let's take a look at two more top attractions that you don't want to miss while you are here: Phuket Old Town and Phuket Weekend Night Market.
Phuket Old Town
Phuket Old Town has the highest concentration of traditional buildings in the city. It is a very colorful and lively part of town that is a joy to walk around. The streets are lined with quaint cafes, interesting museums, preserved shophouses, temples, and shrines. The main street, Thalang Road, is a great place to find souvenirs, street food, and even delicious artisanal ice cream. Phuket's historic city center was built on the ample profits of the tin boom of the 19th century, and it shows. There are numerous mansions constructed in the unique Chinese-European style, many of which you can visit. The best time for a stroll around Phuket Old Town is in the morning or the evening, to avoid the afternoon heat. The area is compact and very easy to see on foot in its entirety.
Phuket Weekend Night Market
The Phuket Weekend Night Market is the largest night market in Phuket, making it a perfect spot to get most of your shopping done. It is held every Saturday and Sunday from 4 p.m. to 11 p.m. and can be found sprawled out along Chao Fa West Road to the west of Phuket Old Town. The array of goods sold at the Phuket Weekend Night Market is truly endless. You'll be able to find second-hand clothing like jeans and t-shirts, mobile phones and phone accessories, electronics, CDs and DVDs, bags, shoes, accessories, jewelry, watches, and all sorts of souvenirs to bring back home to friends and family. There is also a food section with a wide array of local street food and even a few sit-down restaurants offering full meals.
FIND & BOOK A HOTEL IN PHUKET TODAY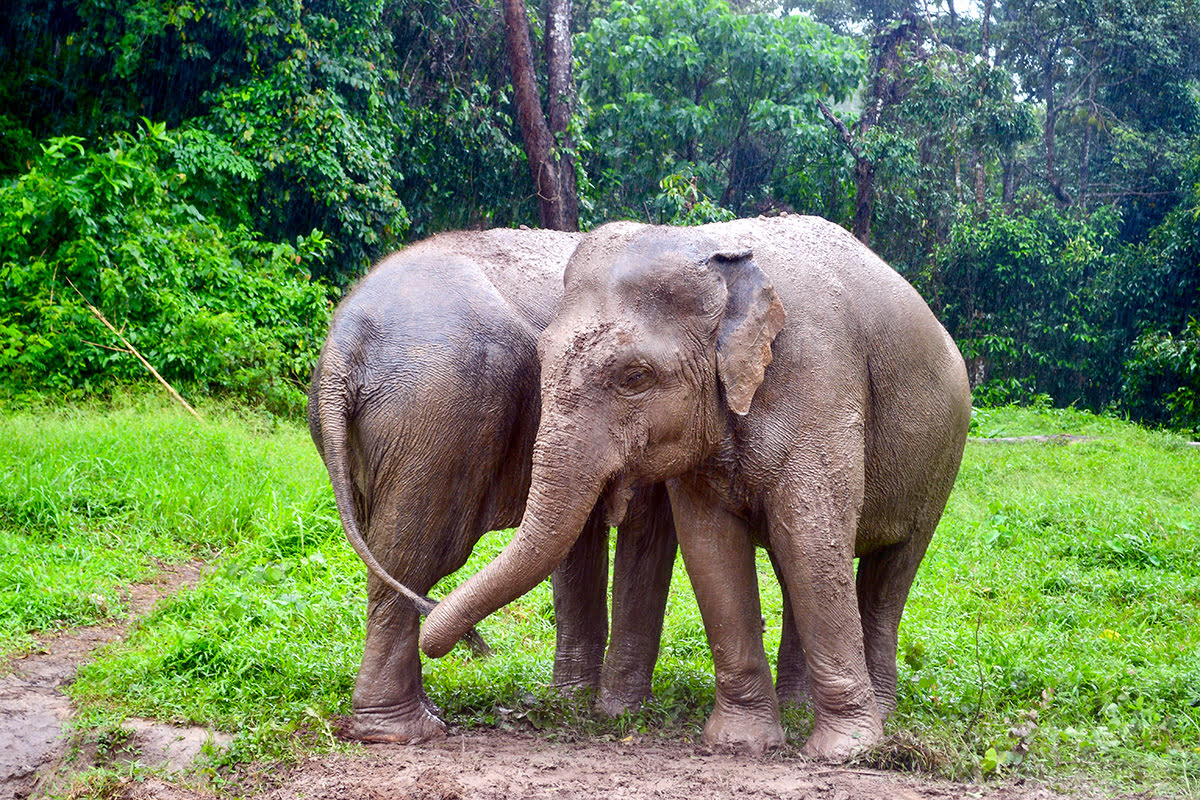 7. Get up close and personal with the island's wildlife
Phuket offers several incredible opportunities to come face-to-face with some of the most majestic species of wildlife. If you love animals, then you don't want to let the chance to visit these attractions pass you by. Take your pick of meeting tigers, elephants, gibbons, or a curious family of macaques at the following spots.
Tiger Kingdom Phuket
Tiger Kingdom Phuket is a world-famous attraction where visitors get to interact directly with tigers that have been raised by humans from birth. Prices start at 900 baht, though they can vary depending on the size of tiger you want to see (with the tiger cubs being the most expensive). You can also choose a combination ticket to see two, three, or even all four sizes of tigers at Tiger Kingdom Phuket. For an extra 500 baht, you will be accompanied by a professional photographer. The experience can get quite pricey depending on what you choose to add on, but there is no denying that it is one of the most unique things to do in Phuket.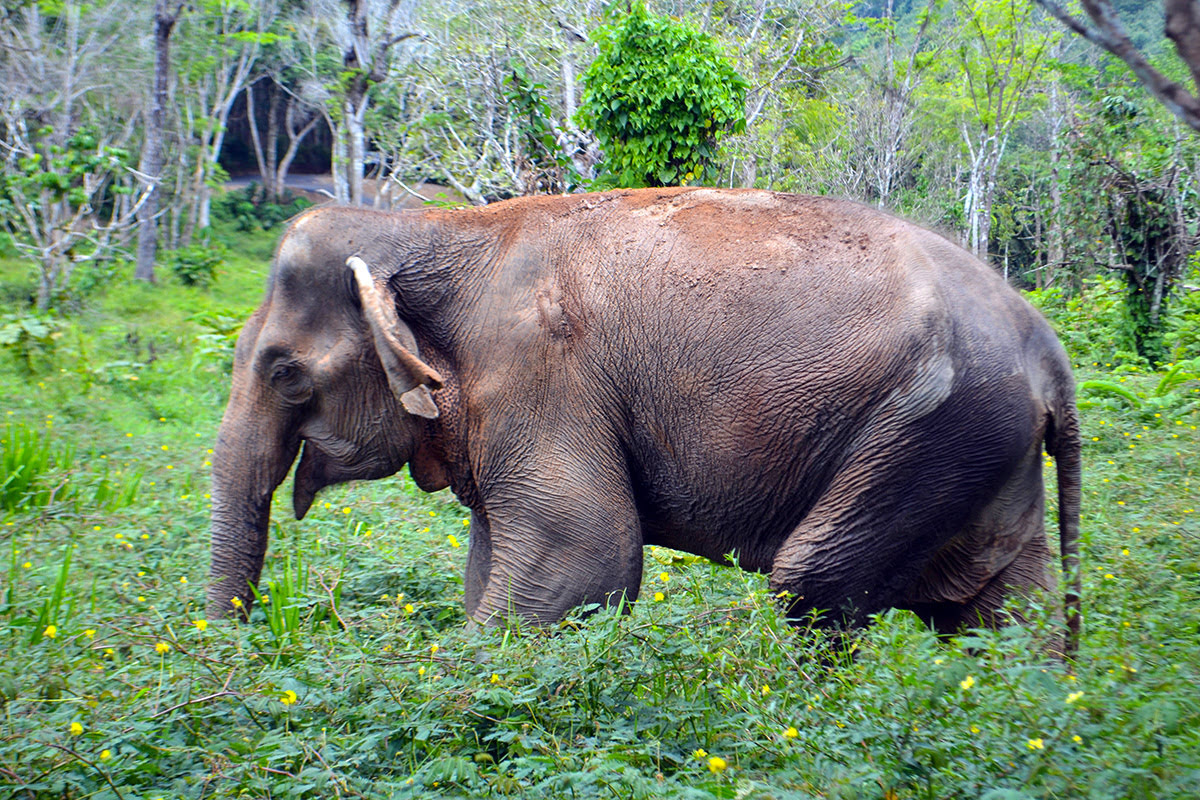 Phuket Elephant Sanctuary
The Phuket Elephant Sanctuary is a lush jungle paradise for retired working elephants where they are well cared for and allowed to rehabilitate into forest life. The sanctuary offers tours that let you see the elephants living freely and joyfully in their environment. Visitors are not permitted to bathe the elephants like at other sanctuaries and zoos in Asia to give the elephants their privacy, but there is a viewing platform from where to watch the spectacle. You will, however, get to interact with the elephants during the feeding portion of the tour. Tour prices are 3,000 baht per adult and 1,500 baht per child.
Gibbon Rehabilitation Project
The Gibbon Rehabilitation Project, which operates inside Khao Phra Thaeo National Park, seeks to rehabilitate gibbons who have been held illegally captive and to reintroduce them back into the wild. Visitors are not allowed to touch or interact with the gibbons. However, it is still a wonderful opportunity to see these amazing creatures as they get acclimated back into the jungle. The Gibbon Rehabilitation Project also serves as an educational facility, informing tourists about the situation of Thailand's gibbons and about what this facility does to help. If you want to support the project's efforts, you can make a purchase at the small souvenir shop.
Monkey Hill
Monkey Hill is another top attraction to make time for while in Phuket City. Though officially called "Toh Sae Hill," it won't be long before you see why "Monkey Hill" is a more fitting name. One of the highest hills in the city, it is home to a troupe of macaques that are quite the delight to see. The monkeys are not known for being aggressive, but they are wild animals, and you should always exercise caution. It is recommended that you do not feed them and that you keep an eye on your belongings, making sure nothing is dangling out of your pockets or bag. With all precautions taken, you can feel free to watch them and take some photos.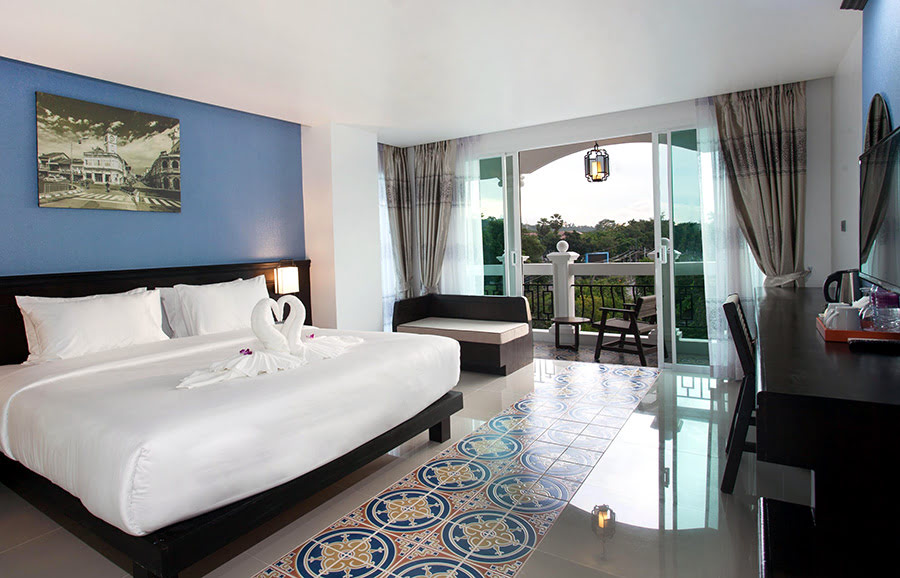 FIND & BOOK A HOTEL IN PHUKET TODAY
8. Stop by Phuket's best-known waterfall
At 33 feet in height, Bang Pae Waterfall is the largest waterfall in Phuket. This isn't particularly tall as far as waterfalls go, but it will make a pleasant stop along your travels. Visitors enjoy the tropical greenery and the feeling of being deep in the jungle while not too far from the road. The waterfall is located in Khao Phra Thaeo National Park, only a bit further past the Gibbon Rehabilitation Project, and definitely worth the visit if you are already in the area. It is about a 10-minute walk along a trail through the jungle. The path is easy to follow, though it does get steep and rocky in spots. Before long, you'll see the water tumbling down into the pools below, where you can go for a dip to cool down. Bang Pae Waterfall is most impressive during the rainy season.
FIND & BOOK A HOTEL IN PHUKET TODAY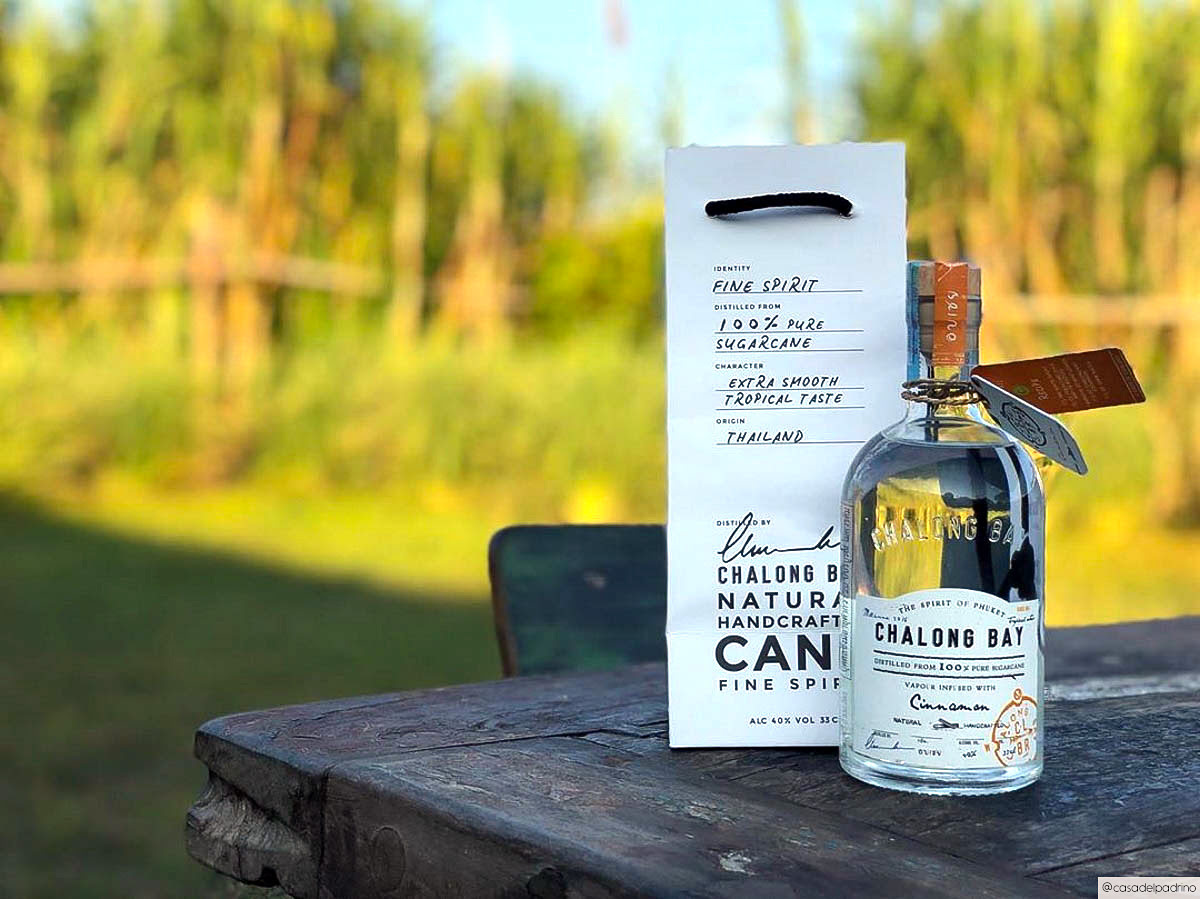 9. Take a tour of the Chalong Bay Rum Distillery
The Chalong Bay Rum Distillery on the southeast coast of Phuket has come to be recognized as one of the top rum distilleries in the world. Each bottle is made from 100% naturally grown and harvested first press cane juice and distilled using traditional French techniques. The distillery uses only indigenous varieties of sugarcane that are grown without the use of any chemical fertilizers and with a focus on sustainable production. This approach gives the rum a distinct character known for its smoothness, rich aroma, and tropical taste.
Tours of the Chalong Bay Rum Distillery are offered every day, starting every hour, on the hour between 2 p.m. and 6 p.m. During the half-hour session, you'll get the chance to see the inner workings of the distillery and enjoy a tasting session of the Chalong Bay mojito. The cost of a tour is just 450 baht per person. After the tour, it is highly recommended that you visit the Cane Crush Restaurant & Cocktail Bar, which features Asian-inspired cuisine and incredible food and cocktail pairings. The restaurant is open every day from 11 a.m. to 11 p.m.
FIND & BOOK A HOTEL IN PHUKET TODAY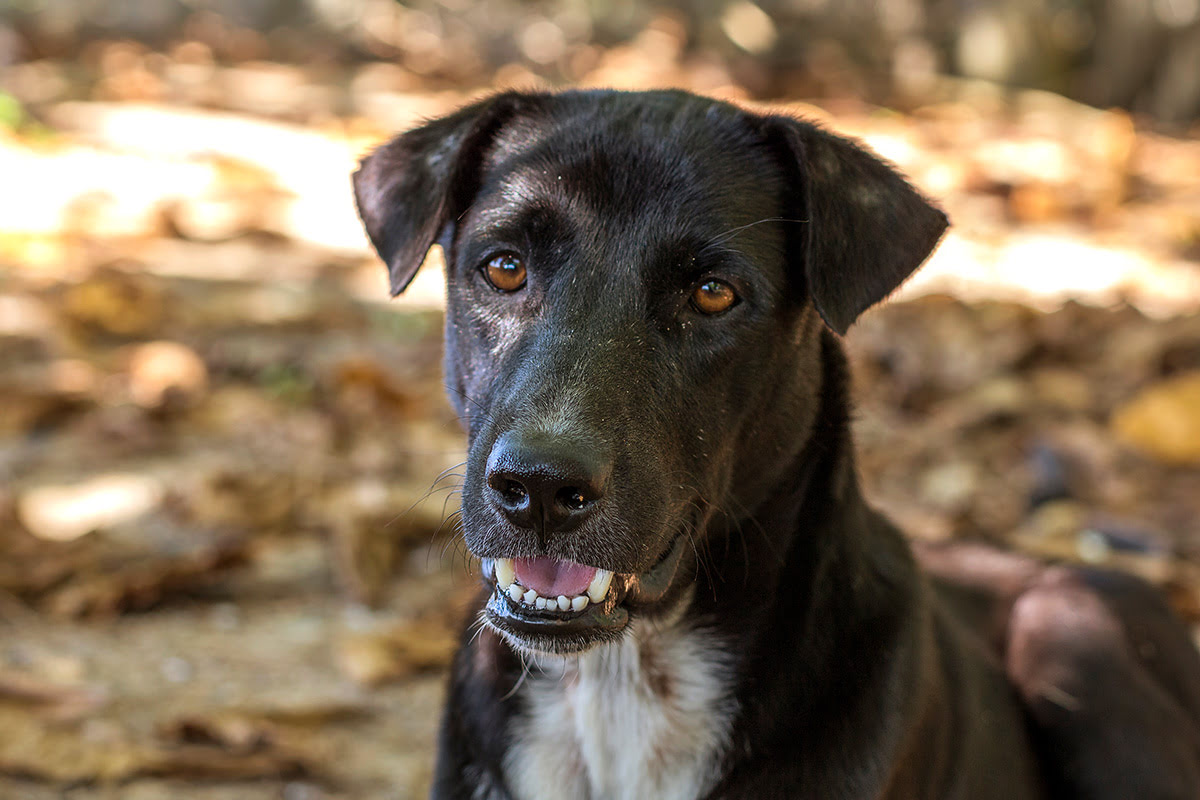 10. Take a tour of the Soi Dog Foundation
While traveling around Phuket and Thailand, you will likely notice the significant population of stray cats and dogs. The Soi Dog Foundation is a non-profit organization and animal sanctuary working to improve the welfare of these animals and of the human communities in which they live. They provide care for animals that need it and run a sterilization program that is helping to humanely control the stray animal population. To date, the Soi Dog Foundation has sterilized and vaccinated 400,000 cats and dogs. The foundation welcomes 5,000 visitors every year and is a highly recommended and unique stop on your tour of the island. Best of all, it is located just a quick drive from Phuket International Airport, making it a highly convenient stop as well.
The sanctuary is open from 9 a.m. to 3:30 p.m. Monday to Friday and 9 a.m. to 12 p.m. on Saturdays. During these times, visitors can come and take a free, 40-minute tour that explains the history of the foundation and the work going on there. Visitors will also get a chance to play with some of the sanctuary's puppy and feline residents! There is a merchandise store on-site, and donations are graciously accepted as well. You do not need to book your tour in advance.
FIND & BOOK A HOTEL IN PHUKET TODAY