The rolling dunes of sand that make up the desert regions surrounding Dubai are a sight to behold, and a tour with Desert Safari Dubai is a perfect way to see the lay of the land. A number of desert safari tours in Dubai offer opportunities to explore this natural wonder from a variety of different perspectives. From floating high above the desert in a hot air balloon to surfing the waves of the dunes on a sandboard, Desert Safari Dubai options add some serious flare to a holiday in Dubai!

Desert Safari Dubai | Get a Bird's-Eye View of the Desert
One of the most breathtaking, once-in-a-lifetime ways to experience the vast expanses of the Dubai desert is to view it from 4,000 feet in the air. For as low as $368 USD per person, you can book a desert safari adventure with a bird's-eye view of the sandy terrain below. A highly experienced pilot will take you and your traveling companions to see the desert from the sky in a hot air balloon.
A Safari Sunrise
Watch the sun rise over the rolling dunes from a hot-air balloon flying thousands of feet above the earth. You'll see caravans of camels trekking across the desert, along with all manner of native wildlife walking along the golden dunes. From gazelles galloping at high speeds, to stately long-horned Arabian oryx wandering along on their hunt for fresh plant life to eat, you'll be awe inspired at the wonders of nature you can experience from the sky above the Dubai desert.
Gourmet Breakfast
After your trip across the sky, you'll be driven to the Dubai Desert Conservation Reserve, where you'll be given the opportunity to get cleaned up. Then, you will be served an absolutely delectable gourmet breakfast with a wide range of delights, including fresh fruit, smoked salmon and caviar. Breakfast is included in the price of the trip itself.
Up Close & Personal
Once you've had your fill of scrumptious breakfast foods, you and your traveling companions will be loaded into a cool-as-can-be, open-top Land Rover from the 1950s — the very first type of vehicle to roam the desert decades ago. A highly experienced and well-versed tour guide will take the wheel as you traverse the Dubai Desert Conservation Reserve, a protected range of desert in which wildlife can live and thrive free from the threats of hunters. As you drive along the dunes, you will have the pleasure of experiencing the same native wildlife you viewed from the sky, but this time, up close and personal, along with some smaller wildlife that's less visible from the sky, like the native Arabian spiny mouse or the desert hedgehog.
Things to Note
There are a handful of things worth keeping in mind before you embark on this Desert Safari Dubai adventure. From start to finish, this trip will take about six full hours. During that time, you will only have restroom access prior to breakfast at Dubai Desert Conservation Reserve. Otherwise, there are no opportunities for a bathroom break throughout the expedition.
Travel tip: Due to the changes in atmospheric pressure that occur over the course of the hot air balloon trip, women who are more than three months pregnant and persons who have recently withstood serious injury or underwent surgical procedures will not be permitted to fly.
Additionally, due to hot air ballooning's high dependence upon the weather patterns, there is a small chance your balloon will not take lift-off in time to witness the sunrise from the air. But don't let that deter you from taking this thrilling trip. Balloon pilots make their best attempts at ensuring you are able to experience this wonder from the sky, but it is still a wondrous sight to watch the sunrise over the desert whether you are airborne or not. Also due to ballooning's dependence upon the wind, duration, direction and distance of your hot air balloon ride cannot be guaranteed. It is up to the wind to decide the details of your flight.
Transportation to and from your hotel will provided if your accommodations are within the greater Dubai area. But, because the exact length of the excursion is difficult to predict, a guaranteed drop-off time for your return to your hotel cannot be provided. We recommend you leave some buffer space between what you predict to be the end of your hot air balloon safari trip and the next item on your Dubai itinerary.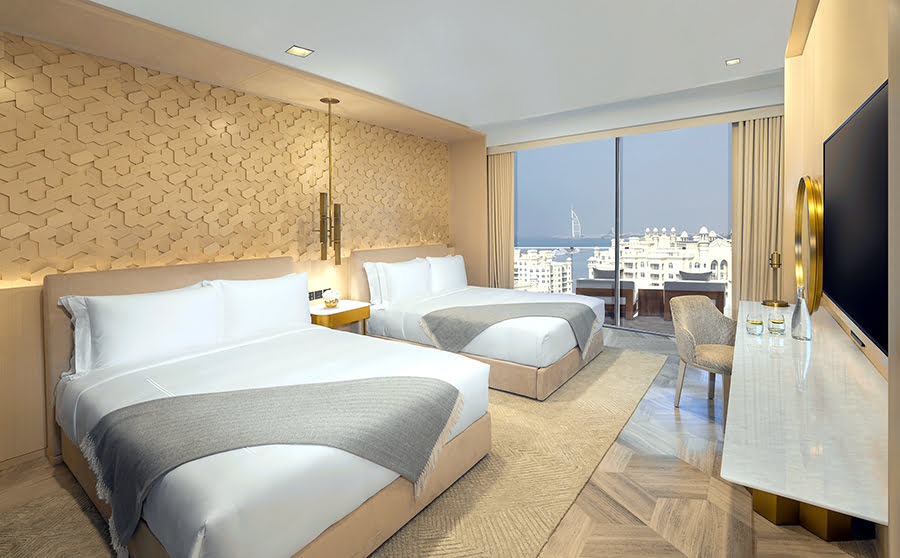 Previous guests of FIVE Palm Jumeirah Dubai say:
"What can I say excellent hotel with high standard of service. Staff were outstanding always ready to help with any issues you had. Facilities were excellent. Would highly recommend to others."
"It is absolutely lovely, I enjoyed the time I had there. The hotel is five of five. It was relaxing, modern, quiet if you want it to be with sound proof balcony and amazing customer service. Room service was very quick."
"This was one of the best hotel stays I have had. They had free water bottles in the room. The hotel staff was sweet and ready to meet all of my needs, it's almost like they couldn't say "no". The room was upgraded and I loved my room."
Ride a Camel across the Dunes
If seeing the desert from way up high is pretty low down on the list of Desert Safari Dubai tours you think you can stomach, not to worry. There are plenty of options to get an exciting, in-depth view of the golden sands from much less high-up places. In fact, this option is unlikely to take you more than about seven feet above the ground. Our next Desert Safari Dubai adventure takes place on camel back.
A Traditional Way to Travel
Experiencing the sandy expanses of the desert from the back of a camel is a much more traditional way of doing things. It's so traditional, in fact, that humans have been traversing the desert this way for centuries. The Bedu, or Bedouin, are a group of nomadic Arab people who historically lived in the deserts of United Arab Emirates. They would make part of their income by transporting goods across the desert in caravans on camel back. As you'll discover on your desert safari, the camel is a strong, capable and valuable animal. Plus, many businesses that provide this type of safari are known for their humane treatment of their camels, holding to strict welfare standards. If you are concerned about ensuring the camels you and your traveling companions ride are being treated well, you can inquire with the business itself about its welfare practices for the animals. A camel ride through the desert is a unique opportunity to get a taste of history by experiencing the desert the way the Bedouin did, and still do.
Camel Rides & Falconry
A camel desert safari through Platinum Heritage offers a particularly unique experience. Your trip across the desert will typically last about 45 minutes before you reach your first destination — an enticing falcon show among the dunes. Falcon training and showing is a significant aspect of Emirati heritage, and these sharp-minded birds are still held in high esteem throughout the UAE. These incredible falcons can reach amazing speeds, and their bonds with their trainers are apparent. You will watch the falcon flit and glide through its routine as the sun begins to set. Then, after a quick photo op with your new feathered friends, you and your traveling companions will head out to your next destination: an authentic Bedouin camp.
Dinner at an Authentic Bedouin Camp
This historical Bedouin camp is tucked away inside a private Desert Safari Dubai retreat and offers a medley of exciting activities to partake in. Created to be an accurate reflection of what Dubai was like in the 1950s, the Bedouin camp lets tourists get a taste of history and culture. Activities include henna painting, baking Arabic bread, tasting fresh Arabic coffee and enjoying traditional theatrical performances. To cap off the incredible evening, you'll dine beneath the stars on a multi-course meal consisting of the finest Arabic cuisines, which include vegetarian or vegan options, upon request.
Things to Note
As with the hot air balloon safari, there are a few logistical details you'll want to be aware of prior to booking your desert excursion on camel back. The entirety of this adventure will likely take about seven hours, beginning in the mid-to-late afternoon and ending in the mid-to-late evening hours. Transportation to and from your hotel accommodations will be provided, but you cannot be picked up at private residences. If you've chosen a private residence as your accommodation, you may arrange to be picked up and dropped off at the hotel nearest to your residence. Pick-up and drop-off times will vary based upon the season, as this particular tour with Desert Safari Dubai is scheduled around the predicted time at which the sun will set. It's recommended that you wear plenty of sunscreen as well as lightweight, full-coverage clothing that will protect your skin from harmful rays. Bringing an additional layer is highly recommended, as the desert will cool off quite quickly and dramatically once the sun has set, especially during the winter.
This Dubai desert safari option does provide frequent access to restrooms, both at the beginning of the safari and once you've reached the camp. A portion of the proceeds for a camel desert safari through Platinum Heritage go to support the conservation of the local wildlife and lands.
Previous guests of Avani Deira Dubai Hotel say:
"We checked in early and our room was ready. Everything was perfect from Start to finish. The rooms are spacious and very clean. The staff are amazing, friendly, helpful and nothing is too hard for them. Their customer service is second to none. This is our first stay with Avani Deira but won't be our last . Everytime we come to Dubai this is the hotel we will book "
"The staff were very welcoming and assisted with early check-in. The hotel was conveniently located for the work that they went for. Only small problem was the fridge wasn't working but the staff exchanged it and everything was good."
"Been visiting to Dubai for years and happy to discover this hotel. I stay over a month and never regret the decision. The staff and customer service were outstanding. The facilities are well maintained and the room was very comfortable."
Zoom Across the Sand
If the leisurely pace of a camel doesn't quite tickle your thrill-seeker fancy, take things up a notch by booking a quad bike or participating in some dune bashing with Desert Safari Dubai. Plus, most safaris that include these sorts of excursions have quite a few other exciting aspects as well.
Quad Biking
A trip with Desert Safari Dubai allows you a 20-minute ride to race across the red desert dunes while piloting your own sturdy, speedy quad bike. Feel the adrenaline rushing through your veins and the wind whipping through your hair as you and your traveling companions compete to see who is the more adept quad bike driver and who has the most need for speed. Though this sounds like a short ride, it's followed by a number of other thrilling desert experiences to try on this excursion.
Dune Bashing
Another high-speed expedition to look forward to on this safari is dune bashing. This is the highly entertaining practice of driving a sports utility vehicle at rapidly increasing and decreasing speeds around the red sand dunes. This causes the sand to shift, making for an exhilarating experience as the driver must be agile and keep an eye out to ensure they are able to gain traction and successfully navigate the challenging terrain.
Bedouin Camp & BBQ
This evening trip also takes you to the traditional Bedouin campsite, offering many of the same entertainment options as mentioned above, including henna painting and an opportunity to ride a camel. You'll witness traditional theatrics, including a fire show and a belly dance. Then, your night will finish with a delicious bang thanks to a buffet-style BBQ dinner under the starry desert sky.
Previous guests of City Premiere Marina Hotel Apartments say:
"Really beautiful and spacious apartment in excellent location. Staff at reception is available 24/7, there is a metro line and many shops nearby- supermarkets, pharmacy. Highly recommend this apartment complex."
"Very enjoyable stay in a large apartment overlooking the marina and near the beach. Staff very pleasant and helpful when we asked to check-in early.Would recommend and be pleased to return in the future."
"Staff are excellent, really friendly. Hotel car to the airports is about the same cost as the local taxi. Rooms are enormous, compared to European hotels and very clean."