Hotels and more in West Lake District – Xixi Wetland Park
Our top picks
Lowest price first
Nearest to
Best reviewed
4-star hotels in West Lake District – Xixi Wetland Park
---
My stay at HZIH was fantastic, I even ended up adding an extra night. Although it's not close to the city, it was right around the corner from my office, so suited me perfectly. Staff was very attentive, and really took the time to help me out. This was despite a basic grasp of English, but hey, i was in China and I didn't speak Chinese, so I wasn't helping the situati...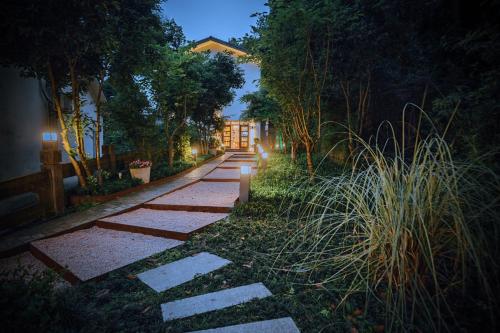 ---
The bungalow villa is excellent and comes fully equipped. It even comes with a Dyson drycleaner and Bose speakers. It is located in a nice and quiet lane and full of greenery, away from the hustle and bustle of West Lake. The kids' playroom is a nice touch which my daughter enjoyed greatly during our stay. I am not sure how convenient it is to public transportation as...
---
LOCATION; When I booked this hotel I intended to stay nearby the West Lake. Although the hotel is in the West Lake district, it is at the edge of the district. With that said, I actually do not mind cos its not too far from all the attractions. However, there is a brand new, huge mall, with many great brands attached to the hotel. I do enjoy that.... ROOM: The roo...
---
No one speaks any English however I was happy to communicate via translation app and the were not very helpful. Never went out of their way to help. It's the Chinese way to push in but seriously I'm trying to have a conversation and you turn your back on me to talk to another Chinese guest. I was not happy.
---
Luck Hotel offers very comfortable, clan and spacious deluxe bedrooms, as well as a comfortable reception area. Everything else is not at par with a 4 star rating hotel: service at the hotel is friendly, but does not offer any kind of food service, staff is caring but does not speak english, the hotel building is shabby, no views from the rooms other than a parking l...
---
Only a short stay, so it is OK. Front desk personnel knows english but a bit too slow in handling. Room is clean and all amnesties are available
---
easy to park cars. the hotel lobby is quite bali style and at the same time the rooms are quite clean and quiet. not a luxury hotel, good value for its price. hotel staff are quite warm and being very helpful. the location is not far from xixi wetland and west lake however there is nothing within the walking distance from the hotel.
---
Take bus 25 to 一公園 , and you can reach West Lake. not so far around 20 mins. But what i see is that, you book on site seems much cheaper than onlinem but 1 cant make sure it always got room. So you have to decide. Overall experience was good, room was clean, music good ( but not many songs ), bathroom clean.
---
Over all no complaint. Only too far away from West Bus Station and most of the taxi drivers do not know the hotel location.
---
5-star hotels in West Lake District – Xixi Wetland Park
---
We have a wonderful stay in the water view villa. The room & the surrounding view is excellent. If you would like to enjoy the peaceful environment in Hangzhou, it is the right hotel for you. It is near the wetland park & there is a hotel cart, which can bring you around Xixi heaven including the wetland meseum, the cart made our trip extremely convenient travel around...
---
Great place for business meet, located next to Xixi wetland scenic park
---
One of the best properties we've ever stayed in. The facilities and gardens were just beautiful and service was excellent too.
---
the resort is at Xixi wet land, and not so far from Xihu. it's quiet and nice place, but have a lot of mosquito, please bring some spray for anti mosquito.
---
This hotel is located on the other end of scenic attraction West Lake in Hangzhou, away from the hustle in downtown area. Interestingly, this is also in a small town, also known as "Quiet Living area" where other B&Bs or minshu are located. But being that, this is not far from the main attractions such as West Lake and is even closer to other attractions such as the zo...
---
Angsana is located within the new Westbrooks (Xixi Paradise). It is like a mini town, with shopping facilities, restaurants & cafes, a cinema, etc. In addition, the hotel is within walking distance to Xixi Wetland, which is one of the tourist attractions. Within the hotel compounds, we were very impressed with the room design and the quiet surroundings. The hotel staff...
---
This location is just in the corner of big busy city, in just few minutes, you will find yourself in a peaceful beautiful tea garden from a busy city. Down in the hill is a street full of all kinds of restaurant. Hotel doesn't pair with free breakfast, but it is a nice to move your leg, walking down the hill, enjoy the freshness of air, forest aroma, and get nice bre...
---
Staffs great especially the manager, speaks very good english and attend to us personally each time.. The most comfortable bed and room ever! Bathroom a little on the dark side but ok. Subdued lights and very quiet. Still very new. Breakfast was order as you want Yum Cha (yummy)and a small selection of western choices. Coffee not so good but available in lounge and roo...
---
In and around West Lake District – Xixi Wetland Park
---
More about West Lake District – Xixi Wetland Park
West Lake District – Xixi Wetland Park supplies the perfect mix of tranquility and entertainment in the exciting city of Hangzhou. It is renowned for its many sought-after attractions including DOI Zhejiang native produce Market, Aike Change Shop, Zhejiang Litongde Hospital. West Lake District – Xixi Wetland Park has a lot to offer: famous sites, great restaurants and a range of exciting entertainment.

Plan your next trip in West Lake District – Xixi Wetland Park or any other area in Hangzhou with Agoda.com, guaranteeing the best possible rate available. You can choose from a wide selection of accommodations such as the charming Hangzhou Pod Inn Wensan or the service-minded Four Seasons Hotel Hangzhou at West Lake. Fill in your dates of stay and browse through the top hotel deals in West Lake District – Xixi Wetland Park.