Planning a flight to Bali is easy as there is only one airport that services the island. The island is a destination that hosts millions of international as well as local travelers each year, and has facilities and services to help you get to your hotel or resort without any hassles or stress. Here is all the information you need to know about Ngurah Rai International Airport (DPS) to make the trip as stress-free as possible.
General Information About the Airport
Redeveloped in 2013, Ngurah Rai International Airport is the only airport currently located on the island of Bali. The airport is located on the southern end of the island, just eight miles south of the Denpasar neighborhood and most travelers refer to it as simply "Denpasar Airport."
Ngurah Rai International Airport is the second largest airport in Indonesia and has two terminals, one for international flights and one for domestic flights; It serves over 23,000,000 passengers annually. This airport also has a small terminal area with a VIP lounge to accommodate private jets and other small-bodied aircraft. When arriving to Ngurah Rai International Airport, guests will be welcomed by the rich Balinese architecture and decor that is abundant in this airport.
The international terminal has more than 10 landing and departing gates and the domestic terminal has eight landing and departing gates. Each terminal features high ceilings and an open, airy feel that makes you really feel as though you have landed in paradise. Jet bridges are located throughout the airport to make getting around easier for travelers. If you happen to get lost while navigating the airport, there are travel assistants on hand to help you get around.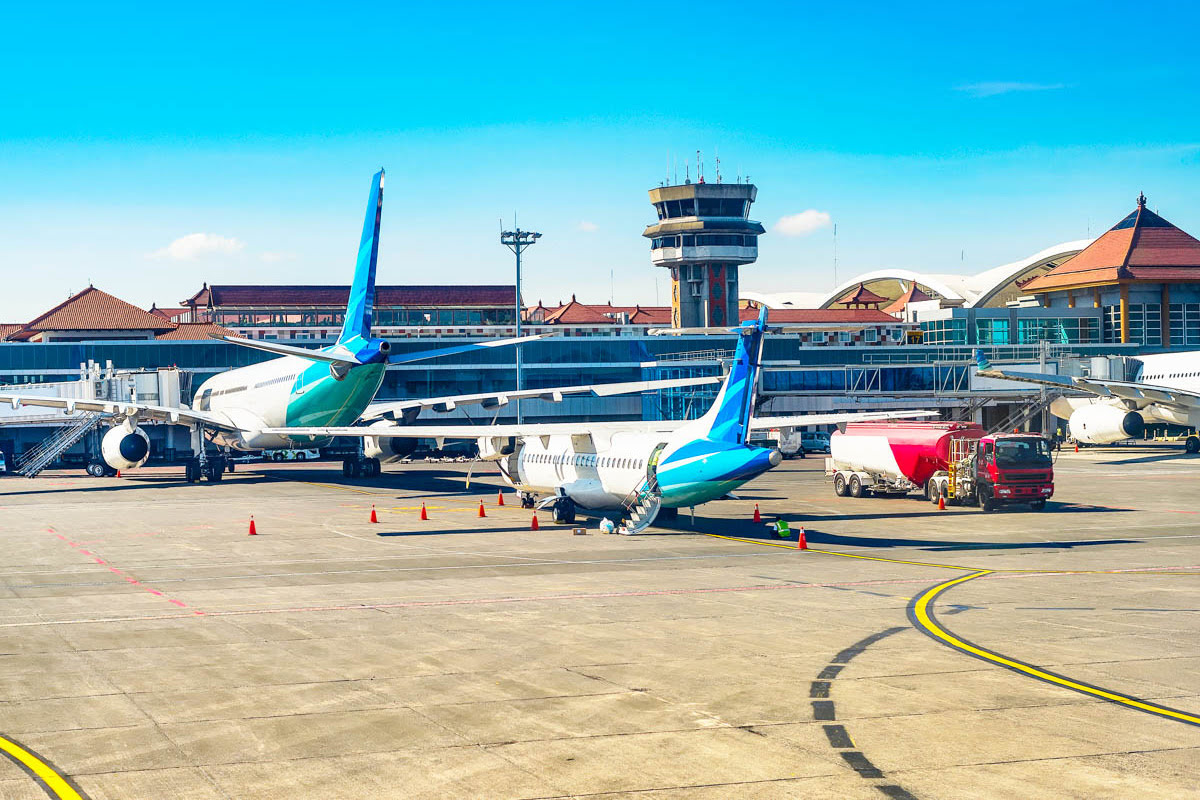 Airlines that Fly to/from Ngurah Rai International Airport
Tourism makes up much of the local economy of Bali as this island entertains more than five million visitors each year. There are several international and domestic airlines that host frequent flights on and off the island including:
Air New Zealand
Air Asia
Cathay Pacific
China Airlines
Citilink
Garuda Indonesia
Hong Kong Airlines
Indonesia Air Asia
Lion Air
Thai Air Asia
Virgin Australia
Unless you are traveling from another Asian city in close proximity to Bali, you will most likely have to catch a connecting flight to get to this airport. An international flight to Bali can take up to 21 hours to complete and cost up to $2,500 depending on the distance you are traveling. Travelers can cut costs and possibly travel times by taking an overnight flight and planning their trip to the island during the off-peak travel seasons.
Airport Facilities and Services
Ngurah Rai International Airport is a massive airport facility that can handle over nine million passengers annually. While it does get busy during the peak tourism season, it is surprisingly spacious and comfortable – even with many travelers scurrying around at the same time trying to get to where they are going. For those who have just landed and are in need of freshening up or those who are waiting for their departing flight from the island, this airport offers plenty of services to guests.
Within the international and domestic terminals, visitors will find a variety of airport lounges that offer everything from cinema movies to children's playgrounds. International travelers can take advantage of tax and duty free prices on some of the hottest merchandise available when shopping at the duty free retail center. The duty free shopping center offers fine liquors, tobacco, jewelry, wine, and accessories. Shop at stores like Gucci, Montblanc, Samsonite, and more. The duty free shopping center mimics a mall which takes away from the anxiety of waiting for an airplane to arrive.
Upon arriving to the airport, international travelers should have their passport handy; two blank pages are needed for entry and exit stamps and your passport should be valid for at least six months beyond the length of your stay. A tourism visa is not required for visits that are less than 30 days. The immigration area of this airport moves quickly as the Balinese government sees many travelers each year.
Have a long layover? No problem! Ngurah Rai International Airport has an onsite hotel so you can get some sleep before departing the terminal. Book a room at Novotel Bali Ngurah Rai Airport and take advantage of amenities such as a workout facility, plush bedding, a casual dining restaurant, and free Wi-Fi. This hotel has flexible check-in/check-out times to accommodate flight schedules.
Ngurah Rai International Airport also has an assortment of tantalizing restaurants located in the arrivals, departures, and public areas of the terminals. Bring your appetite when you arrive and be ready to try out cuisine at these fine eateries:
Kantin Modern – Casual restaurant that serves up contemporary Asian food. Kantin Modern is open from 7am-11pm daily.
House of Beans – Bright and vibrant cafe that offers coffee and snacks. House of Beans is open from 4am to 11pm daily.
Bread Bakers – A smoking friendly cafe that offers breads, coffee, juice, and other morning food. Bread Bakers is open from 5am to 1am daily.
The Merchant Bistro by Periplus – Casual dining restaurant that dolls out pastries, snacks, sandwiches, and other to-go style food. The Merchant Bistro by Periplus is open from 5am to 1am daily.
Ground Transportation Options
Traveling around Bali is an adventure, especially for those who have never done it before. While many cities around the world depend on mass transit options such as light rail trains and extended public buses, visitors can expect to use private transportation options while on the island. At the arrivals area of the airport, travelers can reserve a rental car or hail a taxi to depart to the hotels and resorts quickly. Many hotels on the island provide free airport shuttle service as part of a room reservation. For guests who really wish to immerse themselves in the culture of the island, feel free to rent a motorcycle or bicycle to get around on.
Bali is a relatively small island so the bus system is easy to navigate. On the island you will find small commuter-style buses that run between the different neighborhoods. Be sure to check the routes before you venture out around the island so you know where the bus stops are and their schedules. Since tourism is so popular in Bali, there are also several private charters available. You can reserve your spot with an island tour service and check out all of the hot spots and historic landmarks. Tours are great because you will learn about the island as you travel around.
Other Airport Options Near Bali
Ngurah Rai International Airport is currently the only airport that services Bali, however, if you plan to visit other parts of Indonesia, you can land at Banyuwangi International Airport (BWX) on the Indonesian mainland and travel on to the island when you are ready. The airport is located approximately 64 miles from the island of Bali and you will either arrange water transport to get there.
Banyuwangi International Airport is a small single terminal airport that serves approximately 300,000 travelers each year. Inbound and outbound flights are hosted by NAM Air, Citilink, and Garuda Indonesia. This is a great airport option if you wish to avoid the crowds at the larger airports or would like to do some sightseeing while en-route to Bali.
Hotels Near the Ngurah Rai International Airport
Experience what true paradise is all about when staying at one of the many fine hotels or resorts located around Bali. From hidden away bungalows in the jungle to beachfront suites boasting incredible views, it is not hard to find your dream room at a price you can afford. Check out some of these popular lodging options:
Golden Tulip Essential Denpasar Hotel
For approximately IDR 350,000 per night, Golden Tulip Essential Denpasar Hotel is a bargain for anyone who wants comfortable accommodations and excellent customer service. This hotel is located less than 10 miles from downtown Denpasar and has a variety of cozy rooms to choose from. Guests can choose from rooms with double or single beds, and all rooms are adorned with natural colored decor and hardwood floors.
While staying at Golden Tulip Essential Denpasar Hotel, guests are invited to utilize the outdoor pool, stroll through the garden, get an expert massage, use the spa and sauna, and sign up for a guided tour of the area. There is an onsite restaurant and bar so guests do not need to wander far to enjoy a good meal or cocktail.
RedDoorz Plus near Mall Bali Galeria 2
Just a stone's throw away from the airport, RedDoorz Plus near Mall Bali Galeria 2 is an exceptional value for those who would like some rest and relaxation with close proximity to the city. For less than IDR 253,000 per night, guests are treated to rooms with an assortment of different beds and daybeds as well as excellent customer service. At RedDoorz Plus near Mall Bali Galeria 2, kids under the age of 13 stay for free!
Each room at this hotel is adorned in simple decor that represents the colors and theme of Southeast Asia. At RedDoorz Plus near Mall Bali Galeria 2, kids under the age of 13 stay for free! Guests can also go for a swim in the relaxing indoor pool and enjoy free Wi-Fi in each room.
HARRIS Hotel & Conventions Denpasar Bali
A warm and contemporary hotel that is less than 10 miles from the city, HARRIS Hotel & Conventions Denpasar Bali provides a restful stay to travel weary guests. Spacious rooms at this hotel start at just IDR 322,000 per night. Guests can choose between a standard room or a room with a beautiful view of the outdoor swimming pool.
Each room at HARRIS Hotel & Conventions Denpasar Bali is decked out with light colored furnishings and white decor, with a splash of color making it an oasis in the tropics. This hotel offers 24-hour room service, free toiletries and Wi-Fi, a massage service, and a fitness center. For guests who are traveling with children, there is a fun kid's center where they can play and interact with a costumed dinosaur. HARRIS Hotel & Conventions Denpasar Bali has a large convention center, making it ideal for conferences, banquets, and special parties.
Inna Bali Heritage Hotel
For less than IDR 300,000 per night, a tranquil oasis awaits visitors who book a room at Inna Bali Heritage Hotel. This stunning hotel offers rooms with multiple beds and contemporary furnishings, and is located near a variety of local attractions. Inna Bali Heritage Hotel is located just down the road from the airport and showcases the tropical beauty of the region.
While staying at Inna Bali Heritage Hotel, guests are invited to go for a swim in the scenic outdoor pool and enjoy the village-like surroundings this hotel has to offer. If you are holding a meeting or private party, Inna Bali Heritage Hotel offers five meeting rooms that all have their own unique theme. After a long day of sightseeing, head over to the day spa for a spa, beauty treatment, or reflexology service. Guests can also visit the onsite restaurant, Taman Tirta, for some homestyle Indonesian and international menu options.
RedDoorz Plus near Mall Bali Galeria 2
HARRIS Hotel & Conventions Denpasar Bali
Inna Bali Heritage Hotel
FIND & BOOK A HOTEL IN BALI TODAY