Food culture in Saudi Arabia is very strong and vibrant, and the Jeddah food scene definitely embraces the popular saying, "Jeddah Ghair," which means "Jeddah is different." Travelers to Jeddah quickly learn that locals congregate in the evenings around restaurants and cafés. Join them in devouring traditional dishes like Matazeez and Kabsa, considered the national dish of Saudi Arabia, or go for one of the dozens of international and fast food restaurants in Jeddah. Grab a beef burger and waffle at Food Trucks Park or scarf down fried chicken at Al Baik!


Jeddah Food Culture
The busy port city of Jeddah, Saudi Arabia, is known for its coastal position on the Red Sea, which makes it a prime location for eating fresh seafood, a main ingredient in many traditional dishes. Saudi cuisine also is famous for dishes containing lamb, which are often served with yogurt and dates. Regional specialties vary according to flavors and available ingredients, but travelers to Saudi Arabia will find a flavorful assortment of Jeddah food prepared with wheat, chicken, potatoes and an array of vegetables.
Kabsa
Matazeez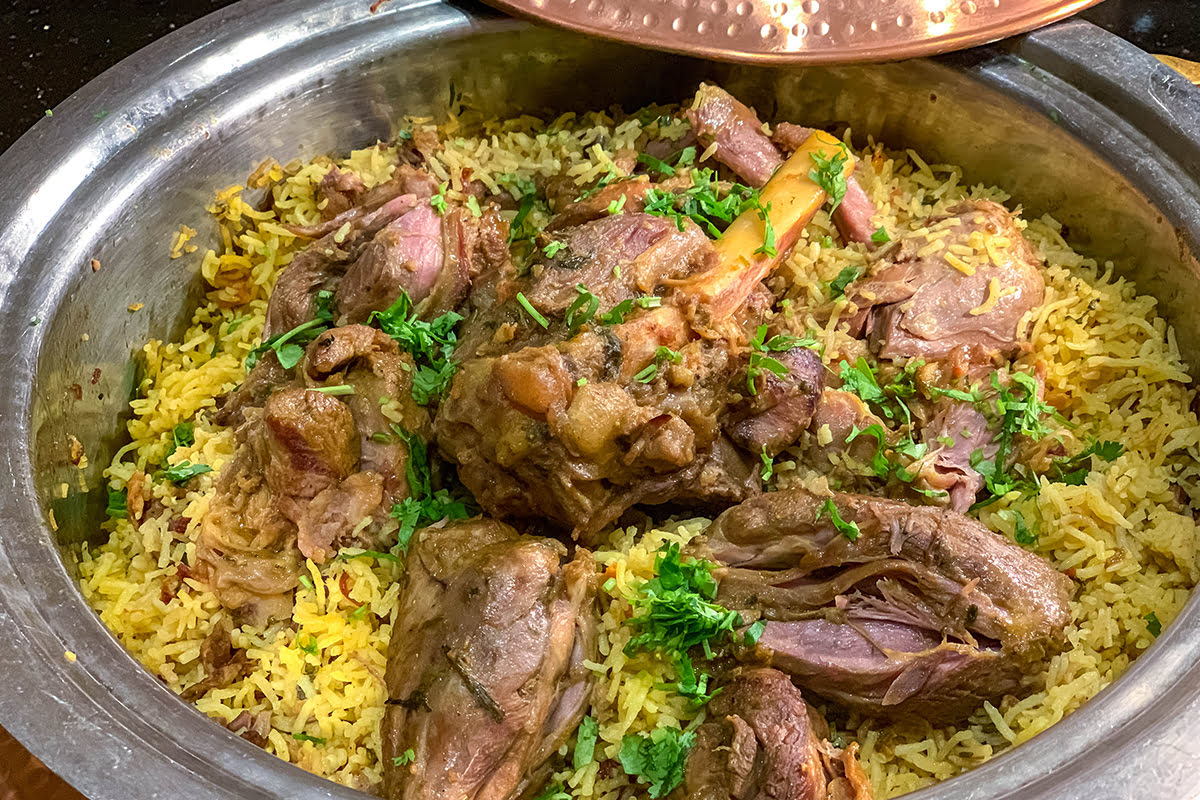 Madfoon
Jeddah Food | 8 Must-Try Saudi Dishes
Kabsa, considered the national dish of Saudi Arabia, is a mixed rice dish made with meat and vegetables. Many traditional regional dishes use similar ingredients of lamb, yogurt, rice, and potatoes.
Matazeez is a tasty traditional treat from Saudi Arabia. It is an Arabic dish commonly cooked with lamb and vegetables in a spiced sauce.
Madfoon is made from meat and rice. The dish is often cooked underground in a pit under a fire, and cooking styles vary by region.
Made from wheat flour and pressed thin, Qursan is a tasty dish saturated with gravy. It is often served as a side dish to complement the main of lamb or vegetables.
Jarish
Saleeg
Mofatah al-dajaj
Maamoul
Jarish is a popular traditional Saudi dish made from ground wheat served with chicken, onions, and chopped rice.
Saleeg is a white rice dish made with broth and milk. It is considered to be the national dish of the Hijaz region and has other variations.
Mofatah al-dajaj is a dish made with pieces of boiled chicken or lamb and finished with spices, raisins and almonds.
A sweet treat to finish off a meal, Maamoul is a filled pastry made with dates, pistachios, or almonds and figs.
Middle Eastern Restaurants in Jeddah
Byblos is a local favorite Lebanese restaurant located on Al Kurnaysh Rd, Al-Hamra'a, Jeddah. The elegant restaurant has a menu of traditional food and flavors including tabouleh and mixed grills as well as a dessert menu.
The Lebanese restaurant Mataam al Sharq has a high-end menu and a dining area with views of the Red Sea. The stylish dining space is often configured for private events or special occasions, so plan ahead.
Stop in to Shawarma Shakir Aljazeera for some quick bites on the cheap. This Middle Eastern grill serves up traditional beef and chicken shawarma quickly. There is a small seating area and food can also be taken to go.
Fast Food Restaurants in Jeddah
Fast food may not be first on your immediate list of places to eat in Jeddah, but for a quick bite, maybe it should be! Fast food is a great way to get a feel for the flavors of a city. Stop in to these fast food restaurants for a quick and tasty bite.
Al Baik is a popular fast food joint in Jeddah. The simple menu features fried chicken, seafood, and fries with budget prices. A visit to Al Baik is considered to be part of the authentic Saudi experience and one every visitor should try at least once, but you'll probably want to go again.
Al Tazaj is a fast food chain restaurant with a specialty dish of BBQ Chicken. The chain is known for using a traditional Arabian recipe for the chicken, which is often served with rice or meatballs. Meals include sandwiches, chicken with garlic sauce, and tahina salad.
KUDU is a Western-style fast food restaurant with a basic menu of burgers and sandwiches. The popular quick-service chain has multiple locations and serves American-style burgers, fries, and breakfasts.
Major Chains
Jeddah has many Middle Eastern fast food restaurants but is also home to major fast food chains. International chains including KFC, McDonald's, and Subway can be found throughout Jeddah and can be a quick and easy way to experience a local twist on some familiar foods and flavors.
Food Trucks in Jeddah
Fine dining is great, but sometimes the best food out there can be found from the back of a truck. Mobile food trucks may not always be in the same location, but they often make some of the tastiest local delights anywhere you go and can be a surprising culinary delight.
Track down the Dr Fele food truck for a sweet treat. Usually located on Prince Sultan Street near Herra Plaza Center by Al Tarickh Square, this food truck sells sweet pancakes with chocolate, strawberries, and other tasty toppings. The staff wear medical uniforms, diagnosing a need for sweets.
The Sateology food truck serves up unusual fare for a food truck. Sates, rice, and fries come out of this truck smelling delicious. Low-key food trucks like this one are making tasty and traditional foods available from unconventional sources and in convenient places.
Food Trucks Park
If you're looking for a collection of food truck options, head to Food Trucks Park, located at 8709 Alkurnaysh Road Abhur in the Obhur district. This collection of food trucks has plenty of options for typical food truck burgers from several different vendors as well as cold drink choices with space to stop and eat.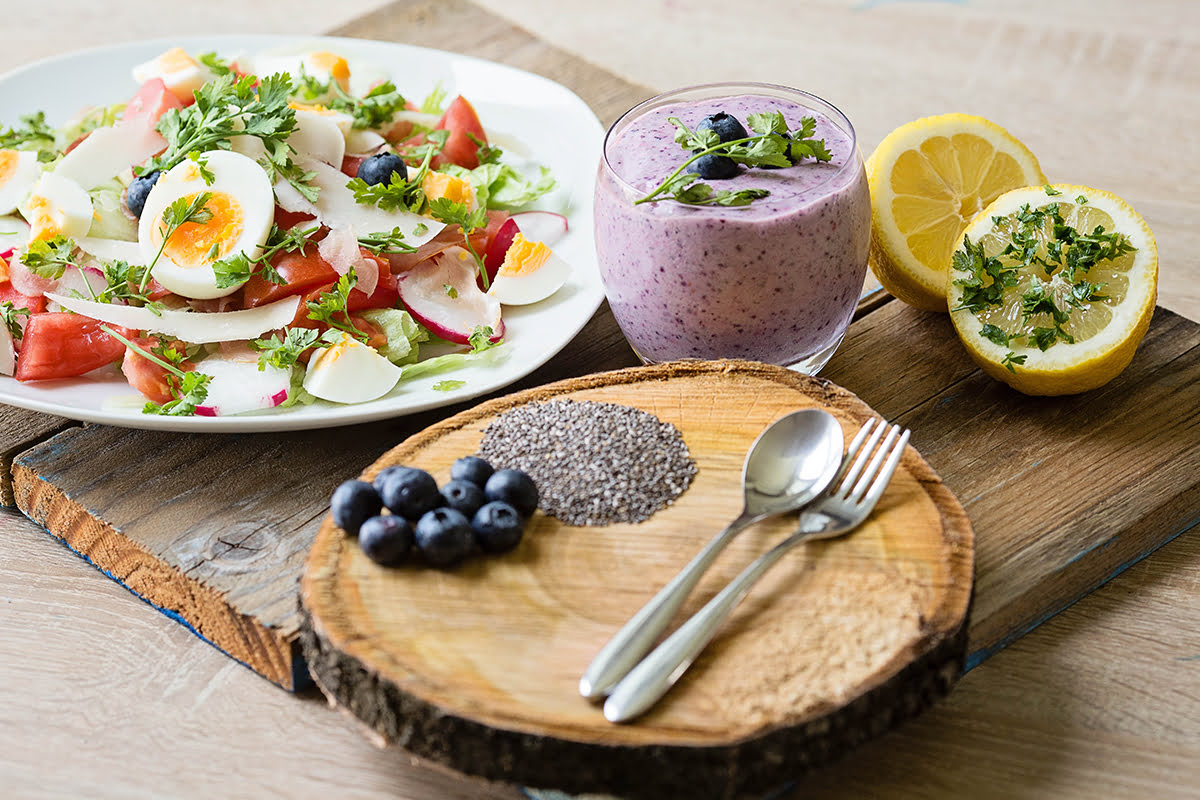 Healthy Food in Jeddah
It can be a challenge to find healthy and delicious food while travelling, but there are some healthy choices available in Jeddah, including vegan and vegetarian options.
Boga Superfoods is a healthy food restaurant with three locations in Jeddah. The chain is known locally for its fresh salads, juices, fresh breads and sandwiches, and organic ingredients. There is a simple seating area available.
Moon Shell is a cozy little vegan restaurant with a menu of small bites. They make cool smoothies with fresh fruit and have sweet and sugar-free dessert options. Moon Shell has a very small dining area and serves tasty lighter fare, perfect for cooling down in the heat of the day.
Shobak is a Jeddah restaurant with a menu of burgers and healthier options. There are veggie pizzas on the menu alongside Philly cheesesteak sandwiches and spinach wraps. The pies are soft and you will probably want to come back again.
Jeddah Restaurants
Jeddah has an impressive selection of restaurants serving traditional and world cuisine. Flavors from around the world mingle here in traditional and fusion styles. Check out this list of Jeddah restaurants while in town.
Piatto restaurant serves hearty Italian cuisine including pizzas cooked in a wood oven.
Toki is an Asian restaurant serving a blend of Malaysian, Thai, and Chinese cuisines in an ornate dining room.
Sakura Japanese restaurant is cash only and serves Japanese cuisine in a cozy dining room with vegetarian options available.
Texas Roadhouse is a steakhouse with American and Southwestern-style dishes.
Jeddah Airport Restaurants
When traveling or in transit, it is good to know where you can get a good bite to eat. King Abdulaziz International Airport has some tasty food options like Western-style burgers and traditional fare, plus quick bites on the go.
King Abdulaziz International Airport has a Subway chain inside. This international sandwich-building shop is familiar to many travellers and makes a consistently tasty sandwich.
The extremely popular Saudi Al Baik fast food chain has an outlet in King Abdulaziz International Airport. Eating at Al Baik is often considered an essential part of a true and complete Saudi experience. The restaurant's signature dish is fried chicken.
Yes, there's even a McDonald's in the King Abdulaziz International Airport. The worldwide fast food chain has its menu of familiar local specialties and standard burgers for sale on the go. Look for old favorites served with a local twist.
Check In, Step Out
Check in to Sofitel Jeddah Corniche, located on Al Kurnaysh Road, Cornish, Jeddah. This 5-star hotel has a hot tub and offers free wi-fi in all rooms.
Step out to Ginger Leaf, on Al Kurnaysh Rd in the Hilton, which is an Indian restaurant serving traditional flavors in a stylish dining room with lovely views out towards the Corniche. The menu features lamb and chicken dishes, and can be quite spicy.
Check In, Step Out
Check in to Citadines Al Salamah Jeddah, a 4-star property located on Hira Street, Al Mohammediah, Jeddah. The hotel offers an airport transfer and has air conditioning and free wi-fi in all the rooms.
Step out to Abu Zaid restaurant, a traditional Middle Eastern restaurant serving quick bites and vegetarian-friendly food options. There are several Abu Zaid locations in the city of Jeddah.
Check In, Step Out
Check in to Ascott Sari Jeddah, a 4 and a half star property. The hotel has a swimming pool and fitness area as well as free wi-fi in all guest rooms.
Step out to Wakame for a sushi experience in Saudi Arabia. The broad menu has pastries, soups, starters, and salads as well as mains and a variety of fresh sushi and rolls.