Located along the north end of Phuket, Layan Beach is a tropical getaway that's perfect for visitors who are looking for peace and quiet. While Layan Beach seems isolated, it is easily accessible and is the perfect spot for travelers who are looking to get away from the crowds and enjoy some relaxation in a quiet, secluded area. Located just north of Bang Tao Beach, Layan Beach promises spectacular views, crystalline waters, and a peaceful atmosphere.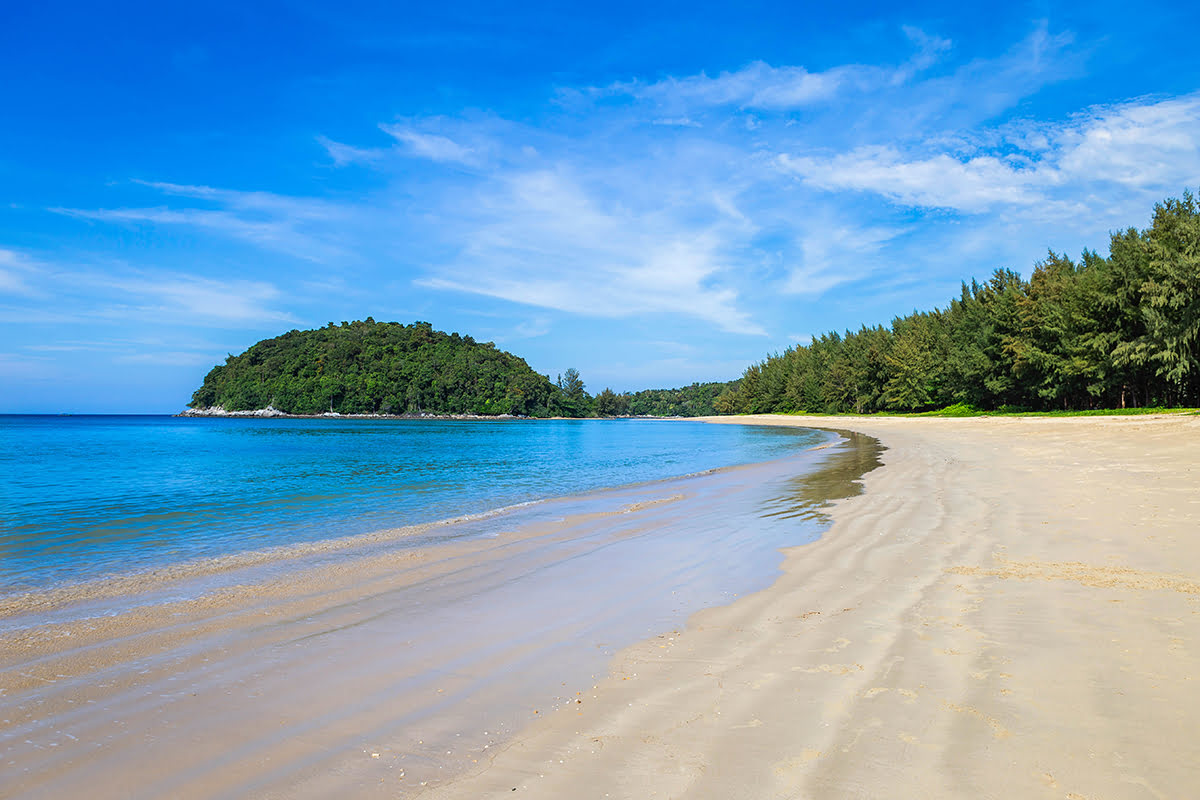 Best Attractions Near Layan Beach
Many people take a trip to Layan Beach to find a peaceful place to relax, but that doesn't mean they have to make sacrifices when it comes to attractions. As Phuket is rather small, travel between areas shouldn't take up too much time, so visitors can hop into a taxi and make their way to great sites all over the island. Here are just some top Phuket attractions that are near Layan Beach.
Splash Jungle Water Park
Splash Jungle Water Park is a great time for everyone and a great way to cool down while having some fun in the sun. With exciting slide attractions, a wave pool, a 335-meter-long lazy river, as well as an aqua park and more, there's something to enjoy in this park for all ages. For guests who are looking to experience some thrills, hop on the family raft ride which will shoot thrill-seekers through an exciting course, reaching travel speeds of up to 33 kilometers per hour! If visitors get hungry, there's great onsite dining, including cafes, as well as a swim-up bar for guests to enjoy. So, don't forget the sunscreen and stop in for an exciting adventure at Splash Jungle Water Park.
Hours: 10 a.m. to 5:45 p.m. daily
Address: 65 Soi Mai Khao 4, Mai Khao, Thalang District, Phuket
Admission: Tickets for adult foreigners cost 1305 baht, and tickets for foreign children cost 630 baht. The park can also arrange for transfer pickup services from certain areas, which generally costs 400 baht per person, though this service is not mandatory.
Sirinat National Park
This national park is located close to Phuket International Airport and is home to hawksbill and leatherback sea turtles that nest in the area. The national park is also home to mangroves that make up the habitat of many local birds, has offshore coral reefs, and encompasses many beautiful beaches. For great views, lovely natural habitats, and a relaxing atmosphere, a visit to Sirinat National Park is a great way to spend the day.
Hours: 24 hours
Address: 89/1 Village 1 Sakhu, Thalang District, Phuket
Admission: The admission fee for foreign adults is 200 baht per person, and the fee for foreign children is 100 baht per child.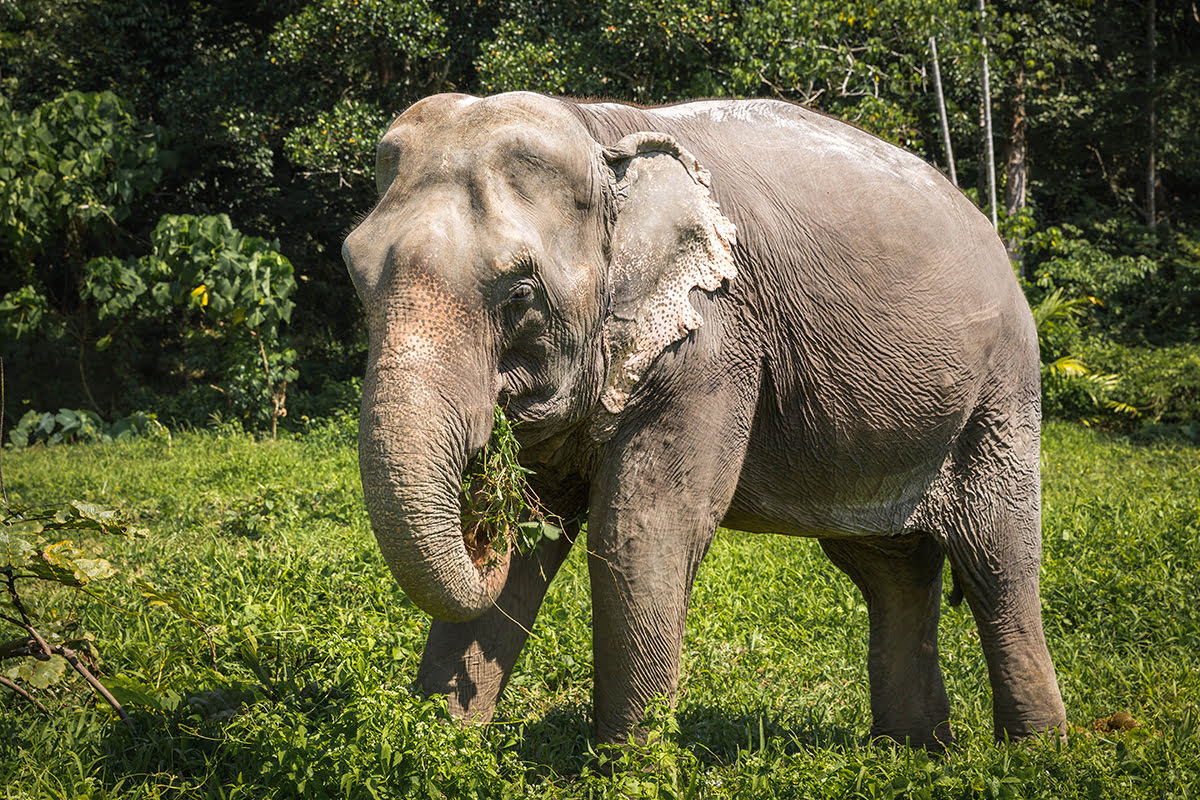 Elephant Retirement Park Phuket
This great park is a sanctuary for rescued and retired elephants and allows these amazing animals the opportunity to roam, graze, swim, and enjoy the natural habitat of their surroundings. This is a learning experience for visitors that enables them to learn more about these fantastic animals as well as the work that's done at the sanctuary, all while observing the elephants as they go about their daily routines. Guests can choose from half-day, full-day, and specialty experiences with the animals, and the prices range accordingly.
Hours: 7:30 a.m. to 5 p.m. daily
Address: 392/5 Bandon-Cherngtalay Rd, Choeng Thale, Thalang District, Phuket
Admission: Admission ranges from 2,600 baht for a half-day elephant care experience up to 20,000 baht for specialty volunteer elephant training experiences that are offered over multiple days.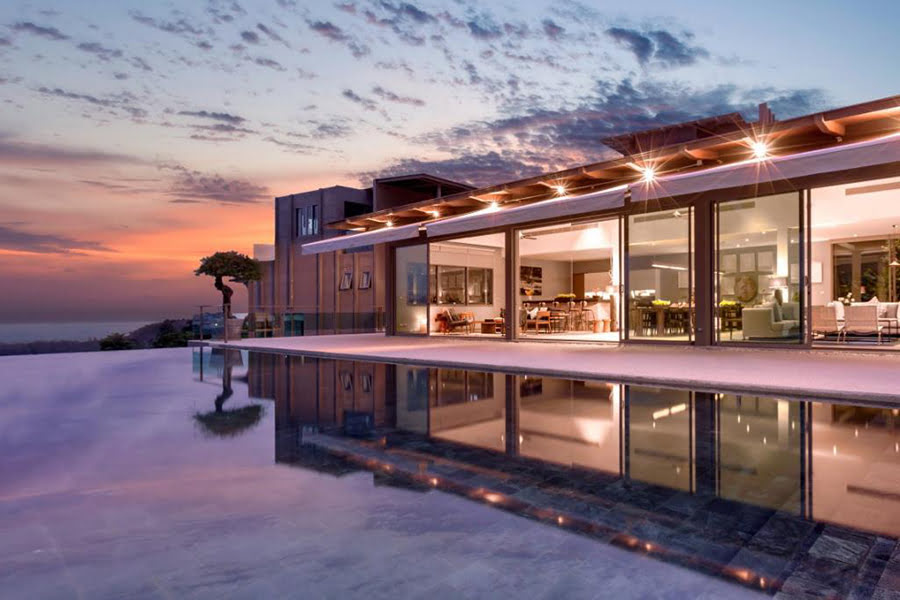 FIND & BOOK A HOTEL IN PHUKET TODAY
Best Hotels Near Layan Beach
While Layan Beach is relatively remote, there are still some great hotels and resorts that serve the area, meaning guests get to experience fantastic accommodations, as well as the beautiful and almost private-feeling beach. The price range for vacation stays will depend on the type of accommodations chosen, as some individuals will prefer a hotel experience, where others may enjoy renting a private stay for groups or families traveling together. To help visitors decide, here are some of the best hotels and resorts near Layan Beach.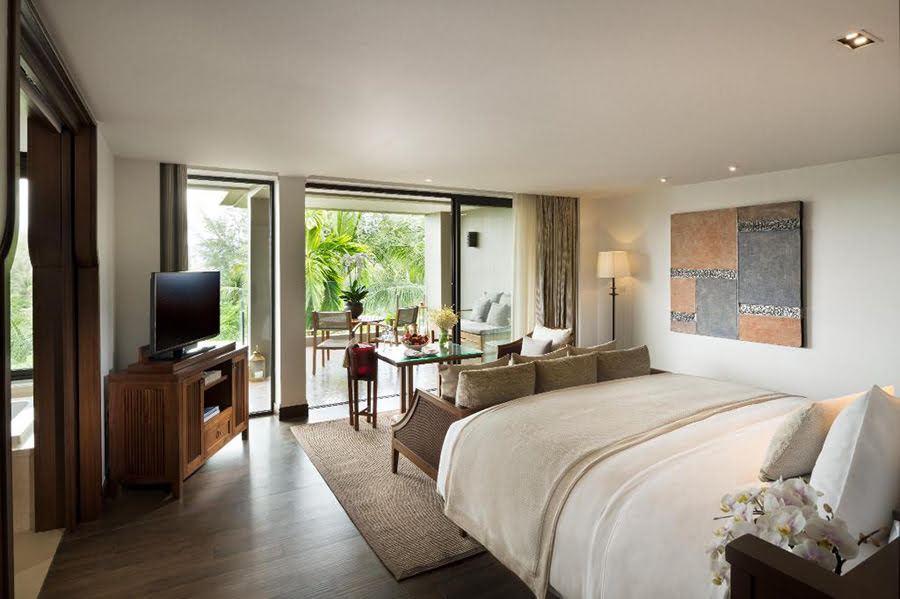 Anantara Layan Phuket Resort
Anantara Layan Phuket Resort is the perfect place for visitors to settle in and relax as it offers beautiful accommodations and great amenities for guests. Located a short 20 minute drive from Phuket International Airport, this hotel offers modern rooms, recreational facilities that include a yoga room, access to a private beach, a fitness center, pool and more. With onsite dining, massage and spa services, surfing lessons, and plenty of other great amenities, Anantara Layan Phuket Resort ensures that guests will love their stay at this resort.
Address: 168 Moo 6, Layan Beach Soi 4 Cherngtalay, Layan, Phuket
Trisara Phuket Villas & Residences
Trisara Phuket Villas & Residences offers perfect views of the beach and stunning private accommodations for visitors to enjoy. Step into luxury with a stay in one of several suites, villas, or residences, while still enjoying great hotel amenities, including an onsite restaurant and bar, gym facilities, spa and massage services, tennis courts, airport transfer service, and more. Surrounded by lush, tropical gardens, visitors can settle in and enjoy their own piece of paradise with a stay at Trisara Phuket Villas & Residences.
Address: 60/1 Moo 6, Srisoonthorn Road, Cherngtalay, Talang, Layan, Phuket
Villa Sunpao by Holiplanet
Villa Sunpao by Holiplanet offers great amenities in a relaxing setting and plenty of extras, including free Wi-Fi in all suites and public areas. These accommodations provide air conditioning, daily housekeeping, a kitchenette, and much more. Guests can also arrange for an airport transfer and can rent bikes for traveling around the area, and for getting to and from Layan Beach. There is also a pool and hot tub for guest use, which can be a great way to unwind after a day of traveling.
Address: 169 Moo 6 Soi Layan 7, Chengtalay, Thalang, Phuket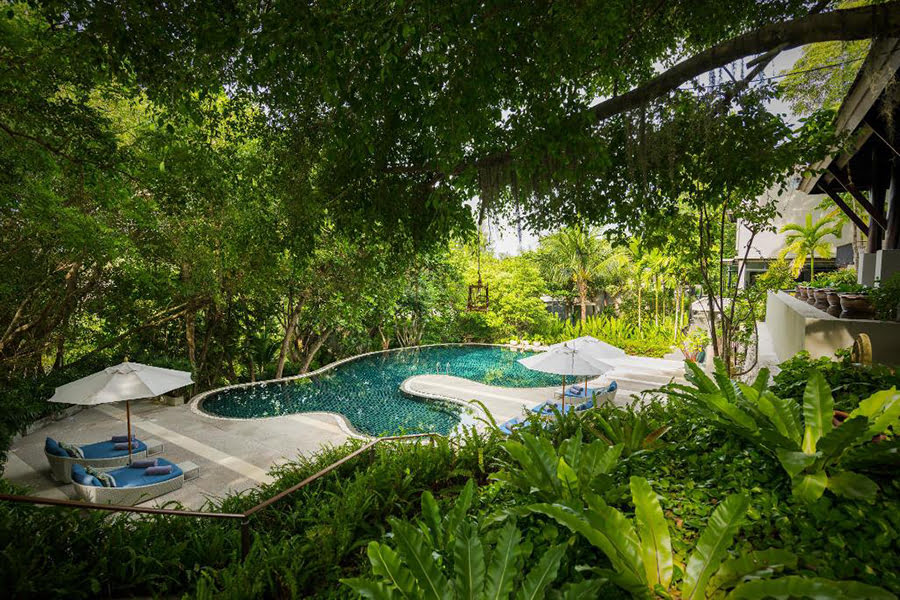 FIND & BOOK A HOTEL IN PHUKET TODAY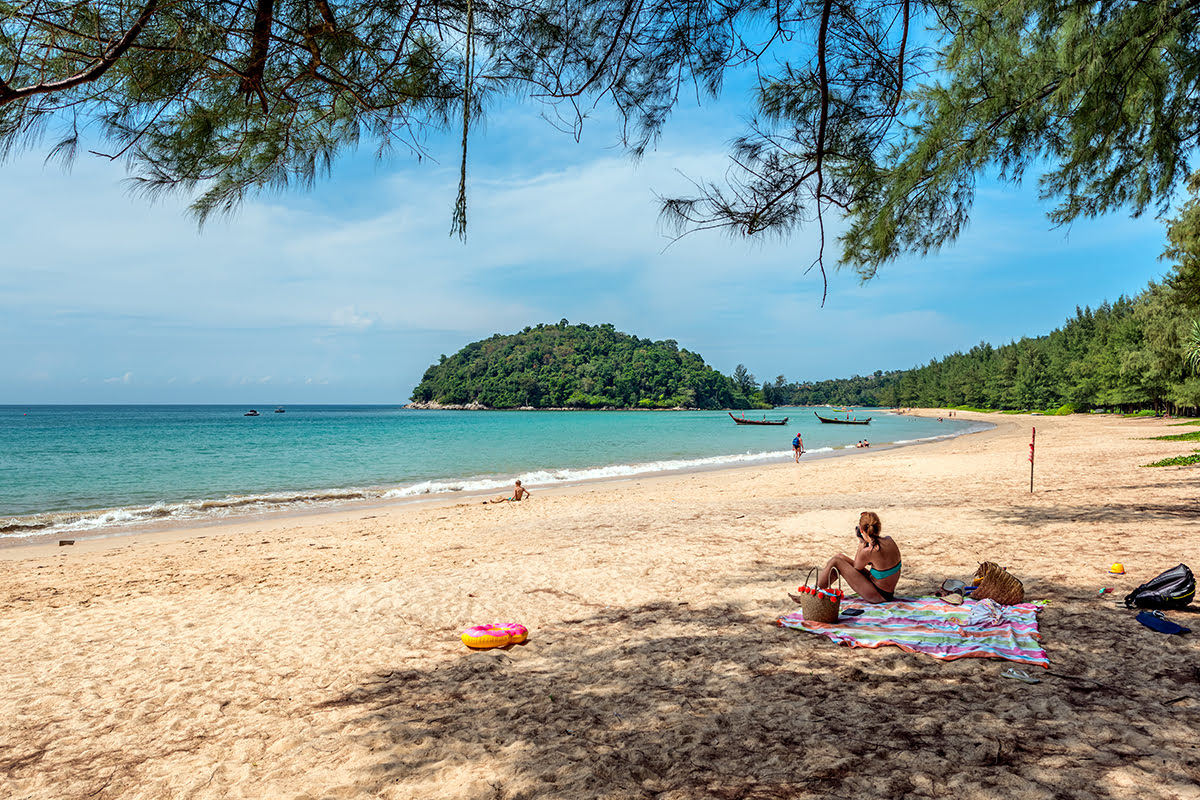 How to Travel to Layan Beach
The beach area at Layan Beach is small enough for most visitors to walk around, and it's possible that hotels and resorts will have shuttle services that take guests to and from the beach. As the beach is quite secluded, there are not extensive transportation or food services in the area. However, some resorts are quite close to the beach and should be able to provide guests and visitors with both transportation services and dining options. If travelers arrive at the beach or a travel destination by taxi, it may be a good idea to arrange for a pickup with the driver so that visitors can count on reliable transportation back to their hotels.
Many travelers to Phuket will arrive via Phuket International Airport. Layan Beach is located about 25 minutes southwest from Phuket International Airport and should cost around 820 baht to reach by taxi. Visitors to Layan Beach should see if their hotels or resorts have shuttle services from the airport to their accommodations, as this will probably be one of the easier ways to get to destinations in Phuket. Metered cabs are available outside of both domestic and international arrivals at Phuket International Airport.
FIND & BOOK A HOTEL IN PHUKET TODAY