Dubai is a world-class city known for its collection of forward-thinking architecture, man-made islands, lavish shopping centers, luxury hotels, and for its international mix of gourmet restaurants and casual eateries. No matter what type of cuisine you are looking for, whether it be homestyle or a concept dish using new techniques like glow in the dark ingredients, you do not have to wander far to find where to eat at Expo 2020 in Dubai.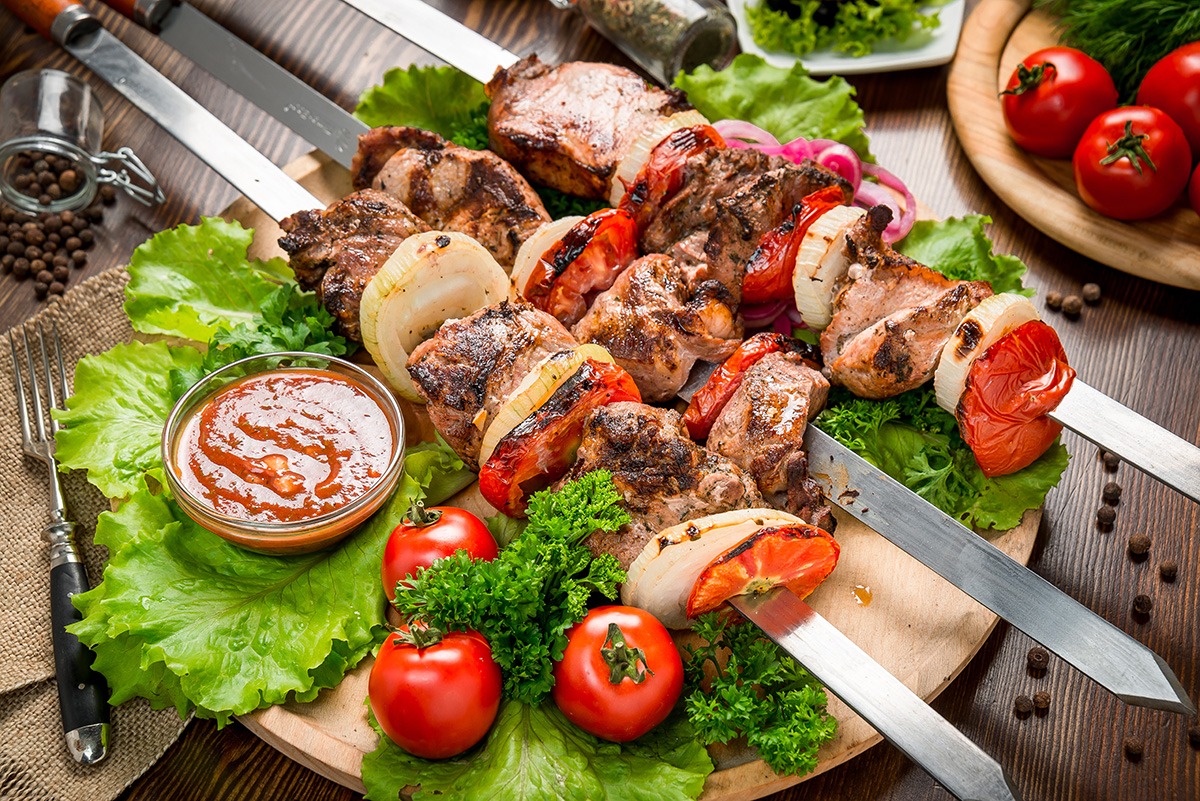 Where to Eat at Expo 2020 in Dubai
Here is a quick look at some of the tantalizing food choices and where to eat at Expo 2020 in Dubai.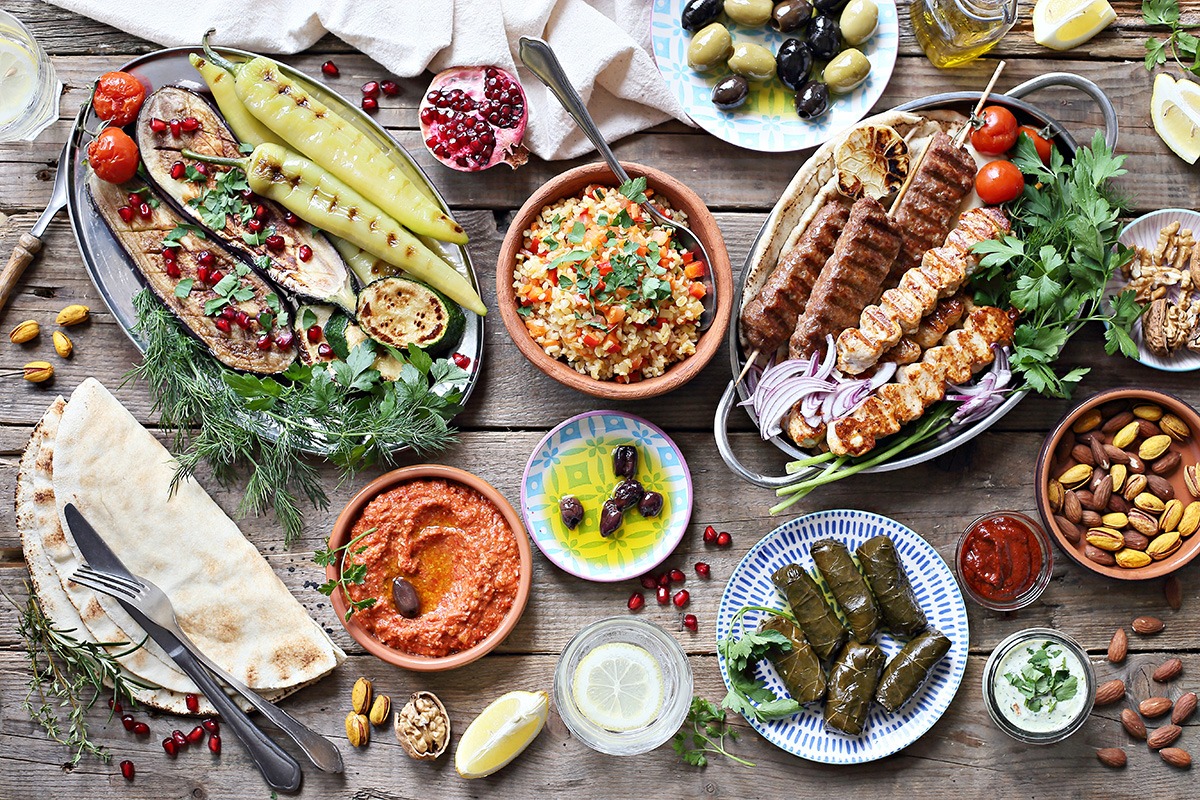 Arabic Cuisine
Aromatic and rich in flavor, Arabic cuisine is celebrated for its use of simple ingredients and fragrant spices to achieve complex flavors that seemingly erupt into song and dance on your palette. Here are some of the most popular Arabic eateries in the area:
Feras Hanoun Sweets – Located in the Mobility District, Feras Hanoun Sweets specializes in sweet and savory baked goods that include Knafeh, Baklava and indulgent Turkish coffee.
Arabian Teahouse – Dolling out healthy Emirati and Arabic food like mixed meat and vegetable skewers, dates cake, vegetable sambosas, hamssat dango, and hibiscus iced tea, Arabian Teahouse is regarded as a hidden gem along the Palm Jumierah. Stop in for breakfast, lunch or dinner.
Samad Al Iraqi – In the mood for some fresh seafood that is marinated with traditional Middle Eastern spices? Samad Al Iraqi serves traditional Iraqi food like Qawerma with eggs, stuffed lamb, okra tashrib, kababs, and bacha with a new age twist. This restaurant is open for breakfast, lunch, and dinner.
Ibn AlBahr – Celebrating the rich and indulgent flavors of Lebenon, visit this restaurant for a generous helping of hummus with pita bread, spicy seafood soup, Fattoush, and other local favorites. Ibn AlBahr is open for lunch and dinner.
American Cuisine
Cementing its place in the world food scene, American cuisine is much more than just burgers and fries, pizza, and BBQ chicken. Here are some of the best American food haunts near Expo 2020:
Dampa Seafood Grill – Offering a zesty menu of seafood and veggies that are seasoned with Cajun and TexMex spices, Dampa Seafood Grill is your place to taste the flavors of the American South.
La Coco Dubai – A California-inspired eatery located in Andaz Dubai The Palm. While dining here, sink your teeth into grilled stuffed peppers, vegan tostadas, marinated baby chicken and fresh fruity sweets.
Western 14th Steakhouse – New York Grill and Bar – Sizzling up grade-A cuts of New York strip, ribeye and fillet minion with classic American sides, this restaurant is open nightly for dinner. Western 14th Steakhouse also serves upscale burgers and.
Chinese Cuisine
Curb your craving for delicious Chinese food at one of these popular Asian restaurants:
Maiden Shanghai – Home of the Naughty Noodles Brunch, Maiden Shanghai offers classic Chinese fare like Kung Pao prawns, fried rice, and Dim Sum with views of the waterfront.
Chuan – Indulge in gourmet Chinese food with views of the Dubai Marina. Choose from menu options like elevated baked crab meat, steamed tomato stuffed with prawn, or salmon avocado rolls.
Kaleidoscope – A casual Italian and Chinese fusion buffet restaurant where you can enjoy a buffet style lunch or dinner.
Mongol Ger Restaurant – Located in Atlantis The Palm Dubai, this restaurant dolls out gourmet renditions of traditional Chinese cuisine for dinnertime dining.
Indian Cuisine
From spicy curries to homemade naan bread baked in traditional firing ovens, Dubai is a culinary hot spot for gourmet and budget-friendly Indian fare; here are some of the best restaurants to choose from:
Indya by Vineet – Open for lunch and dinner, Indya by Vineet is regarded as one of the top Indian restaurants in the city. Located inside Le Royal Meridien Beach Resort & Spa the food served here is grouped into the categories of earth, land, sea & sweets.
Bastani & Co. – Located at Bluewaters this restaurant dolls out a variety of traditional Indian dishes that are brimming with bold and fragrant Indian Spices.
Hitchki – Located inside of Grand Millennium Dubai – Barsha Heights, Hitchki specializes in upscale Indian cuisine. Try the dabba chicken, crispy okra, Tandoori Masala, or the Hitchki egg decker.
Little Miss India – Serving fresh house-baked naan, spicy chicken Tikki Masala, and vegetable Biryani, Little Miss India is a vibrant eatery that is open for dinner each night.
International Cuisine
Looking for some traditional British food or Fine French cuisine? Here are some of the delicious international favorites to try out while you are in town:
Bread Street Kitchen & Bar – A Chef Gordon Ramsey restaurant, Bread Street Kitchen & Bar specializes in traditional British fare elevated for a gourmet experience. Try out the fresh salad selection as well as the vegetable or beef Wellington, pan seared salmon, or traditional British chicken roasts.
Couqley French Bistro & Bar – Open for lunch and dinner, Couqley French Bistro & Bar is a classy French restaurant where you can savor tantalizing traditional meat and seafood dishes with a new-age spin.
Pakistani Cuisine
Pakistani food resembles some of the cuisine of nearby Arabic countries, except for food from this region is often slow cooked for hours to really develop complex flavors and aromas. Be sure to try out some of these delicious restaurants when looking for where to eat at Expo 2020:
Bar B Q Tonight – A budget-friendly casual haunt where you can dine on classics like mutton seekh kababs, chicken Tikka, and fragrant rice with vegetables, Bar B Q Tonight is located at Palm Jumeirah and is open for lunch and dinner.
Karachi Grill – Open for lunch or dinner, Karachi Grill is a place where you can sample a variety of different flavors of Pakistan with their famous Super Saver Buffet Lunch.
Salad, Sandwiches & Wraps
If you are looking for a light meal to get you through the day, Dubai has many delis and sandwich shops to choose from; here are a few to consider checking out:
The Delisserie ­- A quaint neighborhood eatery that offers artisan wood fired pizza, sandwiches, salad, or pastries with a side of coffee, this international treasure is open for breakfast and lunch; dine in or grab something delicious to-go.
Amira's Deli – Stop in for an international breakfast or lunch like an English breakfast, pancakes, a Thai salad, pizza, a vegetable salad, or a refreshing berry blast.
Bottega Italian Deli – Offering traditional Italian food for a light lunch, dine on delicious menu items like a caprese salad, crab legs, pasta, or wood-fired pizza.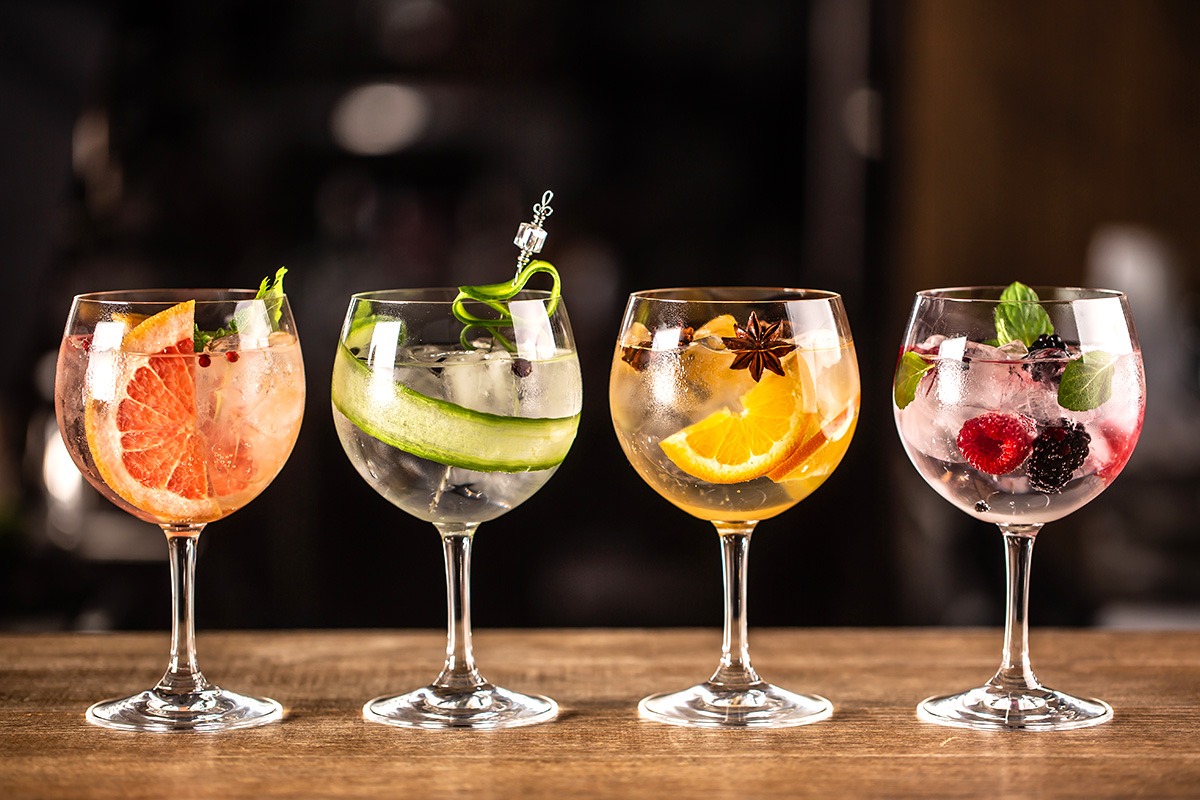 Pubs & Bars
After an exciting day of sightseeing, relax and unwind with a cold cocktail, beer, or glass of wine in hand at one of these popular watering holes near Palm Jumeriah:
Above 21 – An elegant whiskey and cigar lounge.
Barrel 12 – A tropical Jamaican-themed bar.
SoBe – A rock and roll joint with a fun Miami Beach vibe.
The Penthouse – An urban chic cocktail lounge with outdoor seating that overlooks the city skyline.
The Tap House – European style pub that dolls out classic alcoholic beverages and English style bar food.
Hotels Near Dubai Expo 2020
City Seasons Towers Hotel
Grand Excelsior Hotel Al Barsha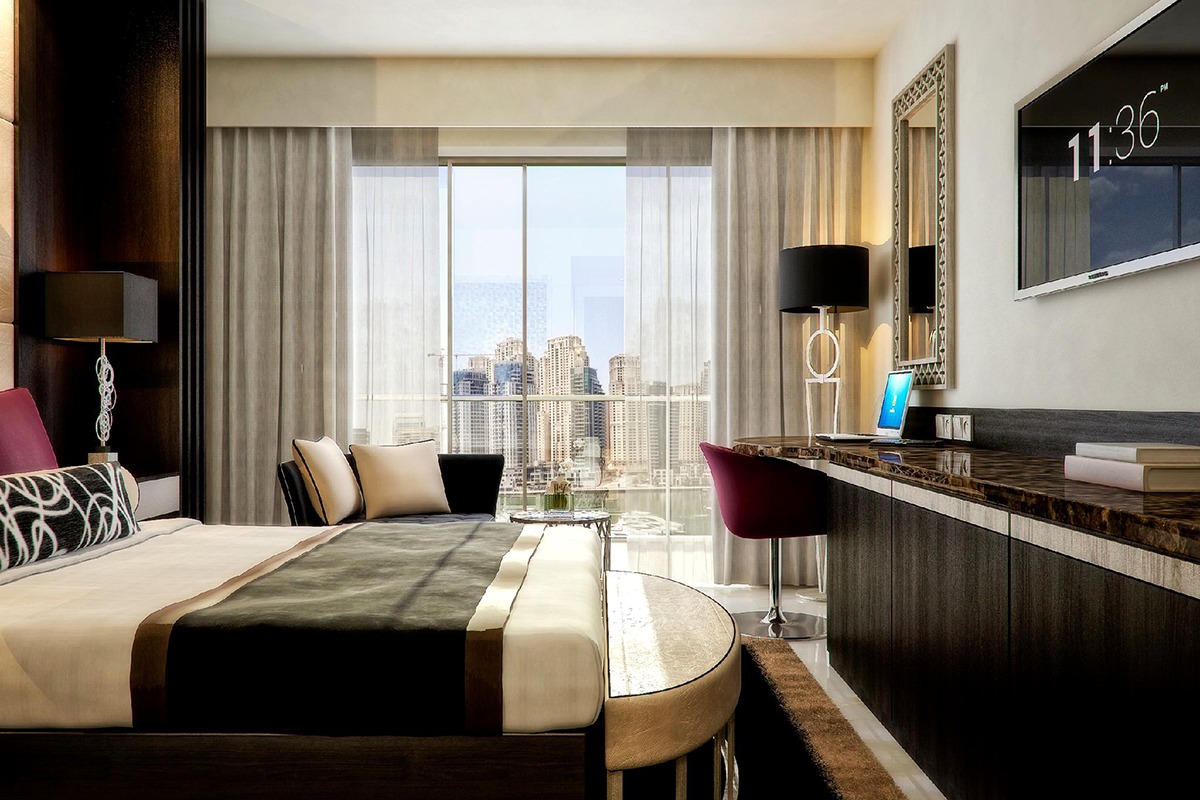 Millennium Place Dubai Marina