Nusa Penida is an island that offers breathtaking beauty to all who visit. Whether checking out the island for a peaceful day trip or lodging for a few days, guests will enjoy a relaxing experience that they will remember for many years to come. For those who are looking for new depths to explore, Nusa Penida has several popular dive sites where divers can look for tropical fish, coral reefs, and maybe even a shipwreck or two. Land-lovers can relax along the shoreline on the pristine sandy beaches this island has to offer. Nusa Penida features picture-perfect scenery, native tropical foliage, and several species of birds, making it an ideal retreat for visitors who are on vacation. Read on to learn more about what Nusa Penida has in store for guests who venture out to this beautiful Balinese island.
About Nusa Penida
A small island paradise, just off the southeast coast of Bali, Nusa Penida offers visitors a quiet getaway from all of the hustle and bustle of the main island. It is known for its bird sanctuaries and abundance of rock hills that beg to be climbed and explored further.
With nearly 79 square miles of area to explore, a trip to Nusa Penida truly is an adventure worth taking. It is one of the three smaller islands off the coast of Bali and features an abundance of nature areas to check out. Nusa Penida is separated from the Bali mainland by the Badung Strait. On the island, visitors will find small villages that host boutique hotels, local stores, and eateries that offer traditional and modern Indonesian food. The culture of Nusa Penida is slightly different than guests will find on the mainland, with the residents having their own distinct dialect and cultural customs.
Nusa Penida provides a relaxing experience for all who visit. The island is made up of rocky hills that are adorned in tropical foliage and fauna. Visitors are welcome to hike and lay out on the sandy beaches, as well as venture into the villages to experience the remote culture of the island for themselves. It is a place that caters to divers of all skill levels and has an assortment of historic landmarks and architecture to check out. Guests can travel out to the island for a day trip or book a hotel room and stay for a while.
How to Get to Nusa Penida
Traveling to Nusa Penida is easy and only requires a short trip across Badung Strait, which takes about 30-40 minutes. There are a couple options available to guests to get from the Bali mainland over to Nusa Penida.
From Padang Bai guests can catch the public ferry, which costs approximately IDR 30,000 per crossing. The ferry makes multiple trips to and from the island each day, so it is a convenient option for guests who would just like to visit for the day. Guests can bring bicycles on the ferry to ride on once they arrive to Nusa Penida. There are also several private boats that provide transport to Nusa Penida from several docks located in Bali. Private boat round-trip service costs approximately IDR 300,000 for non-Balinese residents, and seats should be booked in advance. Booking a private boat is a good option for those who would like the flexibility of being able to come and go from Nusa Penida on a set schedule.
There also are several tour boats that make regular trips out to the island. When reserving a spot on a tour boat, visitors receive the benefit of a narrated journey where they can learn more about the history and culture of Nusa Penida while taking in all of the beautiful scenery. Most tour companies also provide tours of all the landmarks on the island, so they are a good option for those who do not want to venture out and explore unknown places on their own.
Getting Around Nusa Penida
While Nusa Penida is a popular tourist destination, the roads around the island are typically in rough shape. Visitors can ferry over to the island or catch a ride on a private boat, but traveling by car once on the island is challenging. Most visitors prefer to bring a bicycle or rent a motor scooter upon arrival to the island. Depending on where you are staying, you can walk or hike to many of the attractions. The average price of a motor scooter is approximately IDR 100,000 per day depending on the time of year and demand for the bikes.
FIND & BOOK A HOTEL IN NUSA PENIDA TODAY
Planning for How Long to Stay on Nusa Penida
Nusa Penida is an expansive island with many miles of untouched land to explore. In order to see the temples, spend time on the beach, climb through the jungle, and perhaps even squeeze in a dive or snorkeling adventure, travelers should plan on staying on the island for at least three days. While it is completely doable to take a day trip over to Nusa Penida there is so much to see and do that you will probably want to stay longer!
Hotels on Nusa Penida
Nusa Penida is such a fascinating place that visitors should plant to spend at least a couple days there to ensure that they get to see all of the sights and landmarks on their itinerary. Here are some of the best hotels that the island has to offer to guests.
Road Beach Hotel
An adorable minimalist hotel located right on the shoreline, Road Beach Hotel is an excellent choice for those who want to spend some extra time on Nusa Penida, but are not necessarily looking for luxurious hotel accommodations. Rooms at Road Beach Hotel can be reserved for as little as IDR 795,000 per night during non-peak travel months and guests can enjoy a cozy room with a spectacular view of the ocean.
Each room is adorned in natural wood furnishings and tropical decor. Guests can kick back on the private beach and enjoy all of the natural surroundings while resting up for another day of sightseeing. Amenities offered at this hotel include free Wi-Fi, complimentary breakfast, an on-site restaurant, plenty of outdoor seating, plush bedding, airport transportation, and private bathroom facilities.
The Angkal Resort
Boasting a large outdoor swimming pool with stunning views of the ocean beyond, The Angkal Resort is a complete oasis of rest and relaxation. Rooms at this cozy boutique hotel and resort provide guests with the opportunity to rest and unwind on a large stretch of private beach.
Each room at The Angkal Resort comes with a king size bed, plush white bedding, and natural wood furnishings that connect guests with the tropical scenery around them. The rooms are open and airy and each has its own balcony or terrace. Amenities offered at this resort hotel include a swimming pool, complimentary breakfast, free Wi-Fi in all rooms, an outdoor lounging area, a coffee shop and restaurant, a bar, and a healing mineral bath.
Pandawa Beach Resort and Spa
Regarded as one of the most exclusive hotel resorts on Nusa Penida, Pandawa Beach Resort and Spa is a luxurious paradise for those with a discerning taste for fine accommodations. The hotel offers and assortment of different suites that will suite the needs of any party size. Guests can choose between rooms with queen beds or king beds and rooms with ocean or nature views. The resort has a large center court that is adorned with lots of patio furniture and a spacious outdoor swimming pool. The rooms are adorned in neutral colors and plenty of Balinese decor.
Amenities included with a room booking include complimentary breakfast, free Wi-Fi in all areas of the resort, a currency exchange center, airport transport, an on-site restaurant and bar, grocery delivery service, a library, BBQ facilities, and a gift shop.
Bunda 7 Bungalows
Bunda 7 Bungalows provides guests with a restful stay that is cozy and simple. Guests can choose from options such as a single room bungalow with a single bed to a multi-room bungalow with multiple beads. This lodging option is ideal for solo travelers and those who do not plan to spend much time in their room.
Bunda 7 Bungalows is tucked away into the jungle and is a quiet retreat for the weary soul. While staying at Bunda 7 Bungalows, guests can enjoy a variety of amenities including a spacious outdoor swimming pool, poolside lounging, daily housekeeping, private terraces and balconies, an on-site restaurant, and complimentary Wi-Fi.
Pemedal Beach Resort
Located on the sandy shoreline, Pemedal Beach Resort is the ideal hideaway for those who wish to lodge amid stunning tropical scenery. This hotel features all of the fine luxuries of a large-scale resort without all of the crowds.
Each room at Pemedal Beach Resort is decked out in natural wood furnishings and neutral colored linens to promote rest and relaxation. The resort is home to a gourmet restaurant that serves up traditional Indonesian fare with a twist. Guests can also take advantage of a scenic outdoor swimming pool, outdoor lounging areas, a private stretch of beach, and a picture-perfect tropical garden.
FIND & BOOK A HOTEL IN NUSA PENIDA TODAY
Attractions on Nusa Penida
Not only does Nusa Penida provide several miles of beaches and rocky cliffs to explore, but it also has many amazing attractions that will appeal to visitors of all ages. Here are some itinerary-worthy attractions you do not want to miss out on seeing!
Crystal Bay Beach
One of the most popular tourist attractions on the island, Crystal Bay Beach is a relaxing day spot that offers guests a little bit of everything. It is the perfect place to go for a swim or lay out on a towel and soak in the sunshine. The bay is surrounded by tropical foliage adorned cliffs that also privacy from all of the other activities going on throughout the island. Guests are invited to bicycle into the beach area and enjoy a delicious meal or cold cocktail at one of the eateries or bars.
Kelingking 'T-Rex'
Perhaps one of the most iconic rock formations on Nusa Penida, Kelingking 'T-Rex' really does look like the famous dinosaur from prehistoric times. Hike down the cliff and feel the majesty of standing on the spine of the rock beast with the wind blowing through your hair. Paradise has never felt so sweet!
Peguyangan Waterfall
Complete with a panoramic view and the opportunity to get in a serious workout, Peguyangan Waterfall is a fascinating attraction that just about anyone will enjoy. Follow the never-ending blue staircase up to the top of the cliff and behold the stunning sacred temple and cascading waterfall that is at the top. Bring a sarong and do a spiritual cleansing with the locals before visiting the shrine. It takes approximately 20 minutes to hike up, but the views are well worth the leg muscle burns!
Crystal Bay Beach
One of the most popular tourist attractions on the island, Crystal Bay Beach is a relaxing day spot that offers guests a little bit of everything. It is the perfect place to go for a swim or lay out on a towel and soak in the sunshine. The bay is surrounded by tropical foliage adorned cliffs that also privacy from all of the other activities going on throughout the island. Guests are invited to bicycle into the beach area and enjoy a delicious meal or cold cocktail at one of the eateries or bars.
Tembeling Natural Pool
Hidden away in the jungle, visitors are invited to go on a hike and look for Tembeling Natural Pool. It is the perfect place to go for a quiet swim in the warm mineral-rich water and enjoy an afternoon in solitude.
Diving in Nusa Penida
Appealing to divers of all skill levels, Nusa Penida has an underwater world that is absolutely worth exploring. This island is home to colorful coral reefs, tropical fish that are unique to the region, and an assortment of ship wrecks. Divers can go under the sea on a solo adventure or travel with a dive team through one of the many diving tour companies in Bali. No matter how visitors decide to dive, there is an adventure waiting to be had.
Manta Bay
A tropical oasis for those who love beautiful scenery, Manta Bay is a coveted destination for serious divers. This diving location is best explored in the company of an expert dive team, and offers a variety of sealife you will not find at any other diving location. Manta Bay is mostly known for the Manta Rays that visitors will encounter while they are under water. Visitors can spend hours watching the majestic creatures swimming around looking for food. Guests will also see an abundance of tropical fish and colorful coral that lines the coastal waters of the bay. Manta Bay is located on the west side of Nusa Penida.
Blue Corner
Experienced divers will have an extraordinary time checking out all of the marine wildlife living around Blue Corner located in the north. From marble rays to dolphins, divers will get to see a diverse selection of tropical species. This diving area is specifically reserved for advanced divers due to current and tide considerations.
FIND & BOOK A HOTEL IN NUSA PENIDA TODAY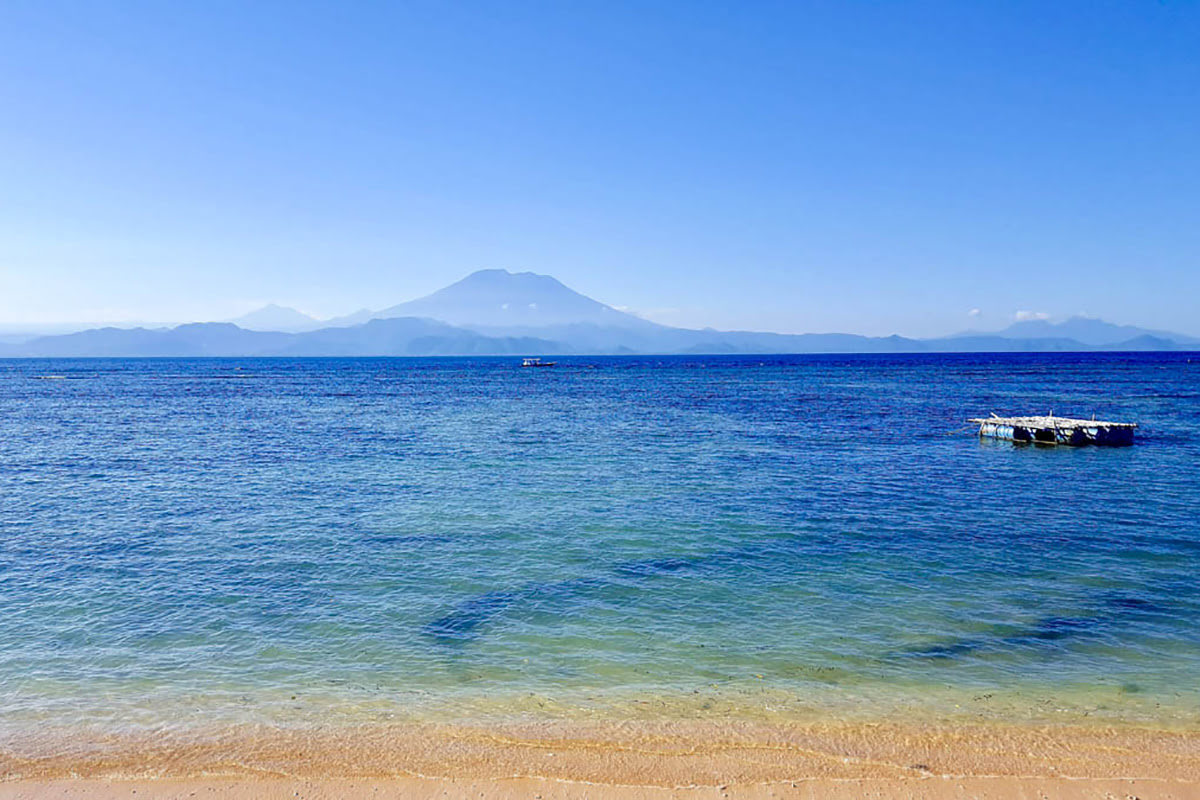 Islands Near Nusa Penida
Nusa Lembongan is the second largest island that makes up the trio that can be found to the southeast of Bali. Just like with Nusa Penida, this island features some memorable scenery to explore and visitors can travel to the island by using the public ferry or hiring a private boat service.
Nusa Lembongan is less populated than Nusa Penida, but offers pristine beaches, excellent surfing locations, and top-notch dive sites. For those who would like to stay the night on this small island, there are a couple of resorts available or you can rent out a private villa.
Nusa Ceningan is the smallest island of the trio and is the most popular spot for surfing thanks to its perfect wave making location. Nusa Ceningan is located approximately 45 minutes from the Bali mainland and visitors must catch the public ferry or reserve a ride on a private boat to get to the island. Nusa Ceningan offers a quiet escape from all the tourist activity located on the larger islands and features perfectly blue coastal water and soft white sand beaches. Like with Nusa Lembongan, visitors should plan to bring a bicycle or rent a motor bike when visiting.
Check In to a hotel or villa in Bali
Road Beach Hotel
The Angkal Resort
Pandawa Beach Resort and Spa
FIND & BOOK A HOTEL IN NUSA PENIDA TODAY