Historical Jakarta is said to be home to the most museums in Indonesia, the most shopping floor space in Asia … and the worst traffic in all the world! Enduring the craziness is part of the adventure, but once you've explored the city's landmarks and scoured through its markets, head for the hills (or the sea) to discover Indonesia's lush jungles and remote islands during any of these Jakarta day trips.
AGODA EXTRA: Bahasa Indonesia is the official language of Indonesia, but listen closely on your journeys, and you'll hear dozens of dialects inside Jakarta, as well as on the outskirts. English and Dutch are widely used for business, making visiting a snap for internationals, but a couple of Bahasa phrases you'll want to know are "terima kasih" (thank you) and "apa kabar?" (how are you?).
1. Go island hopping in paradise at THOUSAND ISLANDS (KEPULAUAN SERIBU)
Consider Muara Angke Port or Ancol Marina as your launching pad to a day of boating on blue waters, snorkeling through coral-laden coasts and lounging on sandy beaches devoid of maddening crowds. Jakarta's Thousand Islands consist of more than 100 islands scattered in the Java Sea, and boats leave daily from two main piers to deliver passengers to various islands, 13 of which are fully developed and offer overnight family accommodations. The closest island is Bidadari, a 30-minute ride and a popular stop for daytrippers. Discover other blissful getaways on neighboring islets like Ayer, Kotok, Putri, Sepa, Pantara and Pramuka, which serves as the administrative capital of Kepulauan Seribu and features a hawksbill turtle conservatory and conservation sites for marine life and mangrove forests.
Check In to Pulau Ayer Resort and Cottages, Step Out to Thousand Islands
Find more hotels and apartments near National Monument (MONAS)
2. View Jakarta's countryside while hiking through PUNCAK PASS
A trip to gorgeous Puncak will take two to three hours, depending on that crazy Jakarta traffic, but embarking on the ride is well worth it. You can easily turn this "day trip" into an extended holiday with an excursion through Puncak Pass, which connects the towns of Bogor and Bandung along the northern ridge of Mount Gede and Mount Pangrango. Along the trail, you'll find irresistible eye candy and activities at places like Bogor Botanical Gardens, Taman Safari Indonesia, Mount Puncak (Gunung Mas Tea Hills), Cibodas Botanical Garden, Telaga Warna volcanic lake, Little Venice Kota Bunga and Taman Wisata Matahari water park. Whew! That's a lot for just a day trip!
Check In to Pesona Alam Resort & Spa, Step Out to Puncak Pass
Find more resorts and guest houses in Bogor
3. Savor stunning views at SITU GUNUNG LAKE in GUNUNG GEDE PANGRANGO NATIONAL PARK
Trekking through the forests of twin volcanoes is one option when visiting Gunung Gede Pangrango National Park, where Mount Gede and Mount Pangrango offer challenging climbs through deep valleys and over long ridges. Silvery gibbons and Javan leopards both have been spotted in the area, and more than 250 bird species have been identified, too. For a day of relaxation, visitors navigate toward Situ Gunung Lake, hidden in the depths of the Mount Pangrango foothills. Enjoy stunning observation points as well as a chance to watch local fishermen netting the day's catch. Go for a hike through surrounding wilderness, and cool off under Sawer Waterfall. The area is a popular getaway for Jakarta locals, mostly because of its blissful presence, but also because it is famous for providing the film set for "Naura Dan Genk Juara" (Naura and the Champions Gang), a well-known Indonesian movie.
Check In to Sahid Eminence Hotel Convention Resort, Step Out to Gunung Gede Pangrango National Park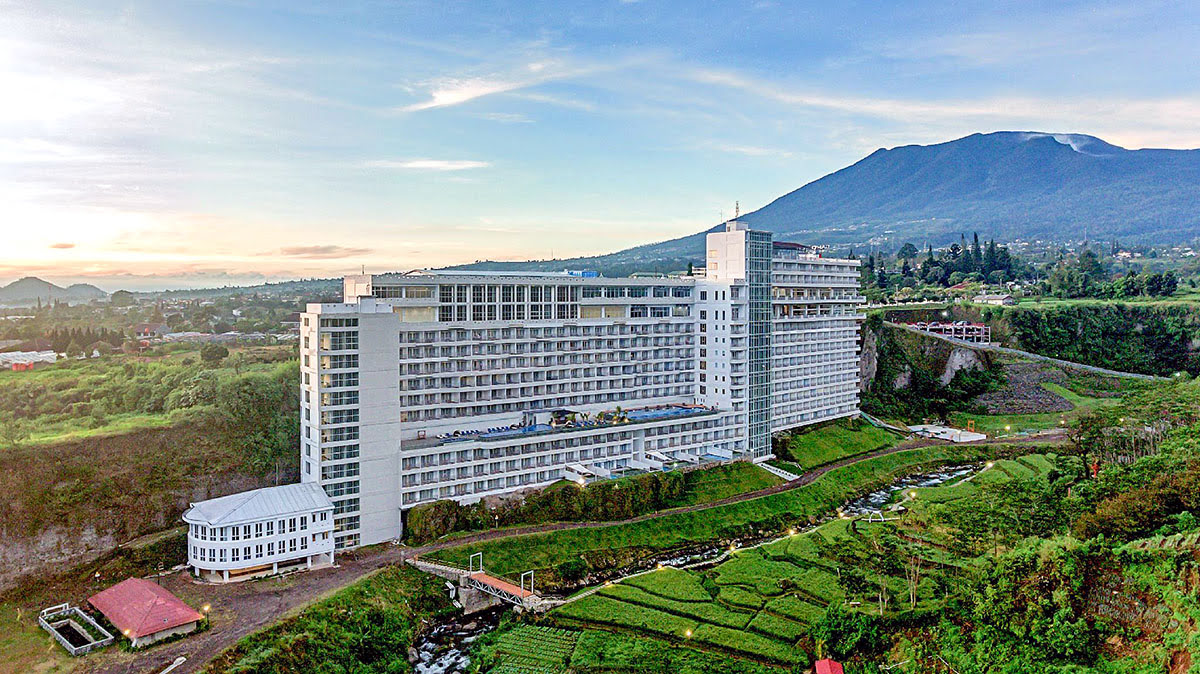 Discover more hotels and guest stays near Situ Gunung National Park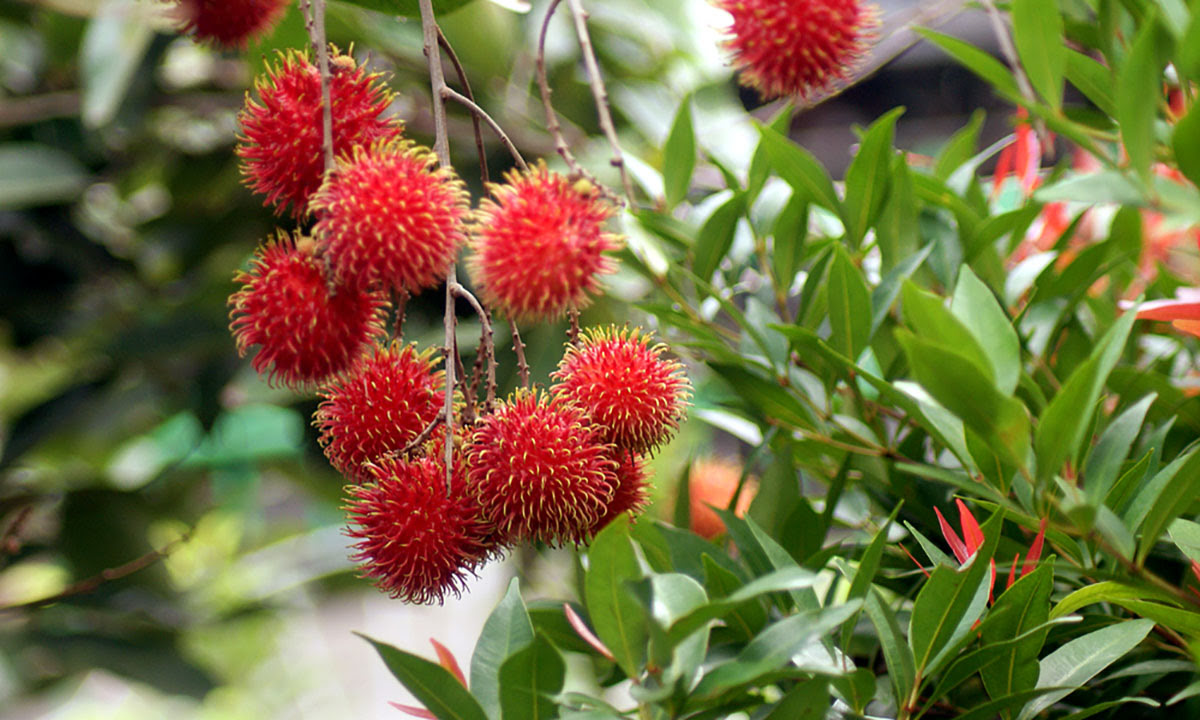 4. Explore the largest hands-on fruit garden in the world at MEKARSARI FRUIT AND RECREATION PARK
More than a fruit farm, Mekarsari Fruit and Recreation Park aims to preserve tropical fruits from coast to coast in Indonesia. Encompassing more than 2.5 square kilometers and located just 25 kilometers south of Jakarta's city center, the conservation facility conducts cultivation research and seed-breeding operations to help boost local farming productivity. While the research center offers an educational field trip, the park also contains a day's worth of entertainment. Inside the compound, visitors will find a lake, a deer park, an observation tower, Water Kingdom Mekarsari and even overnight hostels and villas, in case you want to extend your stay!
Check In to THE 101 Bogor Suryakancana Hotel, Step Out to Mekarsari Fruit and Recreation Park
Discover more hotels and bungalows in Bogor
5. Relax near tranquil waters at NANGKA WATERFALL
Cool off in Nangka Waterfall after an adventuresome hike around the base of Mount Salak, just an hour and a half south of Jakarta. Curug Nangka, also called Jackfruit Waterfall, is located in the midst of a dense pine forest and was developed as an eco-friendly tourist destination. While trekking your way to the site along the banks of 50-meter river trail, you're likely to run into wild monkeys who make the forest their home. Have a splash in the shallow pool below the falls, and then make your way to Curug Daun and Curug Kawung, two smaller waterfalls in the area. Legends run deep around the falls: locals believe Curug Nangka contains a mysterious room where religious leaders practiced meditation, and if you bathe in the water of Curug Daun, you will receive the power of a tiger!
Check In to The Mirah Bogor Hotel, Step Out to Nangka Waterfall
Discover more hotels and villas near Mount Salak
This post is also available in: ไทย