Home to geishas, historical shrines and temples, an award-winning selection of tea houses and restaurants, and fabulous museums, Kyoto encapsulates the true essence of the culture and traditions of Japan. It's no surprise that Kyoto sightseeing is a spectacular event! Not only will tourists find an amazing selection of centuries-old shrines, sculptures, and temples, but they also will stumble upon several UNESCO World Heritage Sites while making their way through this stunning city.
Kyoto Sightseeing | Best Time to Visit
Spring is a great season to visit Kyoto for those who wish to see the cherry blossom trees in full bloom. In April, the cherry blossom trees come alive and showcase magical hues of white and light pink as the flowers open up and emit their signature fragrance that is adored by all who get to experience it. In spring, the temperatures hover around 66ºF, and the climate is dry for the most part. Pack some light clothes and a light jacket for a spring vacation to the region.
In the fall season, visitors will experience a whole different side of Kyoto. During this time of year, the landscape turns from green to an assortment of brilliant hues of red, orange, yellow, and brown as the leaves on the trees start to fall off in anticipation of the winter season ahead. Temperatures during this time of year are comfortable, often hovering around 60ºF. Fall is considered to be the dry season so tourists will not encounter much if any rain while visiting. Guests should pack some light clothes that can be layered to adjust for temperature variations.
The summer months are hot and humid, and tourists are often teeming around all of the most popular attractions in the region. Summer is also the wet season in the region, and so guests are likely to experience some rainfall if visiting during this time of the year. Temperatures can climb up to a balmy 99ºF from June to August. Travelers planning a trip to Kyoto during summer will want to schedule outdoor tours during mornings and evenings when possible.
Winter is a cold season in Japan, and temperatures drop to below freezing, summoning in snowfall that blankets the city. Travelers who love cooler weather, snow-capped mountains and white scenery will have a lovely Kyoto sightseeing holiday during winter.
Kyoto Sightseeing | Historical Attractions
Home to several world-renowned historical attractions, Kyoto is the perfect place for getting up close and personal with Japanese culture. Guests will not be hard-pressed to find some interesting historical sightseeing attractions to visit while in town.
Kyoto Imperial Palace
Home to the Imperial Family until the mid-1800s, Kyoto Imperial Palace is an important landmark that showcases the history of the city, and it is open for visitors to enjoy throughout the year. As is common with most palaces, Kyoto Imperial Palace is surrounded by fortress walls and guests have to go through the main gate to gain access to the complex. Once inside, be prepared to be blown away by its beauty.
Within the Kyoto Imperial Palace grounds, guests will find the palace building standing tall near the center of the property. Head inside and check out the living quarters where one of the most important families of Japan once lived. It is adorned in royal-class furnishings that were popular during the 1800s. The property also features beautiful gardens and a pond that are worth exploring. Within the complex, guests will also find other buildings that housed the emperor's staff. Kyoto Imperial Palace is open daily from 9am to 4pm during the winter months and from 9am to 5pm during the summer months. Admission to get into the complex and all of the buildings is free!
Nijo Castle
A phenomenal piece of ancient history, Nijo Castle was constructed in 1603 and was home to the shogun during the Edo Period. The castle is simple, yet stunning and features a drawbridge and a moat. Guests are welcome to step inside and get a glimpse into what life was like for Japanese nobility. Nijo Castle is a UNESCO World Heritage Site, solidifying its importance in the city of Kyoto.
Once inside the main gate, guests can explore the complex alone or within the company of a professional tour guide. After passing through the second set of gates, guests will find themselves at Ninomaru Palace, which is considered to be the most popular attraction on the property. Step inside and learn what life was like among nobility and enjoy the beautiful display of art, furnishings, and business documents of the era. While inside the palace buildings, visitors will be able to check out various rooms that were designated for specific classes of people during the time of its operation. Nijo Castle is open from 8am to 6pm during the summer and from 8:45am to 5pm during the winter months. Admission to get into Nijo Castle is 620 JPY to enter onto the property and an additional 410 JPY to gain entry into Ninomaru Palace.
Nishi Honganji Temple
Marking its important place in history as being one of the primary temples of the Jodo Shinshu sect of Buddhism, Nishi Honganji Temple is a beautifully ornate building where visitors can learn more about the history and modern culture of Buddhism in Japan. The Karamon Gate at the entrance to the temple is breathtaking and features an array of hand-painted designs and pictures. Once inside the gate, visitors are welcome to explore the grounds as well as the interior of the temple.
Nishi Honganji Temple dates back before the 1600s and was one of the only original buildings in the complex as the rest of them burned down and had to be reconstructed. Guests can wander into the temple and pay tribute to the historic leaders of the Buddhist religion and do some meditating in the hall. Guests are able to tour the building alone or in the company of an expert guide. While visiting, grab a bite to eat at the cafe or purchase some souvenirs at the gift store. Nishi Honganji Temple is open from 5:30am to 4-6pm daily depending on the season. Admission into the temple is free.
Kyoto Sightseeing | Natural Attractions
Kyoto is a stunning place with a lot of jaw-dropping natural scenery in and around the city. You do not need to venture out far to find monkey parks and other natural recreational spots for which the region is known and loved. Grab some comfortable shoes and a day-pack, and get ready for some Kyoto sightseeing!
Philosopher's Walk
Offering the perfect mixture of natural scenery and urban comforts, Philosopher's Walk is the perfect place to take a lazy stroll on a warm and sunny day. It is located on the north side of the city and features a stone walkway, a center moat-like stream, and is completely framed out in cherry blossom trees. During the month of April, Philosopher's Walk is simply breathtaking. Visitors can talk a walk down this two-kilometer path and take in the aroma and magnificent sight of all the cherry blossom trees in full bloom. Be sure to bring lunch so you can stop along the way for a picnic. Philosopher's Walk is open 24 hours a day and is free to use.
Arashiyama Monkey Park Iwatayama
Located just outside of Kyoto, up on Arashiyama Mountain, is where visitors will find the fun and interactive Arashiyama Monkey Park Iwatayama. It is a friendly attraction where guests can get some exercise in the wilderness and then be treated to the lively primate show. Home to hundreds of macaque monkeys, this natural habitat is located at the top of a giant hill.
To get to Arashiyama Monkey Park Iwatayama, guests will ascend the seemingly endless staircase, burning some serious calories along the way, until they reach the top where the park is located. Once at the top of the hill, visitors can buy treats to feed the monkeys while they watch them frolicking and playing in nature. The entire park is set in the wilderness so visitors will get fresh air and beautiful views. Arashiyama Monkey Park Iwatayama is open from 9am to 4:30pm during the summer months and from 9am to 4pm during the rest of the year. Admission to get into the park is 550 JPY.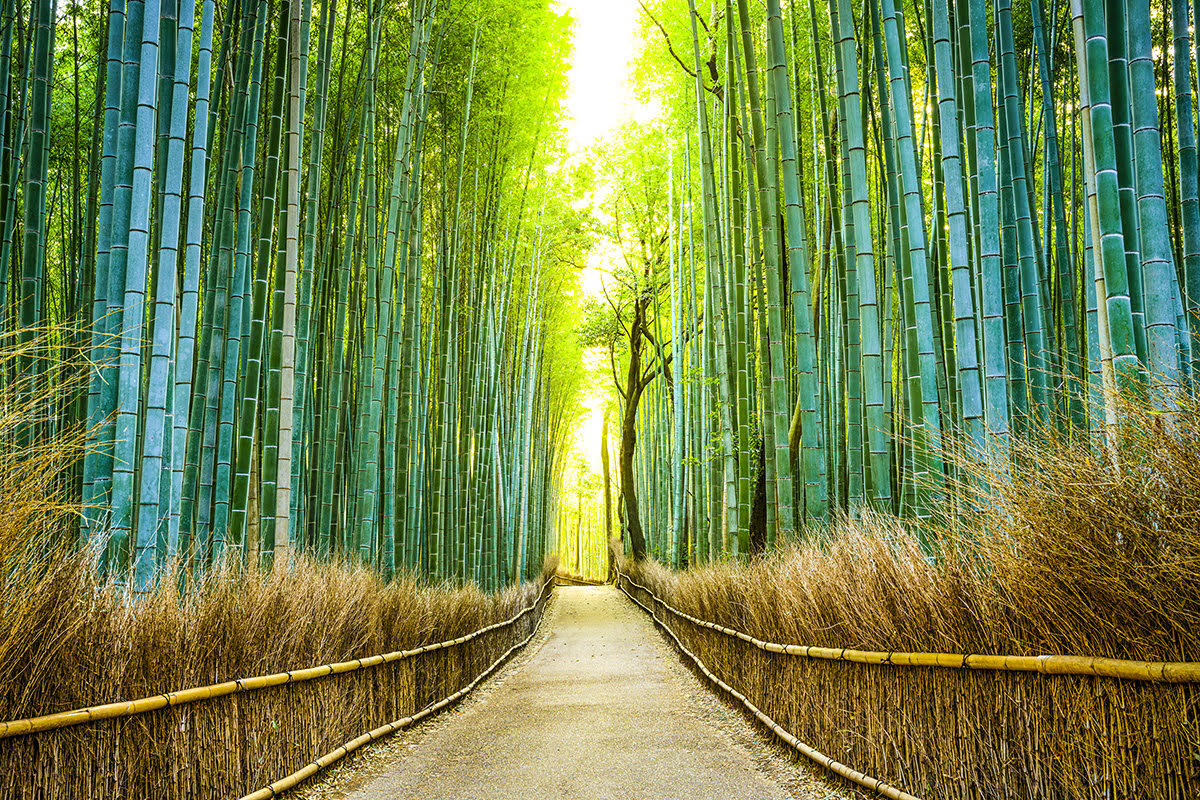 Sagano Bamboo Forest
Located just on the outskirts of downtown Kyoto is where guests will find the lush and vibrant Sagano Bamboo Forest. This beautiful natural wonderland is filled with bamboo trees that appear to cascade up into the heavens and provide the area with a lush and tropical feel. Sagano Bamboo Forest looks like a scene out of a fairy tale and features several paths that wind through different parts of the forest. Guests are welcome to get lost in the beauty of it all. The forest is open 24 hours a day, and there is no admission fee.
Sagano Scenic Railway
Also popular among guests who want to check out all of the natural beauty of the region, Sagano Scenic Railway is a popular attraction that allows visitors to hop aboard a sightseeing train and take a ride through the countryside. Guests will go into the woods, through tunnels, and around meadows that are picture-perfect, so don't forget to bring a camera! Aboard this train, guests will go between Arashiyama and Kameoka on a scenic journey that can be quite romantic for those traveling as a couple. For the best views, take the journey during fall when all of the leaves on the trees are changing colors. Sagano Scenic Railway operates daily and runs a train every hour. Admission to take the scenic ride is 650 JPY for a one-way ticket.
Kyoto Sightseeing | Best Hotels Near Attractions
Kyoto is loaded with many spectacular hotels that fit any budget. Whether traveling in a group or on a solo vacation, there is a hotel suited for Kyoto sightseeing – guaranteed! From 5-star resort hotels to community hostels, find your perfect lodging options in Kyoto.
Inari Ohan
For less than 17,000 JPY per night, guests can lodge in luxury while staying at Inari Ohan. This fabulous homestay is located in the heart of the city near many fine Japanese restaurants, shopping centers, and some of the famous historical attractions. Inari Ohan will be within walking distance of Kitayama Subway Station and Kitaoji Subway Station. Inari Ohan is a complete holiday home that offers around 750 square feet of space that can be reserved for your group.
While staying at Inari Ohan, guests can take advantage of a variety of amenities and services offered with the reservation. The home comes with two single beds and a double bed, so it can accommodate up to four guests comfortably. There is a kitchenette complete with a microwave and electric tea kettle located in the house. The private bathroom features a beautiful stone tub and scenic garden for guests to look at as they bathe. The home is designed in traditional Japanese style with sliding doors and tatami mat floors.
FIND & BOOK A HOTEL IN KYOTO TODAY
GOOD NATURE HOTEL KYOTO
For around 14,600 JPY per night, guests will get to enjoy all of the elements of nature while lodging comfortably at GOOD NATURE HOTEL KYOTO in downtown. This hotel is charming and is located near several international restaurants, shopping centers, and the hottest attractions in Kyoto.
GOOD NATURE HOTEL KYOTO offers several different room floor plans that suit the needs of groups of any size. Guests have options like a standard room, a premier room with a terrace view, a queen suite, a garden view terrace room, and more. Book the room that appeals to you. Rooms at GOOD NATURE HOTEL KYOTO are designed with comfort and modern elegance in mind. Each is adorned in contemporary Japanese and Western furnishings and features a cool pastel color palette that promotes rest and relaxation. Bathrooms are private at this hotel and come stocked with complimentary toiletries and fresh towels. There is a stunning fire pit patio in the center court of the hotel that is adorned in natural woods and stonework. While staying at this hotel, guests can dine on delicious buffet food or stop into one of the hotel's onsite restaurants for a more upscale bite to eat. There is also a coffee shop located here.
FIND & BOOK A HOTEL IN KYOTO TODAY
Kyoto Garden Palace
A real bargain at approximately 7,000 JPY per night, Kyoto Garden Palace is a mid-grade hotel that offers excellent service to all who book a room. It is a five-story hotel that features several different room options including a double room and a standard room with a single bed. Guests will find a floor plan that suits their needs perfectly. Kyoto Garden Palace is located near an assortment of shrines and museums and is within walking distance from the public transportation hubs. While staying at this hotel, guests will also be located near the top international restaurants in the downtown area.
Rooms at Kyoto Garden Palace are adorned in quality furnishings and plush linens. Each room comes with its own bathroom that is stocked with linens and complimentary toiletries. There is a family room, a chapel, vending machines, a restaurant, and coffee bar located onsite that guests are welcome to visit. The hotel also coordinates massage services as well as tours of the area to anyone who is interested. Want to do some Kyoto sightseeing while staying at Kyoto Garden Palace? The hotel offers a bicycle rental service to all guests who stay here.
FIND & BOOK A HOTEL IN KYOTO TODAY