Travelers who visit Nara hot springs are in for an onsen experience that will be remembered for many years to come. With architecture, temples, and artwork that date back to as early as the 8th century, Nara Prefecture is the perfect vacation destination for travelers who are searching for a respite from the busy world. It is a city that is filled with spiritual Buddhist temples, colorful gardens that romantic dreams are made of, and of course … its fair share of healing natural hot spring baths that relax the mind and soothe the travel-weary body.
Proper Etiquette for Visiting Japanese Hot Springs & Baths
Coveted as a natural healer, an onsen is a hot spring bath that contains minerals that promote rest and relaxation. It is believed that the onsens of Japan promote health and wellness through relief from muscle tension, reduction of stress, and absorption of elements that the body needs to fight off illness and disease. Japan is a country that is known for its great attention to culture and tradition, so guests should understand how to enjoy a Japanese bath before having one.
Embrace public nakedness! – Swimsuits and underwear are not allowed in most public onsens in Japan. Locals of the city proudly strip down to fully enjoy the health benefits of these baths and expect visitors will too.
Wrap your hair – Whether your hair is long or short, be sure to wrap it up before jumping in. Onsens are meant for a clean bathing experience and nobody wants a stranger's hair to be stuck to them when they get out of the water.
Clean off before getting in – In an effort to keep the onsens as clean and pure as possible, all bath soakers are encouraged to shower off and clean up before getting into the bath. Along with hair wrapping, nobody wants to soak in someone else's dirt and grime.
Keep a low profile – Public onsens may not be the best activity for families with young kids in tow as visitors are encouraged to talk in a low and calm voice at all times while visiting the onsens. Soaking in a public onsen is meant to be a relaxing and tranquil experience that allows visitors to unwind and tap into their inner soul. Those traveling with children, or traveling with a more rowdy crowd, should consider soaking in a private bath house.
Nara Onsen & Open-Air Baths
Nara is a major hub for those in search of natural hot springs. Many of the hotels and resorts of the city feature private bath houses where guests can soak all of their worries and stress away. There are several hotels that get visitors close to Nara onsen and hot springs, including these fine lodging options.
Kasuga Hotel
Clean and elegant, Kasuga Hotel offers the perfect place to land your feet while visiting Nara. Kasuga Hotel is a fabulous boutique hotel that has 32 rooms to choose from. Guests can rest up in a standard room, an open-air bath room, or a Japanese-themed room, many of which provide stunning views of Kohfukuji Temple.
While staying at Kasuga Hotel, guests enjoy free Wi-Fi and daily cleaning, as well as a coffee shop, in-house restaurant, vending machines, a massage room, and a spacious community lounge.
The hotel is located at 40 Noboriojicho and is an affordable option for visitors who want to be located close to all of the action in downtown Nara.
Asukasou Hotel
For less than $120 per night, stay at Asukasou Hotel and enjoy the perks of lodging at a traditional Japanese inn. The staff at this hotel roll out the red carpet for every guest. At Asukasou Hotel, guests can indulge in a Japanese-style room, complete with elegant furnishings and a great view, or go the basic route and stay in a standard room.
Guests get to take advantage of the open-air bath, which boasts a phenomenal view of Kohfukuji Temple, a karaoke room, an on-site restaurant featuring gourmet Japanese food, a relaxing garden, expert massages, and more. Asukasou Hotel is ideal for those who are looking for rest and relaxation.
Asukasou Hotel is located at 1113-3 Takabatakecho, just minutes away from Nara's downtown attractions.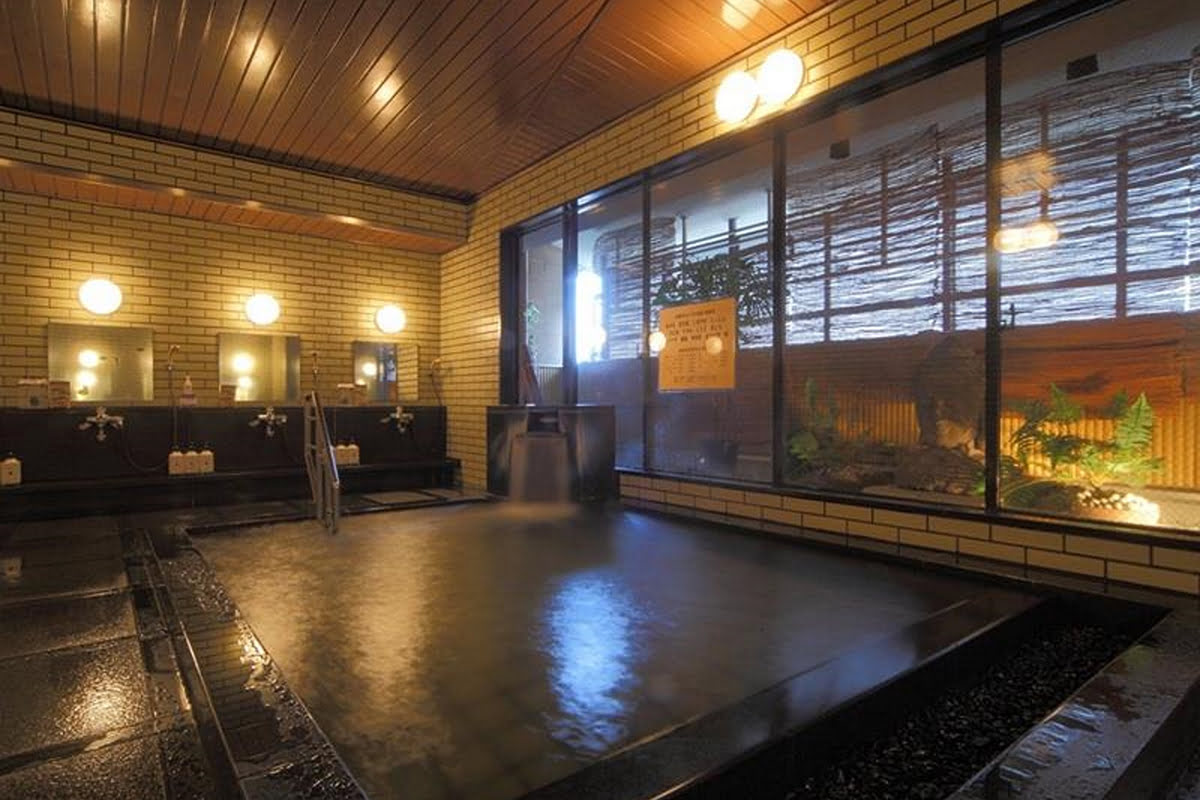 Nara Park Hotel
Set amid a tranquil natural backdrop, Nara Park Hotel features gorgeous views and the opportunity for guests to relax and unwind while enjoying the healing benefits of a natural hot springs bath that is set amid a tranquil garden setting. This open-air hot spring contains a divine mixture of sodium hydrogen carbonate, which makes the water feel gentle against the skin. Choose between a traditional Japanese style room or a Western style room, depending on group size. Each room comes complete with a traditional Japanese dining table and floor mats and a bed set.
Rooms at this luxury hotel start out at $160 per night. Aside from beautiful views and a Japanese zen garden feel, Nara Park Hotel provides guests with complimentary Wi-Fi and a cleaning service as well as a currency exchange center, a natural hot springs pool and bath, a gift shop, a restaurant, massage room, and a coffee shop.
Nara Park Hotel is located at 4 Chome-18-1 Horai, less than a 20-minute drive from the Nara Park nature area.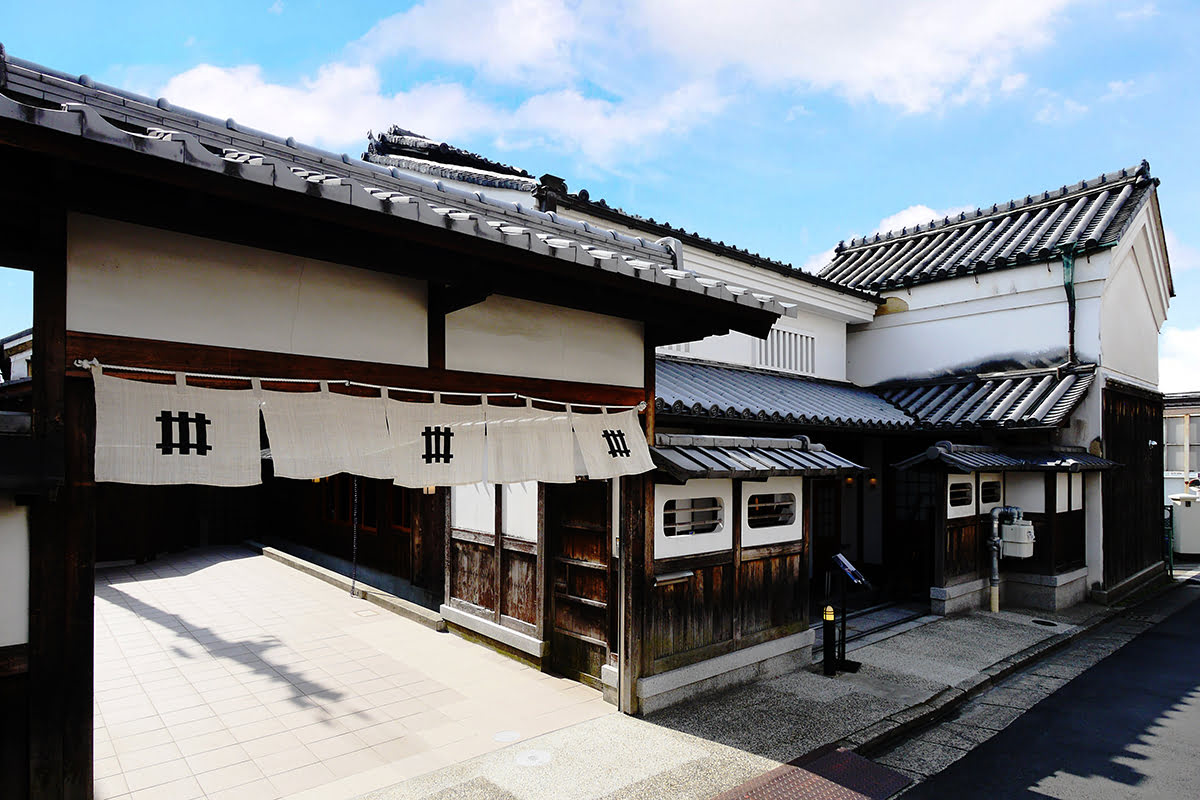 Nipponia Hotel Nara Naramachi
Featuring clean and comfortable accommodations in a contemporary setting, the newly-remodeled Nipponia Hotel Nara Naramachi is the only hotel in the region that used to be a sake brewery. More importantly, however, guests can indulge in a sake-kasu milk bath during their stay!
Sake-kasu essentially is the leftover "bits" that remain from sake brewing. The particles are believed to contain healing minerals when sprinkled into a bath. Unlike most hot spring hotels, Nipponia Hotel Nara Naramachi offers private sake-kasu baths in all of their guest rooms, so book a stay in this unique accommodation for an exceptional experience!
Travel-weary guests can find luxury accommodations at this hotel starting at $315 per person per night. The staff at Nipponia Hotel Nara Naramachi treat each guest like royalty. This hotel features comfortable beds with plush linens and rooms that are spacious. Along with award-winning sake offerings, guests can indulge in world-class Japanese-French fusion cuisine, take advantage of free Wi-Fi, and take a stroll through nearby Nara Park.
Nipponia Hotel Nara Naramachi is located at 4 Nishijodocho with convenient access to all of the attractions in the historic city of Nara.
FIND & BOOK A HOTEL IN NARA TODAY
Yoshinoyama Onsen
A coveted mineral hot springs region that has been healing travel-weary souls for over 280 years, Yoshinoyama Onsen is set amid the beautiful view of Mount Yoshino. This amazing onsen village is located just a short distance from Nara and offers guests a tranquil bathing experience.
Houno Ya (Yumoto Hounoya)
Boasting a relaxing outdoor natural hot spring bath and beautiful views of the sakura beyond, Houno Ya (Yumoto Hounoya) is an elegant hotel that is decked out in modern Japanese decor and provides a respite from the busy city life.
At Houno Ya (Yumoto Hounoya), guests can relax in the public lounge, enjoying the view of Mount Yoshino in the background or stroll through the gift store, picking up treasures to commemorate their visit. There is an on-site restaurant that serves up a full menu of tantalizing Japanese cuisine as well as tranquil baths in both indoor and outdoor settings.
Houno Ya is located at 937 Yoshinoyama, Yoshino, and offers single room beds as well as suites for multiple guests.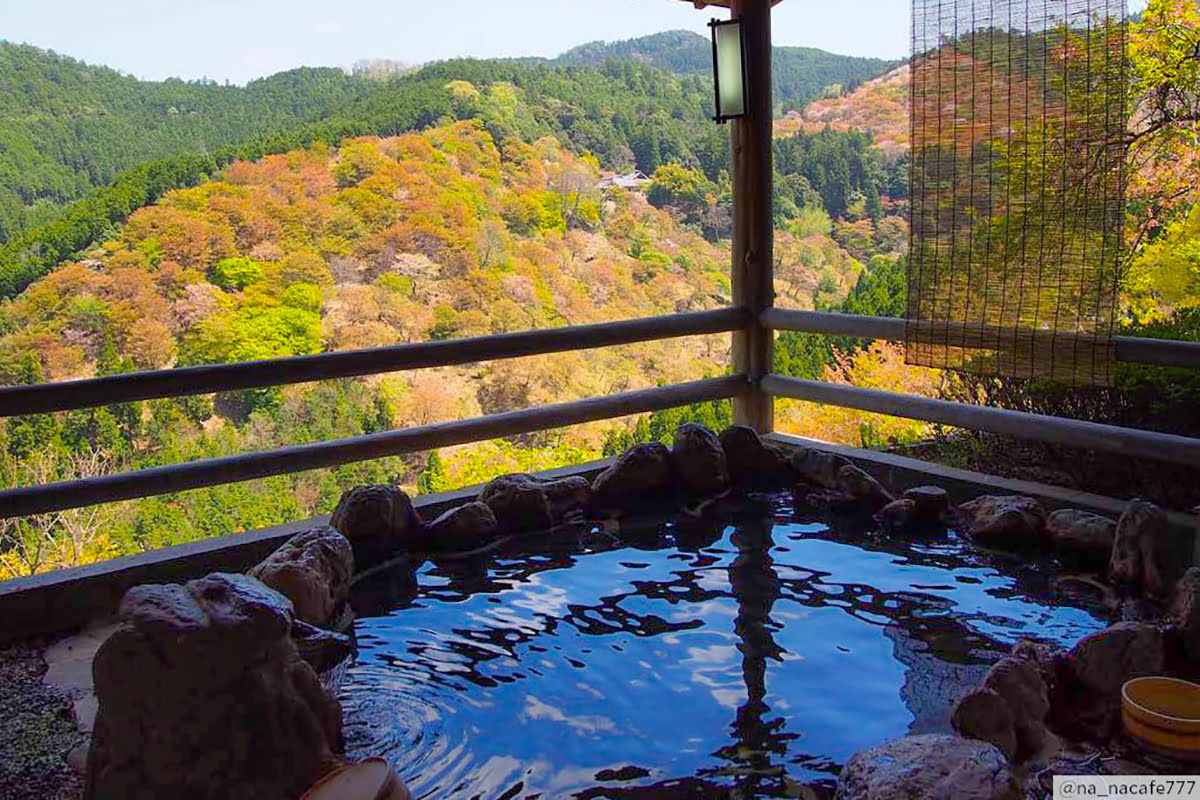 FIND & BOOK A HOT SPRINGS HOTEL IN YOSHINO
Dorogawa Onsen
A village atmosphere that offers some of the most pure natural spring water in all of Nara Prefecture, Dorogawa and its famous onsen are worth a pilgrimage. Experience the idyllic beauty of the streets and soak in the healing powers of its coveted hot springs.
Hanaya Tokubei
Looking for a lodging experience that is affordable and relaxing? Look no further than Hanaya Tokubei. This lovely hotel features a hot spring bath that is perfect for winding down after a long day of sightseeing. Plan a stay at this remarkable hotel during the fall or winter months to take advantage of the beautiful views of autumn leaves and gently falling snow while bathing in the hot spring.
Hanaya Tokubei can be found at 217 Dorogawa and offers rooms for as little as $200 per night. Each room is decked out in contemporary Japanese furnishings that promote rest and relaxation.
FIND & BOOK A HOTEL IN TENKAWA TODAY
Totsukawa
Historically known to heal the aches and pains of illness and injury, as well as provide a relaxing respite away from the busy city life, Totsukawa Onsen is a hidden gem tucked away among the greenery of the mountains in the village of Totsukawa. Experience the magic of the onsen, and sleep soundly in one of the local hotels.
Yunotani Senkei
A quiet and peaceful oasis that is close to the city, Yonotani Senkei is known for its stunning Japanese garden and natural hot spring baths filled with water straight from the natural spring source at Tosenji Onsen. Guests can enjoy a therapeutic soaking in the public outdoor bath or in smaller private room baths.
At Yonotani Senkei, guests can dine or have a drink at the traditional Japanese restaurant and bar as well as admire the views of the mountains all around.
The cottage-style, detached guestrooms provide plenty of privacy, and each room is decked out in nature-inspired furnishings and decor that promote rest and relaxation.
Yonotani Senkei is located at 714-2 Musashi, Totsukawa, and offers several different room options, including a Premium Cottage (Japanese style) and Suite Cottage (mixed style).
Kosenkaku Yoshinoya
With outdoor onsens and a view of the Totsukawa River, guests will experience comforting luxury when visiting Kosenkaku Yoshinoya in Totsukawa. This quaint ryokan with 15 rooms demonstrates Japanese luxury in a traditional setting. Relax in an open-air bath and enjoy being surrounded by nature. Not only are the mountain views breathtaking, but the ryokan suspends bird feeders near each onsen to attract rare local birds and enhance guests natural experience.
FIND & BOOK A HOTEL IN TOTSUKAWA TODAY
** The photographs contained on this article are protected by copyright law. Any secondary usage of photos in this article without prior consent is prohibited.
[contact-form to="travelguides@agoda.com" subject="Travel guide survey results"][contact-field label="Was this travel guide helpful?" type="checkbox-multiple" ="1″ options="Yes,No"][/contact-form]