If you're planning a trip to Tokyo, then one of your first considerations should be which Tokyo airport you want to arrive in. Japan's capital is served by two international airports: Haneda Airport and Narita Airport. Haneda Airport is closer to Tokyo and provides convenient access to Shinagawa Station. Narita Airport is further away but makes it easier to explore Narita City as well. Here is a quick overview of both airports, followed by a more in-depth look at each.

An overview of Tokyo's two airports: HANEDA and NARITA
Haneda Airport, the official name of which is Tokyo International Airport, is located in Ota, Tokyo. Due to its location just under 9 miles south of Tokyo Station, arriving at Haneda Airport allows you to get to the heart of Tokyo in as little as 30 minutes. Haneda Airport is a main hub for two of Japan's primary domestic airlines, All Nippon Airways (which operates out of terminal 2) and Japan Airlines (which operates out of terminal 1). By passenger traffic, Haneda Airport is the fourth-busiest airport in the entire world and the third-busiest in all of Asia. It handles over 80 million passengers a year.

Narita Airport, the official name of which is Narita International Airport, lies about 37 miles east of central Tokyo in the Chiba prefecture. It is located on the border of Narita City and the town of Shibayama. Though a further distance than Haneda Airport, Narita Airport has good transportation links to the city that allow for easy and direct access to Tokyo. Narita Airport is the second-busiest airport in the country (after Haneda) and also serves as a hub for Japan Airlines and All Nippon Airways. By number of passengers, it is the world's 49th busiest airport, handling over 40 million passengers a year.
While many travelers to Tokyo choose to fly into Haneda Airport for its proximity to the city, there are plenty of other factors that may influence which Tokyo airport is the better option for you. Narita Airport actually serves far more international flights while Haneda Airport acts as a domestic hub. When booking flights, you'll likely see more options for flying into Narita Airport, though you will find some options for flying into Tokyo-Haneda as well. Both Haneda and Narita are world-class airports with plenty of amenities and fantastic transportation links, so you should choose the flights that fit best with your itinerary and budget.
Check In to Omori Tokyu REI Hotel, Step Out to Ota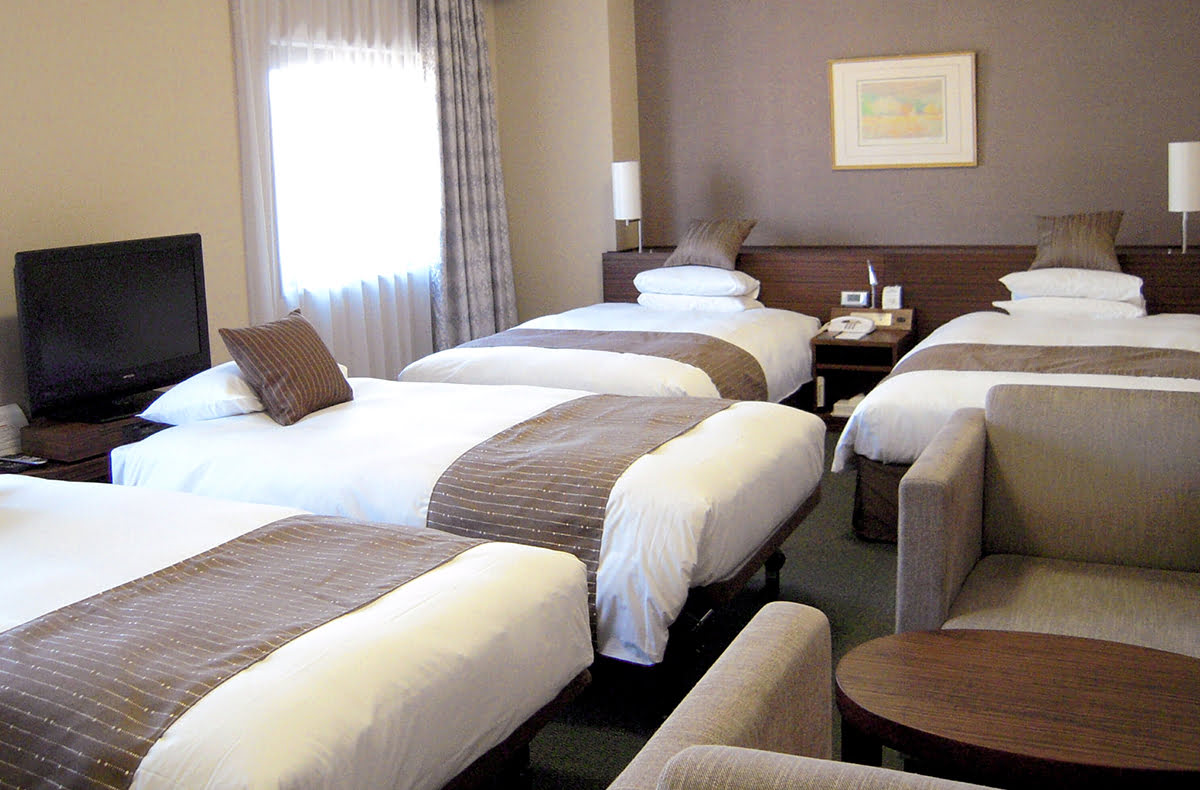 A closer look at Tokyo's HANEDA AIRPORT: transit, accommodations, and things to do
If your itinerary has you flying in to Haneda Airport, or if you are trying to decide which airport to fly in to, then you can enjoy smooth travels by finding out a bit more about it. Here is some important information for how to get to Tokyo from Haneda Airport, what accommodations you can find around Haneda Airport, what to do if you have some time to spare at the airport, and some of the top things to see and do in the nearby vicinity.
How to get to TOKYO from HANEDA AIRPORT
When you fly into Haneda Airport, you can get started on your Tokyo sightseeing adventure almost immediately after picking up your baggage. The easiest way to get from Haneda Airport to Tokyo is generally by train. Keikyu Line express trains regularly run from the International Terminal to Shinagawa Station, which serves as a connection to the JR Yamanote Line that loops around the entire city. The JR Yamanote Line can take you to many more major transit hubs such as Shinjuku Station, Shibuya Station , and Tokyo Station. Another popular option for getting to Tokyo from Haneda Airport is to ride the monorail to Hamamatsucho Station near Tokyo Tower .
Buses are another good mode of transport from Haneda Airport. They regularly depart from the airport to all of Tokyo's major hotel districts and landmarks. The travel time may be longer than taking a train, but buses tend to be a simpler option that can take you directly to your destination. Or, if you'd prefer to take a taxi ride, you'll find clear signs leading to the taxi waiting area from arrivals. As the airport is located so close to the city, a taxi ride likely won't break your budget. Fixed rates for taxis are available and calculated based on your destination zone.
Check In to Shinagawa Prince Hotel, Step Out to Shinagawa Station
First Cabin Atagoyama
Haneda Excel Hotel Tokyu
The Royal Park Hotel Tokyo Haneda
Accommodations near HANEDA AIRPORT
If you need to stay near Haneda Airport on your first night in Tokyo or the night before a flight, then each of the three terminals at this Tokyo airport has a conveniently located hotel inside of it. In Domestic Terminal 1, you'll find First Cabin Haneda, one of Japan's unique capsule hotels. A capsule hotel is made up of small, individual bed-sized capsules that serve as your "room" for the night. If you'd prefer to stay in a conventional hotel, then you can stay at the Haneda Excel Hotel Tokyu at Domestic Terminal 2 or at The Royal Park Hotel Tokyo Haneda at the International Terminal.
There are also numerous hotels within the vicinity of Haneda Airport that are accessible by free shuttle buses and located near Anamori-Inari and Otorii Stations.
Hotels nearest to Haneda Airport
Check In to Hotel Vista Kamata Tokyo, Step Out to Otorii Station
Things to do at HANEDA AIRPORT
There's a lot to do at Haneda Airport before your flight if you've got some time to spare. It's a great place to go shopping for a plethora of unique Japanese lifestyle goods, cosmetics, and more. Haneda Airport even has its own, limited edition face blotting paper known as aburatorigami. Make sure you load up on all of the delicious Japanese snacks available at Haneda Airport before you go as well. If you're hungry, head to Edo Alley and take your pick from over 20 different restaurants. Another great and unique place to dine is the PLANETARIUM Starry Cafe. Here, you can enjoy an extensive menu including coffee, tea, and pasta dishes underneath a beautiful planetarium dome that is covered in millions of stars.
If you're looking to stretch your legs before a long flight, then enjoy a stroll down TIAT Sky Road to learn about different planes and airlines. TIAT Sky Road is a corridor in Haneda Airport featuring detailed model planes and all sorts of informative panels about modern aviation, as well as about the potential future of air travel. You'll even find flight simulators to try out! Another great place to go for a pre-flight stroll at Haneda Airport is at the Haneda Nihonbashi Bridge. This 82 ft. long bridge is a half-sized replica of the Nihonbashi Bridge in Tokyo and a reconstruction of how the bridge would have looked in the 19th century.
Check In to Henn na Hotel Tokyo Haneda, Step Out to Haneda Airport
Things to see and do around HANEDA AIRPORT
If you've got a longer layover at Haneda Airport or you're looking to do some last-minute sightseeing before a flight, then there is plenty to see and do around the airport and in the Ota area. The largest ward in Tokyo, Ota provides a fantastic opportunity to experience Tokyo and Japan in a short time. The main hub of Ota, known as Kamata, is full of bars and restaurants that you should definitely check out if you have an evening layover. You may also want to pay a visit to Ota Wholesale Market, which is one of the biggest markets in all of Japan. Here, you'll some of the best and freshest local produce, including fruits, vegetables, and fish.
To go shopping for a wide variety of merchandise other than produce, then another great place near Haneda Airport to check out is Grand Tree Musashikosugi. This large commercial facility is home to over 160 different shops where you can load up on all sorts of souvenirs. You can also pick up a cup of 100-yen (less than 1 USD) coffee from the service counter. Enjoy your drink while the kids burn some energy at the kids play area. If you'd rather spend some time outside, then you'll instead want to head to Jonanjima Seaside Park, where you can take a stroll along beautiful Tokyo Bay. Other fantastic outdoor activities near Haneda Airport include a visit to Ikegami Honmonji Temple or a soak in Heiwajima Onsen, a natural hot spring that is open 24 hours a day.
Check In to Sotetsu Fresa Inn Tokyo-Kamata, Step Out to Kamata
A closer look at Tokyo's NARITA AIRPORT: transit, accommodations, and things to do
Tokyo's Narita Airport is also a great airport to fly in to, and may even be the better option if you're looking to do some sightseeing east of Tokyo as well. Make sure your trip goes off without a hitch by getting your travels all planned out ahead of time. Here is what you need to know about getting to Tokyo from Narita Airport, where to stay near Narita Airport, fun things to do at the airport, and fun things to do in nearby Narita City.
How to get to TOKYO from NARITA AIRPORT
The best way to reach Tokyo from Narita Airport is by train, and the quickest option is to take Narita Express, which is operated by Japan Rail. The Narita Express can take you to Tokyo Station in just 53 minutes. It can also connect you to many of Tokyo's other major transport hubs, including Shibuya Station, Shinagawa Station, and Shinjuku Station. If you purchased a JR Pass for your trip, then you can use it on the Narita Express. However, it is important to note that seats must be reserved ahead of time. Another good option, specifically for getting to the east side of Tokyo, is to take the Skyliner express service operated by Keisei. The Skyliner can take you to Ueno Station and Nippori Station on the Yamanote Line.
Catching a bus from Narita Airport may be a good option depending on where you are staying. Buses leave Narita Airport at regular intervals and can take you to major Tokyo stations, sightseeing areas, and hotel districts. A bus can be convenient if you have a lot of luggage. Taking a taxi is also a convenient option, though it can be quite pricey depending on where you are going because of the distance to Tokyo. If you do opt for a taxi from this Tokyo airport, it is recommended that you request a fixed fare.
Check In to First Cabin Kyobashi, Step Out to Tokyo Station
Narita Tobu Hotel Airport
Narita View Hotel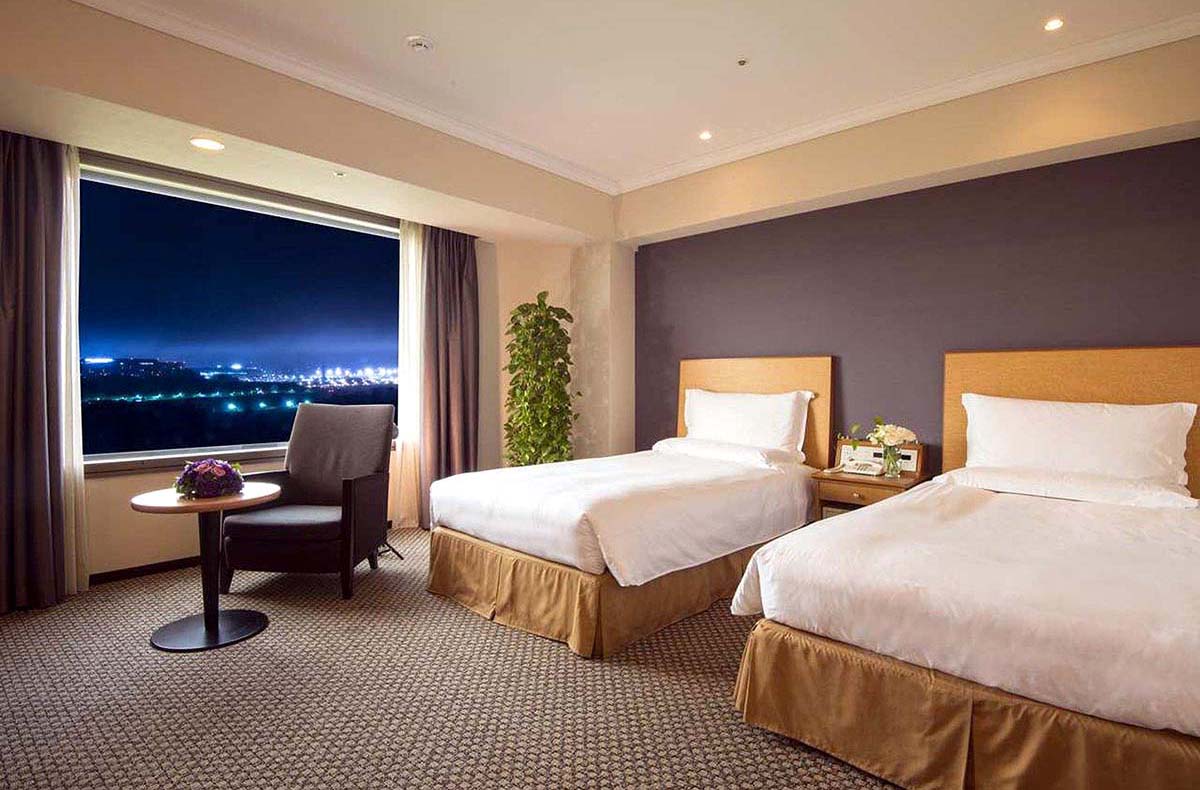 Hilton Tokyo Narita Airport Hotel
Accommodations near NARITA AIRPORT
If you need to stay near Narita Airport upon arrival or before departing, then there are many good hotel options in the area. Here are the five closest hotels to this Tokyo airport: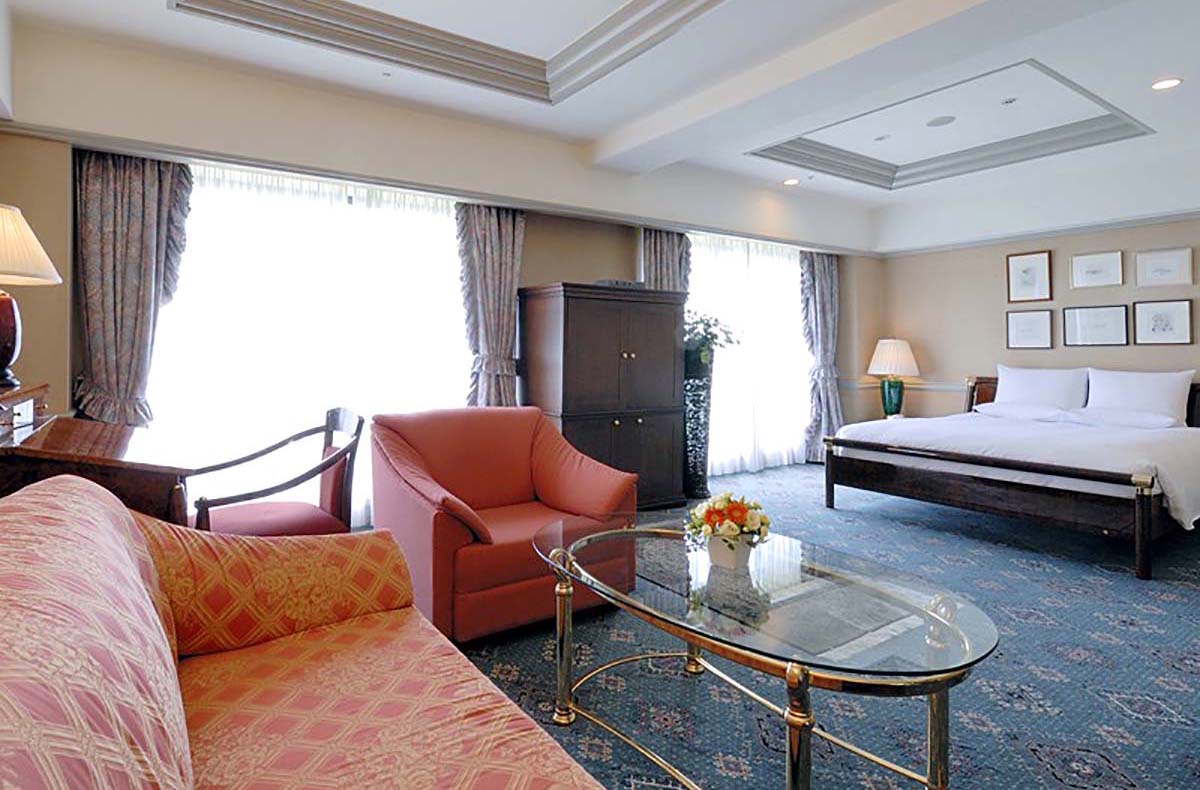 International Garden Hotel Narita
Mercure Hotel Narita
There are also several hotels located in or near Narita City that provide shuttle bus access to Narita Airport or easy access to Narita Station. Staying in one of these hotels can be a great choice if you want to discover Narita City as well.
Check In to Richmond Hotel Narita, Step Out to Narita Station
Things to do at NARITA AIRPORT
If you have a layover, a canceled flight, or you just make it to the airport early, Narita Airport offers plenty to keep travelers occupied. Indulge in fantastic Japanese cuisine before leaving Japan at the numerous restaurants, bars, and cafes in each of the airport's three terminals. The six Japanese restaurants at Hilton Narita Terrace Restaurant & Bar in Terminal 1 offer some particularly great options. Whether you want one last taste of authentic Japanese sushi or soba noodles, you'll find it here. In Terminal 2, you can use your leftover Japanese yen on capsule toys from some of the over 100 capsule machines located on the basement floor. These make great souvenirs.
Both Terminal 1 and Terminal 2 at Narita Airport have free observation decks where you can watch planes arrive and depart. The spacious and fully enclosed terraces offer plenty of photo opportunities. Watching the planes is a particularly dazzling activity at night. Narita Airport is also a fantastic place to experience some unique Japanese cultural events. Different events are hosted throughout the year to highlight different aspects of Japanese culture in order to encourage travelers to visit again. One permanent cultural experience is Kabuki Gate, a shop and gallery all about the traditional art of kabuki. You can even get kabuki makeup painted on your face!
Check In to Marroad International Hotel Narita, Step Out to Narita Airport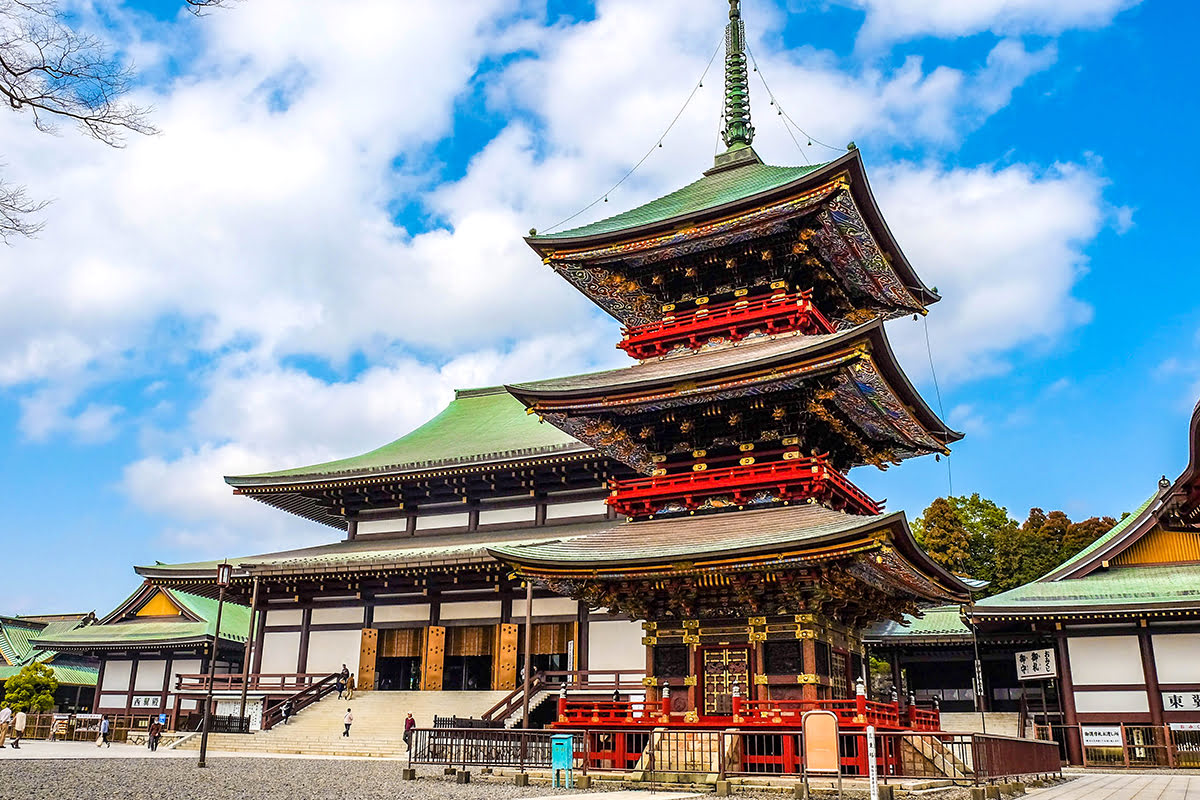 Things to see and do in NARITA CITY
Even if your travels will largely be focused on Tokyo, the city of Narita is also well worth the visit and you can easily check it out when flying into or departing from Narita Airport. It has a lot more to offer than just being the site of one of Japan's largest airports. You can get to the heart of Narita by taking a quick, 10-minute train ride from the airport to Narita Station. Once there, one of the top, must-see landmarks you should visit in Narita is the Naritasan Shinshoji Temple. This Buddhist temple is among the most popular Buddhist temples in all of Japan. Naritasan Shinshoji Temple was built over a millennium ago, in 940 CE. The striking temple is beautiful to look at, and you can even take part in a calligraphy class or come early in the morning to listen to the monks chanting.
Another top attraction in Narita is Naritasan Park, which actually surrounds Shinshoji Temple. After your trip to the temple, you can stretch your legs underneath the cherry trees. If you're visiting around late March or early April, you may even see the beautiful cherry blossoms. No trip to Narita is complete without a stop in the city's traditional downtown, which is lined with a variety of restaurants and shops. Make sure you sample some of Narita's local specialties, such as unagi (freshwater eel) and peanut candies. Aviation enthusiasts will also definitely want to pay a visit to Narita's Museum of Aeronautical Sciences, located right next to the airport. This hands-on museum holds full-scale aircraft replicas and life-sized flight simulators that you can try out.
Check In to APA Hotel Keisei Narita-Ekimae, Step Out to Naritasan Shinshoji Temple