Once the epicenter of Tokyo's entertainment industry, Asakusa is one of the few districts in the city that still has an "old Tokyo" feel. While entertainment is no longer the focus here, visitors continue to flock to the district to shop for unique souvenirs, sample regional cuisine and tour historic landmarks, which include Sensoji Temple, Tokyo's oldest Buddhist temple.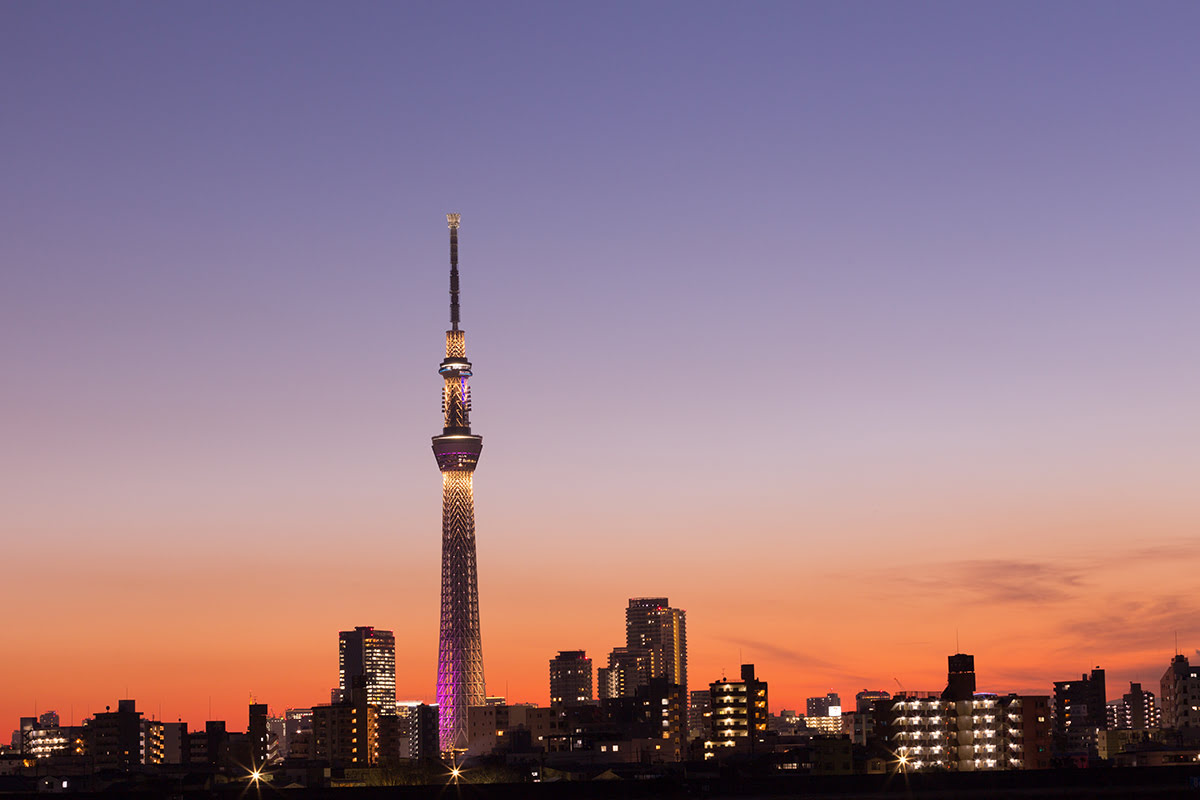 Main attractions & landmarks in Asakusa
Sensoji Temple: This Asakusa temple houses a shrine dedicated to Kannon, the Goddess of Mercy. Here, visitors can burn healing incense, read their fortunes on omikuji strips, and buy unique mementos like amulets and scrolls in one of Tokyo's largest souvenir markets. Sensoji Temple is open to the public daily from 6:00 a.m. to 5:00 p.m. The temple is situated within a 5-minute walking distance of Asakusa Station.

Kaminarimon Gate: Standing at the entrance of Sensoji is Kaminarimon Gate, an imposing structure known by locals as the "Thunder Gate." Adorned with dragon carvings, and flanked by statues of the God of Thunder and the Wind God, the lantern-shaped gateway is a popular stop for tourists and an iconic photo spot.

Asakusa-jinja Shrine: Asakusa-jinja Shrine was originally built to commend the efforts of three men in founding and establishing Sensoji. The shrine was designated an Important Cultural Property in 1951 after having survived the air raids in World War II. Today, the shrine serves as the site of several important Shinto festivals, including Sanja Matsuri. Asakusa-jinja Shrine is located within a 10-minute walking distance from Asakusa Station. Hours of operation vary, so be sure to confirm the opening schedule before visiting.

Tokyo Skytree: Standing 2,080 feet high, Tokyo Skytree is the tallest building in Japan and the second tallest in the entire world. The tower features an observation deck where visitors can take in 360-degree views of Tokyo. Tokyo Skytree also features a souvenir shop, a cafe and a restaurant with floor-to-ceiling panoramic windows. On the ground floor is a gallery showcasing exhibits about the Tokyo Skytree as well as a full-scale model of the lightning rod that sits on top top the tower. Tokyo Skytree is located within a 15-minute walk of Asakusa Station. It is open daily from 8:00 a.m. to 10:00 p.m., with last admission at 9:00 p.m.

Hanayashiki: Hanayashiki is a theme park that once served as a flower park during the late Edo era. The park features 20 attractions, including a rollercoaster, a haunted house, a Ferris wheel, a funhouse , a merry-go-round and photo booths. There are also several shops selling souvenirs and unique goods, as well as a food court serving various foods and beverages. Visitors can buy individual tickets for rides, or purchase a ride pass. Hanayashiki Amusement Park is open daily from 10:00 a.m. to 6:00 p.m. The park is situated within a 5-minute walking distance of Asakusa Station.
Sumida Park: Situated near Asakusa Station, Sumida Park is home to around 510 cherry trees and is a prime location for cherry blossom viewing events. Take a leisurely stroll along the Sumida River, or hop onto the waterbus to enjoy a view of the blossoms against the backdrop of the Tokyo Skytree.

Sumida Aquarium: The Sumida Aquarium occupies the 5th and 6th floors of Tokyo Solamachi, a shopping complex within the Tokyo Skytree. This morn aquarium contains more than 10,000 fish and other sea creatures – including fur seals, jellyfish and penguins. The aquarium's center piece is a 90-gallon tank that offers visitors a stunning 360-degree view of the sea animals. Sumida Aquarium is open daily from 9:00 a.m. to 9:00 p.m. The entrance to the aquarium is on the 5th floor of the Tokyo Skytree Town shopping and entertainment complex.

Chingodo Shrine: This Shinto shrine is dedicated to tanuki, the raccoon dog deity that features in many traditional Japanese tales. In addition to the Denboin Temple, the grounds feature statues of tanuki, a beautiful garden and a fountain that is said to spout purifying water. When you're ready for a break, catch some shade under the sacred tree of Chingodo, which is estimated to be around 500 years old. Chingodo Shrine is open to the public daily from 6:00 a.m. to 5:00p.m. The shrine is located within a 5-minute walking distance of Asakusa Station.

Tokyo Kitchen Japanese Cooking Class: In this course, students learn how to make gyoza, ramen, sushi, tempura and other traditional Japanese dishes. The class also covers basic Japanese table manners, including chopstick etiquette. Tokyo Kitchen is located within a 1-minute walking distance of Asakusa Station.

Asakusa Culture Tourist Information Center: Housed inside of this modern wooden building are rotating art exhibitions, a cafe, and an atrium. Be sure to check out the observation deck on the top floor, where you'll be treated to spectacular views of the city. Asakusa Culture Tourist Information Center is open daily from 9:00 a.m. to 8:00 pm. The center is located across from Kaminarimon Gate.
Great places to shop
Nakamise Shopping Street: Lining the main street leading to Sensoji is a bustling marketplace where you'll find everything from traditional handicrafts to plastic sushi. There are also several concession stands selling sweet treats like agemanju, a deep-fried cake filled with sweet bean paste.

Kappabashi Kitchenware Town: Head to this popular area near Tokyo Metropolitan Ueno Park to browse an extensive selection of Japanese ceramics, pots and pans, kitchen utensils and coffee makers. You'll also find some eerily realistic wax food samples inside of this shopping complex, which draws amateur chefs and professionals alike. Most shops at Kappabashi are open from 9:00 a.m. to 5:00 p.m., Monday to Saturday.

Okuyama Onarimachi: Located to the west of Sensoji Temple, this shotengai (shopping street shopping street was a popular night spot among Japan's glitterati during the Edo period (1603-1867). Today, traditional shops line Okuyama Onairimachi Street, where you can buy sculptures, shutter paintings and other one-of-a-kind goods.

Denkama: Denkama specializes in handmade Japanese pottery. The store is located on the corner of Asakusa-dori and Kappabashi-dori. The first level of the two-story shop is dedicated to inexpensive tableware, dishes and bowls. The second floor stocks unique pottery from across japan as well as kitchenware and utensils. Denkama is open daily from 10:00 a.m. to 7:00 p.m.

Asakusa Underground Shopping Mall: Asakusa Underground Mall is Tokyo's oldest underground shopping center. The mall houses around 20 shops selling everything from food to household goods to souvenirs. The entrance to the underground mall is situate within a 2-minute walking distance from Asakusa Station (in front of the Ekimise shopping mall).

Ekimise: The Ekimise shopping mall is directly connected to Asakusa Station. Here, you'll find a good selection of shops selling men's and women's fashions, accessories, electronics, household appliances and other goods. You'll also find an entire floor restaurants serving everything from sushi to Italian dishes. The shops at Ekimise are open daily from 10:00 a.m. to 8:00 pm. The restaurant floor is open from 11:00 a.m. to 10:00 p.m. daily.

Don Quijote: Don Quijote is a duty-free megastore that sells a quirky mix of products, from cosplay outfits to cosmetics. Set aside an afternoon to browse this surprisingly well-organized seven-story department store. Airport delivery service is available on items purchased in to store. Don Quijote is located within a 1-minute walking distance from Asakusa Station.
Popular places to eat
Gonpachi: Famous for its Kill Bill-inspired decor, this restaurant offers a wide selection of affordable Japanese dishes like sushi, yakitori (grilled chicken skewers) and wagyu beef. Gonpachi is located on the banks of the Sumida River, at 2 Chome 1-1. Be sure to reserve a table on the second floor for the best river views.

Marugoto Nippon: On the fourth floor of Marugoto Nippon, Asakusa's newest shopping mall, you'll find a number of cafés and restaurants serving traditional cuisine like fresh sashimi, okomomiyaki (Japanese savory pancake) and teppenyaki (grilled meats and vegetables).

Kappo Yoshiba: Feast on jumbo-sized portions of sushi while taking in live music performances at this unique restaurant, which was once a Miyagino sumo stable. Performances run nightly, starting at 7:30 p.m. on Mondays, Wednesdays, Fridays and Saturdays, and at 7:00 p.m. on Tuesdays and Thursdays. Kappo Yoshiba is located at 2 Chome 14-5.

Kappo Tonbo: This 80-year-old restaurant serves dishes made with local ingredients and prepared by a chef who specializes in traditional Japanese cuisine. Seasonal fish offerings include halibut and golden eye snapper. The menu also features a good selection of sashimi. Kappo Tonbo is located at 3-7-17 Azumabashi, within a 1-minute walking distance of Honjo-azumabashi Station or within a 10-minute walking distance from Asakura Station.

Yakiniku Satsuki: This all-you-can-eat yakiniku (Japanese BBQ) restaurant specializes in Kuroge Wagyu beef. The restaurant is also popular for its Satsuki Meat Assortment, which consists several different cuts of meat. Yakiniku Satsuki is located at 2-11-5 Asakusa, within a 1-minute walking distance from Asakusa Station.

Que bom!: Enjoy authentic Brazilian dishes like churrasco and unami at this laid-back restaurant, located in the Nikko-sha building at 2-15-13. Que bom! also offers a pay-by-weight lunch buffet.

Asakusa Sushi Ken: Order sushi a-la-carte at this restaurant, which stocks a variety of fish from all over japan. Among the rare items available on the menu are Okura (salmon roe), sweet otoro (extra fatty tuna) and Kohada (gizzard shad). Asakusa Sushi Ken is located at 2-11-4 Asakusa, right in front of Asakusa Station.

Daikokuya: This restaurant is known for serving some of Tokyo's finest tempura. Arrive early to reserve a table, as the restaurant becomes quite busy during supper time. Daikokuya is located at 1-38-10 Asakusa.
Best nightlife spots
Asakusa is famous for its izakayas (casual Japanese-style pubs), many of which can be found dotted along Hoppy-dori (Hoppy Street). These trendy night spots serve Sapporo, sake-based cocktails and late-night bites.
Lucite Gallery: Located in the old Yanagibashi entertainment district, this art gallery houses a cafe and bar with a patio overlooking the Sumida River. The gallery, which was once the home of famous geisha and singer Ichimaru, features rotating exhibits by artists and sculptors.

Kamiya Bar: Open for over a century, this Western-style bar is one of Tokyo's oldest drinking spots. The bar is famous for its house drink, a top-secret blend of brandy, curaçao, gin, wine and medicinal herbs. Of course, there's also plenty of cheap Asahi beer on tap for the less adventurous.

CafeRest'Cuzn Homeground: This modern izakaya bar, located at 2 Chime-17-9, caters to both locals and tourists. Come for the cheap drinks and late-night eats, stay for the live music and all-night karaoke.

Asahi Sky Room: Located on the 22nd floor of the Azumabashi Building, this cozy bar offers a good selection of beer, tapas-style dishes and beautiful views of the city. The Azumabashi Building is located within a 5-minute walking distance of Asakusa Station (Exit 5).

Asakusa Beer Bar A.S.A.B.: This small, tourist-friendly bar offers a decent selection of beer, cocktails and bar food. WiFi is available free of charge. The bar is located at 2-11-1 Asakusa, next to the Don Quijote department store.

Cigars & Cafe LWAN: This cigar lounge serves cocktails, coffee, desserts and an extensive selection of Dominican cigars, making it the perfect starting point for an evening out on the town. Cigars & Cafe LWAN is located at 1 Chome-11-3 in the Taito area.
Transportation
Served by four train lines (the Asakusa Line, the Ginza Line, the Tobu Sky Tree Line, and the Tsukuba Express Line), Asakusa Station is the perfect starting point for day trips to Ekimise Shopping Center, Tokyo Skytree and the Mausoleum of Tokugawa Leyasu. The station is located at the intersection of Edo-dori and Kototoi-dori and is identified on route maps by its station code, G19.
Asakusa View Hotel
Hostel EAST57 ASAKUSABASHI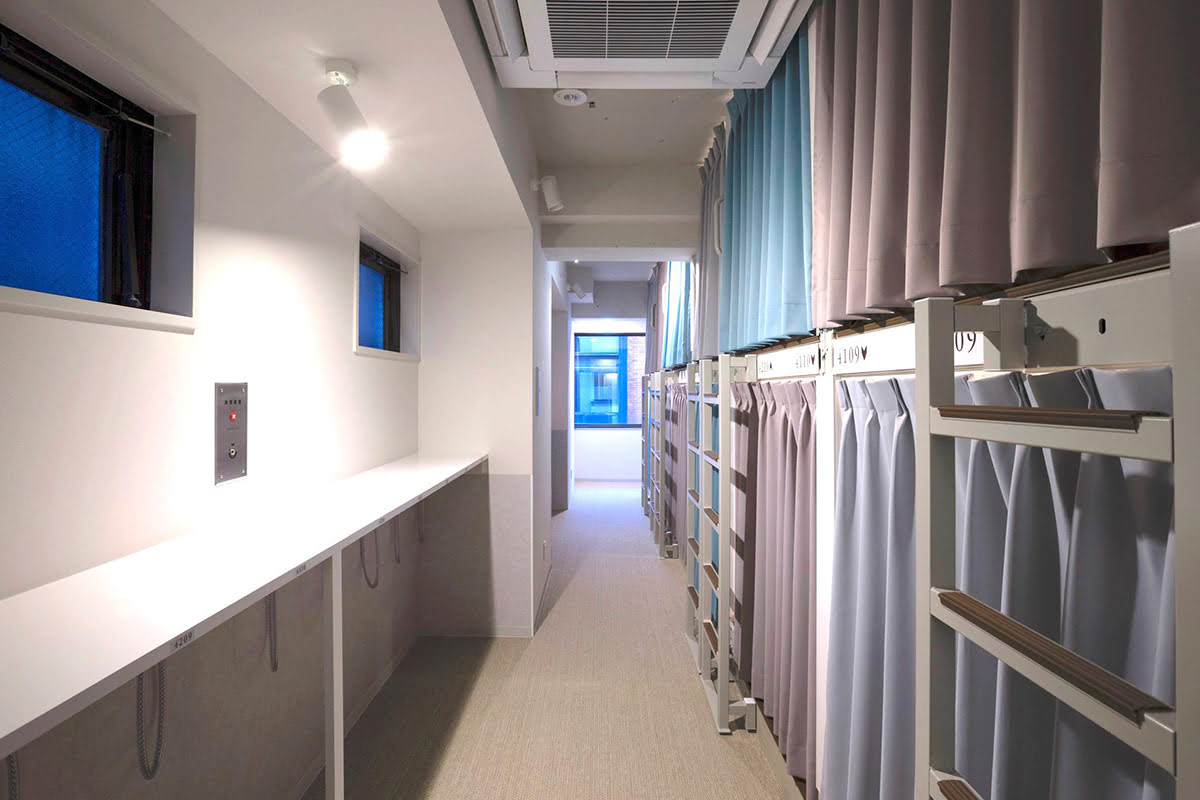 Enaka Asakusa Central Hostel