Korean food has some of the most unique flavors in the world, and each region has its own specialties. That includes Jeju Island, South Korea's honeymoon and weekend getaway paradise. To truly savor all the dishes this southern region has to offer, travelers should jot down a few tips from this Jeju Island food guide. Discover which Korean dishes can't be missed and the best places to eat on Jeju Island.

Jeju Island Food Guide | Can't-Miss Korean Dishes – 1. Jeju Black Pork (Heuk Dwaeji)
Not only is black pork a must-try dish during a foodie tour in Jeju Island, but the dish is so popular that there is an entire street dedicated to it. Black Pork Street is lined with sit-down restaurants which each offer unique black pork dishes. In case you're wondering, black pork gets its name from the color of the small pigs bred only on Jeju Island, not from the color of the tender meat that is loved by tourists and locals alike. Though each restaurant on Black Pork Street will serve a one-of-a-kind version of black pork, customers can generally count on their black pork dishes to be served with pickled vegetables, kimchi, raw garlic, mushrooms and rice.
Popular restaurants on Black Pork Street
Dombedon, 25 Gwandeong-ro 15(sibo)-gil, Geonip-dong – a Michelin-Starred black pork restaurant open from 11 a.m. to midnight daily

Hwaro Hyang, 1399-2 Geonip-dong – popular with locals and tourists for unique marinades and dishes
Black pork restaurants near Jeju International Airport
Neulbom Heukdwaeji, 2343-3 Nohyeong-dong – this restaurant's famous barbecued boneless pork belly is worth a stop when going to or coming from the airport

Donsadon, 15 Gwangpyeongdong-ro, Nohyeong-dong – specializing in barbecuing black pork over charcoal, this restaurant draws locals as well as Korean stars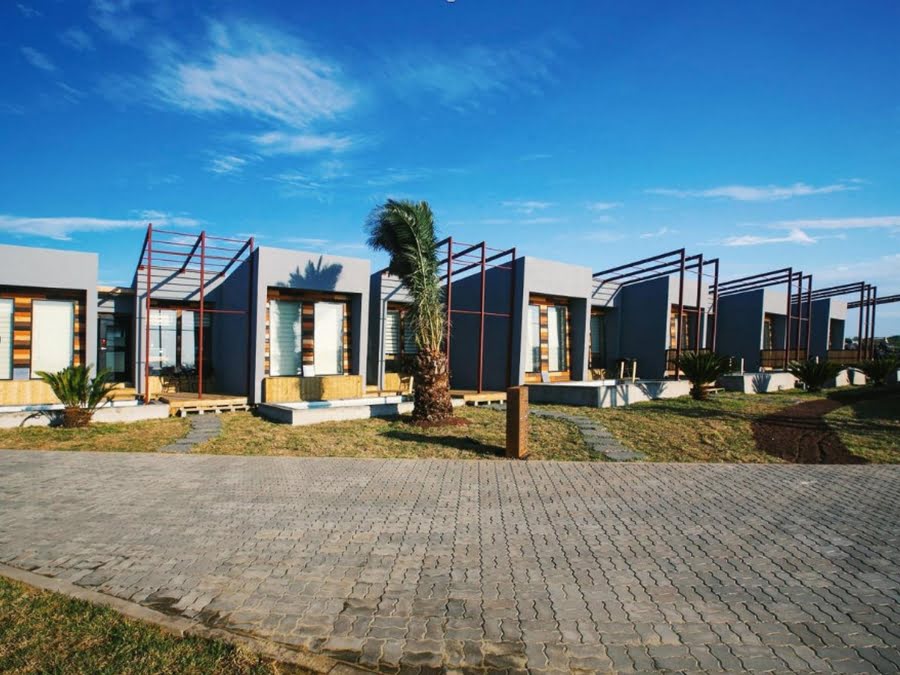 Jeju Island Food Guide | Can't-Miss Korean Dishes – 2. Seafood Hot Pot (Haemultang)
If there's one dish that screams Korean food, it's a seafood hot pot, or haemultang. Korean haemultang in Jeju are special because these hot pots can be loaded with all kinds of fresh seafood. If you're a foodie who dreams of trying fresh octopus, squid, clams and cuttlefish all in the same place, a hot pot restaurant in Jeju is the place for you!
Best place to try haemultang in Jeju City
One of the best places to eat haemultang in Jeju City is Samseonghyeol Haemultang, where the seafood is so fresh that it's still alive when it's dropped in the hot pot! (Squeamish foodies might not love this experience.)
The restaurant is located at 20 Seondeong-ro 5-gil, Yeon-dong and is open from 10 a.m. to 10:30 p.m. daily (though the restaurant closes from 2:45 to 4 p.m. each day).
Jeju Island Food Guide | Can't-Miss Korean Dishes – 3. Jeon-bok (Abalone)
Known as "the wild ginseng of the sea" because of its nutritional qualities, jeon-bok is a Jeju Island delicacy that can be enjoyed in a variety of ways. One of the most popular ways to eat jeon-bok (or abalone) is in porridge or stews. Finding a place to eat abalone in Jeju Island can be just as adventurous as eating it.
Where to eat jeon-bok (abalone) in Jeju Island
Most of the abalone on Jeju Island is harvested by haenyeo, or tough ladies who free dive for abalone at different places along the coast. Tourists can catch the haenyeo diving in the mornings and sit down at an accompanying "haenyeo house" restaurant to gobble up the ladies' hard work.

Myeongjin Jeonbok Abalone Restaurant only serves four abalone dishes, but they are the most famous dishes on all of Jeju Island. Guests can choose from abalone porridge, grilled abalone, raw abalone and abalone served in a sizzling pot with rice.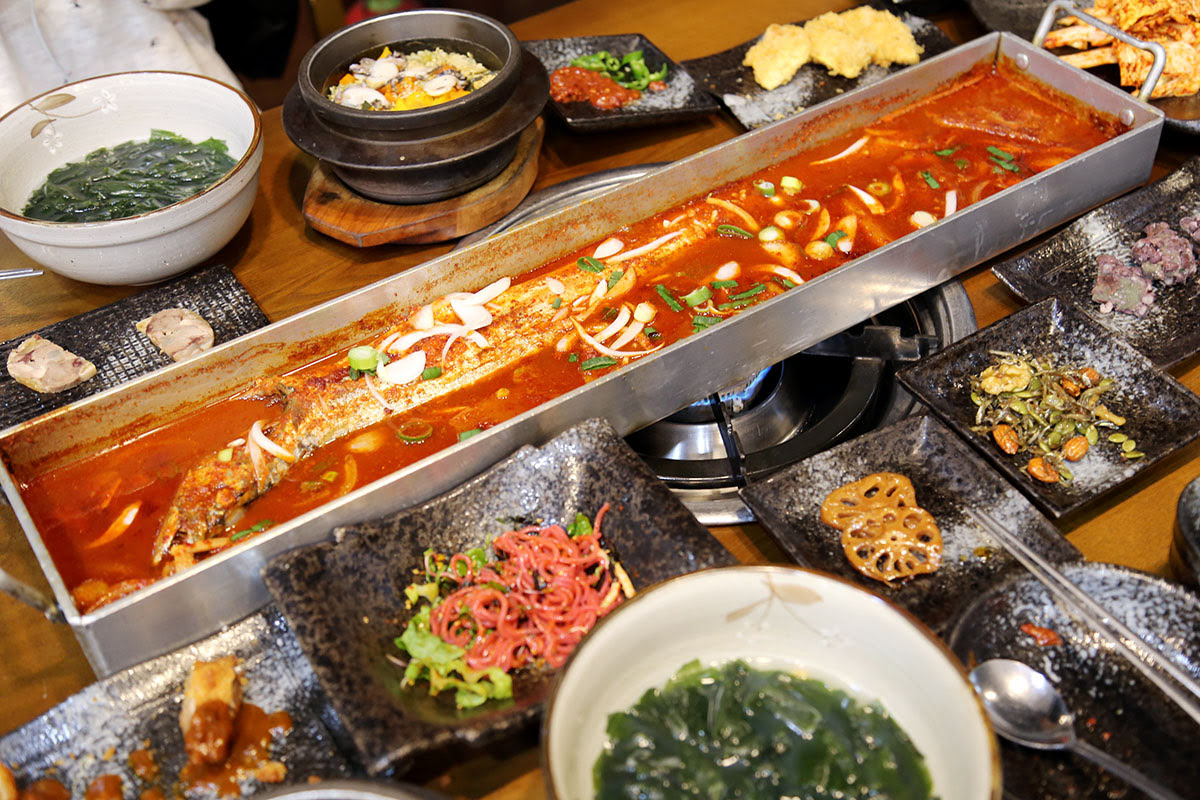 Jeju Island Food Guide | Can't-Miss Korean Dishes – 4. Galchi (hairtail) Cuisine
No matter where you roam in Jeju, you're likely to run into a display of hairtail fish at some point, and when you do, you'll be prepared for its oddness. This super long fish is somewhat of a staple in Jeju Island restaurants and markets, and it can be prepared multiple ways. One of the most popular ways to eat galchi is raw (hoe), and another popular preparation is boiling hairtail in a tasty soy sauce broth. Most tourists, however, will find galchi inside a bowl of stew – if they're lucky enough to get their hands on one!
Best hairtail fish restaurants in Jeju
Madna Restaurant (Manna Sikdang), 43 Dongnyuam-ro, Seongsan-eup, Seogwipo-si – the restaurant serves two dishes and two dishes only – spicy hairtail stew and saba fish stew. Go early (between 8:30 a.m. and 1 p.m.) because once the hairtail stew is gone, you won't get a chance to try it again until the next day.

Negeori Restaurant, 20 Seomun-ro29beon-gil, Seogwi-dong, Seogwipo-si – known for its fresh hairtail dishes, this restaurant is open from 7 a.m. to 10 p.m. every single day.
Jeju Island Food Guide | Can't-Miss Korean Dishes – 5. Mackerel (Godeungeo)
Mackerel, or godeungeo, is one of the most loved fish in South Korea. Not only is it delicious and nutritious, but it also is affordable and versatile. South Koreans love mackerel all year long, but they say the fish are fattest and tastiest in the fall.
A great place to try godeungeo is at Deomjang Jungmun (17 Cheonjeyeon-ro, Saekdal-dong, Seogwipo-si), where mackerel is served crispy on the outside, tender and flaky on the inside and surrounded by a mind-blowing number of complementary side dishes. Deomjang Jungman is open from 8 a.m. to 10 p.m. daily.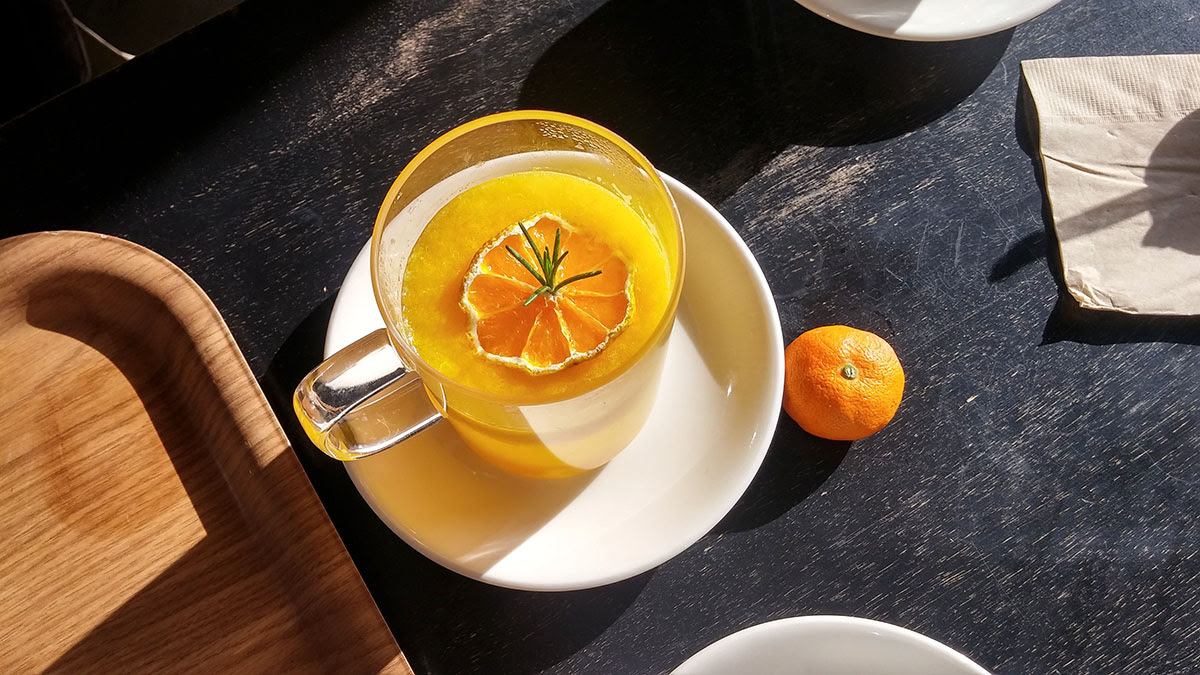 Jeju Island Food Guide | Can't-Miss Snack Food
Don't forget to snack when in Jeju City! Fortunately, this won't be a hard thing to remember to do as you'll be surrounded by incredible snack foods wherever you go. Markets are the best places to try Korean snack foods, but convenience stores, shopping malls and random shops also are great places to find local treats. Some quick bites to keep an eye out for include kimbap, black pork dumplings and croquettes, and hallabong juice. (A hallabong tastes much like a tangerine, but this fruit is native to Jeju Island, so consider drinking hallabong juice a rare experience!)
Best Jeju Island Markets For Snack Food
Jeju Five-Day Folk Market, 26 Oiljangseo-gil, Doduil-dong – open 8 a.m. to 6 p.m. (check the schedule for which days).

Dongmun Traditional Market, 20 Gwandeong-ro 14(sipsa)-gil, Idoil-dong – open every day from 8 a.m. to 9 p.m.

Seogwipo Maeil Olle Market, 22 Jungjeong-ro73beon-gil, Seogwi-dong, Seogwipo-si – open from 7 a.m. to 9 p.m. daily