The best restaurants in Seoul highlight the diverse nature of this special culinary landscape, where Michelin-starred fine dining venues can be mentioned in the same breath as casual fried chicken joints. It's an eclectic, exciting blend, and we're here to help you taste it all. Here's our list of the 13 best restaurants in Seoul to make your inner foodie outrageously happy.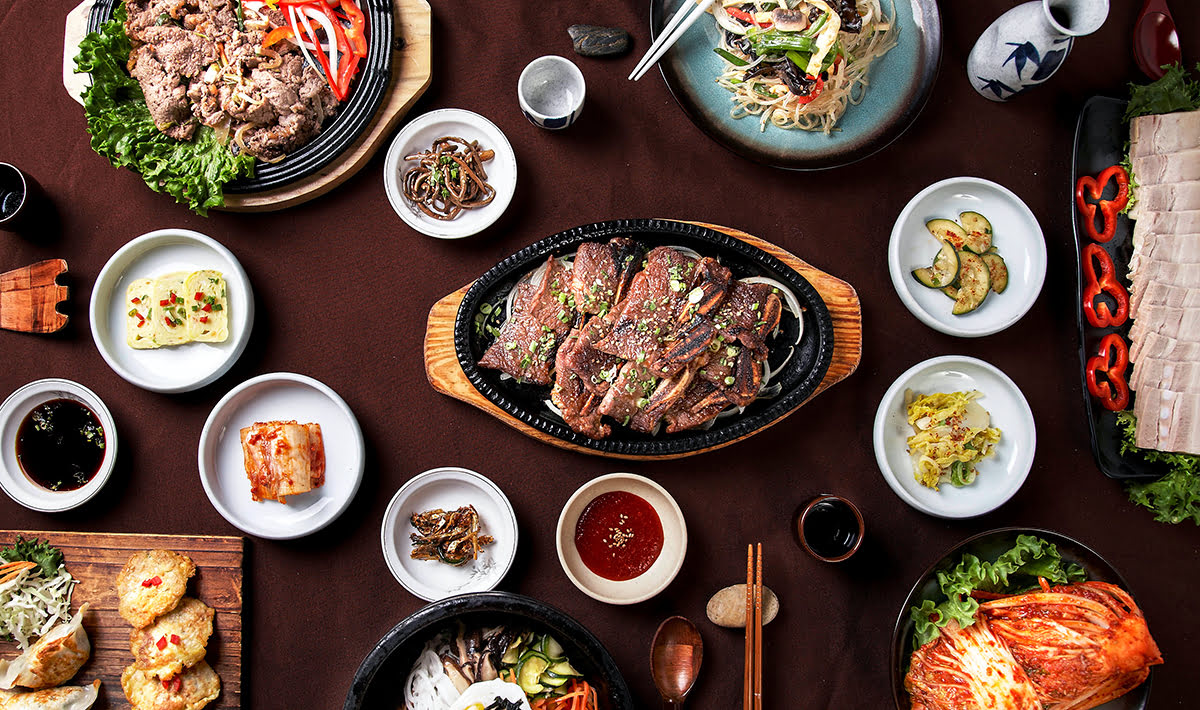 Best restaurants in Seoul for fine dining
1. Jungsik Seoul | Korean Fusion
Executive Chef and owner Jungsik Yim did more than lend his name to this exquisite Gangnam restaurant. He was one of the first chefs in Seoul to infuse traditional Korean flavors with the techniques and presentation common in European fine dining. Other restaurants have followed suit, but Jungsik Seoul has not rested on its laurels, as the venue's two Michelin stars prove. Yim demonstrates his meticulous knack for bridging East and West by presenting ingredients like sea urchin and hanwoo beef in artfully exquisite expression, a skill he refined in New York and Spain prior to returning to Seoul to open his eponymous restaurant. The deep roster of international labels found on the wine list matches the elegance of the food stride for stride. Multi-course meals are offered in the main dining hall, but you can pull up a chair in the more causal Bar Jungsik on the restaurant's first floor and order a bowl of seafood stew or sea urchin and seaweed paella.
What can you expect to pay for fine dining at Jungsik Seoul?
Average Price Per Meal: 60,000-180,000 Won (54-161 USD)
Address: 11 Seolleung-ro 158-gil, Cheongdam-dong, Gangnam-gu, Seoul, South Korea
2. Mingles | Global Korean
Mingles' name is a reference to chef Mingoo Kang's passion for finding innovative ways to blend traditional Korean flavors with global ingredients. He's earned the right to experiment in this way; he made his bones at Nobu in The Bahamas and Miami before opening this Gangnam venue in 2014. His craftsmanship has earned Mingles one Michelin star thus far and has also raised the eyebrows of serious foodies worldwide for bold creations such as white kimchi-wrapped foie gras torchon and soybean paste-marinated lamb. Kang designs his menu to coincide with the seasons, which means he's always playing around with calendar-driven ingredients to create new forms of culinary expression. It also makes Mingles one of the toughest seats in Seoul, so you may want to make reservations as soon as your travel dates to Seoul are confirmed.
What can you expect to pay for fine dining at Mingles in Seoul?
Average Price Per Meal: 38,000 – 127,000 Won (34 – 114 USD)
Address: 757 Seolleung-ro, Nonhyeon 2(i)-dong, Gangnam-gu, Seoul, South Korea
3. La Yeon | Korean
One of two Seoul restaurants to score three Michelin stars, this restaurant perched on the Shilla Seoul Hotel's rooftop offers spectacular views of the city. However, chef Sung-Il Kim's take on high-end Korean cuisine will constantly draw your attention away from the windows. Kim pushes traditional Korean dishes into modern territory through contemporary technique and presentation, a culinary tactic that elevates classic dishes like soy sauce-braised short beef ribs and hot pot into brilliant expressions of haute sophistication. Dishes like the jellyfish salad served with seasonal gochujang (red chili paste) particularly showcase Kim's deft knack for handling delicate flavors. It's old school meets new school in the best way possible, which is rather appropriate: La Yeon was initially intended to be an educational project designed to promote traditional Korean cuisine.
What can you expect to pay for fine dining at La Yeon in Seoul?
Average Price Per Meal: 175,000 – 270,000 Won (156 – 242 USD)
Address: 249 Dongho-ro, Jangchung-dong, Jung-gu, Seoul, South Korea
4. Soigne | Contemporary
Sleek, small, and equipped with a stark black and white color scheme, Soigne could very well be the most cosmopolitan restaurant in Seoul. Even the name is worldly – Soigne is French for "elegantly dressed." The vibe makes perfect sense when you realize Soigne's owner and Executive Chef is Jun Lee, a graduate of the Culinary Institute of America who made his bones at the prestigious New York restaurants Per Se and Lincoln. Every three months, Lee creates a carefully-crafted tasting menu that effortlessly riffs on culinary styles and techniques from around the globe, not to mention the seasonality of ingredients. Each menu built focuses on a certain theme, from the aromas of herbs and spices to dishes inspired by the Korean coastline. It's a culinary thrill ride, and it's earned the restaurant one Michelin star thus far. There are less than 40 seats in Soigne, so plan on making your reservations sooner than later.
What can you expect to pay for fine dining at Soigne in Seoul?
Average Price Per Meal: 145,000 Won (129 USD)
Address: 46 Banpo-daero 39-gil, Banpo-dong, Seocho-gu, Seoul, South Korea
5. Gaon | Korean
Gaon is Seoul's other three-star Michelin restaurant. Like its counterpart La Yeon, this restaurant's goal is to enlighten patrons on the high-end possibilities of traditional Korean dining. It boasts an interesting pedigree: the operating group behind Gaon is also known for making traditional Korean liquor and elegant Korean ceramics. This latter association plays into the presentation of the tasting menus they offer each night, as every course comes on beautiful ceramic vessels custom-made by the parent company. Seasonal dishes like snow crab with peach and pear or grilled sea perch with clam porridge also look exquisite, and they taste even better. Add impeccable service to the mix, and you have a culinary experience you'll be talking about for years to come. Located within Horim Art Center, the design of the restaurant is unique if not unorthodox, as there is no dining room. Instead, the dining "space" consists of five private dining rooms. Because seating is at a premium, reservations are a necessity.
What can you expect to pay for fine dining at Gaon in Seoul?
Average Price Per Meal: 220,000 – 290,000 Won (196 – 259 USD)
Address: 317 Dosan-daero, Sinsa-dong, Gangnam-gu, Seoul, South Korea
Step Out to the best restaurants in Seoul
Top Seoul Street Food Destinations
6. Myeongdong
Myeongdong's reputation for being Seoul's chief modern-day shopping hub is well-deserved. However, the neighborhood's excellent street food scene matches the retail bustle stride for stride. You'll find nearly 100 different food carts lining Myeongdong's streets and twisting alleyways, and each one seems to tout a different Korean specialty. Some bites like fried milk may be a bit esoteric, but other dishes like grilled lobster and spiced meatballs are approachable and delicious. They tend to be very affordable, too – the average morsel will usually cost you about 4500 Won, or around 4 USD. Be sure to bring cash, as the street carts here don't take credit. Be prepared to deal with crowds, too; Myeongdong averages about 2 million visitors per day. Trash receptacles are somewhat scarce around the carts, so you may want to consider carrying your own trash bag.
7. Namdaemun Market
Namdaemun Market features some 10,000 stalls, making it the largest market in Seoul. Some of these stalls are devoted to some of the city's most sumptuous street food options. The bulk of the vendors tend to gather around Hoehyeon Subway Station, so you'll want to prepare to deal with subway traffic as well as hungry foodies. The high concentration of carts makes it easy to put together an impromptu food tour of Korean classics, ranging from familiar fare like dumplings and noodles to more adventurous bites like blood sausage and pig's feet. Word of warning: most of the Namdaemun Market vendors take Sunday off.
8. Dongdaemun Market
Dongdaemun Market is Seoul's emerging fashion district, and it's a neighborhood that practically stays open around the clock. Naturally, this means the neighborhood's street food scene is tremendous, particularly if hunger pangs strike you past midnight. In fact, it's advised that you wait until around 10:00 PM to stop by if you want to experience Dongdaemun Market at full throttle. You'll find street food vendors scattered throughout the neighborhood, but the best concentration of vendors set up shop in a small alleyway known as Mukja Golmok, or "Let's Eat Alley." You may want to bring a backpack or a couple of shopping bags with you when you visit – you never know when the inspiration to shop between bites will strike.
Oden
Kalguksu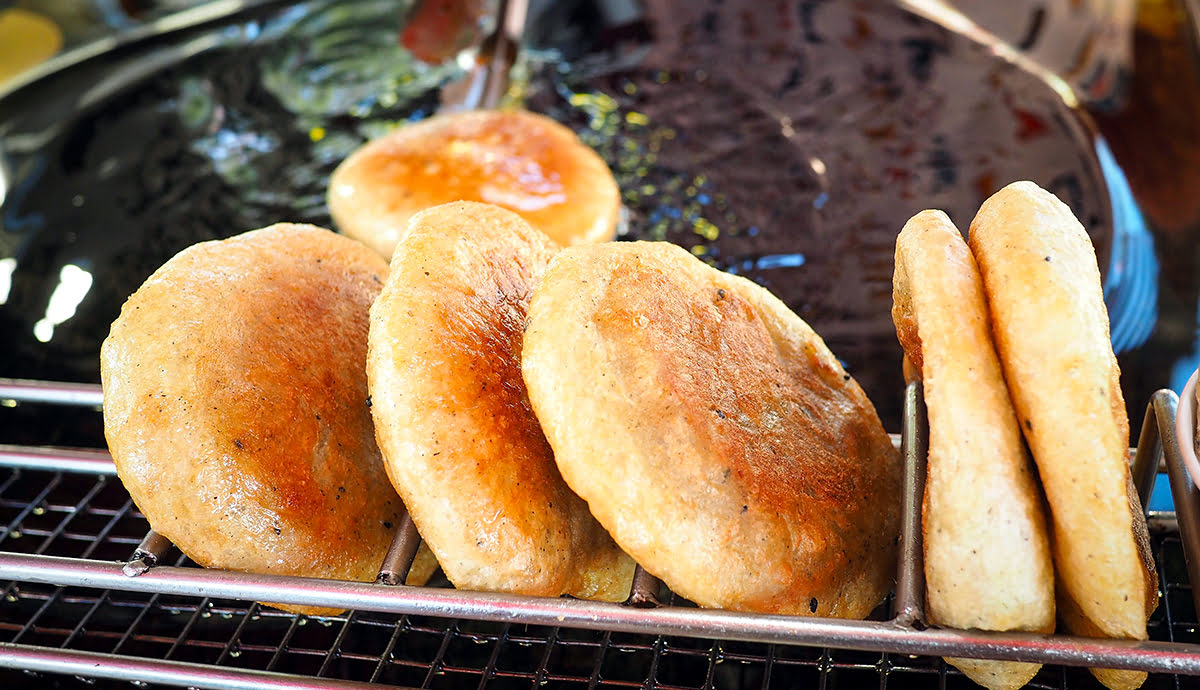 Hotteok
Guide to Essential Street Food in Seoul
Oden: Also known as "eomuk," this fish cake is arguably the most popular street food to order in Seoul. It's a simple bite typically consisting of ground white fish, potato, and veggies, and it clearly demonstrates that sometimes simple is best when it comes to food.
Average Price: 4,250 Won (4 USD)
Eat street food in Seoul in Myeongdong
Kalguksu: Traditional handcut Korean noodles, typically made from wheat flour. They're served in a big bowl with a broth that can either be made from chicken or seafood. Hearty and delicious.
Average Price: 3,500 Won (3 USD)
Hotteok: Grilled Korean pancakes typically filled with a sweet mixture. This inner blend can contain cinnamon, honey, brown sugar, or chopped peanuts. An ideal treat to satisfy your sweet tooth.
Average Price: 3,000 to 10,000 Won (2.50 – 9 USD, depending on how much you order).
Step Out to the best restaurants in Seoul
The Best Casual Restaurants in Seoul
9. Hanilkwan | Traditional Korean
Dine at Hanilkwan (Han-Ilgwan), and you're dining amid history and in one of the best restaurants in Seoul. Located in the Sinsa-dong neighborhood, this Seoul restaurant has been going strong since 1939. It's long held a reputation for being a special occasion Seoul restaurant for locals. It also has a touch of intrigue to its tale – rumor has it Hanilkwan is the place that created modern-day Korean barbecue. That may be hearsay, but the venue's Bib Gourmand designation it earned from Michelin is certainly verifiable. As one may expect and possibly hope, Hanilkwan serves up traditional Seoul cuisine, all classically prepared and filled with exquisite flavor. The standout entree is bulgogi, the traditional grilled dish made with thinly sliced marinated beef and fragrant cabbage.
Average Price Per Meal: 41,000 – 66,000 Won (28 – 59 USD)
Address: 14 Apgujeong-ro 38-gil, Sinsa-dong, Gangnam-gu, Seoul, South Korea
10. Imun Seoulnontang | Traditional Korean
If there's one Seoul restaurant steeped in more history than Hanilkwan, it's this Insadong venue. It was the country's first restaurant when it opened its doors in 1904, and the Bib Gourmand designation it received from Michelin proves it's showing no signs of slowing down. The signature dish here is the oxtail soup, possibly because its longstanding tradition of boiling the oxtail bones in broth for a whopping 17 hours still happens. The result of this process turns the broth into a milky-hued liquid packed with intense flavor. If you have one bowl of soup while you're in Seoul, this should be the one you order. Imun Seoulnontang is tucked away in a nondescript alley, but the funky location only adds to its charm as one of the best restaurants in Seoul.
Average Price Per Meal: 9,000 – 30,000 Won (8 – 26 USD)
Address: 38-13 Ujeongguk-ro, Gyeonji-dong, Jongno-gu, Seoul, South Korea
11. Mr. Ahn's Craft Makgeolli | Gastropub
Part Korean gastropub, part educational experience, Mr. Ahn's Craft Makgeolli delivers one of Seoul's hippest dining experiences. The first lesson you'll receive is found in the restaurant's name: makgeolli is a sweet, rich rice wine that seems poised to emerge from soju's shadow, thanks in part to Seoul's younger imbibers taking a liking to its flavor and low alcohol content. You can work your way through a wide range of somewhat obscure Korean liquors here, but you'll also want to spend time exploring Mr. Ahn's Craft Makgeolli's menu — an exciting mélange of traditional Korean fare infused with modern sensibilities. There may be no better place in Seoul to seek what Korean libation pairs well with stuffed and steamed squid.
Average Price Per Meal: 29,000 – 64,000 Won (26 – 57 USD)
Address: 61 Hoenamu-to 13ga-gil Yongsan-gu, Seoul South Korea
Step Out to the best restaurants in Seoul
Cheap Restaurants in Seoul
12. Jinju Hoegwan | Noodles
Expect to wait a while when you arrive at this casual, affordable venue in the Seosomun-dong district. Chances are, most of them are waiting for the house specialty, kong-guksu. There's not much to this dish: it's essentially noodles served in a cold milk broth of freshly ground soybean. Yet the lengthy line bears witness to the power this simple dish has had over Seoul since the restaurant opened here in 1965. While the restaurant is packed year-round, it's particularly crowded during the summer, when the special cold noodles act as a delicious way to help people beat Seoul's infamous summertime heat.
Average Price Per Meal: 7,500 – 10,000 Won (7 – 9 USD)
Address: 26, Sejong-daero 11-gil, Jung-gu, Seoul, South Korea
13. Hanchu | Korean Fried Chicken Hof
If you visit Seoul, you must have fried chicken at least once. Hanchu not only delivers some of the most reputable fried chicken in the city, but it arguably provides the best "hof" (aka beer) experience to accompany the dish. The hours of the venue run from 5:00 PM to 3:00 AM, making it one of the best restaurants in Seoul and a go-to spot for anyone that's hankering for some late-night grub. Customers don't just come here because Hanchu keeps friendly late-night hours. The chicken here is crispy, juicy, tender, and has just enough heat to add an extra dose of intrigue. Your best bet may be to split an order with friends and order up some made-to-order rice cakes, kimchi, and a big pitcher of beer. Hanchu's a relatively cozy place, so you may have to wait a while before you can snag a table.
Average Price Per Meal: 15,000 Won (13 USD)
Address: 549-9 Sinsa-dong, Gangnam-gu, Seoul
Step Out to the best restaurants in Seoul