Lotte World is an entertainment and recreation complex in Seoul, located in the city's southeastern Songpa District. It is known mainly for being home to the world's largest indoor theme park, Lotte World Adventure. However, it is also the site of Lotte World Mall, Lotte World Aquarium, and Lotte World Tower. Lotte World is very popular among both locals and tourists, and you can easily spend a whole day or longer exploring its many attractions.

LOTTE WORLD ADVENTURE and MAGIC ISLAND
Lotte World, which opened in 1989, is widely considered to be one of the best theme parks in South Korea. The giant Lotte World theme park actually consists of two different parks: Lotte World Adventure and Magic Island. The indoor Lotte World Adventure park is a fantastic place to visit any day of the year, as it is sheltered from the elements. It is divided into districts representing different countries, with different attractions and souvenir shops in each. The park features internationally themed daytime parades that rotate throughout the year, as well as an enchanting nighttime light parade. There is also an "Underland" world under Lotte World Adventure with Korean folk tale theming. The outdoor section of the park, Magic Island, is surrounded by Seokchonhosu Lake and offers a fantastical adventure into a water-themed world.
Of course, what most visitors come to Lotte World for are the fantastic theme and thrill rides. There are close to 50 rides spread out among Lotte World Adventure and Magic Island. Visitors have plenty of choice when it comes to ride type and genre. If you're a thrill-seeker, then take a ride on one of the many exhilarating roller coasters. Magic Island is especially known for its thrill rides, including Atlantis, Gyro Spin, and Gyro Drop. Those who prefer a less bumpy and jolting ride can sit back and relax on the carousel and many other calmer attractions. Two rides that you absolutely don't want to miss are World Monorail and Hot Air Balloon Ride, as they offer a bird's eye view of both parks.
When it's time to take a break from all the rides, it is highly recommended that you check out the Lotte World Folk Museum. Popular among international visitors, the museum traces the history of South Korea all the way from the Paleolithic. One of the most interesting and creative exhibits is the Miniature Zone, a series of displays featuring tiny models of Korean villages at different times throughout history, showcasing the different lifestyles of the people who lived in the villages. You'll also find traditional craft demonstrations in the museum's craft room. Visitors are provided with helpful audio-visual devices to enhance their visit.
Admission prices and opening hours
Lotte World is open from 9:30 a.m. to 10 p.m. every day of the year. A regular Park Ticket includes both admission to Lotte World Adventure and Magic Island. Ticket prices are lowered if you purchase after 4 p.m. Admission prices are:
• 54,000 won for adults (43,000 won after 4 p.m.)
• 48,000 won for youth (38,000 won after 4 p.m.)
• 45,000 won for children (34,000 won after 4 p.m.)
• 14,000 won for babies (14,000 won after 4 p.m.)
Visitors also have the option to buy a Universal Pass, which includes admission to the Lotte World Folk Museum and which is more affordable than purchasing a Lotte World ticket and a Lotte World Folk Museum ticket separately. A Universal Pass costs only an additional 3,000 won for adults, 2,000 won for youth, and 1,000 won for children.
LOTTE WORLD MALL
On the other side of Songpa Road, you'll find Lotte World Mall, which is accessible from the theme parks via an underground plaza. The mall opened in 2014 and has since become one of Seoul's top shopping attractions. Lotte World Mall focuses on delivering everything shoppers need for a premium lifestyle. It is a global fashion hub where shoppers can find both foreign and domestic brand products. The shopping mall itself is surrounded by a complex of luxury department stores known as Avenuel. For some of the most affordable luxury shopping in Seoul, head to Lotte Duty Free, the largest duty-free store in the country and the third largest in the world. The mall also features numerous entertainment facilities, including Asia's largest movie theatre and a concert hall designed with cutting-edge technology to deliver an unparalleled musical experience.
While in Lotte World Mall, don't miss out on a visit to the attached Lotte Mart. South Korea's leading chain of discount stores, Lotte Mart is a great place to find a variety of quality goods at incredibly low prices. You'll find everything from electronics and household goods to cosmetics and fashion. Lotte Mart is also the most convenient place to pick up popular Korean snacks to bring back home as souvenirs for your friends and, of course, to enjoy yourself. Some of the top snacks and goodies to pick up at Lotte Mart are Korean instant noodles, MarketO Real Brownies, Honey Butter Chips, and seaweed in more flavors than you could dream of.
Lotte World Aquarium
Accessible through Basement Floor 1 of Lotte World Mall, the Lotte World Aquarium is definitely worth a visit. Adults and children alike will marvel at the astounding array of sea life that calls the aquarium home. You'll get to see over 50,000 animals from over 600 different species. Lotte World Aquarium has 13 different themed zones, each focused on a different marine life from around the world. You'll also find the largest main tank in the country and an underwater tunnel where you can gaze up at the marine life swimming above. The aquarium strives to encourage a greater understanding and knowledge of the sea among the general public, and the exhibits are highly entertaining and informative. The price of a ticket to Lotte World Aquarium is 31,000 won for guests 13 and up and 27,000 won for children under 12.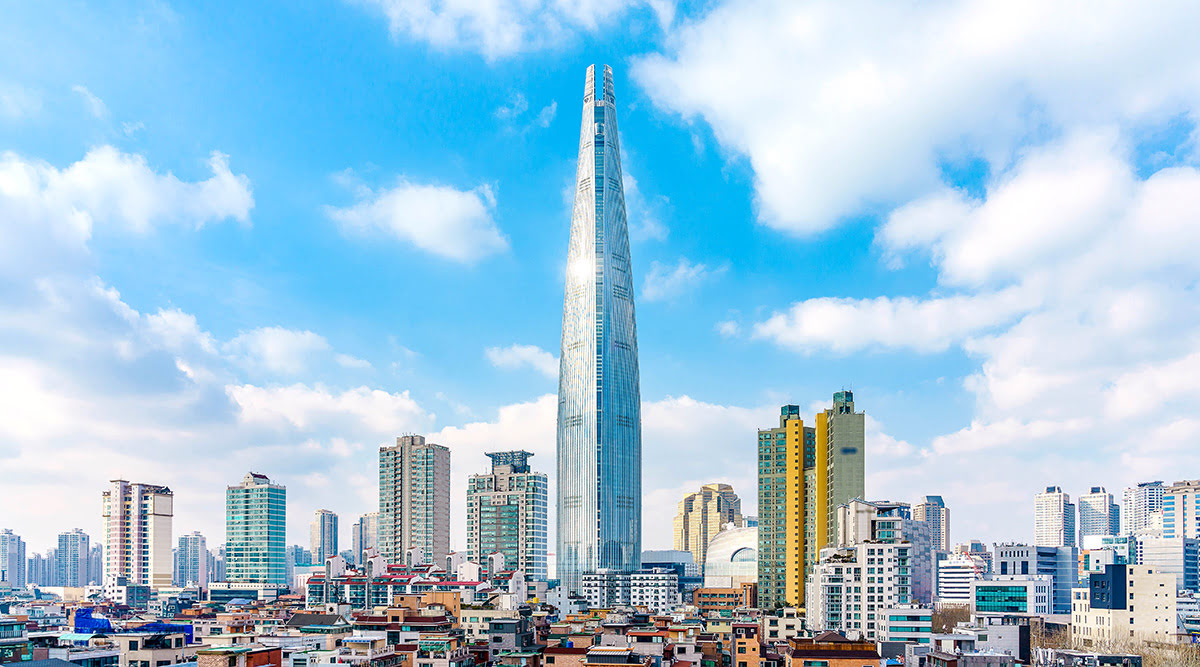 LOTTE WORLD TOWER
The most noticeable attraction at the Lotte World complex is the 1,821-foot-tall Lotte World Tower, located right next to Lotte World Mall. This supertall skyscraper has a grand total of 123 floors. It is not only the tallest building in the country but also the fifth-tallest building in the entire world. It was first opened in 2017 and has quickly become a top landmark for the city as well as a symbol for the entire country. Lotte World Tower was designed and constructed using cutting edge technology to provide everything the modern person needs for urban living, including a financial, fitness, and healthcare center. While locals utilize these facilities, the main draw for tourists is Seoul Sky, the highest observation deck in South Korea. Seoul Sky is accessible through the 117th floor of Lotte World Tower and continues up to the 123rd floor. It offers panoramic views of the city as well as a glass floor observatory.
LOTTE WORLD: Access and accommodations
All of the facilities in the Lotte World complex are just a short, five-minute walk away from Jamsil Subway Station. The station can be reached by Seoul Subway Line 2, which is also known as the Circle Line for the loop it makes through downtown Seoul. If you're headed to Lotte World Adventure, then take Exit 4 out of the station. For Lotte World Mall and Lotte World Tower, take Exit 2.
Seoul Subway Line 2 makes it easy to get to Lotte World from just about anywhere in the city but, if you'd like to stay closer to the action, then consider checking in to Lotte Hotel World. Located inside Lotte World Adventure, this hotel will allow you to access the park within minutes. Other good options include Lake Hotel, which provides excellent views of Lotte World, Magic Island, and the surrounding area, and Rosana Boutique Hotel, which is just down the road from Lotte World.
Check In to a hotel or apartment near Jamsil Station
Lotte Hotel World
Lake Hotel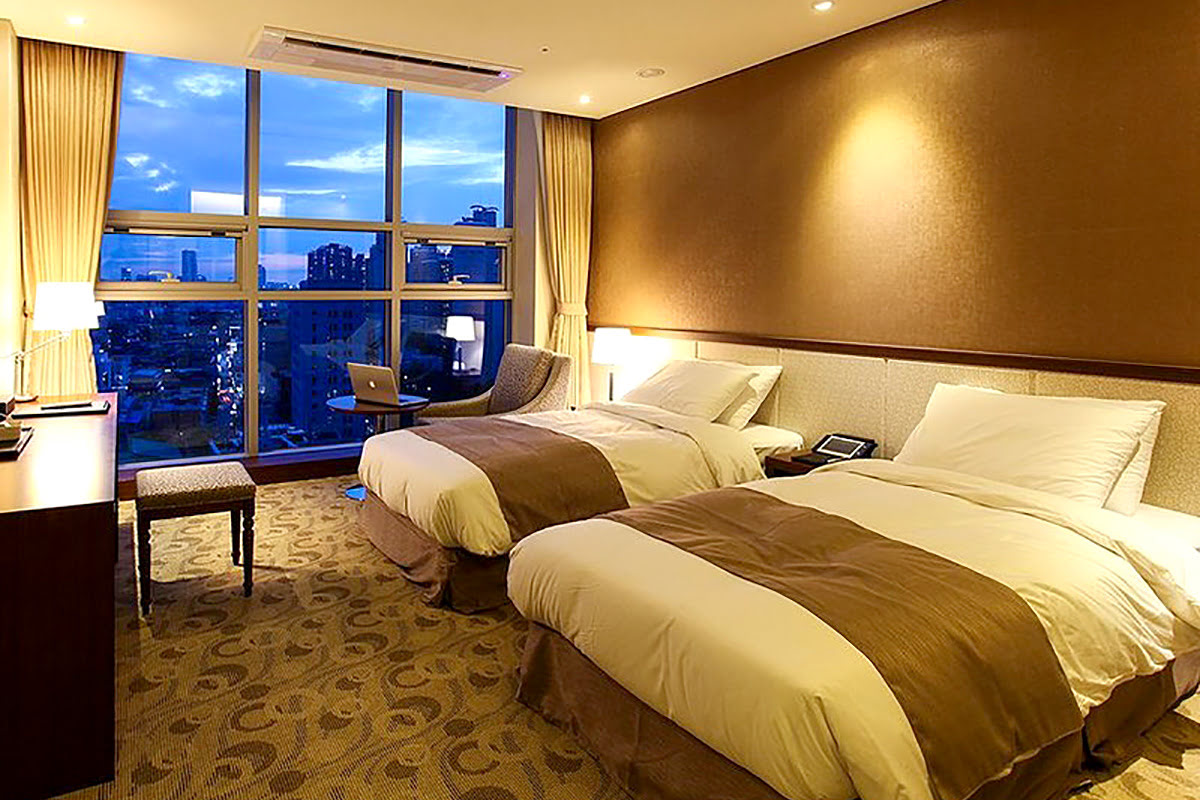 Rosana Boutique Hotel