The beautiful Southeast Asian country of Thailand is well known for its plentiful and tasty food. Thai food is famous for its deliciousness and Bangkok especially has a wealth of tastes. Look for fine restaurants, ultra casual quick-service dining, food trucks, and street vendors with some local favorite dishes sold from push carts, or discover out-of-the-ordinary dining experiences.
Bangkok Street Food
The legendary streets of Bangkok are full of the tastes and flavors of Thailand's best food. Here, you can find tasty pad thai kung, som tam, spring rolls, and khao pad spilling from food carts, trucks, and stalls throughout the busy city. It has been said that Bangkok is worth a visit for the food alone!
Best Places to Eat Street Food
Bangkok is full of people and all those people want to eat. Visitors to the city will find new and unusual dishes to try alongside Bangkok's classic favorites. Great food can be found almost everywhere, especially around train stations or neighborhoods outside universities, but travelers should look for Bangkok's very best eats in Chinatown, Ratchawat Market, Bangrak, Nang Loeng Market, and the area around Victory Monument.
Chinese roll noodle soup
Oyster crispy omelette
Wonton noodle soup
Yaowarat
The Chinatown neighborhood of Bangkok is locally known as the Yaowarat area and is home to some of the city's best authentic Thai food. Local specialties include oyster or mussel crispy omelette, Chinese roll noodle soup, wonton noodle soup, seafood and much more! Yaowarat is home to the best of the best Bangkok street food, so be sure you don't miss this treasure chest of Thai food. The best way to discover Chinatown's food is to eat small samples from multiple carts or stalls as you make your way down the street. Don't fill up too fast, there is so much more to enjoy. Look for stalls with dim sum, or track down sweet ice cream desserts. You will not leave hungry!
Beef noodle
Roast duck with rice
Curry and rice shop
Ratchawat and Sriyan Markets
Ratchawat and Sriyan Markets come alive at night. These markets are two of the oldest traditional markets in the city and are very popular with locals. The best time to find amazing street food at Ratchawat Market is after dark. Ratchawat Market is a prime spot to find Kobe beef noodles and roast duck dishes that are just packed with flavor. Sriyan Market is a short walk away, and is a popular destination for noodles and curries. Look for a small stall serving stir-fried curried fish ball for a surprisingly delicious meal.
Dumplings
Yentafo (pink noodle soup)
Bangrak
Wander through the Bangrak District and take in the aromas of steamed dumplings and fried garlic. This is the place where food stalls give way to more food stalls each with equally delicious food, including vegetarian options and sweets. The street food in the Bangrak District is tasty and fresh. The area is also an excellent spot to find fish and seafood in Bangkok. Take the Skytrain to Sala Daeng BTS Station and follow Silom Road to find a street filled with irresistible aromas and every kind of food.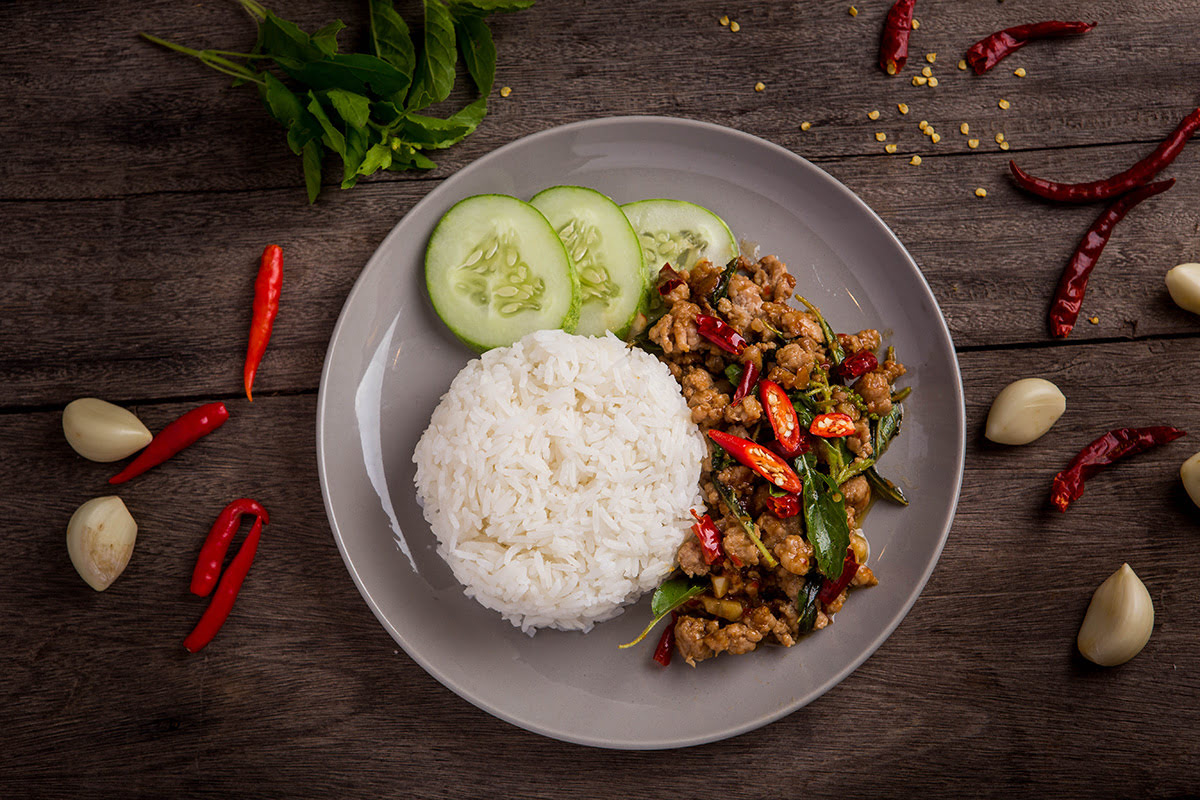 Stir-fried pork and basil with rice
Tom Kha Gai (chicken coconut soup)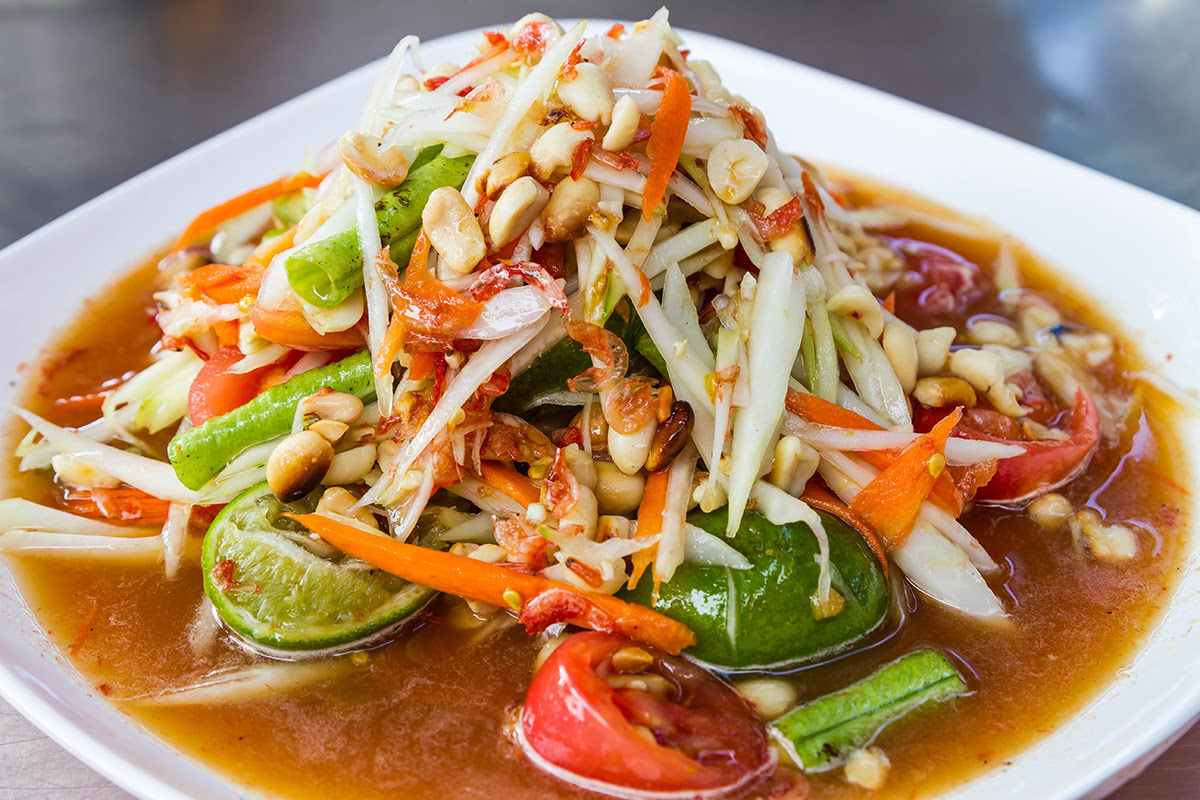 Som Tam Thai
Nang Loeng Market
One of the older and more traditional neighborhood markets, Nang Loeng Market still has historic wooden buildings and long-standing food vendors who have been selling food here for years. The market is a popular lunch spot with food stalls both inside and around the perimeter. The center of the market hosts a full lunchtime food court and is often filled with office workers on lunch break. Look for savory dishes made with rice and curry, or find a vendor with sweet treats to fill your need for dessert.
Boat noodles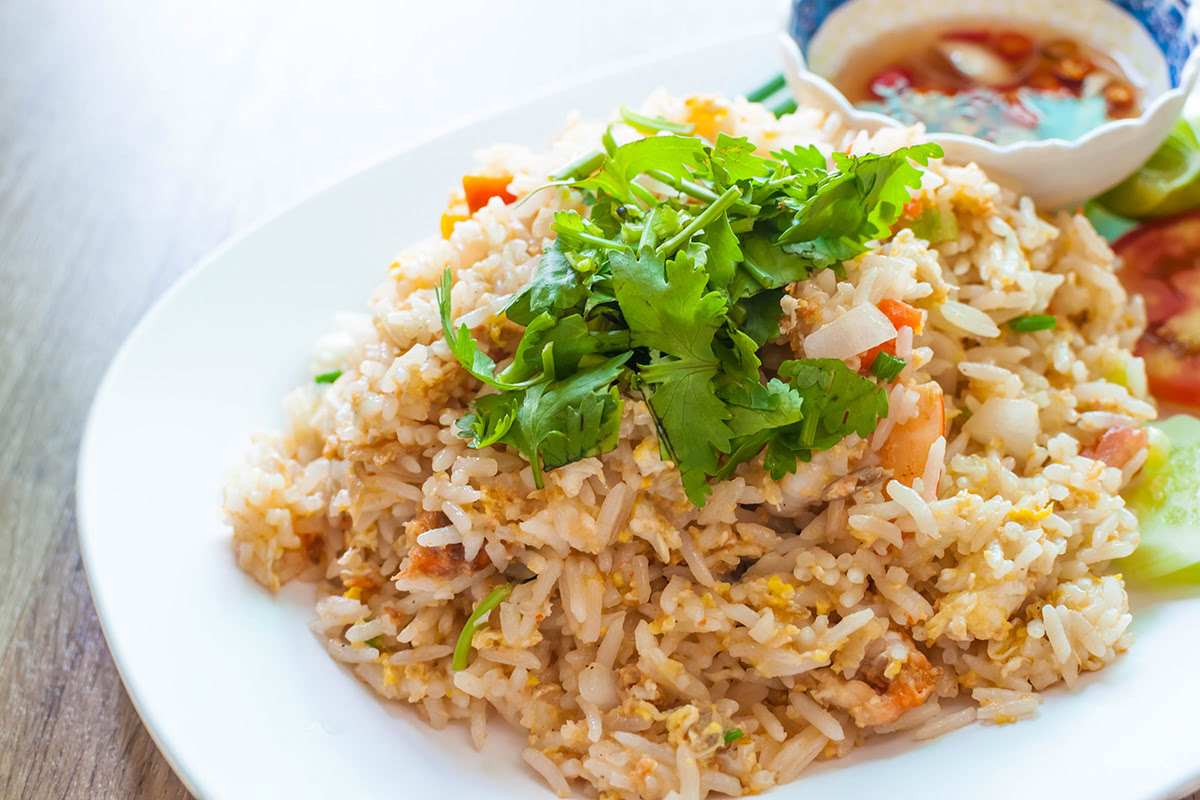 Thai fried rice
Victory Monument
The area around Victory Monument is full of food vendors. One of Bangkok's major transportation hubs, Victory Monument sees many, many people pass through it every day. Food vendors here have a variety of Thai street food favorites including boat noodles, so called because they were originally only served on boats. The streets around Victory Monument are home to restaurants with similarly delicious food choices.
Must-eat Thai Dishes
With the wealth of delicious food choices available in Bangkok, it is an extremely difficult job to narrow it down to a few food choices, especially if you only have a few days. From roti and crepes to delicious noodles, seafood, and fried pork, the collection of foods you absolutely must eat while in Bangkok is vast and delicious.
Roti with Banana
To get your dessert fix you certainly must try a roti with banana and condensed milk, also known as roti gluay. Thai food is big on sweetness, and these thin pancakes are often topped with condensed milk, Nutella, coconut, or other tasty toppings including fried egg! Eating one often leads to eating another and then another. A fried roti with banana and condensed milk is a sweet introduction to Thai street food.
Crepes
Look for busy food stalls at markets or by transit stations selling thin crepes filled with sweetness. Often sold in paper wrappers, these handy desserts are easy to eat on the go and can fill that desire for a quick and tasty sweet treat. Look for particularly tasty crepes near the Sukhumvit MRT Station and enjoy this local treat.
Pad Thai
Possibly Thailand's most famous noodle dish, pad Thai can be found almost anywhere in Bangkok, day or night. Made with rice noodles and any number of extras including shrimp, egg, peanuts or tofu, pad Thai is sweet, tangy, and overall delicious. Do not leave the country without trying this tasty signature dish, which has become a national signature.
Roti with banana
Crepe
Padthai
Spring Rolls
Spring rolls are almost as ubiquitous a dish as pad Thai and can be found all over Bangkok. An inexpensive dish, spring rolls can be ordered from almost any restaurant, food truck or stall. Thai spring rolls are traditionally filled with glass noodles, minced pork and vegetables, but vegetarian options are common as well. Crispy outsides and piping hot insides make this dish irresistible. Every visitor should try spring rolls in Bangkok.
Moo Krob
Try out some moo krob, or crispy pork. One of the city's most popular foods, this crispy fried pork belly dish can be found almost anywhere in Bangkok. Often served over rice and topped with hoisin, it is a mix of juicy and crispy textures. One taste and you'll know exactly why it is such a popular dish among locals and tourists alike.
Seafood in Bangkok
Bangkok has an amazing selection of seafood! Find restaurants or food stalls selling tom yum goong, or hot and sour soup with prawns, or try deep-fried prawn patties, turmeric fried fish or salted fish fresh off the grill. Check out the menu by the front door to see what each restaurant has to offer. Many restaurant menus include photos of the food so guests can be sure of what they are getting.
Spring rolls
Moo Krob (Crispy pork with rice)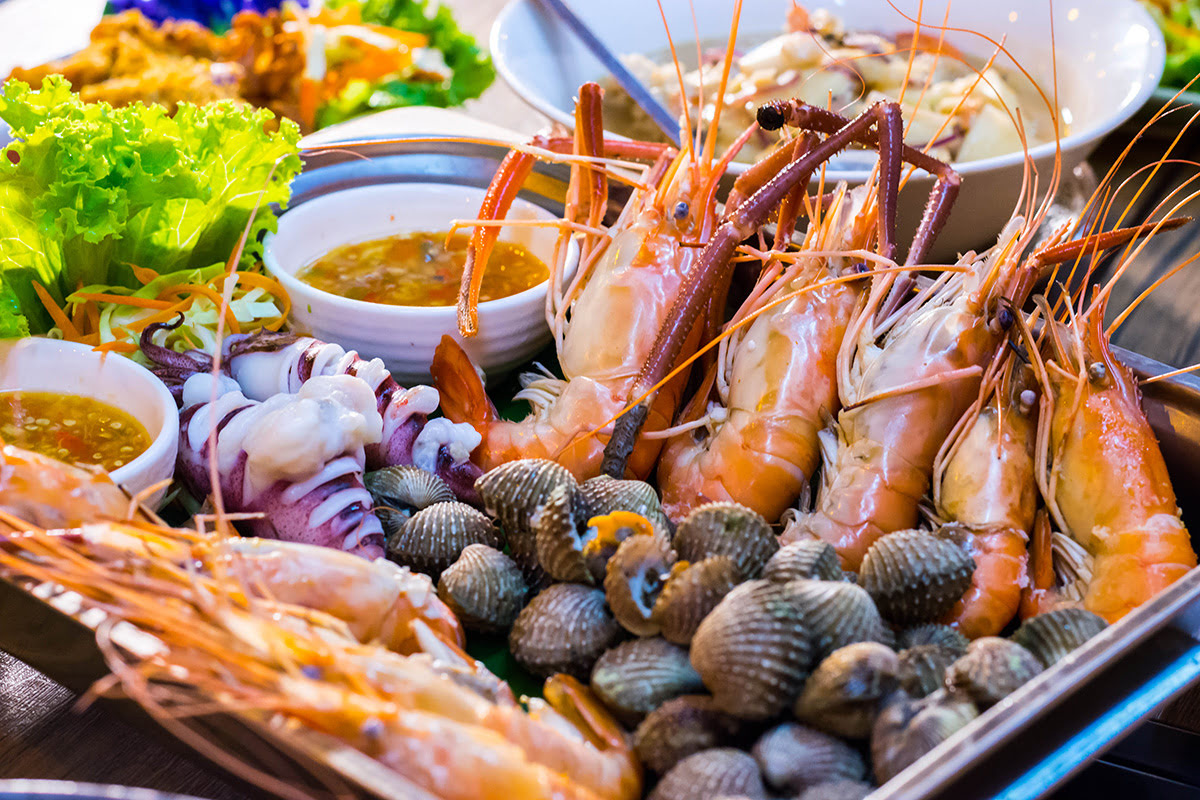 Seafood
Can't Miss Restaurants in Bangkok
Thai food in Bangkok is legendary. It is far too easy to find a new favorite restaurant every day, or to keep coming back to the best one over and over again. With a huge variety of quick-service restaurants to classy fine dining, Bangkok has the best food in Thailand, according to locals. Don't miss these top-notch dining experiences.
Bangkok Seaview
For an unparalleled Bangkok seafood dining experience, check out Bangkok Seaview. Boats regularly depart from the pier to take diners to the seafood restaurant out on the water. The sailing takes guests past fishermen actively looking for the day's catch and diners can enjoy the freshest fish and seafood out on the water.
Nahm
For an elegant fine dining experience, check out Nahm, located in COMO Metropolitan Bangkok. With a refined dining area and sophisticated food menu, Nahm serves unique appetizers and main dishes designed for sharing, so it is perfect for groups. Look for spicy soups on the menu or try the pigeon larb salad.
Issaya Siamese Club
Inexpensive Issaya Siamese Club is one of the best at casual dining. A bright and colorful dining area with beanbag chairs sets the scene for a fun yet relaxing meal. Serving signature cocktails and clever, artful food, Issaya Siamese Club can make the busy (and noisy) chaos of the city seem to totally disappear for a while.
Prachak Roasted Duck (Prachak Pet Yang)
With a row of fresh ducks hanging in the window, the famous Prachak Pet Yang, also known as the Prachak Roasted Duck restaurant, has some of the best Cantonese-style roast duck in Bangkok. Many of the dishes include noodles, and the legendary roast duck is stuffed with herbs and spices and served with a sweet sauce that balances out the salty meat for a perfect taste combination. Located in the Bangrak District, Prachak Pet Yang is one of the best among good company.
What to Try
Arguably one of the best things about traveling to new places is the opportunity to try new foods you may not otherwise have eaten. Bangkok has a delightful selection of interesting foods, and there are several that any visitor should try while in the city.
Fried Insects
Eating fried insects might not be on everyone's list of things to do but they are tasty and readily available in Bangkok. Sold mostly from roving street vendors, there are many varieties of this unusual treat. Grasshoppers, silkworms, ants, and crickets all find their way in to the proprietor's secret mix of seasonings and each vendor's offerings are slightly different. Food carts with fried insects can be found moving through the streets, usually in the evenings. Fried crickets still look like crickets, and are an after-dark kind of food. Silkworms have a squishy texture, while crickets and grasshoppers remain crunchy. Bamboo worms, crickets, and grasshoppers are probably the most readily available and commonly found fried insects available and almost every cart will have them.
Areas where visitors are likely to find food carts selling fried insects include busy areas like Khao San Road, Pratunum Market, Soi Cowboy, and Phahurat. Popular as a night time snack, fried insects are frequently found outside bars and in areas where the nightlife is lively and inhibitions are lowered. Some vendors will charge for photographs of their delicacies, so be sure to check before snapping away.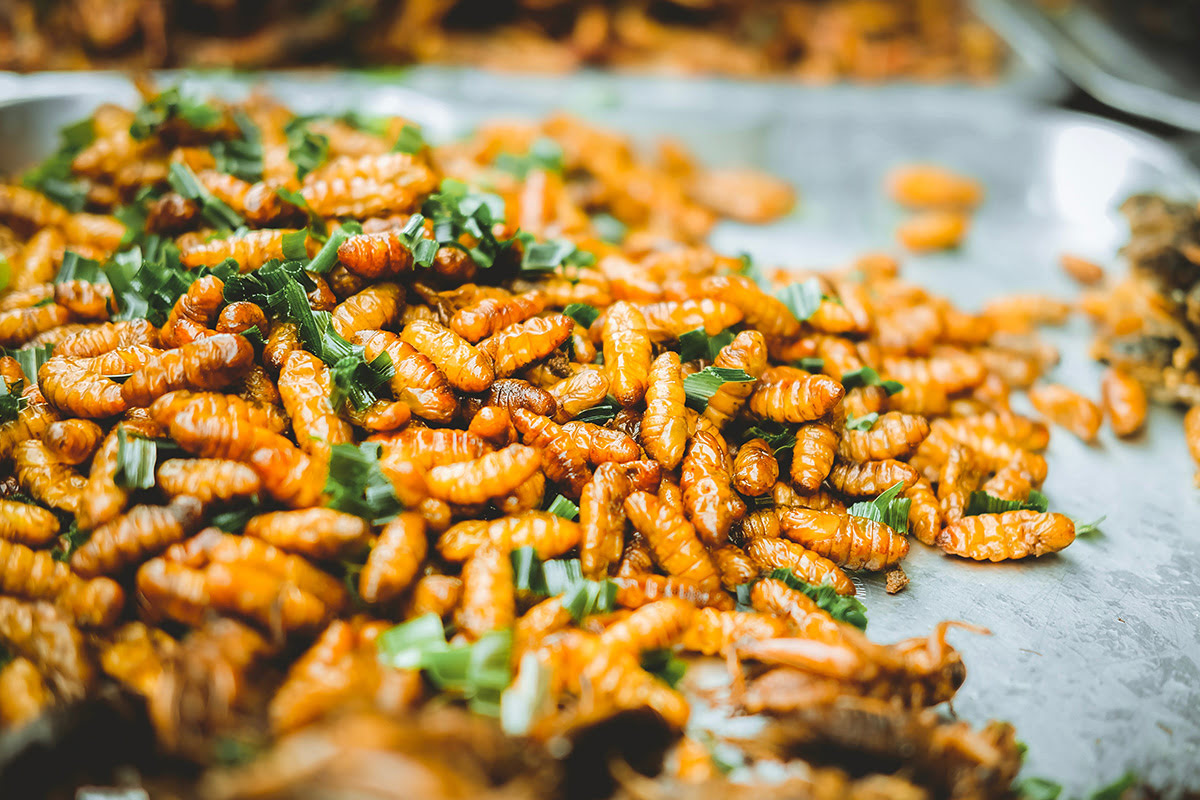 Fried insects
Shark's fin soup
Bird's Nest Soup
Eating bird's nest soup is said to bring both good health and good luck. Made from the nests of the swiftlet bird, the dish can be served hot or cold. While a delicacy in Bangkok overall, the best bird's nest soups can be found in Yaowarat, or Chinatown. The swiftlet makes its nest out of strings of saliva, and the nests are harvested after the young birds have flown. With boasted benefits of good health and a long life this dish isn't cheap, but Bangkok is one of the best places to find this sticky sweet dish.
Shark's Fin Soup
Shark's fin soup has been said to have various non-specific health benefits. The soup is often served with a bit of fanfare and presentation suitable to the hefty price tag. The best shark's fin soups can be found in Chinatown.