Bangkok is full of surprises, and options are endless when it comes to deciding where to stay in Bangkok. With unique districts touting everything from glamorous malls and historic landmarks to wildly fun theme parks and market districts, Bangkok is a city for which tourists gain a quick appreciation.
1. SUKHUMVIT
No matter which section of this 18-kilometer stretch of road you choose, you'll be in the midst of Bangkok's premier shopping centers and sophisticated nightlife spots. While sitting in the lap of luxury, however, you still have a front-row seat to everyday life in Thailand, with street food vendors, shopkeepers and locals going about their day-to-day business in the bustling streets. Plus, the BTS Skytrain runs alongside Sukhumvit, making transportation through the area a breeze.
Can't-miss places to see in Sukhumvit
FIND & BOOK A HOTEL IN SUKHUMVIT TODAY
2. SIAM
Great for families and large groups, SIAM features a host of high-end malls and restaurants, many of which are connected by walkways or the BTS Skytrain. The area attracts a younger crowd who flock to this trendy zone for the latest fashions, state-of-the-art cinemas and mod bars. Families take advantage of having several days' worth of entertainment in one place: spend one day at Sea Life Bangkok or Madame Tussauds Museum and the next afternoon at KidZania.
Can't-miss places to see in SIAM
FIND & BOOK A HOTEL IN BANGKOK TODAY
3. RATTANAKOSIN ISLAND (THE OLD CITY)
If your holiday goal is to discover Bangkok history on a budget, Rattanakosin Island is the district for you. The Old City puts visitors directly in the midst of the nation's most historical attractions, like the Grand Palace, Wat Arun, Khao San Road Night Market, and Phahurat (Little India). Situated just off the banks of the Chao Phraya River, Rattanakosin Island is known for budget-friendly backpacker hostels, local vibes and jovial nightlife.
Can't-miss places to see in The Old City
Discover More Hotels in Bangkok
Khaosan Palace Hotel
Pathumwan Princess Hotel
The Salil Hotel Sukhumvit 57
FIND & BOOK A HOTEL IN BANGKOK TODAY
4. CHAO PHRAYA RIVERSIDE
A stay along the Chao Phraya River offers easy access to some of the city's most popular attractions. Plus, you get to ride on ferries! Zip along the banks of the river on the Chao Phraya Express and dock at piers chock-full of culture and tradition. By day, the journey offers easy access to places like River City and Pak Klong Talad, the largest wholesale flower market in Bangkok. And at night, take a river cruise to sop up magical views of sparkling temples, historical landmarks and grand hotels.
Can't-miss places to see along the Chao Phraya
FIND & BOOK A HOTEL IN BANGKOK TODAY
5. CHINATOWN (YAOWARAT ROAD)
Bangkok's Chinatown is most famous for bargain-hunting and street food, but the area also puts visitors within walking distance of some of the city's most unique shrines and temples, as well as several notorious pubs. You'll find mind-boggling amounts of street food along Yaowarat Road and traditional shopping at Sampheng Night Market. And that's just the beginning of what you can do during a stay in Chinatown.
Can't-miss places to see in Chinatown
FIND & BOOK A HOTEL IN BANGKOK TODAY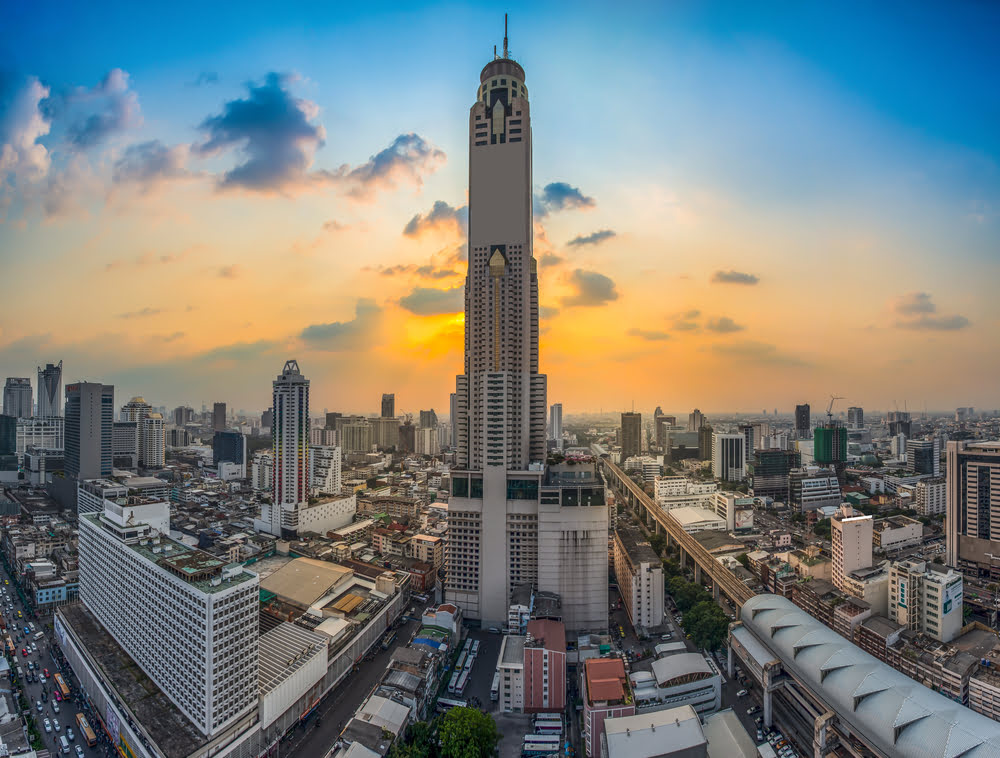 6. PRATUNAM
Pratunam is a rowdy shopping district, flooded with discount shopping malls, a 24-hour market, a mega electronics plaza, street vendors and local entertainment. Baiyoke Tower II is the district's landmark attraction and the second tallest building in Bangkok. The 88-story skyscraper offers a spectacular panoramic view from the 77th floor, and hungry shoppers can chow down at a "floating" market buffet on the 75th.
Can't-miss places to see in Pratunam
Discover Top Hotels & Villas in Bangkok
Amari Watergate Hotel
Prime Hotel Central Station Bangkok
Chakrabongse Villas