The first step to planning your vacation to Phuket is deciding where to stay. As Thailand's largest island, this tropical paradise has no shortage of attractions and resort towns for every type of traveler. There are also accommodations available for every budget, no matter if you are looking to party in Patong Beach, take in the culture of Phuket Town, or soak in the sun in a quieter locale like Kata Beach or Bangtao Beach. Whether you already have an idea of where you want to stay, or you don't even know where to begin, this guide will help you pick the perfect spot. Let's take a look at 10 of the best vacation destinations in Phuket, as well as some top hotel picks in each area.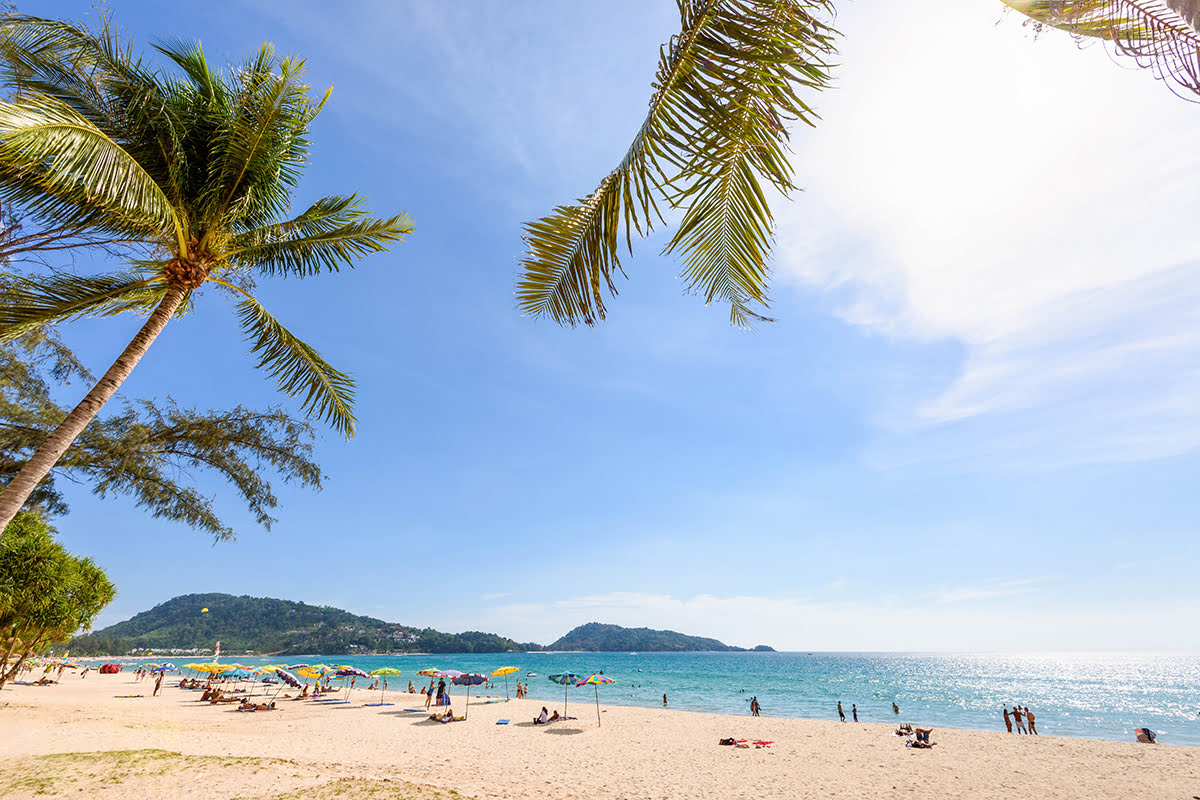 Patong Beach
Patong Beach is the most popular resort town in all of Phuket. The daytime activity is centered on the 1.77-mile white-sand beach, which is known for a plethora of water sports opportunities. You can go jet skiing, parasailing, snorkeling, windsurfing, and more. After the sun sets Patong Beach transforms into the main nightlife spot on the entire island. The hub of the excitement is Bangla Road, which is home to all manner of dance clubs, go-go bars, beer bars, and live music bars. The area is also known for having some of the best shopping and dining on the island, with plenty of shopping malls and night markets to check out. There is no better place to stay for excitement and convenience.
Due to the party atmosphere, Patong Beach mostly attracts younger travelers. However, there are plenty of activities for couples and families as well. The north and south ends of the beach tend to be quieter and more laid back, away from the hustle and bustle of the main strip.
Recommended hotels in Patong Beach
FIND & BOOK A HOTEL IN PHUKET TODAY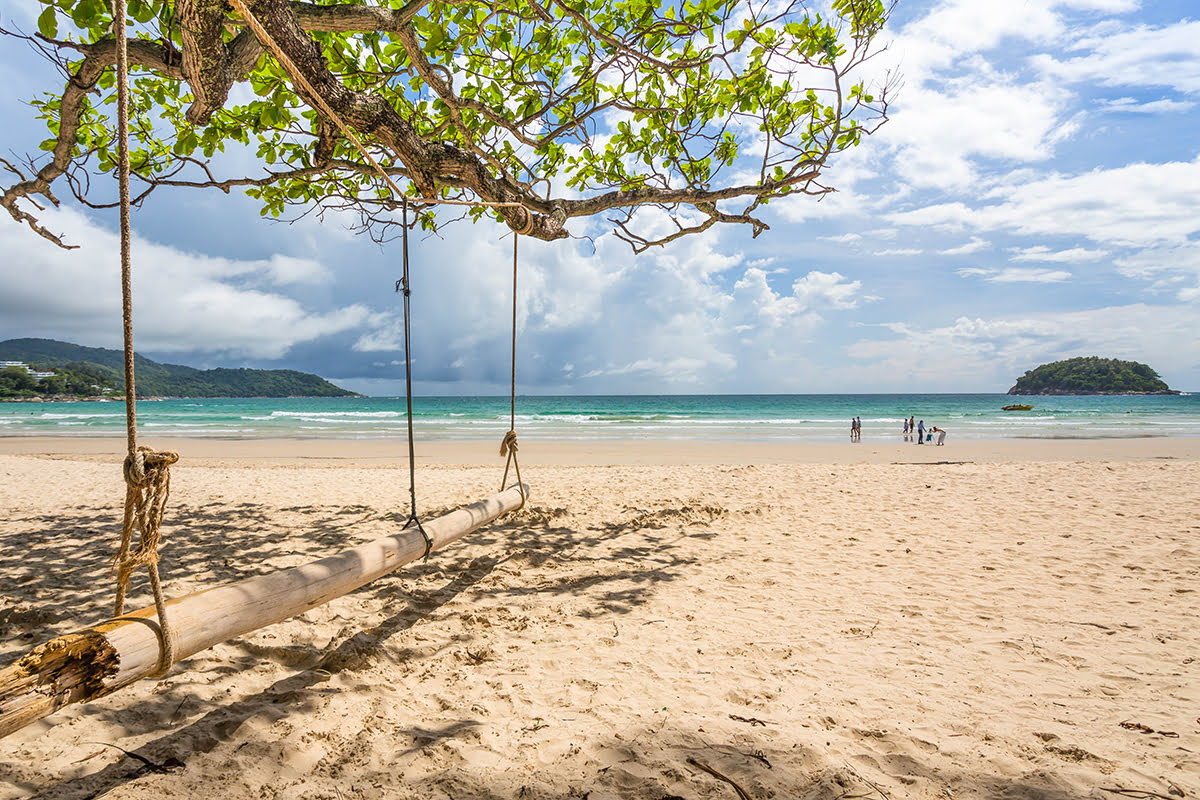 Kata Beach
Kata Beach has a well-earned reputation for being one of the most family-friendly resort towns in Phuket, which is why it is the second-most popular place to stay. The pristine beach and clear sea are perfect for spending a day outdoors enjoying the sand and warm water. There are some excellent snorkeling spots, and snorkeling gear is inexpensive to rent. It is also a popular beach among surfers. The town itself is very walkable and is a great place for travelers who want all of their conveniences within easy reach.
Though Kata Beach tends to be less noisy and crowded than Patong Beach, it does get quite busy during the peak season. Nevertheless, you can always beat the heat and the crowds by heading back to your hotel, and there are many different accommodation types to choose from. Scattered among the resorts and hotels are a variety of restaurants and souvenir stores, and there are plenty of great nightlife spots as well.
Recommended hotels in Kata Beach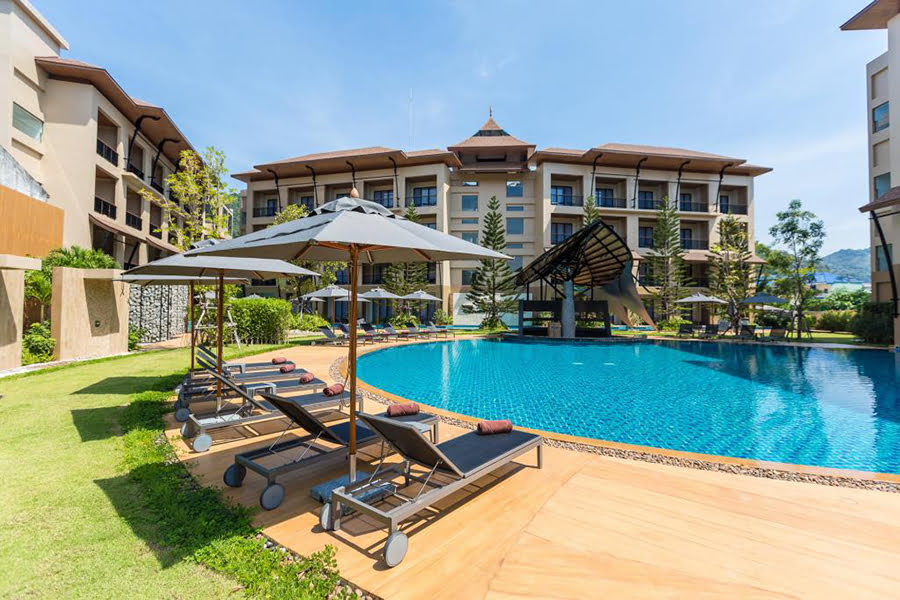 FIND & BOOK A HOTEL IN PHUKET TODAY
Karon Beach
Karon Beach is the best place in Phuket for beach lovers. Located between Patong Beach and Kata Beach, the long and wide beach never feels overly crowded, and you can always find a more secluded spot. The sand is backed by thick greenery, which helps to limit the sound from the road. While at the beach, some of the most popular activities are snorkeling and diving. There are many shops, bars, and restaurants just a short walk away as well. Once the sun goes down, the night markets set up for the evening, and the town's nightlife spots open their doors.
Karon Beach is a fantastic locale for all sorts of travelers – from families, to honeymooners, to backpackers – and there is a range of accommodations for all budgets. You'll still have access to all of the facilities and services you need while getting to enjoy a quieter atmosphere. To stay closer to the action, you'll want to be situated along the beachfront road.
Recommended hotels in Karon Beach
FIND & BOOK A HOTEL IN PHUKET TODAY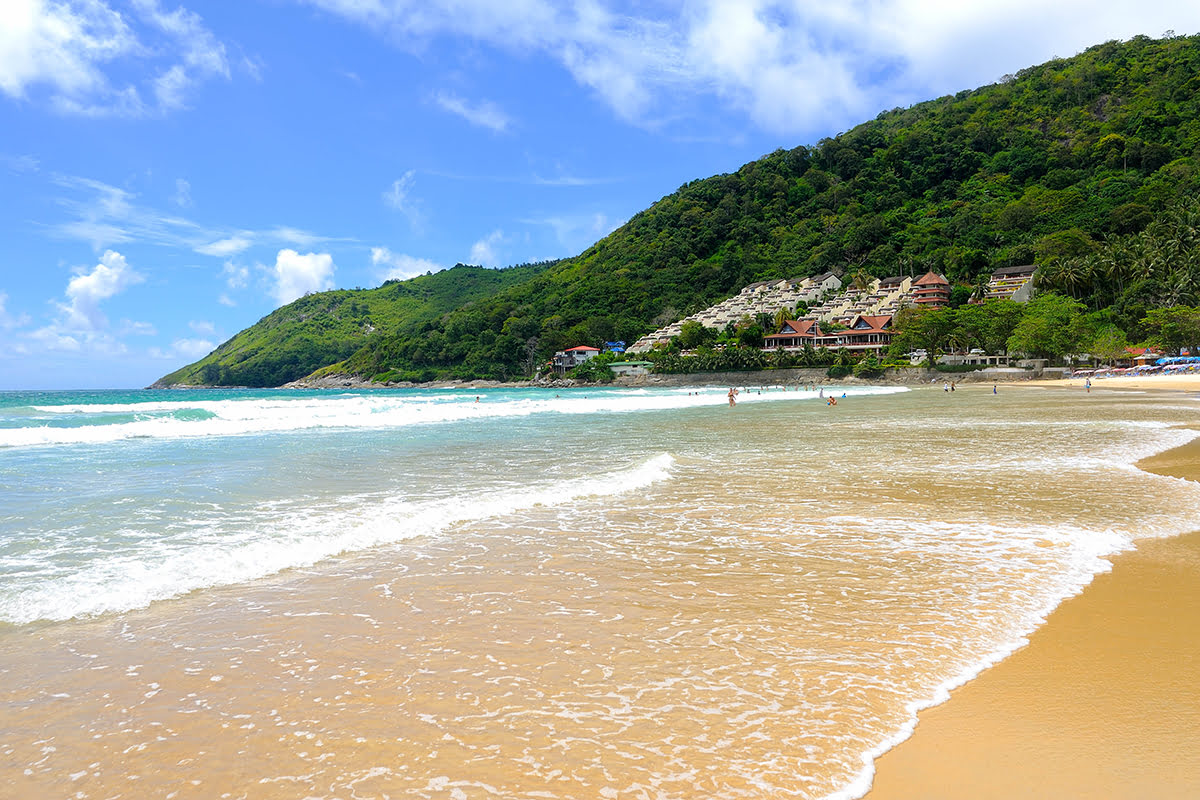 Nai Harn Beach
Located in the very south of the island, Nai Harn Beach is a special spot because it hasn't been overly developed. Tucked away between verdant cliffs and backed by thick greenery, the long and wide beach offers plenty of space for everyone, even during peak season. Snorkeling is a popular activity here because of the clear waters, and the soft white sand is also perfect for lounging and suntanning. From November to April, the waters at Nai Harn Beach are well-suited to swimming. From May to October, however, rougher waters make it great for surfing and kitesurfing.
Though a quieter beach, there are still plenty of restaurants, shops, and hotels for a complete vacation experience. When staying in the Nai Harn Beach area, it is also highly recommended that you take the short, 10-minute drive to Karon Viewpoint. From this incredible viewpoint, you can see three beautiful beaches and their bays all in one vista. It makes for some truly spectacular photographs.
Recommended hotels in Nai Harn Beach
FIND & BOOK A HOTEL IN PHUKET TODAY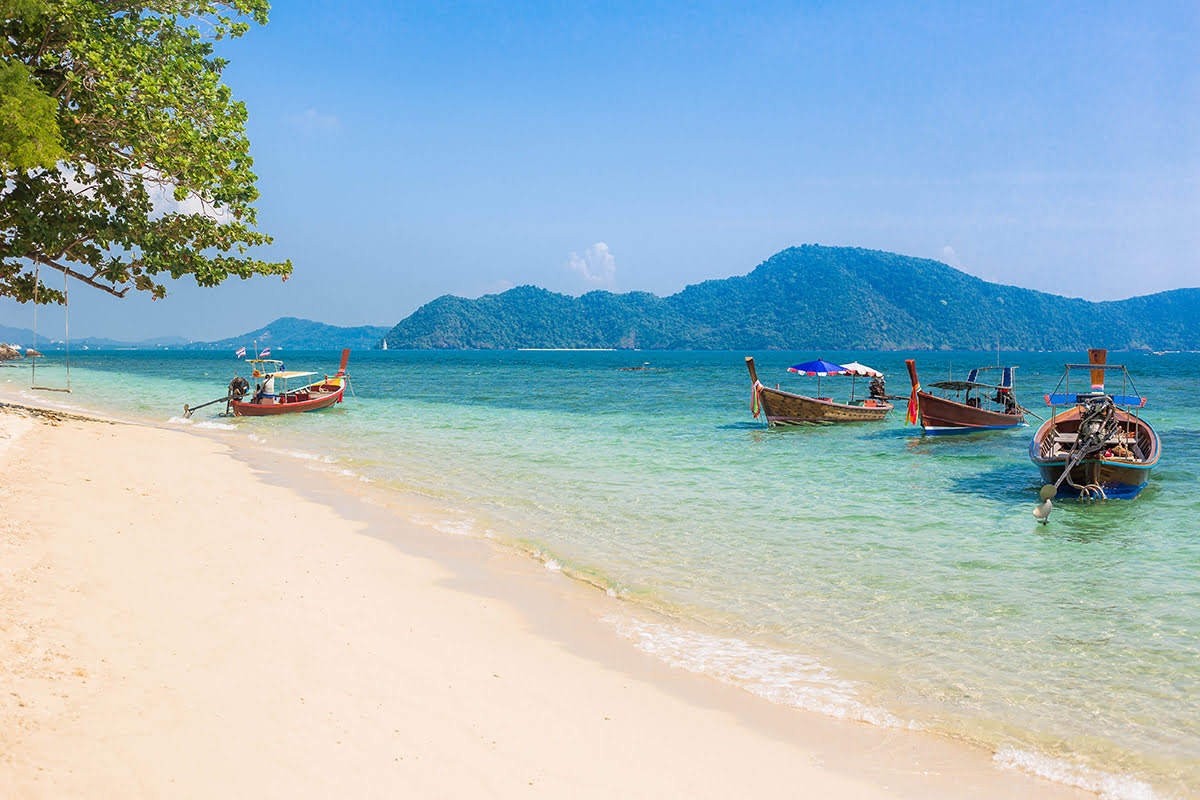 Rawai Beach
Rawai Beach is also located in the south of Phuket. It is a calm and quiet locale that isn't on too many tourists' itineraries because it is not a swimming beach, and there isn't much of a nightlife either. However, this charming resort town was actually the very first tourist beach on the island. It is an ideal place to stay if you are looking for a more local feel. It is also one of the best places to sample some fresh seafood thanks to the fantastic seafood market and numerous local restaurants.
The beach itself offers lovely views of the turquoise water and the nearby islands. It is also a starting point for several different island-hopping boat tours. If you do want a swimming beach, Nai Harn Beach is just a short drive away on the other side of the peninsula. Many other southern Phuket attractions are easy to reach from Rawai Beach, making this a great jumping-off point for a variety of day trips.
Recommended hotels in Rawai Beach
FIND & BOOK A HOTEL IN PHUKET TODAY
Kamala Beach
Kamala Beach is another top option for those looking for a quieter and more relaxing time. It is located north of Patong Beach and has a very family-friendly atmosphere that is also popular with older tourists, which means there aren't very many nightlife options. Instead, visitors come here to enjoy a lazy day on the idyllic beach or they head into town for a spa treatment. There are also many restaurants located right on the beach serving delicious local food, so you don't have to go far for a bite.
Kamala Beach has a more authentic village feel than other Phuket resorts, and there is an array of affordable accommodations available for budget travelers. The bay is surrounded by hills that are covered in jungle, making this one of the most picturesque places on the island. Like other spots along the west coast, the waters are suitable for swimming from November to April but better for surfing from May to October.
Recommended hotels in Kamala Beach
FIND & BOOK A HOTEL IN PHUKET TODAY
Surin Beach
Considered by many to be one of Phuket's most beautiful beaches, Surin Beach also has a reputation for celebrity sightings. This is because it is one of the most luxurious spots on the island, with several high-end beach resorts and some of the best restaurants and wine bars as well. The beach has fine, white sand and turquoise water perfect for snorkeling, and the resort, though popular among tourists, feels more like a coastal village.
Surin Beach is usually not too crowded, and it is a perfect place to enjoy a laid-back beach vacation. However, this is not an area designed for budget travelers. Accommodations tend to be on the pricier side, but you can find many reasonably priced dining options. Shopping is also a must-do activity here, and there are a lot of trendy spots to check out. It is a choice locale for travelers looking for an exclusive feel in a picturesque setting. There aren't many other attractions nearby, but the beach is all you really need.
Recommended hotels in Surin Beach
FIND & BOOK A HOTEL IN PHUKET TODAY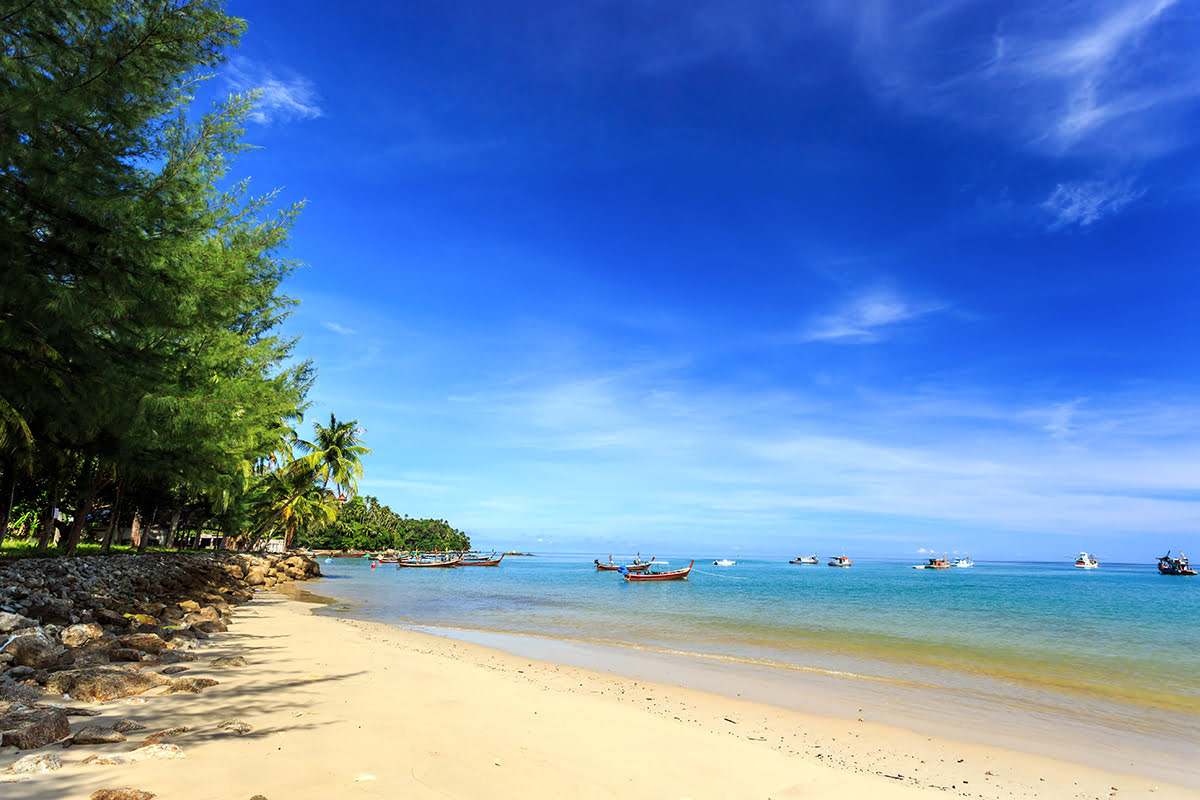 Bangtao Beach
Once a very exclusive area with mainly luxury resorts, Bangtao Beach has evolved into a lively town with accommodation options for a range of budgets. There is a sophisticated nightlife scene that tends to be quite affordable as well, and that is much tamer than what you will find at Patong Beach. At 3.7 miles, the beach is also the second-longest stretch of sand in Phuket, and you will never have to look very hard for a secluded spot in the sand. You'll find some of the best beach clubs on the island here as well.
Bangtao Beach is a good choice for couples or for families who are looking for an energetic resort town with all of the conveniences they need in one place. It can be divided into three main areas: a central area where you will find most of the luxury accommodations, a more affordable area along the southern and of the beach, and an underdeveloped and hilly northern side that is also the site of some exclusive resorts.
Recommended hotels in Bangtao Beach
FIND & BOOK A HOTEL IN PHUKET TODAY
Mai Khao Beach
Mai Khao Beach is the longest beach in Phuket, extending for almost seven miles along the northwest coast. It is also one of the closest beaches to Phuket International Airport, making it easy to get in and out. The beach doesn't tend to get overly crowded, and there are many secluded sections that can feel completely deserted. This makes it a fantastic choice for couples who want a romantic getaway. The fact that it is located inside a national park has helped prevent overdevelopment, but there are still plenty of resorts, restaurants, and shops around.
Aside from all of the typical beach activities, one of the popular things to do on the northern end of Mai Khao Beach is to watch the planes as they fly incredibly low overhead on their way to land at the airport. Crowds gather along the shoreline with their phones out, ready to take photos and tracking flight data. Planes come in every 10 to 15 minutes.
Recommended hotels in Maikhao Beach
FIND & BOOK A HOTEL IN PHUKET TODAY
Phuket Town
It might not have a beach, but Phuket Town should absolutely be at the top of your list of places to stay in Phuket. It offers a nice change of pace and scenery from the resorts, and spending a few days in the cultural heart of the island can help you get to know its people and its history a little better. Plus, there is always a lot to see and do! Most of the town's major attractions are found in or around Phuket Old Town. This historic part of town is known for its excellent examples of Sino-Portuguese architecture. It is also where many of the top restaurants and hotels are located.
Taking a stroll along the beautiful streets is an attraction in and of itself, and you'll stumble upon other top landmarks, like Jui Tui Shrine and Chinpracha House, along the way. Two of the main thoroughfares in town, where you will find the most unique shops and things to see are Thalang Road and Soi Romanee. Phuket Town really comes to life on the weekends with the Phuket Weekend Night Market and the Sunday Walking Street Market.
Recommended hotels in Phuket Town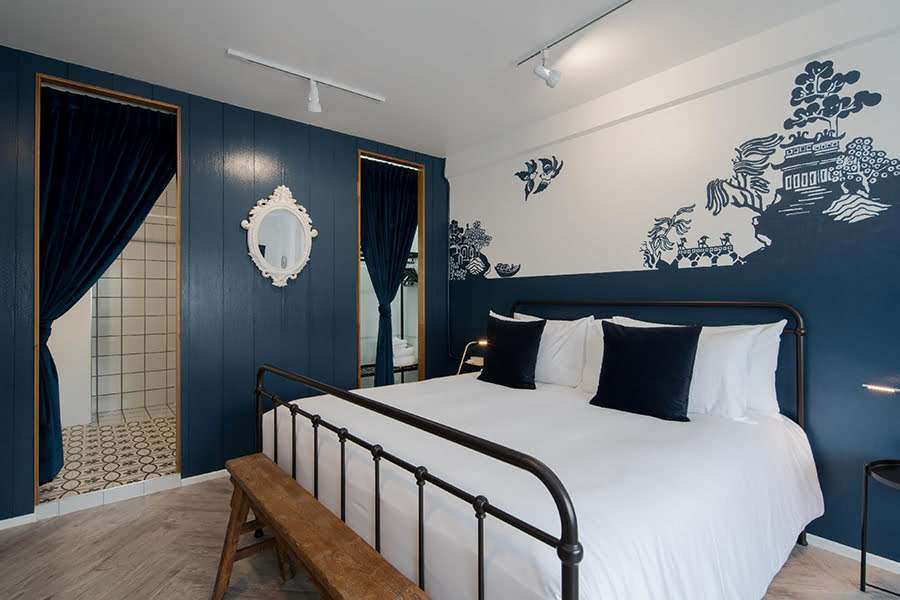 FIND & BOOK A HOTEL IN PHUKET TODAY