French food is considered to be among the best, and Paris has some of the most famous restaurants in the world all for you to enjoy. While in most cities, the best seems to be synonymous with the most expensive, that isn't always the case in Paris. Whether you're on a shoestring budget, are looking to splurge, or just want to experience a delicious, Parisian brunch, there are plenty of options in the city for all styles and budgets. This guide will help show you some of the best restaurants in Paris, and will give you options as far as price goes. No matter what you're in the mood for, there is always good food to choose from in Paris.
Handy tips for dining out in Paris
You don't have to leave a tip – unless you want to! In Paris, most restaurants and bars include some sort of service charge for the meal, and therefore a tip is not considered necessary. Also, French servers are given a wage that is not dependent on tips, however, if you have received great service, leaving a tip for between 5 to 10% of the total bill is completely fine and appreciated.
If you are sitting on a terrace, watch your belongings and expect street sellers! If you are sitting outside of a restaurant, it is not uncommon for unscrupulous people to make a target of distracted diners, stealing everything from unattended purses to cell phones. Always keep your belongings secured. Additionally, some individuals may try to approach your table to sell small trinkets or flowers. You are not obligated to purchase anything from these individuals (unless you'd like to), and a firm, "Non, merci," is often enough to send them on their way.
Order your meal as is – no substitutions! While it is quite common to ask for substitutions in the States, the French consider this practice to be rude. It's best to order your meal as is unless you have an allergy. Paris's best restaurants know food, so asking for substitutions calls their cooking into question, so avoid this practice at all costs.
Watch how loudly you're speaking! English speaking customers have a reputation for being noisy, so be aware of how loud you are speaking (and laughing) and take care to keep your voice down.
Obey the dress code! If you are eating out at a fancy restaurant in Paris, be sure to dress like it. The French are quite fashionable and it is considered rude to be underdressed at fine dining establishments.
Above all, research the restaurant before you head out for a meal! Eating out adds up, and it should be treated as an event and not a means to an end. If you are going to eat out, research the restaurants you want to go to beforehand to ensure that you will get food you want, at a price you want to pay, in an atmosphere you'll enjoy.
Paris on the cheap | Delicious meals without the hefty price tag!
Whether you're on a strict budget in Paris, or are just looking to broaden your horizons, Paris dining is an exceptional experience, and there are some top dining options for restaurants available for all budgets, proving that the best restaurants don't always have to break the bank. The following list highlights a few delicious restaurants in Paris that won't cost you an arm and a leg.
Breizh Café
This cozy restaurant is popular for its great prices and delicious crepes and galettes. Small and intimate, the Breizh Café is a great choice for any time of day as they offer both sweet and savory dishes that are lovingly crafted from locally sourced, high-quality ingredients. Be sure to try one of their delicious, featured ciders with your meal – ask your server which one they'd recommend as a pairing for your particular dish. Breizh Café does accept reservations, so if you are planning on visiting them on a particular day, plan ahead and save yourself some time by choosing from one of their reservations times, otherwise expect to wait in line for a table as this restaurant is busy (for good reason).
Address: 109 Rue Vieille du Temple
Transportation nearby the Breizh Café: Filles du Calvaire Metro Station & Rambuteau Metro Station
Bistrot Victoires
Located close to the Louvre Museum, Bistrot Victoires is a gem in an otherwise pricey neighborhood. If you are looking for great food in a cozy atmosphere (that doesn't cost a fortune), then this is the restaurant for you. With main dishes ranging from steak to duck, Bistrot Victoires also offers delicious tartines (like a toasted, open-faced sandwich) and a great selection of appetizers (try the escargot in pesto). Be sure that you leave room for dessert when you visit as their offerings are exceptional!
Address: 6 Rue de la Vrillière
Transportation nearby the Bistrot Victoires: Victoires Bus Station & Palais Royal Musée du Louvre Metro Station
Chez Gladines
Chez Gladines is a delicious, inexpensive restaurant that features French cuisine and dishes that are native to the Basque area in Paris. The massive salads served at this restaurant are incredibly popular (and are more like a whole meal than a salad), but there is a great selection of other dishes to choose from. Be sure to check out the artwork by the infamous Parisian street artist, Miss.Tic, that adorns the entrance to the restaurant. Chez Gladines does not accept reservations at the Basque location, however, if you are visiting the location in Batignolles, you can call ahead and save yourself some time.
Address: 30 Rue des cinq Diamants
Transportation nearby Chez Gladines: Corvisart Metro Station & Verlaine Bus Station
Fermier Gourmet
Specializing in grilled dishes, Fermier Gourmet is a fantastic choice for meat lovers in the area and their meals are perfect to enjoy with a French beer or two. With specially sourced meat, and gorgeously cooked, delicious sides, you are sure to enjoy a meal at Fermier Gourmet. The portions at Fermier Gourmet are generous, so make sure you're good and hungry when you visit (or order to share). Be sure to try one of their homemade sauces with your meal as they're a delicious addition to your food – and remember to save room for dessert!
Address: 185 Rue du Temple
Transportation nearby Fermier Gourmet: Temple Metro Station & Arts et Métiers Metro Station
A La Biche Au Bois
If you're looking for great French food without a hefty price tag, then A La Biche Au Bois is the perfect restaurant for you. With traditional French offerings, such as coq au vin and other great bistro dishes, this restaurant will likely knock your socks off. A La Biche Au Bois is frequented by both locals and tourists and can get quite crowded. Pack your patience and savor your meal as the French do – and come early if you have another place to get to because you may end up having to wait to be seated. Don't forget to order dessert because they are all made in the restaurant and you really should try crème brûlée in Paris at least once.
Address: 45 Avenue Ledru-Rollin
Transportation nearby A La Biche Au Bois: Quai de la Rapée Metro Station, Lyon – Ledru Rollin Bus Station & Lyon – Ledru Rollin Metro Station
Did you get out of bed a little late? Here are the best brunch options in Paris
If you're not used to eating brunch (which is generally considered to be a late morning meal that's eaten instead of breakfast and lunch), then you're in for a real treat. Often mixing the best of breakfast and lunch, no one does brunch better than the French, so get exploring and enjoy some of these top Paris restaurants and eat some Frenchie food! Be aware, however, that often brunch is offered on weekends only, so plan your meals accordingly if you're looking to experience a Parisian brunch.
La Cuisine, Brunch at Le Royal Monceau
Brunch is a fantastic affair at Le Royal Monceau, an upscale hotel that also offers a great chance to enjoy a Parisian brunch. The restaurant is open for breakfast and features brunch on the weekends, and it is recommended that you book a table ahead of time to avoid disappointment. There's even a special event on Saturdays where parents can dine while their children are entertained with activities (provided for children ages 4 and up). Choose from either the Royal brunch or the Royal brunch with unlimited champagne and enjoy this brunch buffet that features French delicacies including foie gras and handcrafted desserts by pastry chef Pierre Hermé. Whether you're dining as a couple or as a family, brunch at La Cuisine is an incomparable experience.
Address: 37 avenue Hoche
Transportation nearby Le brunch du Royal Monceau: Ternes Metro Stop & Charles de Gaulle – Étoile Bus Station
The Hardware Société Paris
Located near the Sacred Heart Basilica of Montmartre (Sacre-Coeur) in Montmartre, the Hardware Société Paris has an unusual name, but extraordinary food. Though the Hardware Société Paris is in a touristy area, the food options are anything but boring. Indulge in one of their handcrafted, house specialties (all reasonably priced and breakfast, brunch, or lunch themed) and come hungry! This popular restaurant often has a wait, so arrive early if you need to eat in a hurry, but if you're eating in France, it's often good to take a little time and enjoy the atmosphere and appreciate the food, instead of wolfing it down.
Address: 10 rue Lamarck
Transportation nearby L'Hôtel Particulier Montmartre: Chateau Rouge Metro Station & Anvers Subway Station
La Chambre aux Oiseaux
La Chambre aux Oiseaux is a great restaurant choice for brunch on a Sunday morning. The brunch menu option features endless bread and jam, a cold and hot drink, soft-boiled egg, a main, and more – with dessert included. If you're looking for a sampling of French food for your early afternoon brunch, then be sure to check out La Chambre aux Oiseaux. If you are going on the weekend, or during peak hours, be sure to make a reservation as La Chambre aux Oiseaux is quite popular and you run the risk of being turned away.
Address: 48 Rue Bichat
Transportation nearby La Chambre aux Oiseaux: Goncourt/Hôpital St. Louis Metro Station & Avenue Richerand Bus Stop
Salon de Thé Sébastien Gaudard
The Salon de Thé Sébastien Gaudard offers a fantastic, typically French brunch with tartines, scrambled eggs, brioche toast, and fruit salad – not to mention fluffy pastry choice after fluffy pastry choice. If you love French baking, then make sure to stop at the Salon de Thé Sébastien Gaudard. Brunch is offered between 11:30 a.m. and 3 p.m. on Saturdays and Sundays and it is often busy, so plan accordingly and arrive early.
Address: 1 Rue des Pyramides
Transportation nearby Salon de Thé Sébastien Gaudard: Tuileries Metro Station & Palais Royal – Musée du Louvre Metro Station
Mûre
If you're looking for a great brunch that won't be too hard on your waistline, then Mûre is the perfect restaurant for you. Located in the 2nd arrondissement near the Opera district, Mûre serves brunch from Monday to Friday, between 8:30 a.m. and 5 p.m., and on Saturdays between 11 a.m. to 5 p.m. If you're just getting used to Paris, then you might be surprised to find that the French don't often eat a big breakfast and, as a result, many restaurants open later in the day. Fortunately, Mûre is open early (for a restaurant Paris), so you can enjoy your meal in the morning if you wish. Reservations aren't taken at Mûre as it's first come, first served – so plan ahead. With healthy, and even vegan and vegetarian options, and serving local, organic food, Mûre is a great restaurant for brunch.
Address: 6 rue Saint Marc
Transportation nearby Mûre: Bourse Metro Station & Richelieu – Drouot Metro Station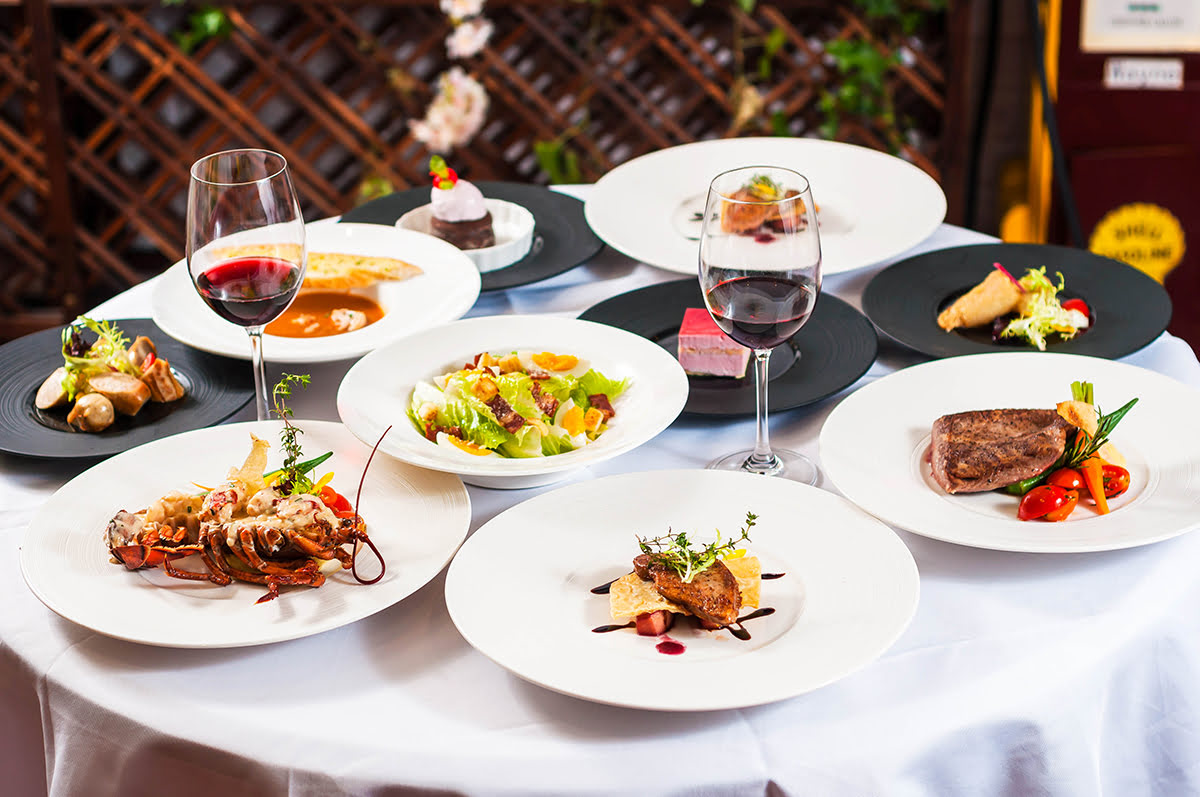 Formal and exquisite, here are some of the best upscale restaurants in Paris
Paris restaurants are famed for their fine dining experiences and, if you're in the area, why not enjoy a once in a lifetime meal in the "City of Love"? Though these meals will be costlier, they will provide a dinner experience that is sure to last in your memories for years to come. Here is just a selection of the great fine dining restaurants that Paris has to offer. As with many restaurants in Paris, and especially fine dining establishments, reservations are recommended and, in some cases, necessary in order to get a table at all. If there is somewhere you need to visit when you're in Paris, be sure to plan ahead.
Alain Ducasse au Plaza Athénée – Paris
Some consider this restaurant to be one of the best in the world and it is also an icon within Paris itself. If you are looking for a truly exceptional dining experience, then treat yourself and a loved one to Alain Ducasse au Plaza Athénée – Paris. With an emphasis on "natural" fine dining, Alain Ducasse au Plaza Athénée features healthy, environmentally friendly food items – meaning organic and fresh are the name of the day at this restaurant. With three MICHELIN Stars, this restaurant is a cut above and it strives towards perfection, starting with every perfectly selected ingredient. With a menu that focuses on fish, vegetables, and cereals, let chef Alain Ducasse wow you with his expertise and don't forget to order from their wine menu, which separates its wines by not only origin, but also by the wine's maturity (different ages of the same vintage). Paired with the beautiful ambiance of the restaurant, Alain Ducasse au Plaza Athénée is truly an experience like no other.
Address: 25 Avenue Montaigne
Transportation nearby Alain Ducasse au Plaza Athénée: Alma-Marceau Metro Station, Franklin D. Roosevelt Metro Station & Champs-Élysées – Clemenceau
Restaurant de La Cordonnerie
With its stunning, wood-panel décor, exceptional service, and amazing food enjoy a romantic dining experience in Paris at Restaurant de La Cordonnerie without any hint of snobbery. Restaurant de La Cordonnerie is unique in that you can watch the chef work his magic and, if you're lucky, enjoy a chat as the chef prepares your food. Enjoy the traditional French cuisine, prepared with love and served with pride. Choose from wonderful appetizers, meat entrees, and daily specials – and don't forget to try one of the desserts. Reservations are recommended as this restaurant is popular with locals and tourists.
Address: 20 Rue Saint-Roch
Transportation nearby Restaurant de La Cordonneire: Palais Royal Musée du Louvre Metro Station & Tuileries Metro Station
Septime
Considered by some to be the best restaurant in Paris, this MICHELIN Star restaurant has a reputation for great dishes that use quality ingredients, without the price tag of similar establishments. Septime also features a quirky, neo-industrial décor that sets it apart from some of the stuffier-feeling, fine dining experiences in Paris. Sit back and let chef treat you to a special set menu, with an optional wining paring, if preferred, and enjoy the singular experience of Septime. Getting into the restaurant can be a bit of a challenge and reservations are recommended as you're not likely to get a table if you stop by. Plan ahead and, if you know when you'll be in Paris, make your reservation as soon as possible so you don't miss this special spot.
Address: 80 Rue de Charonne
Transportation nearby Septime: Charonne Metro Station & Ledru – Rollin Metro Station
Le Cinq
Gourmet dining abounds at this three MICHELIN Star restaurant, which is under the supervision of chef, Christian Le Squer. With a décor that was inspired by the Grand Trianon (a famous chateau in Versailles, France), you will be dazzled by the ambiance of Le Cinq, as well as the service – watch as the uniformed servers seamlessly weave in and out of each other to serve you. The menu will depend on the time of day you visit, but a dizzying array of appetizers, mains, and desserts await – the only hard part will be deciding what to indulge in. You can also choose from a set menu and let chef Christian Le Squer take you on a culinary journey through his exquisite world. Be sure to take a look at Le Cinq's amazing wine list for a great pairing with your meal, and ask your waiter if you are unsure about which wine would be best.
Address: 31 Avenue George V
Transportation nearby Le Cinq: George V Metro Station & Franklin D. Roosevelt Metro Station
Restaurant Lasserre
This Paris restaurant specializes in haute-cuisine and is famous in Paris for its delicious dishes, amazing service, and gorgeous interior presentation. If you are looking for something special in Paris, then Restaurant Lasserre is a great choice. For nearly 80 years, Restaurant Lasserre has been a mainstay on the Champs-Élysées and it makes for an unforgettable dining event. When weather allows, the restaurant opens its mechanical roof and lets in the sky, for an added layer of beauty that heightens the remarkable dining, fantastic service, and wonderfully plated food. Choose from a set menu, other entrees, or stop by for cheese and a delicious dessert. Reservations are recommended.
Address: 17 avenue Franklin Delano Roosevelt
Transportation nearby Restaurant Lasserre: Alma-Marceau Metro Station & Franklin D. Roosevelt Metro Station
Check In to a hotel or apartment in Paris
Citadines Bastille Marais Paris
Hotel Saint Marcel