The city of Paris features one of the world's top hotel scenes, so deciding where to stay in Paris can be a wonderful challenge! Choose a hip suburban hotel near The Louvre or a five-star luxury hotel next to Champs Elysees.

1. MOB HOTEL Paris Les Puces
This hip property's address is on the outskirts of Paris proper, in the suburb of Saint Ouen. Its location in the middle of the renowned Paris Flea Market gives it a cool bohemian vibe that connects to Paris' legendary artistic roots. The hotel's name reinforces its official moniker of "Mob Hotel of the People". Designer and philosopher Cyril Aouizerate's brightly-colored, funky design gives the aesthetic a 21st century spin through modern touches like a community garden and Skype phone booths.
The Scandinavian-inspired rooms are minimally adorned and designed to inspire creativity: you won't find TVs, but you will find books, puppets, and "poetic desks" to encourage writing and creative activities. You'll also find comfortable, bright bathrooms featuring eco-conscious products like vegan-friendly soap.
The on-site restaurant follows the game plan by serving up organic, seasonal fare starring ingredients procured from local farms and Parisian co-ops.
Although this Paris hotel is in the 'burbs, you're appropriately not too far from Paris' artist-driven Montmartre neighborhood and its must-see attractions like the Musee de Montmartre Museum and the Sacred Heart Basilica of Montmartre (Sacre Coeur).
MOB HOTEL Paris Les Puces is a Short Distance from These Popular Paris Attractions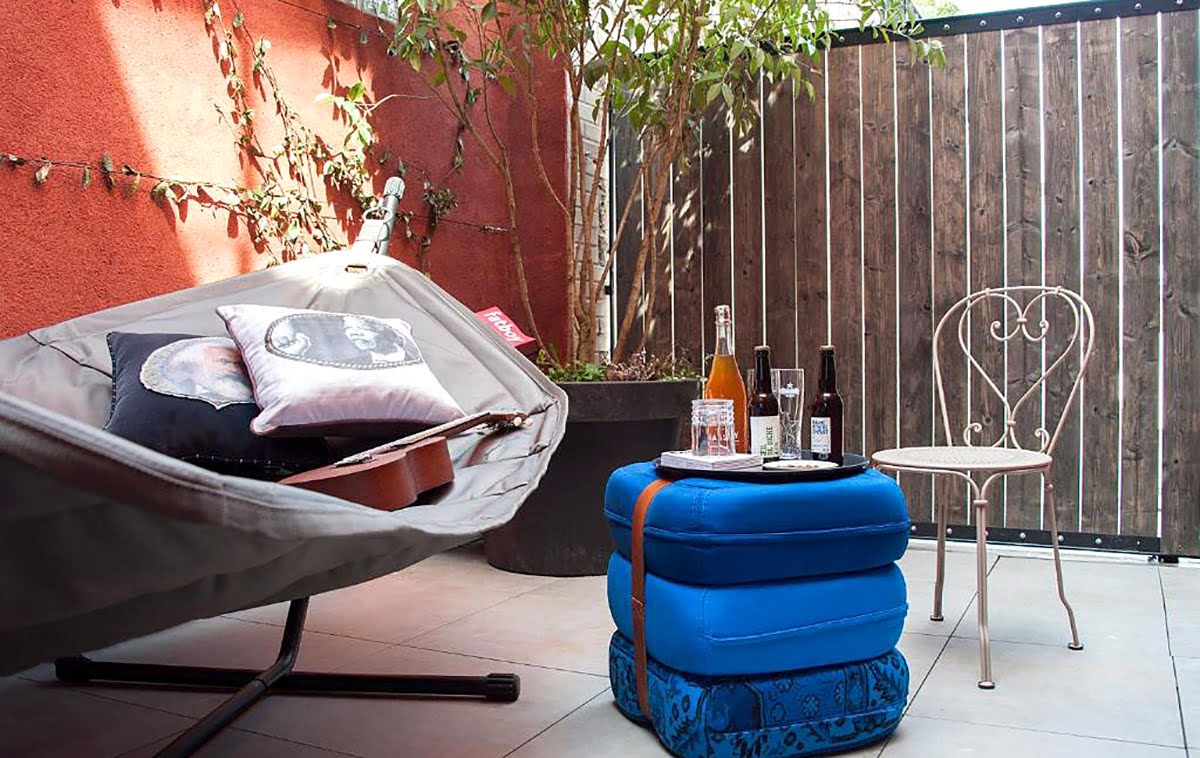 Discover where to stay in Paris
2. OKKO Hotels Paris Porte de Versailles
Located in the heart of the 15th Arrondissement, this sleek Paris puts you practically around the corner from Paris Expo Porte-de-Versailles, making it a convenient choice if you're in town for a big convention or corporate event. It's also adjacent to the Aquaboulevard de Paris waterpark in case you want to turn your Paris business trip into a family excursion.
OKKO Hotels Paris Porte de Versailles isn't just for business types. The surcharge-free, all-inclusive rates give guests access to everything from breakfast to in-house movies. The Paris hotel features an apartment-type vibe that juxtaposes well with its dramatic all-glass exterior and chic earth-toned design motif. Subtle color schemes, vinyl-like flooring, and hi-tech amenities deliver a contemporary experience that's boldly different than classic Paris.
If you see crumpled bedsheets, don't worry: the Italian designer sheets are meant to look that way. There's no on-site restaurant, but there are plenty of options within walking distance. Something to keep in mind: Their all-inclusive offer features one free alcoholic beverage.
Finished with business? A train ride can get you to the Eiffel Tower and Champ de Mars in under 30 minutes.
Popular attractions near OKKO Hotels Paris Porte de Versailles
Discover where to stay in Paris
3. Hotel Napoleon
Opened in 1928, this 5-star Paris hotel is named after Napoleon Bonaparte, but you may be more intrigued by the names of past guests like Salvador Dali, Ernest Hemingway, Miles Davis, and Ella Fitzgerald. The Paris hotel's location provides the space with an organically-romantic element, as guests are just a couple blocks from Arc de Triomphe and Champs Elysees. This means visitors are close enough to engage in some prime people-watching from the comfort of the outdoor terrace of Hotel Napoleon's charming French restaurant, Le Bivouac.
Napoleon buffs will find plenty of artifacts and artistic nods to the emperor throughout the Directoire-style luxury hotel. The rooms are designed to feel like mini mansions, an aesthetic that's effortlessly pulled off through design flourishes like canopy-topped beds, exquisite tapestries, gold accessories, and generously-sized marble bathrooms.
If you can, book a top floor suite to enjoy stunning balcony views of the Eiffel Tower, Arc de Triomphe, or Sacred Heart Basilica of Montmartre (Sacre Coeur).
Hotel Napoleon is Within Walking Distance of these Paris Attractions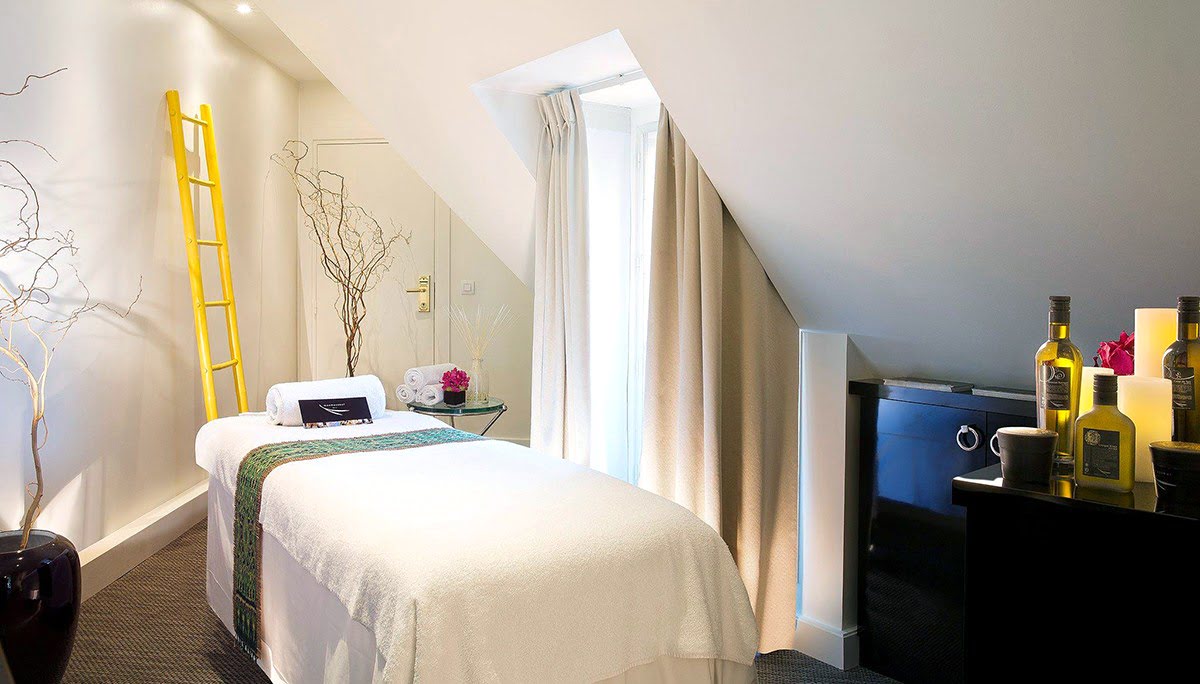 Discover where to stay in Paris
4. Les Jardins de Mademoiselle & Spa
This Paris boutique made its debut in June 2018 and quickly generated a reputation for being a respite from traditional or luxury Paris hotels. The gardens are a focus as the hotel's name suggests, and with good reason: the French Courtyard evokes classic beauty, while two Asian-inspired gardens successfully promote Zen-like tranquility.
The Paris hotel offers a state-of-the-art gym, but the property's spa is the main draw among the fitness and wellness set. It's built more for serenity and luxury – no specialized treatments are offered – but its hammam (Turkish bath) and softly-lit indoor swimming pool provides plenty of opportunity for non-fussy soul soothing. The hotel's 39 rooms and suites are rather spacious, and the use of bright, colorful hues and sleek, minimalistic furniture makes spaces feel even larger.
Les Jardins de Mademoiselle & Spa is located in Paris' 15th Arrondissement, on the edge of the city. But don't worry – you're just a 30-minute metro ride from the Eiffel Tower and Champ de Mars.
Intriguing Attractions near Les Jardins de Mademoiselle & Spa in Paris
Discover where to stay in Paris
5. Le Saint
This 5-star Paris hotel is another newcomer to the scene; the luxury hotel opened its doors in January 2016. You'll find it in the heart of the legendary Saint Germain des Pres Quarter, which means attractions like The Louvre, Musee d'Orsay, and Jardin des Tuileries Garden are within a 15-minute walk.
Le Saint fits in well with the neighborhood, partially because the hotel's building used to be three separate hotels back in the day. The 54-room hotel juxtaposes its youth with a classic design scheme that pays loving homage to Paris' 19th-century heyday.
Rooms are compact and sleekly designed with an eclectic range of fabrics and wallpapers plus comfortable beds. Some rooms have balconies that open to the romance of the relatively tranquil neighborhood.
The hotel's restaurant Kult also merges old and new with a compact menu featuring updated French classics and nods to globally-inspired ingredients.
Tired at day's end? Sign up for a spa treatment or wind down in the hammam, which is open until 10:00 PM.
Must-see Points of Interest near Le Saint hotel in Paris
Discover where to stay in Paris
6. Hotel Duminy Vendome
The 4-star Hotel Duminy Vendome is an ideal Paris hotel for travelers intent on doing serious shopping. The prestigious shops circling Place Vendome are right around the corner from this Paris hotel, and you're an easy walk from Place de la Concorde and the eastern terminus of Champs Elysees. Jardin des Tuileries Garden is a also a block away.
Hotel Duminy Vendome's minimal services encourages guests to get out and explore the surrounding 1st Arrondissement. This is a very good thing, as you'll find scores of cafés and boutiques to explore while you stroll toward your desired point of interest.
Take advantage of the breakfast buffet to give you fuel for a long day of retail therapy. When your shopping bags are full, retire to the hotel bar for a nightcap before returning to your cozy air-conditioned room, which features a compact work area and exquisite bath products designed by Codage Paris.
Attractions Within Walking Distance of Hotel Duminy Vendome
Discover where to stay in Paris
7. Hotel Academie Saint Germain
There's a good reason why this Paris hotel has the word Academie in its name. Originally built in 1900 as a boarding house, the property was the venue of choice for legendary intellectuals and philosophers like Jean-Paul Sartre and Albert Camus.
The 33 rooms are smartly designed to pay homage to France's rich history. You may get a room draped in the color scheme preferred by Marie Antoinette or Napoleon III, or meticulously restored, era-specific furniture and art pieces. Modern touches like free WiFi and flat-screen TVs, as well as jacuzzi bathtubs in the junior suites, do a good job of injecting a contemporary vibe amid all the nods to the past.
Hotel Academie Saint Germain's location in the prestigious Saint Germain des Pres Quarter naturally extends the property's cultural vibe, as must-visit Parisian attractions like The Louvre and Musee d'Orsay are within a 15-minute stroll.
Paris Attractions near Hotel Academie Saint Germain
Discover where to stay in Paris
8. Champs Elysees Plaza Hotel
This 5-star Paris hotel puts you two blocks north of Champs Elysees, and the Grand Palais and Arc de Triomphe can be reached on foot in 15 minutes. This seven-story restored townhouse is a luxury hotel, but there's a mission behind its refinement. The smart pops of bright hues, comfortable lobby furniture, and in-room Hermes products are all selected to bring a sense of wellness to guests.
The on-site spa allows you to book a massage or spend some time in the sauna, although it is recommended that you book your treatment in advance. Rooms here tend to be larger than the average Paris hotel, and they don't shy away from swankiness. Expect to see marble fireplaces, plush carpet, and huge bathrooms that feature clawfoot or Jacuzzi tubs, depending on the room.
Book a higher floor if you can because doing so will not only minimize street-level sounds, it also grants you access to spectacular in-room balcony views of the city as well as Paris landmarks like the Eiffel Tower or Sacred Heart Basilica of Montmartre (Sacre Coeur).
One interesting quirk: although Champs Elysees Plaza Hotel emphasizes wellness, smoking is allowed in a handful of rooms.
POIs Near Champs Elysees Plaza Hotel
Discover where to stay in Paris
9. Hotel Francois Premier
Design impresario Pierre Yves Rochon captures the distinct Haussmann style of mid-19th century Paris through this boutique hotel located in the 8th Arrondissement.
The property carries a classically-chic vibe that fits rather well with the neighborhood. Guests who stay here will be just a couple blocks from Arc de Triomphe and Champs Elysees.
The vibrant reds and deep golden hues that defined the Napoleonic era adorn the Paris hotel's 38 guestrooms and two suites. Contemporary furniture, elegant marble bathrooms, and free Wi-Fi add an air of modern freshness to the traditional vibe.
Since you're in the heart of Paris' Golden Triangle, you'll be surrounded by a wealth of charming bistros and lively bars. For a break from the neighborhood bustle, retreat to Hotel Francois Premier's relaxing and intimate guests-only bar.
Parisian Landmarks Near Hotel Francois Premier
Discover where to stay in Paris