Finding the best luxury hotels in Paris can transform your Paris vacation into a life-changing event. Thankfully, you have a wide range of hotel options. Luxury hotels in Paris range from familiar high-end properties to unique boutique properties, there's something for every taste. Browse around and find the hotel space that suits you best.

1. Four Seasons Hotel George V Paris
Situated in the heart of the city's famed Golden Triangle in the city's 8th arrondissement, this opulent Paris luxury hotel puts you close to some of the city's most cherished landmarks. The Arc de Triomphe and the Champs Elysees can be reached on foot in 10 minutes or less, and there are plenty of boutiques and cafes to peruse during your stroll. The hotel itself is a Paris landmark on its own merit. It opened its doors in 1928, but modern aesthetic touches and attentive service worthy of the Four Seasons name creates a fresh juxtaposition to the luxury hotel's grandiose Art Deco design. Each room features a light color scheme and period furniture that connects to the era of Louis XVI. The onsite five-star spa features innovative treatments, a 56-foot pool, and a near-1,000 square-foot fitness center. Four Seasons Hotel George V Paris may also be the ideal place to stay to satisfy your inner gourmand: the property's culinary program boasts a whopping five Michelin stars, thanks to the presence of world-renowned restaurants like Le Cinq and and L'Orangie. Regardless of where you book your table, dining in this sleek Paris hotel will grant you access to its epic 50,000 bottle wine cellar.
Walkable Attractions Near Four Seasons Hotel George V Paris
Discover more hotels and resorts near Champs Elysees
2. Park Hyatt Paris Vendome
As the name suggests, this luxury Paris hotel puts you within a quick walk of Place Vendome and all of its legendary opulence. You're also within a 15-minute walk of some of the city's most essential points of interests, such as The Louvre, Place de la Concorde, and Musee d'Orsay. Convenience is far from the lone reason to consider this Hyatt property. Its modern Asian-kissed design is more nuanced compared to other big-name accommodations, creating a relaxed vibe that juxtaposes nicely with the city's natural energy. You'll encounter elegance the moment you walk through the door and take in the hotel's distinct fragrance, which you can take back home in the form of perfumes and candles. Famed designer Ed Tuttle designed the hotel's 153 rooms, which include upscale touches like deep soaking tubs and amenities created by Blaise Mautin. Tuttle also designed the hotel's dramatic gold and black granite-festooned spa. The Paris hotel's glass ceiling-festooned, Michelin-starred restaurant Pur' also delivers modern sophistication, as acclaimed chef Jean-Francois Rouquette crafts sophisticated expressions of seasonal, globally-inspired cuisine. Star-spotters take note: This hotel's a choice spot for A-list celebrities to stay, particularly around Paris Fashion Week.
Popular attractions near Park Hyatt Paris Vendome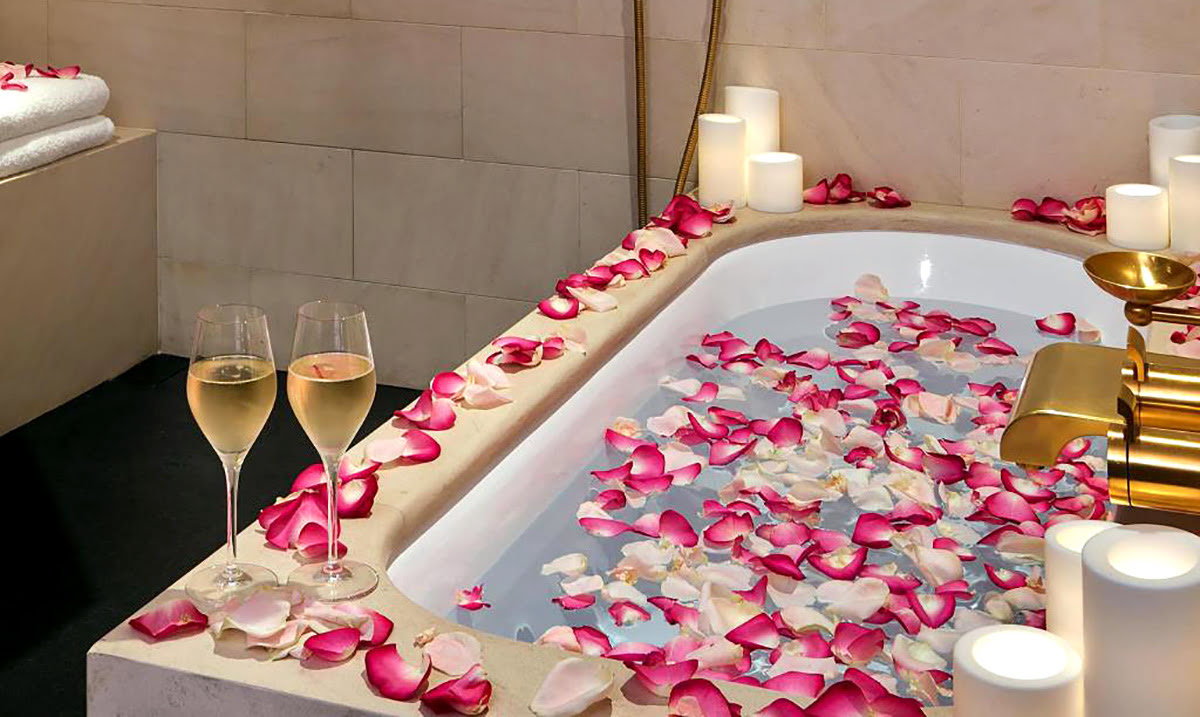 Discover more hotels and resorts near The Louvre
3. Hotel des Grands Boulevard
This charming boutique hotel puts you in the middle of one of Paris' most exciting and globally-driven culinary neighborhoods. You'll want to make time to dine on-site: The Grand Restaurant is well-regarded for its rustic French-Italian fare, and its rooftop cocktail bar The Shed provides a great respite from the area's street-level activity. This feeling of seclusion amid the Parisian bustle sets the tone of this historic French Revolution-era hotel. Like other top hotels in Paris located in historic properties, the rooms are on the smaller side. Yet this is compensated by a rustic provincial atmosphere and elegant design touches like draped headboards and rooftop patios on the hotel's mezzanine level. This hotel can also act as a key shopping hub: Place Vendome and Galeries Lafayette can be reached on foot in 20 minutes.
Intriguing Attractions near Hotel des Grands Boulevard
Discover more hotels and resorts near Place Vendome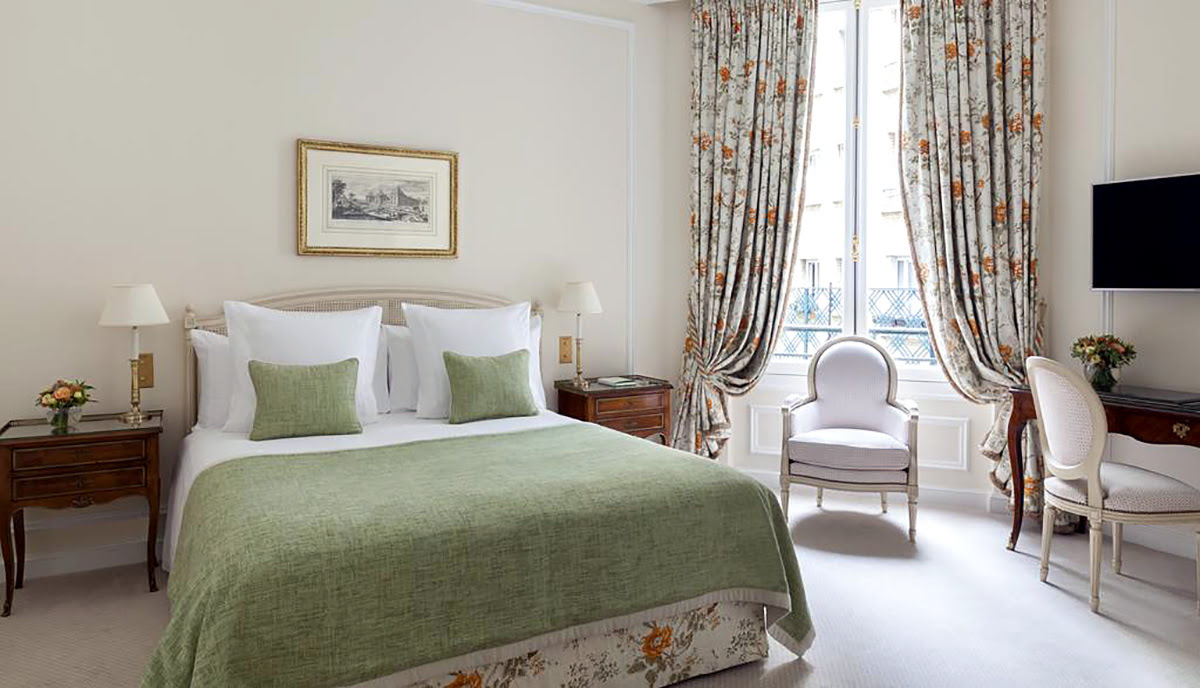 4. Le Bristol Paris
Located a couple of blocks north of the Champs Elysees this gorgeous luxury Paris hotel has been a popular place to stay since it opened in 1925. Its reputation for being one of the best luxury hotels in Paris to spot celebrities is well-earned: its meticulous Art Deco design and exquisite service has attracted everyone from Charlie Chaplin to George Clooney. While the occasional A-lister may cause a buzz, the hotel's elegantly appointed soundproofed rooms keeps things quiet and relaxed. The hotel's sun-drenched Spa Le Bristol by La Prarie and indoor rooftop pool further enhances a soothing ambiance. Le Bristol's exceptional dining scene boast four prestigious Michelin stars. The elegantly appointed rooms use Louis XVI furniture and bright white hues flecked with pops of pastel colors to create a clean, refined aesthetic. Three of the hotel's desirable culinary marks stem from the legendary restaurant Epicure, where renowned chef Eric Frechon creates refined modern expressions of classic French culinary motifs. History buffs will also appreciate the hotel property's past as the home of the American Embassy during World War II.
Must-see Points of Interest near Le Bristol Paris
5. Le Meurice Paris
Few luxury hotels in Paris are more historic than the Le Meurice. When it opened its doors in 1815, it was one of the world's first ever luxury hotels. It's spent more than 200 years smartly blending classic elegance with modern touches inspired by an appreciation for artistic flair. This connection to art makes perfect sense – Pablo Picasso held his wedding dinner at the hotel, and Salvador Dali lived in the luxury hotel for more than three decades. Design impresarios Philippe and Ara Starck draw upon Dali's eccentric style to add a whimsical sensibility to your hotel stay, but there is still enough marble and copper here to surround you with opulence. The luxury hotel also serves as home base for legendary French chef Alain Ducasse, who oversees the hotel's namesake two-star Michelin restaurant. If you want to maximize the decadence this luxury hotel has to offer, book a stay in the Pompadour suite and enjoy its bespoke furniture and great tapestries as you unwind by its private fireplace. Don't fret if this suite is booked – each gold-accented room is appointed in a refined Louis XVI style and feature spacious bathrooms. The property's location is luxurious in its own right: The hotel's situated across the way from Jardin des Tuileries Garden and its breathtaking landscape. You're also a 10-minute walk from The Louvre, Musee de l'Orangerie, and Musee d'Orsay – fitting, given the Paris hotel's connection to the art world.
Nearby Attractions to Le Bristol Paris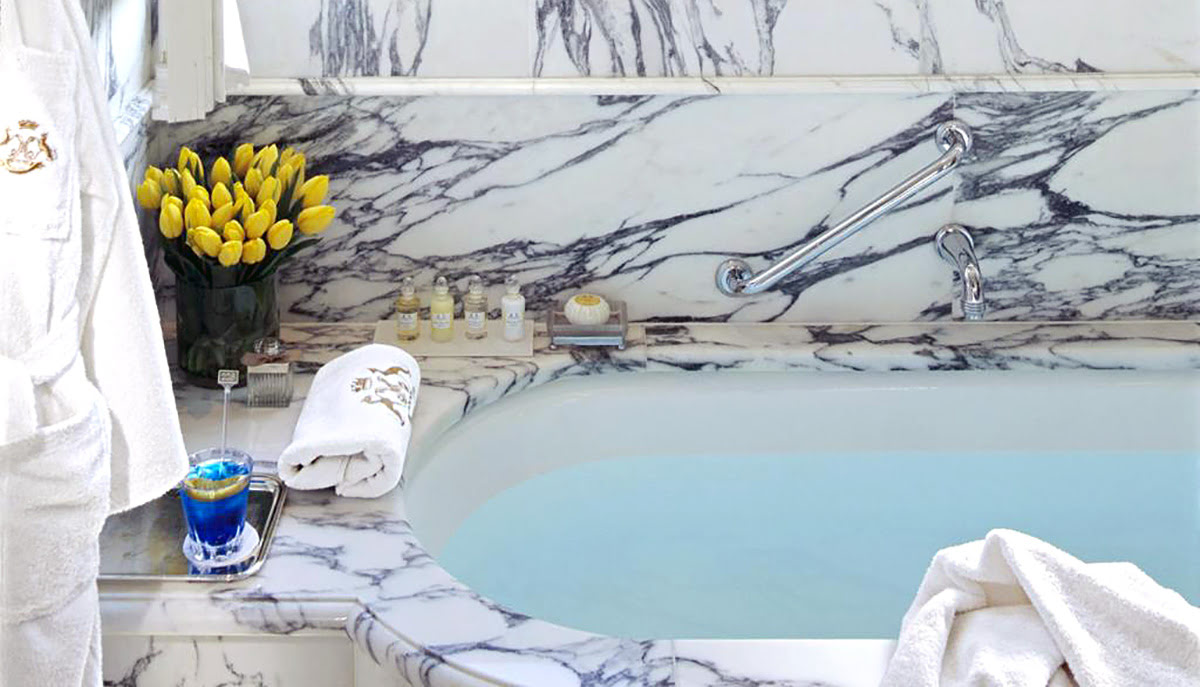 Discover more resorts and hotels near the Musee d'Orsay
6. Le Royal Monceau Hotel Raffles Paris
Located right betweenArc de Triomphe and Parc Monceau, this accommodation positions itself as a luxury art hotel. Yet this is a space of impeccable, impressive history. The hotel opened its doors to the public in 1928, and a wide range of famous people from Sir Winston Churchill to Michael Jackson have stayed here. Designer Phillipe Starck's aesthetic touches combines modern sensibilities with retro flourishes to give the hotel a palpable artistic bent, a vibe firmly established by a dramatic blood-red awning that plays off the hotel's classically sculpted façade. The venue's nearly 150 rooms and suites continue this intriguing boutique hotel-like motif by adding quirky touches like funky lamps and guitars. An on-site art gallery, library, and state-of-the-art cinema are available to enjoy, and an art concierge is on hand to give you a guided tour of the hotel's collection if you want to have a unique cultured experience beyond visiting The Louvre. The hotel's artistic merit also extends to its culinary scene. World-renowned chef and restaurateur Nobu Matsuhisa, the talent behind the popular upscale international restaurant chain Nobu, operates the upscale Peruvian-Japanese fusion venue Matsuhisa in the hotel, his only restaurant in Paris.
Things to See Near Le Royal Monceau Hotel Raffles Paris
Discover more resorts and hotels near Parc Monceau
7. Mandarin Oriental
This luxury Paris hotel is about as centrally located as luxury Paris hotels get. Staying in these accommodations puts you within an easy walk of some of the city's most essential points of interest, including the Champs Elysees, Place de la Concorde, The Louvre, Place Vendome, and Jardin des Tuileries Garden. At the same time, staying at this Paris hotel offers a fascinating departure from Paris' traditional elegance. Refined flourishes like silks, cherry wood, and nature-based design themes gives the luxury hotel's interior a beautiful, relaxed Asian ambience befitting of the hotel's name. Accommodations follow suit, as each spacious hotel room comes festooned with warm color schemes, silk throws, and oversized beds whose cozy comfort may dispel any concerns you have about cramped Paris hotel quarters. The dining experiences offered at the Paris hotel's two restaurants Sur Mesure and Camelia also offer a break from tradition. The hotel's Executive Chef Thierry Marx serves up elegant cuisine emphasizing contemporary composition and technique in both venues, a tactic that allows him to put his own spin on traditional French favorites. Before dinner, you and your traveling companion can indulge in a couple's treatment at the hotel's 9,700 square-foot spa.
POIs Within Walking Distance of Mandarin Oriental
Discover more resorts and hotels near Place Vendome
8. Relais Christine
Not too many people know that this Paris boutique hotel exists, and you get the feeling those in on the know prefer to keep the hotel's existence a secret. However, this luxurious little gem is too brilliant to leave hidden from public view. Located on the north end of the 6th arrondissement, this hotel has been in business since 1979. Its building has been around much longer; its housed in what once was a private mansion built in the 16th century, but some of its structure traces even further to the 13th century, back to an abbey that was here before the mansion. While the hotel underwent a thorough renovation a few years ago, the boutique hotel's rich history and charming vibe is still well-preserved. For example, you can start your day in the hotel by enjoying a nice leisurely breakfast in the abbey's old cellar. You can also book a kitchen suite if you'd prefer to tap into the hotel's mansion roots and spend an evening in your accommodations. There are also lovely garden suites you can book, but they tend to get snapped up far in advance, so plan accordingly. The rooms feature carefully appointed antiques and marble bathrooms, and select rooms offer canopy beds for extra elegance. You'll find this luxury Paris hotel off a somewhat secluded side street, so the level of outside bustle and noise is kept to a minimum. Since the hotel puts you in the 6th arrondissement, you'll also within walking distance to Cathedrale de Notre Dame de Paris and Palais du Luxembourg.
Visit These Attractions Near Relais Christine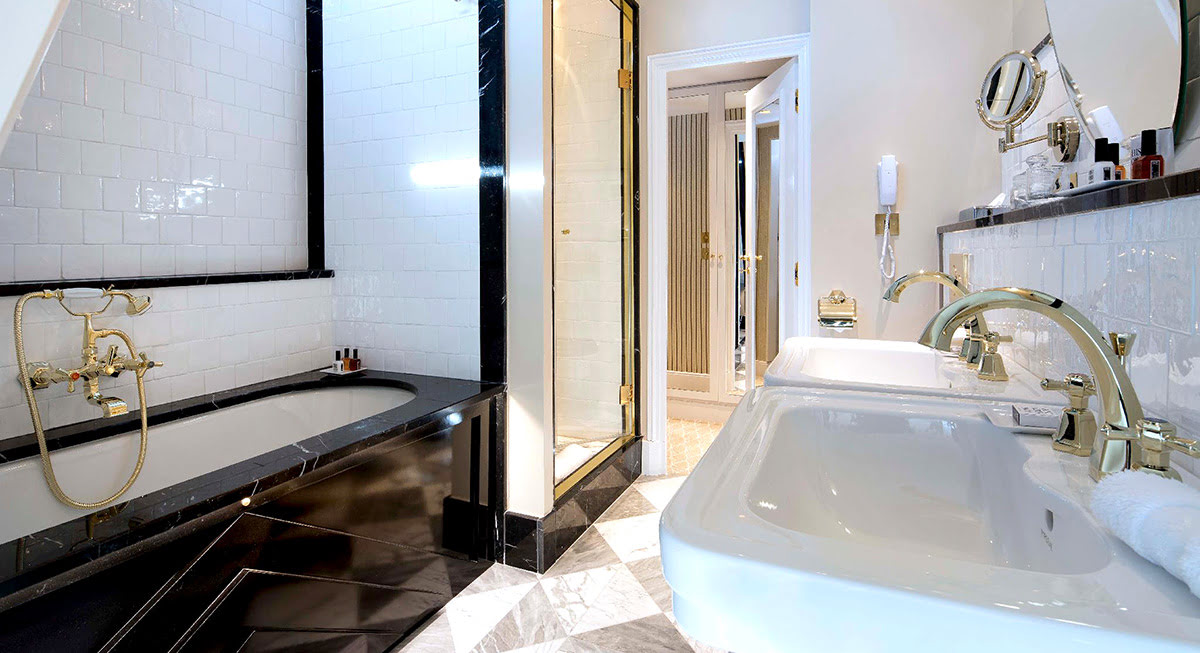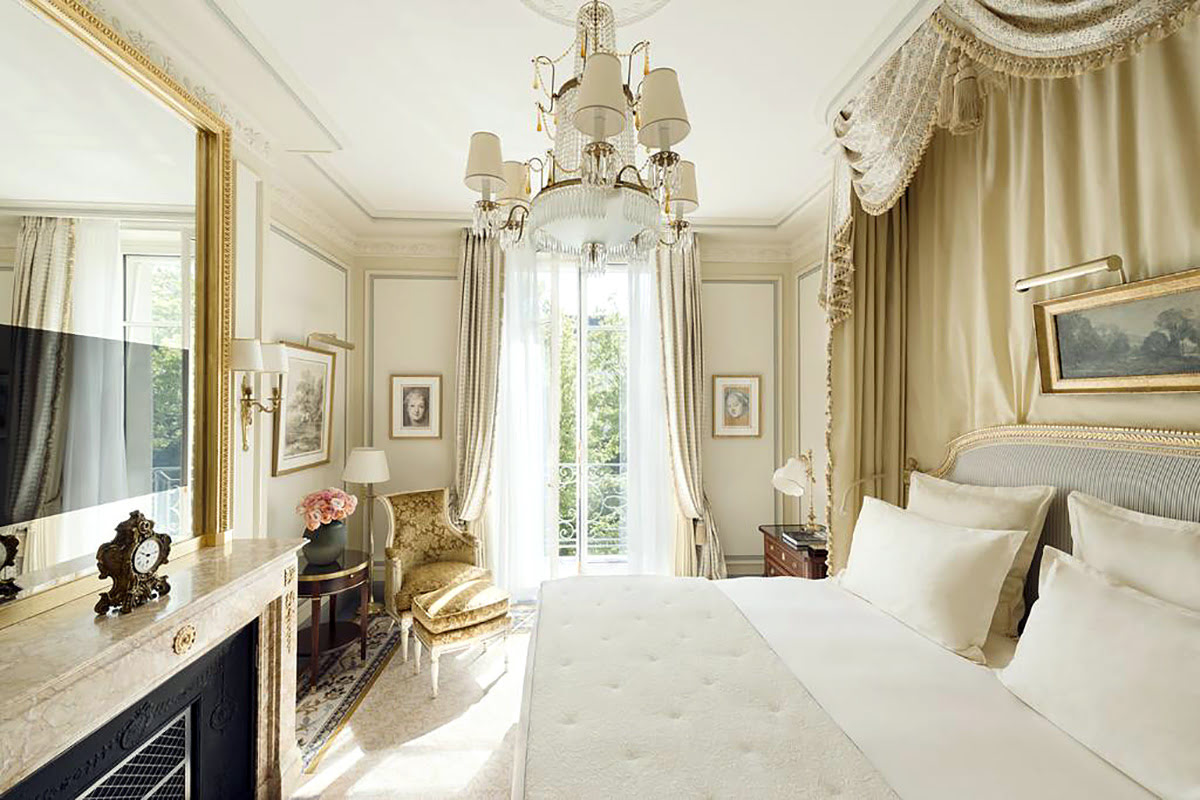 9. Ritz Paris
The Ritz Paris set the template for the Paris luxury hotel the moment Swiss hotelier Cesar Ritz and French chef August Escoffier opened the hotel's doors in 1898. After all, the property was the first Paris hotel to feature electricity, private bathrooms, elevators, and telephones in each room. The hotel is naturally packed with history and stories of celebrity; Ernest Hemingway stayed here, and Coco Chanel had accommodations here for 34 years. Thankfully, this is not a hotel content to rest on its laurels. A massive four-year renovation has added carefully curated modern flair to the hotel, but beloved classical elements like period furniture and gold swan taps are still here. Spacious accommodations feature a delicate color scheme and meticulously selected antiques to deliver an extra sense of refinement. The hotel's Chanel spa – the first Chanel spa in the world – provides you with several high-end options to indulge in high-end pampering, including a tropical indoor pool that's warmed to a steady 31 degrees Celsius. As you may expect from a hotel co-founded by Escoffier, Ritz Paris features a renowned culinary program. Treat yourself to a dinner at the hotel's Michelin-starred L'Espadon or take your passion for food even further by enrolling in one of the hotel's cooking classes. Essential Paris landmarks such as the Place de la Concorde and the Champs Elysees are within a 10-minute walk of the luxury Paris hotel, and you can walk along the great Jardin des Tuileries Garden to get to either location.
Ritz Paris is Close to these Paris POIs
Discover more resorts and hotels near Champs Elysees
10. Shangri-La Hotel, Paris
If you want your luxury Paris hotel experience to include a spectacular view of the Eiffel Tower, the Shangri-La may be the hotel for you. Located in the heart of the 16th arrondissement, the hotel features several rooms with sizeable rooftop terraces that put you in full view of the legendary landmark. The hotel's only been open since 2010, but it's a luxury property with history that rivals much older properties. The hotel's building was originally built in 1891 to serve as a palace for Napoleon's grand-nephew. Today, Shangri-La serves as an unabashed love letter to the opulent, grandiose style that defined Paris luxury back then. You'll be impressed at the ornate marble, stained glass, and carved mahogany, but even these affects may not prepare you for the sight of the Paris hotel's elaborate Art Nouveau grand staircase. The 100 rooms and 37 suites range in aesthetic from minimalist to ornate and feature marble bathrooms and complimentary Wi-Fi. Dining at Shangri-La is certainly not an afterthought; the hotel's L'abeille is a two Michelin-star restaurant specializing in creative French cuisine in a garden house setting, while Shang Place is the only Michelin-starred Chinese restaurant in Paris. The luxury Paris hotel is also an easy 10-minute walk to the Eiffel Tower and Champ de Mars, in case you want to get an even closer look at the renowned steel structure.
Parisian Landmarks Near Shangri-La Hotel, Paris
Discover more resorts and hotels near the Eiffel Tower
11. The Peninsula Paris
Like the Shangri-La hotel, the The Peninsula Paris' building has a history that extends well past the hotel's existence. Open since 2008, the hotel resides in a structure that once served as the luxurious Hotel Majestic, a wartime hospital, the offices for the Ministry of Defence, UNESCO's first headquarters, and the place where the signing of the Paris Peace Accords took place. The hotel continues the building's legend through relentless and luxurious modern opulence. The 200 rooms and suites are designed to feel like apartments rather than hotel accommodations and feature ornate decorative touches like marble and Oscar de la Renta bath products. The hotel's Belle Epoque-inspired Le Lobby offers a dining experience reminiscent of the Majestic's heyday, while the rooftop L'Oiseau Blanc serves up French cuisine and a 360 degree panorama of the Paris skyline, including the Eiffel Tower. The luxury Paris hotel's 1,800 square-meter spa is also the biggest luxury hotel spa in Paris. Its location in the 16th arrondissement also allows you to reach the Arc de Triomphe and the Champs Elysees on foot in less than 10 minutes.
Attractions Nearby Peninsula Hotel
Discover more resorts and hotels near the Arc de Triomphe