Located in the northern region of France, Paris is known as "The City of Lights" and it is where aspiring models and fashion designers go to make it big, where young chefs go to learn from world-renowned culinary masterminds, and where newly-wed couples retreat to begin their lives together and share a honeymoon that is made of dreams.
Paris is a place where you can experience the vacation of a lifetime – exploring centuries old buildings, religious cathedrals, fountain laden parks, and more. It is a place where you can dine at Michelin-star restaurants and sample food that has been passed down from generation to generation, or savor fine wines from family owned and operated wineries. Paris offers an exceptional experience that is unmatched anywhere else, and you can use this guide to help make your trip to the city one to remember.
Useful Paris Travel Tips
Airports in Paris
There are two main airports that serve Paris, and the airport you land at will be dependent on which airline you fly to the city with.
Charles de Gaulle Airport is the primary airport that provides service to Paris. Serving over 72 million passengers each year, Charles de Gaulle Airport is considered to be a major travel hub for the region, and is the 2nd busiest airport in all of Europe. This airport is located less than 20 miles from the downtown region, and offers an assortment of ground transportation options to get you to where you are going with the least amount of stress.
Charles de Gaulle Airport is a three terminal facility that offers a variety of amenities to welcome you when you arrive. Before heading off to your final destination, you can shop in the duty-free store, check out the designer brand stores within the terminals, grab a bite to eat at the bistros or restaurants, take advantage of free Wi-Fi to catch up on business or send out some emails, and exchange your currency. Some of the major airliners that provide service to Charles de Gaulle Airport include:
• British Airways
• Air France
• American Airlines
• XL Airways France
• Delta
• Norwegian Air
• Joon
• easyJet
• Vueling
Orly Airport is the second major international airport that serves Paris. This airport moves over 33 million passengers each year, and is less than 12 miles from downtown Paris. Orly Airport is a great option for those who want to avoid all of the heavy traffic at Charles de Gaulle Airport.
At Orly Airport there are two main terminals that feature airport lounges, gourmet and fast food restaurants, cocktail lounges, free Wi-Fi, and currency exchange centers. There are several major airlines that offer flights to Orly Airport like:
• Norwegian Air Shuttle
• easyJet
• Transavia France
• Vueling
• British Airways
• Aigle Azur
• Air France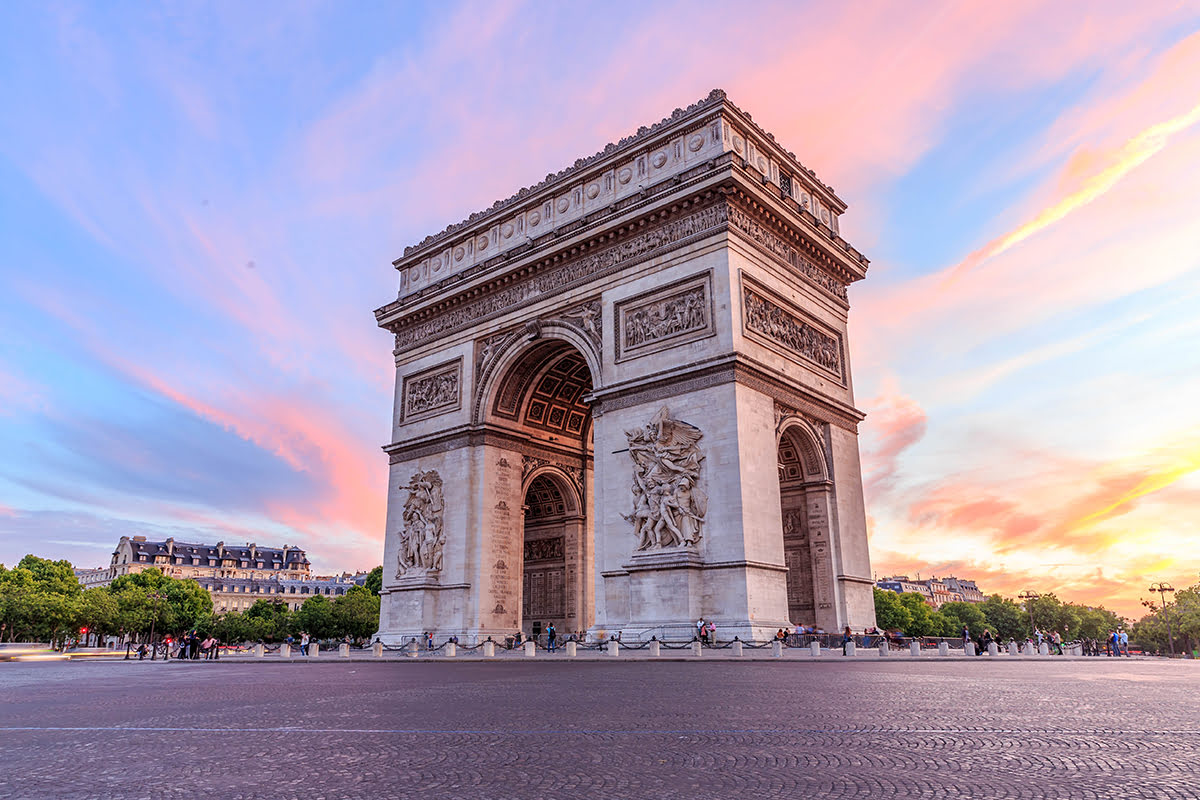 Packing for Your Trip to Paris
No matter what time of year you choose to visit Paris, you will be in for a treat of a lifetime. This city has a temperate maritime climate, so it does not get too cold in the winter or too hot in the summer. The average daytime temperature during the winter months hovers around 37° F, while it climbs up to a warm and comfortable temperature of around 77° F during the summer months. Since Paris is located in a temperate climate zone, it sees more rain than other areas of the globe. The average monthly rainfall in Paris is about two inches in total.
If you are traveling to Paris during the winter months, be sure to pack a warm coat and other cold weather attire. It is also a good idea to pack your favorite rain shoes and umbrella so that you stay dry while strolling around the city. During the summer months, pack plenty of light clothes, sundresses, and your favorite brand of sunscreen. Be sure to also bring a light jacket as the evenings can get chilly.
Saving Money on Your Trip to Paris
Have you always wanted to visit Paris, but thought it was out of your price range? Traveling to Paris can actually be quite affordable as long as you come up with a strategy when planning your trip.
When you book your airline ticket to Paris be sure to shop around so you know you are getting the best possible price on your airfare. Save money on your flight by booking your ticket for the middle of the work week when flights are less in demand. You can also save money by hopping on a good old fashioned "red-eye" flight and head to Paris when most of the world is sleeping.
Hotels and attractions also slash their prices when tourism is down in the off-peak seasons of fall and spring. Travel over to Paris during these seasons and take advantage of affordable lodging, activities, restaurant prices, and more. The streets will also be less crowded during the off-peak season, which leads to less stress when trying to get around the city.
Check In to Hotel Acadamie Saint Germain, Step Out to Eiffel Tower
Discover more hotels and apartments around Paris
Navigating Through Paris – Everything You Need to Know About Transportation
Paris has a comprehensive transportation system that will help you get around the city with efficiency. Whether you would like to drive around yourself or have someone do the driving for you, there are a variety of options to choose from.
Does your itinerary include an early morning breakfast or meeting, or perhaps a night show at the theater? If so, the public transportation system in Paris has you covered. This city has a day and night bus system with routes that will get you to where you are going.
Riding the public bus is cheap, and each route ticket will cost you € 1.90. If you plan to utilize the public bus system for most of your adventures while in the city, you can also purchase packages of 10 tickets for a slightly discounted price. The daytime routes run seven days a week from 7am-12:30am. The night time bus system is called the Noctilien at it runs from 12:30am-5:30am.
Consider using the Tramway for getting around Paris if you have no specific place to go or want to explore the city as you go. The Tramway is a high-tech hybrid between a inner-city trolley and bus and runs routes around the perimeter of the city with four zones labeled T1, T2, T3, and T4. The Tramway will get you to the area of town you want to be in, and you will have to walk the distance to the specific attraction or shopping center you want to go to.
When booking your hotel room, be sure to find out if your hotel offers shuttle services and airport transfer. Many major hotels in the area offer these services for free and it is a budget friendly way to get around the city. Uber is also popular in Paris and is a safe and convenient mode of transportation; just download the app and reserve your ride. Paris also has several taxis and private shuttle companies to choose from.
You can also rent a car before leaving the airport, or at one of the car rental facilities located throughout the city. Keep in mind that you need to be at least 21 years of age to rent a car and that you need to carry your home state/country driver's license with you along with your passport. In France you are also required by law to carry reflective vests for every occupant in the vehicle. The law requires you to wear a reflective vest in the event you have to get out of your vehicle on the side of the road due to an accident or break-down. If you do not plan to venture out to other regions of France, consider foregoing a rental car all-together, as it is really not needed to get around the city, and traffic can be extremely congested during rush hour.
Check In to Regence Etoile Hotel, Step Out to Arc de Triomphe Monument
Discover more hotels and apartments around Arc de Triomphe Monument
Important Paris Tourism Information
Culture of Paris
When traveling through Paris , and other regions of France, you will probably notice that there are some German undertones within the cultural footprint of this country, as France used to be an extension of Germany. Many foreign visitors consider France to be one of the rudest countries of the world, but it is more a matter of cultural misunderstandings. Here are some rules of etiquette you should follow to have the most pleasant experience mingling with locals while you are there:
• Be mindful of small-talk: Part of being a good Parisian tourist is to know when someone wants to engage in small-talk with you. Many Parisians do not like engaging in small talk with random strangers…just remember that Paris is one of the most visited destinations in the world and that would be a lot of small talk!
• The rule of Bonjour: Bonjour is the official French greeting and should be said at the start of every conversation you have with someone who lives in France. It is also important for you to remember to let the person greet you back before you start into your conversation with them. It is considered rude to the French when they are not extended the courtesy of being able to greet you back.
• Keep your voice down!: Most French do not like a lot of noise and find it inconsiderate when others raise their voices or yell at people in public. Be sure to keep your voice down so you do not receive stern looks or confrontations while you are visiting.
• Don't be quick to get offended: While most Americans are accustomed to receiving smiling faces when they enter into a store, restaurant, or greet someone on the street, most French people do not smile until they are given a specific reason to be jovial. The French are quite proper, which many take for being rude.
• Political talk: While it is okay to discuss politics in France, the French find it offensive when foreigners talk negatively about their country. Most French citizens are proud of their government and the way in which the country is run. The French are also straight forward with their opinions, and will not hold back if they agree or disagree with what you are saying.
Currency in Paris
Like many other European countries, the official currency used in France is the Euro. When you travel to Paris from the United States, you will lose around $0.23 per dollar with the exchange rate, but the experiences you will have and the landmarks you will see will be worth it! Currency can be exchanged in many different locations throughout the city. Quickly exchange your currency at the currency exchange kiosks at the airport, at any local bank in Paris, at an ATM in the shopping district, or at the currency exchanger buildings in the city. Make the most out of your trip to Paris by stopping into one of the vintage currency exchanger facilities. Many of them have been around since the 1800s and are still decked out in their original decor, so it is like taking a step back into history.
To prevent becoming a victim of fraud, and potentially losing a lot of money, only exchange your currency at reputable money exchanging facilities. If in doubt, locate a bank and do the transaction there. Pop-up currency exchange tents can sometimes be found in the tourist spots, as well as near the bars, and will scam tourists with low exchange rates.
Check In to Hotel Duc De Saint Simon, Step Out to Louvre Museum
Discover more hotels and apartments around Paris
Best Restaurants in Paris
Paris is considered to be the Mecca of the culinary world, and is where young chef hopefuls flock to in order to learn from the masters, and hopefully make a name for themselves. It is a place where good food can be found at every price point, and visitors to this city are encouraged to taste their way through it all. While you are in town, stop by some of these local favorites:
Le Gabriel
Located deep within La Reserve Hotel and Spa, Le Gabriel is a fine dining restaurant that serves up a perfectly plated modern take on classic French cuisine. This restaurant features a classy dining room with pressed white linens and golden adornments. They are open for lunch and dinner, and have an amazing wine and dessert menu.
Hugo & Co.
A hip and modern local haunt where food is served up on small plates so you can enjoy more of it. Hugo & Co. is a rustic hipster style restaurant located at 34-36 Rue La Perouse
75116 Paris. At this restaurant you can find everything from pan-fried fish to elegant waffle pastry desserts. The food is plated small so you can try out several different dishes.
Benoit Paris
Established in Paris in 1912, this quaint bistro style cafe offers up dishes that reflect on the golden years of the city. The food is affordable and looks almost too beautiful to sink your teeth into. You can find this adorable local haunt at 20 Rue Saint-Martin, 75001 Paris. This restaurant offers up throwback dishes like whole birds in vegetable pots to piping hot soups, and everything in between.
Balagan
Do you have a hankerin' for something Middle Eastern perhaps? If so, visit Balagan at 9 Rue d'Alger, 75001 Paris. This international superstar of a restaurant dolls out classic cuisine that is easy on your wallet and packs a flavorful punch. Dine on delicious menu items like Iraqi Tataki, Barlagirls shrimps, Cuban sandwhich, Mahshi, and more. They are open for breakfast, lunch, and dinner.
Check In to Le Burgundy Hotel, Step Out to Musee D'Orsay Museum
Discover more hotels and apartments around Paris
Top Destinations to Visit in Paris
Eiffel Tower
The Eiffel Tower is the most widely recognized landmark in the world and attracts millions of visitors each year. Construction of this renowned monument was completed in 1889 and it features elevators and staircases you can use to get to the top and check out its iconic beauty. Within the tower, you will find restaurants and a gift store to commemorate your visit.
Arc de Triomphe Monument
Another landmark of the city, Arc de Triomphe Monument stands majestically at the entrance to the city, welcoming guests from near and far. It was constructed for those who fought for France in the war and is home to the "Tomb of the Unknown Soldier." It is adorned in ornate carvings that pay tribute to the men who died fighting for France.
Champs Elysees
For the ultimate shopping experience in all of Paris, keep Champs Elysees on your radar. Champs Elysees is located near Arc de Triomphe Monument and is home to world-renowned stores including:

• Louis Vuitton

• Cartier

• Channel

• H&M

• Ambercrombie & Fitch

• Zara

• Sephora

• Promod

There is also an assortment of entertainment venues, like the Crazy Horse Cabaret and the Palais Garnier opera and ballet house. Champs Elysees is the place to go for all of your shopping and urban exploration needs. Is the most iconic shopping district in the city…and you may even see someone famous while you are there.
Musee d'Orsay
Musee d'Orsay is among the finest museums in the world and is home to famous works of art from Monet, Van Gogh, Renoir, and more. This museum opened in 1986 and attracts over 3 million visitors each year. The museum features grand skylit lobbies and a modern design that is classy at the same time. It features one of the largest collections of art in all of Europe.

Musee d'Orsay is a stunning structure that commands the attention of all who pass by. It is located at 1 Rue de la Légion d'Honneur, 75007 Paris and offers several rooms that are filled with inspiring art pieces in many different mediums. As you stroll the main hall, you can admire the artwork on display while taking time to notice the ornate architecture and stunning clock a the forefront. Sign up for a guided tour and learn about the art on display with an expert guide.
Disneyland Paris
From Disney Princesses to famous Star Wars figures, Disneyland Paris is the adventure of a lifetime for children and adults of all ages. This Walt Disney theme park features many of the same great attractions that you would experience in the United States version of the park. Disneyland Paris opened in 1992 and is located less than 20 miles from the downtown core. To get to the theme park, you can call upon the Disneyland Shuttle bus to pick you up.

The theme park offers many shopping opportunities, cuisine from all over the world, concert halls, Disney theme rides, and all that you would expect from a Disney theme park. If Disneyland Paris is on your itinerary when you are in Paris be sure to check out travel packages before planning your airfare and lodging as you can often bundle your travel and attraction tickets to save more money. The resort has several hotel options to choose from so you can lodge at the theme park, and yet be close to all of the action going on in downtown Paris. Whether you are looking for 5-star accommodations or a theme room that will make your kids smile, there is something at the park for you.
Check In to Hotel Best Western Louvre Saint Honore, Step Out to Musee D'Orsay Museum
Discover more hotels and apartments around Paris