There is a reason why Bali is known as the "Island of the Gods," and guests will experience all its glory while exploring what lies below the surface of its pristine waters. Bali diving is perfect for beginners who enjoy snorkeling and advanced divers looking for deep-sea exploration. Plan a dreamy vacation in Bali, where you'll be surrounded by beach dwellers, warm weather vacation seekers, and divers of all skill levels.
Top Bali Diving Destinations
Bali is home to more than 237 miles of shoreline and coastal waters to explore. Just below the surface of the water, visitors will get to see a thriving marine eco-system that includes an abundance of coral reefs, exotic sea plants, sharks, fish, an assortment of rays, and even some centuries-old shipwrecks.
Unlike other diving regions of the world, the oceans around Bali stay remarkably warm all year long, often hovering around 84 °F, which makes for a perfectly comfortable environment to examine the sealife lurking around. Visitors can spend days exploring the coastal waters and still not see all that Bali diving has to offer.
Padang Bai (Padangbai)
Located along the southeast coast of the island, Padang Bai is an idyllic little village community where the true culture of the native Balinese really stands out. Padang Bai is about 90 minutes from Ngurah Rai International Airport and offers the perfect setting for a diving or snorkeling adventure. There are hotels and resorts nearby, so guests can spend an entire vacation exploring this part of the island.
Padang Bai is home to Blue Lagoon Beach and Bias Tugel Beach (White Sand Beach), both offering local shops where guests can rent scuba and diving gear for the day. Bias Tugel Beach is considered to be the best beach for snorkeling and exploring the shallow water of the bay. Visitors who have never dived this area or would feel more comfortable tagging along with an expert can sign up for a group dive with one of the local tour agencies.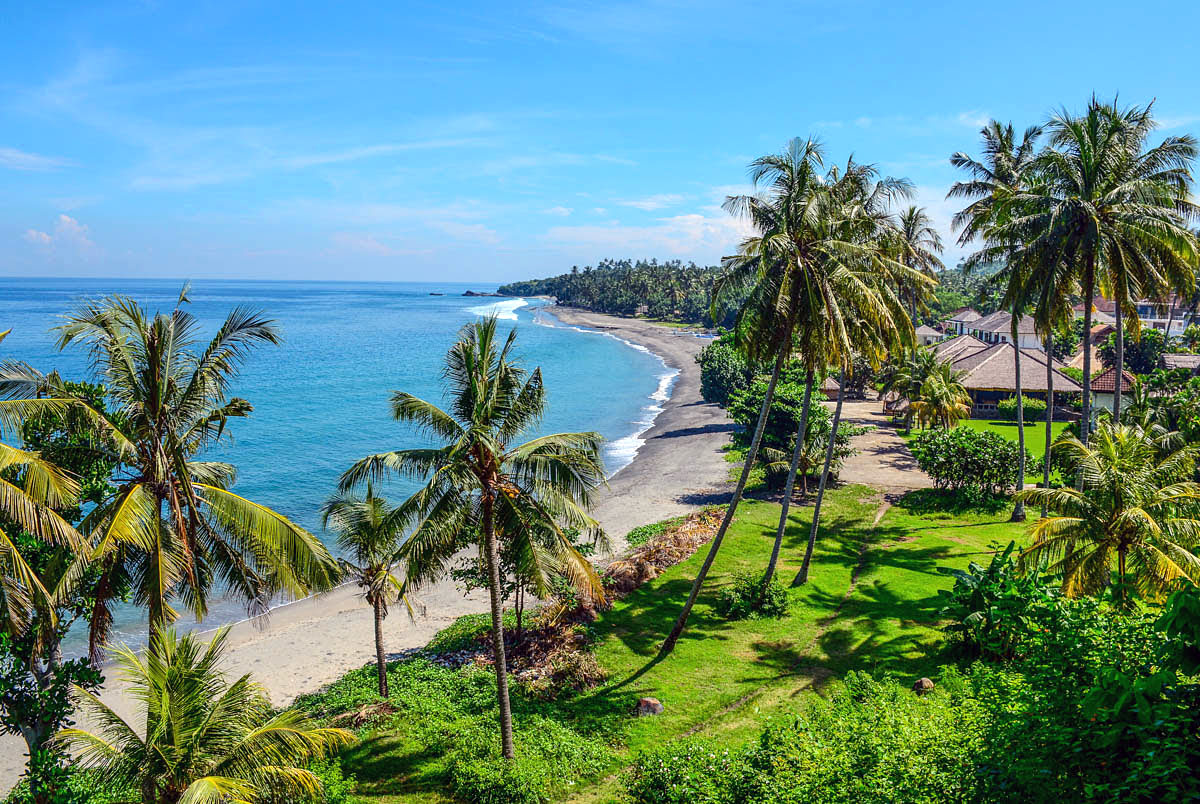 Lombok
Lombok is a small volcanic island just off of the eastern coast of Bali and is an ideal area to lay out on the beach, go surfing, or take a scenic diving trip. Lombok is a great getaway from all of the tourism that happens on the main island during the busy summer season. Visitors must ferry across the water from Padang Bai to reach Lombok, and the trip is well worth the added travel coordination.
Lombok features clear blue water and a beautiful garden of sealife below the ocean's surface. While diving or snorkeling around Lombok guests are likely to encounter several species of tropical fish, sharks, tuna, and the famous Mola Mola sunfish this region is known for. After spending some time in the water, venture back onto the island where you can hike through the forest or lay out on the white sandy beaches around the island. Visitors who have never dived before can get some training at numerous dive shops along the coast of Lombok.
Secret Bay
Secret Bay is located in the northwest region of Bali and offers underwater scenery unlike anything you will find on the rest of the island. This is a shallow water diving and snorkeling area that is ideal for beginners who are just learning the ropes as well as skilled divers who want to practice their technique. Secret Bay does not have coral reefs, but it has a nice black bottom that is composed of volcanic sand.
This coastal bay area appeals to visitors who are in search of unusual sea creatures to photograph and observe in their natural habitat. The current is calm most days of the year, so divers will have an easy time spotting sealife such as Bobbit Worms, Gymnodoris Nudibranch, Cling Fish, Batavia Batfish, and others. Visitors can drive straight to Secret Bay from most of the island neighborhoods.
Manta Point Nusa Penida
Are manta rays or Mola mola sunfish on your list of marine life to check out while diving in Bali? Manta Point Nusa Penida is a great deep-water diving and snorkeling location for those who love beautiful scenery and wish to escape the crowds of the larger island for a while. Manta Point Nusa Penida is situated on the south side of Penida Island (Nusa Penida) and is accessible by boat. Several diving and tour companies offer daily trips out to the island.
On any given day of the year, divers have an almost 100-percent chance of seeing manta rays swimming around in the crystal clear, aquamarine-colored ocean water. This place is truly spectacular for divers of all skill levels. Once you have finished your diving, step onto the shore and lay out in the warm tropical heat on one of the scenic beaches of the island. Manta Point Nusa Penida is virtually untouched by humans and offers hiking trails, scenic vistas, and a variety of native flora and fauna to admire.
Underwater Hindu Temple
A breathtaking sight just off the coast of northwestern Bali is where diving enthusiasts will find the Underwater Hindu Temple. This amazing ocean playground is home to a man-made temple structure and is located near Pemuteran Beach. It pays tribute to the local Hindu culture of the region and is fun to explore. Visitors will get to wander through artificial caves, check out ornate sculptures, and feast their eyes on coral and sea plant gardens. This location is best explored with the company of an expert local diver who can share all the fascinating facts about this temple.
USS Liberty Ship Wreck
Just off the shoreline of Tulamben, scuba divers of the advanced skill level can venture down about 100 feet to explore the wreckage of a U.S. Navy Battleship, the USS Liberty. The entire wreckage site spans a distance of approximately 425 feet, and it is really a sight to behold. The USS Liberty was struck by a Japanese torpedo in 1942 when it then became beached in Bali until the early 1960s. When Mount Agung erupted in 1963, the ship eventually sank to the ocean floor where it remains to this day.
Due to the depth of the wreckage and low visibility, it is recommended that divers interested in visiting the battleship sign up for a guided tour with an expert diver. The diving tour companies around Tulamben offer day and night tours of the ship wreck so that visitors can have a varied experience. This coastal area of eastern Bali is rich with marine sealife that guests can admire as they dive. Expect to see a variety of vibrant tropical fish, unique sea creatures, and an abundance of underwater plant life.
Best Time to Dive in Bali
The island of Bali is located below the equator, so the region experiences year-round warm temperatures. The average temperature on the island ranges from the mid-80s to low-90s (F) no matter the season. Bali experiences a wet season that runs November through March and a dry season that is typically seen from April to October. It is best to visit the island during the dry season to enjoy the best Bali diving and vacation experience possible.
Bali is a coveted vacation destination and is popular among divers of the world. To avoid heavy summer crowds, plan on visiting in April, May, September, or October when tourism is down. To enjoy a quieter adventure, plan your diving trips during the middle of the week when most residents are at work.
Safety Tips for Diving in Bali
Before heading out to explore the underwater eco-systems of Bali be sure to research the coastal areas you plan to dive at so that you know about abrupt weather pattern changes and shifting tides. Inexperienced divers and those who have no previous experience diving in the ocean waters of Bali should complete their trips with the assistance of an expert guide. Sign up for a diving or snorkeling tour and let a tour guide help you coordinate an epic adventure. The bonus with hiring a guide is that you will get to learn more about the intricacies of what is going on below the surface of the water.
PADI Diving in Bali
PADI is the world's foremost diving school and has training centers located all over the world. Wherever there is an epic diving destination, the expert instructors at PADI will teach you how to navigate the waters safely and with confidence. PADI has trained over 27 million diving enthusiasts and offers instructor-led classes for thrill-seekers of all skill levels.
PADI offers the Apneista Bali Freediving and Yoga School right in the heart of Tulamben, so you can reserve your spot in a class before heading to Bali. At the Apneista Bali Freediving and Yoga School guests can reserve a tour of the best diving regions of the island as well as take basic diving lessons. The center offers rental equipment and equipment for purchase, so guests can ensure they have all the gear necessary to have a remarkable time under the sea. If you have gear that needs some repairs, bring it by the shop, and the dive team will get it all fixed up.
Hotels and Resorts Near Bali Diving Destinations
Don't let the fun stop once you get out of the water from your diving or snorkeling excursion. Bali has several hotels and resorts that are conveniently located near popular dive sites so you will be close to all of the action. Check in to one of these decked-out luxury beachside accommodations.
Bali Reef Resort
Situated just a short distance from a long strip of beaches in South Kuta, Bali Reef Resort is what tropical paradise is all about. This relaxing Balinese-themed resort is located on Tanjung Benoa Peninsula and boasts beautiful views and an award-winning experience for all who stay there. Visitors can reserve a spacious room at this resort for as little as 644,000 IDR per night.
Each room features a decorative Balinese theme boasting natural colors and a relaxing ambiance. Guests receive free breakfast and Wi-Fi and have access to a spacious lobby, an outdoor swimming pool, lounging area, and excellent customer service. Bali Reef Resort has an onsite restaurant that doles out traditional Balinese food as well as a cocktail bar. Relax in paradise at one of the most spectacular resort hotels on the island.
BOOK A BEACHFRONT HOTEL IN BALI TODAY
Hard Rock Hotel Bali
Complete with waterslides, an outdoor pool, and quick access to Kuta Beach, Hard Rock Hotel Bali offers both a fun and luxurious lodging experience. For less than 1,944,000 IDR per night, this hotel makes all guests feel like they are a rock star.
Within the hotel, guests can stroll through the Hard Rock Museum and check out artifacts from famous singers and band members as well as go for a swim in the spacious outdoor pool. There is a surfing-inspired lobby, as well as gardens, to relax in. Guests are welcome to use the bean bag- and shag carpet-adorned cinema, the fitness center, and the lounges located throughout the hotel. There is a kid's club for the younger crowd as well as casual and fine dining restaurants. Rest up from your diving adventures in class!
BOOK A BEACHFRONT HOTEL IN BALI TODAY
Wina Holiday Villa Hotel Resort
A fun and festive hotel experience where guests can immerse themselves in the rich culture and traditions of Southeast Asia, Wina Holiday Villa Hotel Resort is a warm and welcoming hotel that cares about the comfort of each and every guest. The hotel mimics an ornate Balinese temple, complete with dark wood furnishings and decor rich with color. Guests are invited to escape the stresses of everyday life and enjoy pure rest and relaxation while staying at this hotel.
Rooms at Wina Holiday Villa Hotel Resort can be snagged for as low as 307,700 IDR per night, making this place a very affordable option for those who are looking for an upscale hotel experience without paying a high price for a room. Guests can choose a room with a single standard bed or multiple beds depending on their party size. There is an onsite restaurant that serves delicious Southeast Asian cuisine as well as a spacious fitness center. Wina Holiday Villa Hotel Resort is located just minutes from Kuta Beach.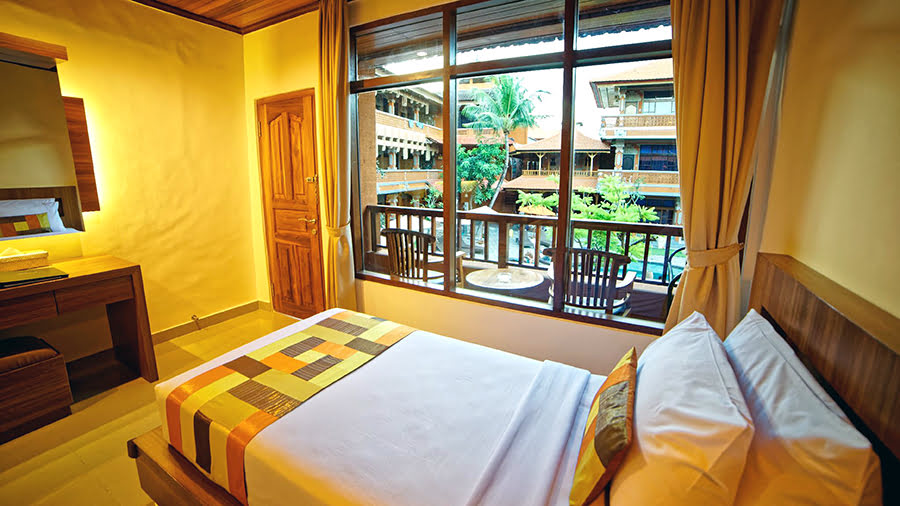 BOOK A BEACHFRONT HOTEL IN BALI TODAY
Rama Beach Resort & Villas
For around 934,000 IDR visitors can book a room at the fun and luxurious Rama Beach Resort & Villas right near the ocean. This beautiful hotel is decked out in exotic Balinese-inspired decor and caters to those who are looking for an upscale vacation experience. This spacious hotel offers a fitness center, an outdoor swimming pool with poolside lounging, a tropical garden to explore, a tennis court, and a spa for all your pampering needs.
Guests can reserve a standard room with a double bed or single beds, a deluxe suite, a villa with a view or a private cottage. Rama Beach Resort & Villas caters to families, solo travelers, couples, and groups. The hotel is located near Jerman Beach, Kuta Beach and Kuta Square and is just a short distance from Ngurah Rai International Airport.
BOOK A BEACHFRONT HOTEL IN BALI TODAY