Bali is the perfect tourist destination thanks to its ideal weather and the fact that the island is brimming with must-see tourist sites and can't-miss activities. In fact, it's impossible to fit all the best places to visit in Bali into one trip! Chances are good, though, that you'll have numerous attractions within a short distance of wherever you are staying. Plus, any other major landmark you want to see is probably an easy day trip away. From shopping in Seminyak, to lounging on Lovina Beach, to visiting all of the cultural landmarks around Ubud, you will never run out of places to visit in Bali.

1. Kuta Beach
Bali's shoreline is covered in beaches, but the most famous one is definitely Kuta Beach. Located in the popular tourist town of Kuta, it is the most lively and energetic spot on the island. Just about every beach activity you could think of is available here, including swimming, sun tanning, surfing, watersports, and more. You can rent a sun lounger for as little as 50,000 IDR from one of the many vendors and order a cold drink to enjoy while you lay back. There is also no shortage of fantastic restaurants within easy walking distance of the beach as well.
Kuta Beach is particularly famous for its magnificent sunsets, as it is located along the island's southwestern coast. In fact, it is often referred to simply as "sunset beach." After the sun sets, you can head to the adjoining street to do some souvenir shopping or enjoy the world-renowned nightlife scene. Unlike many of Bali's beaches and attractions, there is no entry fee for Kuta Beach. As it is such a popular destination, the beach is usually quite crowded, but you should have no problem finding a spot. You can beat many of the crowds by coming earlier in the morning or by walking north up the beach, where it tends to get more secluded.
FIND & BOOK A HOTEL IN BALI TODAY
2. Besakih Temple
Besakih Temple is the largest and holiest temple in all of Bali. Commonly known as the "Mother Temple," it is located on the slopes of Mount Agung in the eastern part of the island. Mount Agung is actually one of the island's principal volcanoes, and it is the highest point in Bali at 9,944 feet. The Besakih Temple complex, which is situated on the mountain's southern slopes, is made up of more than 20 individual temples split across six terraced levels. The temples were constructed over 1,000 years ago, and they continue to be an important site in the religious life of Balinese people today as well as one of the best places to visit in Bali. Over 70 religious ceremonies are held here every year.
The temple complex houses numerous beautiful carvings and statues and offers stunning views of the surrounding hills and rice paddies. You can easily devote a whole day to exploring the entire site, and if you only have time to visit one Balinese temple, Besakih Temple should be your top choice. It is about a two-hour drive from both Kuta and Sanur. There is a very fair entrance fee of 60,000 IDR per adult and 30,000 IDR per child to enter the temple grounds, and guided tours are available, though not required.
FIND & BOOK A HOTEL IN BALI TODAY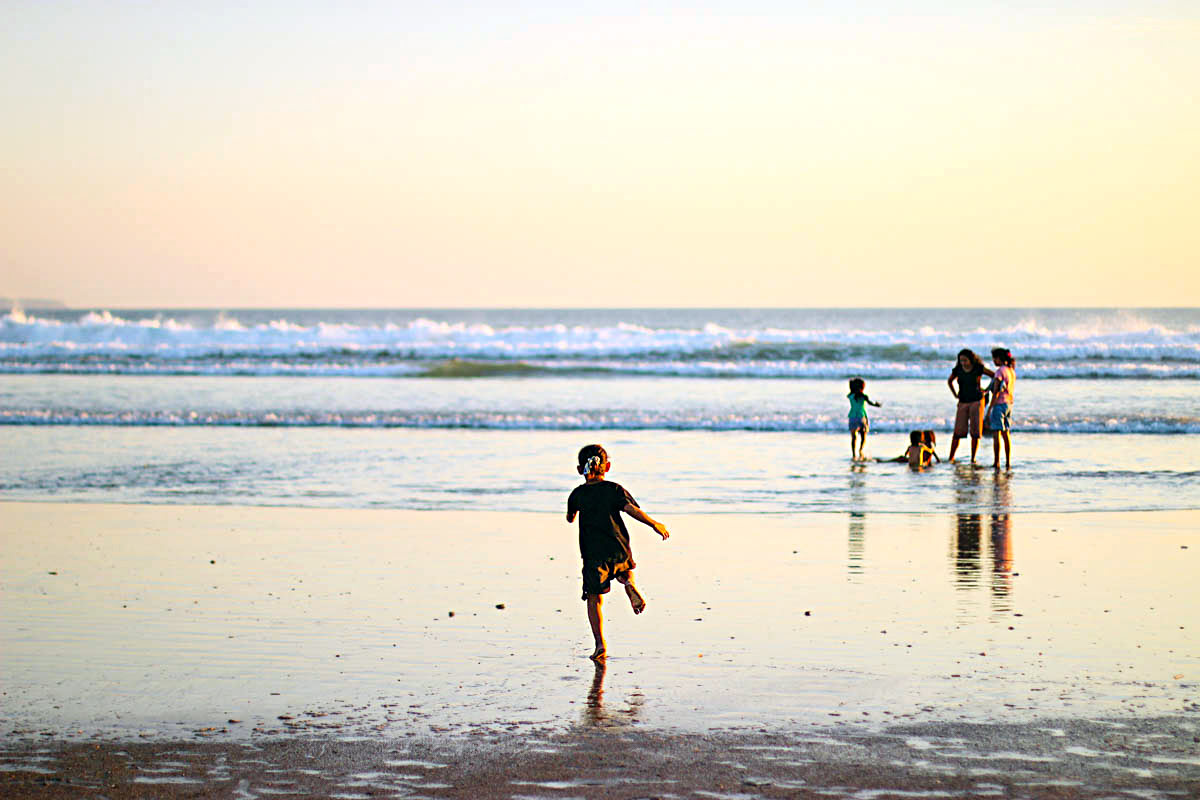 3. Seminyak
Seminyak is an upscale shopping, dining, and entertainment district located just up the coast from Kuta. It is regarded as the most exclusive vacation destination on the island, and it is full of high-end resorts and brand-name boutiques. You'll find a wide array of spas where you can spend the day pampering yourself, many of the finest restaurants on the island, and several fantastic art galleries that support the local art scene. There is still an energetic party atmosphere and plenty of nightlife spots in Seminyak, but it tends to be on the tamer and more refined side compared to many areas of Bali that see a younger crowd.
Aside from the shopping, one of the main draws of the Seminyak area is Seminyak Beach. A stunning white-sand beach, it's a great spot to go surfing or to relax with an ocean-side massage. Seminyak Beach tends to be less crowded than Bali's more southerly beaches, making it popular among couples looking for a romantic getaway. You can even take a romantic horseback ride on the beach! The sunset views are spectacular here as well, and the numerous swanky beachside bars and lounges offer front-row seats to the nightly show.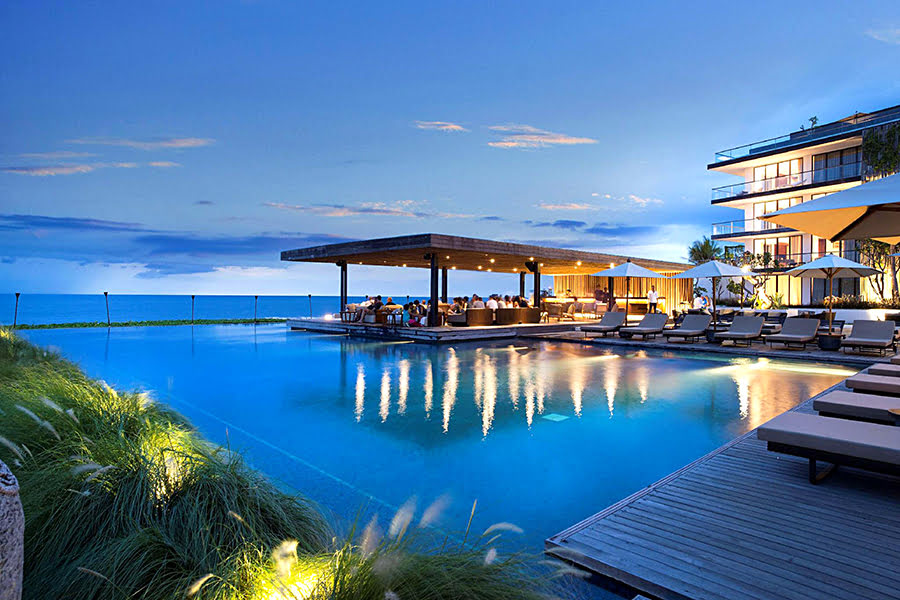 FIND & BOOK A HOTEL IN BALI TODAY
4. Tanah Lot Temple
Tanah Lot Temple is perhaps one of the most recognizable temples in all of Bali, and one of the seven sea temples along the coast. It sits on an outcrop of rock that sits just offshore, with waves crashing on all sides. The unique location has turned Tanah Lot Temple into a religious and cultural icon. Established in the 16th century, the temple is built harmoniously into the rock and enhances the stunning natural beauty of the area. This provides a gorgeous backdrop for photographs, especially during sunset. Every evening, tourists flock to Tanah Lot Temple to snap photos of the brilliant sky behind the craggy temple rock.
The rock itself is actually only accessible at low tide. Tourists are not allowed inside the temple buildings themselves, but you are welcome to walk along the pathways and take pictures. As you approach the temple, you will pass by numerous stalls selling all manner of goods, artwork, and souvenirs. There is an entry fee of 60,000 IDR for adults and 30,000 IDR for children to enter Tanah Lot Temple. It is located in the village of Tabanan, just northwest of the capital city of Denpasar and easily accessible from Kuta.
FIND & BOOK A HOTEL IN BALI TODAY
5. Mount Batur
While not the highest volcano on the island, Mount Batur is highly accessible and offers some of the most spectacular views in Bali. This sometimes-active volcano is situated between two large concentric craters, one of which houses a scenic lake. It is located in the northeastern part of Bali, not too far from Mount Agung. On a clear day, the views from the summit allow you to see across the caldera and all the way to the surrounding mountain ranges.
The most popular activity at Mount Batur is to make the climb to the top in time to watch the sunrise. You'll be able to see the sky turn orange and slowly illuminate the dramatically beautiful surroundings. The trek up the mountain isn't very difficult, but it does take roughly two hours, and it is a good idea to wear a sturdy pair of hiking shoes. There is an entrance fee of 100,000 IDR to climb Mount Batur. Guided tours, including breakfast and pickup from your hotel, are also available. Going with a tour guide is recommended, especially if you will be hiking during the dark morning hours.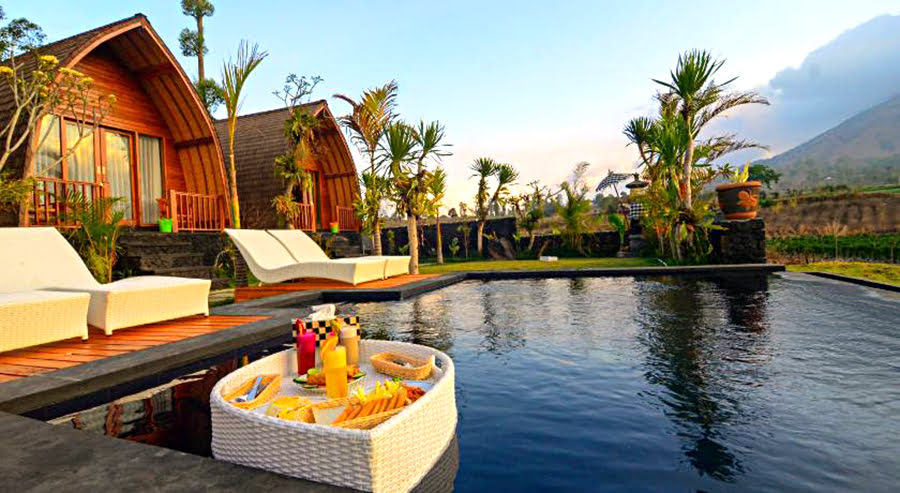 FIND & BOOK A HOTEL IN BALI TODAY
6. Uluwatu Temple
An iconic Balinese temple that you have no doubt seen in travel brochures, Uluwatu Temple sits high up on a 250-foot cliff overlooking the ocean. The spectacular site has been used for religious purposes as far back as the 11th century. It is located on Bali's southern peninsula, in the area of Uluwatu. The temple is reached by walking through a small forest at the bottom of a cliff and then making your way up the steps to the top. Make sure you watch your belongings, as the temple is home to a cheeky monkey population that is known for grabbing hats and sunglasses.
The best time to go to Uluwatu Temple is in the evening to watch the sunset over the water. The temple faces directly west, offering a spectacular view. At the same time, you can catch the performance of a traditional fire dance that tells the story of the Hindu epic Ramayana. The entrance fee to Uluwatu Temple is only 30,000 IDR for adults and 15,000 IDR for children. Note, however, that if you want to watch the traditional dance performance, you will have to pay an additional 100,000 IDR per person.
FIND & BOOK A HOTEL IN BALI TODAY
7. Ubud Monkey Forest Sanctuary
Another place where you will find plenty of playful monkeys in Bali is at the Ubud Monkey Forest. Located inland in the popular tourist area of Ubud, this forest sanctuary is home to more than 600 Balinese long-tailed monkeys. The thick forest has many paths where you can walk around and see the monkeys scampering about on the ground and swinging from the trees. There also are three temples here that date back to the 14th century. All of the temples are covered in moss, creating an ancient and mysterious atmosphere.
You can watch and take photos of the monkeys, but visitors are asked to please not feed them or touch them. And, of course, you will want to make sure that any loose items are secured to keep them out of the monkey's curious hands! In addition to the monkeys, there is a wide array of indigenous trees and plants spread over the sanctuary's 12.5 hectares of land. The cost to enter Ubud Monkey Forest is 80,000 IDR for adults and 60,000 IDR for children. Just a 10-minute walk from the center of town, this is a must-see attraction if you are visiting Ubud, and it's definitely one of the best places to visit in Bali.
FIND & BOOK A HOTEL IN BALI TODAY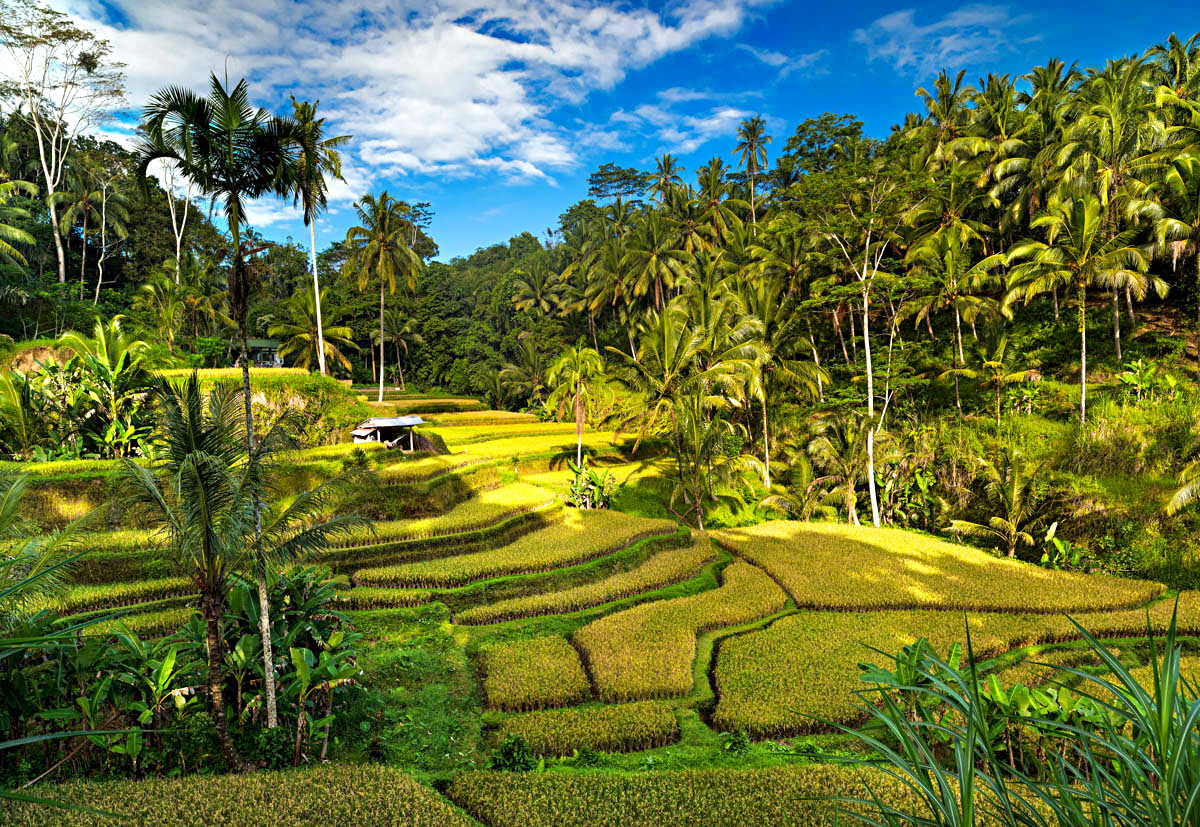 8. Tegallalang Rice Terraces
For a change of pace and some different scenery, take the 25-minute drive north of Ubud to the Tegallalang Rice Terraces. You have no doubt seen these beautiful, lush green terraces if you have looked up photos of the best places to visit in Bali before. The farmers here use a unique style of rice farming that was first developed in the 8th century. It is a very popular spot for photographers, painters, and nature lovers for the way the sunlight illuminates the terraces, particularly at sunrise. This is actually one of the few attractions and places to visit in Bali that is better during the rainy season (October to March), as it will look even more lush and green.
In addition to strolling around and taking some spectacular pictures, you can enjoy the view from the jungle swing or take an even more exhilarating ride on a zip line. There are also many restaurants and cafes where you can grab some coffee and a bite to eat. It is recommended that you bring small bills with you to pay the donation asked by locals when visiting certain areas of the Tegallalang Rice Terraces. A donation of 10,000 IDR will usually suffice.
FIND & BOOK A HOTEL IN BALI TODAY
9. Tegenungan Waterfall
Bali is home to numerous picturesque waterfalls, with the most popular among them being Tegenungan Waterfall. It is not the prettiest waterfall on the island (though it is very beautiful in its own right), but it is the most easily accessible and located just 20 minutes from Ubud. You'll be able to capture plenty of shots perfect for posting to your blog or social media. The earlier you can arrive at Tegenungan Waterfall, the better. You will beat a lot of the crowds, and the mornings are plenty warm enough to take a dip. Even if you come during peak hours, however, the waterfall is still very much worth a visit.
Visitors have to pay a small entry fee of 20,000 IDR at the entrance to the path that leads to Tegenungan Waterfall. After you have paid, you will need to walk down a flight of about 100 stairs to reach the falls. Facilities such as change rooms are provided if you do want to try going for a swim. There are also plenty of spots from the top of the stairs where you can get some great views and pictures of the falls while relaxing at a cafe.
FIND & BOOK A HOTEL IN BALI TODAY
10. Waterbom Bali
Going to a waterpark might not be on your radar when you have so many beaches to choose from, but you'll likely make an exception for this one. Located in Kuta, Waterbom Bali is often considered to be the best waterpark in all of Asia, not to mention one of the best places to visit in Bali. It's a great place for families and travelers of all ages. A day pass to Waterbom Bali starts at 346,500 IDR. You can easily spend a whole day checking out all of the rides and slides that the park has to offer. It is just a quick walk from Kuta Beach and bound to be one of the major highlights of your trip.
Take your pick from an array of different rides, including a selection of some of the most daunting thrill rides you won't find anywhere else. With names like Boomerang, Climax, and Smashdown 2.0, you know they are going to offer an adrenaline rush. Don't worry; there is also a selection of calmer rides for younger visitors or for those who aren't quite looking for a thrill, like the relaxing lazy river. The attractions are built around lovely tropical gardens where you can take a break with some food and drink in between rides.
FIND & BOOK A HOTEL IN BALI TODAY
11. Sekumpul Waterfall
It isn't the easiest waterfall to get to, but the trek out to Sekumpul Waterfall is definitely worth it. This spectacular waterfall is located in the north of the island, about a two-and-a-half-hour drive from Denpasar, and is often considered to be the most beautiful falls in Bali. It is actually a cluster of seven different falls. The falls plunge from high cliffs and are surrounded by greenery, making for some stunning photo opportunities. The best lighting for photos is between mid-morning to mid-afternoon.
Reaching Sekumpul Waterfall requires a half-hour to two-hour hike down a path that will take you past local villages, rice terraces, and tropical jungle. There is an entrance fee of 20,000 IDR, and many visitors choose to hire a local guide as well. The hike can be a little tricky in places, but the reward is huge. Once you arrive at the stunning falls, you will be treated to a beautiful view. You can also cool off with a dip in the water at the base of the falls. Sekumpul Waterfall is one of Bali's most highly rated tourist spots, and it's easy to see why it's one of the best places to visit in Bali.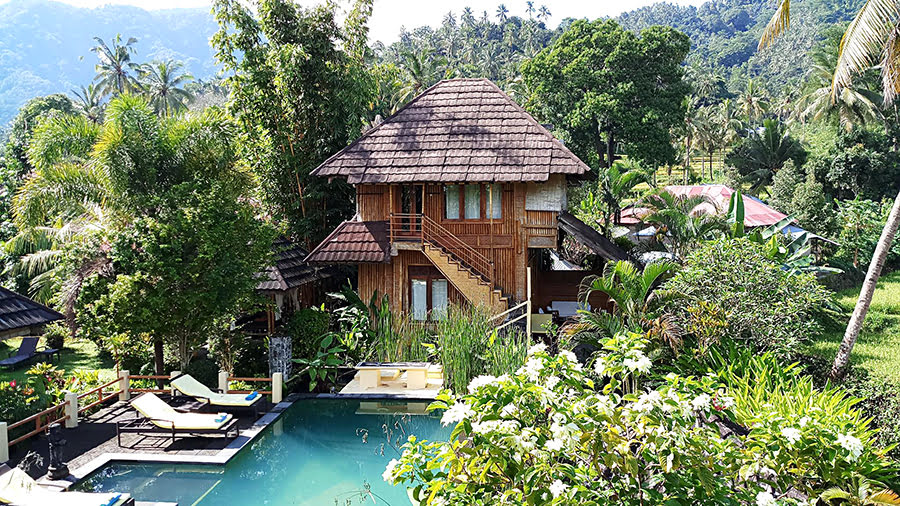 FIND & BOOK A HOTEL IN BALI TODAY
12. Pandawa Beach
Pandawa Beach is its own little slice of paradise in the larger paradise of Bali. This white-sand beach is backed by tall cliffs and leads out into clear blue water. It is located in Kutuh Village and sits about halfway between Uluwatu and Nusa Dua on the island's Bukit Peninsula, about a 30-minute drive from both. The road that leads to the beach passes by six statues placed inside of arches that have been carved into the cliff. Each statue represents a character from the Hindu epic Mahabharata, including five brothers known as the Pandavas – the namesake of Pandawa Beach.
Once you make your way down to Pandawa Beach, you can choose from an array of fantastic activities. The calm water makes this a good place for swimming or for renting a canoe, while a surf break further out attracts a lot of surfers to the beach as well. Because of the surrounding cliffs, Pandawa Beach is also a popular spot for paragliding. Access to the beach requires an entry fee of 15,000 IDR, plus 2,000 IDR to park a scooter or 5,000 IDR for car parking.
FIND & BOOK A HOTEL IN BALI TODAY
13. Aling-Aling Waterfall
Aling-Aling Waterfall is another beautiful waterfall in the north of the island that nature lovers just can't miss. It is a definite contender for the most beautiful waterfall in Bali. The water tumbles down over a steep cliff from a height of 114 feet, splashing into a deep pool below that is surrounded by green jungle. There is a short, 10- to 15-minute walk down a well-maintained path to get down to the falls, with numerous stunning viewpoints along the way.
The waterfall is located about a two-and-a-half-hour drive from Ubud, making it an excellent choice for a day trip. There is a small entrance fee of 10,000 IDR to view Aling-Aling Waterfall. This is a great option if you just want to snap some photographs. However, if you would like to get closer to the falls and even go for a swim (highly recommended if you have come this far), you will have to book a tour. Tour prices start at 125,000 IDR per person and also include cliff jumping! For your safety, it is important not to try swimming or cliff jumping without a guide.
FIND & BOOK A HOTEL IN BALI TODAY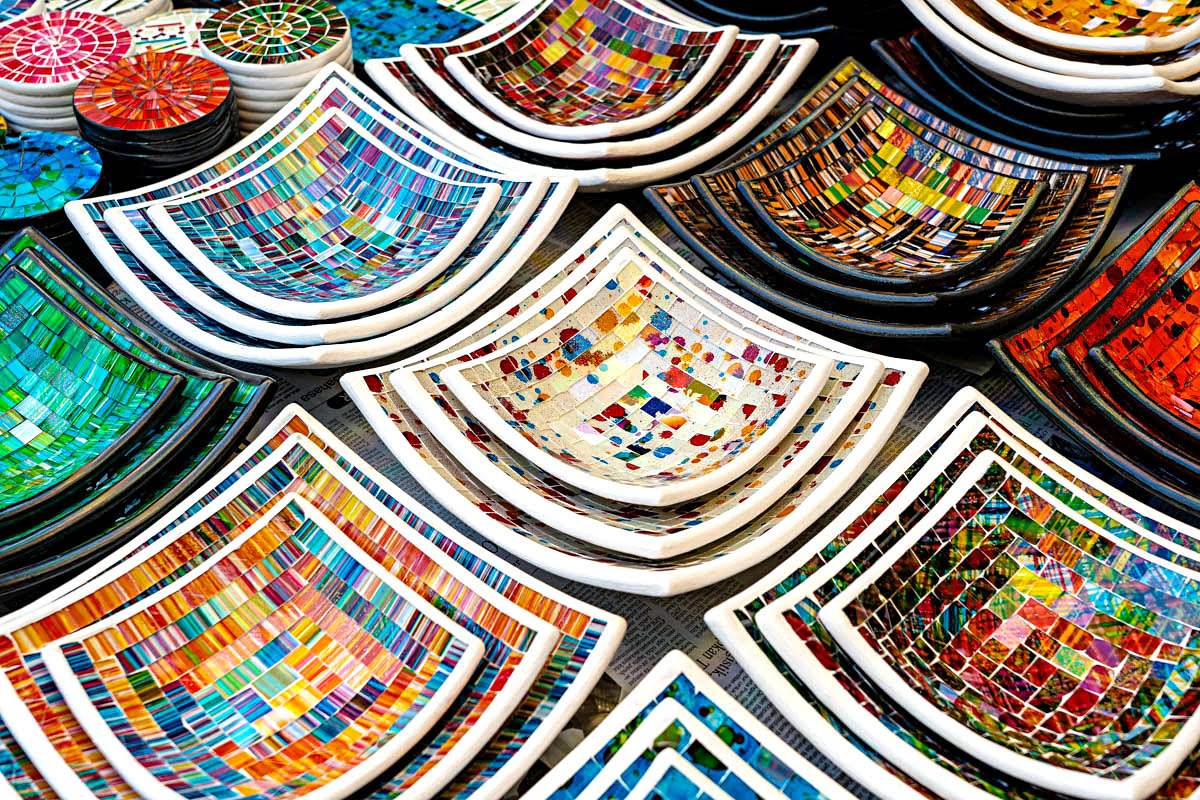 14. Ubud Art Market
For souvenir shopping, Ubud Art Market is one of the very best places to visit in Bali. Set up right in the center of town, it is a labyrinth of street stalls selling all manner of goods, including jewelry, bags, clothing, accessories, sarongs, home decor, and much more. The quality of the goods is known for being exceptional, and the atmosphere of the market is very laid-back. You're sure to find just the perfect gift for people back home and plenty of gifts for yourself, too. Pick up some items to remember Bali by as well as some affordable, quality clothes to wear for the rest of your vacation.
Many of the goods available at Ubud Art Market are made in the surrounding villages using traditional techniques. They are unique to this area, and you won't find them anywhere else in Bali, so it's worth making a stop to browse through the stalls to see what catches your eye. You should definitely try bargaining for the best price, and remember that a smile and a good attitude will go a long way. The market is generally open from sunrise to sunset.
FIND & BOOK A HOTEL IN BALI TODAY
15. Ubud Palace (Puri Saren Agung)
Puri Saren Agung, more commonly known as Ubud Palace, is located right across the street from Ubud Art Market, making it easy to check out both attractions at the same time. Constructed between 1800 to 1823, it was once home to the royal family and remains a significant Balinese landmark to this day. It is a wonderful example of Balinese architecture, and the palace complex is home to beautiful lush gardens as well. Culture, history, and architecture buffs will love making a stop here.
The front section of Ubud Palace is open to the public, and entry is completely free. It only takes about half an hour to see the palace, so it is a convenient stop on any itinerary. There are also traditional dance performances to a percussive orchestra held here every evening that you can buy a ticket for in the afternoon. Unlike other historic sites in Bali, there isn't a very strict dress code at the palace, and clothing such as shorts and sandals are permissible, though you can always dress up in the colorful sarong you found at the market next door.
FIND & BOOK A HOTEL IN BALI TODAY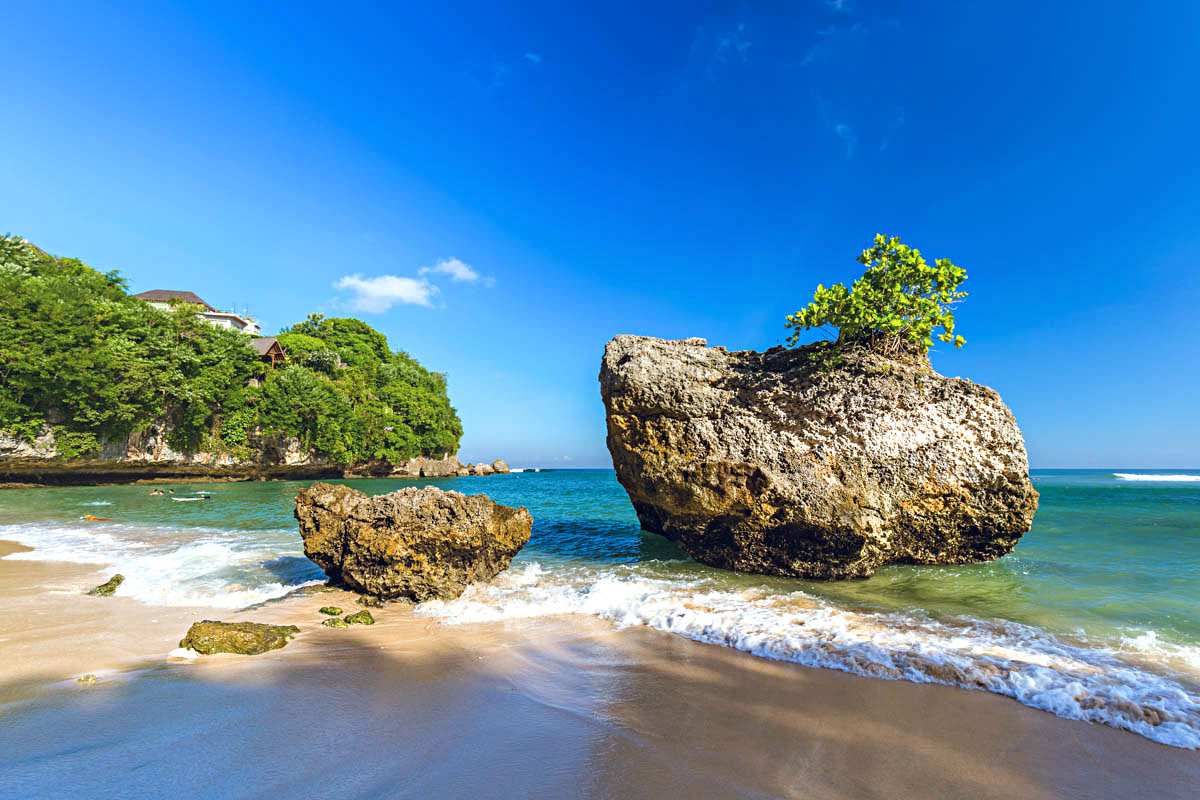 16. Padang Padang Beach
Another cliff-backed beach on the Bukit Peninsula, Padang Padang Beach is the quintessential tropical getaway. Located in Pecatu Village close to Uluwatu, this relatively small but charming beach sits on a semicircular cove and is bordered by blue water on one side and deep green cliffs covered in vegetation on the other. There is a minor entry fee of 15,000 IDR for adults, 10,000 IDR for children, and 5,000 IDR or 2,000 IDR for car or scooter parking, respectively. At the beach, you can rent or purchase just about anything you'll need for a fun day out in the sun from the numerous vendors around, including lounge chairs, umbrellas, food, and drinks.
Padang Padang Beach is particularly well known for its surf breaks, which rival many of Bali's most famous surf spots. There is both a right-hand and a left-hand break, with the left-hand wave more suitable for experienced surfers. You can easily rent a surfboard on the beach for about 100,000 IDR. Another popular activity at Padang Padang Beach is the weekly beach party, which takes place every Saturday night starting at 9 p.m. at Padang Padang Restaurant.
FIND & BOOK A HOTEL IN BALI TODAY
17. Nusa Dua
Nusa Dua is the most luxurious locale in Bali. Located on the southern part of the island, this high-end beach resort is home to exclusive villas, upscale spas, private beaches, shopping centers, and even a golf course. If you're willing to stretch your travel budget a bit, then you can truly get pampered and enjoy some time away from the crowds. Plus, Nusa Dua is just a short distance from the airport, making it a great first or last stop on your Bali itinerary. It is a wonderful choice for a honeymoon and one of the best places to visit in Bali.
The main draw in Nusa Dua is Nusa Dua Beach. The inviting white sand and the warm, blue-green waters are perfect for a host of beach activities, including swimming, sunbathing, snorkeling, and water sports. While in Nusa Dua, make sure you also take the time to see the Waterblow attraction. This is a spot along the shore where the waves are funneled into a narrow crag in the seaside cliffs and the water shoots upwards into the sky, as if from the spout of a whale. The resulting spray is known to reach as high as 100 feet.
FIND & BOOK A HOTEL IN BALI TODAY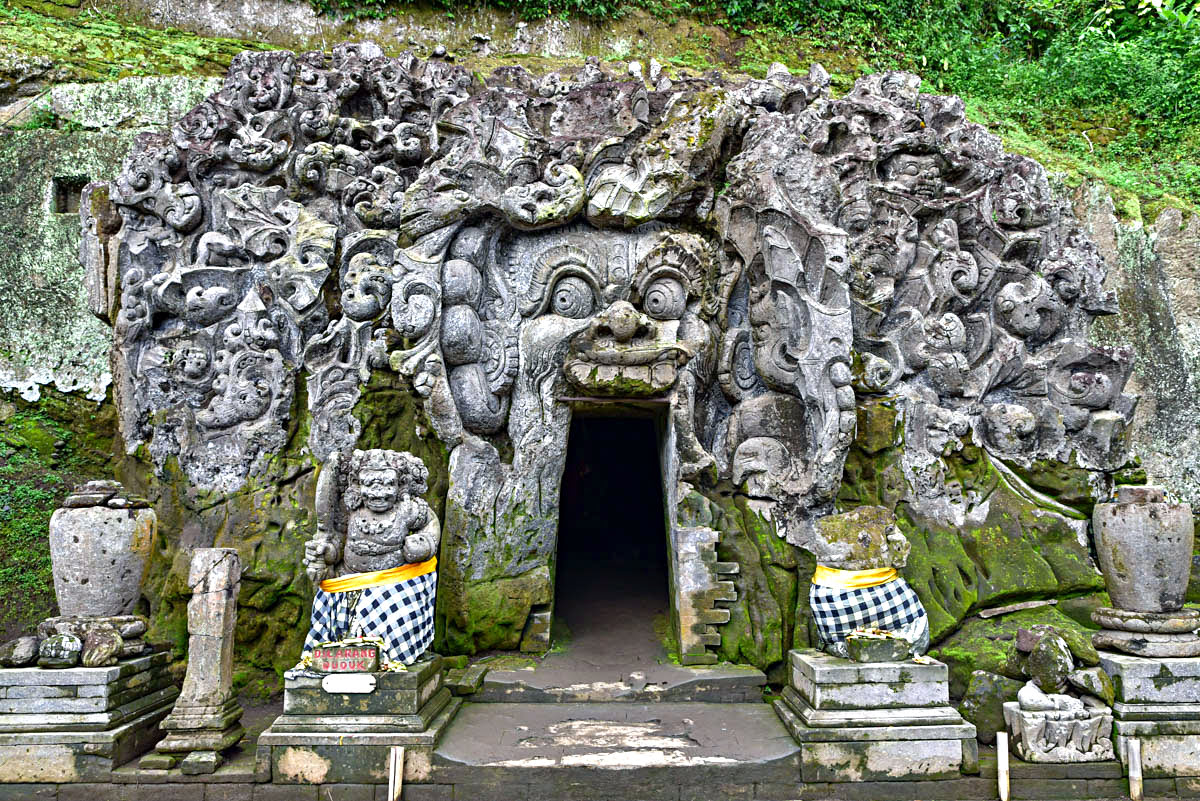 18. Goa Gajah
Just a quick drive or bike ride outside of Ubud, Goa Gajah is a small historic site with deep cultural and religious significance. The name translates to "elephant cave," and the site consists of a bathing pool and a Hindu cave temple thought to have been built for meditation. The site was constructed around 1,000 years ago but was buried in an earthquake and rediscovered again in the 1920s. There is an entry fee of 50,000 IDR for adults and 25,000 IDR for children. It is best to come before 10 a.m. to beat the tour buses that make a stop here.
As you approach the Goa Gajah cave, you will be struck by the carved depiction of a frightening monster whose mouth doubles as the cave's entrance. You will make your way through a dark and narrow passage that ends at an intersection. Down one side is a statue of the god Ganesha and down the other are relics to the god Shiva. Out in the courtyard, you will find a rock bathing pool surrounded by beautiful statues. There are likely to be locals around performing cleansing ceremonies as well.
FIND & BOOK A HOTEL IN BALI TODAY
19. Nusa Lembongan
Nusa Lembongan offers an island getaway from your island getaway. It sits just off the southeastern shore of the main island and is known for providing a more serene experience for those looking to get away from the hustle and bustle of Bali's top touristy areas. Nusa Lembongan is not as crowded or as developed, and it has a peaceful atmosphere. It is also surrounded by healthy and abundant marine life. You can explore the island and its mangrove forests and traditional villages on foot or by renting a bicycle. You'll feel like you have stepped back in time to how the main island once looked.
Though small and more laid-back, Nusa Lembongan is not lacking in activities and things to do. There are numerous beaches situated along its coasts where you can go swimming, surfing, kayaking, diving, snorkeling, paddleboarding, and more. There are even some fantastic cliff-jumping opportunities for those who are feeling particularly adventurous. Nusa Lembongan is one of the best places to visit in Bali for a day trip. The most common way to reach the island is by a boat ride from Sanur.
FIND & BOOK A HOTEL IN BALI TODAY
20. Bali Safari & Marine Park
A visit to Bali Safari and Marine Park in Gianyar promises to be one of your most unique experiences on the island. The park is home to more than 100 species of animals from countries like Indonesia, India, and Africa, including endangered species like orangutans and Komodo dragons. The highlight of Bali Safari and Marine Park is the jeep safari tours that allow you to get up close and personal with the animals. Watching the animals roam around in their natural habitats is a delight, and you can sign up for an exciting night tour as well.
In addition to the safari tours, Bali Safari and Marine Park is home to a petting zoo, a recreation area, a kids' water park, and a kids' fun zone. There are also numerous dance and musical performances held throughout the park over the course of the day. You can stop to eat amidst the activities at one of the park's many restaurants. Tickets to Bali Safari and Marine Park start from 720,000 IDR per person, though prices may vary based on different activities that you wish to include during your visit.
FIND & BOOK A HOTEL IN BALI TODAY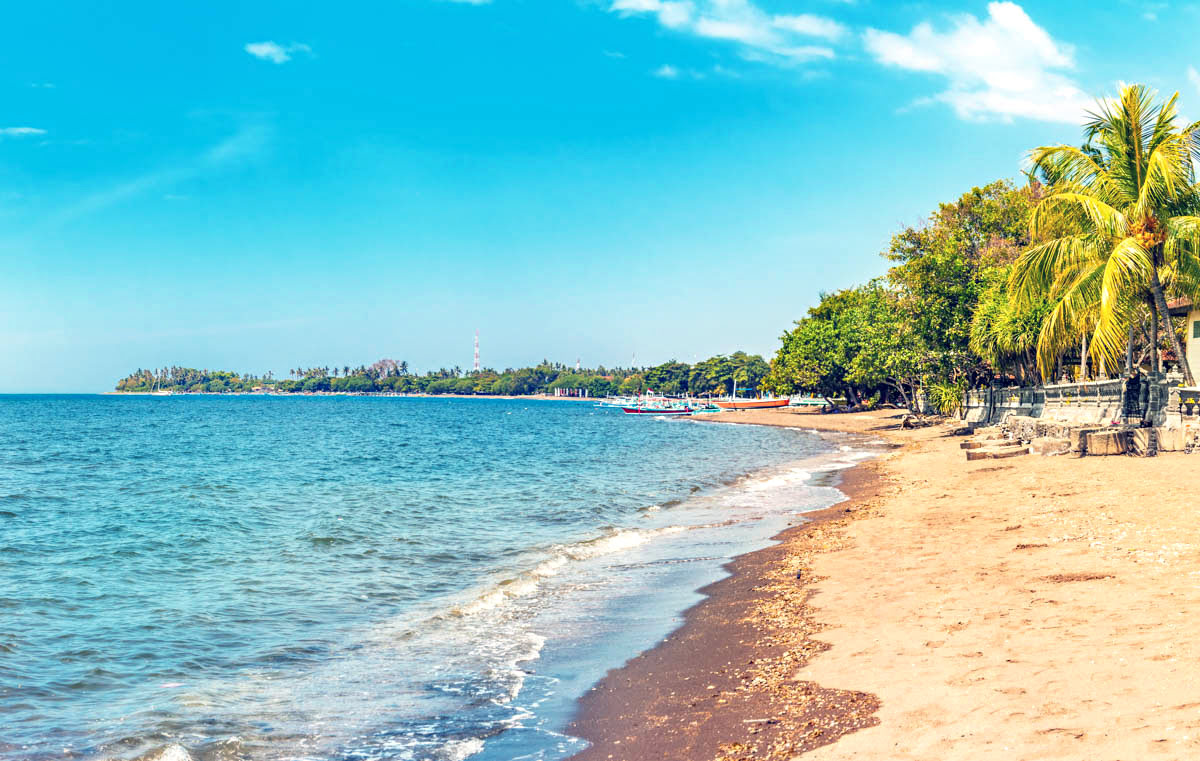 21. Lovina Beach
Lovina Beach, sometimes referred to as just Lovina, is the largest resort area along Bali's north coast. It is made up of several small villages and hamlets, as well as their respective beaches. The sand here is black due to its high volcanic ash and mineral content from the nearby volcanoes. The villages have some fantastic restaurants, cafes, and art shops for you to check out as well, and the establishments are known for having low prices. It's a great vacation spot for families.
Most tourists visit Lovina Beach for a chance to catch sight of the graceful dolphins that live off the coast. The cost of a dolphin sighting trip can range from 100,000 IDR to 250,000 IDR, depending on the length of the trip and the tour operator. The typical trip will last about two hours, and the best time to see the dolphins is in the early morning. Other common activities include swimming, scuba diving, snorkeling, and visiting a spa. Coming to Lovina Beach for a dolphin tour or simply to relax offers a nice break from Bali's more touristy southern shores.
FIND & BOOK A HOTEL IN BALI TODAY
22. Sidemen Valley
Sidemen Valley is often overlooked on many travelers' itineraries in favor of more popular interior locations like Ubud, but it offers the perfect, less crowded alternative. This scenic village in the eastern part of the island provides a peaceful countryside excursion complete with jade rice paddies, hiking opportunities, nearby waterfalls, and more. The valley has an "off the beaten track" feel to it, and you can enjoy activities like peaceful walks and bike rides through the quaint and sleepy villages. While this isn't the spot for thrills and nightlife, it's a great chance to experience the slower and more authentic pace of local Balinese life.
Exploring Sidemen Valley makes it easy to imagine how other, more popular parts of Bali may have looked and functioned three to four decades ago. You will get to see and perhaps even take part in traditional arts and crafts like dancing, weaving, and carving, as the community is welcoming and warm to visitors. Sidemen Valley is about an hour-and-a-half-drive from Ubud, and it should absolutely be on your itinerary of places to visit in Bali.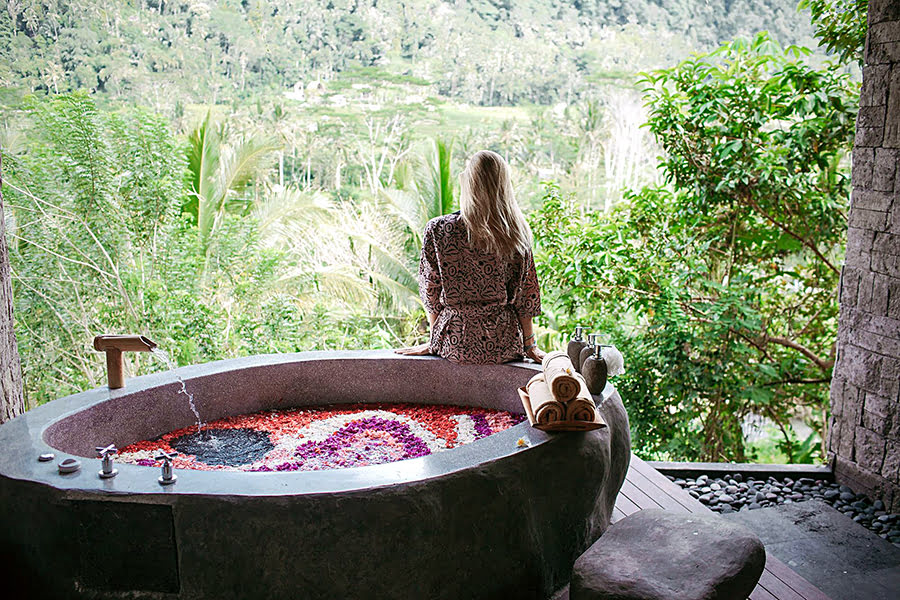 FIND & BOOK A HOTEL IN BALI TODAY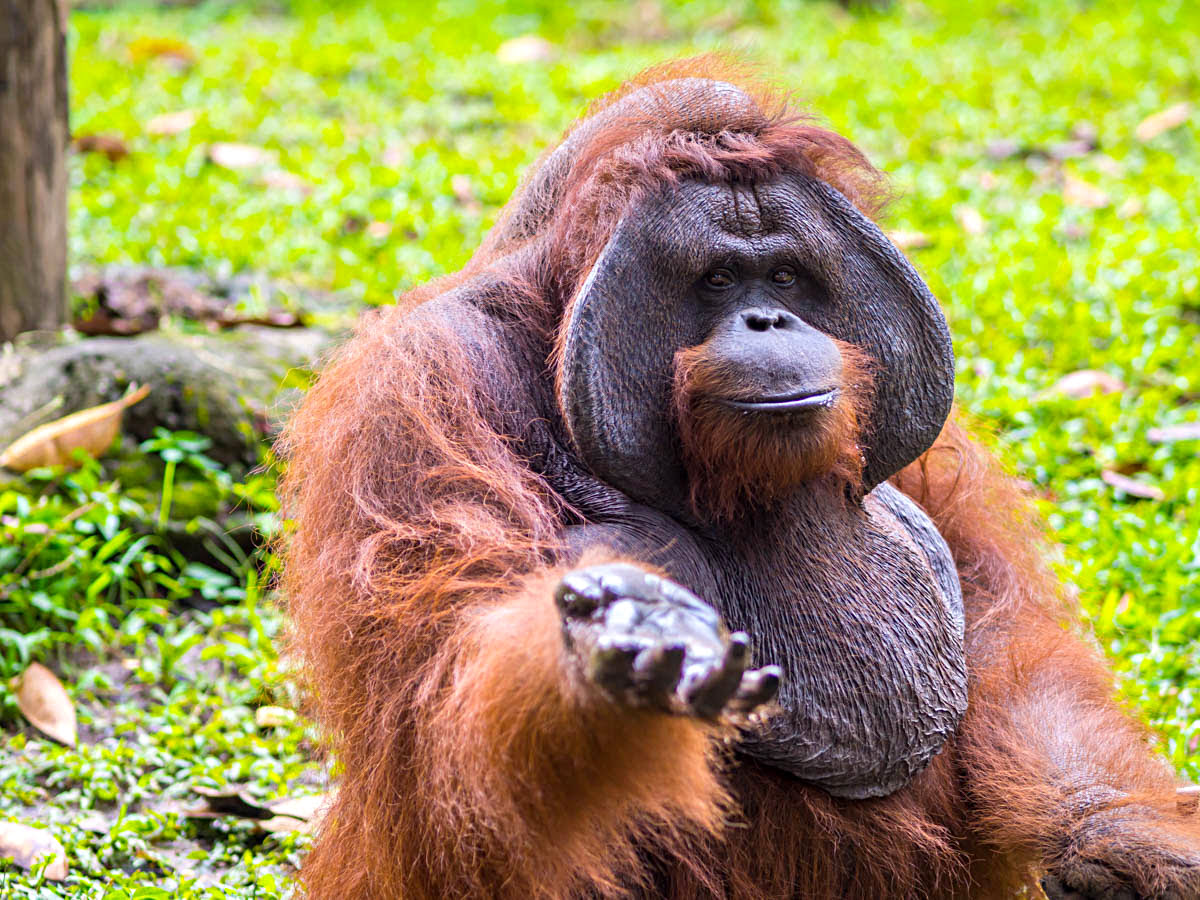 23. Bali Zoo
Another fantastic family destination in Bali, Bali Zoo is located in the eastern part of the island in the village of Singapadu. It is a very easy trip from Ubud and an excellent day trip from just about every popular tourist locale. There are over 70 different species of animals at Bali Zoo, including orangutans, lions, tigers, elephants, gibbons, and so much more! The zoo also has a world-class breeding and release program that is helping to reintroduce endangered species back into the wild.
Bali Zoo offers a range of immersive experiences that allows guests to get close to the animals, including Breakfast with Orangutan, Elephant Mud Fun, Elephant Expedition, and Night at the Zoo, after general admission is closed for the day. There are also many activities for children, including an outdoor water park, a petting zoo, and pony rides. Admission to the zoo starts at 355,500 IDR per adult and 252,000 IDR per child, though the price will vary depending on the different experiences you want to attend. Any ticket to one of the experiences also includes general zoo admission.
FIND & BOOK A HOTEL IN BALI TODAY
24. Tirta Empul Temple
An important Balinese temple, Tirta Empul Temple has a history dating as far back as 960 AD. It was constructed around a bubbling spring, and the waters are considered sacred by the Hindu devotees who come to worship and perform ritual cleansing here. The water fills the pool from several sculpted spouts. The temple also houses many ornate statues and is known for its beautiful architecture. Anyone, even tourists, is allowed to come and bathe in the waters as well. Just make sure you explore the temple before going in the water, as you will not be permitted in the other courtyards when wet.
Watching the locals perform their purification ceremonies at the temple is one of the top authentic cultural experiences in Bali. The admission fee to Tirta Empul Temple is only 50,000 IDR per person, and it includes a sarong to ensure that all visitors are dressed modestly. If you wish to go into the water, then you can also rent a locker for 15,000 IDR and a separate sarong to wear in the pool for 10,000 IDR.
FIND & BOOK A HOTEL IN BALI TODAY
25. Bali Treetop Adventure Park
If your goal in discovering the best places to visit in Bali is to go on as many exciting adventures as possible, then don't pass up a visit to Bali Treetop Adventure Park. The park consists of a series of different circuits set up throughout the treetops. The circuits are made up of rope walks, swings, nets, zip lines, Tarzan jumps, and more. Challenges are rated according to different difficulty levels, allowing you to work your way up to harder and more daunting courses. All safety instructions and equipment is provided.
Bali Treetop Adventure Park is great for families, groups, couples, and just about every type of traveler. It is designed to be accessible to people of all ages, abilities, and experience. The park is open daily and located inside Bali Botanic Garden in Bedugul, just a one- to one-and-a-half-hour drive from some fo the best places to visit in Bali, like Kuta, Nusa Dua, Ubud, and Sanur. You will have to pay an entry fee of 18,000 IDR to enter the gardens. Tickets to Bali Treetop Adventure Park (without a booking) start at about 341,000 IDR for adults and 218,000 IDR for children under 12. Family packages also are available.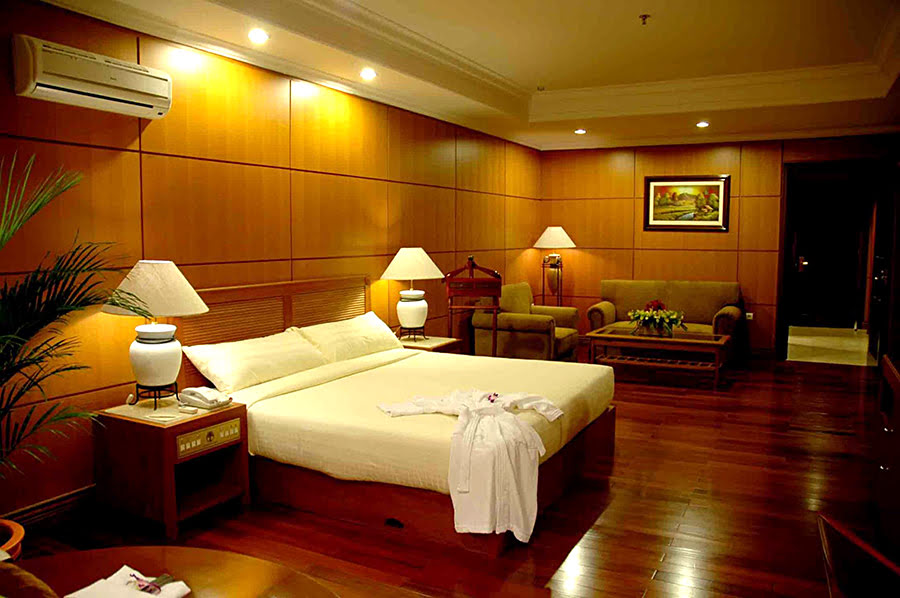 FIND & BOOK A HOTEL IN BALI TODAY