Surrounded by rice paddies and tropical rainforests in the highlands of Bali, the town of Ubud is a premier vacation destination. In fact, Ubud welcomes about three million foreign visitors each year. Despite its thriving tourism industry, Ubud has held tight to its roots, and traditional Balinese art, music, food, and dance thrive in the region.
As the unofficial cultural center of Bali, Ubud is an ideal place to immerse oneself in the country's traditions. While there are plenty of hotels to choose from, renting a villa is a wonderful way to get to know the area in a more personal way, by staying in a Balinese home. Families or other large groups will appreciate having a shared space for congregating and enjoying meals together. There are also plenty of one-bedroom rental homes in Bali available for couples who want added privacy or the luxury of a private pool.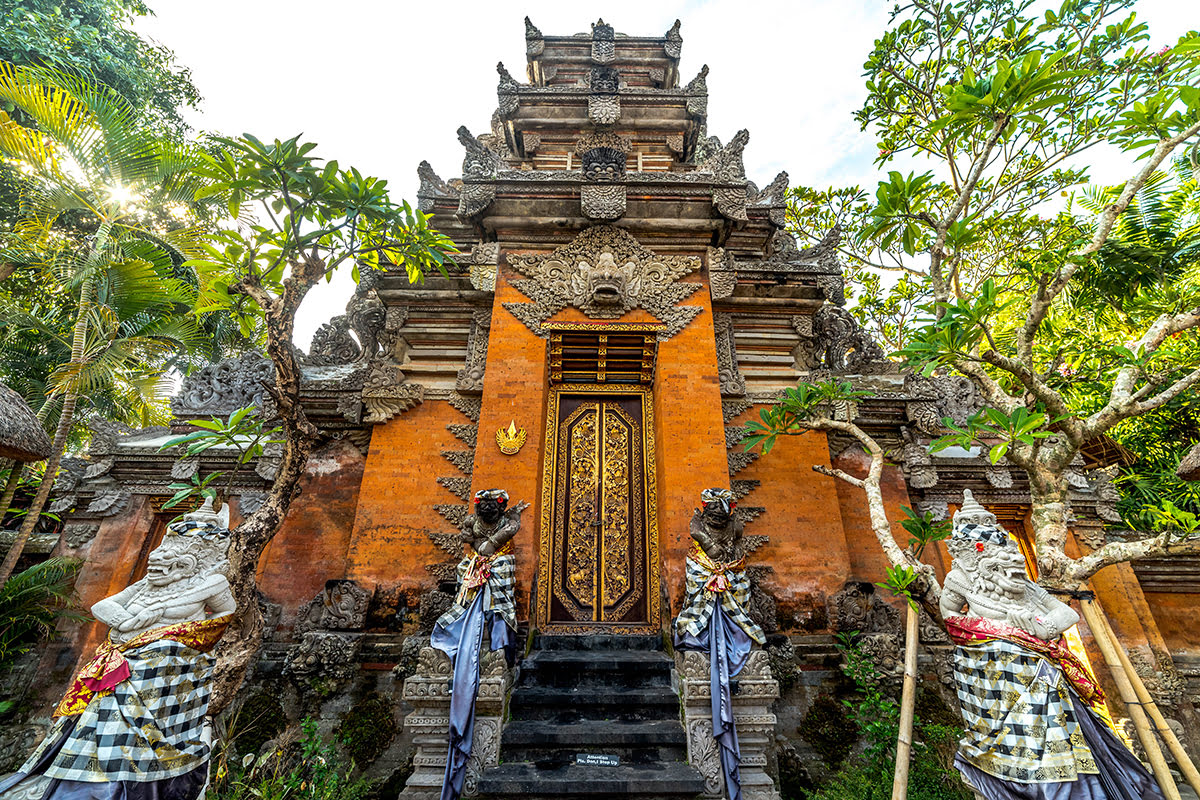 Things to Do in Ubud
Visitors are drawn to Bali for a variety of reasons. Some come seeking a spiritual retreat, others to admire the tropical rainforests and terraced rice paddies or to experience the island's unique art and culture. Ubud is one of the most-visited regions in Bali because it offers a bit of everything.
Vacation Rentals in Ubud
From charming one-bedroom cottages to sprawling four-bedroom compounds, there is a wide variety of holiday rentals available to visitors to Ubud. Most of these villas have staff onsite who are happy to help visitors make the most of their trip by making recommendations on places to see or eat and arranging for tours or car service.
1. Soca II Ubud Style Classic Villa
Located just three kilometers from the Monkey Forest, the Soca II Ubud Style Classic Villa is an ideal home base from which to explore the region. This three-bedroom, three-bathroom villa comfortably sleeps six and has plenty of common space where everyone can relax together. The fully-equipped kitchen and spacious dining area make it possible for guests to dine in as desired. Amenities like air-conditioning and wi-fi mean that guests don't have to sacrifice modern conveniences even as they enjoy Ubud's rural tranquility.
Designed by a local architect, the Soca II Ubud Style Classic Villa is built of quality materials and tastefully decorated in the local style. The villa is ideal for a group in search of a peaceful escape. Guests will have exclusive use of the home as well as the swimming pool, outdoor shower, and surrounding tropical gardens.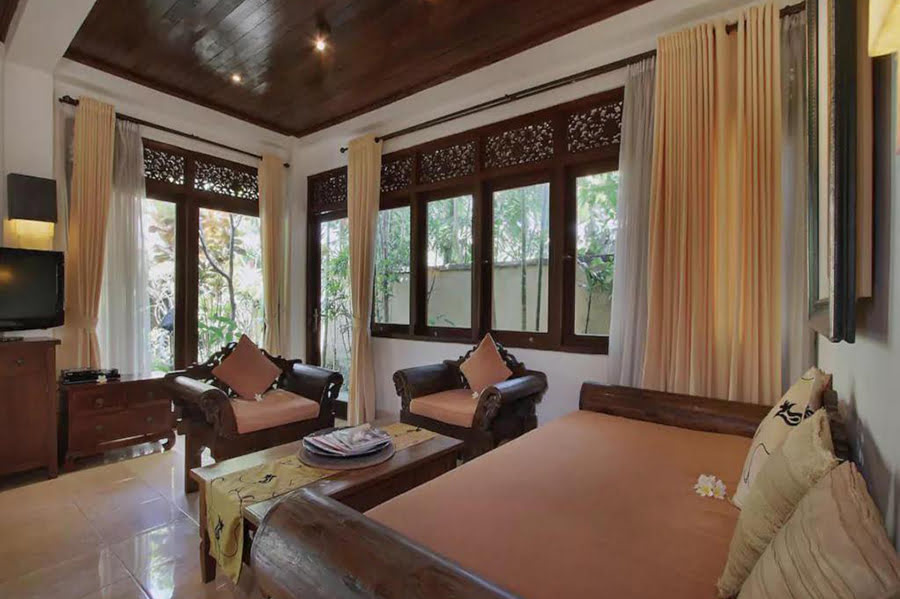 2. Three Bedroom House with Private Pool and Jungle View
Surrounded by tropical rainforest, this three bedroom house with private pool and jungle view manages to feel secluded even though it's just a ten-minute ride to the center of town. When guests arrive, they will walk a short distance from the parking area, through a small garden and past a lily pond, before reaching the property's main gate. The architect of the home designed it with an emphasis on indoor/outdoor living, so guests will feel connected to the surrounding jungle throughout their stay.
The onsite manager can help you book a driver, make restaurant recommendations, or even arrange for a chef to prepare a traditional Balinese meal at the villa. The manager can also arrange for transfer to and from the airport and the rental of motorbikes.
3. DuaDari Stunning Two-Bedroom Designer Home
Located less than a kilometer and a half from some of Ubud's most popular attractions, DuaDari stunning two-bedroom designer home is a truly charming retreat. The property consists of three structures – the two-bedroom home, a spacious outdoor living room, and a yoga lounge that looks out over a fish pond.
The home is owned by an interior designer, and that is apparent in every thoughtful detail on this beautiful property. In the sleeping area, guests will find soaring, wood-beamed ceilings that make the space feel open and inviting. When they step outside to explore the sprawling grounds, guests will find beautifully manicured lawns and gardens juxtaposed with the wild jungle that frames the property. The attentive staff is always available to help with securing a private driver or booking a sightseeing tour.
4. Luxury 2BR Villa Mana Sari, Ubud
Luxury 2BR Villa Mana Sari, Ubud is a once-in-a-lifetime kind of property. Visitors will have the entire villa to themselves, and since each bedroom is a separate structure, Mana Sari Villa is an ideal rental for two couples traveling together. Both bedrooms feature king size beds and en suite bathrooms. The bedrooms both open on to the deck that surrounds the property's saltwater pool. There are multiple indoor and outdoor lounge areas, including one on the roof of the second bedroom from which guests can gaze at the ravine and river below.
Luxury 2BR Villa Mana Sari, Ubud is truly a luxury property with special touches throughout, including an outdoor kitchen, custom-made furniture, and a rain shower. Staff is available to assist with guest questions or requests from 8am to 4pm, but they may be dismissed earlier if guests desire privacy.
5. 4 BR Amazing Villa Tirta Padi, Ubud with breakfast
This spacious villa features four bedrooms in four separate structures built in the traditional joglo style with its distinctive sloping roof. Each of Villa Tirta Padi's bedrooms has its own patio and a living area that overlooks the lush rice paddies that surround the villa. The bedrooms all look out on the sundeck and pool.
Guests at 4 BR Amazing Villa Tirta Padi, Ubud will be served breakfast each morning and can even arrange for one of Bali's famous floating breakfasts. The live-in staff is available to assist guests with anything they may need and will provide daily housekeeping services. They can even arrange for in-house spa treatments.
FIND & BOOK RENTAL HOMES IN BALI
6. 3 BR villa Ubud Hill 2/ new opening
Located about a 15-minute walk from Ubud's main road, 3 BR villa Ubud Hill 2 is the perfect holiday rental for a group. The tastefully decorated villa has three bedrooms, each with an en suite bathroom. The villa's indoor/outdoor living room looks out on the pool and garden area.
Onsite staff provides daily housekeeping services and can prepare and serve breakfast for an additional fee. This newly constructed vacation home has air conditioning and wi-fi and is well appointed with everything guests need for a comfortable stay, including a washer and dryer.
7. Comfy Wooden Villas with View at Ubud
These Comfy Wooden Villas with View at Ubud are the perfect vacation rentals for couples visiting the Ubud region, and given its proximity to the Ayung River, this rental is a particularly good choice for those interested in outdoor adventures. It's just a five-minute drive from the villa to river rafting excursions.
While designed in a traditional Balinese style, this one-bedroom villa has all the modern amenities that travelers expect. The villa features keyless entry, wi-fi, air conditioning, and cable TV. The villa's private terrace looks out on the pool, which is the ideal place to unwind after a busy day of rafting or exploring Ubud village.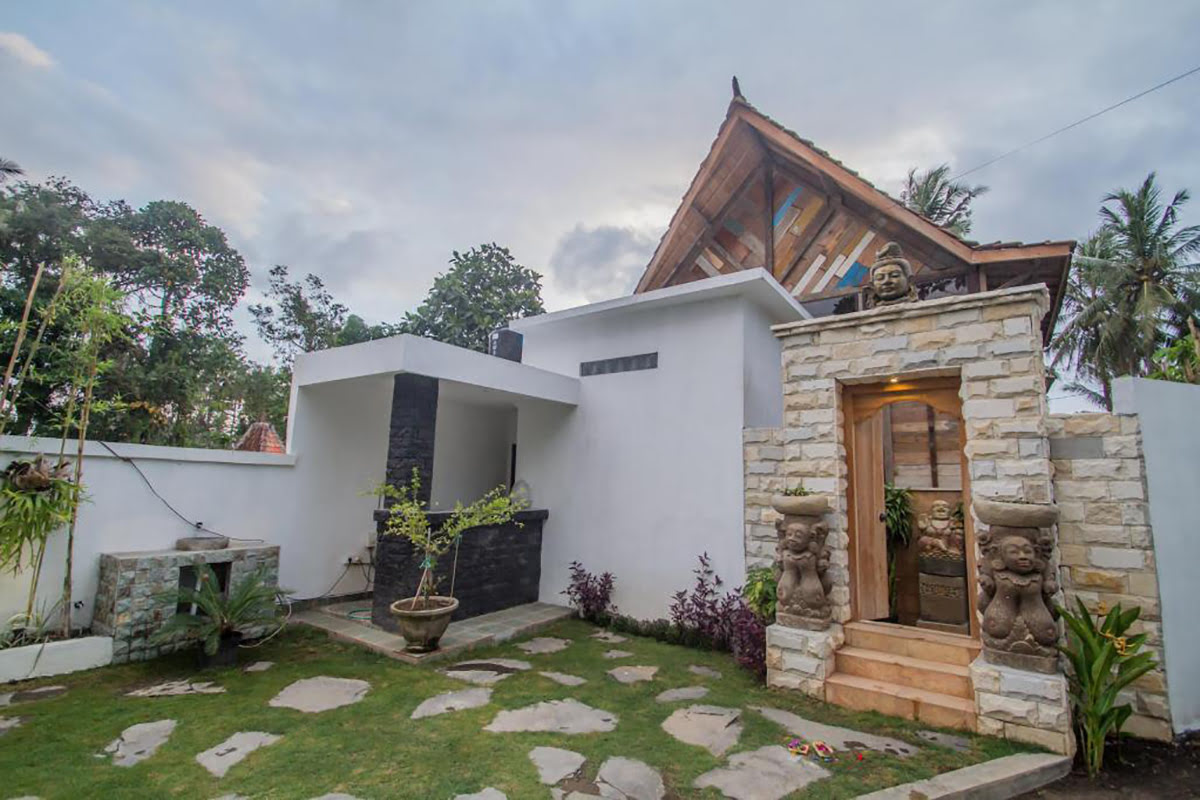 8. Little Jungle Villa Full Facilities in Ubud
While the Little Jungle Villa feels extraordinarily secluded, it is less than six kilometers from popular Ubud attractions like the Goa Gajah Sanctuary. With just one other villa on the property, this holiday rental feels incredibly private.
This one-bedroom, one-bathroom villa features traditional design elements alongside modern upgrades like wi-fi, air conditioning, and keyless entry. The villa also has a private dining terrace that overlooks a private pool, which is surrounded by tropical greenery. Staff assistance is available each night until 11pm.
9. Brand New One-bedroom Loft-Style Villa with Private Swimming Pool and Great Views
This stunning loft-style villa is a luxurious retreat and the perfect place to return to after a day of sightseeing. Located on a park-like compound alongside other private holiday rentals, this one-bedroom villa features a two-story loft design with floor to ceiling windows that overlook a private pool and a tropical landscape.
Guests will have access to the friendly onsite staff who can help arrange for cooking classes, in-room spa services, a personal driver or private chef, and babysitting services. In addition, guests will enjoy daily housekeeping, complimentary mineral water and tea, as well as 24-hour security.
10. Romantic Ricefields View Villa Ubud
Situated amidst sprawling rice paddies, this Romantic Ricefields View Villa Ubud offers luxury accommodations convenient to Puri Saren Agung and Ubud Market. This charming holiday rental has a spacious second-story bedroom with an en suite bathroom that features a soaking tub, which is positioned next to a large window with a view of the rice paddies.
Visitors to this vacation rental will have exclusive access to the private pool and surrounding sun deck, which is equipped with comfy loungers that are the perfect place to enjoy morning coffee or evening cocktails. Guests will also enjoy complimentary breakfast, wi-fi, and parking.
FIND & BOOK RENTAL HOMES IN BALI