Whether you like to sit in the lap of luxury or scavenge for basement bargains, Jakarta shopping never ends! Shopping malls in Indonesia's capital city total more than 120, and outdoor markets are even more widespread. On any given day, shopping in the city with the world's largest shopping mall floor space (5.5 square kilometers) could begin in an upscale fashion mall and end at a flea market!
AGODA EXTRA: Shopping in Jakarta is so popular that the city reserves an entire month for it! The Jakarta Great Sale is an annual event that takes place during June and July, and more than 130 malls, markets and hotels join the festivities by offering shoppers discounts of up to 70 percent.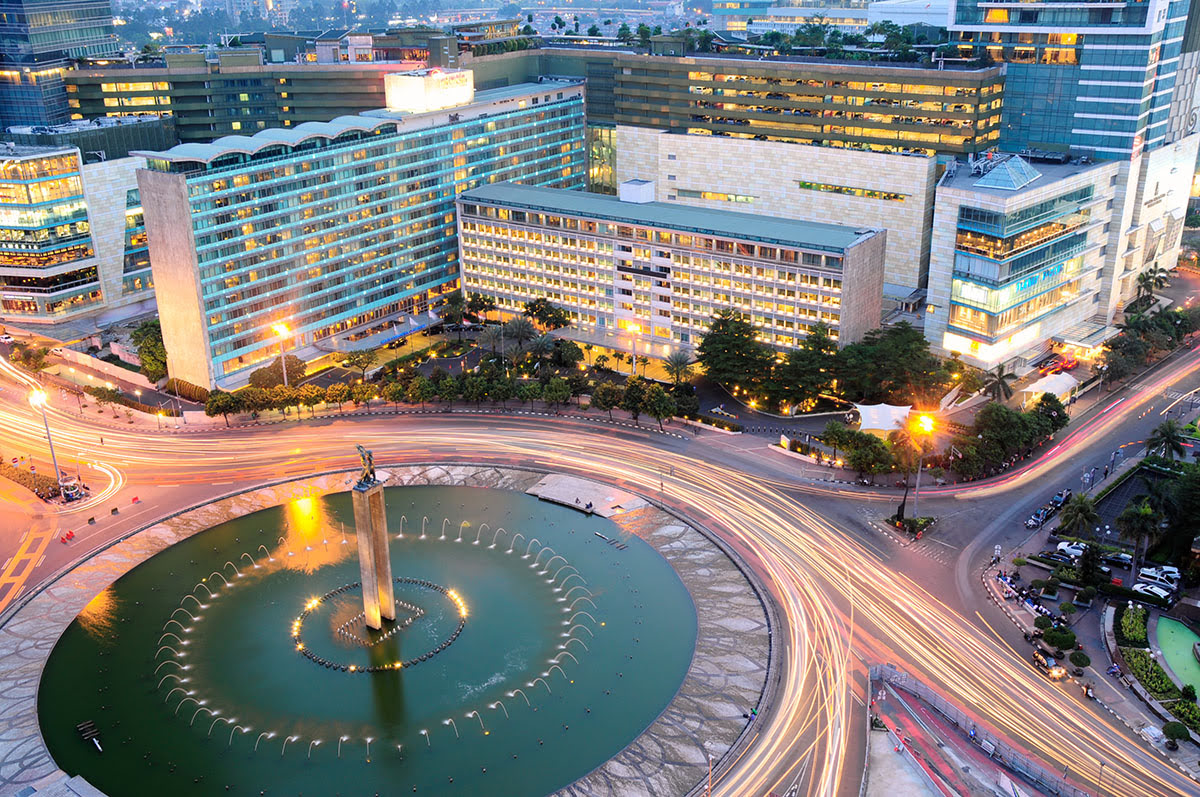 1. Take the whole family for a shopping getaway at GRAND INDONESIA
Lavish and large, the Grand Indonesia is not only a shopper's paradise but also a perfect place for a day out with the family. The complex's East Mall and West Mall, linked together by the Grand Indonesia Skybridge, are near Jakarta's Welcome Monument, or Selamat Datang Monument, an iconic statue depicting the nature and aspirations of the people of Indonesia. Browse through 10 levels of more than 200 brand name and trendy clothing stores and 100-plus upscale restaurants and fast food chains. Explore Indonesian culture at Galeri Indonesia Kaya, and while you're in West Mall, pass by the dancing fountain show. On ground level, you'll find a state-of-the-art cinema and a playground where little ones can run off some energy.
EXPLORE MORE JAKARTA HOTELS TODAY
Source: By Midori, Wikimedia Commons
2. Find Indonesian traditional clothing & handbags at PASAR BARU
With more than 150 traditional markets in Jakarta, it's tough to say which one is a local favorite, but if you base the choice on age and size, Pasar Baru is the hands-down winner. Built in 1820 and based in Central Jakarta, Pasar Baru is not only one of the oldest shopping districts in the city, but it is so large that it commands its own zip code! Locals refer to the district as Little India, due to the large number of Indian immigrants who settled there, and thousands of Jakartans flood the market daily to stock up on local wares and basic necessities. Step inside the winding corridors of Pasar Baru to find everything from affordable textiles and Indian spices to musical instruments and trendy footwear. And don't forget that bargaining is fair game for anything!
EXPLORE MORE JAKARTA HOTELS TODAY
3. Browse through ancient Indonesian artifacts & Javanese art at JALAN SURABAYA
On the edge of Jakarta's most modern neighborhood lies a street filled with ancient relics. Put your expert eye to the test while shopping along Jalan Surabaya, where shopkeepers hawk everything from brass utensils to Wayang puppets. On top of the staggering number of antique stores, the area also attracts art aficionados and bookworms who love a good bargain. The market has been a mainstay in the heart of the city since the 1970s and has attracted celebrities like Mick Jagger, Sharon Stone and former U.S. President Bill Clinton.
EXPLORE MORE JAKARTA HOTELS TODAY
4. Feel like you're in a luxury mall with discount prices at BLOK M
Blok M has gained a reputation in Jakarta as the shopping district for great deals, and for good reason. Located in South Jakarta, the main shopping centers in the district are Blok M Square and Blok M Plaza. Both centers are known for their dizzying array of discount products. Spend the day haggling for even bigger savings on electronics, jewelry, clothing and accessories, and when you've filled your shopping bags, head to Little Tokyo, or Jalan Melawai, just adjacent to the complex, to refuel at one of the authentic Japanese restaurants for which the area is famous.
EXPLORE MORE JAKARTA HOTELS TODAY
5. Pick up Indonesian arts & crafts at ANCOL ART MARKET (PASAR SENI)
Try your hand at creating an art piece, or have your portrait painted on-the-spot at Jakarta's most complex art adventure. Connected to Ancol Dreamland, the Ancol Art Market features more than 100 unique Indonesian arts and crafts stalls and cultural opportunities. Watch Javanese batik painters in action, or catch a Wayang puppet show. Vendors also specialize in silversmithing and traditional cooking and present hands-on workshops and culinary festivals throughout the week. The market is one of the only places in the world where locals still create textiles using the double ikat weaving technique, a rare craft perfected solely in Indonesia, India and Japan.
EXPLORE MORE JAKARTA HOTELS TODAY