Located on the western side of Kyoto is where visitors will find the quaint village community of Arashiyama. First inhabited by people during the Heian Period, its history dates back to the early 700s, and Arashiyama continues to welcome residents and tourists alike to this day. Arashiyama is situated along the banks of the Katsura River and is adorned with fragrant cherry blossom trees and lush bamboo forests. Arashiyama is considered to be the tucked-away region of Kyoto and offers a calming respite from the other heavily populated districts of the city. It is one of the most popular nature lover's destinations, thanks to its famed monkey forest, bamboo grove, and river adventures. Arashiyama also is home to a variety of historic temples and shrines, boutique shops, fine eateries, and independently-owned tea houses. For those who are looking to explore the quieter side of Japan, keep Arashiyama on your radar!
Outdoor Attractions in Arashiyama
Not only does Arashiyama showcase some of the most beautiful temples and shrines in Japan, but it also has a lot of nature and new-age attractions for those who are searching for a varied learning experience. Whether you are in the mood for a scenic hike or would like to experience local art, there are attractions in Arashiyama for everyone!
Arashiyama Monkey Park
A place that is full of monkey business, Arashiyama Monkey Park is a place where visitors from all over the world are sure to be entertained. Arashiyama Monkey Park is home to the most popular monkey species in Japan, and it welcomes visitors to stop by and observe the primates as they play, eat, and investigate you. Guests will get to watch over 120 Japanese macaques in the protective sanctuary of the park.
Arashiyama Monkey Park is located at the top of Monkey Mountain. To get to the park, guests will climb up a long stone staircase that is adorned in luscious foliage. Once at the park, there is a sign that congratulates everyone for having the stamina to make it to the top! Guests will find benches to rest on and an assortment of snacks that can be fed to the monkeys at the park. Be sure to check out the safety rules before interacting with the monkeys.
Arashiyama Monkey Park is open from 9am to 4pm daily.
Kimono Forest
Unique and beautiful, the Kimono Forest is an unusual attraction that boasts vibrant colors and fun designs. Kimono Forest is a true work of art and provides guests with the opportunity to see the new and old school designs that make up the most notable fashion in Japan – the kimono! Kimono Forest is located just a short distance from Randen Arashiyama Station and features hundreds of indoor and outdoor tubular pillars showcasing brilliant fabrics that make up the kimonos worn in Japan. Each fabric is handcrafted and offers breathtaking designs. Visitors can wander up and down the paths checking out all of the fabrics and get lost in the maze.
Kimono Forest is open until 9pm each night, and admission is free.
Tenzan-no-yu Onsen
Enjoy the healing natural hot spring waters at one of the only onsens in the area at Tenzan-no-yu Onsen, just outside of downtown Arashiyama. Tenzan-no-yu Onsen is a bathhouse complex that features an outdoor hot springs bath that can be soaked in day or night. The naturally mineral-rich water is healthy and can heal numerous health-related issues. For those who would rather bathe indoors, there are indoor baths and cleansing areas inside of the the building. While waiting to enter into the tubs, guests can enjoy some local cuisine at the spacious indoor restaurant or pull up a seat on one of the plush lounging chairs. There is an on-site massage service available for those who want to relieve achy muscles.
Tenzan-no-yu Onsen is open from 10am to 1am every day of the week except for the third Monday of each month. Admission to get into the onsen is 1050 JPY for adults and 500 JPY for kids. Experience the natural healing powers of the hot springs water at this onsen!
Sagano Scenic Railway
Hop aboard one of the antique rail cars, and be ready to take the sightseeing ride of a lifetime along the Sagano Scenic Railway that follows the Hozugawa River! This route is known as the romantic ride, but it also is an ideal activity to do with friends and family members and provides visitors with a unique way to see the city and countryside. While on the train, passengers will get to take a 25-minute trip through tunnels, forests, meadows, and the jungle. Each train car has windows that can be opened during a warm and sunny day to add to the scenic experience.
The train runs daily from 9am to 4pm, except for Wednesdays and admission is 630 JPY per person. Reservations should be made in advance as Sagano Scenic Railway is a popular attraction.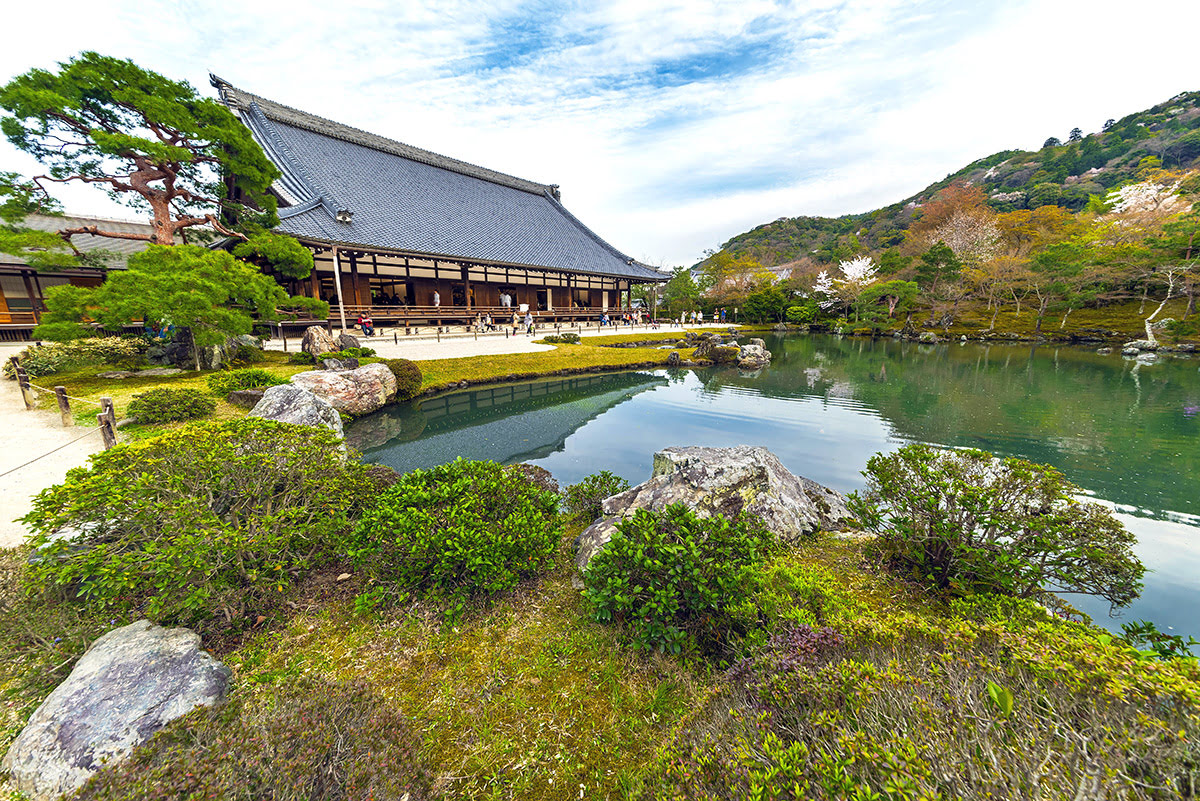 Historical Attractions in Arashiyama
Arashiyama is located in a historically significant region and is home to a sprinkling of ancient shrines and temples spread throughout the region. For those who want to learn more about the ancient religious practices and traditions of Arashiyama and its people, check out these noteworthy historical attractions.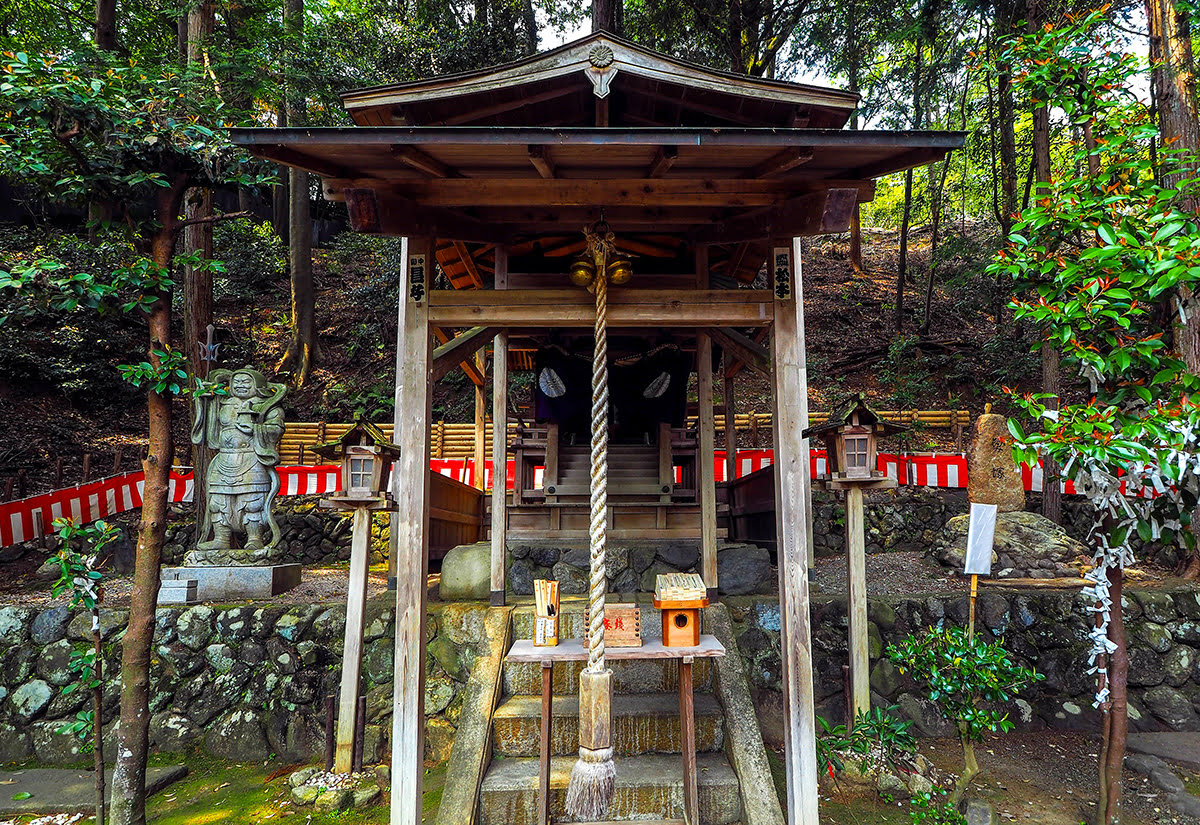 Mikami Shrine
Constructed during the Kamakura period, Mikami Shrine is an ornate wooden religious structure that celebrates the history of Buddhism in the region. It consists of a main building that is used for worship as well as smaller buildings that are believed to have been built during the same period. At the shrine complex, visitors will be welcomed by a grand two-story high entry gate that is just as decorative as the buildings that will be seen within. The inside of the shrines are adorned in simple architecture with a few sculptures. Be sure to check out all of the buildings and ask the staff about the history of each. Mikami Shrine is considered to be historically important to the region and welcomes guests to go inside and explore it further.
The complex is open to visitors from 9am to 5pm daily, and interestingly enough, it is said that visiting this shrine helps people who are experiencing hair loss.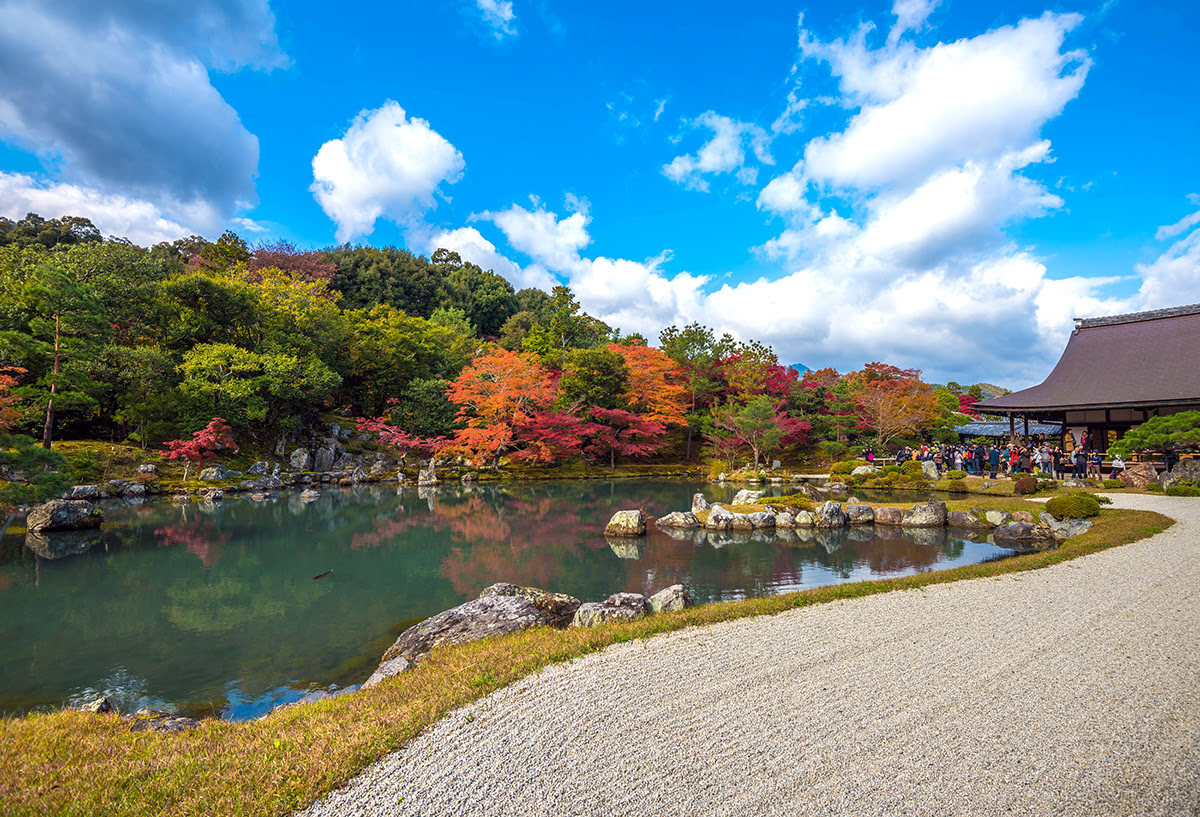 Tenryu-ji Garden
Complete with a stunning Zen garden and a historic temple that pays tribute to the region's history, Tenryu-ji Garden is one of the top-rated attractions in all of Arashiyama. It nestles up against the mountain and offers an astounding array of natural colors all throughout the year. For those who visit during the spring and summer months, you will get treated to the bright and vibrant flowers and cherry blossom trees. During the fall months, you will be greeted by the rich autumn colors that frame out the temple in a way that you have to see to believe.
Tenryu-ji Temple is located within the complex of Tenryu-ji Garden and is considered to be the most important Zen temple of the city. This temple was constructed in 1339 and features its own Rinzai Zen school. While at Tenryu-ji Garden, guests can stroll around the garden, take photos, and explore the temple.
Tenryu-ji Garden is open from 8:30am to 5:30pm daily, and admission into the garden is 500 JPY and an additional 300 JPY to access the temple building.
Nison-in Temple
Another popular tourist destination within Arashiyama, Nison-in Temple is a charming building that is adorned in lush maple and cherry blossom trees. It is a beautiful attraction that is best visited during the fall and spring months to get the most out of its seasonal colors. Nison-in Temple is part of the Tendai sect Buddhist religion and holds historical significance in the area. Nison-in Temple was constructed during the Heian Period and it features a statue of Buddha as well as a figure who has reached enlightenment. The temple features ornate architecture and a simple interior that is perfect for reflecting on the true meaning of life and finding some inner peace.
Nison-in Temple is open from 9am to 4:30pm daily, and the admission price is 500 JPY.
Adashino-Nembutsu-ji Temple
In memory of 8,000 Buddhists who departed the living without any family, Adashino-Nembutsu-ji Temple honors their lives with a Buddhist statue in each of their honor. This stunning temple features over 8,000 mini-statues that represent the departed and a large-scale Buddhist statue to watch over them all. It is a sight that guests have to see in order to believe. It evokes emotion and invites visitors to reflect on those who have departed. While at Adashino-Nembutsu-ji Temple, tourists can visit the main temple building and check out its simple historic architecture. If you plan to be in the city on August 23rd and 24th, head up to the temple and take part in the candle lighting ceremony that honors those who have passed on and who are remembered here. There is a trail that leads from the temple to the base of the mountain that is worth exploring.
Adashino-Nembutsu-ji Temple is open from 9am-4.30pm March-November and from 9am-3:30pm December-February. Admission is 500 JPY for adults, 400 JPY for junior high and high school students, and free for kids.
Hotels in Arashiyama
From traditional ryokan guest houses to hostels and national chain hotels, Arashiyama has lodging options that appeal to guests from all walks of life. Here is a look at some of the top-rated hotels in the area.
Japanese Garden Ryokan Yamazaki
A zen-like experience where guests can immerse themselves in the meditative culture of Japan, Japanese Garden Ryokan Yamazaki is a relaxing hotel that is located near the downtown area. This guesthouse hotel offers 14 rooms that each have their own distinct personality. Rooms at Japanese Garden Ryokan Yamazaki can be reserved for as little as 16,000 JPY per night during the non-peak travel months of the year. Whether traveling solo or as part of a group, guests are sure to get a room that suits their lodging needs perfectly.
Japanese Garden Ryokan Yamazaki features rooms with traditional Japanese furnishings and adornments. Whether booking an economy room or a family suite, each room comes with tatami mat flooring, bed rolls or futons, bathrooms smart utilities, a dining area, and beautiful views of the gardens on the exterior. While staying at Japanese Garden Ryokan Yamazaki guests can take advantage of amenities such as a coffee and tea maker, a coffee machine, complimentary breakfast, a family room for the kids, and access to the garden.
FIND & BOOK A HOTEL IN ARASHIYAMA TODAY
Togetsutei Hotel
Featuring a spa-like atmosphere complete with stone and wood communal tubs, Togetsutei Hotel was designed with relaxation in mind. This hotel offers a tranquil ambiance that is perfect for healing the mind, body, and soul. It is located close to the city center, yet feels so far away. Rooms at Togetsutei Hotel can be reserved for around 46,000 JPY per night during the non-peak travel months and guests will be in for luxury accommodations that are sure to exceed their expectations. This hotel offers the perfect mix of modern comforts and traditional Japanese design. While staying at Togetsutei Hotel guests will have the opportunity to connect with nature like never before.
When booking a room at Togetsutei Hotel, guests will be able to choose between several room options that vary from standard economy rooms to luxury suites with cypress bathes included. Each room features traditional Japanese furnishings and decor and offers a view of the gardens outside. While staying at Togetsutei Hotel, guests are welcome to soak in the communal tub, relax in the lobby, detox in the sauna, or kick back in the hot tub. Guests are provided with complimentary breakfast as well as coffee and tea while staying at this hotel.
FIND & BOOK A HOTEL IN ARASHIYAMA TODAY
Arashiyama Hot Spring Arashiyama Benkei Ryokan
An elegant indulgence for those who are looking to pamper themselves while visiting Arashiyama, Arashiyama Hot Spring Arashiyama Benkei Ryokan is an exclusive lodging option that offers rest, relaxation, and all of the modern conveniences of home. Rooms at Arashiyama Hot Spring Arashiyama Benkei Ryokan start out at 65,400 JPY per night for this 5-star luxury hotel. This hotel is located less than a mile from both Nonomiya Bus Station and Saga Arashiyama Station giving visitors quick access to all of the attractions in Arashiyama and beyond.
Each room at Arashiyama Hot Spring Arashiyama Benkei Ryokan is decked out in traditional Japanese furnishings and decor. The rooms offer tatami mat flooring, private and community bathes, large picture windows that look out into the garden and plush bedding that promotes restful sleep. At the hotel, guests will find a family area with toys for the kids, an onsite restaurant, vending machines with snacks, a healing hot spring soaking tub, a gift store, a hot tub and sauna, and massage services. Arashiyama Hot Spring Arashiyama Benkei Ryokan is a peaceful oasis for the travel weary soul.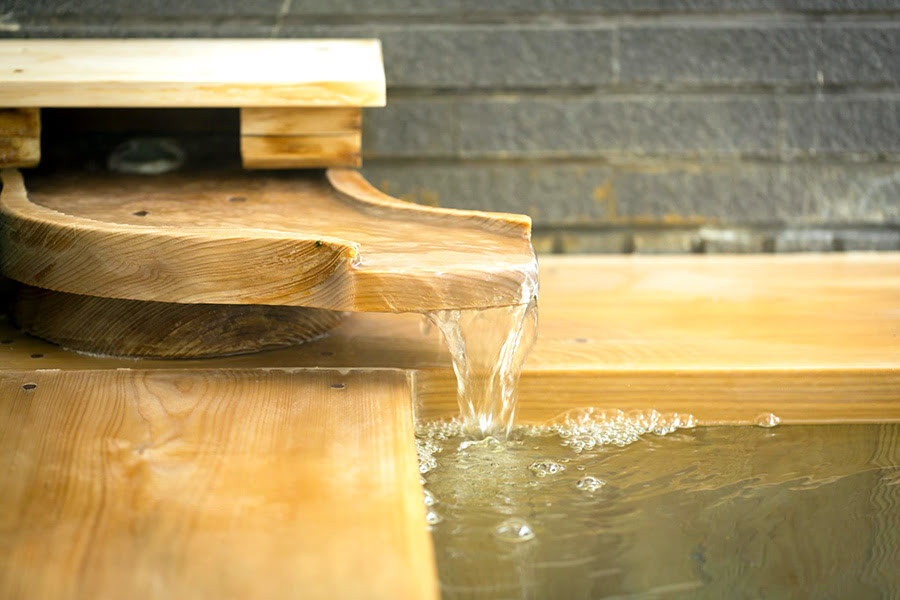 FIND & BOOK A HOTEL IN ARASHIYAMA TODAY
Kyoto Traveler's Inn Hotel
A bright and vibrant hotel that visitors can book for less than 6,400 JPY during the non-peak travel months of the year, Kyoto Traveler's Inn Hotel is an excellent lodging option for those who are traveling with family, alone, or with friends. This hotel is located right in downtown and is within walking distance of Higashiyama Subway Station and Keage Subway Station making it easy to get around the city and countryside. Kyoto Traveler's Inn Hotel is also located in walking distance from a variety of temples and local attractions. This hotel offers great value for the money paid for a reservation.
Kyoto Traveler's Inn Hotel features a bright and fun vibe that can liven just about anyone's mood. The rooms in this hotel are adorned in bright colored linens with natural colored furnishings and wall tones. Guests can choose between a standard room with single beds all the way up to a triple deluxe room with multiple beds. Each room comes with an electric kettle, a Japanese dining set, western style beds or futons, fresh linens, and toiletries. Amenities included with a reservation include a family room for the kids, internet access, a massage service, an onsite restaurant and coffee shop, and a hot springs bath.
FIND & BOOK A HOTEL IN ARASHIYAMA TODAY