For many foreign visitors, Kyoto encapsulates the essence of Japan, and renting one of the many traditional houses in Kyoto adds an extra touch of authenticity to any holiday in Japan. Traditional houses, or machiya, for rent are scattered throughout the city, and many are located near top Kyoto attractions and things to do. Explore the most traditional machiya for rent in Kyoto, and start planning an itinerary according to where you decide to stay!

Traditional Houses in Kyoto
For hundreds of years, Kyoto's center city was dominated by machiya, traditional Japanese townhouses. These multi-story, wooden structures typically housed merchants and craftspeople and often featured a shop in the front of the building. The storefront would have been separated from the living space by a sliding wood and paper door called a shoji. Since taxes were assessed based on a the width of a building's street frontage, not its overall size, machiya were built to be narrow but long and frequently, tall.
Many of Kyoto's machiya have disappeared over the centuries, but a significant number have survived and continue to serve as private residences. Visitors who are interested in an immersive cultural experience will find plenty of these traditional houses in Kyoto to book as vacation rentals. These townhomes feature the classic wooden architecture, authentic tatami floors, and shoji. Many also boast interior open-air courtyards and rock gardens.
Despite their traditional design elements, these holiday rentals are nothing close to antiquated. Visitors can rest assured that they will have access to all the modern amenities they have at home – and then some! Many traditional houses in Kyoto come with complimentary use of a portable Wi-Fi device, which guests are welcome to take with them as they explore the city during their stay.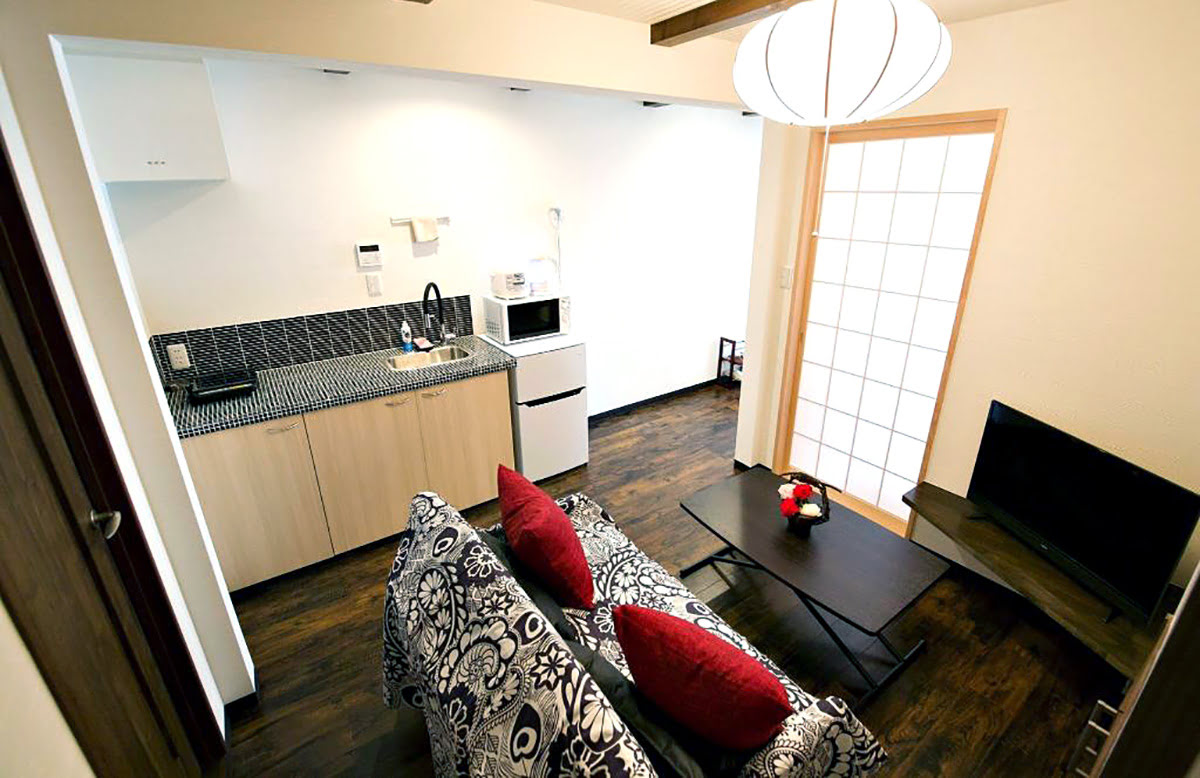 Nearby Toufuji! Toufukuji sta. walk 9mins only!
This Two Bedroom Home Near Tofukuji Station has sleeping space for up to seven guests and a well-equipped kitchen, making it a family-friendly rental option. Located less than a ten-minute walk from Tofukuji Station, this vacation rental is an ideal home base from which to explore all that Kyoto has to offer. Kyoto Tower is less than two kilometers away, so you may not even need to get on a train to see some of the area's most popular attractions.
FIND & BOOK A HOTEL IN KYOTO TODAY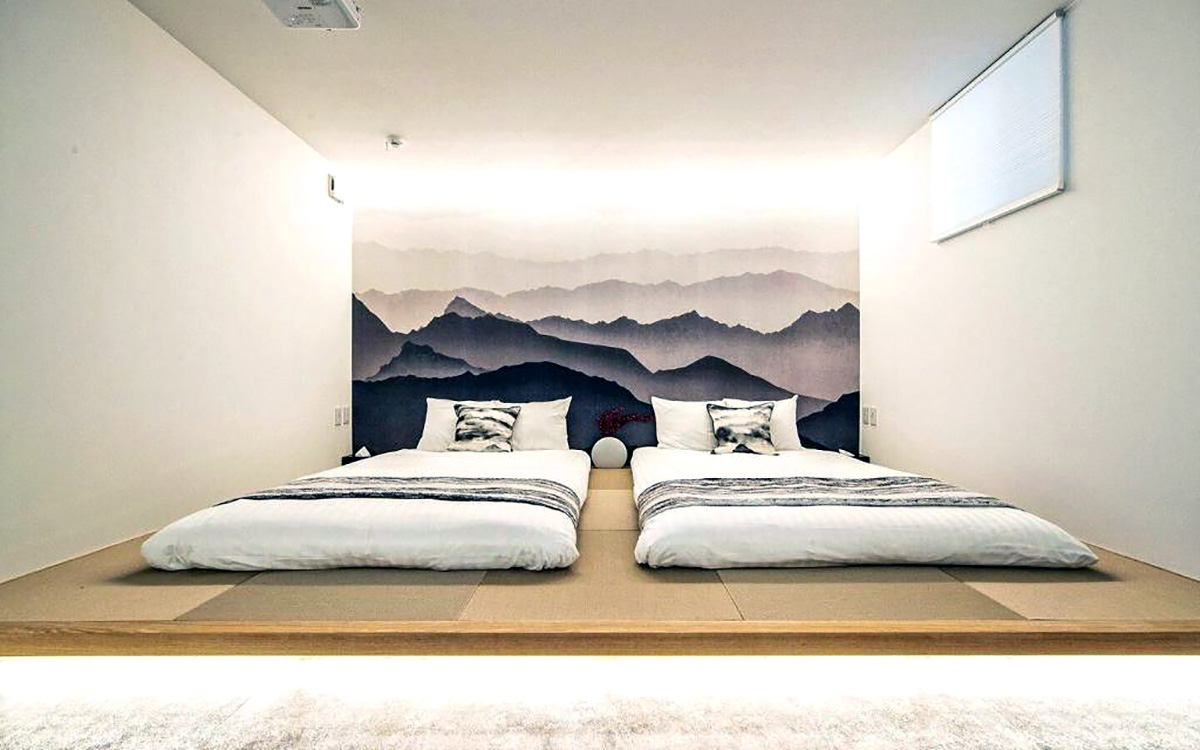 Toki Kyoto 1a★10min Kyoto sta!New design house!
This updated Two-Story Studio in Central Kyoto beautifully combines traditional aesthetics with modern luxuries. The machiya features two double beds on a traditional sleeping platform, so it can comfortably sleep up to four adults. This gorgeous rental home features high-end finishes including a soaking tub and rain shower. The indoor garden lets in light and adds a sense of serenity to the living space. Located in the center of Kyoto, this elegant vacation rental is a short walk from multiple rail stations and some of the city's most popular attractions, including Fushimi Inari Shrine.
FIND & BOOK A HOTEL IN KYOTO TODAY
Toki Kyoto 2b ★10min Kyoto sta!New design house!
This elegant One Bedroom at Toki Kyoto is the ideal holiday rental for a couple or a solo traveler. Located in the stylish Toki Kyoto building, the apartment is thoughtfully decorated with modern design elements that will appeal to discerning travelers. Windows placed near the top of high ceilings let in plenty of light without sacrificing privacy. The Aeon Mall is right around the corner, so groceries and souvenirs are never far away. When it's time to sightsee, guests will find themselves a short walk from Kyoto Station, which provides easy access to the whole city and is less than four kilometers from the famed Kiyomizu Temple.
FIND & BOOK A HOTEL IN KYOTO TODAY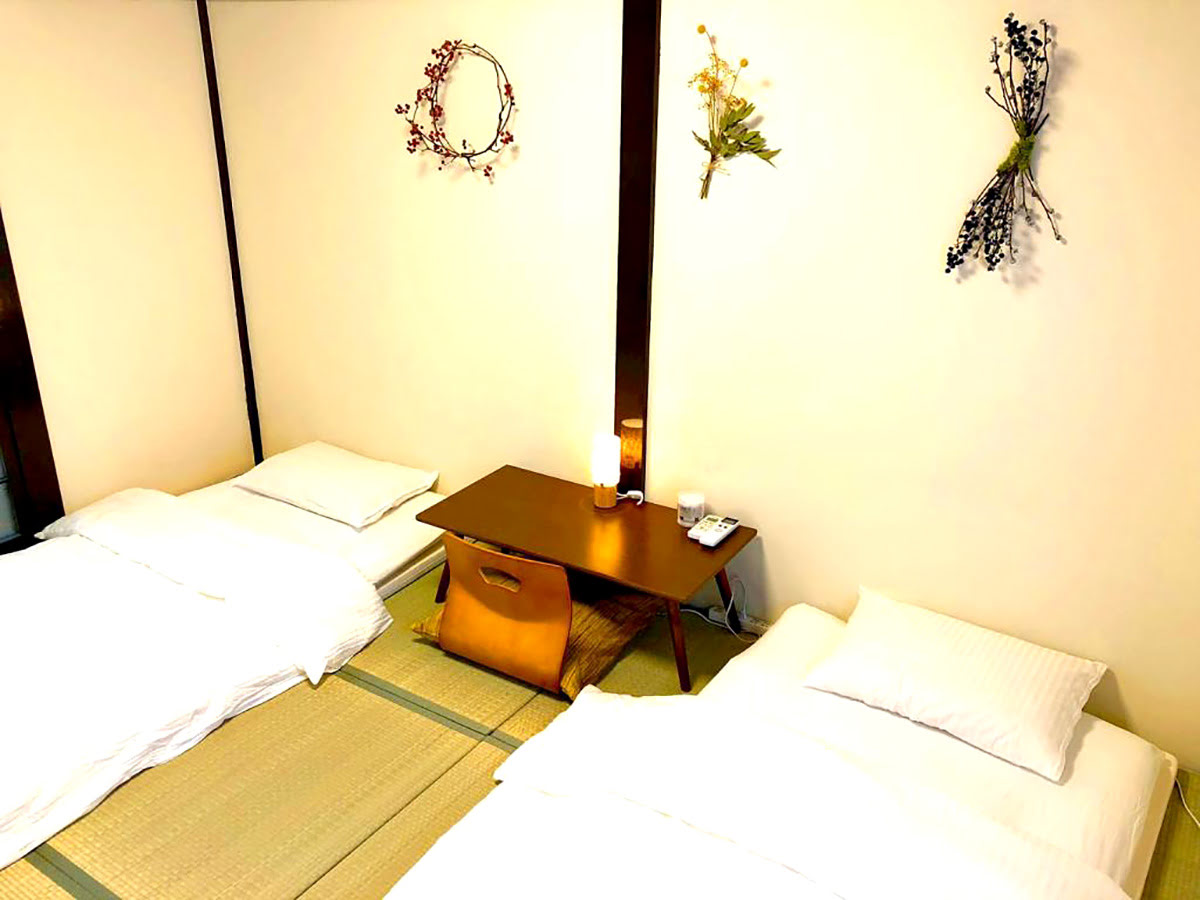 BlackFriday Sale Historic Wooden House! Hasu KT-1
This Historic Wooden Home has one bathroom, a partial kitchen, and can sleep up to seven people. Amenities include air-conditioning, wi-fi, and cable TV as well as toiletries and linens. One of the most charming traditional houses in Kyoto, this holiday rental puts guests in the center of the action: it's less than a kilometer to To-Ji Temple, the Kyoto Aquarium, and Kyoto Station.
FIND & BOOK A HOTEL IN KYOTO TODAY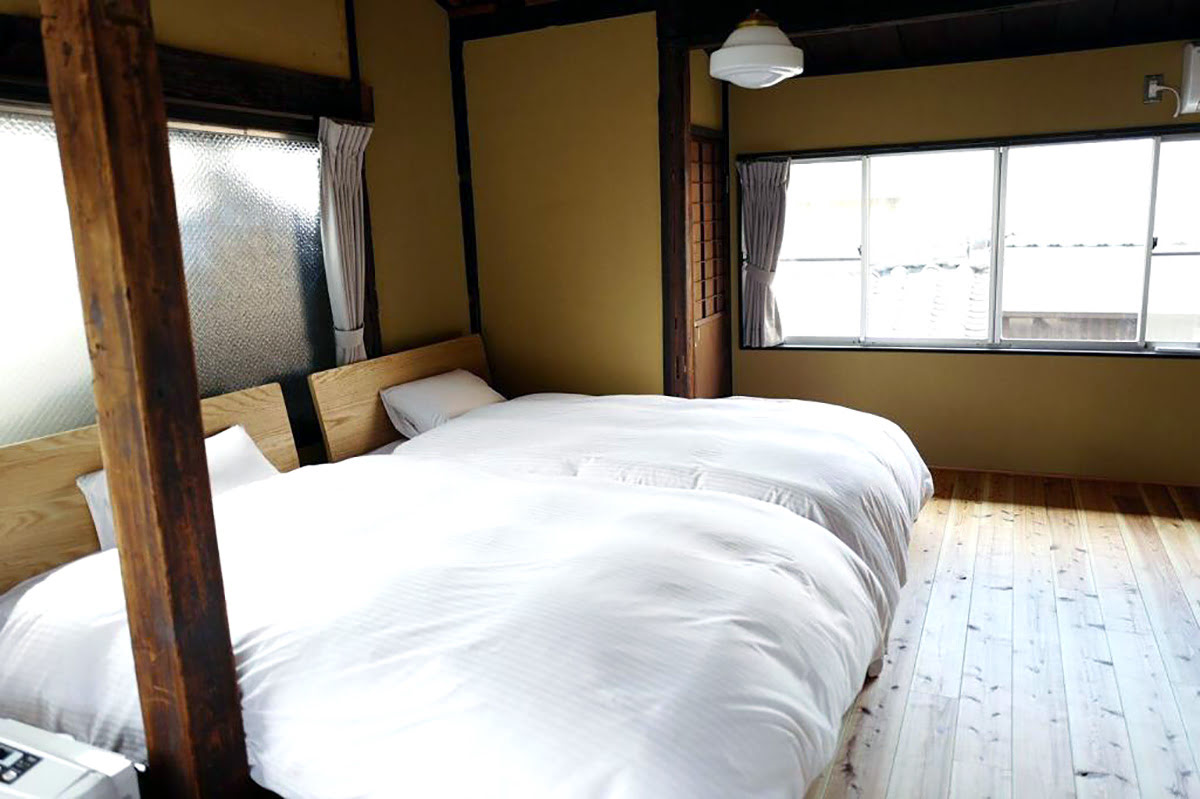 Traditional House for 3 Honmachi Shin 5chome South
Centrually located, this Traditional Home in Kyoto Honmachi South is ideally situated for exploring Kyoto's many religious and cultural landmarks, including Sanjusangendo Hall, which is just steps away. The one-bedroom holiday rental features three semi-double beds in the sleeping loft. The kitchen has everything you need to make simple meals. The home's minimalist aesthetic complements its traditional design and creates a soothing, spa-like atmosphere that makes it the perfect retreat to return to after a day of sightseeing in Kyoto.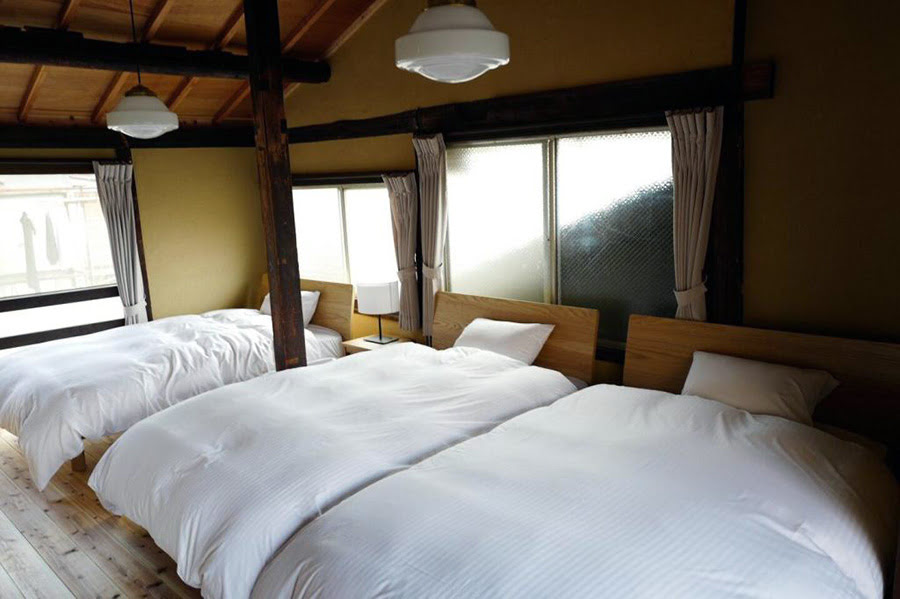 FIND & BOOK A HOTEL IN KYOTO TODAY
Muyusya★Traditional 2 story! Near Kiyomizu Temple!
Larger than many of the traditional houses in Kyoto, the elegant Muyusya Traditional Home has three bedrooms, two bathrooms, and a small private garden. One of the bathrooms features a beautiful soaking tub that sits in front of a large picture window that looks out into the garden. This well-appointed, contemporary rental is centrally located, with many popular attractions less than a kilometer away. Sanjyusangen-do Temple and the Kyoto National Museum are within a 10-minute walk from the home.
FIND & BOOK A HOTEL IN KYOTO TODAY
Home for 5/Kyoto! Honmachi Shin 5-chome
This Traditional Home with Modern Comforts sleeps five adults, thanks to five semi-double beds in a large sleeping loft. The first floor of the holiday rental features a kitchen as well as a spacious dining and living area. In addition, all of the amenities that travelers expect in a hotel can be found in this vacation rental. Plus, guests will have access to a washing machine. Best of all, this machiya is centrally located, and many of Kyoto's most popular attractions, including the impressive Nijo Castle, are within five kilometers.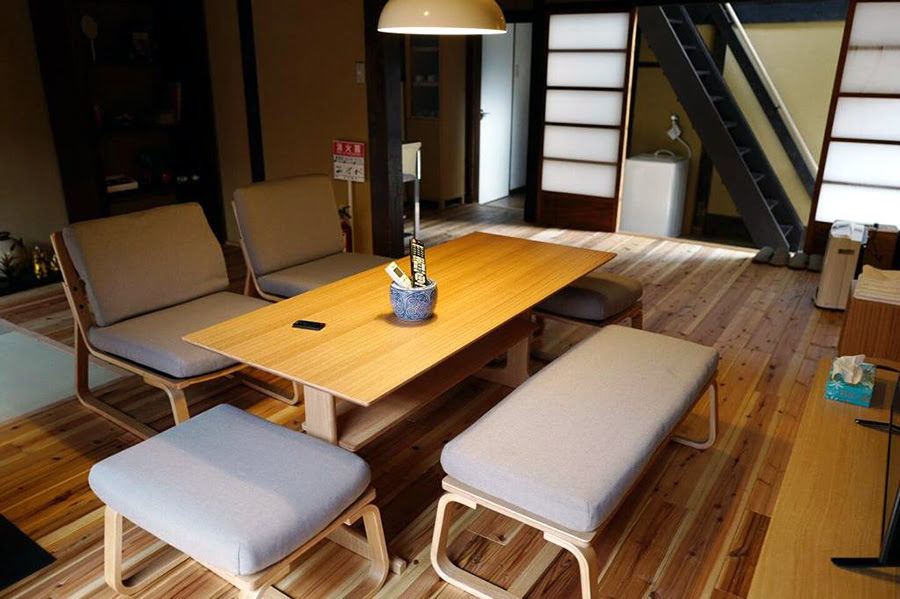 FIND & BOOK A HOTEL IN KYOTO TODAY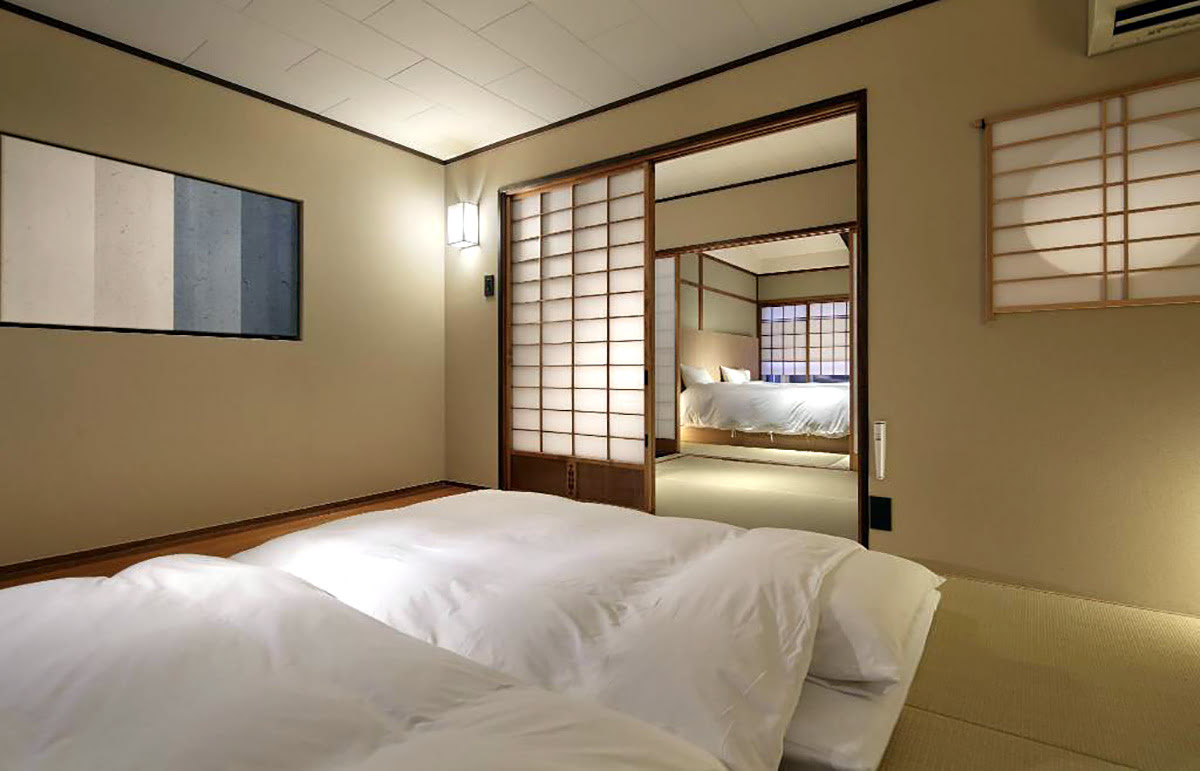 (Legal) Moon Machiya near Kiyomizu Temple and Gion
Located near Gion, Kyoto's famed geisha district, this Traditional Townhome Near the Gion District is within walking distance of great restaurants and upscale boutiques. The second story features two rooms, one with two single beds, the other with three traditional floor mattresses. Downstairs, guests will find a kitchen and dining area, a spacious living room, and a private courtyard garden.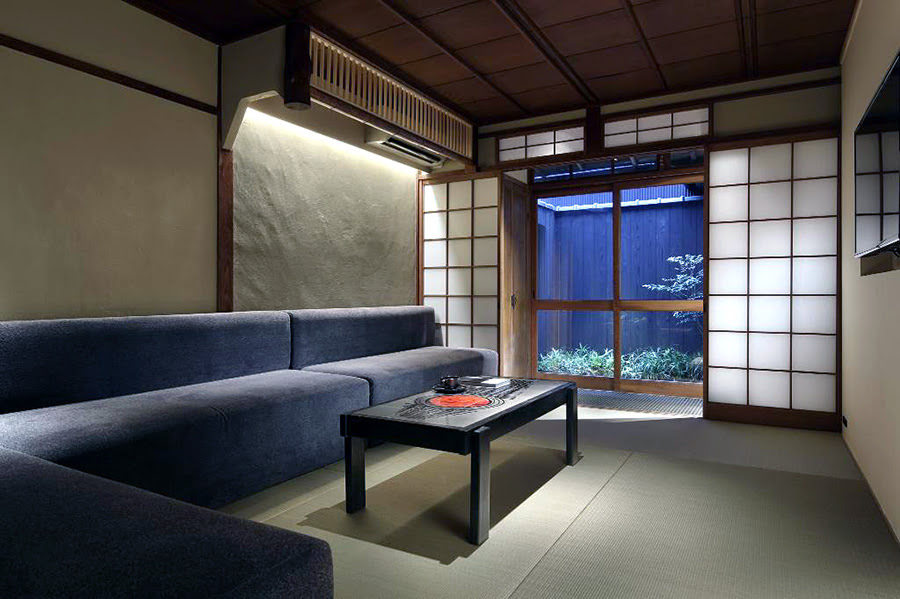 FIND & BOOK A HOTEL IN KYOTO TODAY
Things to do in Kyoto
The hardest part of planning an itinerary for a trip to Kyoto is narrowing down the list of things to see. The city is a history lover's dream, and it wouldn't be hard to spend a week in the area, especially if you're staying in one of the many traditional houses in Kyoto!