The best time to visit Osaka doesn't depend on Japan's most amazing seasons. If your travel itinerary in Osaka coincides with spring cherry blossoms or autumn koyo hunting, that's awesome! But if it doesn't, no big deal. Finding things to do in Osaka in winter and summer is just as easy as watching the leaves change colors!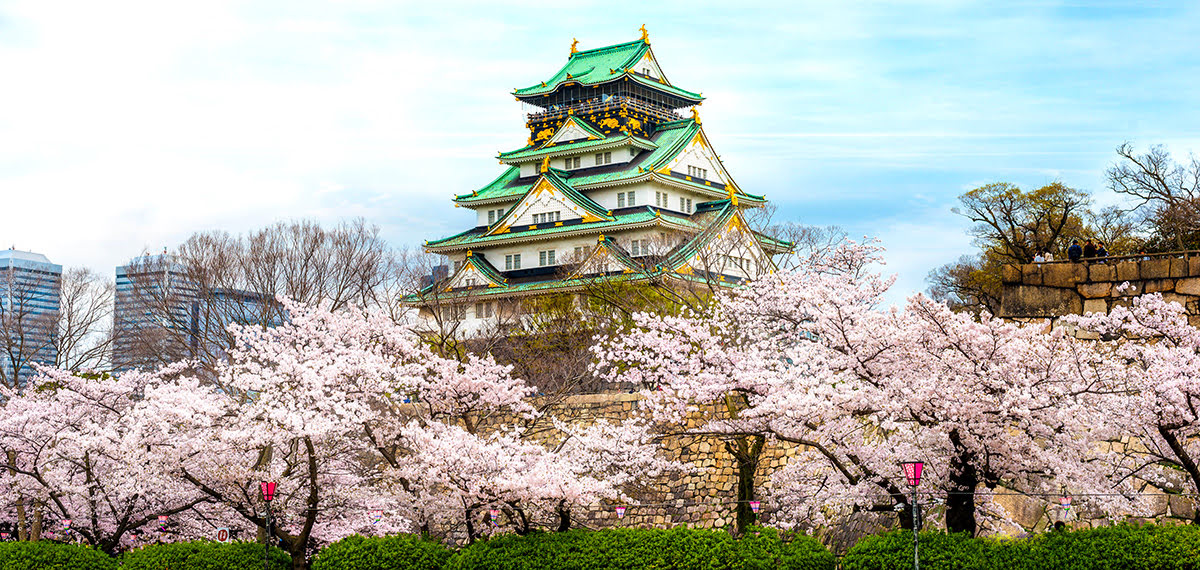 Spring in Osaka
When is spring in Osaka? March to May
What to wear: a light jacket comes in handy during outdoor expeditions and taking an umbrella or raincoat wherever you go is a good idea, also.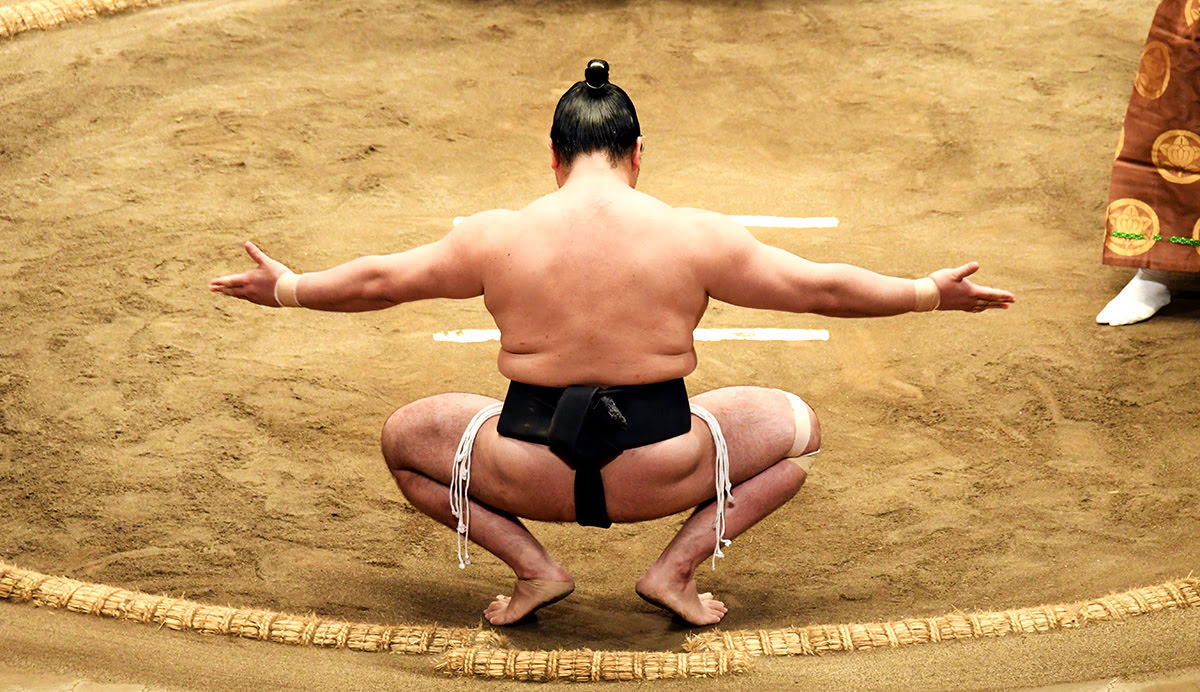 Best things to do in Osaka during spring: cherry blossoms & sumo wrestling
Planning a tour of Japan often depends on when cherry blossoms bloom and when sumo wrestlers wrestle. During springtime, Osaka has both!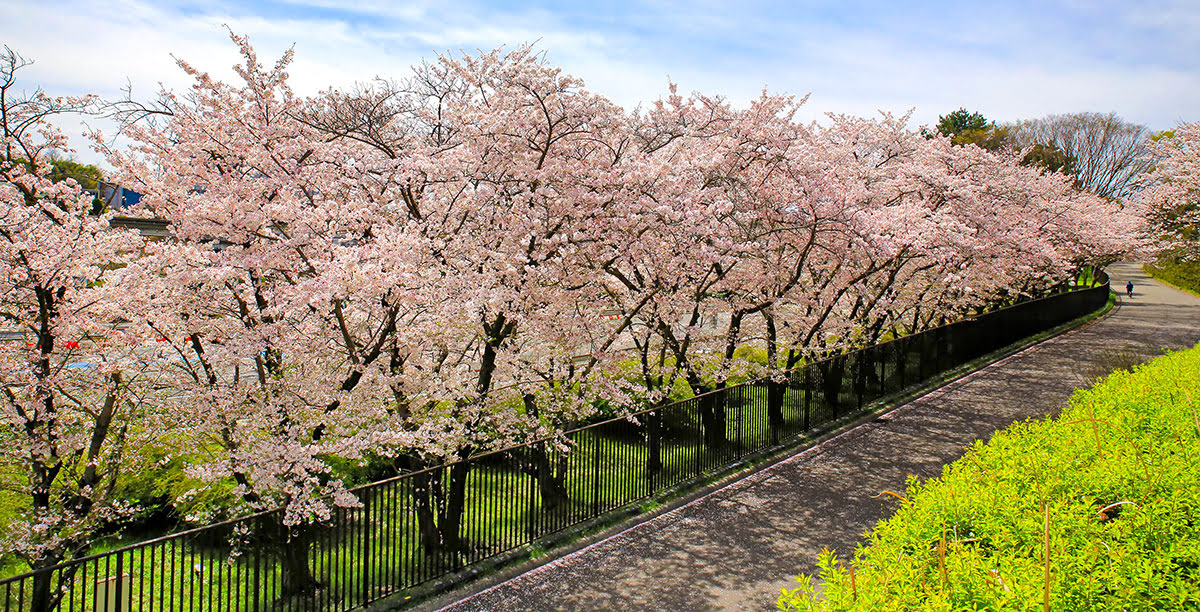 Best time to visit Osaka to see spring cherry blossoms
Nishinomaru Garden in Osaka Castle Park: get a glimpse of Osaka Castle surrounded by more than 600 cherry trees in full bloom. Entry fees to Nishinomaru Garden are separate from Osaka Castle. The park is open from 9 a.m. to 5 p.m. most days, but during springtime, hours are extended until 9 p.m. so that guests can enjoy illuminated tours of the grounds.

Japan Mint: for one week during mid-April, the Japan Mint and Mint Museum open the grounds' private "tunnel of cherry trees" to the public. The 30-minute stroll along the Okawa River is free, but if you're planning to knock out two tours for the price of one, keep in mind that the Mint Museum is closed during the week of cherry blossom tours.

Expo '70 Commemorative Park: cherry blossoms are the highlight in spring, but the former site of the 1970 Japan World Exposition also features plum trees and a variety of nature in its Japanese Garden. Guests can tour the Japan Folk Crafts Museum also while in the park.

Kema Sakuranomiya Park: sit in the shade of more than 5,000 cherry trees while picnicking on the banks of the Okawa River.

Nagai Park: follow walking paths lined with cherry blossoms and admire seasonal flowers in Nagai Botanical Garden.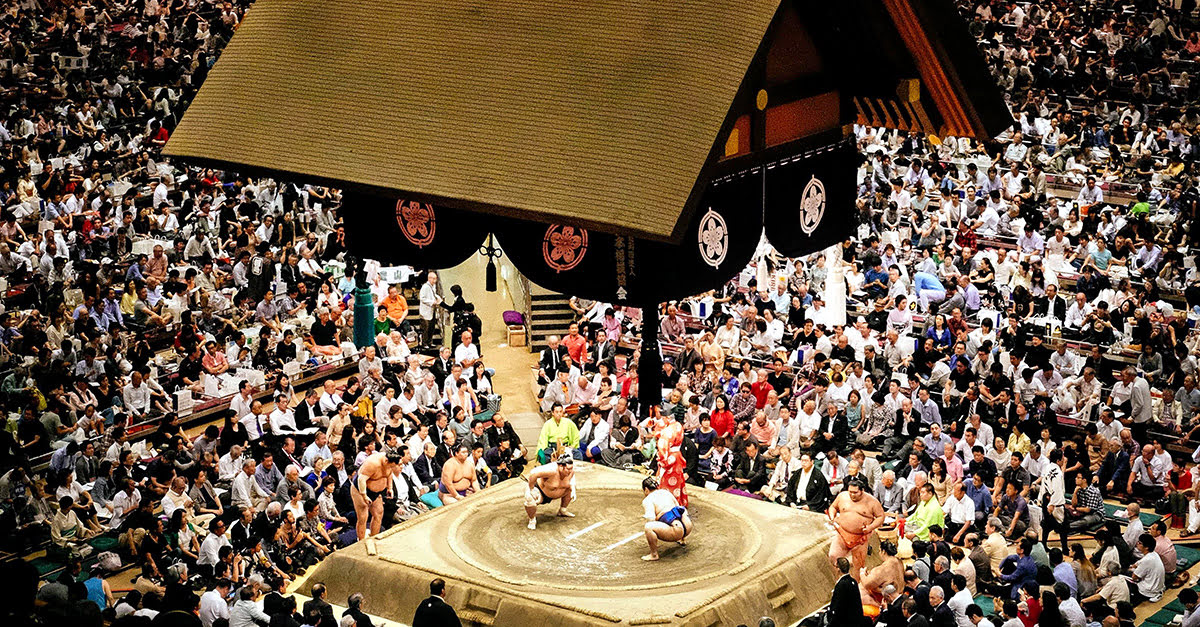 Best time to visit Osaka to see sumo wrestling
The March Grand Tournament is a two-week event that takes place in mid-March every year at EDION Arena Osaka (Osaka Prefectural Gymnasium). Buy tickets online or at the door on the days of each match.
Check In to a hotel or inn near Osaka Castle
Dormy Inn Osaka Natural Hot Springs (Tanimachi)
Hostel Jin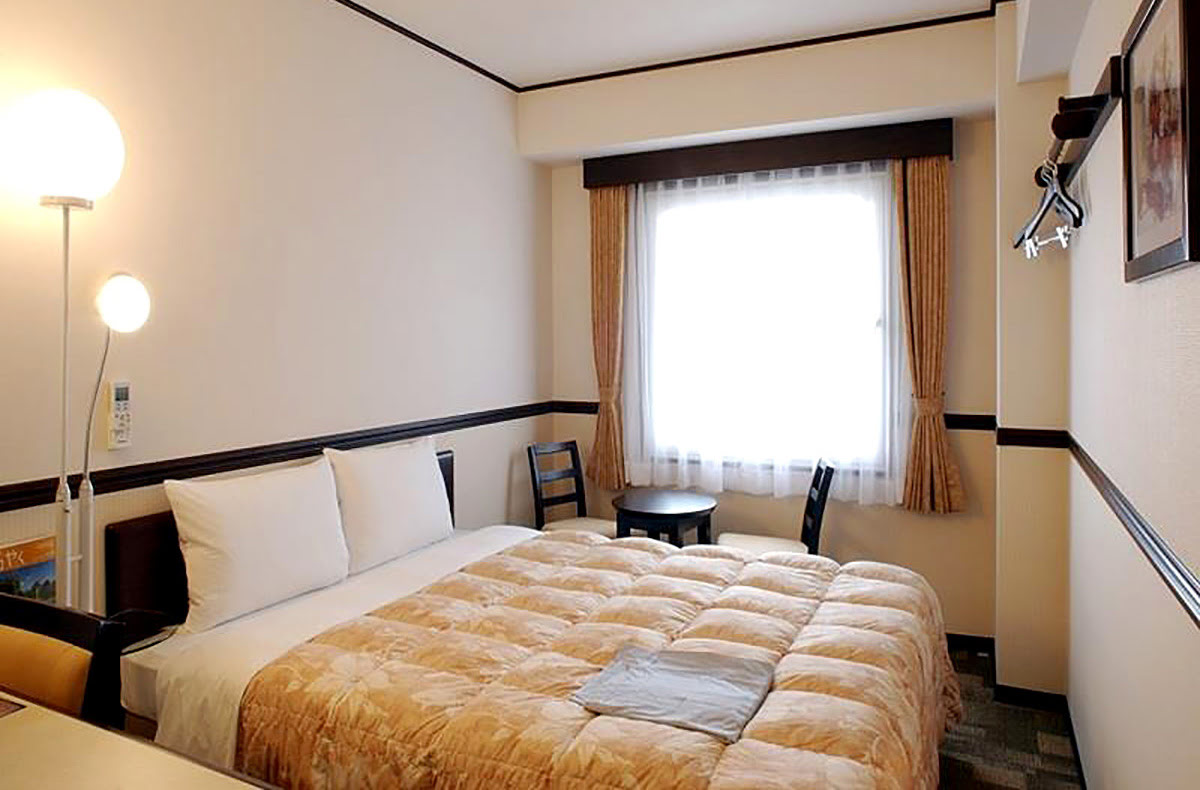 Toyoko Inn Osaka Taniyon Kousaten
Step Out to Nishinomaru Garden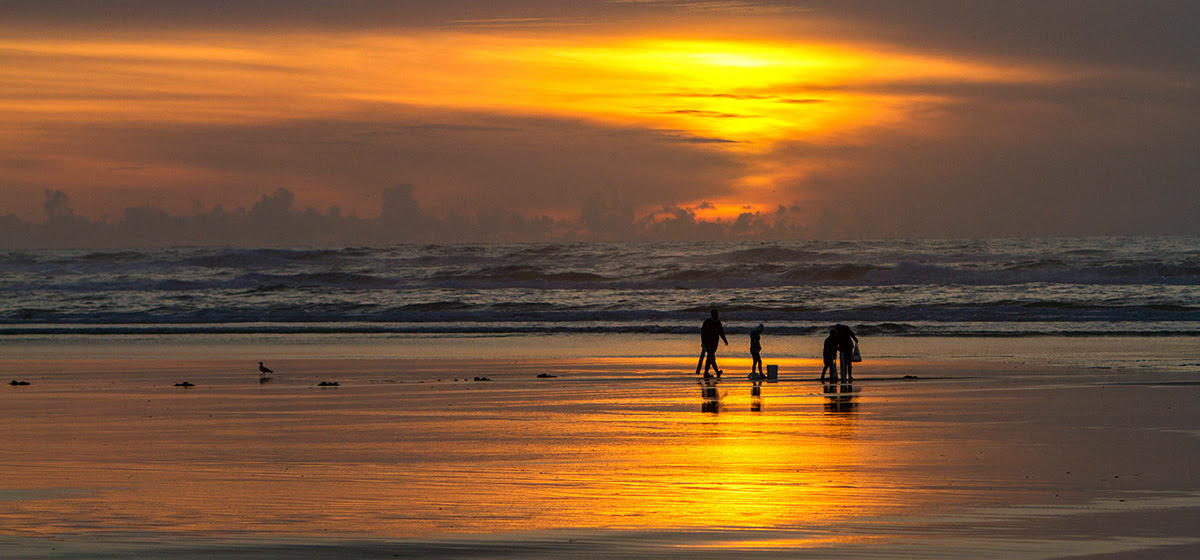 Summer in Osaka
When is summer in Osaka? June to August
What to wear: shorts and short-sleeved shirts are great for daytime temps. Take a light jacket for evenings and throw an umbrella in your backpack if you're traveling during rainy season from mid-June to mid-July.
Best things to do in Osaka during summer: beaches, festivals & fireworks
Summer in Osaka ushers in hot afternoons and sultry evenings. Spend your afternoons on the beach and join an outdoor festival when the sun goes down.
Most popular beaches in Osaka
Nishikinohama Beach Park: popular for its clean sand and accessibility, Nishikinohama Beach Park is perfect for swimming, barbecuing and digging clams on the shores of Osaka Bay.

Rinkuminamihama Beaches (Tarui Southern Beach): go windsurfing in Osaka Bay, or opt to relax under palm trees on this artificial beach just across the bay from Kansai International Airport.

Tan'nowa Tokimeki Beach: dig clams with locals at low tide, and enjoy a day of swimming and picnicking on white sands.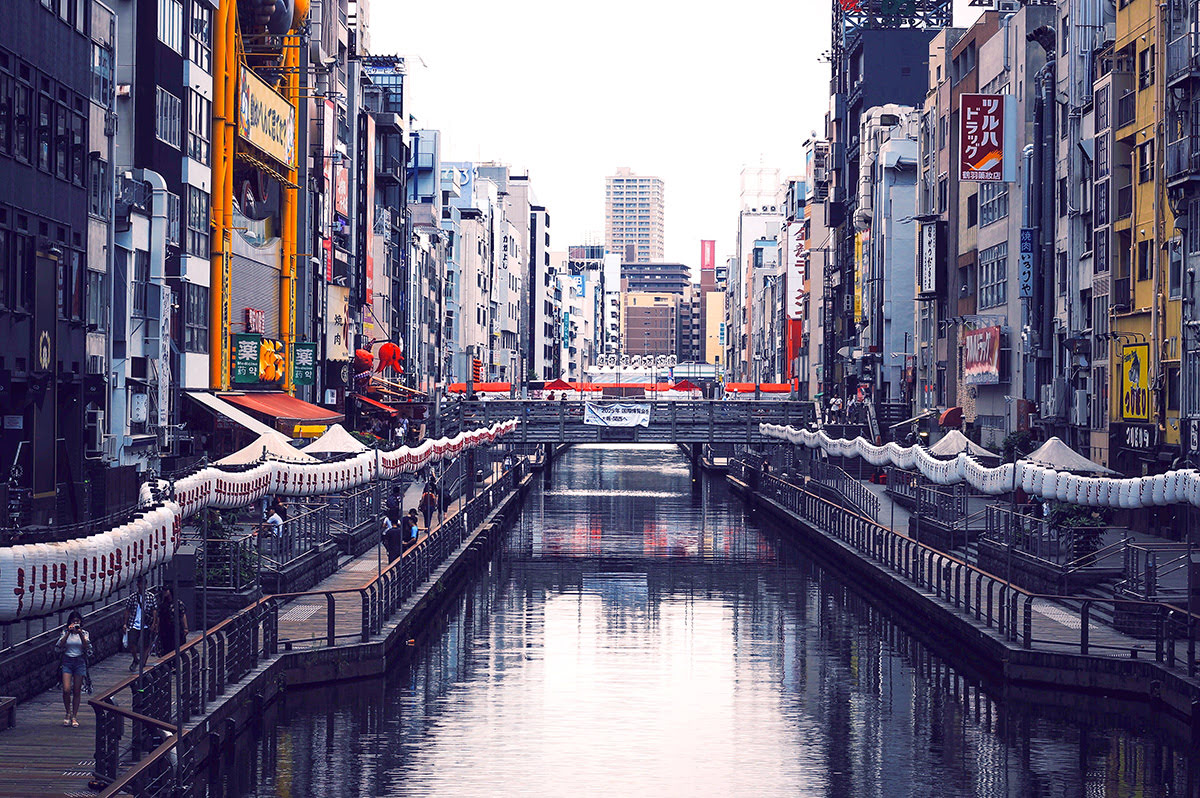 Best time to visit Osaka for summer festivals
Tenjin Matsuri: also known as the Festival of the Gods and one of Japan's top three celebrations, Tenjin Matsuri takes place on July 24 and 25 at Osaka Temmangu shrine. View colorful processions of barges and fireworks displays on the Okawa River.

Hydrangea Promenade (Hydrangea Festival): wander through more than 25,000 hydrangeas from mid-June to mid-July in the Nukata Picnic Site at Fumin no mori park.

Dotombori River Lantern Festival: admire the Dontonbori River under the illumination of traditional lanterns. The celebration takes place during July and August on the Tombori River Walk.

Ikutama Summer Festival: celebrate July 11 and 12 at Ikutama (Ikukunitama Shrine) Shrine with Makura Daiko (Kansai drum) performances and a traditional lion dance.

Aizen Festival (Yukata Festival): this three-day festival takes place from June 30 to July 2. Watch as 12 hand-picked Aizen musume girls dressed in traditional yukata clothing are carried through town on decorated palanquin (man-powered carts).

Shitennoji Sennichi Mairi: the "Thousand Days Festival" kicks off in early August at Shitennoji Temple. Take part in religious prayers and step through a ring of native grasses to earn 1,000 days of good luck.

Sumiyoshi Festival: the final festival of summer takes place from July 30 to August 1 at Sumiyoshi Grand Shrine. Join locals for a parade and the Nagoshi-Harai-Shinji ritual, where women and children dress in Muromachi clothing and pass through a thatch ring for good health.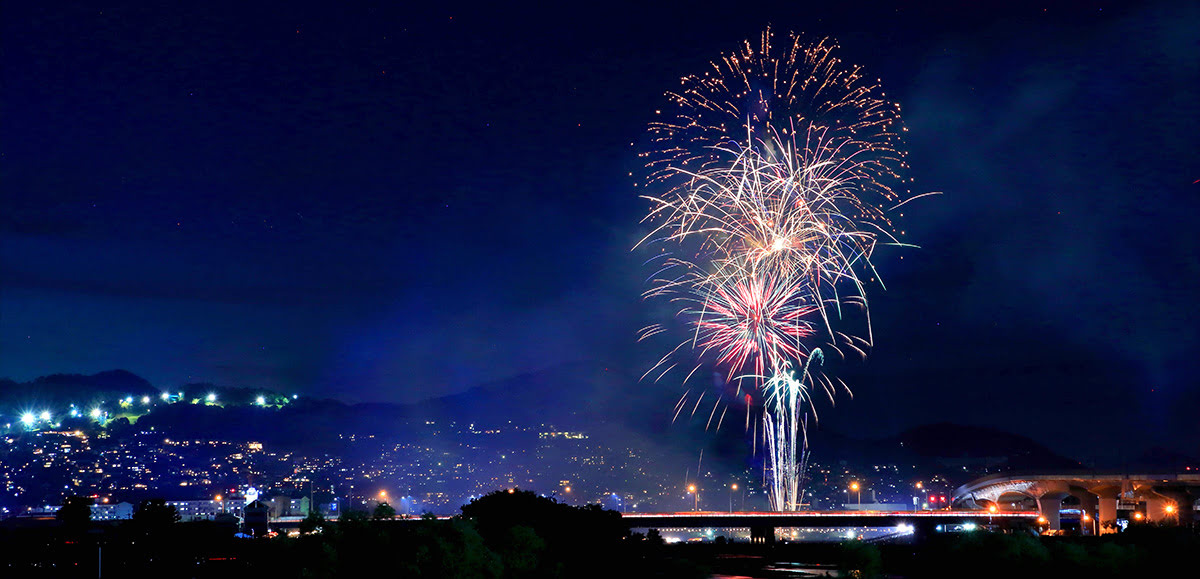 Best time to visit Osaka in summer to see fireworks
Tenjin Fireworks: held in conjunction with Tenjin Matsuri at Temmangu shrine, the Tenjin Fireworks show takes place on July 25 each year. Visitors can watch a fire boat show and traditional musical performances on the same night.

PL Art of Fireworks Festival: considered one of the largest fireworks festivals in the world, this religious event is hosted on August 1 by the Church of Perfect Liberty. The show features more than 10,000 fireworks and takes place at The Great Peace Prayer Tower (Dai Heiwa Kinen To) in Tondabayashi.

Naniwa Yodogawa Fireworks Festival: join more than 1 million onlookers for fireworks along the Yodo River in Yodogawa. The show is free and generally lasts about one hour.
Check In to a hotel or apartment near Tombori River Walk
Candeo Hotels Osaka Namba
Hotel Sunroute Osaka Namba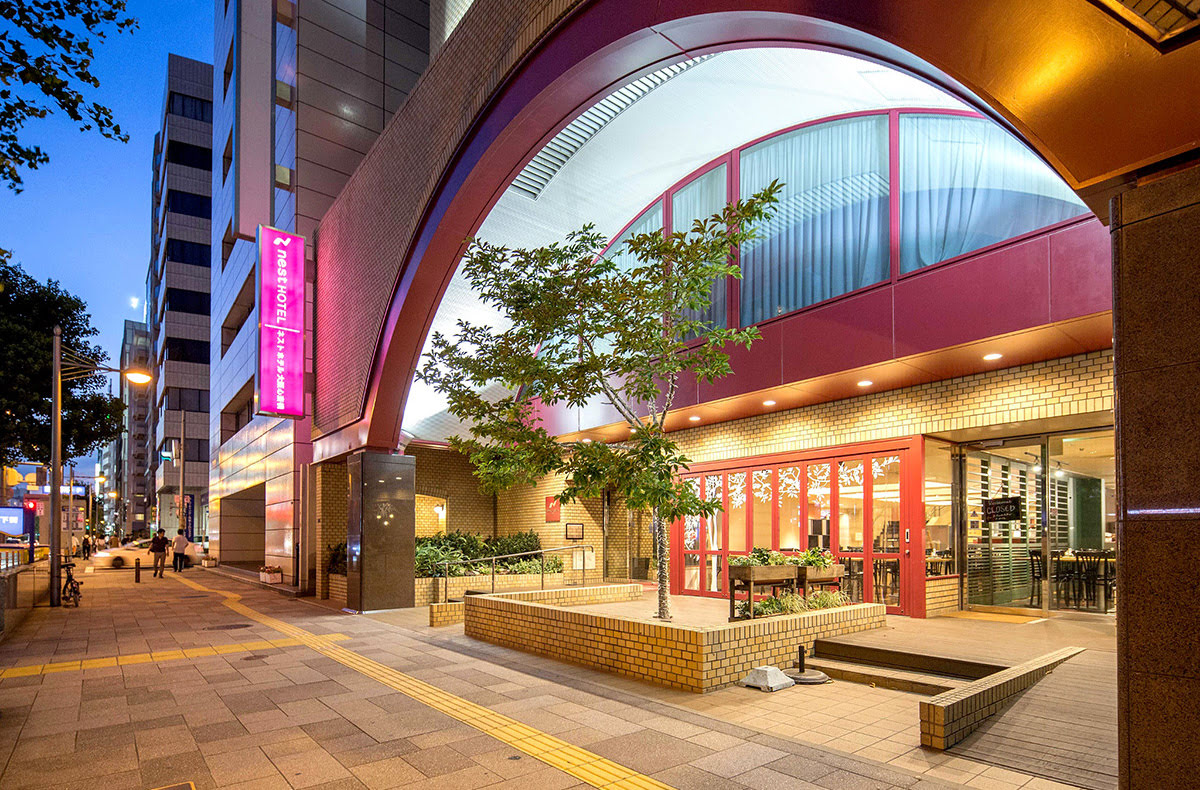 Nest Hotel Osaka Shinsaibashi
Step Out to Kansai International Airport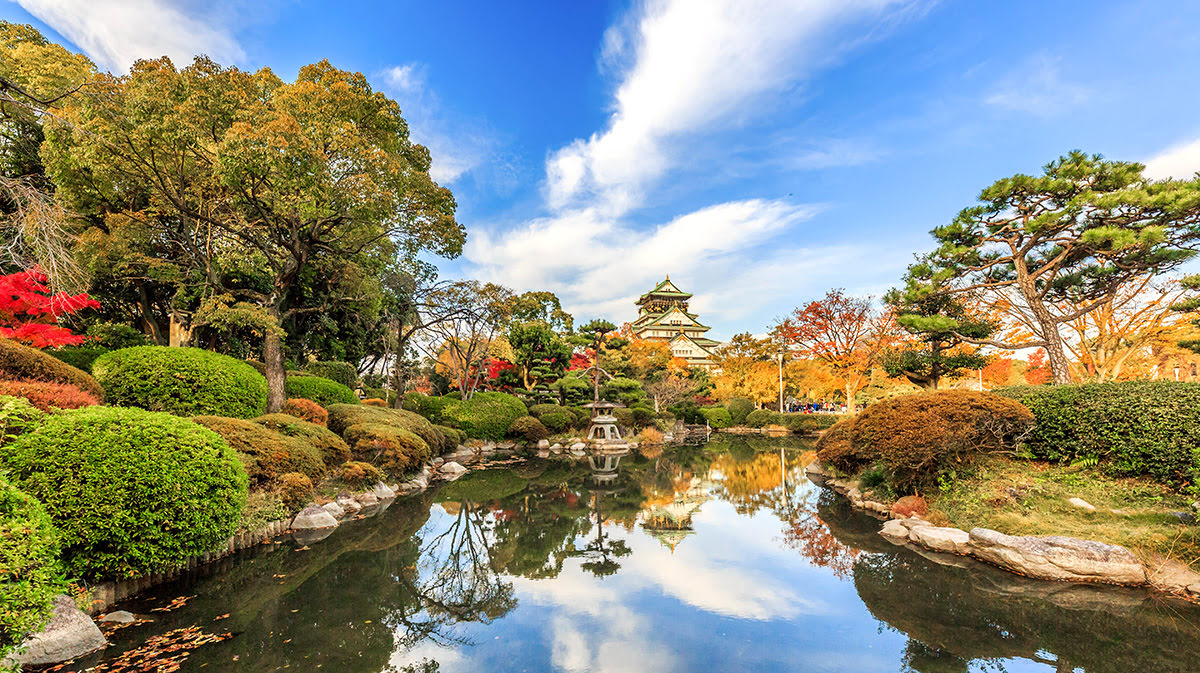 Fall in Osaka
When is autumn in Osaka? September to November
What to wear: summer wear during the day is probably fine until about mid-October. After that, pack a lightweight jacket to keep you cozy during koyo hunting outings.
Best time to visit Osaka during autumn: fall festivals and foliage
Hunting koyo (fall foliage) is a popular pastime throughout all of Japan, and some of the nation's most colorful spots to see fall foliage are in Osaka. Celebrate the season with locals at the Midosuji Parade or get a kaleidoscopic bird's-eye view of the city from the top of Cosmo Tower.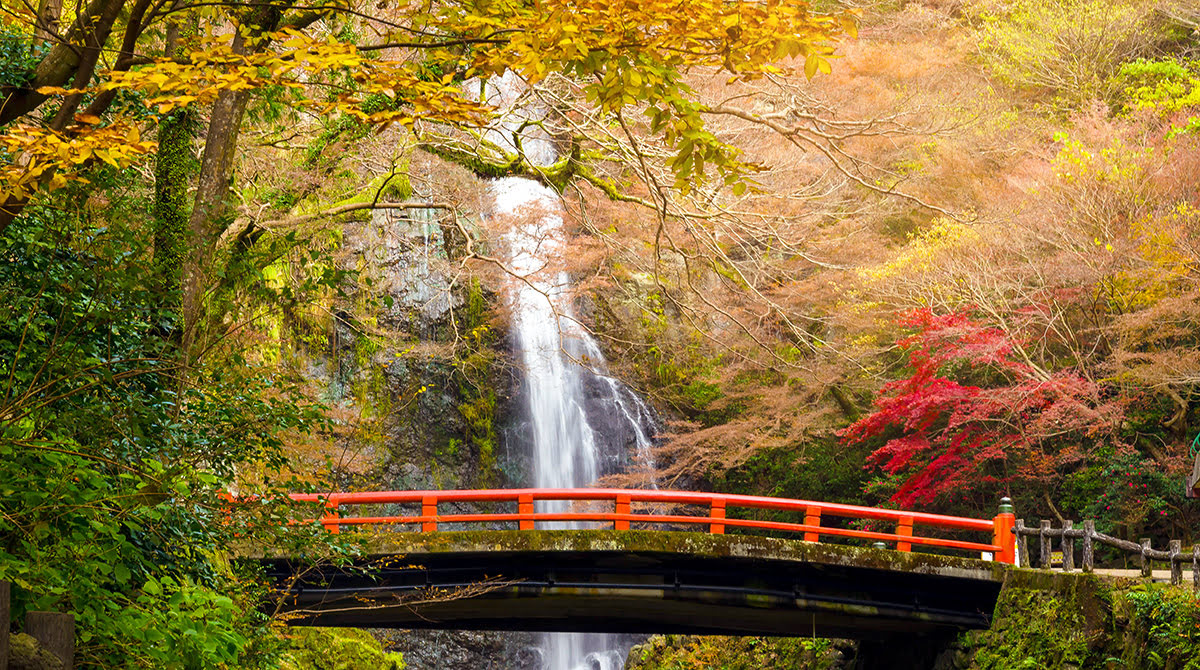 Best places to view fall foliage in Osaka
Osaka Castle Park: photograph vibrant maple and gingko trees with Osaka Castle as a backdrop!

Mino Falls: get an eyeful of nature in this mountain park that contains gorgeous autumn foliage, a river and a waterfall.

Expo '70 Commemorative Park: chilling out beneath fall foliage is just a bonus in this popular holiday destination that also contains the Tower of the Sun, EXPOCITY shopping mall and the Expo '70 Pavilion heritage museum.

Midosuji Boulevard: admire nearly 800 golden gingko trees along Osaka's main street, which plays host each November to the Midosuji Autumn Party (Midosuji Runway).

Hoshida Park and Hoshida Bridge: take in a spectacular view of "The Locals' Forest" while crossing Hoshida Bridge (Hoshi no Buranko).

Daisen Park: admire a walk through ravishing grasses and cherry trees while visiting the Mausoleum of Emperor Nintoku, considered to be the largest grave by area in the world. Other attractions in the park include the Sakai City Museum and Daisen Park Japanese Garden.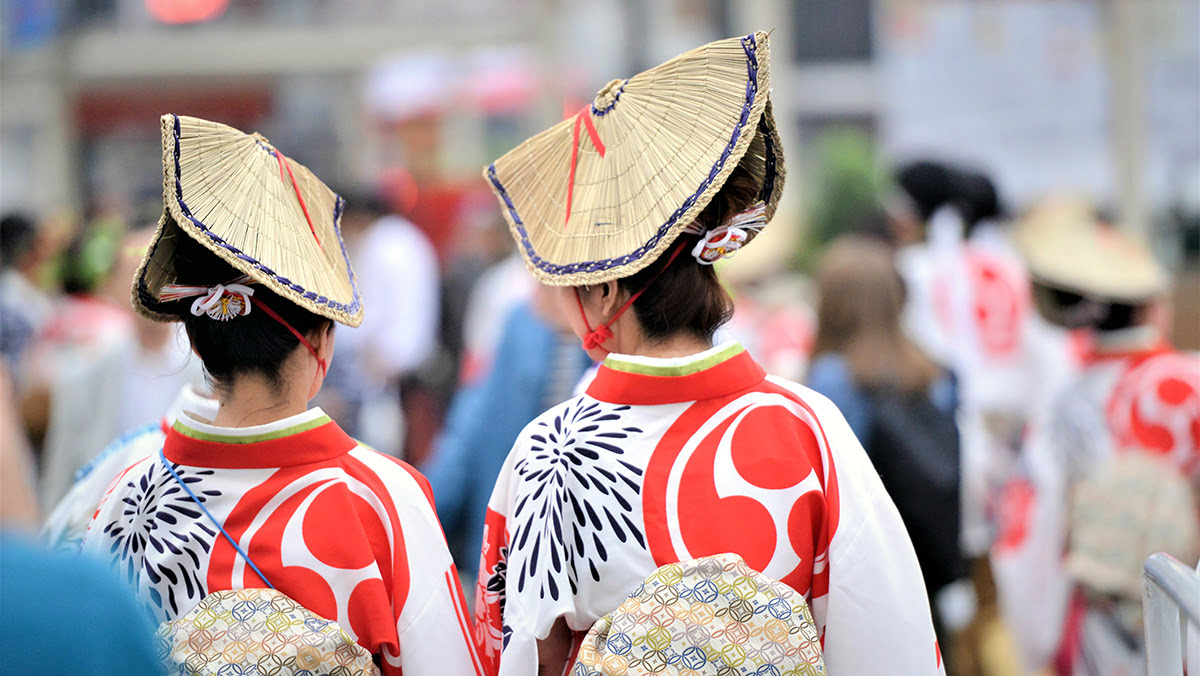 Fall festivals in Osaka
Sakai Festival (Sakai Matsuri): join locals in a raucous celebration that includes traditional performances, native costumes and scores of local food stalls. The event takes place on the third Saturday and Sunday in October in front of the Sakai City Hall building.

Higan-e Autumn Ceremony: temples throughout Osaka mark the arrival of fall with a seven-day ceremony during autumnal equinox. The most noted celebration takes place in Shitennoji Temple.
Check In to a hotel or apartment in Sakai
Hotel Olive Sakai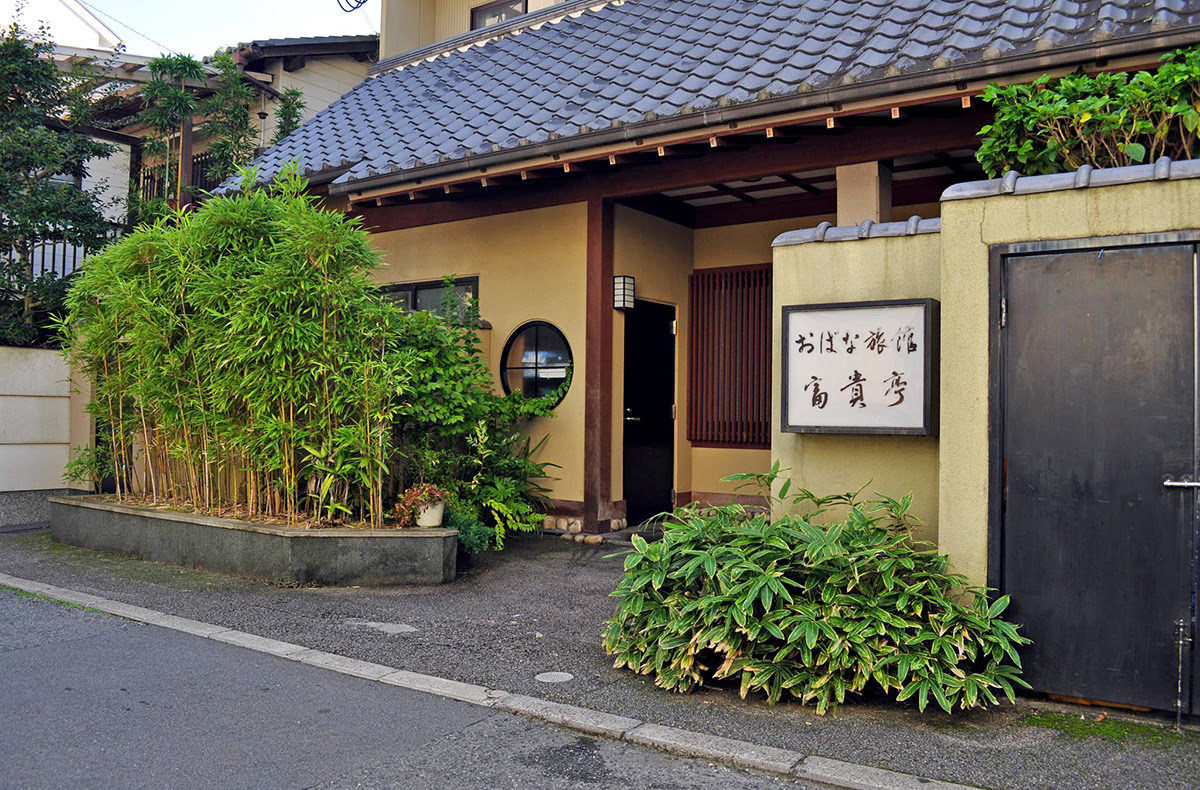 Obana Ryokan Fukitei
Daiwa Roynet Hotel Osaka Sakai-Higashi
Step Out to Daisen Park

Winter in Osaka
When is winter in Osaka? December to February
What to wear: you probably won't see snow in Osaka, but wearing a coat, hat and gloves during outdoor explorations is highly recommended.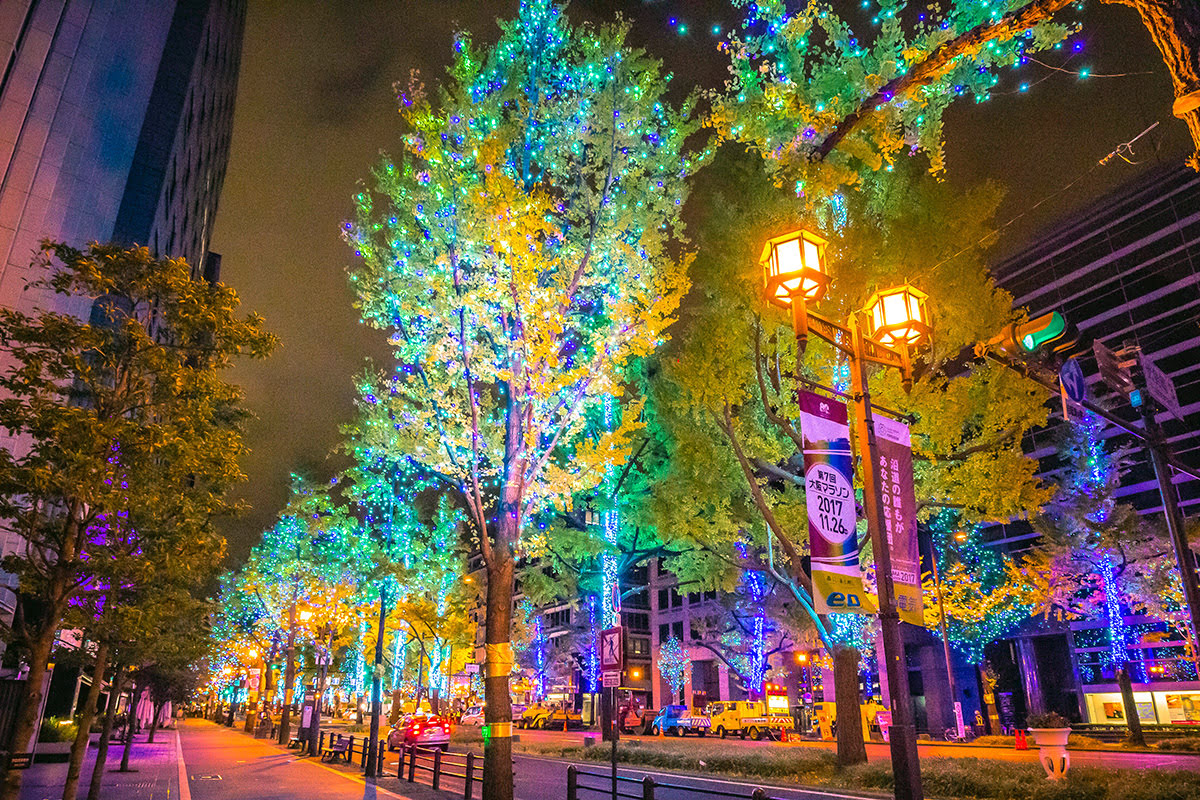 Best time to visit Osaka during winter: lighting displays and ski resorts
Locals love to light up Osaka during Christmas and new year, and because little snow falls in Osaka during winter, they also love short getaways to the slopes!
Best time to visit Osaka to see winter illuminations
Midosuji Illuminations: part of the annual Festival of Lights celebration, this magical display lasts from mid-November to NYE and spans three kilometers down Midosuji road, making it one of the world's longest illuminated streets.

Osaka Hikari Renaissance: The second half of Osaka's Festival of Lights takes place the last two weeks of December from Osaka City Hall to Nakanoshima Park.

Illumi-Night Banpaku X'mas: delight in amazing 3D projections shown on the Tower of the Sun in Expo '70 Commemorative Park (Banpaku Park). The event takes place at the end of December, in conjunction with the annual Ramen Expo.

Abeno Tennoji Iluminage: this Japanese-themed display features historical illuminations, like lanterns, ships and samurais. Tickets are required to enter. The exhibit is open in December and January.
Best ski resorts near Osaka
Biwako Valley Ski Resort: find snow-capped mountains just an hour and a half north of Osaka. Ski from an altitude of more than 3,500 feet (1,100 meters) while taking in a gorgeous view of Lake Biwa.

Hakodateyama Ski Resort: located on the northwest edge of Lake Biwa, Hakodateyama Ski Resort offers family-friendly slopes, a moving walkway and a kids' park. The resort is about 2 hours north of Osaka, and you can easily plan a stop in Kyoto along the way!
Check In to a hotel or apartment near Biwako Valley Ski Resort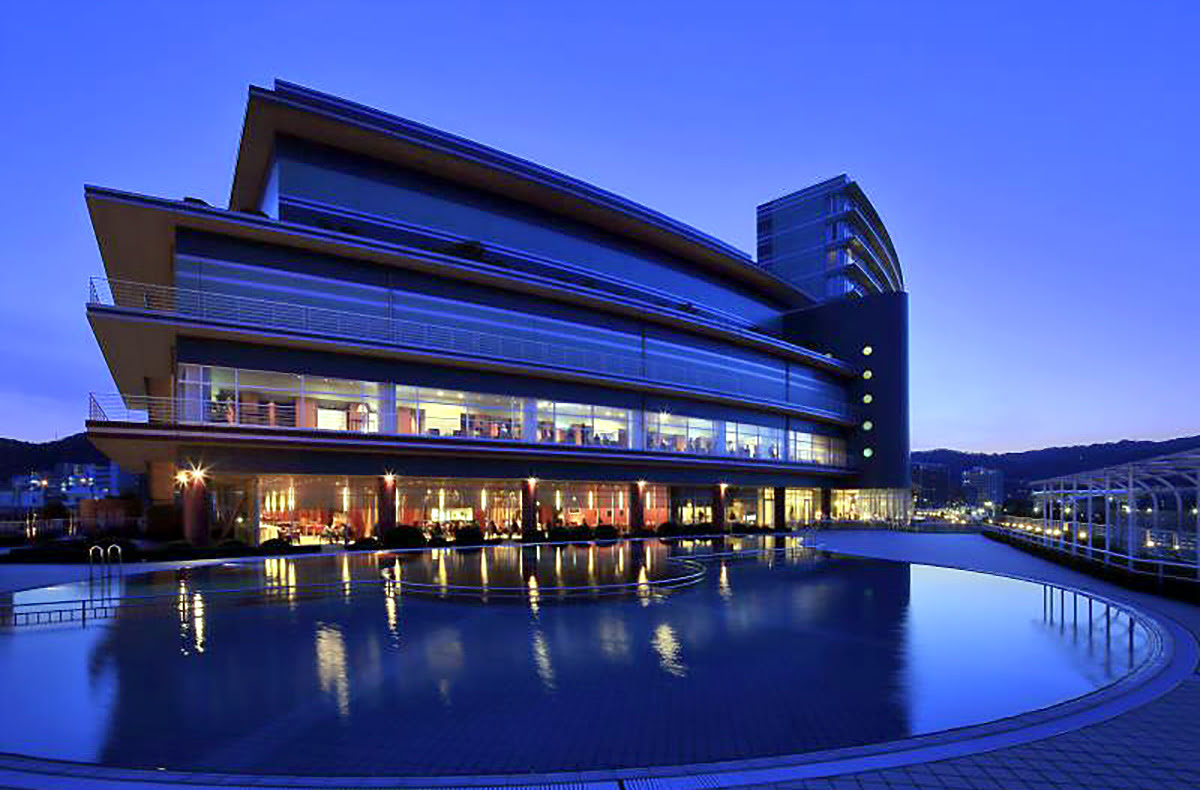 Biwako Hotel – Lakeside Hotspring Resort
Lake Biwa Otsu Prince Hotel
Ogoto Onsen Yunoyado Komolebi Ryokan
Step Out to Otsu
This post is also available in: 简体中文 繁體中文(台灣) 繁體中文(香港) Dansk Français Deutsch עברית Magyar 日本語 한국어 Melayu polski Português Português Русский Español ไทย Türkçe Indonesian Italiano