Sapporo restaurants make up a culinary kingdom overflowing with fresh seafood and exemplary produce. Food from all over Hokkaido converge at Sapporo, making gourmet a definite part of your trip. Many unique seafood creations await you, as do locally-rooted gourmet Japanese foods like ramen and jingisukan. Sapporo restaurants flaunt so much variety that foodies can't experience them all one day – or even two. Use this guide to sample as much gourmet Japanese food as you can from the best Sapporo restaurants!

1. Okushiba Shoten Jikka: enjoy the original shrimp stock soup-curry
This soup-curry shop is known for its 'ebi-dashi' stock which is made every morning – using 4,000 shrimp! The soup-curry is a "liquid-y" curry, and rice is submerged inside the soup, a foodie format invented in Sapporo. Okushiba's soup-curry is rich in spice but its characteristic ebi-dashi is sweet to the palate. Don't worry if spice isn't your thing: you can select your spice level from 0 to 12. Takeout also is available if you want to enjoy it at your Sapporo accommodation.
Shop information
Find Okushiba Shoten Jikka at 2, Kita 6 Jōnishi, Kita-ku, Sapporo. Ground floor, PASEO WEST
Hours: 11:00 am–10:00 pm (last order at 9:00 pm)
Reserve your Gourmet accommodations in Sapporo!
Hana Momiji
Chateraise Gateaux Kingdom Sapporo Hotel & SPA Resort
Hotel Shikanoyu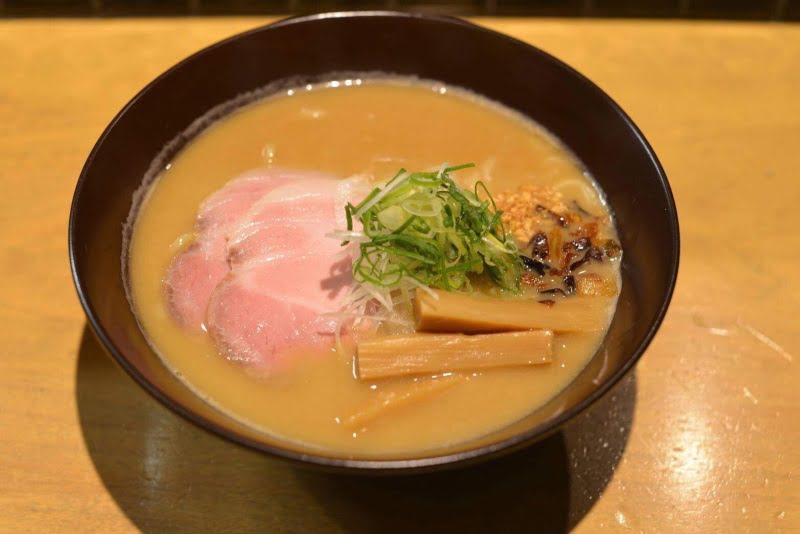 2. Fujiya NOODLE: thick, Sapporo miso ramen you can drink to the last drop
Fujiya NOODLE is a Bib Gourmand recipient in the Michelin Guide's special 2017 Hokkaido edition and is located in Shin Ramen Yokocho in the center of the Susukino area. Miso is a popular menu item, with its firm-to-the-bite noodles made of 100% Hokkaido wheat and a soup base made of white stock with a rich, creamy feel. The potent aroma of the miso is almost addicting, and you'll be sure to drink up all the soup after finishing your noodles.
Shop information
Find Fujiya NOODLE at 3, Minami 4 Jōnishi, Chūō-ku, Sapporo. Ground floor, Green Building No. 3 (Shin Ramen Yokocho)
Hours: 6:00 pm–3:00 am the following day (last order at 2:30 am) / Closed: Sun
Tour Sapporo for gourmet restaurants and hotels
Premier Hotel Nakajima Park Sapporo
Hotel Monterey Sapporo
Premier Hotel – TSUBAKI – Sapporo
3. Umi Hachikyo Main Location: savor gifts of the ocean while you're in Hokkaido: 'tsukko meshi' is a must-try!
Savor the fresh gifts of the ocean while you're in Hokkaido at Umi Hachikyo Main Location. What's famous here is the ikura-don 'tsukko meshi,' a rice bowl topped to overflowing with salmon roe served as staff chant energetically. Fresh salmon roe is vivaciously round and the mouthfeel bursting with every pop of the bite is what brings people back. The owners have taken care with the decor as well. A ring buoy from the fishing boat Dai Hachi Kyoei-maru and the name "Hachikyo" cut fiercely into wood greet visitors as they enter the atmosphere of a 'banya,' where fishermen come together.
Shop information
Find Umi Hachikyo Main Location at 3, Minami 3 Jōnishi, Chūō-ku, Sapporo. Ground floor, Miyako Building
Hours: Mon–Sat 6:00 pm–0:00 am (last order at 11:00 pm) / Sun & Hol 5:00 pm–11:00 pm (last order at 10:00 pm)
4. Riceball Kyuusann: omusubi by a rice merchant bringing out the luscious aroma of each grain
Omusubi, or rice balls, are common in Japan and can be bought anywhere, including in convenience stores. Every Sapporo local has eaten omusubi since they were children! Basically, it's soul food. The omusubi at Riceball Kyuusann are prepared with just the right amount of force and balance so that this Japanese snack doesn't come apart with an eager bite. As for the filling, choose from popular Hokkaido ingredients like salmon or cod roe, or get a little wild with horseradish and tempura. There is space to eat inside the restaurant, so we recommend eating your omusubi right away.
Shop information
Find Riceball Kyuusann at 1-3-10, Kita 9 Jōhigashi, Higashi-ku, Sapporo
Hours: Mon–Sat 10:00 am–7:00 pm / Sun & Hol 10:00 am–5:00 pm
Discover more hotels and accommodations near Sapporo restaurants
Jozankei Tsuruga Resort Spa Mori no Uta
Keio Plaza Hotel Sapporo
5. Sapporo Beer Garden: all-you-can-eat jingisukan with factory-direct beer in one hand
Feel the history of Hokkaido's pioneer days with factory-direct beer and jingisukan, a dish designated as part of Hokkaido heritage. Choose from five different beer halls, each with their own atmosphere. You can do that at Sapporo Beer Garden. Never-frozen lamb with minimal gaminess is cooked on a specialized grill-like jingisukan pot so that just the right amount of fat remains for a light, pleasant flavor. We recommend "Sapporo Five Star" as the accompanying beer. The special brew is a pioneer of premium beers and is only available in Sapporo.
Shop information
Find Sapporo Beer Garden at 9-2-10, Kita 7 Jōhigashi, Higashi-ku, Sapporo
Hours: 11:30 am–10:00 pm (last order at 9:30 pm) / Closed: Dec 31