Finding the best places to try Malay cuisine is a huge part of any Malacca food tour, but foodies don't want to miss out on the many Chinese and Peranakan dishes on dozens of menus across Malacca City. Plan a DIY food tour at some of these top restaurants in Malacca, or simply make a list of things to try and head to Jonker Street, where all Malaysia's favorite flavors can be found in one spot.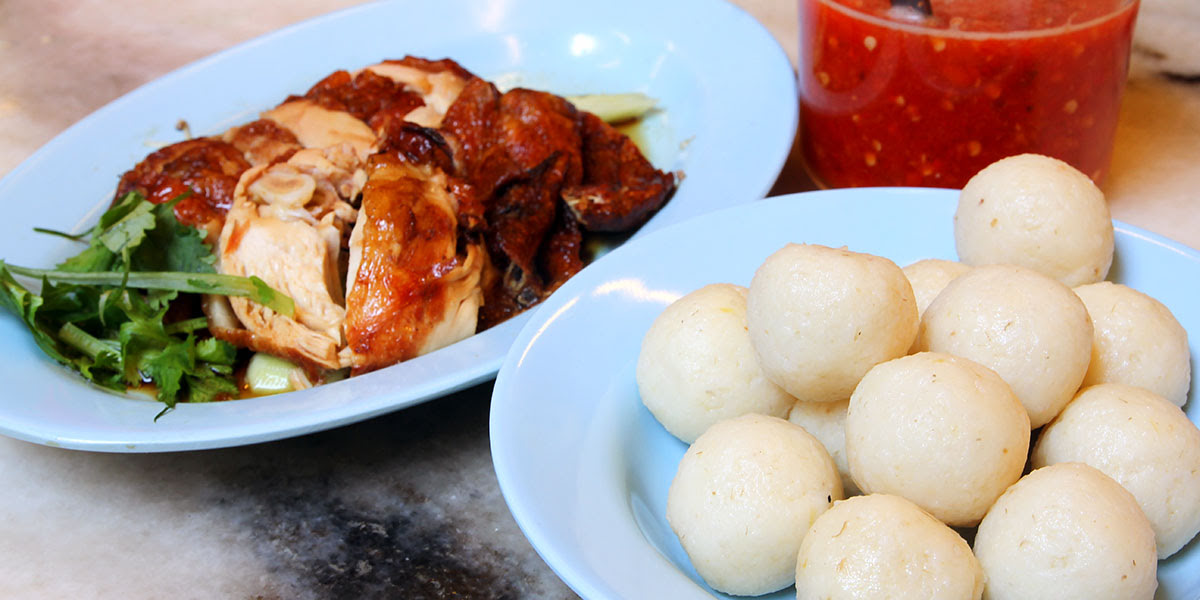 Malacca Food Guide | Things to Try – Chicken Rice Balls
Chicken rice balls are one of the most delicious yet simple traditional Chinese dishes. Associated with Hainanese cuisine, the dish consists of slices of tender, steamed chicken accompanied by balls of rice that have been cooked in the savory chicken broth. Most restaurants serve the dish with a simple chicken-broth soup and sliced vegetables, like cucumber and onion, and a five-alarm garlic chili sauce that adds a spicy and can't miss kick to the entire dish.
Where to try chicken rice balls in Malacca City
Ee Ji Ban (Chung Wah) Chicken Rice Ball, 275, Jalan Melaka Raya 3, Taman Melaka Raya – this restaurant has been serving some of the best chicken rice balls in Malacca City for more than 50 years.

Nasi Ayam Hoe Kee, 468, Jalan Hang Jebat – in business since 1962, Nasi Ayam Hoe Kee is almost as famous for its side dishes of spicy tamarind fish, fried cabbage and black bean soup as it is for its chicken rice balls.
FIND & BOOK A HOTEL IN MALACCA TODAY
Malacca Food Guide | What to Try – Peranakan (Nyonya Cuisine)
Named after the local Peranakan people and featuring a mix of some of the best Chinese and Malay dishes, Nyonya cuisine is a cultural experience as well as a trip to paradise for your taste buds. Malacca is the birthplace of the Peranakan people, so no where else on earth can travelers get completely legit Peranakan food. Make a list of these can't-miss Peranakan dishes, and take a foodie tour in Malacca at the best places to try them.
Ikan goreng cili garam
Sambal sotong
Nyonya pai tee
Chap chai
Nyonya dishes for every DIY foodie tour in Malacca
Sek bak (braised pork)
Ikan goreng cili garam (deep-fried fish covered in spicy chili sauce)
Sambal sotong (squid rings covered in spicy sambal, or chili sauce)
Nyonya pai tee (deep-fried puff pastries stuffed with different mixtures of vegetables and spices)
Chap chai (your basic stir fry kicked up a notch with a dollop of spicy bean paste)
Best places to try Peranakan food in Malacca
Nancy's Kitchen, No 13, Jalan KL 3/8, Taman Kota Laksamana – famous locally for their sek bak and sotong petai and located within walking distance of Jonker Street.

Amy Heritage Nyonya Cuisine, 75, Jalan Melaka Raya 24, Taman Melaka Raya – try the Nyonya pai tee or chap chai. Heck, just try them both!
FIND & BOOK A HOTEL IN MALACCA TODAY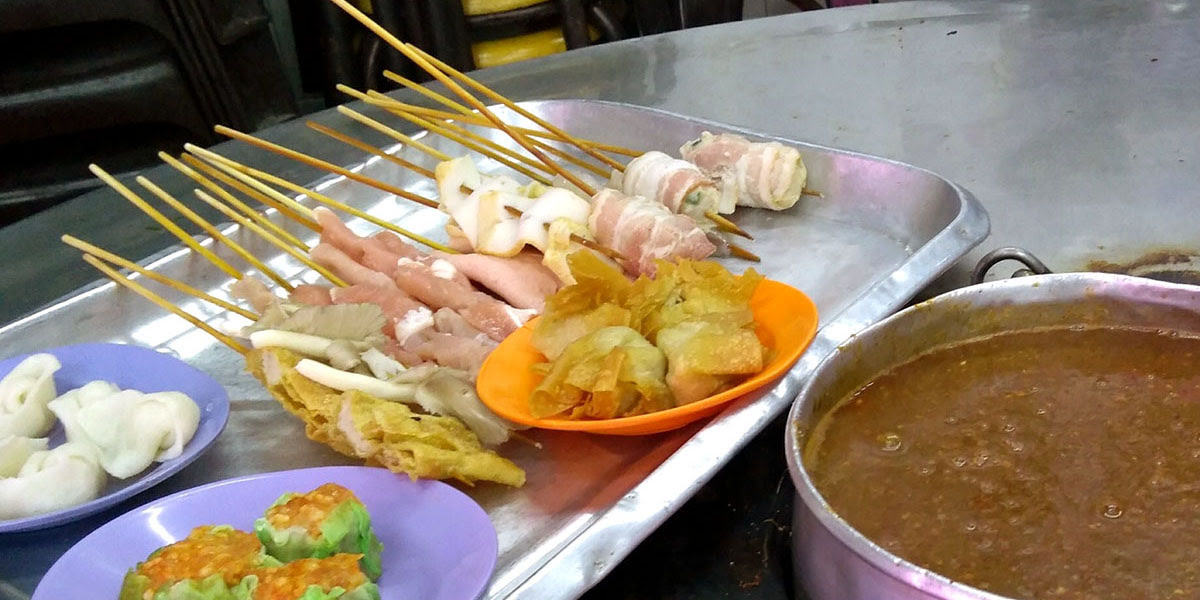 Malacca Food Guide | What to Eat – Satay Celup
Satay celup is not to be missed during a Malacca food tour. Solo travelers might want to buddy up with some backpackers to enjoy this one, and kids and parents alike will love this family-style fondue-gone-wild meal. Served with an assortment of skewered goodies like meats, seafood, vegetables and tofu, satay celup comes with a huge pot of rich and spicy peanut sauce that is kept hot enough in the middle of the table to cook all the skewered goodies to a perfect temperature.
Best places to try satay celup in Malacca City
Restoran Capitol Satay, 41, Lorong Bukit Cina, Bandar Hilir – enjoy a meal near the Malacca River at this classic restaurant. Browse the fridge for skewers, and get to dipping!

Ban Lee Siang Satay Celup, 53-C, Jalan Ong Kim Wee – satay celup put this restaurant on the map, but it's the peanut sauce that keeps customers coming back. One the side, try blood cockles, century egg and fish balls.
FIND & BOOK A HOTEL IN MALACCA TODAY
Cendol
Putu piring
Klebang Coconut Shake
Malacca Food Guide | Sweet Treats to Try – Malacca Desserts
A true Malacca food tour isn't complete without dessert! Fortunately, Malaysians love their sweet treats, and soon enough, you will too! Malacca City contains plenty of places to satisfy a sweet tooth, but a few places have legendary status and shouldn't be missed.
Aunty Koh Cendol, 5113, Jalan Batang Tiga, Kampung Bukit Rambai – shaved ice is a perfect treat during a hot afternoon of sightseeing in Malacca, and this dessert, known as cendol, is traditionally topped with pandan, red beans and coconut milk with palm sugar. Stop by Aunty Koh's cendol stand, and build your own shaved ice dessert from beginning to end. You even get to wash your own dish!

Putu Piring Melaka, 252, Jalan Tengkera – putu piring is a steamed rice flour cake, and Putu Piring Melaka is known for making some of the best. Even though putu piring is best warm, these slightly sweet and chewy treats are perfect snacks to nibble on throughout the day, so throw several in your bag along with several other shop specialties.

Klebang Coconut Shake, Jalan Klebang – you simply NEED a coconut shake in your life. It's cheap. It's refreshing, and it's a can't-miss dessert in Malacca.
FIND & BOOK A HOTEL IN MALACCA TODAY
Malacca Food Guide | Where to Find Street Food – Jonker Street
Chances are good that you're going to pay a visit to Jonker Street during a trip to Malacca. Why not show up prepared with a list of foods you want to try? This stretch of road features everything from antique stores to chill cafés, but it is best known for Jonker Street Night Market, a foodie paradise open every weekend. You'll not only find most of the items on your must-try Malacca food list, but you'll discover a whole bunch more!
Jonker Street Night Market hours: 6 p.m. to midnight Friday, Saturday and Sunday
Street food to try at Jonker Street Night Market
Bak chang (sticky rice and meat cooked in bamboo leaves)
Dim sum (Chinese dumpling filled with diced meats and seafood)
Popiah (fresh spring roll)
BBQ corn
Coconut dessert (try coconut ice cream or any fruits bathed in coconut milk)