A lively city that celebrates modern pop-culture as well as traditions that date back thousands of years, Jeddah offers tourists plenty of fun adventures to take part in during the lazy days of summer. Jeddah Summer Festival features games, watercraft rides, discount shopping opportunities, nightly fireworks displays, ATV rides through the desert sand dunes, and the chance to indulge in delicious Arabic-style street food. Other Jeddah festivals invite tourists to experience authentic Saudi Arabian culture. Whether traveling to the region for business, to make a pilgrimage to Makkah (Mecca), or just for fun, be sure to plan a trip around Jeddah festivals!

Jeddah Festivals | All About Jeddah Season & Jeddah Summer Festival
Occurring from June 8 to July 18, Jeddah Season is part of a year-long Saudi Seasons campaign that is aimed at packing more tourism and fun into all of Saudi Arabia. Jeddah Summer Festival, in its 20th year, kicks off the festival season just after the end of Ramadan, and each day offers new and exciting adventures.
From snorkeling along coral reefs to climbing desert sand dunes in an ATV, tourists should be ready for a wild ride. There are over 80 official events during Jeddah Season and Jeddah Summer Festival, and travelers are likely to find some unofficial private events – and plenty of delicious food – as they stroll the streets of Jeddah!
Jeddah festivals | 11 can't-miss events during Jeddah Season
Backstreet Boys Concert – June 27
Bicycle Parade – June 24 to July 12
Experience the Wheelchair – June 21 to July 5
Diving Experience (KAEC) Overnight Diving Trip – June 23 to July 29
Laugh Factory – June 23 to July 18
Mobile Theme Park – June 19 to July 17
Jeddah Season Shopping Festival – July 17
Las Fallas – June 15 to July 18
Car Parade Show – June 8 to July 18
Street Music Shows – June 8 to July 17
Glow Garden – June 8 to July 17
During Jeddah Season (June 8 to July 18), Jeddah puts on a wild and crazy fireworks show every other night beginning at 11pm. Head down to the waterfront early to get a good seat for all of the action. During the show, musicians will perform and guests can expect to see lots of dancing and theatrical performances. The fireworks show is the perfect end to a festive day at one of the best Jeddah festivals.
Jeddah Season and Jeddah Summer Festival are great times for guests to take advantage of discounted rates on hotels, airline tickets, car rentals, and other travel accommodations when traveling to Jeddah.
FIND & BOOK A HOTEL IN JEDDAH TODAY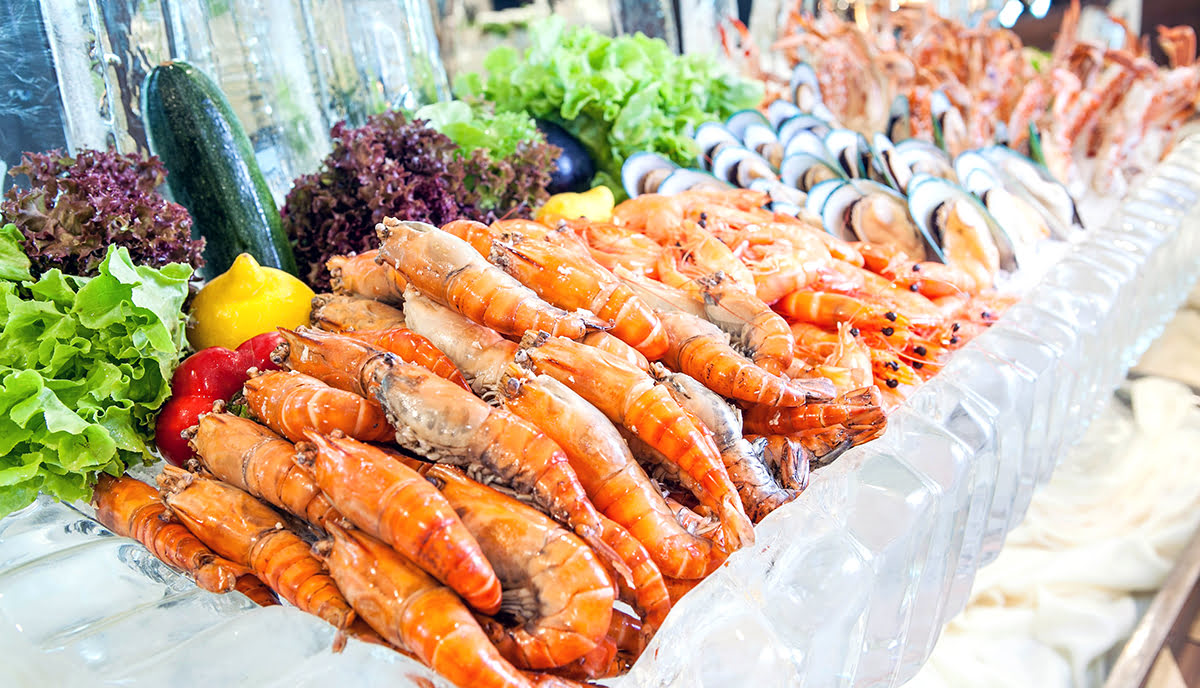 Jeddah Festivals | Jeddah Summer Festival Restaurants & Eateries
Creating rich and indulgent food is one of the foremost ways that Saudi's share their culture and traditions with the world, and guests will have an abundance of delicious options when celebrating the summer season in Jeddah. From spicy curry bowls to fresh and succulent seafood, be prepared to dine like royalty at exceptionally affordable prices.
Assalat Alreef Cafe
Located at King Abdul Aziz Rd, Al-Zahra'a, Assalat Alreef Cafe specializes in pizza and other Italian comfort foods. It is open from 2am-5pm daily, except for Friday, and features a relaxing atmosphere clad in modern European decor. Assalat Alreef Cafe is considered to be a quick-serve cafe and is known for its Shesha and gourmet coffee, which can be enjoyed inside the cafe or out on the patio.
Shami Restaurant – Palestine
Dolling out gourmet steak and fries, cream soups, and BBQ plates that are meant for sharing, Shami Restaurant – Palestine is a fine-dining restaurant for those who wish to try an assortment of cuisine from all over the world, all under one roof. Shami Restaurant – Palestine is mid-grade eatery that is located just off of Palestine Street. The dining room boasts a low-lit cozy atmosphere, and the menu items are presented in an exquisite manner that makes them look like art on a plate. Shami Restaurant is open for dinner and guests can order dishes like beef samosa, cream soup, mixed shawerma, pizza, steak, and other tantalizing options.
Catch
Have a craving for fresh-caught seafood that is served up in an artful manner? CATCH offers world-class seafood that is served up with all of the finer details in mind. A go-to seafood restaurant of the United Arab Emirates, CATCH is one of the many fine-dining restaurants making an appearance at Jeddah Summer Festival. Visitors can find CATCH along the waterfront and it will be open during the dinner and late night hours to feed the need for gourmet seafood cravings. Menu options available include spicy shrimp soup, sushi, perfectly seared scallops, and an assortment of seafood salads.
Coya
Take a culinary journey down to Peru without leaving the Jeddah Summer Festival at Coya. Coya is one of the many restaurant line-ups located in King Abdullah Sport City Stadium in downtown Jeddah and showcases fresh and colorful ceviches, fish tacos, Chilean sea bass, and non-alcoholic cocktails. Coya's pop-up restaurant will be open daily until July 18th.
Nineve
Adorned in classy Arabic decor and furnishings, Nineve serves up classic Arabic cuisine using fresh and local ingredients. This fine dining restaurant is located in King Abdullah Sport City Stadium and offers indoor seating as well as a picturesque outdoor patio. At Nineve, visitors are presented with a full menu of options ranging from cold starters like spicy avocado and lemon confit to main menu items like chicken tangine. Nineve is for those who want to indulge in fine Arabian cuisine in a relaxed setting.
More Annual Events & Jeddah Festivals
The fun to be had in Jeddah does not stop with the finale of Jeddah Summer Festival: Jeddah festivals happen all year long!
Fun Facts about Jeddah | Guinness Book of World Records
Striving to become a destination city for vacation-bound travelers from all over the world, Jeddah, does not hold back when it comes to creating a modern and entertaining city that "wows" people. Jeddah even has managed to put itself on the world stage by holding multiple titles in the Guinness Book of World Records!
Guinness World Records in Jeddah
World's Tallest Outdoor Fountain – Spraying water up into the sky as high as 853 feet (some records say 1,024 feet!), King Fahd's Fountain is the tallest fountain of its kind in the world.
World's Largest Styrofoam Ship – In celebration of Jeddah Summer Festival, artists constructed the world's largest Styrofoam ship, which at one time was on display at Red Sea Mall.
World's Largest Tea Bag – Constructed in 2014 by the owner of Rabea Tea, this giant tea bag was a statement piece weighing in at 551 pounds (250 kilograms).
World's Tallest Lighthouse – Ships have no problems finding the port city of Jeddah thanks to it being the home of the world's tallest lighthouse. Jeddah Light is just under 440 feet tall and sits prominently near the waterfront for all to see.
World's Largest Mug Cake Mosaic – Lucky visitors hanging out at Al Andalus Mall during the 2018 Saudi National Day were treated to free cake from the world's largest mug cake mosaic. The record was set by Betty Crocker brand and Panda Retail Company, a well-known grocery store chain. The mosaic was made with 19,600 Betty Crocker mug cakes.