Bangkok is chock full of exciting sightseeing opportunities, and Bangkok tourist spots are easy to find! Drawn by the world-class food, thriving street life, and vibrant blending of cultures and traditions, visitors from every corner of the globe travel to Bangkok by the millions. Plan a perfect itinerary that includes the city's top attractions and also takes advantage of the rich diversity that the City of Angels offers.
Bangkok Tourist Spots | 1. The Grand Palace & Wat Phra Kaew
There is a reason that the Grand Palace and Wat Phra Kaew top nearly every list of Bangkok tourists spots: they are simply not to be missed.
Built in 1782, the Grand Palace is actually a complex of buildings that served as the seat of government and the home of the royal family for over 150 years. Today, it is Bangkok's most stunning and most recognizable landmark. Wat Phra Kaew, or the Temple of the Emerald Buddha, is located within the palace complex. The temple's name comes from the fact that it enshrines a sacred 14th-century statue of Buddha, which was carved from a single block of jade.
A ticket is required to access the Grand Palace and Wat Phra Kaew. The ticket also includes access to Queen Sirikit Museum of Textiles, which is located within the royal complex. Admission is free for Thai citizens and 500 baht for foreigners. Visitors should be aware that they are visiting a sacred space and a dress code is strictly enforced. Legs and shoulders must be covered, and clothing that is transparent, torn, or excessively tight is not permitted. The palace complex is open daily from 8:30am to 3:30pm.
Bangkok Tourist Spots | 2. Wat Pho
Wat Pho is also known as the Temple of the Reclining Buddha because of the 46-meter long, gold-plated Buddha statue that resides in the temple complex. Visitors to the temple are sure to be impressed by the sheer enormity of the statue. The feet alone are nearly five meters tall! In addition to the massive Buddha statue, the temple is also widely associated with Thai massage, and in fact, the temple is home to Wat Pho Thai Traditional Massage School. Visitors to the temple can take advantage of the onsite massage school and book a traditional Thai massage.
Wat Pho is just a 10-minute walk from the Grand Palace and Wat Phra Kaew, so it's simple enough to plan a day's itinerary that includes stops at both places. Admission to Wat Pho is 200 baht per adult. As with the palace complex, respectful attire is required. In addition, guests will need to remove their shoes before entering any of the building on the temple grounds. The temple is open daily from 8:30am to 6:30pm. Massages are available for an additional fee until 6pm.
Bangkok Tourist Spots | 3. Chinatown
Like most major cities, Bangkok has a thriving Chinatown that is a popular tourist spot for foodies seeking the best Chinese and Thai food the city has to offer. Diners in search of dim sum or any manner of noodles should head directly for Yaowarat Road, Chinatown's high street. For a sweet treat after dinner, visitors should seek out one of the vendors selling exotic fruits or homemade ice cream.
In addition to taking advantage of all of the area's incredible street food and dining experiences, visitors to Chinatown will want to be sure to hit a few of the neighborhood's most popular tourist spots. Wat Mangkon Kamalawat, Bangkok's largest and most significant Buddhist temple, is one such spot. The China Gate and Romaneenart Park are two more Chinatown can't-miss tourist attractions. Visitors in search of souvenirs may also want to check out one or more of the area's numerous gold shops.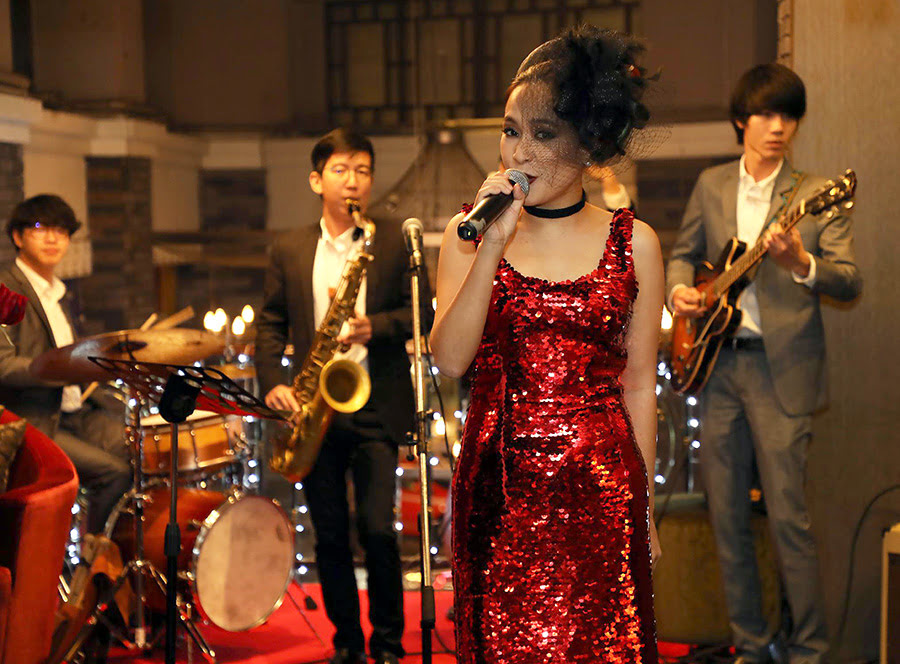 Bangkok Tourist Spots | 4. Chao Phraya River
Bangkok is often referred to as "the Venice of the East" thanks to the network of canals that flow through the city. These canals are fed by the Chao Phraya River, a waterway that has shaped Bangkok for generations. Despite the fact that the river is no longer strictly essential for traveling around Bangkok, the Bangkok Riverside remains a vital part of the city and how it defines itself.
Travelers should allow time to explore the Bangkok Riverside early in their itineraries since it is provides an excellent way to get a feel for the city. A boat tour of the Chao Phraya River is perhaps the ideal first activity for any new arrival since it provides a relaxing way to get the lay of the land, and many of Bangkok's most famous attractions can be seen from the water.
There are a wide variety of public river tours, water taxis, and dinner cruises available along the Bangkok Riverside. Private boat tours of the river and canals also are readily available and surprisingly affordable. Visitors can join a cruise or tour at several points along the riverside, but Sathorn Central Pier will likely provide the greatest number of options.
FIND & BOOK A HOTEL IN BANGKOK TODAY
Bangkok Tourist Spots | 5. Khao San Road
Khao San Road is the heart of Bangkok's backpacking district. Thailand has long been a popular destination for globetrotters on a budget, and most people who backpack in Southeast Asia will find themselves in Bangkok, and therefore on Khao San Road,. This lively, crowded neighborhood is only about one kilometer long, but it is jam-packed with hostels, cheap bars, street food vendors, and stores catering to those on a shoestring budget.
Visitors who want the true Khao San Road experience should head to the area in the evening when the bars and clubs really get going. Expect the streets to be lined with vendors trying to tempt tourists with handicrafts and exotic snacks – like grilled insects and scorpions on a stick! Anyone planning a visit to Khao San Road should expect a crowd. This short stretch of road hosts 40,000 to 50,000 people a day during the busy season.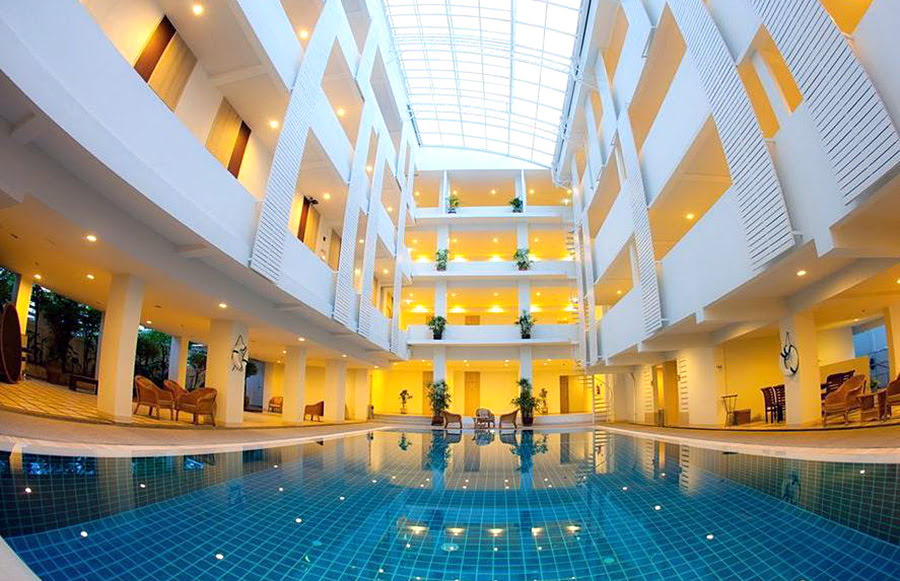 Bangkok Tourist Spots | 6. Pratunam
Pratunam is one of Bangkok's main shopping districts, and as the home to Thailand's largest clothing market, it's the go-to destination for fashionistas in search of a bargain. Pratunam is fairly easy to find thanks to Baiyoke Sky Hotel, one of Thailand's tallest buildings, which at 88 stories tall, dominates the skyline in the area.
Pratunam is a colorful and chaotic section of the city that is known for its wholesale fashion outlets and street markets. There are no fewer than 10 malls, markets and shopping complexes in Pratunam, and each one is packed full of shops selling clothes, shoes, bags, and even textiles at rock-bottom prices. Visitors should not miss Platinum Fashion Mall and Pratunam Market. For computer whizzes and gadget junkies, Pantip Plaza is a great place to browse. Bargaining is encouraged at any shop or mall in Pratunam, and tourists should feel free to engage in the good-natured haggling that is just a part of doing business in Thailand.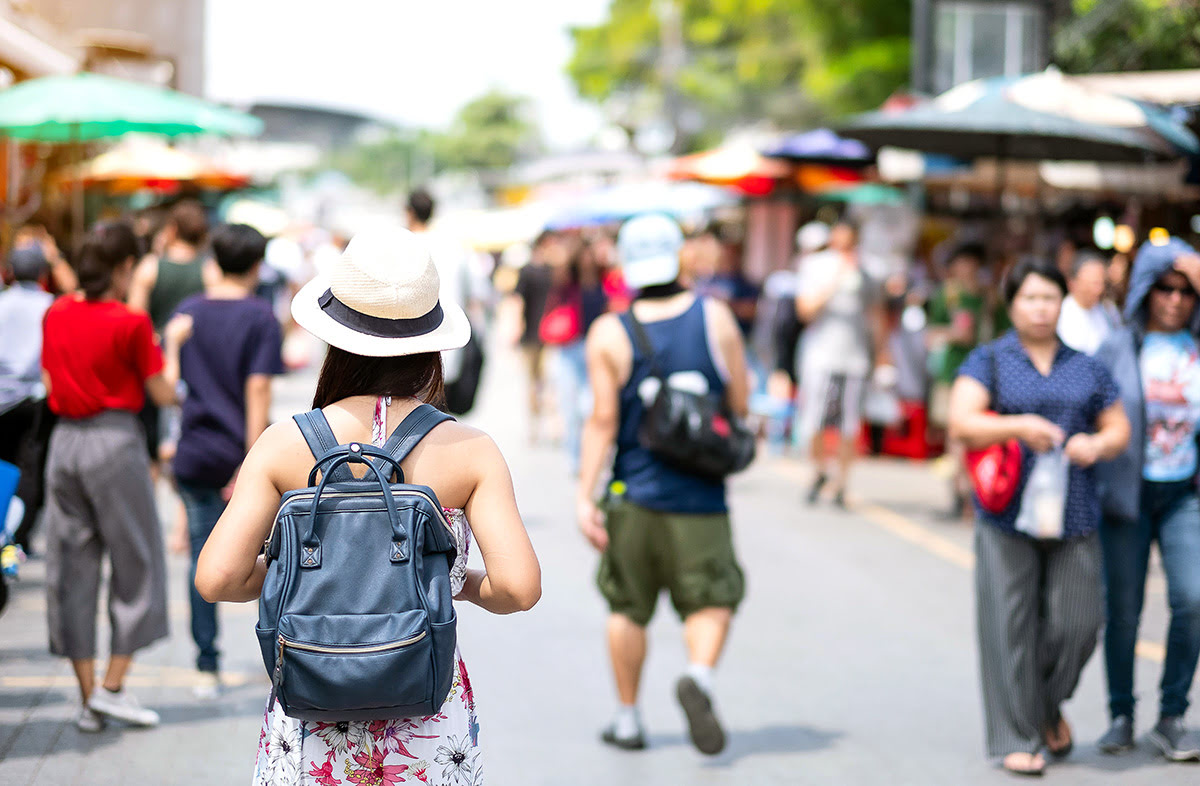 Bangkok Tourist Spots | 7. Chatuchak Weekend Market
Chatuchak Weekend Market covers 35 acres and is the largest market in Thailand. Depending on how it's measured, it may well be the largest weekend market in the world. Every weekend, 200,000 people wander the market, visiting the 15,000 stalls that sell everything from electronics to exotic pets.
The market is divided into 26 sections including food, art, antiques, and fashion. It is well worth purchasing an inexpensive guide to the market before arrival so as to get a feel for what's available and figure out where the stalls you wish to visit are located. Given its size and the crowds it attracts, Chatuchak Weekend Market can feel a bit overwhelming if one isn't prepared, but this is one tourist spot that is too fun and unique to miss. It's worth making a plan in order to make the most of the experience. Many local tour companies offer guided tours of Chatuchak Weekend Market for those who don't want to go it alone.
The whole market is open each Saturday and Sunday from 9am to 6pm, so those who want to the full experience will have to battle the crowds and visit on a weekend. Visitors who are less interested in shopping and just want the chance to stroll through the sprawling market can visit on Wednesdays or Thursdays between 7am and 6pm when only the plant section of the market is open.
FIND & BOOK A HOTEL IN BANGKOK TODAY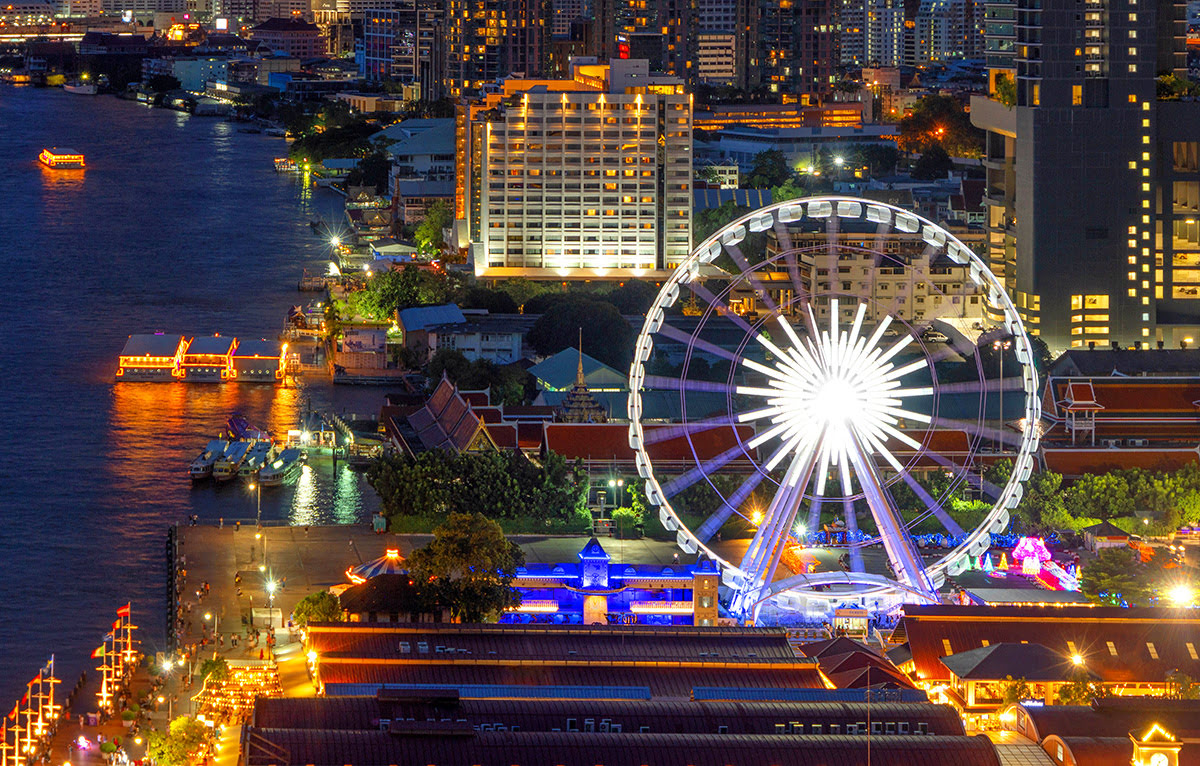 Bangkok Tourist Spots | 8. Asiatique the Riverfront
Opened in 2012, Asiatique the Riverfront is a relatively new addition to the Bangkok Riverside district. Asiatique the Riverfront is a unique shopping experience that blends a traditional night bazaar with a modern shopping mall. The large open-air market sits on the banks of the Chao Phraya River, occupying the former docks of the East Asiatic Company. The 28-acre, mixed-use facility includes two theatres, 1,500 stalls and boutiques as well as 40 restaurants. Visitors can get a birds'-eye view of the area with a ride on ASIATIQUE SKY, a 60-meter-tall Ferris Wheel with 42 gondolas.
Asiatique the Riverfront is divided into four distinct districts, each with its own set of thematic shops, restaurants, and entertainment options, most of which are located in massive warehouses. The mall is only open in the evenings, and most visitors will find it well worth a visit for dinner, shopping, and perhaps a puppet show by the famed Joe Louis Theater. Asiatique the Riverfront is open daily from 4pm to midnight.
Bangkok Tourist Spots | 9. Erawan Shrine
Erawan Shrine was constructed in 1956 in an effort to counter the bad karma that some feared was being generated by the construction of a hotel. Repeated mishaps on the construction site had spooked workers who feared that the land spirits had been angered by the hotel's construction. It was determined that a shrine or "spirit house" should be built near the construction site to appease the spirits. The shrine was dedicated to Brahma and named for the three-headed elephant he is said to have ridden. By all accounts, the shrine served its intended purpose: construction resumed, and the hotel prospered.
Today, Erawan Shrine is one of the most frequently-visited shrines in downtown Bangkok. The shrine, which often features live Thai dance performances and traditional music exhibitions, is popular with sightseeing tourists as well as locals who come to pray and leave offerings of flowers and incense at the feet of the golden statue of Brahma that sits at the center of the shrine. Located on one of the busiest intersections in the city, the shrine is often crowded and rarely quiet, but its place in the center of a chaotic metropolis only adds to its appeal.
Erawan Shrine is open daily from 6am to 11pm.
Bangkok Tourist Spots | 10. Jim Thompson House
James H. W. Thompson was an American businessman and architect who amassed great wealth through the Thai silk trade following World War II. The Jim Thompson House is actually a complex of six teak structures that Thompson built to use as his home and a sort of private museum for the art he spent decades collecting. Each building on the property was constructed using pieces of Thai country homes, some over 100 years old. Today, the property, located along the Saen Saeb Canal, is a museum, which displays much of Thompson's impressive collection of art and antiques.
Admission to Jim Thompson House is 200 baht for visitors 23 years old and older and 100 baht for anyone 10 to 22 years of age. Children under 10 years old can visit for free. Jim Thompson House is open daily from 9am to 6pm. Guided tours of the inside of the museum are offered in Thai, English, French, Chinese, and Japanese. The tour is well worth the time, not only for a chance to admire the house, but also for the stories about Jim Thompson himself and his mysterious disappearance. As is customary when entering a home or sacred space in Thailand, guests will be expected to remove their shoes upon entering.