Shopaholics of the world can rejoice over phenomenal Bali shopping opportunities! Not only will visitors from around the world find designer label merchandise for incredible prices, but there are also countless boutiques around every corner that cater to those who are looking for something that is unique and different. In Bali, visitors can immerse themselves into the culture of the region at the local shops, street markets, and shopping malls available to shop at and have a thrilling time doing it. Create a shopping list for all the souvenirs you want to buy, and visit some of the best Bali shopping places listed below!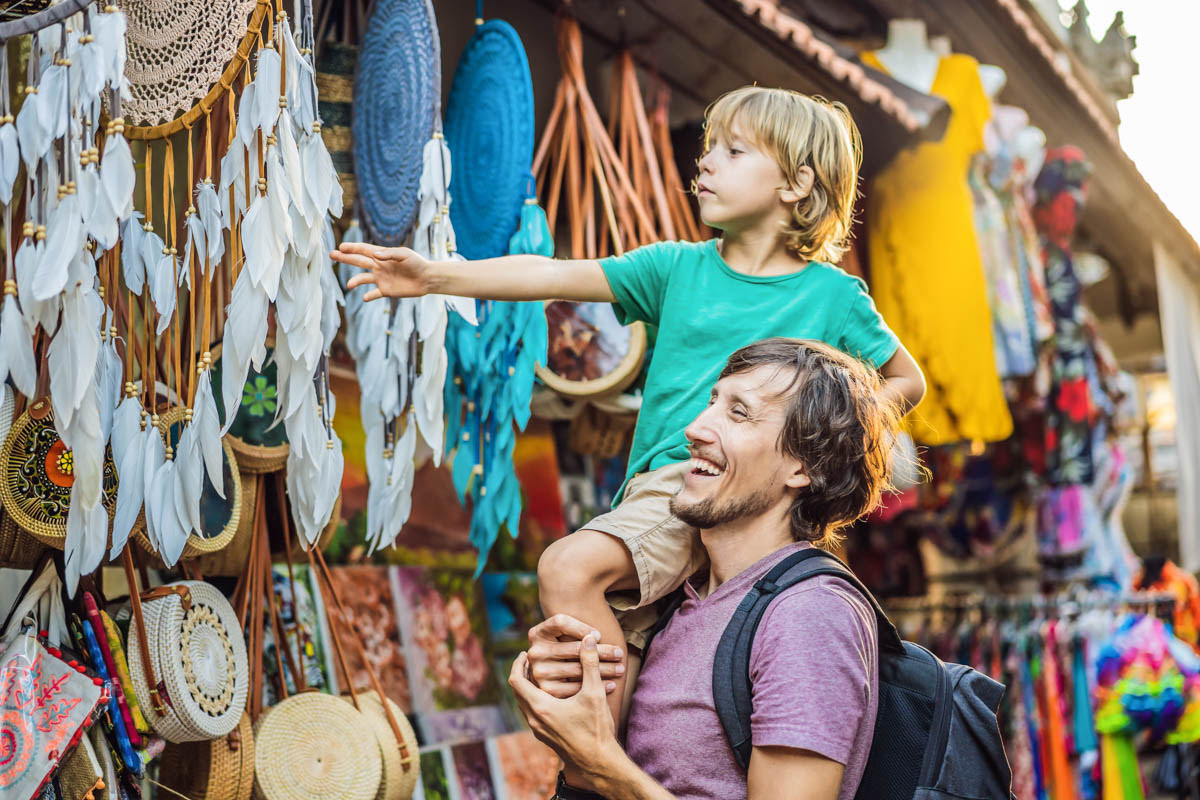 Top Places to Shop in Bali
Looking for a souvenir or a gift to take home? Perhaps even a designer handbag or some hand-painted art? From legendary roadside vendor stalls to upscale shopping malls and expansive bazaars on the beach boardwalks, Bali has some fascinating shopping opportunities to take advantage of, and thanks to a generous exchange rate, visitors from other areas of the world are sure to snag a real bargain. Here is a look at the top places to shop around the island.
1. Kuta Art Market
Showcasing a variety of eclectic items that range from canvas tote bags to straw hats, Kuta Art Market is a true beach front paradise for serious shoppers. This outdoor market is located right along the boardwalk of Kuta Beach and has thousands of items to choose from – all from local vendors. Shopping at Kuta Art Market is a good way to support small businesses in the area.
Kuta Art Market is made up of six long buildings that are divided up into individual vendor stalls. While strolling through the stalls, visitors will find a little bit of everything. It is a great place to find souvenirs and gifts to take home. At Kuta Art Market, guests will also find a variety of street food vendors that dish out quick-serve Indonesian food that can be savored while exploring the market. The prices at the market are reasonable and visitors can work out a really good deal if they know how to negotiate. Kuta Art Market is open from 8am to 10pm daily.
2. Mal Bali Galeria
Mal Bali Galeria is a spacious urban epicenter where visitors to Bali will find all of the high-end clothes, accessories, electronics, and gifts they crave at reasonable prices. Mal Bali Galeria is considered to be one of the finest shopping malls in the world and it caters to those who want to find all of the hottest brands, such as Cartier, Calvin Klein, Versace, and much more, all under one roof.
At Mal Bali Galeria, you will find a little bit of everything, including an Ace Hardware store and plenty of places to get a bite to eat. The mall features an open air concept with an expansive food court that serves delicious international cuisine. Whether you are in the mood for Indonesian food, Chinese food, or an American-style hamburger, you will find it at the food court. Head over to the mall during the weekend and be treated to live entertainment like music concerts, food and gadget demonstrations, and even some Balinese dancing. Attached to Mal Bali Galeria, guests will find Galeria 21, which is the on-site movie theater. This mall is open from 9am to 10pm daily.
3. Discovery Shopping Mall
Located next to the shoreline of Kuta Beach, Discovery Shopping Mall is a shopper's paradise! It features a large shopping mall facility and a huge outdoor courtyard where guests will find a variety of vendors, restaurants, and outdoor dining areas. Visitors can wander up to the mall from the beach or go to the beach for some rest and relaxation after shopping.
At Discovery Shopping Mall, visitors will find a large assortment of department stores and boutiques like Billabong, Converse, Electronic city, and much more. The mall offers fine dining restaurants as well as quick-serve stops like Baskin Robbins and Burger King. From jewelry to electronics, this mall offers guests quite the shopping adventure. Check the mall's website while planning out your trip as there are always exciting cultural events going on to entice visitors to stop by. Discovery Shopping Mall is open from 10am to 10pm daily.
4. Padi Art Market
Offering an inspiring experience to all who visit, Padi Art Market is a must-see attraction for everyone's itinerary while visiting the island. Padi Art Market offers an eclectic mix of arts, crafts, gifts, home decor, and beauty services that celebrate the tropics and make perfect souvenirs to commemorate a warm weather vacation.
While shopping at Padi Art Market visitors will find locally made items that can be purchased for reasonable prices. Visitors are encouraged to do a little friendly haggling in an effort to get a small discount on purchases made at the market. The shopping center offers more class and elegance than some of the street markets located around the island. Visitors will find silkscreen canvases, hand-created pillows, and much more. There are even salons located at the shopping mall where visitors can get their nails decorated or their hair done. Padi Art Market is open from 10am to 5pm daily.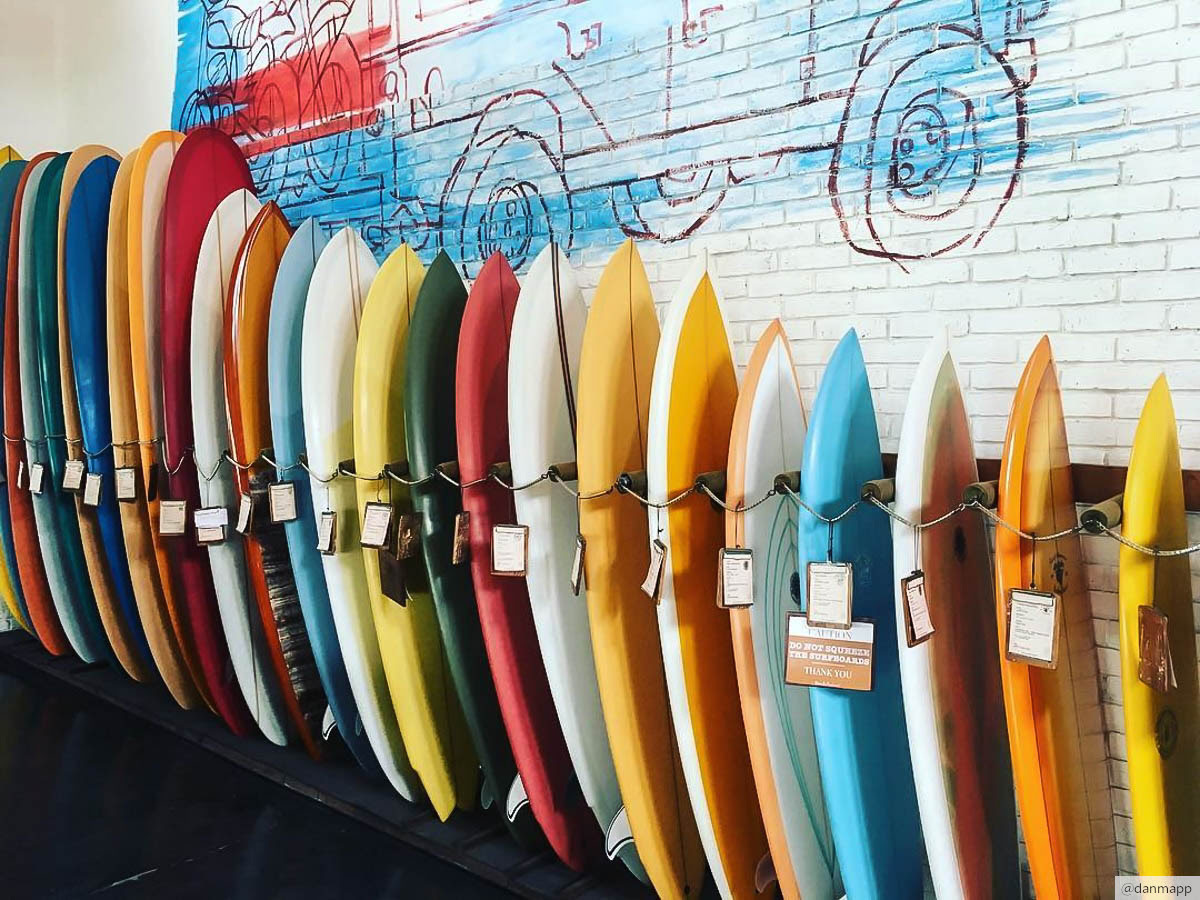 5. Deus Ex Machina – Temple of Enthusiasm
For those who have a love of all things sports and outdoors related, Deus Ex Machina – Temple of Enthusiasm is a place where visitors can go to get all of the cool gear. The store is adorned in ultra chic street art and offers a variety of clothing and accessories that will make outdoor activities even more fun to participate in. While at the store, guests can purchase items like surfboards, motorcycles, paddleboards, swim shorts, art, and accessories. Deus Ex Machina is a chain store with shops all over the world and more than five locations in Bali.
Deus Ex Machina – Temple of Enthusiasm offers guests more than just a hip and trendy place to buy gear for summer playtime activities. It is also home to a cafe with outdoor seating and a bar that serves cold beer and other drinks. Deus Ex Machina – Temple of Enthusiasm's claim to fame is that it refurbishes old motorcycles and gives them a vibrant new life. For guests who are looking for a new or vintage motorcycle to ship home, be sure to check this place out. Deus Ex Machina – Temple of Enthusiasm is open daily from 7am to midnight.
6. Beachwalk Shopping Center
Experience the true culture of Bali through shopping, dining, and entertainment found at Beachwalk Shopping Center in the Kuta neighborhood. It is an indoor and outdoor shopping center than compliments the beach boardwalk well. The mall portion of the facility features stores like Adidas, Bath & Body Works, Batik Danar Hadi, Glow Living Beauty, and Kate Spade. Visitors will be provided with a remarkable shopping experience complete with low prices. The mall has an open and airy feel and offers several floors of shopping fun.
Beachwalk Shopping Center offers more than just a hip and trendy place to shop, there are also a large assortment of restaurants and cafes that serve up everything from burgers to bubble tea. Restaurants and eateries are located in each of the buildings on campus. After shopping, feel free to head out to the courtyard where guests are welcome to lay out on the bean bags and lawn furnishings to rest up and enjoy the sunshine. Beachwalk Shopping Center hosts programs and music events throughout the month, check out what is going on while you are in town. The mall is open from 10:30am to 10:30pm Sunday-Thursday and 10am to Midnight on Friday and Saturday.
7. Love Anchor
A popular nightspot among those who are in the mood for something that is unique and different, Love Anchor in the Canggu neighborhood delivers. Love Anchor is a fun outdoor bazaar type market that is decked out in Balinese thatched huts. The experience of wandering through this place is pure magic. The market is off the beaten path, so it appeals to hippies, hipsters, and everyone in between.
Love Anchor is adorned in whimsical colored lights and offers an abundance of bars, restaurants, and locally owned shops. Guests can wander through the stores in search of great gifts and then sit out in the courtyard with a drink in hand and people watch for the remainder of the evening. This place is popular among tourists of all ages. Love Anchor is open from 9am to 9pm daily.
Check In to The Slow, Step Out to Love Anchor
8. Sukawati Art Market
A must-visit attraction for the serious bargain hunter, Sukawati Art Market is a supercenter for clothing, accessories, shoes, jewelry, and just about everything else you can think of. Sukawati Art Market claim to fame is the fact that people can purchase bulk items at wholesale prices. The market is open to the public and offers two floors of shop-until-you-drop fun! Sukawati Art Market is located in the Gianyar neighborhood and attracts many visitors each day.
In order to take advantage of the biggest discounts offered at the market, visitors will need to bulk purchase their items, so it is recommended that you bring along a couple of friends to share in the purchase if possible. Along with wholesale goods, vendors also sell an assortment of art, wood carvings, and traditional Balinese crafts to tourists. Sukawati Art Market is open from 6am to 6pm daily.
9. Krisna Bali Souvenir Shop
Located in Tuban, Krisna Bali Souvenir shop is an all-encompassing souvenir shop that guests should check out while visiting the island. At Krisna Bali Souvenir shop visitors will find thousands of items to choose from to commemorate their trip to Bali. The store features a simplistic atmosphere and the merchandise is piled up on tables and hung on racks throughout the store.
At Krisna Bali Souvenir shop travelers will find beach towels, postcards, tee shirts, sandals, tote bags, keychains, and a variety of other interesting things that have Bali written all over them. Find gifts for yourself, friends, and family at this one stop souvenir shop. Krisna Bali Souvenir shop is one of the few stores on the island that is open 24 hours a day.
Tips for Shopping in Bali
Shopping in Bali is much like much like shopping at other destinations in the world; the more pleasant you are to work with, the better deal you are most likely going to get. In Bali, price negotiation is not only appropriate to do, it is expected when dealing with local business owners. When shopping at the boutiques and vendor shops located around the island, don't be afraid to ask for a discount. Here are some guidelines to follow when working a bargain while shopping:
Be sure to smile! – When negotiating a price with local business owners, use your manners and be sure to smile.
Purchase multiple items – Business owners are more likely to strike a deal with you if you are purchasing more than one item in their store.
Be reasonable – Before trying to negotiate the price of an item, make sure you know what the item is worth so not to offend the vendor you are purchasing the item for.
Understand that you can't negotiate in national chain stores – When out shopping at the malls and department stores, understand that items are ticketed with fixed prices and you will not be able to negotiate with the cashiers. Often times, prices are set by the corporate office.