Bali is an ideal destination for solo travelers. It's easy to get around, the atmosphere is friendly and welcoming, and the tropical climate means hot temperatures every month of the year. There is also no shortage of activities to do and things to see, from watching the sunset at Jimbaran Beach to shopping for unique, artisanal goods at Ubud Market. Another major reason why Bali is considered to be a backpacker's paradise is the comfortable and affordable rental homes. To help you decide where to stay as you explore the island, here are 10 recommended holiday homes in Bali for solo travelers. Each one is located close to popular attractions and includes WiFi and air conditioning.
1. Comfy Room in Seminyak, with Modern Architecture!
Enjoy Bali in comfort and style with a stay at Comfy Room in Seminyak, with Modern Architecture! This bright and spacious apartment features a modern, minimalist style with beautiful decor. Each room has a flat-screen, satellite TV and a full private bathroom with all of the amenities. Selected rooms come with a kitchen as well. The property also offers an airport shuttle for an additional charge, or you can take advantage of the free parking. Guests are treated to a continental breakfast every morning of their stay, and there is a shared pool area where you can relax and meet the other travelers.
This comfortable vacation home is located in the area of Seminyak, a popular resort locale at Bali's southern end. Seminyak is an ideal place for travelers looking to experience a bit of everything. You'll find beaches, boutique shopping, restaurants, nightlife, cultural landmarks, and more. The atmosphere is very relaxed and the beaches are a great place for both sunbathing and surfing.
Top attractions and things to do nearby
Petitenget Temple
Batu Bolong Beach
Masceti Temple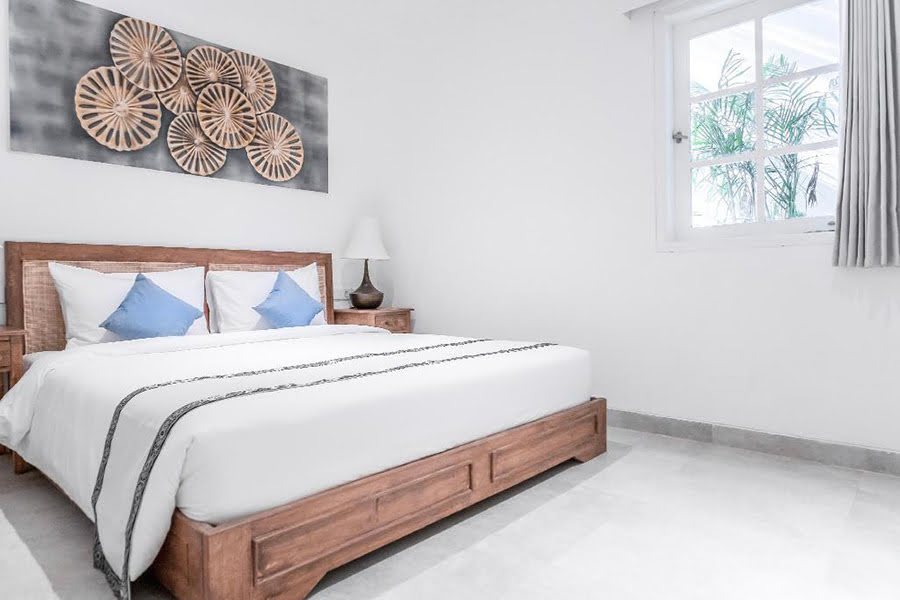 2. Bisma Guest Suite – prime location near the beach!
Solo travelers can truly pamper themselves at Bisma Guest Suite – prime location near the beach! The elegantly appointed rooms have a relaxed atmosphere complete with lovely traditional decor and great views. Enjoy a king size bed all to yourself and save some money with the free breakfast offered to guests every morning. The property features a large outdoor pool area as well as a bar where you can spend a lazy afternoon. Or, you can choose to order meals directly to your room. Other perks include free parking, airport transfer service, tour bookings, and scooter rentals that make it easy to explore the surroundings.
Bisma Guest Suite is also located in the Seminyak area. Because it is situated so close to the coast, it is a prime apartment for travelers who plan to spend a lot of time at the beach. The closest beaches are just a quick stroll down the street, and there are plenty of other attractions nearby as well.
Top attractions and things to do nearby
Double Six Beach
Reservoart Gallery Seminyak
3. BEST VIEW Tranquil Yoga Resort 10 min to TanahLot
Experience your dream Bali vacation at BEST VIEW Tranquil Yoga Resort 10 min to TanahLot. The rooms feature large bedrooms with high ceilings as well as spacious, spa-like bathrooms where you can refresh and prepare for all of your adventures in comfort. Each room also comes with a shaded terrace that offers views of the outdoor infinity pool and the surrounding greenery. Your stay will include a free daily continental breakfast and access to the on-site yoga studio. For an additional fee, guests can arrange airport pickup, day trips, and bicycle tours. The property also has a beautiful traditional style lounge area, a bar, and a western fusion restaurant.
This tranquil holiday rental is located in the Tabanan area, close to the famous Tanah Lot rock formation. Situated just offshore, the Tanah Lot formation is a popular spot to take photos and watch the sunset. The rest of Tabanan is also brimming with natural beauty, from its black sand beaches to its stunning terraced rice paddies. The area has a very authentic Balinese feel.
Top attractions and things to do nearby
Tanah Lot Traditional Market
Kedungu Beach
Pasar Senggol Beraban Market
4. Deluxe Suite at Dacolina House Jimbaran
Booking a room at Deluxe Suite at Dacolina House Jimbaran ensures that you have everything you need during your stay. Each individual room comes with a full host of amenities including a flat-screen TV with satellite channels. Additionally, there is also a shared common area that includes an outdoor pool and hot tub, a terrace, a kitchen with a refrigerator and a stovetop, a living room and seating area, and a dining room. Guests are provided with a complimentary breakfast and get to choose between continental and a la carte. Simplify your itinerary by making use of the property's paid airport shuttle service or renting a car and using the free private parking provided.
Dacolina House Jimbaran is located in the fishing village of Jimbaran. The Jimbaran area is home to its fair share of luxury resorts, but it still manages to maintain an authentic local community feel. It is a great place to relax, enjoy the calm waters of the bay, and sample the many restaurants offering fresh seafood right on the beach.
Top attractions and things to do nearby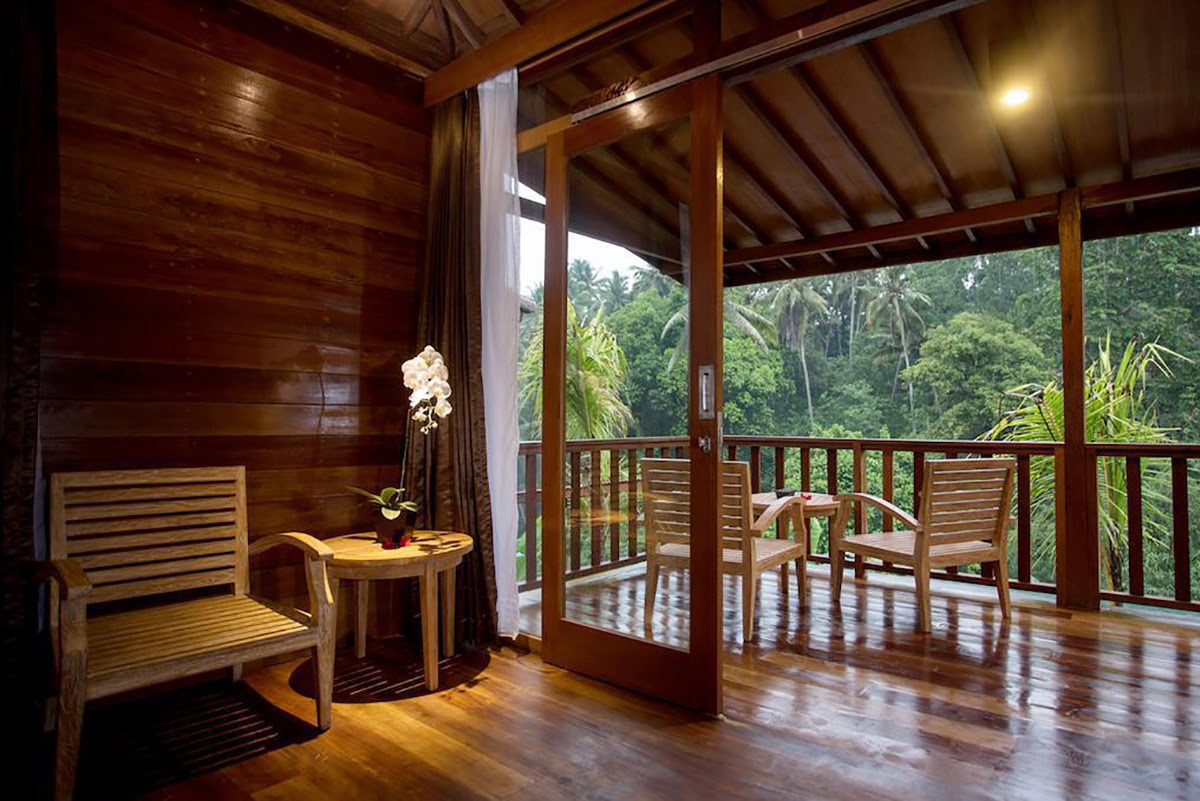 5. #150 Stunning Room Garden View in Ubud
Treat yourself to true Balinese charm and style with a stay at #150 Stunning Room Garden View in Ubud, tucked away in the rice fields and jungles of Bali. Each room comes with its own private terrace as well as both a shower and a bath. Enjoy a plush, luxurious bed, traditional decor, and high ceilings that make the room feel open and airy. There is not just one but two outdoor pools, both surrounded by gorgeous greenery that will make your stay here feel like a tropical escape. Spend your days relaxing at the poolside and take advantage of the massage services offered to guests.
This stunning property is located in the ever-popular town of Ubud in Bali's uplands. Though it only has a local population of around 75,000, more than three million travelers come to Ubud every year. The area's appeal is largely due to its gorgeous natural landscapes and captivating holy sites. It is also considered to be the center of traditional crafts and dance, and you'll see traditional Bali culture everywhere you look.
Top attractions and things to do nearby
6. Ubud Apartment tropical Garden
A secluded getaway not far from all of the action, Ubud Apartment tropical Garden is the full package for solo travelers. The cozy units feature a bedroom, a sitting area, and a spacious bathroom with a large tub you can soak in. Guests are provided with their own flat-screen TV, minibar, and balcony or terrace that overlooks the outdoor pool and lush garden. There is also a shared kitchen complete with a refrigerator and a stovetop that you can use. Breakfast and parking are included with your booking, and guests have the option of booking shuttle services, hiring a car, renting bicycles, and arranging for massage treatments.
Ubud Apartment is another fantastic choice if your travels will be taking you to the Ubud area. This holiday villa will have you situated close to the most popular attractions so that you can take in all that Ubud has to offer. Venture into the surrounding rainforest, see a beautiful ancient site, or take in some of the local culture – the choice is up to you.
Top attractions and things to do nearby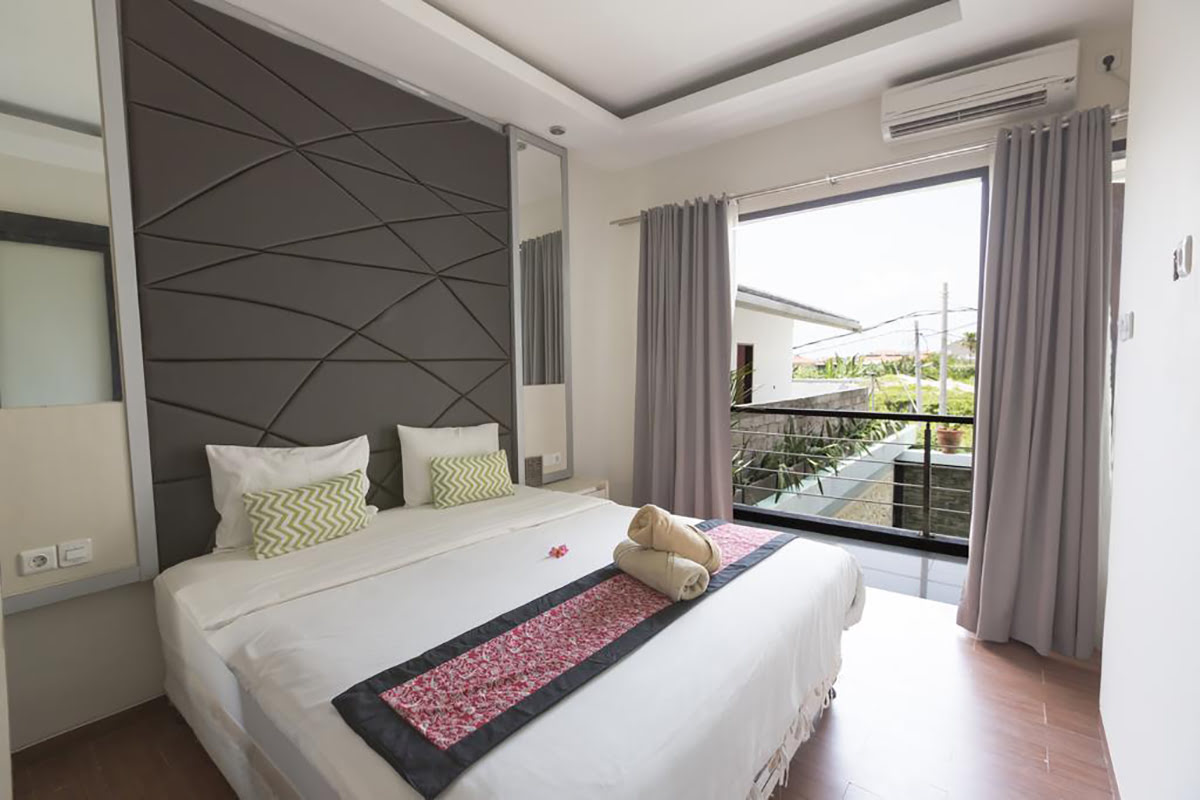 7. Stunning Room 5 Minutes' Walk to Batu Bolong Beach
Stunning Room 5 Minutes' Walk to Batu Bolong Beach is another ideal choice for solo travelers. This modern style property features a beautiful outdoor pool area complete with a hot tub where you can unwind after a day of exploring. Some rooms come with their own kitchen and dishwasher, but you are also welcome to use the property's shared kitchen and dining area, which offers a great opportunity to meet other guests. There is also a fantastic shared rooftop lounge where you can do some sunbathing. If you need a place to park your rental vehicle, you are welcome to use the on-site car park.
This holiday home is an obvious choice if you want to be close to the beach. It is located in the Canggu area, an up-and-coming tourist spot and a popular location for expats. A former fishing village, Canggu is now abuzz with hip cafes and endless recreational opportunities. The local beaches are great for surfing and there is no shortage of Instagram-worthy photo spots.
Top attractions and things to do nearby
Batu Bolong Beach
Echo Beach
Petitenget Temple
Puri Agung Karangasem
Splash Waterpark Bali
8. Bedsolving Hotels Beach Garden Bungalow
Looking for an easy island escape from Bali? The Bedsolving Hotels Beach Garden Bungalow is located on Gili Trawangan, the largest of the three Gili Islands just off the northwest coast of Lombok. Gili Trawangan is a tropical paradise home to sandy beaches, palm trees, and coral reefs. There are also many shops, bars, and restaurants located along the main drag.
Bedsolving Hotels Beach Garden Bungalow is in a prime spot for enjoying all that the beaches that Gili Trawangan has to offer. It is only a short walk away from the island's harbor and close to all of the most popular shops and restaurants. The property strives to make guests feel welcome by offering a whole host of amenities, including a private terrace and a private bathroom with both a tub and a shower. There is also a shared pool area and a bar. The front desk is open 24 hours a day, and guests can make arrangements for snorkeling trips, airport shuttles, laundry services, and more.
Top attractions and things to do nearby
Trawangan Sign
Gili Trawangan Lookout
Gili Trawangan Lighthouse
Trawangan Night Market
Gili Trawangan Swings