Chow down on Indonesian street food specialties, or find an elegant view at one of the best rooftop restaurants in Jakarta. Home to more than 300 ethnic groups, this capital city's menu selection is as diverse as its population. Jakarta street cooks in Jalan Jaksa deliver tradition, and upscale chefs in Kemang never shortchange your five-star experience. Hot and spicy, sweet and salty, food in Jakarta is rich in flavor and drenched in tradition.
AGODA EXTRA: Jakartans love to eat, and that's why street food vendors are open around the clock. The favorite way to eat, however, is family-style. In traditional homes and even in restaurants in Jakarta, everyone shares different dishes placed around the table, and the meal is normally started by the oldest member of the family or male head of household.
Source (L-R): @racheldjuanda, @missgembil
Enjoy traditional street food at GANG GLORIA in CHINATOWN (GLODOK)
Inside the largest Chinatown in Indonesia you won't have any trouble locating some Indonesian street food in Gloria Alley (Gang Gloria). The quaint road is home to some famous favorites like Bakmi Amoy, which is loved for its fried meatballs, and Kopi Es Tak Kie, where you'll find traditional iced coffee, as well as a tasty round of local dishes. Don't stop at the obvious, though. Jakarta is the birthplace of soto betawi (beef in coconut milk), and Gloria Alley is where local cooks made it famous!
Also try at Gang Gloria:
Ketoprak: a vegetarian dish containing tofu, vegetables, rice cake and rice vermicelli covered in peanut sauce.
Ketupat sayur: typically a breakfast dish that contains slices of ketupat (rice cake) and vegetables in flavorful coconut milk.
Sekba: a dish of pork offals stewed in a mild soy sauce-based broth fused with garlic and Chinese herbs.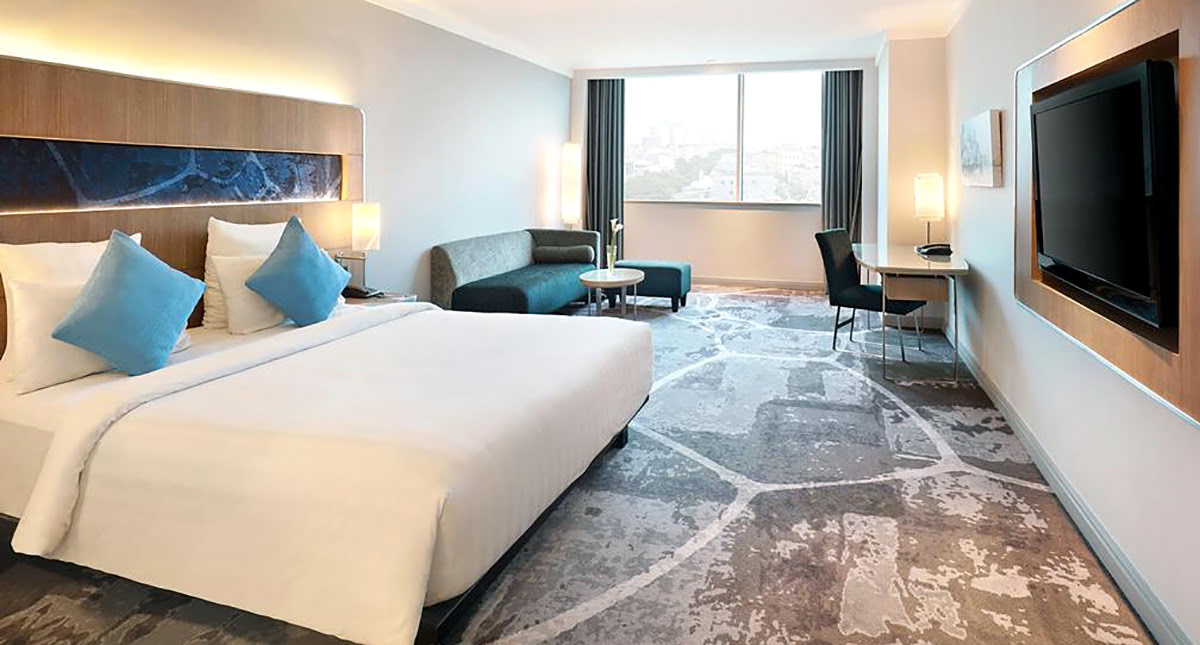 2. Treat yourself to Indonesian street food at GADING FOOD CITY at KELAPA GADING
Situated in the center of KG (Kelapa Gading), Gading Food City is where local flavors and international cuisine collide. Not only will you find a satisfactory assortment of Indonesian, Chinese, Korean and western menus (with pork!), but you'll also find live music and a chilled-out atmosphere every, single night.
Where to eat in Gading Food City:
Ibu Jum's is famous for its nasi uduk, or mixed rice. The dish starts with steamed rice that's been cooked in coconut milk fused with cloves, lemongrass, cinnamon and pandan leaf. What you add to it is up to you! Ibu Jum's is famous for its nasi uduk because of the selection of side dishes that come with it. Load up on everything from stir-fried papaya flowers to grilled squid, and eat up in an open-air seat in front of a big screen!
More must-try restaurants in Kelapa Gading
Angke, Jl. Boulevard Bar. Raya No.33, RT.18/RW.8, Klp. Gading Bar.
IPPEKE KOMACHI, Mall Kelapa Gading 3 Lantai Dasar Unit 38A-B
Wiro Sableng 212, Jl. Boulevard Raya No.12, RT.1/RW.6, Klp. Gading Bar.
Bakmi Ernie, Jalan Boulevard Raya FY 1/15, Kelapa Gading, RT.8/RW.13, Klp. Gading Tim.
Sushi Hiro Kelapa Gading, Komplek Graha Boulevard Blok KGC No. A01, Jl. Boulevard Raya, Kelapa Gading, RW.1, Klp. Gading Tim.
3. Satisfy your upscale food cravings in KEMANG DISTRICT
Jakarta's elite business district serves as the gathering hub for stylish professionals and visiting internationals who love to eat. Enjoy brunch from the rooftop of FJ on 7, or share a feast of grilled meats at El Asador. Daytime in Kemang is fairly laid back, but at night and on weekends, the area lights up with live music and foodies ready to sample French, Italian, German and other international cuisines at the best restaurants in Jakarta!
Best restaurants in Kemang
Mamma Rosy, Jl. Kemang Raya No.58, RT.8/RW.2, Bangka, Mampang Prpt., Kota Jakarta Selatan
Koi Kemang, Jl. Kemang Raya No.72b, RT.7/RW.2, Bangka, Mampang Prpt., Kota Jakarta Selatan
Queens Head, Jl.Kemang Raya No.18C, Bangka, Mampang Prapatan, RT.11/RW.5, Bangka, Mampang Prpt., Kota Jakarta Selatan
Warung Turki, Jl. Kemang Raya No.18A, RT.11/RW.5, Bangka, Mampang Prpt., Kota Jakarta Selatan
Fez-Kinara dining & Lounge, Jl. Kemang Raya No.78B, RT.4/RW.2, Bangka, Mampang Prpt., Kota Jakarta Selatan
HAKATA IKKOUSHA, Gedung Kemang Arcade, Jalan Kemang Raya No.20A, RT.11/RW.5, Bangka, Mampang Prapatan, RT.11/RW.5, Bangka, Mampang Prpt., Kota Jakarta Selatan
Gourmet Kemang, Jl. Kemang Raya No.68, RT.8/RW.2, Bangka, Mampang Prpt., Kota Jakarta Selatan
4. Tempt your taste buds with Indonesian satay and savory local dishes at JALAN JAKSA and JALAN SABANG
Street food doesn't get any more authentic than the grub you'll discover along Jalan Jaksa and Jalan Sabang. Located just south of Merdeka Square, the two parallel venues feature rows and rows of food stalls, manned by local chefs who know how to whip up some tasty originals. Grab breakfast or a middle-of-the-night snack because these streets never sleep and always have a hot-and-ready order of Indonesian satay (grilled meat skewers), fried lele (catfish) and all the gado-gado you can heap on one plate!
Best Indonesian street food at Jalan Jaksa and Jalan Sabang:
Gado-gado: an Indonesian-style salad containing tofu, hard-boiled eggs and mixed vegetables – usually potatoes, string beans, spinach and baby corn – all doused in a hefty ladleful of peanut sauce and topped with crunchy rice crackers.
Best places to eat on Jalan Jaksa
Sate Khas Senayan
Ocha & Bella
Plataran Menteng
Best places to eat on Jalan Sabang
Kopi Oey
Bangi Kopitiam Sabang
Mercure Jakarta Sabang
5. Eat at a local warung at BENDUNGAN HILIR (BENHIL)
There may be no better place than Bendungan Hilir, popularly known as Benhil, to experience authentic Indonesian street food. Stuff your face with local favorites, all sold from a friendly warung (streetside restaurants in Jakarta) or from the back end of a kaki lima, or "five leg" vendor, parked on the street. The mobile food carts get their name from the three wheels on the cart itself and the two legs of the vendor who pushes it!
Best foods to try at Benhil
Martabak (stuffed pancakes)
Bubur ayam (chicken porridge)
Bakso (meatball soup)
Gorengan (deep-fried fritters)