Affectionately known as the "duck river" by locals, Kamo River sets the stage for many of the outdoor recreational activities available in Kyoto. Kamo River is a destination that appeals to visitors all year long. The riverbank is framed in fragrant cherry blossom trees that brighten up the natural landscape during the spring, and come fall, the scenery glows with the orange, yellow, brown, and red hues of leaves on maples and other native trees. Kamo River is popular among those who would like to take a stroll and get some fresh air or go on a tranquil boating trip for the day. Along the route of Kamo River, visitors will find an assortment of tantalizing restaurants with outdoor patios, as well as shops and boutiques that showcase a wonderful assortment of green teas, souvenirs, and local crafts.
History of Kamo River & Significance to Kyoto
This river is held in high regard by residents of the area as it has served them well throughout history. For centuries, Kamo River has provided food to the people, transportation for both business and pleasure, and a mineral-rich place to play on a warm summer day. Kamo River collects ice cold water from the high peaks of Mount Sajikigatake and carries it all the way through Kyoto, where it then meets up and empties into Takano River.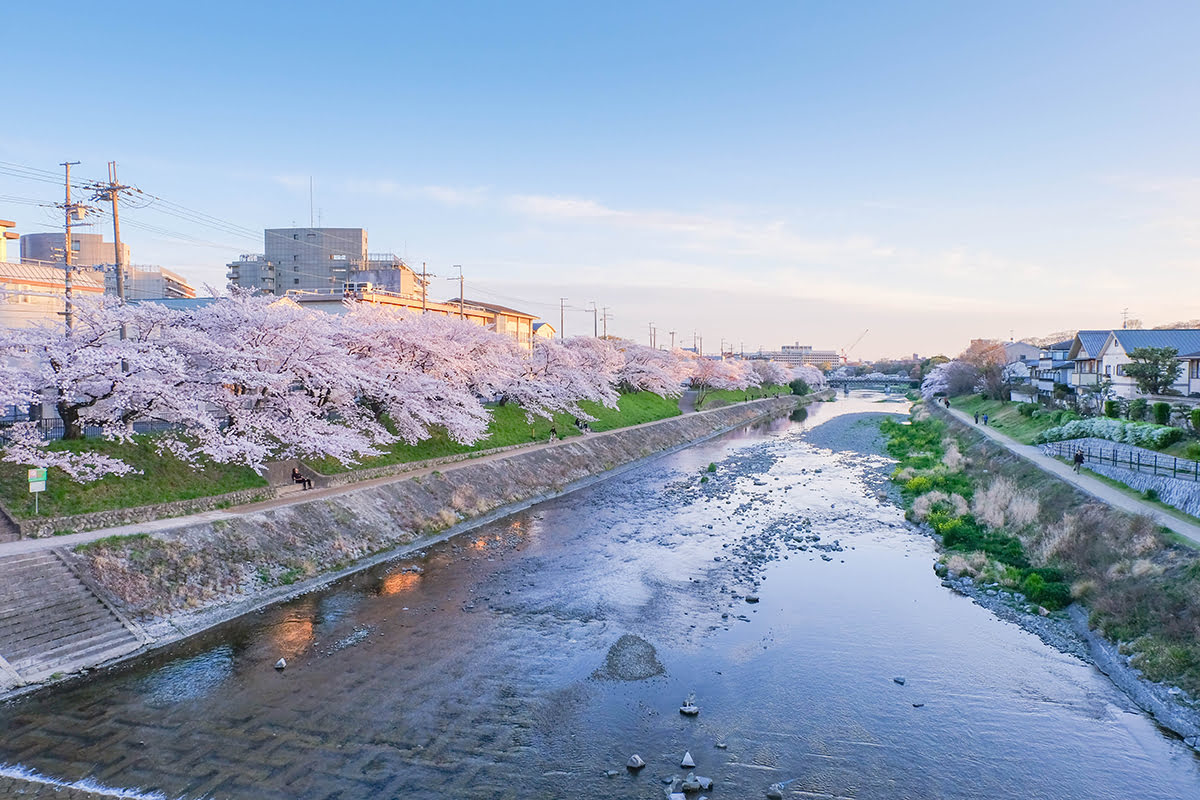 Best Time to Visit Kamo River
To get the most out of your journey to Kamo River, it is best to visit during the spring, summer, or fall months. The spectacular and fragrant cherry blossom trees that line parts of the river and adjoining communities are in full bloom during April and May. During spring, the temperature hovers at around 69°F. The summer months are buzzing with tourist activity and temperatures can get up to 90°F with lots of humidity and frequent rainfall. During the fall season, the leaves on the trees change colors in preparation for winter and temperatures are usually in the mid-70s.
Tours Around Kamo River
Perhaps one of the best ways to experience the beauty and glory of Kamo River is to experience it with the assistance of an expert tour guide. Depending on where you stay in Kyoto, you can find several day and night tours that take visitors right to the heart of Kamo River. Here are some of the most popular tours of the river.
Kamo River Night Walk – Experience the magic of the river by night when it glows in the ambiance of thousands of lantern lights. This is a two-hour tour where visitors will get to walk alongside and in parts of the river. While on this adventure a guide will locate wildlife such as the famous Giant Salamander for visitors to see. This tour can be reserved for most days of the week, and it costs approximately 4050 JPY per person.
Private Boat Tours – Be sure to sign up for a private boat tour of Kamo River and experience all of its natural beauty from the water. Private tours are hosted by a variety of tour services each day of the week and prices vary by tour. Guests can check out a side of Kyoto they have never seen before.
Craft Tabby – Take a guided tour like you have never experienced before when you head out with the guides on a tour with Craft Tabby. These tours vary in length and specialize in showing guests the hidden gems located near the river. Guests will get to see the unusual attractions that are often passed up by other tour services of the region.
FIND & BOOK A HOTEL IN KYOTO TODAY
Attractions Near Kamo River
Kamo River is a beautiful natural splendor with many nearby attractions to explore. From fine restaurants to ancient Buddhist temples, the assortment of activities is endless. Stroll down the river bank and see where your adventure leads you!
Kyoto Railway Museum
Located less than three miles from Kamo River, Kyoto Railway Museum is an interesting historical attraction where visitors can learn about the history of transportation in Kyoto as well as the rest of the Japanese islands. This museum is a non-profit organization that was opened in 2016. Kyoto Railway Museum is considered to be a place of learning, and guests of all ages are allowed to enjoy an interactive experience with all of the train cars on display. Climb aboard a train car and learn about the past, present, and future of railway technology. This museum is massive, measuring in at over 30,000 square feet and is home to over 50 retired train cars that guests can climb inside to explore further. Along with trains, there are plenty of documents, artifacts, and uniforms on display.
Kyoto Railway Museum is open from 10am to 5:30pm each day of the week, except for Wednesday, and admission to get into the museum is 1,200 JPY for adults, 1,000 JPY for high school and university students, and 500 JPY for elementary students.
Kitamura Museum
Located at the intersection where Kamo River and Takano River unite, Kitamura Museum first opened its doors to visitors in 1977 and is home to thousands of artworks and artifacts that showcase the culture and history of Japan. The museum is considered to be an important piece of the cultural heritage of the region and fascinates visitors from near and far. Within the museum, guests will find a variety of ornate kites, cultural properties, paintings, sculptures, and tea-related artifacts and utensils. Guest artists can display their own work in the museum during the spring and autumn months. The architecture of this building is inspired by green tea, and it boasts a modern interior that appeals to the young and young at heart. During certain months of the year, the museum opens up its tea garden and tea house for visitors to enjoy.
Kitamura Museum is open from 10am to 4pm daily, except for Monday, and admission to get in the door is 600 JPY for adults and 400 JPY for kids.
Samurai & Ninja Museum with Experience
Learn about the art of ninjas and the world-renowned sword masters that Japan is known for when visiting Samurai & Ninja Museum with Experience in Kyoto. This is an expansive museum that showcases ornate costumes worn by samurais and ninjas throughout history. Guests can tour the museum in the company of an expert guide who will talk about the history and culture of these mysterious warriors. Visitors will learn all about the armor and weapons used by ninjas and samurais and how all parts are designed with attention to culture and respect for the art in mind. During the tour, visitors can also take a sword lesson and learn how to properly hold and swing this respected weapon. If you have ever wanted to learn how to move around like a true ninja, there are trainers on hand to help out with that, too!
Samurai & Ninja Museum with Experience is open daily from 10:30am to 8pm, and admission is 5,000 JPY per person. The admission price covers a special tea and kimono ceremony where guests get to experience tea time with a geisha.
FIND & BOOK A HOTEL IN KYOTO TODAY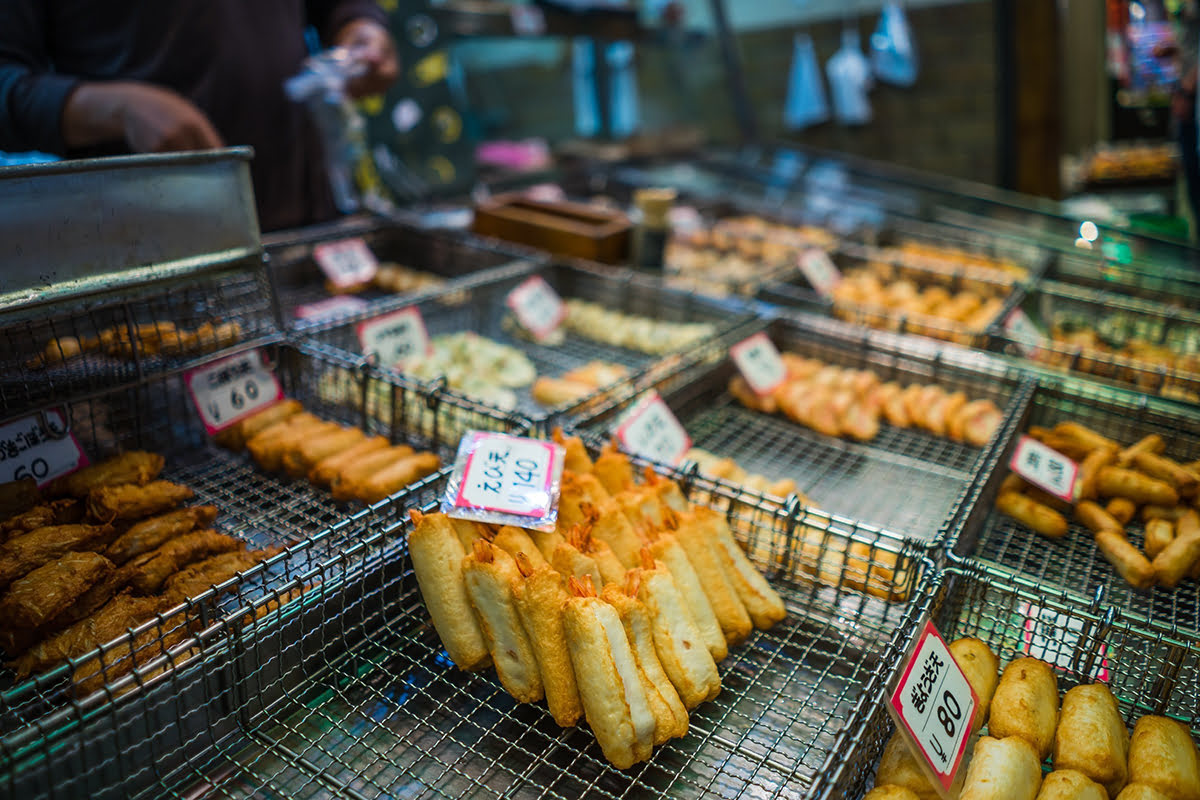 Restaurants, Shopping & Entertainment Near Kamo River
Along the route of Kamo River guests will find an assortment of restaurants that dole out cuisine from all over the world as well as charming boutique shops and entertainment venues. Depending on the time of year, guests will have the opportunity to wander through outdoor public markets and more. Embark on a journey up the river and discover the restaurants, shops, and entertainment hubs that are waiting for you.
Shinkyogoku Shopping Street Union
A thriving urban center that is always buzzing with activity, Shinkyogoku Shopping Street Union is located within walking distance of the river's edge. Shinkyogoku Shopping Street Union is an indoor public market that features everything from cheesy tourist T-shirts to paper lanterns and an assortment of souvenirs. This place has just about everything a visitor could want when shopping for gifts and mementos to take home with them after their journey to Japan. Shinkyogoku Shopping Street Union is an indoor market where all of the vendor shops are independently owned and operated. The complex features high skylight ceilings that give it an open and airy atmosphere. Shinkyogoku Shopping Street Union is located in the downtown district of Kyoto and offers tourists the opportunity to immerse themselves in the culture of the region and mingle with the locals. Negotiating is expected and will get tourists the best prices on their loot.
Shinkyogoku Shopping Street Union is open from 10am to 8:30pm Wednesday-Friday, 11:30am to 8:30pm Saturday and Sunday, 10am to 8:30pm on Monday, and 10am to 5pm on Tuesday.
Nishiki Food Market
Celebrated as a "heaven on earth" of sorts for self-proclaimed foodies, Nishiki Food Market is an expansive public market dedicated to food, ingredients, and drinks. Nishiki Food Market is located within walking distance from the river and is considered to be one of the highlight attractions for tourists visiting Kyoto. It is an indoor food market where guests will find everything from freshly caught fish to serve ware. Nishiki Food Market offers over 100 independently owned shops where guests can buy all of the fixings for a home-cooked meal or sample homestyle dishes that are cooked up for guests to try out. Not only will visitors find an assortment of mainstream dishes, but they can also try out delicacies coveted in the region.
Nishiki Food Market is open from 9am to 6pm each day of the week. Some stores, however, have varied hours, so not all stores may be open on any given day of the week.
Haru Cooking Class Kyoto
Ever dreamed of learning how to make Japanese cuisine like a pro? Do you consider the art of making Japanese food intimidating? Haru Cooking Class Kyoto is an award-winning cooking school located near the bank of Kamo River allowing visitors to cook with the experts amid beautiful natural scenery. Haru Cooking Class Kyoto is more than a cooking school; it is an experience and provides a way for guests to connect with the Japanese culture on a deeper level. This cooking school offers a variety of classes where visitors can learn how to make everything from perfectly-rolled sushi to flavorful mushroom noodle dishes with the help of an expert chef. To make the experience even more authentic, visitors will not cook in a cold industrial kitchen but will be invited into the home of a Kyoto resident.
Haru Cooking Class Kyoto is open each day of the week from 2pm to 6pm, and course prices range from 6,900 JPY to 12,900 JPY, depending on the menu items.
FIND & BOOK A HOTEL IN KYOTO TODAY
Hotels Near Kamo River
Take advantage of the stunning views and lush vegetation near the Kamo River by staying at a riverside hotel. Whether you are looking for a 5-star luxury hotel, a budget room, or a hostel, there are plenty of lodging options available.
Kyoto Hana Hotel
A beautiful high-rise hotel that is located within walking distance of Kamo River, Kyoto Hana Hotel offers world-class accommodations at a reasonable price. Rooms at this hotel can be reserved for as little as 7,500 JPY per night during the non-peak travel months of the year. When reserving a room at Kamo River, Kyoto Hana Hotel, guests can choose from rooms with a single bed to deluxe rooms with multiple beds. This hotel offers western style rooms and Japanese rooms. This hotel is seven stories high and offers 43 rooms.
Kyoto Hana Hotel is located less than 10 minutes from both the Sanjo Keihan Subway Station and the Higashiyama Subway Station, giving guests quick access to all of the exciting attractions around the city. Each room features light colored walls, tile or wood floors, and simple furnishings that promote rest and relaxation. Amenities included with your stay at Kyoto Hana Hotel include air conditioning, free parking, onsite restaurants, a massage service, and Wi-Fi.
Kyoto Granbell Hotel
Another beautiful hotel located near the river, Kyoto Granbell Hotel boasts modern elegance and provides guests with the best possible service. Rooms at this hotel can be snagged up for approximately 14,200 JPY per night and there are several stunning rooms to choose from. Each room at Kyoto Granbell Hotel is adorned in dark furnishings, plush linens, and natural wood flooring and accents. When booking a room, guests can choose from a variety of western-style rooms with Japanese accents or traditional Japanese rooms. Amenities included with a reservation include complimentary Wi-Fi, massage services, a steam room, a game room, a coffee shop, onsite restaurants, and a bar.
Kyota Hotel Okura
For around 19,000 JPY per night, Kyota Hotel Okura is an amazing luxury hotel where guests will receive royal-class treatment while staying here. This hotel is 16 stories high and offers hundreds of rooms with several different floor plans. Guests can choose from standard rooms up to multiple-room executive suites. Kyota Hotel Okura is located in the downtown region and offers quick access to Kyoto Shiyakusho-mae Subway Station and Sanjo Keihan Subway Station.
Kyota Hotel Okura provides a comfortable stay to all who visit. Guests can take advantage of high-class amenities such as a fitness center with state-of-the-art workout equipment, a coffee shop, onsite bar and restaurants, heated indoor pool, massage services, sauna, hot tub, concierge services, vending machines, a steam room, and complimentary breakfast. After checking out all of the attractions near Kamo River, guests can retreat back to the hotel and enjoy the peace and quiet. The rooms are decked out in neutral-colored decor that promotes rest and relaxation. Depending on room choice, guests are offered multiple beds, private bathrooms, sitting areas, and complimentary toiletries to make their stay perfect.
FIND & BOOK A HOTEL IN KYOTO TODAY