For many, a visit to Kyoto would not be complete without a soak in one of the region's natural hot springs or onsens, so a Kyoto onsen guide is essential for planning a trip to Japan. There are thousands of onsens scattered across Japan, including many in Kyoto and the surrounding area. Find out where the most popular onsens in Kyoto are hidden, and enjoy some tips on how to dip in a hot springs bath the right way!
Kyoto Onsen Guide | Intro to Japanese Hot Springs Baths
In planning a visit, it is important to understand that the word onsen can refer to both the hot springs itself and to the resort, hotel, or inn that surrounds it. To officially be considered an onsen, the geothermally-heated water in the springs must be at least 25°C and contain at least one of 19 specific minerals. Depending upon its location in the country, different onsens have different dominant minerals with different supposed healing properties. For example, salt onsens are said to be helpful for soothing aching muscles and joints while highly sulphuric onsens are said to improve circulation. Since onsens can be public or private, indoor or outdoor, focused on healing or on recreation, there are a wide variety of options available to visitors. Whichever onsen experience is chosen, a long soak in the steaming waters of one of these natural hot springs is one of the iconic, not-to-be-missed experiences of any visit to Japan.
History of Japanese Hot Springs
Onsens go back at least as far as the sixth century; several ancient texts from that period describe emperors' visits to some of Japan's oldest hot springs. It is likely, however, that onsens have been in use much longer than that – 3,000-year-old scraps of pottery have been found near Dogo Onsen, the country's oldest hot spring. Over the centuries, onsens have been used for daily bathing, religious rituals, and as healing baths. Today, locals and visitors alike primarily visit onsens for relaxation and leisure.
Historically, men and women bathed together, but that practice was largely eradicated after Japan ended an extended period of self-imposed isolation from the West in the mid-19th century. Western missionaries and others were shocked when they encountered men and women bathing nude together in the hot springs. Japanese authorities feared that the practice would negatively impact Japan's standing in the world, so the practice was widely banned, but some traditional, rural onsens do allow men and women in together. Couples or families who wish to practice mixed-gender bathing on a visit to Kyoto will want to book a private onsen.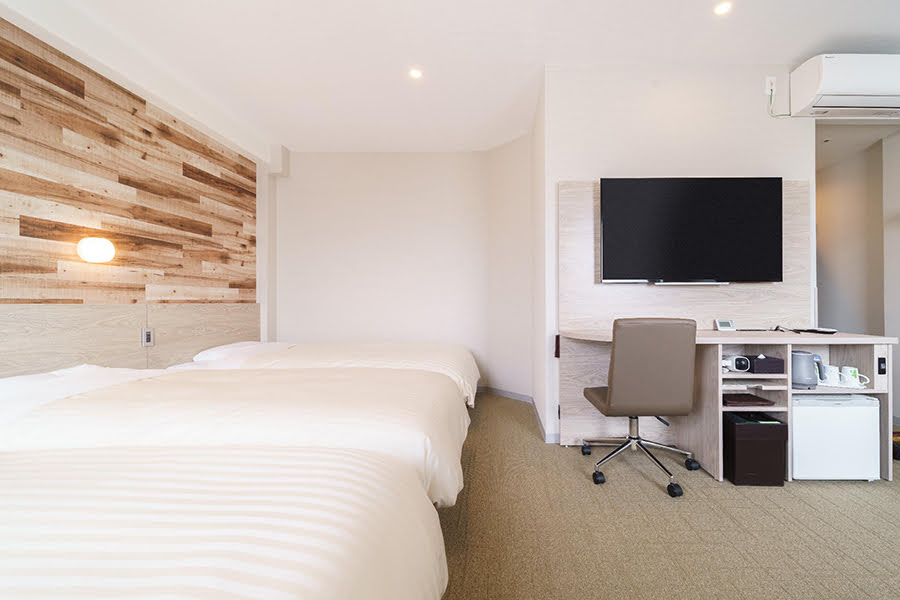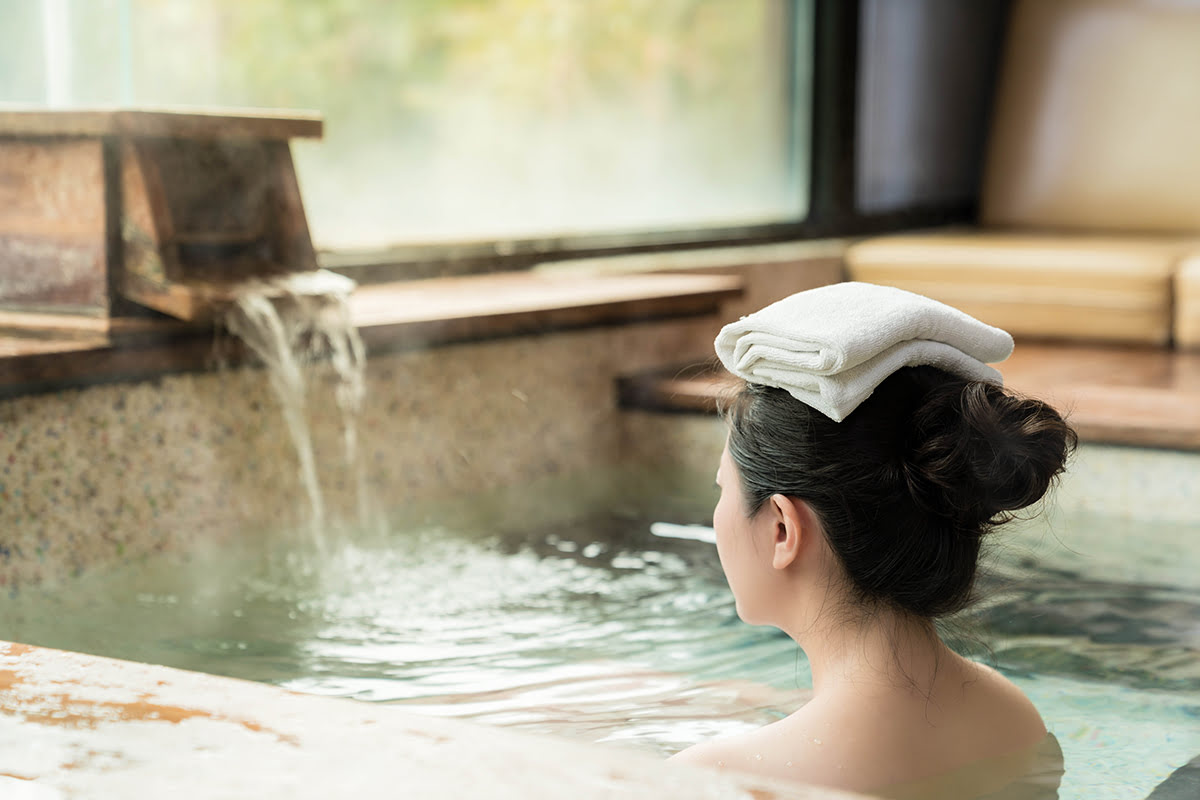 Kyoto Onsen Guide | Japanese Bathing Etiquette
Foreigners who are new to Japanese bathing culture may find themselves feeling a bit intimidated at the prospect of visiting a Kyoto onsen. The idea of stripping down for a soak with strangers may seem a little awkward to those new to the experience, but anyone armed with a bit of information about the rules and etiquette of visiting an onsen has nothing to worry about.
No clothing or bathing suits are allowed
Everyone is required to strip down to their birthday suits before entering an onsen. Garments are considered dirty and are forbidden in natural hot springs for fear they will contaminate the water. This is certainly the most difficult part for many tourists who are unaccustomed to being naked in a semi-public setting, and while it may be uncomfortable at first, most find that it's really not a big deal. Towels are generally provided, and it is acceptable to use one for modesty when walking from the shower to the onsen. It is important, however, to make sure that the towel does not make contact with the water of the hot springs.
Wash first
Onsens are for soaking and relaxing, not cleaning oneself. All patrons must wash thoroughly with soap and water before slipping into the onsen. Most onsens will have an adjoining shower area where everyone is expected to give himself or herself a thorough scrub before beginning a soak. Those with long hair should make sure that it is pulled back and not allowed to touch the water once in the onsen. It is never acceptable to submerge one's head in the water.
Tattoos should be covered
In Japan, body ink is strongly associated with the organized crime syndicate, the yakuza, so tattoos are forbidden in most onsens. While onsens that cater to tourists may be more lenient, those with small tattoos that are easily concealed should purchase a bandage or tattoo cover before visiting the onsen. Visitors with extensive ink will likely need to book a private onsen.
Respect fellow bathers
People come to the onsen to relax, so guests should be considerate of the atmosphere. Swimming or splashing in the onsen is forbidden, and while quiet conversations are common, voices should be kept low so that others may enjoy some peace and quiet. There is absolutely no phone use allowed in an onsen, and devices should be secured along with clothes and other personal items before entering the hot springs.
Kyoto Onsen Guide | Best Hot Springs in Kyoto
Kyoto's volcanoes are not as active as the ones in other parts of Japan, but visitors to Kyoto will have no problem having an authentic onsen experience within 30 minutes of downtown. Those willing to venture a bit further outside of the city will have more options and can even choose a hot springs area with mountain or ocean views.
Kurama Hot Spring
Located just 30 minutes from the heart of Kyoto, Kurama Hot Spring is without a doubt the most popular onsen in the region. The Kyoto onsen's outdoor baths look out on lush wooded mountains, and many visitors to the hot spring come to enjoy a soak after a day of hiking. Kurama Temple is located in the mountains above the town, and combined with a visit to the onsen, makes for a great day or even half-day sightseeing trip from Kyoto. There is also an onsite restaurant, which serves seasonal, local cuisine.
Kurama Hot Spring is open daily from 10am to 9pm. The fee for use of the outdoor bath only is 1,000 yen for adults and 700 yen for children between the ages of 4 and 12. Use of both indoor and outdoor baths costs 2,500 yen for adults and 1,600 yen for children and includes complimentary towels and a cotton kimono. Guests who want to spend the night at Kurama Hot Spring can book a ryokan at Kurama Onsen Hotel and use the baths at no extra charge. The Kyoto onsen is about a 10-minute walk from Kurama Station. A complimentary shuttle from the station to the hot springs is also available.
Sagano Onsen Tenzan-no-yu
Located just outside Arashiyama in western Kyoto, Tenzan-no-yu is a huge spa complex that features saunas and a restaurant in addition to indoor and outdoor baths. Visitors who want the full experience of soaking in the mineral-rich water of an authentic Kyoto onsen should visit the rock-lined outdoor baths, as the indoor baths, while just as relaxing, are not filled by a natural hot spring. Tenzan-no-yu also features two different styles of footbaths for those who are short on time or aren't quite ready to commit to the full onsen experience. The spacious sauna is another added perk of this urban spa. Attendants regularly enter the sauna to splash fragrant water on the sauna rocks to enhance the experience. Visitors can extend the relaxation by lounging in one of the comfortable chairs in the commons area or grabbing a bite in the excellent restaurant.
To reach Tenzan-no-yu, take the train from Shijo-Omiya Subway Station to Arrisugawa Station. Alternatively, a taxi from downtown Kyoto will cost about 2,000 yen. The onsen is open from 10am to 1am, but the last entry is at midnight. It is closed on the third Monday of every month. Admission is 1,050 yen for adults and 500 yen for children over four. There is an additional charge of 200 yen for a towel set or 350 yen for a towel set and a robe.
Ohara Sanso
Ohara is a rural town tucked in the mountains north of Kyoto. Although it is technically within the city limits, it feels a world away, and it is especially appealing in autumn when the wooded mountains above the outdoor baths turn bright red and orange. Sanzen-in Temple is Ohara's main attraction, but the town's onsens are also well worth a visit. There are a number of charming ryokans in the area, each offering indoor and outdoor baths, authentic local cuisine, and classic futon-style mattresses on tatami mats. Many of these quaint inns also offer classes in traditional arts and crafts.
Ohara is an easy daytrip from Kyoto. The tranquility of the mountain town is less than an hour from Kyoto Station via the Karasuma Subway or Kyoto Bus 17. Costs vary depending on the onsen, but many of the guesthouses also offer foot spas where guests can enjoy a coffee or tea along with a 40-minute foot soak for around 700 yen.
Hanaikada
Arashiyama is one of the most popular sightseeing areas in the greater Kyoto area. It is worth a trip to the region just to see the soaring bamboo grove that attracts photographers from around the world. Arashiyama is also home to Hanaikada, an onsen with striking views. This ryokan has an array of public and private baths that offer views of some of the area's most popular sites, including Togetsu Kyo Bridge and Mount Atago. The stunning indoor baths are made with Japanese cypress while the outdoor baths are made of bamboo that blends seamlessly with the surroundings.
To visit Hanaikada, take a 20-minute train ride on the JR San'in Line from Kyoto Station to Saga Arashiyama Station. On-demand shuttles to Hanaikada are available until 6pm every day. The baths are open from 5am to 9am and from 11am to 11pm, midnight, or 1am, depending upon the type of bath. Private, open-air baths are only available to guests who are staying or dining at Arashiyama Onsen Saishiki no Yado Hanaikada. Visitors should make advance reservations if they hope to secure a private bath with a view.
Arima
One of Japan's oldest onsens is the Arima Hot Springs. The first known mention of Arima Hot Springs was in a book published in 631, which describes an emperor bathing in the onsen's healing waters. The charming spa resort town is about 30 minutes from Kobe, and thanks to its small size, is easily explored on foot. The hot springs are definitely the main attraction. There is even a museum dedicated to the history of the springs. There are two public bath houses in Arima Hot Springs town, in addition to a large number of ryokans, many of which allow non-guests to pay to use the baths.
The fastest way to get to Arima Hot Springs from Kyoto Station is by JR bus or Hankyu bus. Either option will take about 70 minutes. The ryokan baths open between 9am and 11am, and most close between 8pm and 11pm. Admission prices range from 2,400 at the low end to 23,000 yen for an all-day session that includes two meals. Entrance to the public baths is significantly less expensive at 550 to 850 yen.
Shirahama
Those who are willing to go a bit farther from Kyoto should plan to visit an onsen in Shirahama, a seaside town in Wakayama Prefecture. Shirahama literally means "white sand," and the breathtaking beaches are one of the area's biggest draws. Unlike the urban or woodland onsens closer to Kyoto, those in Shirahama offer striking views of the Pacific. There are more than 90 hotels with onsite onsens in Shirahama, and it is certainly worth staying for a couple of nights in order to take advantage of all that the area has to offer, including the wealth of coral reefs just off the coast. What better way to relax after a day spent in the sun and sand than a long soak with a sea view?
In addition to the onsens at local hotels and ryokans, there are six public baths in Shirahama. Only two of the public facilities have outdoor baths though, so visitors should review their options carefully. The two with outdoor baths are located right on the beach, making them very popular with tourists. Admission to one of the beachfront onsens, Shirasuna, is 200 yen from May to September and free the rest of the year. Shirasuna is closed on Mondays and open from 10am to 3pm (6pm in July and August).
Visitors can reach Shirahama from Kyoto by car or bus. Driving oneself is fastest at two hours and 25 minutes, but the simplest thing to do would be to take a train. The JR Kinokuni Line takes about three hours to get from Kyoto Station to Shirahama.