Once the capital of Japan, Kyoto retains its beauty and cultural significance, making it one of the top tourist destinations in the country. Places to visit in Kyoto include lovely gardens, feudal castles, temples, and machiya (traditional wooden houses). No matter where you roam in Kyoto, you're bound to find great food, culture and people.
Things to Know about Kyoto
Kyoto is famous all around the world for being one of the most beautiful places in Japan to see the seasons change. During the spring, Kyoto comes alive with bright pink colors as the cherry blossoms bloom. During the fall, when the autumn leaves change, the city is bright with hues of reds, yellows and oranges. No matter when travelers decide to visit, Kyoto will be wonderful, as it also is known for its welcoming atmosphere, natural surroundings and traditional Japanese cuisine.
Within the famous historic districts, Gion and Higashiyama, visitors can get a sense of what feudal Kyoto would have looked like, and may even be able to catch a glimpse of geiko (known as geisha in Tokyo) and maiko going to and from their assignments in the evenings. These women are trained in classical arts and are known for their stunning makeup and beautiful clothing, in addition to being an important part of the area's arts and cultural scene.
Best Places to Visit in Kyoto
Kyoto is a beautiful city that seamlessly blends history with modern Japan. With these stunning Kyoto attractions, visitors can look forward to seeing beautiful feudal castles and preserved historical areas, in addition to amazing natural sights, including mountains, forests and parks with monkeys! With so many places to visit in Kyoto, it's a good idea to plan an itinerary beforehand, and be sure to add these top attractions.
Fushimi Inari Taisha
Located in southern Kyoto, Fushimi Inari Taisha, also known as Fushimi Inari Shrine, is an important Shinto shrine and is famous for its iconic torii gates (traditional Japanese gate that is generally found at the entrance or inside of a Shinto shrine). Dedicated to Inari, the Shinto god of rice, the area is also decorated by fox statues, as foxes are said to be the messenger of Inari. Located on Inariyama (Inari Mountain), the shrine is surrounded by nature and is also popular for its many hiking trails. A hike to the summit takes between two to three hours, depending on hiking ability. The shrine is also famous for its senbon torii (thousand gates), which are two parallel rows of vermilion-colored gates that make a unique path perfect for hikers and history lovers alike.
Address: 68 Fukakusa Yabunouchicho, Fushimi Ward
Entrance Fee: Free
Hours of Operation: 24 hours
The Golden Pavilion – Kinkaku-ji
The Golden Pavilion (officially named Rokuon-ji and also known as Kinkaku-ji) is a remarkable Buddhist temple and one of the top tourist destinations in Japan. Though the original structure was destroyed by fire, the temple that now exists on this spot was built in 1955, though there has been a temple in this area since the 13th century. Located in northern Kyoto, this temple was originally the retirement villa of shogun (Japanese general) Ashikaga Yoshimitsu and became a temple after his death. This extravagant temple was built to pay homage to the popular aristocratic style that existed during the time of its original creation, and each floor within this building displays a different architectural style. The Golden Pavilion also is surrounded by nature and is home to the former living quarters of the head priest of the area. For refreshments, there is a small tea garden, and visitors are able to get snacks and matcha tea during their visit.
Address: 1 Kinkakujicho, Kita Ward
Entrance Fee: 400 yen
Hours: 9 a.m. to 5 p.m. daily
Arashiyama Bamboo Forest
Arashiyama is a sightseeing district located on the western edge of Kyoto. There are plenty of temples and shrines available throughout the area to visit, as well as Monkey Park Iwatayama, where visitors can enjoy a play day with free-roaming monkeys. Arashiyama also is very famous for its exquisite and picturesque Bamboo Forest, which is located north from the main street in Arashiyama. Stepping into Arashiyama Bamboo Forest is like stepping into another world, and the walkway is said to be the most beautiful when it's slightly windy, as the bamboo bends and sways with the moving air. Photography fans will love the amazing photos they are able to take in this special area.
Address: Ukyo Ward, Kyoto
Entrance Fee: Free
Hours of Operation: 24 hours
Nishi Honganji Temple
Nishi Honganji Temple is a Jodo Shinshu Buddhist temple, and it was established in the late 14th century. This temple is a designated UNESCO World Heritage Site and also serves as the head temple of the Jodo Shinshu Buddhist organization. Many of the surviving buildings of this special temple were built in the 17th and 18th centuries and are great examples of intact architecture from that time period, making this one of the best places to visit in Kyoto for architecture or history lovers. The temples themselves are beautifully detailed with ornate carvings and decorations, and the temple also features a large and beautiful Karamon Gate, which is decorated in a lavish Chinese style and is said to have originally been a part of Fushimi Castle prior to the castle being dismantled in the 15th century.
Address: 600-8501 Kyoto, Shimogyo Ward
Entrance fee: Free
Hours: 5:30 a.m. to 5 p.m.
Nijo Castle
Nijo Castle is a flatland castle located in Kyoto. The landmark is a UNESCO World Heritage Site and one of 17 locations that serve as Historic Monuments of Ancient Kyoto. Built in the 15th century, this castle was originally the residence of Tokugawa leyasu, who was the first shogun of the Edo period. In 1939, this site was donated to the city and was then opened up and preserved as a historical site. Located on this site are some of the best surviving examples of feudal architecture, including the ruins of Honmaru Palace, Ninomaru Palace, gardens, and the two concentric rings of fortifications, called kuruwa (walls of a Japanese castle). With the stunning architecture and lovely natural views, this area is a great place to visit during the changing of the seasons – both in the spring when the cherry blossoms are in bloom, and in the fall when the leaves start to change colors. No matter what time of the year visitors choose to visit, there are sure to be plenty of beautiful vistas and marvelous historical monuments for photography fans to enjoy.
Address: 541 Nijo-jo-cho, Nakagyo Ward
Entrance fee: 620 yen, with an additional fee of 410 yen if visitors wish to enter Ninomaru Palace as well.
Hours: 8:45 a.m. to 4 p.m., daily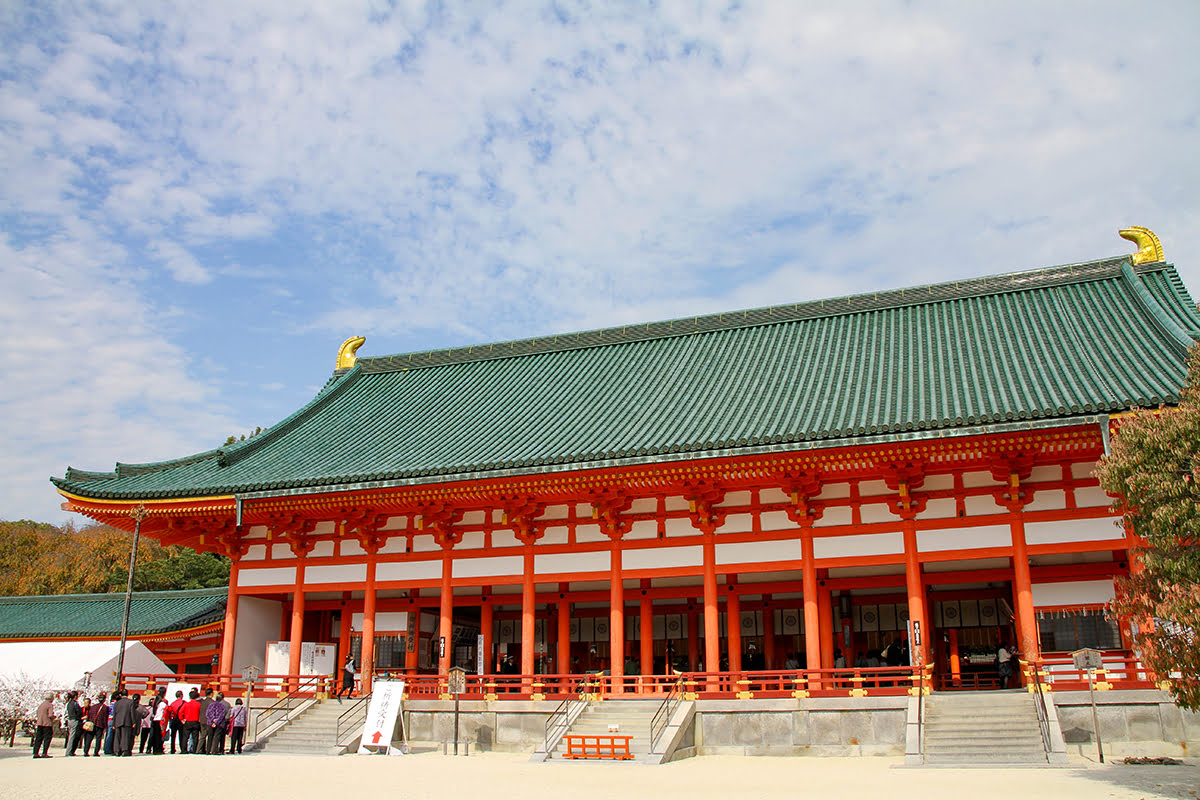 Kyoto Imperial Palace
Once the home of the ruling palace of the Emperor of Japan, Kyoto Imperial Palace is located in Kyoto Gyoen National Garden and is now a historic monument that visitors can explore. Kyoto Imperial Palace was reconstructed after a fire in 1855, and visitors can enjoy the area with or without a guided tour, though the palace's interiors aren't accessible to the public. Visitors to the area can also enjoy Kyoto Gyoen National Garden which is a lovely place to enjoy the cherry blossom season in the spring, or a great place to watch as the leaves change in the fall. There are also small shrines, other historical buildings, as well as recreational paths, lawns, and tree groves that can be enjoyed on the premises.
Address: 3 Kyotogyoen, Kamigyo Ward
Entrance fee: Free
Hours: Entrance hours will change depending on the time of year that tourists visit. From April to August, the palace is open from 9 a.m. to 5 p.m.; during September and March, the palace is open from 9 a.m. to 4:30 p.m.; and from October to February, it's open from 9 a.m. to 4 p.m. The last admission for the day is 40 minutes before closing.
Kiyomizu Temple
Kiyomizu Temple, which is also known as Otowa-san Kiyomizu-dera, is a Buddhist temple that's located on the eastern side of Kyoto in the Higashiosaka District. This temple is one of the most famous places to visit in Kyoto and draws both locals and tourists. This multi-level wooden temple is made in the traditional Japanese style without using any nails. It is dedicated to the goddess, Kannon, and sees many of her devoted followers. It also has a long veranda which is a perfect place to appreciate the view of the surrounding area. Adjacent to the temple, and just down from the main hall, is Otowa Waterfall, which has three spouts, and it is said to grant wishes. Visitors can drink this water with the provided cups. However, it is advised to only drink from one of the spouts, as it's considered bad luck to drink from all three.
Address: 294 Kiyomizu, Higashiyama Ward, Kyoto
Entrance fee: 400 yen per adult; a visit to the waterfall is included in the price of the ticket
Hours: Generally, the opening time for this temple is 6 a.m. daily, and the closing time depends on the time of year that tourists visit. It's a good idea to check ahead of time on the temple's website to confirm the closing time prior to setting out.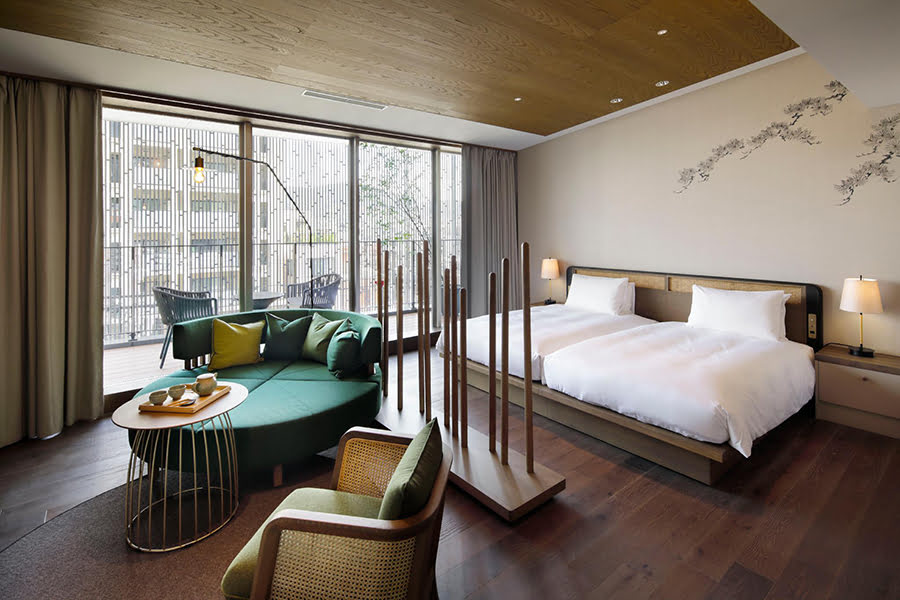 FIND & BOOK A HOTEL IN KYOTO TODAY
Where to Stay in Kyoto
When visiting, it may be best to choose an area close to public transit as well as to some of the best places to visit in Kyoto. Visitors are encouraged to choose an area that they know they will love to explore. The following recommendations are full of attractions and make for great areas to stay, but they also are great areas to visit, regardless of whether travelers decide to stay there or not.
Kawaramachi, Downtown Kyoto
Kawaramachi is an area in downtown Kyoto and is the place where Kawaramachi Street and Shijo Street intersect. Kawaramachi is known for being one of Kyoto's best shopping districts as the area is nearby many shopping arcades, including Teramachi Street Shopping District and Shinkyogoku Shopping Street Union. Also located near the area is Nishiki Market, which is an amazing food market where foodies can go and sample delicious local delicacies and shop for fresh seafood.
Shimogyo-ku, Near Kyoto Station
Shimogyo-ku, also known as Shimogyo Ward, is a great place to stay for visitors who are looking to explore the modern side of Kyoto. This area surrounds Kyoto Station, which is a major transportation hub for Kyoto, meaning that transportation will be convenient for people who stay in this area. Also located within Shimogyo Ward are many great underground arcades, or malls, which are fantastic for visitors looking to get some shopping done. Kyoto Tower, an observation tower and the tallest structure in the city, is also in Shimogyo Ward. Visitors to the tower can see great views of the city from the 100-meter-high observation deck, or they can stop into the building's hotel and enjoy some of the attached shops. Visitors also have quick access to Shosei-en Garden and Kyoto Aquarium in Shimogyo Ward.
Gion District
Gion District is a popular choice for visitors who are looking to stay in a historic area where they can get a sense of what the city looked like during feudal Japan. With lots of beautiful machiya (traditional Japanese wooden houses), some of which have been converted into tea houses, Gion blends the old and new beautifully together. Gion District also is very famous for being the home of geiko (geisha), and if visitors are lucky, they may even see these women going about their daily routines. Additionally, this area is famous for having a diverse nightlife, offering everything from small, quiet sake bars, to izakayas (Japanese pubs). Gion District is also close to another famous historic district, Higashiyama District, making it the perfect choice for history lovers who want to immerse themselves in Japanese culture.
Central Kyoto
As expected, Central Kyoto is a perfect location to stay, and travelers will have direct access to some of the best places to visit in Kyoto, including Kyoto Imperial Palace, Nijo Castle, and Goko-yu, a famous public bathhouse. With so many great historical sites to visit, beautiful ryokans (traditional Japanese inns) and other hotels to choose from, Central Kyoto has it all.
FIND & BOOK A HOTEL IN KYOTO TODAY
Transportation Options in Kyoto
Travel in Kyoto is relatively simple and convenient. One of the most popular ways to travel in the city is by train. Kyoto has two main lines running through the city, the north-south running Karasuma Line (green line) and the east-west running Tozai Line (red). This makes up the main rail service that's run by the Kyoto Municipal Transportation Bureau, though there are a number of privately owned and operated lines that intersect with this service and can be used by tourists to get around the city – and to other parts of the country, too!
The price for fares is reasonable and will generally cost about 210 to 350 yen per adult fare. If visitors find that they are going to be using the trains for multiple days, travel cards for multiple trips, as well as combination bus/subway fare cards, are available for purchase and may save visitors some money on transportation. These fare cards can be purchased at the Kyoto Tourist Information Center, located on the second floor of the Kyoto Station Building, at the Bus Information Office at the main entrance of Kyoto Station, and at Kitaoji Bus Terminal. Buses also are an inexpensive way to get around Kyoto. However, it may be best to plan out bus routes ahead of time as they are quite extensive in the area, and it's easy to get confused.
If travelers aren't interested in public transit, taxis are widely available in Kyoto and can quickly get visitors from their hotels to points of interest. Taking a taxi will be a bit more expensive than utilizing public transit, though it may save people time and cut down on the amount of walking that needs to be done as some bus stations and subway stations aren't very close to the attractions they serve.
Kyoto is a great city to bike in and has had the distinction of regularly being voted one of the best cities to cycle in Asia. As the city is relatively flat, bikes are a popular method of transportation and have the added benefit of helping to keep visitors in shape (or work up an appetite) as they travel the city. As biking is popular with tourists and locals, there are lots of locations where visitors can rent bikes around the city, and they may find that their hotel offers rental services, too. Another benefit to biking is that it allows visitors to get closer to the best places to visit in Kyoto that might not be possible with either public transportation (buses or subway) or by taxi.
In Kyoto, drivers are generally courteous to cyclists, and cyclists are allowed to ride their bikes on sidewalks, making it a pretty safe way to travel around the city. One tip for cyclists is to make sure their bike has a bell. These bells allow cyclists to more politely share the biking space with walkers as the bell indicates when people need to move to the side to let a bike pass through. Because biking is so popular in the city, there are plenty of parking lots for bikes located around the city, and the rates for parking fees are generally reasonable (between 100 to 200 yen). Another tip for bikers is to remember to only park bikes in designated areas. Otherwise, the city might remove the bike.
FIND & BOOK A HOTEL IN KYOTO TODAY