The largest theme park in Osaka is also the second most visited amusement park in Japan, right after Tokyo Disneyland. Universal Studios Japan is one of only four Universal Parks & Resorts in the world, and it was the first Universal Theme Park built in Asia.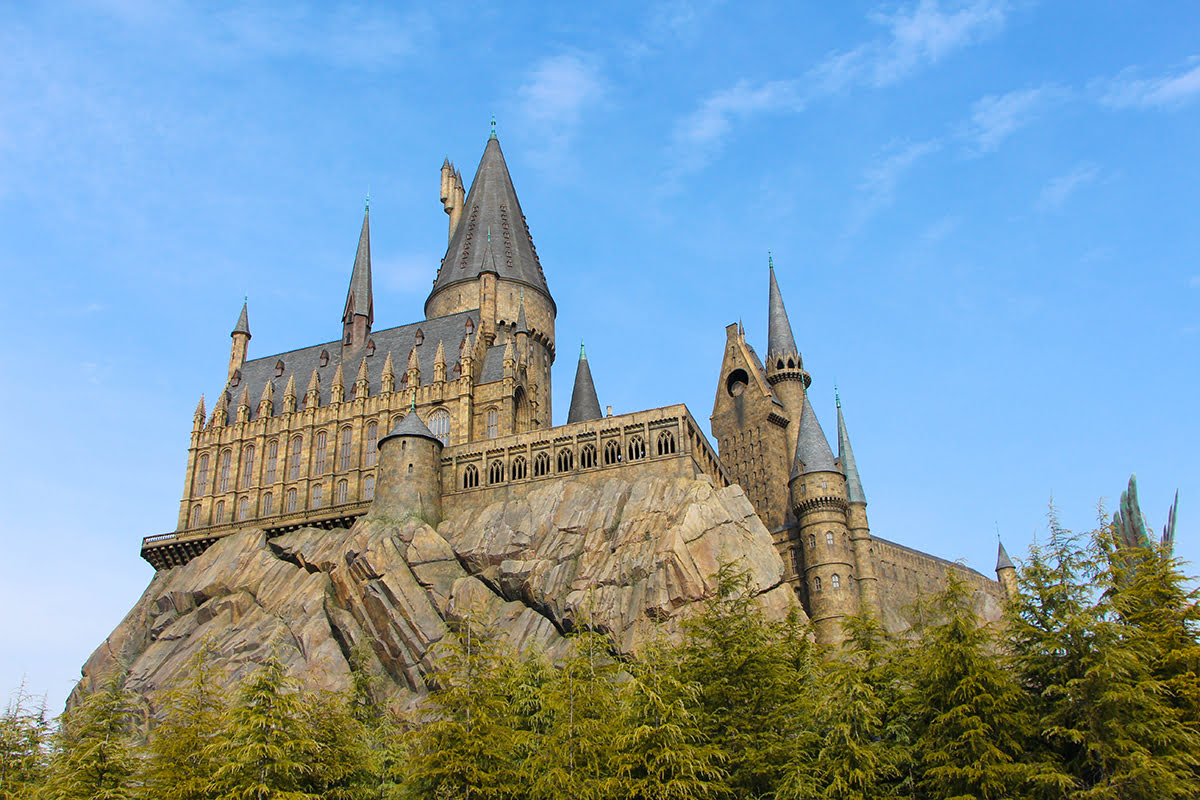 Main attractions and best things to do at USJ
The park is divided into nine zones, each themed according to Hollywood hits and popular Universal Studios movies.
Universal Wonderland: geared toward younger children and families, UWL is divided into three sub-zones – Snoopy Studio, Hello Kitty Fashion Avenue and Sesame Street Fun World. Adults and children both enjoy fun rides like The Flying Snoopy and Moppy's Balloon Trip.

Amity Village: hold onto your hat when you embark on a "boat tour of fear." The JAWS ride in Amity Village has been using the world's most famous man-eating shark to scare thrill-seekers for years!

Waterworld: watch an intense battle take place in one of the most awesome studios in the complex. You won't just feel like you're watching a war on the water, you'll feel like you're a part of the action!

The Wizarding World of Harry Potter: grab a Magical Wand when you enter and learn how to cast spells throughout Hogwarts castle at Hogwarts School of Witchcraft and Wizardry. Once you know how to use your Magic Wand, test your skills with real wizards at Hogsmeade or while encountering a Dementor on the thrilling ride, Harry Potter and the Forbidden Journey.

Jurassic Park: swing through a prehistoric world on The Flying Dinosaur, and escape a dinosaur on one of USJ's most popular water rides, Jurassic Park – The Ride.

San Francisco: experience a dramatic fire scene like the one in the film Backdraft.

Minion Park: hang out with silly yellow Minions when they come out of their basement lab, and have a laugh while riding Despicable Me Minion Mayhem and Freeze Ray Sliders.

New York: get caught up in a 3D web of thrills on The Amazing Adventures of Spider-Man – The Ride 4K3D.

Hollywood: go head over heels for Hollywood Dream – The Ride – Backdrop, which takes passengers on a whizzing roller coaster ride – completely in reverse! If you prefer your roller coasters forward-facing, jump on Hollywood Dream – The Ride.
Restaurants and shops at USJ
Each of USJ's nine zones, except Waterworld, contain specialty boutiques and restaurants according to their themes. Enjoy a whoopie pie at Schwab's Pharmacy in Hollywood, and snack on cute steamed buns at Hello Kitty's Corner Café in Universal Wonderland.
Opening hours
USJ's hours vary almost daily and are subject to change without notice. Times are posted on the USJ website. Visitors can normally plan on starting the day at 8:30 or 9 a.m. and ending it between 7 and 10 p.m.
Where to buy tickets & entrance fees to Universal Studios Japan
Tickets to USJ are sold as one- and two-day Studio Passes, and prices vary according to dates. Purchase tickets at a USJ ticket booth, or buy advance tickets through USJ partner hotels and travel agencies, available on the USJ website.
Current ticket prices (2018)
1-day Studio Pass (with tax): adults (12 and older), 7,400 yen; children (ages 4 to 11), 5,100 yen; seniors (ages 65 and older), 6,700 yen

2-day Studio Pass (with tax): adults (12 and older), 13,400 yen; children (ages 4 to 11), 9,000 yen; seniors (ages 65 and older), not available.
Add a Universal Express Pass to your ticket and reduce average wait times from about two hours to 20 to 30 minutes per ride. Universal Express Pass prices vary by package, according to the number of attractions you want to visit. Prices range from 4,200 yen (three attractions) to 7,600 yen (seven attractions).
Map of Universal Studios Japan and properties nearby
How to get to USJ from Osaka
By train
Nishikujo Station provides a direct line to Universal City Station from most major areas in Osaka, including Osaka Itami Airport and Kansai International Airport.

Passengers coming from Osaka Itami Airport, Shin-Osaka Station, Sannomiya Station and Kyoto Station must change trains at Osaka Station, which travels to Nishikujo Station.
By bus
Kansai International Airport and Osaka Itami Airport provide connecting buses to USJ. Buses run about once per hour. The ride from Kansai takes about one hour, and the ride from Itami lasts about 45 minutes.
By ferry
Take the Captain Line ferry across the Aji River from Osaka Aquarium Kaiyukan to USJ. Ferries run once or twice each hour.
Check In to a hotel or guest house near Osaka Train Station
La'gent Hotel Osaka Bay
Universal Hotel Gloire
Hotel Keihan Universal City
Step Out to Universal Studios Japan
This post is also available in: 简体中文 繁體中文(台灣) 繁體中文(香港) Dansk Français Deutsch עברית Magyar 日本語 한국어 Melayu polski Português Português Русский Español ไทย Türkçe Indonesian Italiano