Taiwanese food has a long and varied history and if you're lucky enough to be staying in Taipei, you will be able to experience some of the best that Taipei's dining has to offer. Taipei is known for its night markets and their amazing street food offerings, but it also has a number of fantastic, sit-down restaurants available to choose from. Restaurants in Taipei will range from foreign offerings (often American, Japanese, or Korean), to traditional, to fine dining and everything in between. Get ready to eat in Taipei! Whether you're looking to keep the costs down, or are wanting to experience a great night out on the town, and a fancy restaurant to go with it, dining in Taipei is an experience all its own. If you're unsure about striking out on your own, there are several food tours that run in Taipei including Eat At Taipei (eat @ Taipei), so if you're looking for some local guidance, a food tour can also be a great way to explore the best of Taiwanese food and a sure way to find good Taipei restaurants to eat at.
Here are some handy tips about dining in Taipei:
Practice using your chopsticks! Unless you're at an expat restaurant or a restaurant that caters to tourists, you're likely to be given chopsticks to use for eating. There are a couple of rules to follow when using chopsticks to avoid giving offense in Taiwan:
Never stick your chopsticks straight up in a bowl. This is a big taboo in Taiwan and also incredibly rude. You can place your chopsticks flat across your bowl or plate when you are finished.
If you are eating communally, make sure to use the communal chopsticks to get more food, instead of the ones you're using to eat (never eat directly from the shared bowls).
Don't play with your chopsticks. They're for eating and should be used respectfully.
Don't use your chopsticks to gesture at other people while you are eating.
Finish what's on your plate. It's considered rude to leave food uneaten, so don't order more than you can reasonably eat in one sitting.
Tips are not required at restaurants. If it is a large restaurant or part of a hotel chain, it's probable that they will automatically put a 10 to 15% tip on the check automatically.
Bring cash with you! Especially if you are visiting street vendors or smaller restaurants as you may not be able to pay with a credit card at some establishments.
Don't be afraid to explore. There are lots of great foods to eat in Taipei and some of them may take you out of your comfort zone. This is a good thing! It helps to research food options prior to going out, but sometimes the best thing you can do is just dive in and experience the Taiwanese culture through their food.
Check In to the Grand View Resort Beitou, Step Out to the Beitou Market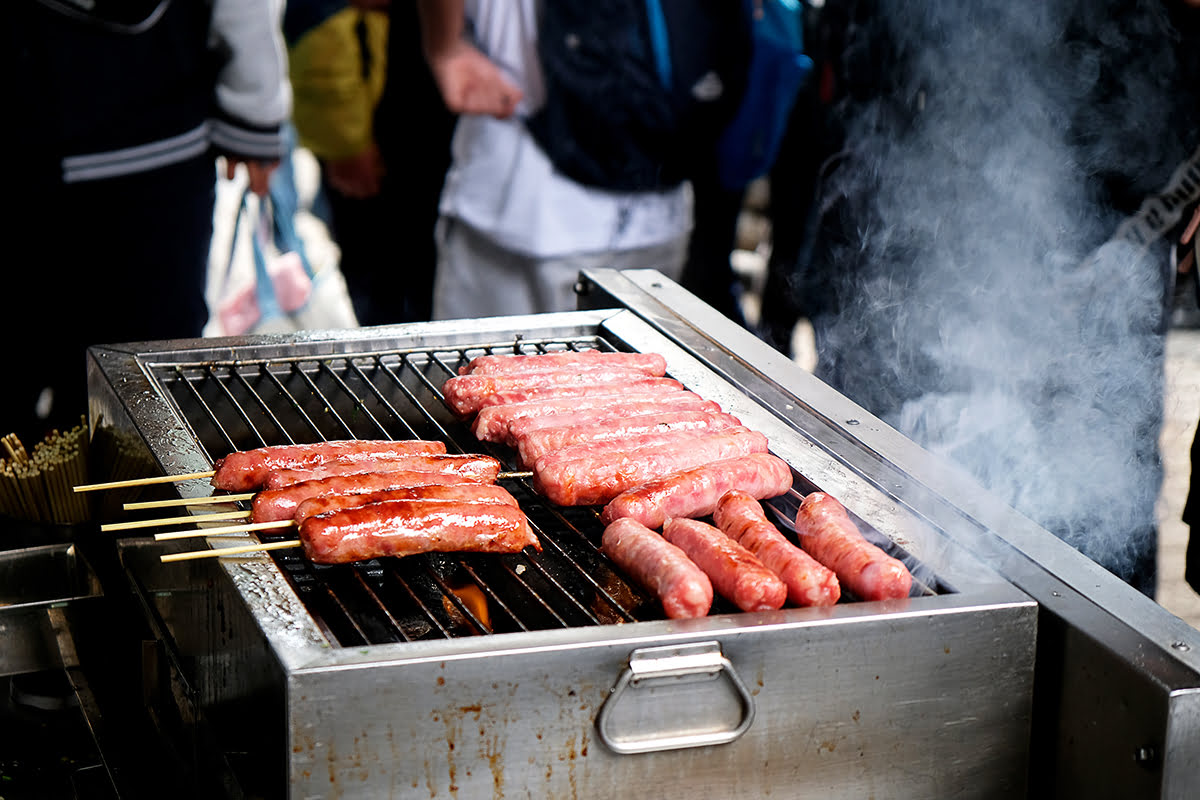 Street Food, Night Markets, and Quaint Restaurants – Delicious, Inexpensive Food in Taipei!
When you're in Taipei, you have to make time for some street food as some of the best dining in Taipei can be done outside. Sometimes, these shops will have small eating areas nearby, other times you'll be purchasing straight from a vendor to eat right away (sometimes with your hands, sometimes not). Street food is a mainstay at Taipei's night markets and is definitely a great way to get good food in Taipei.
Tiger Sugar
If you are a fan of milk tea, then do yourself a favor and head over to Tiger Sugar when you are visiting Taipei and the Shilin Night Market. Known for their brown sugar milk tea, their feature drink is sweet with amazing boba pearls that are chewy and delicious. This is a very popular spot for milk tea, so be sure to come prepared to stand in line, but the wait is more than worth it.
Address: No. 38, Dabei Road, Shilin District, Taipei City, Taiwan 111

Transportation nearby the Tiger Sugar:
Max Tu's Shop
Simple and delicious is the name of the game at Max Tu's Shop. If you want to experience delicious Taiwanese food that's flavorful and to the point, then head to Max's. For a delicious treat, be sure to try the dumpling soup. Though there likely won't be an English menu available, don't be afraid to ask for recommendations (the owner speaks English), and let Max treat you to his wonderful food while you are in Taipei. This eaterie is a little off the beaten path, but worth the trip if you are in the area.
Address: No. 779, Beian Road, Taipei 10491, Taiwan

Transportation nearby Max Tu's Shop:

Jiannan Road Bus Station
Taiwan Bistro
Located near the entrance Xianshan Mountain Trail (Elephant Mountain), Taiwan Bistro is a great eaterie to stop at if you appreciate street-food style dishes, or if you're looking for a great snack after a hike on Xianshan. Frequented by locals and tourists, Taiwan Bistro has a great selection of beer and Taiwanese small plates to snack on. Make sure to stop by when you're in the area.
Address: No. 12, Alley 315, Lane 150, Section 5, Xinyi Road, Xinyi District, Taipei City, Taiwan 110

Transportation nearby Taiwan Bistro:

Zhuangjing Road Bus Station
Amma's Kitchen
Specializing in South Indian cuisine, be sure to stop by Amma's Kitchen in Taipei if you're looking for delicious food made by passionate owners who love what they do. Though it might seem strange to seek out a South Indian restaurant in Taipei, your taste buds will thank you as both locals and visitors rave about the amazing food options available at Amma's Kitchen. Don't be afraid to ask the staff which dishes offer the most authentic flavors and be sure to try the lemon rice and chicken kaadai!
Address: 1F., No. 2, Ln. 357, Sec. 2, Heping E. Rd., Da'an Dist., Taipei City, Taipei, Taiwan 10088

Transportation nearby Amma's Kitchen:
Lin Dong Fang Beef Noodle
If you love beef noodle soup, then you should stop by Lin Dong Fang Beef Noodle as this is some of the best beef noodle soup in Taipei. The restaurant moved from its street food stall in 2019 to a bigger restaurant with an expanded seating area, so guests no longer have to order take-away (or eat standing up) like at the original food stand. Some of the staff may speak English, but it would be best to research what you'd like to order ahead of time just in case. With different types of soups and foods to choose from, this food stand is a great choice if you're looking for a warm, soothing meal to round out your day – or late night, as Lin Dong Fang Beef Noodle is open until 3:00 a.m.
Address: No. 322, Sec. 2, Bade Rd., Zhongshan Dist., Taipei City 104, Taiwan

Transportation nearby Lin Dong Fang Beef Noodle:
Check In to the Horizon Inn, Step Out to the SOGO Department Store – Zhong Xiao
Taiwanese Breakfast – Enjoy regional, traditional delicacies and everything in between while eating in Taipei.
Taiwanese people love to eat breakfast! If you are a fan of bread (and carbs) with your breakfast, then you are in for a real treat. Similar to many other cultures, foods made from wheat are heavily featured in Taipei food as well as eggs, but there are other regional specialties that are also offered for breakfast. Fan tuan (rice rolls) are made of sticky rice that's wrapped around delicious ingredients (often meat), and youtiao is a delicious pastry that almost looks like a churro and it is typically served with doujian (a fermented soybean drink). But never fear if you're craving something a little more continental, Taipei also has a great assortment of international chains as well as restaurants that cater to western diets – no matter what you're craving for breakfast, Taipei is sure to deliver!
Fuhang Soy Milk
If you're looking for a great breakfast, Fuhang Soy Milk is an excellent choice, however, you should plan ahead if you're heading to this restaurant because it is popular and that means long lines (sometimes it takes upwards of an hour to get in). Featuring traditional Taiwanese breakfast dishes, including shaobing (an unleavened flatbread), youtiao, and a variety of soymilk offerings, there is plenty to choose from. Fuhang Soy Milk is worth the wait, however, if you're very hungry, it might be good to have a snack before getting in line – or order extra food once you get inside! As a tip, don't be afraid to ask for the English menu to have a better idea of what's offered here.
Address: 100, Taiwan, Taipei City, Zhongzheng District, Section 1, Zhongxiao East Road

Transportation nearby Fuhang Soy Milk:
Ding Yuan Soy Milk
Popular with locals and tourists, head to Ding Yuan Soy Milk and enjoy a delicious Taiwanese breakfast. People from all over the world flock to this restaurant, so do expect it to be at least a little busy. You may not be able to order in English at this restaurant, so be prepared to order your favorite dishes in Chinese ahead of time or write down your order to show the staff at the restaurant. With meat buns (baos), soybean milk, egg crepes, and more, there's plenty to choose from. The restaurant is rather small, so it's best to order and take your food elsewhere to eat. Cheap, quick, and delicious, Ding Yuan Soy Milk is a great introduction to Taiwanese breakfasts.
Address: No.30-1 Jinhua Street, Zhongzheng District, Taipei 10093, Taiwan

Transportation nearby Ding Yuan Soy Milk: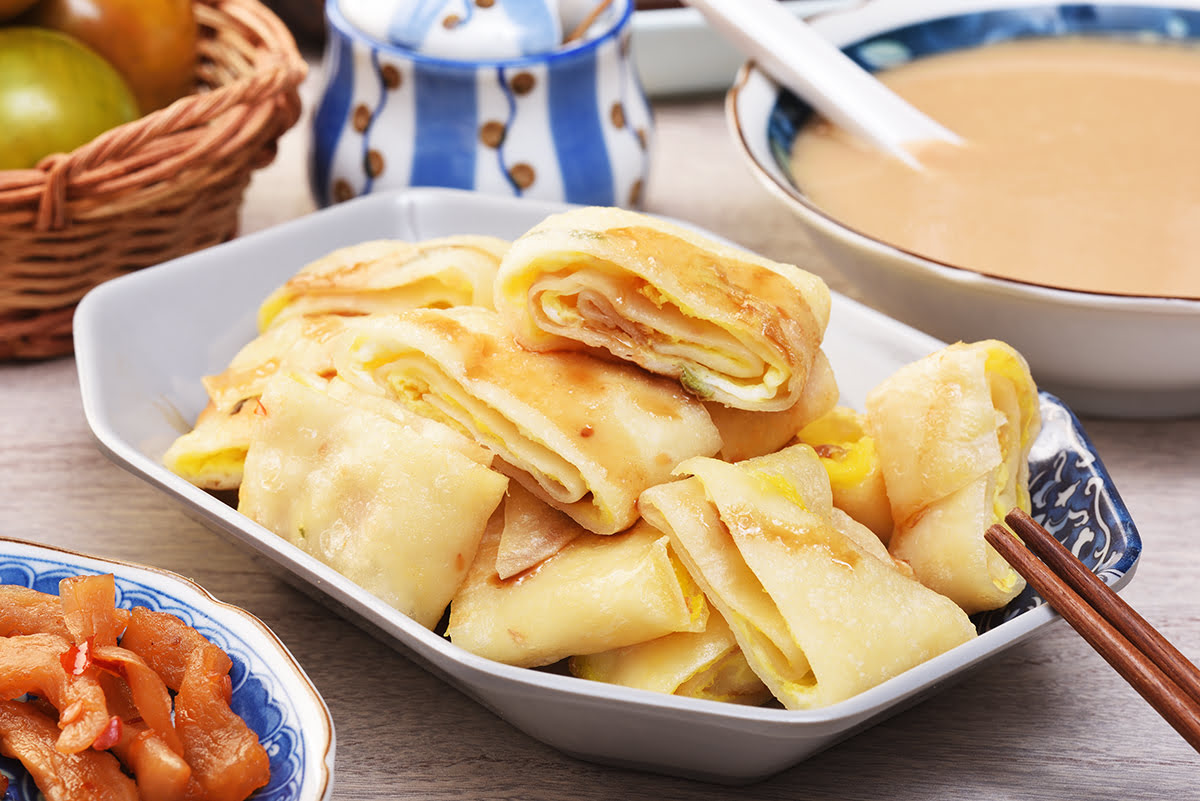 Oromo Café Taipei Station Store
With a quirky interior that is totally Instagrammable, Oromo Café Taipei Station Store is a great choice if you enjoy good food and a great photo op. The Oromo Café Taipei Station Store is actually 4 stories high and each floor has its own individual décor to enjoy. With lots of coffee drinks and pastries to choose from, this café is great for more western-style coffee shop offerings – if you start your day with an espresso and a pastry, then Oromo Café Taipei Station Store is a great choice. Also, if you're looking for a place to hang out in Taipei, this café is also a great choice because there is no service charge for visiting and you're only required to purchase a drink. With free Wi-Fi and power sockets, this café is a great place to recharge during your journey.
Address: No. 26, Nanyang Street, Zhongzheng District, Taipei City, Taiwan 100

Transportation nearby Oromo Café Taipei Station Store:

Taipei Station Bus Station
Hua Guo Breakfast Restaurant
If you're looking for good Taipei restaurants, then Hua Guo Breakfast Restaurant is a great choice – whether you're a local or a visitor. Fortunately for visitors, there is an English menu that can help you navigate through the delicious and inexpensive Taiwanese breakfast options. Featuring a variety of fried egg dishes, they also offer dishes with noodles, pork chops, as well as milk tea. If you're looking for inexpensive, delicious, and quick breakfast foods in Taipei, then stop at Hua Guo Breakfast Restaurant and dig in.
Address: No. 23 1, Qingdao East Road, Zhongzheng District, Taipei City, Taiwan 100

Transportation nearby the Hua Guo Breakfast Restaurant:
Yong He Soy Milk King
This traditional breakfast food restaurant in Taipei is popular with both tourists and locals. Featuring delicious, inexpensive breakfast items, including different flavored soy milk (sweet, salty, savory, and hot or cold), youtiao (a delicious pastry that's similar to a churro), and dan bing (egg crepe roll), make your way through the delicious breakfast items – likely worth a return visit or two.
Address: No. 102, Section 2, Fuxing South Road, Da'an District, Taipei City, Taiwan 106

Transportation nearby Yong He Soy Milk King:

Kaiping Culinary School Bus Station
Check In to the Park Taipei Hotel, Step Out to the Da'an Forest Park
Best Restaurants – Taipei: Where Ultra Modern Meets Tradition – Experience the Best of What Fine Dining Has to Offer When Dining in Taipei.
If you're looking for an experience that's a little beyond street food, don't worry, Taipei has amazing choices for fine dining and you're sure to be able to find something that you enjoy. With access to fresh ingredients, delicious meats and vegetables, and a culinary history that traces back through the ages, Taipei is making quite the name for itself in the fine dining world. Whether you're looking to head out for a special night, or just want to experience some of the best dinner restaurants in Taipei this list highlights some of Taipei's top fine dining establishments to help ensure that you find the dining experience that is perfect for you.
MUME
MUME is a cut above most other dining restaurants and has a MICHELIN star to go with its stellar reputation. Listed as one of the world's top restaurants, and among the top for Taipei food as well, MUME combines Taiwanese ingredients with a Nordic sensibility for a taste and experience that is all its own. MUME works with local farmers to reduce their carbon footprint and to highlight the delicious ingredients that are native to Taiwan. Choose from a delectable assortment of dishes that feature everything from salmon to flowers, to locally sourced vegetables, as the flavors meld in your mouth for an incomparable dining experience.
Address: No. 28, Siwei Road, Da'an District, Taipei City, Taiwan 106

Transportation nearby MUME:
RAW
When you eat in Taipei and you're looking for the best, make sure you consider RAW. With a MICHELIN star under its belt, RAW is ready to give you a top dining experience. Enjoy an eight-course, set menu that will take you through the flavors of Chef André Chiang's vision of Taiwanese cuisine. With a gorgeous, futuristic interior giving RAW a thoroughly modern aura, so expect the unexpected as you sample delicious creations that offer different tastes, feels, and temperatures of foods. Reservations are recommended.
Address: No. 301 Lequn 3rd Road, Zhongshan District, Taipei City, Taiwan 10491

Transportation nearby RAW:
RyuGin Taipei
RyuGin Taipei is one of the best restaurants for authentic Japanese food in Taipei, so if you are in the mood for something international, this exceptional restaurant should fit the bill. With Executive Chef Yamamoto (who is a three-star Michelin rated chef and one of the best in the world), you will have a dining experience like no other. RyuGin Taipei offers meals as part of either a short course or full course plating, and there are additional costs for tea and wine pairings. The meals are specific to the time and date and, because the tastes of the individual dishes are so specialized, the restaurant asks that diners refrain from wearing strong scents or from smoking electronic cigarettes, so you don't impact the subtle taste of the dishes. Be sure to review the restaurant's website prior to arriving at the restaurant in Taipei to be certain that you are aware of all the listed recommendations.
Address: 10491, Taiwan, Taipei City, Zhongshan District, Lequn 3rd Road, 301

Transportation nearby RyuGin Taipei:
Bencotto
Committed to using as many fresh, local ingredients as possible in their dishes, Bencotto is a singular experience in Taipei. Bencotto is available throughout the day and evening for dining, and also offers an Italian brunch buffet on the weekends. Enjoy dining in one of the best Taipei restaurants and appreciate its open kitchen design as you watch the masterful kitchen staff work. Enjoy either a set menu or their a la carte choices as Bencotto takes you on a taste journey from Taipei to Italy.
Address: No. 158, DunHua N Rd, Songshan District, Taipei City, Taiwan 10548

Transportation nearby Bencotto:
Restaurant Ephernité
Considered of the best restaurants in Taipei, Restaurant Ephernité was also one of the first restaurants in Taiwan to introduce "farm to table" dining, meaning that the ingredients that are sourced for Restaurant Ephernité are in season, and purchased from local farmers. Restaurant Ephernité features a tasting menu per day and it changes depending on what foods they were able to source for the menu that day. As such, the menu can change wildly from one day to the next, which makes for a unique experience while dining in Taipei. Settle in and let Restaurant Ephernité take you on a culinary journey through the best of what Taipei has to offer.
Address: 233 Dan Taibei TW 106, Section 2, Anhe Road, Da'an District, Taipei City, Taiwan 106

Transportation nearby Restaurant Ephernité:
Check In to the Hotel Eclat Taipei, Step Out to the Tonghua Night Market