Whether vacationing in Phuket with a group of besties or a carload of kids, sometimes travelers just need some extra space and privacy. Luckily, Phuket vacation homes and holiday rentals provide a home away from home with lots of extra perks. Choose a beachfront property with an in-house chef or cook your own meals and throw everything in the dishwasher! Just like hotels, Phuket villas provide all the amenities guests need, as well as free shuttle services to Phuket beaches and popular attractions. Most importantly, each of these luxury apartments in Phuket feature private pools and fantastic ocean views!

Phuket Vacation Homes | Kamala Beach
Popular with local folks and travelers looking for a little peace and quiet, Kamala Beach is a safe and sandy refuge on Phuket's west coast. The area is packed with quaint seaside restaurants, massage shops and street food vendors. Families love the Kamala area for its shallow swimming areas and proximity to Phuket FantaSea.
Things to do in Kamala
Monday/Friday Market Kamala
1. Luxury 4-Bedroom, Villa Kamala Rose
Book up to 8 guests in this luxury Phuket villa located just 1.5 km from Kamala Beach. Villa Kamala Rose contains four modern bedrooms and baths, and guests enjoy lake and mountain views from private balconies. Built on three levels, with bedrooms on the second and third floors, the apartment features a ground floor living and dining area – and a swimming pool right outside the front door!
Families and groups can whip up meals in-house in a fully-equipped kitchen, complete with an oven, stove, microwave and dishwasher. A shaded patio next to the pool allows for al fresco dining and private get-togethers.
For an extra fee, travelers can order an in-house massage, book a tour of Phuket and have Thai food delivered to the door.
Property perks & bonus features
Flat-screen TV & free Wi-Fi
Free shuttle to Kamala Beach
FIND MORE PHUKET VACATION HOMES & HOLIDAY RENTALS
Phuket Vacation Homes | Pa Tong
Known for its nightlife, Pa Tong is where travelers go for the best beer bars, cabarets and nightclubs in Phuket. The area sports a resort-life atmosphere and is loved for its selection of beachfront properties and Phuket vacation homes. Days in Pa Tong can be spent shopping at OTOP Patong or lounging at a seaside bar on Patong Beach.
Things to do in Pa Tong
2. Five-Bedroom, Patong Hill Estate Villa
Invite up to 12 people for a luxury getaway in Phuket. At Patong Hill Estate Villa, everyone enjoys maximum space, private balconies and unbeatable ocean views. Two separate living rooms ensure breathing room for everyone in the group, and a modern kitchen allows guests to prepare their own meals – or let the on-site chef do it for them! Daily housekeeping services keep the premises tidy at no extra cost.
Patong Hill Estate Villa features a private pool as well as five spacious and well-lit bedrooms, each with ensuite bathrooms and bathtubs. All toiletries are provided, and guests receive a welcome package upon arrival.
After checking in, guests may not want to leave Patong Hill Estate Villa, but just in case, shuttles are provided to nearby Pa Tong and Karon Beach.
Property perks & bonus features
Free breakfast
Washing machine
High speed Internet & satellite TV
3. Three-Bedroom, Patong Beachfront Pool House
Guests get their choice of swimming in the ocean or in a private pool on the beach at Patong Beachfront Pool House. This three-bedroom, three-bathroom oceanfront property in Phuket is ideal for small groups or families and accommodates up to six guests.
Daily housekeeping allows travelers to frolic in the ocean or eat dinner out at Chabad House Phuket. Sightseers usually opt for a tour of nearby Masjid Nurul Islam Patong Mosque, and adventure travelers like that Zorbing at Rollerball is just a 2-minute walk away. Phuket city center is 1 km from Patong Beachfront Pool House.
Property perks & bonus features
Private beach
Daily housekeeping
Airport transfer
Free Wi-Fi & plasma screen TV
4. Two-Bedroom Super Cozy, Patong Beach
Couples and small groups can take full advantage of the beach life in this two-bedroom condo overlooking Patong Beach. The luxury apartment is considered a premium private residence in Pa Tong, and the luscious balcony views make guests want to move in permanently!
Guests can make themselves at home in a private kitchen and living area or enjoy a soak in the bathtub of an ensuite bathroom.
Property perks & bonus features
15-minute walk to Patong Beach
Rooftop infinity pool
On-site gym
Free Wi-Fi and LCD TV
FIND MORE PHUKET VACATION HOMES & HOLIDAY RENTALS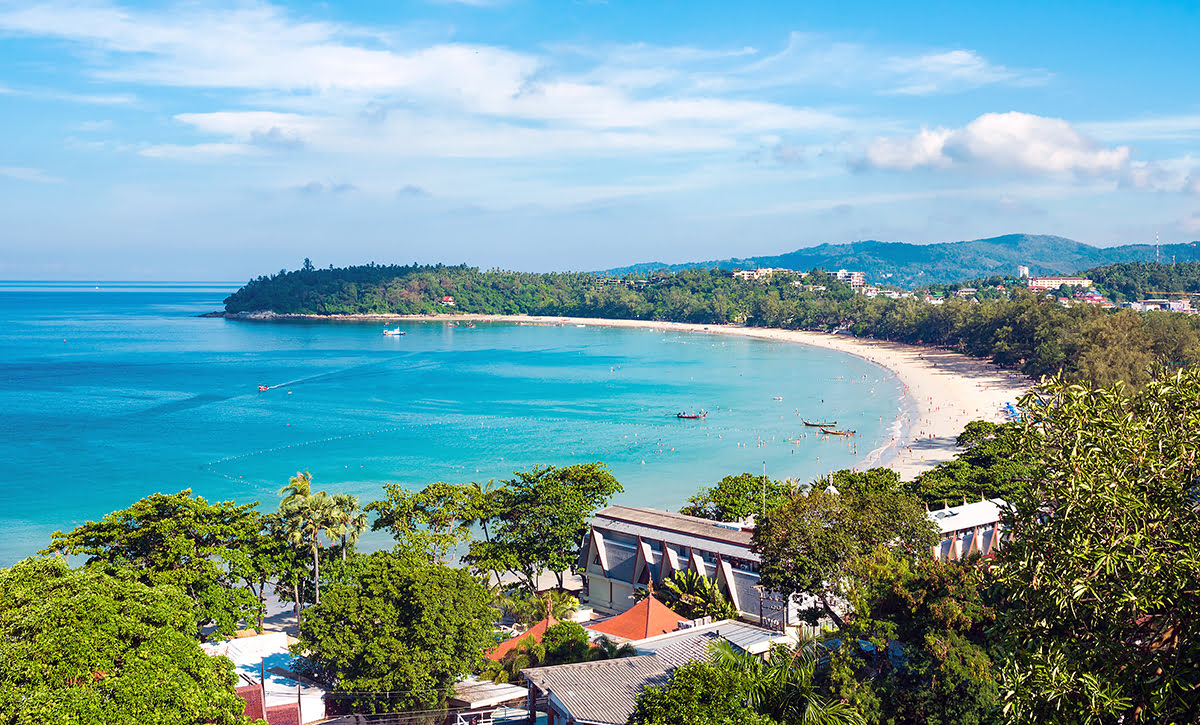 Phuket Vacation Homes | Kata Beach, Karon
White, sandy beaches and a fun vibe are why families love Kata Beach. Safe swimming areas and loads of shady spots along the shore allow for hours of seaside play and relaxation. Kata Beach, in the Karon region, also has its fair share of nightlife but is better known for its daytime activities, like surfing and snorkeling. Travelers who stay near Kata Beach will find souvenir shops, convenience stores and plenty of street food.
Things to do near Kata Beach
View Point
Kata Night Market
Snorkeling and Diving
5. Three-Bedroom Villa, Kata Top View Seaview
Relaxing in a three-story private residence is one perk to staying at Kata Top View. Other bonuses include a western-style kitchen, an outdoor pool and a free smartphone! That's right, guests can stay connected for free while on holiday in Phuket. The complimentary phone is loaded with unlimited 4G, local calls and international talk time to friends and family in China, Malaysia, Australia, Russia and India.
Up to 10 guests can stay comfortably at Kata Top View. A master bedroom on the ground floor features a king-size bed as well as an ensuite bathroom with Jacuzzi bathtub. Three more bedrooms on the second and third floors offer queen-size beds, private balconies and two bathrooms with showers. All rooms are equipped with closets, adding a touch of home for each guest.
Kata Top View is located about 2 km from Kata Beach. The private location is best suited for travelers with a car or motorbike.
Property perks & bonus features
Rooftop pool
Free smartphone (for use during stay)
Washing machine
Televisions in bedrooms and living areas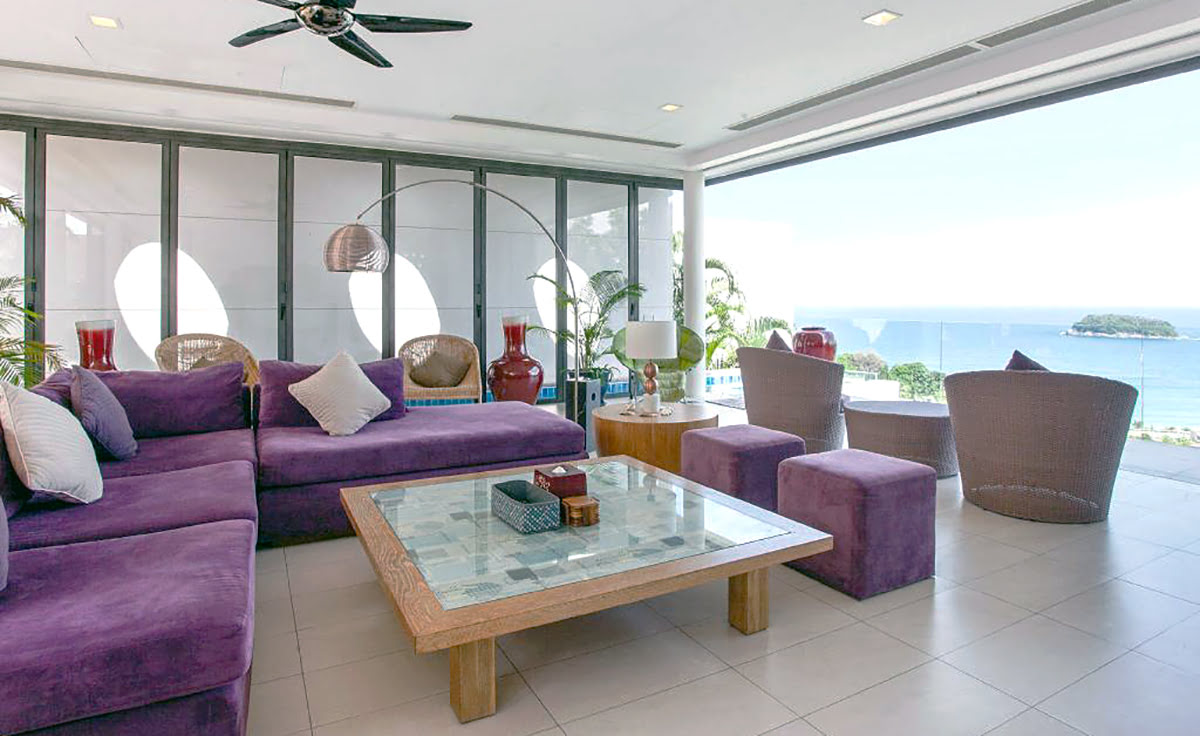 6. Three-Bedroom Penthouse, The Heights
Take a hop, skip and a jump to land on either of Kata's white sand beaches from The Heights penthouse. This vacation rental is nestled between Kata Beach (Yai) and its cozier sidekick, Kata Beach (Noi). The luxury apartment can fit up to seven guests in its three bedrooms, and each person has free access to an on-site infinity pool and fitness center.
The Heights penthouses are considered some of the best luxury residences in Phuket, and guests are treated accordingly with 24-hour security and free parking, not to mention endless views of the Andaman Sea.
Take advantage of scheduled recreational activities, a children's pool and on-site Jacuzzi. Besides Kata Beach, the property is within walking distance of dozens of popular Karon seaside restaurants and local shops.
Property perks & bonus features
Local club house and fitness center
Large, open terraces with barbecue grill
Backup water tanks and generators
FIND MORE PHUKET VACATION HOMES & HOLIDAY RENTALS
Phuket Vacation Homes | Nai Harn Beach
Loved for its fine-sand beaches and hippie vibe, Nai Harn Beach hosts travelers looking for peaceful retreats and all-inclusive accommodations. The small enclave on Phuket's southern tip is home to Wat Nai Harn, a Buddhist monastery, and Naiharn Lake, which offers paddle boating and scenic jogging trails. The Naiharn area is a popular hangout for locals, so Thai food and handicrafts are plentiful throughout the area.
Things to do near Nai Harn Beach
Naiharn Lake
Windmill Viewpoint
7. Luxury 3-Bedroom Villa @ Naiharn
Located in a gated community of Thu Villa Village, this luxury and modern Phuket vacation home is roomy enough for six and features an infinity pool and on-site gym. Guests are within walking distance of Nai Harn Beach and have access to the neighborhood's best restaurants and local cuisine.
The property features three bedrooms, each with an ensuite bathroom, and an extra restroom for guests. The apartment is fully furnished and includes modern kitchen appliances, like an oven, stove top, microwave, kettle and refrigerator.
Property perks & bonus features
Entrance by key card only
2 king-size beds and 2 single beds
8. Luxury 4-Bedroom Villa, Naiharn Baanbua
Perfect for a party of eight, this four-bedroom Phuket villa in Nai Harn Baan-Bua Development offers four bedrooms with adjoining bathrooms and even has a carport big enough for two vehicles. Guests enjoy the privacy of two stories and a private deck overlooking an infinity pool and the outlying mountains of Phuket.
The holiday home is under 24-hour surveillance, providing guests with a safe and relaxing stay. The modern kitchen is equipped with appliances, making meal preparation a breeze.
Guests can walk 800 meters to Nai Harn Beach, and restaurants and convenience stores are abundant in the area.
Property perks & bonus features
Washing machine
Gated community and keycard access to property
Garden and mountain views
FIND MORE PHUKET VACATION HOMES & HOLIDAY RENTALS
Phuket Vacation Homes | Cape Panwa
A respite on Phuket's southeast side, Cape Panwa hosts several beaches and some of the area's most popular attractions. The peninsula is home to Phuket Aquarium and the Laem Panwa beach promenade. Not far away is Kao Khad Views Tower and Phuket Zoo. Guests also can tour the Marine Biological Research Center and watch yachts dock every night as the sun goes down.
Things to do around Cape Panwa
Day trip to Ko Lon island
Panwa Beach (Haad Panwa)
Laem Panwa Viewpoint
9. Luxury 4-Bedroom Beachfront Property, Hai Leng Villa
A stay in Hai Leng Villa is a dream come true while vacationing in Phuket. This beachfront property gives guests full access to a private white sand beach and offers endless views of Ao Yon Bay. The safe swimming area at Ao Yon Beach is a plus for families, and with five bedrooms that fit up to eight guests, Hai Leng Villa is the perfect holiday rental for small groups.
Enjoy fresh ocean breezes from the deck of a rooftop infinity pool, and cook meals in-house in a fully-equipped kitchen. The property offers green space in an adjoining garden area, and Cape Panwa is considered the gateway to surrounding islands, like Phi Phi and Koh Racha Yai.
Property perks & bonus features
24-hour access to a private beach
Quiet neighborhood
Free parking
10. Luxury 5-Bedroom Beachfront Property, Noble House Villa
Up to 12 guests can stay at Noble House Villa, an ultramodern housing complex featuring private infinity pools and endless access to a private beach. Travelers can choose between five bedrooms and fall asleep to the sound of ocean waves just outside the door.
The property offers indoor and outdoor living areas as well as landscaped gardens and a modern kitchen. Breakfast is provided daily at no extra charge, and housekeepers keep the villa in tip-top shape.
Property perks & bonus features
Private beach
Daily housekeeping
Property manager on duty 24 hours a day