Skydive Dubaiis a skydiving excursion like no other. From high above the Dubai skyline, guests will enjoy a tandem skydiving experience where they are strapped to a trained and experienced professional who will take them through an exhilarating skydiving experience. Guests can choose from two distinct skydiving experiences, at either the premier Palm Dropzone or the standard Desert Dropzone, with both locations offering a seamless, professional adventure with unforgettable sights from 4,000 meters up. Learn how to book a reservation at Skydive Dubai, as well as information about nearby attractions, hotels, and transit options in Dubai.

What Visitors Need to Know About Skydive Dubai
While visitors will receive plenty of onsite instruction before going on their tandem skydiving excursion with Skydive Dubai, there are some key bits of information that are good to know before booking an experience. Tandem skydiving is when one person is harnessed to another (in this case, guests will be harnessed to a qualified and experienced instructor from Skydive Dubai) so that they can experience the thrill of skydiving. Otherwise, visitors would have to complete schooling and education to be able to try skydiving.
Courses & skydiving packages
Skydive Dubai also has a skydiving school on site, so visitors who find that they want to try skydiving on their own or who are looking to experience non-tandem skydiving excursions can learn to skydive here. Qualified skydiving professionals will pass on all that they know while students take the Accelerated Freefall course.
Skydivers who are looking to make this into a world-wide hobby can work towards a United States Parachute Association (USPA) license, which is a world-recognized license that proves that the holder can pack their own main parachute, jump without supervision, and take part in group jumps. Skydive Dubai also offers specialized jumps for skydivers who are experienced and licensed, as well as advanced coaching courses.
On-site amenities & gyrocopter tours
There are also onsite facilities that serve food and drinks, so visitors can relax after their skydiving experience. Free Wi-Fi is also available at both the Palm Dropzone and Desert Dropzone and visitors can attend and watch as their friends or family experience their skydive. Any children who are visiting must be supervised by adults at all times as there are no onsite childminding services available.
Guests can also reserve a private tour over Dubai in a gyrocopter, which offers amazing views from over 450 meters up. This unique, two-seater aircraft lets guests stay a little closer to the ground than skydiving, while still offering them an amazing and thrilling experience over the skies of Dubai. Visitors can let a trusted pilot take them on a 20-minute route that offers views of the coast and plenty of the city's famous sites, including Ain Dubai (Dubai's observation wheel), Palm Jumeirah, Burj Al Arab, and more. The cost for this excursion is 999 AED and it must be booked directly with Skydive Dubai staff.
Tips for first-time skydivers
Body mass index (BMI) and weight requirements for women: weigh less than 90 kilograms with a BMI of 27.5 or less. BMI and weight requirements for men: weigh less than 100 kilograms with a BMI of 30.0 or less. Guests will be weighed, clothing and shoes on, during the check-in process on the day of their skydive.
Guests should wear sports clothes that are comfortable and sneakers. Sleeveless shirts are not allowed; only t-shirts with long or short sleeves are permitted.
Guests will be skydiving from 4,000 meters for tandem excursions.
The entire skydiving experience should take at least three hours from the time guests check-in to landing. Guests should check-in exactly at the arrival time they received in their confirmation email.
There are secondary rules for children who will be skydiving (children must be at least 12 years or older by the Gregorian calendar before the day of their skydive) and it is recommended that visitors be aware of these requirements, which can be accessed online, before booking an excursion.
There is a zero-tolerance policy in place for drugs and alcohol usage and guests must not have used either at least 24 hours before skydiving.
Guests must not have engaged in scuba diving at least 24 hours before skydiving.
Guests with health concerns will have to get a waiver signed from their doctor before being allowed to skydive.
Guests with any questions or concerns are encouraged to reach out to staff at Skydive Dubai before making a reservation.
FIND & BOOK A HOTEL IN DUBAI TODAY
Admission Information & Prices for Skydive Dubai
Visitors can choose from either the premium location, the Palm Dropzone, or the standard location, the Desert Dropzone. The Palm Dropzone costs 2,199 AED for a tandem jump and is particularly lovely because it affords guests a view of the famous Palm Jumeirah as they skydive. For the Desert Dropzone, the cost is 1,699 AED for a tandem jump and offers skydivers a stunning view of the desert skyline as they fly.
Guests are required to meet all of Skydive Dubai's requirements before enjoying their skydiving experience and those guests who do not meet the requirements will, unfortunately, not be able to skydive. It is recommended that visitors ensure that they meet all the requirements before purchasing a skydiving experience as deposits for canceled excursions cannot be refunded.
Hours of operation at Palm Dropzone: The hours of operation depend on the time of year and guests should check online before making their reservation to ensure that this location will be available for their vacation.
Address: Al Seyahi Street, Mina Seyahi, Dubai
Hours of operation at Desert Dropzone: The hours of operation at the Desert Dropzone are from 8 a.m. until weather permits from Tuesday to Sunday and is closed on Mondays.
Address: E66 Dubai-Al Ain road, near Margham, Dubai
FIND & BOOK A HOTEL IN DUBAI TODAY
Great Resorts & Hotels Near Skydive Dubai
Skydive Dubai is situated near Dubai Marina, which is a popular area that has plenty of great hotels and resorts to choose from. Many hotels and resorts in this area are within a few minutes of Skydive Dubai, and plenty offer amazing amenities, including beach access, onsite dining, spas, airport transfers, quick access to public transit, and more. Here are just some of the top resorts and hotels located near Skydive Dubai.
Le Royal Méridien Beach Resort & Spa
Le Royal Méridien Beach Resort & Spa is a beautiful resort located right near Dubai Marina and offers its guests amazing amenities and access to some of the city's best shopping, entertainment, and restaurants. Guests can enjoy the hotel's indoor and outdoor pools, spa services and, because of the hotel's proximity to the water, guests have the opportunity to enjoy great outdoor watersports, including windsurfing, canoeing, diving, and more. With free Wi-Fi in all rooms and public areas, great onsite dining, airport transfer services and more, there is so much to love about this hotel.

Address: Al Mamsha Street, PO Box 24970, Dubai Marina, Dubai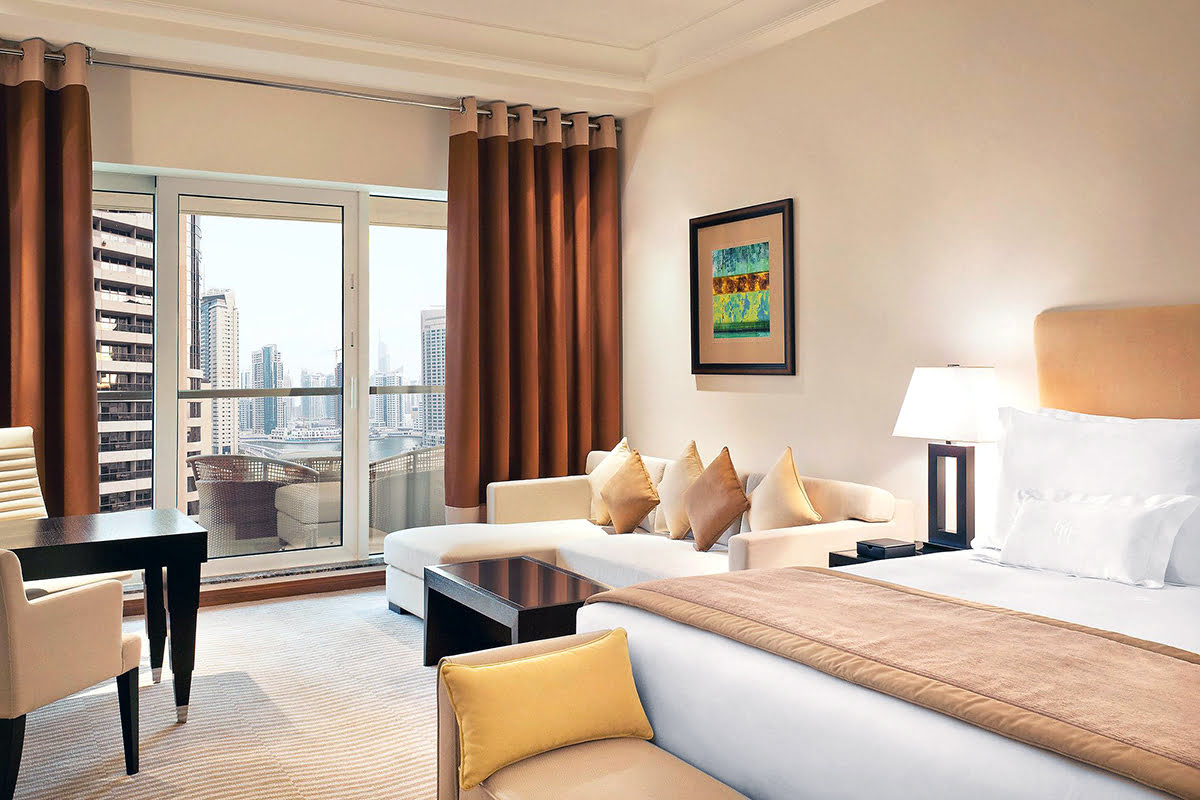 Grosvenor House a Luxury Collection Hotel Dubai
For a luxury experience in Dubai, visitors should consider a stay at Grosvenor House a Luxury Collection Hotel Dubai. Offering amazing views of the nearby Dubai Marina, this hotel is right in the center of some of the best entertainment, attractions, and sites in the city. Equipped with modern rooms, guests are sure to love the marble bathrooms that have been enhanced with Bulgari amenities, in addition to a soak tub and rain shower. Also available onsite are world-class dining opportunities, including an amazing seafood buffet at Sloane's, as well as other great bar and dining options. With spa services at The Retreat Health & Spa, an outdoor pool, a personalized butler and more, guests can expect the best at Grosvenor House a Luxury Collection Hotel Dubai.
Address: Al Emreef Street, Dubai Marina, Dubai
Dubai Marriott Harbour Hotel & Suites
Located just a short walk away from Dubai Marina, Dubai Marriott Harbour Hotel & Suites is ideally situated near some of the best sites, shopping, and restaurants in Dubai. With 232 modern rooms to choose from, guests can settle in and enjoy free Wi-Fi in all rooms and public areas, air conditioning, a refrigerator, and more great amenities. With a fitness center, spa services and outdoor swimming pool, there are plenty of ways to relax at Dubai Marriott Harbour Hotel & Suites. With great onsite dining, 24 hour room service and airport transfer services, guests are sure to enjoy their stay.
Address: Al Sufouh Road, Dubai Marina, Dubai
FIND & BOOK A HOTEL IN DUBAI TODAY
Indoor Skydiving Experiences in Dubai
While some people will enjoy the thrills and adrenaline rush that comes along with skydiving outdoors, others are looking for a similar experience where they can feel the excitement of free falling, but in an environment that's more comfortable for them. Fortunately, several great indoor skydiving experiences are available in Dubai that can give visitors similar thrills without the heights.
Inflight Dubai Indoor Skydiving
Experience the thrill of skydiving without having to go outside. Step into Inflight Dubai Indoor Skydiving, suit up, and enjoy as the indoor skydiving flight instructors lead guests through training and safety measures and then get ready to fly. Visitors will fly in a vertical wind tunnel that is over five meters wide, over 20 meters high and reaches wind speeds of over 280 kilometers per hour. Guests can enjoy the rush as air flows by, lifting them off the ground and into the air as they fly in the air tunnel. With a merchandise store for mementos and onsite dining available, guests can sit back after a flight and enjoy some snacks in the lounge while decompressing from a great adventure.
Requirements and tips for Inflight Dubai Indoor Skydiving:
Guests should be in good physical health with no history of back, neck, or heart problems and are advised to speak with their doctor before engaging in indoor skydiving. Guests who are pregnant or who have dislocated shoulder issues will not be able to participate.
Guests are not allowed to be under the influence of any drugs or alcohol.
Guests must be under 113 kilograms in order to fly.
Guests should wear comfortable clothes and lace-up sports sneakers that fit properly.
Address: E 66, Skydive Dubai Desert Campus, Dubai
Hours: Open 10 a.m. to 7 p.m., Wednesday to Sunday. Closed on Monday and Tuesday.
Admission: Introductory prices start at 240 AED for one person and two flights. Prices increase to 480 AED for four flights (which can be shared between two people), and up to 1,200 AED for 10 flights (which can be shared between up to five people). More advanced indoor skydivers can use their secondary plan option, which offers a variety of group packages that range in price from 1,440 AED, up to 6,180 AED.
iFly Dubai
Whether guests are first-time fliers or already experienced, iFly Dubai offers a great indoor skydiving experience that visitors are sure to love. Guests can choose from one of their specialized packages before suiting up, getting trained, and getting ready to fly. With the world's first double skydiving simulator, guests are sure to enjoy how iFly Dubai mimics the amazing experience of skydiving, all while they remain indoors. Experienced flight instructors will walk visitors through the iFly Dubai experience, giving guests an instruction on what to do and how to hold their bodies once they are inside one of the tunnels. Young or old, and everyone in between, a trip to iFly Dubai is sure to be an experience that visitors remember.
Requirements and tips for iFly Dubai:
Visitors are encouraged to pre-purchase their tickets online to avoid delays when they arrive at the facilities and to arrive one hour before their booking time.
Guests should wear warm, comfortable, loose-fitting clothes.
It is recommended that guests read the waiver form before arriving at the facilities, where it can then be signed in front of staff.
If guests are differently-abled or have any concerns about flying, it is recommended they reach out to staff with any questions they have before booking a flight experience.
Address: South Entrance 1st Fir Sheikh Mohammed Bin Zayed Rd Mirdif City Center, Dubai
Hours: 12 p.m. to 10 p.m. Sunday to Thursday, 10 a.m. to 11 p.m. on Friday and Saturday.
Admission: First-time fliers can enjoy a variety of package options. The first is a standard package that includes two, two-minute flights, a training session, flight gear, personal instructor, and a flying certificate for 220 AED. Prices increase depending on flight minutes and experience but range from 220 AED up to 3360 AED for an hour-long, guided flight.