Kyoto Station is an imposing 15 stories of glass and steel, providing an almost futuristic counterpoint to the centuries-old structures that draw visitors from around the world to Kyoto. Each year, more than 50 million visitors come to the city, and the vast majority of them will pass through Kyoto Station at some point during their stay. Kyoto is also home to 1.5 million people, many of whom rely on the public transportation provided at Kyoto Station. This is all to say that Kyoto Station is a very busy place!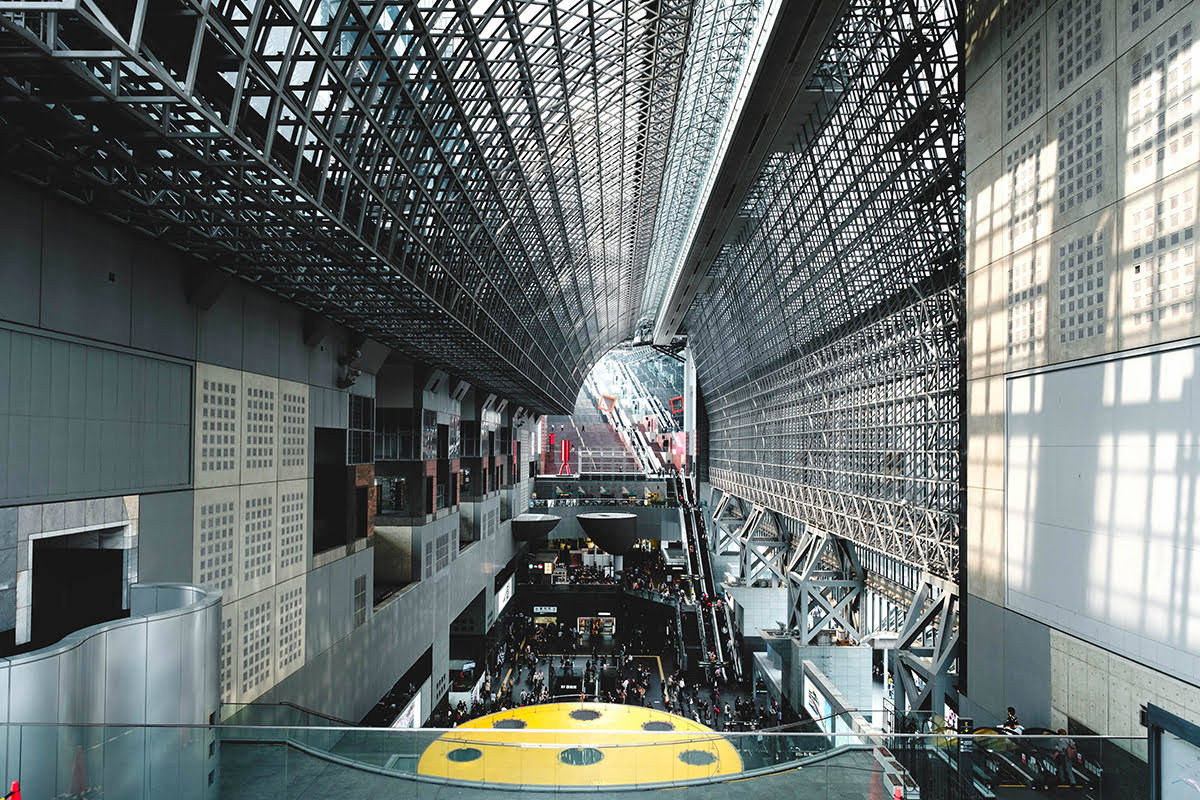 How to Get to Kyoto Station & Attractions Nearby
Getting to Kyoto Station couldn't be easier. By the fastest bullet train, it's about two and a half hours from Tokyo Station, and the Haruka Express gets travelers from Kansai Airport Train Station to Kyoto Station in about 75 minutes. From within Kyoto, the station is easily reached via the Karasuma subway line. There are also plenty of hotels near, and even in, Kyoto Station, so getting there can be as easy as walking a few steps.
Not only can visitors access many of Kyoto's best attractions via train, bus, and subway from Kyoto Station, but the station is also within walking distance from two of the city's UNESCO World Heritage Sites, Tō-ji Temple and Higashi Honganji. There is also plenty to see and do within the station, making it a popular tourist destination in and of itself.
History of Kyoto Station
The first iteration of Kyoto Station was built in 1877 of the most modern material of the age, brick. Emperor Meiji attended the building's opening, which was seen as the beginning of a new era of technological advancement. By 1914, increased use required a larger station, which was built of cypress wood on the site where the current station currently sits. Unfortunately, that station was destroyed by fire in 1950, and the concrete structure that replaced it was efficient but visually unappealing, so in the 1990s, a design competition was held to select the architect who would once again reimagine Kyoto Station.
Hiroshi Hara beat out six other architects with his futuristic vision for the new station. While some objected at the time, fearing that the imposing glass and steel building would be out of place in a city of traditional architecture, Hara's 15-story design was implemented, and the new station opened in September, 1997, in celebration of the city's 1,200th anniversary. In the decades since, Kyoto Station has become one of the most popular tourist attractions in Kyoto.
FIND & BOOK A HOTEL IN KYOTO TODAY
Getting around Kyoto Station
Kyoto Station is one of Japan's largest buildings, but it need not be intimidating to navigate. There are several information booths with mulitingual staff and free guides and maps of the station available for anyone who needs them. That said, it's wise to do a little bit of preplanning to get familiar with the station's layout.
Kyoto Station can be entered from the north or south. The station's north side, which faces Kyoto Tower and Kyoto Central Post Office, is called the Karasuma side. This is where travelers will find the Chuo Gate used to access the JR train lines and the Haruka Express to the airport. The eastern wing of the Karasuma side is home to Hotel Granvia Kyoto, which is located inside the station, just a few steps from several rail lines. Thirteen floors of retail space take up the western section of the Karasuma side.
The south, or Hachijo, side of Kyoto Station faces the shops and hotels of Hachijo Street and consists of two large shopping and dining arcades. The entrance on the Hachijo side is most convenient for accessing Shinkansen bullet trains.
To move between the Karasuma and Hachijo sides of the stations, visitors can use an underground passageway or a pedestrian walkway on the station's second floor.
Kyoto Station Facilities
Kyoto Station is so much more than a transportation center. While it is Kyoto's gateway to the rest of the nation, it also is a popular destination for those with no intention of leaving the city. In fact, thanks to plethora of shopping and dining options, many people visit the station every day without any plans to catch a train, bus, or subway.
Shopping
The biggest shopping area within Kyoto Station is no doubt the JR Kyoto Isetan department store, which occupies 13 floors of the station's north side. Each is dedicated to a different department, such as specialty foods, women's clothing, and stationary and souvenirs products. There is even a small art museum on the 7th floor. Isetan is open daily from 10am to 8pm.
The Cube is another of the north side shopping options. Two of the Cube's three shopping floors are dedicated to sweet shops and boutiques selling souvenirs, making it a great last stop before hopping on a train out of town. The third floor offers women's clothing and cosmetics. Hours vary from shop to shop, but most of the Cube's souvenir shops are open from 8:30am to 8:00pm.
Other shopping opportunities include the Porta Underground Mall, which is located beneath the bus terminal on the Karasuma side of Kyoto Station. The mall is home to over 100 shops and restaurants and also offers access to the Karasuma Subway line. Most of the shops are open from 10am to 8:30pm on weekdays and until 9pm on weekends.
Finally, visitors to Kyoto Station will have easy access to Bic Camera, the popular Japanese electronics chain, which offers seven floors full of every kind of electronic device imaginable.
Dining
As one might expect, in a complex as large as Kyoto Station, there are a wide variety of dining options, from quick and cheap bites to more upscale restaurants. One of the more unique options is Kyoto Ramen Street. Located on the 10th floor, just south of the grand stairway, Kyoto Ramen Street is a long hallway lined with noodle shops, each serving a unique, regional variety of ramen. To order, visitors must first purchase a ticket at a vending machine in front of their chosen shop. The ticket with the order is then handed to the chef behind the counter who will whip up the selected noodle dish. For those not in the mood for ramen, there's no need to leave this corridor. Kobe Gavly, which serves Kobe beef burgers topped with ten different vegetables, is a great alternative for meat eaters. Cafe Cento Cento Dolce is the spot for those craving a sweet treat and a cup of tea or coffee. Kyoto Ramen Street is open from 11am until 9pm.
Hotel Granvia Kyoto, which is located in the northeast section of the station, features several different restaurants and cafés, all of which are open to non-guests. Bear in mind that all of the restaurants on the 15th floor have a smart casual dress code and request that children under age six not dine during dinner hours.
Still more dining options are available within Isetan department store. Eat Paradise on the store's 11th floor features a number of different cafés, restaurants, and fast food choices. There is something for every palate at Eat Paradise thanks to global options including Chinese, Korean, Italian, and of course, Japanese options. Visitors who want to enjoy their meal with a view should choose a restaurant on the north side of Eat Paradise where they can enjoy the city skyline. In addition to Eat Paradise, there are a number of other cafés and tea shops scattered across the third, fourth, fifth, and sixth floors of Isetan, so visitors don't have far to go if they need a to refuel during an epic shopping trip.
Other attractions
No one should visit Kyoto Station without taking a stroll on the Skyway, a glass tunnel that spans the length of the station. From the Skyway, which hovers 45 meters above the central hall, visitors will have a clear view of Kyoto Tower and the station below. The Skyway can be accessed from the restaurant level of the Isetan department store on the 11th floor.
At the end of the station, visitors can wind their way up a series of escalators that will eventually deposit them on the station's concrete observation deck. While the thick windows that line the deck largely obscure the view, it is a quiet spot to get a breath of fresh air and a break from the busyness of the station's interior. Both the observation deck and the Skyway are free to access.
FIND & BOOK A HOTEL IN KYOTO TODAY
Things to Do in & Around Kyoto Station
Kyoto Station is within walking distance of many of the city's most popular attractions, making it the perfect hub for visitors making a day trip to Kyoto. Travelers who find themselves with an hour or an afternoon to spare will find plenty to do within a 20-minute walk.
Kyoto Station's Main Train Lines
Kyoto Station serves over 230 million passengers a year, connecting them to spots around the city and across the nation. The station is an incredibly busy hub with an overwhelming array of choices for how to travel. The following are a few of the busiest train lines that run through the station.
FIND & BOOK A HOTEL IN KYOTO TODAY