Kyoto is known for its many historic landmarks, and Kyoto attractions include famous Buddhist temples, stunning gardens, Shinto shrines, imperial palaces, and traditional wooden houses, called machiya. Kyoto is also one of the most popular places for people to visit during the cherry blossom season, as well as during the fall when the autumn leaves change color. This beautiful city was once the capital of Japan and remains one of the most remarkable cities in the country. Located on the island of Honshu and to the north of Osaka, Kyoto is also famous for its traditional Japanese dining, called kaiseki, where multi-course meals are meticulously prepared and served to guests, as well as its geiko (known as geisha in Tokyo) and maiko performers who have been honing their craft in this area for centuries. Rich with food, history, and culture, Kyoto attractions appeal to history lovers, food lovers, and travelers who are looking to experience a piece of the old world in a thoroughly modern city.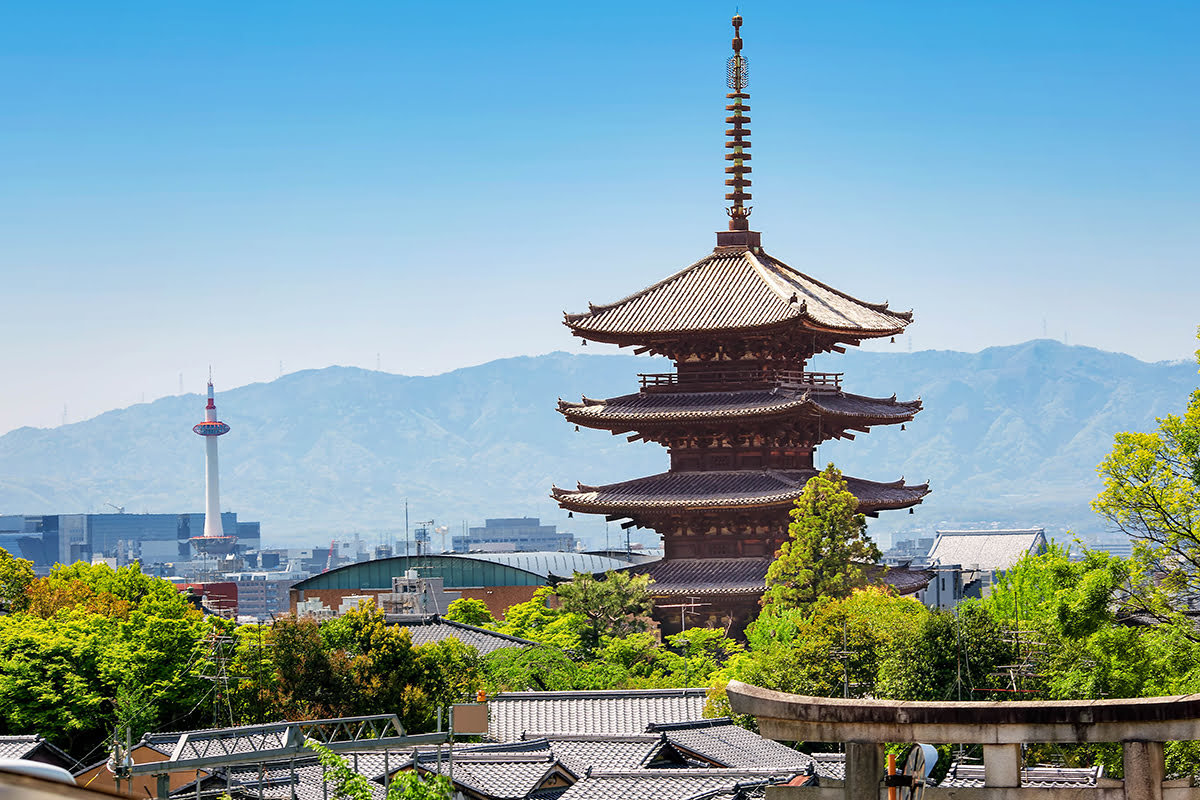 Best Kyoto Attractions & Things to Do
Kyoto is a remarkable city that is known for beautifully preserving Japanese culture with its art, buildings, food, and people. The city is also known for being quite beautiful and features many lush gardens, forests, and trails into the mountains. Some of the most visited Kyoto attractions are the city's preserved historical areas, such as Gion and the Higashiyama District. Visitors also enjoy exploring the many historic shrines and temples in the city. With lots of specialty stores, including tea houses, artisans, and local craftspeople, there are plenty of great places to shop in Kyoto as well.
Mount Atago
Mount Atago has the highest elevation in Kyoto at 924 meters and is also the home of the Atago Shrine. This Shinto shrine was established in 1603, though the current shrine atop Mount Atago was built in 1958. To get to the shrine, visitors must climb 86 stairs, called the "stone steps to success," and then they will be able to see the shrine which rests atop Atago Hill. Hikers who wish to enjoy the rest of the mountain will be happy to know that there is a 12.9 kilometer loop trail that takes them through the mountain. Generally, the trail is well maintained and accessible all year long and is popular. Some experienced hikers even choose to do overnight hikes. The views from the top are spectacular and more than worth the climb. Depending on the hiker's ability, it should take between two to three hours to get to the top of Mount Atago.
Address: Sagaatagocho, Ukyo Ward
Entrance Fee: Free
Hours of Operation: Open 24 hours, and the shrine is open from 9 a.m. to 5 p.m. daily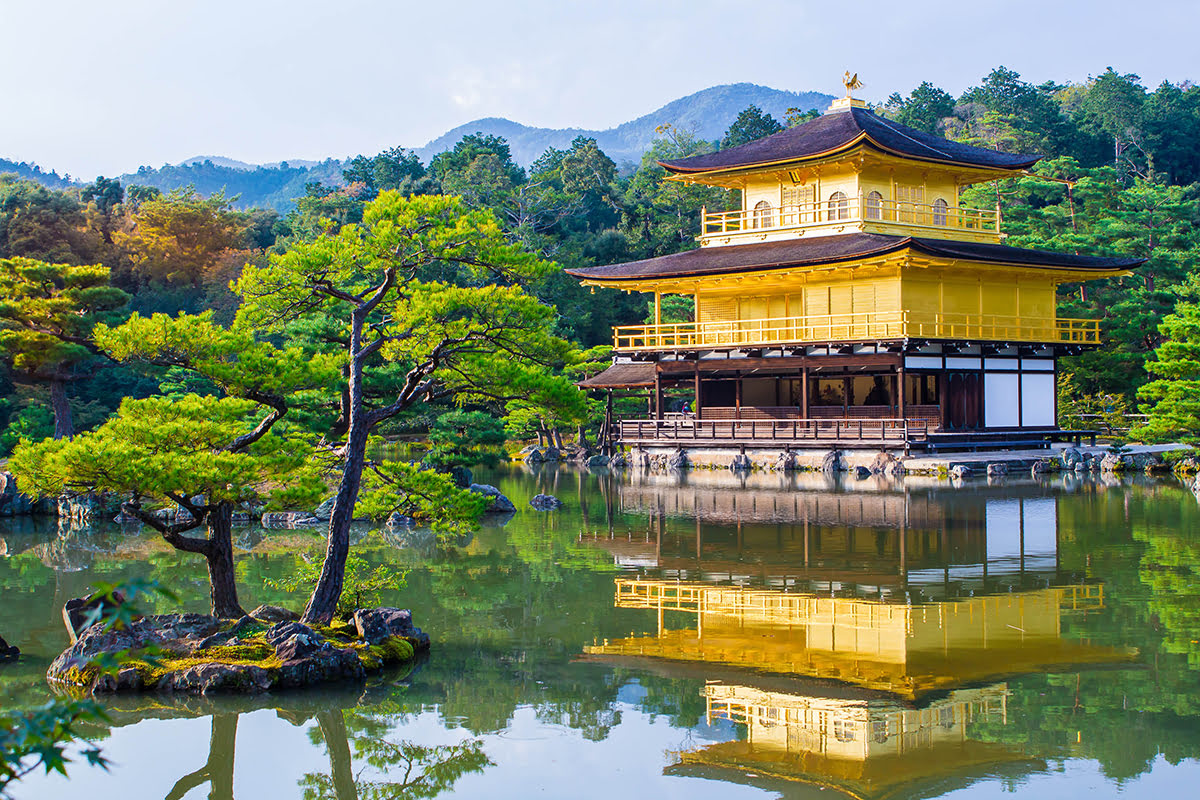 The Golden Pavilion – Kinkaku-ji
The Golden Pavilion (also known as Kinkaku-ji and officially named Rokuon-ji) is a Buddhist temple and one of the most popular Kyoto attractions as well as one of the top tourist attractions in Japan. Built overlooking a beautiful pond, the structure that exists today was rebuilt after a fire in 1955, though a temple has been in this area since 1408. The beautiful golden temple was built in a style that's meant to pay homage to the extravagant culture that was prevalent when it was first constructed. Each floor of the building has a different architectural style. Visitors can also enjoy the surrounding nature, former living quarters for the head priest (from the outside, the building interior is close to the public), as well as a gift shop, and a small tea garden where guests can have matcha tea and sweet snacks.
Address: 1 Kinkakujicho, Kita Ward
Entrance Fee: 400 yen
Hours: 9 a.m. to 5 p.m. daily
Nishi Honganji Temple
Nishi Honganji Temple is one of two temples dedicated to the sub-sect of Shin Buddhism, with the other being Higashi Honganji Temple, which is also located in Kyoto. Established in 1591, many of the buildings of the Nishi Honganji Temple have survived from the early 17th and 18th centuries, making this a great destination architecture lovers who are looking to experience historical Japanese architectural styles. This temple is also a designated UNESCO World Heritage Site and serves as the head temple for its sect. With beautiful carvings and detailing on the buildings, and the ornately decorated Karamon Gate, these buildings and structures are priceless and well worth the visit to see.
Address: 600-8501 Kyoto, Shimogyo Ward
Entrance fee: Free
Hours: 5:30 a.m. to 5 p.m.
Nijo Castle
Nijo Castle was built in 1603 and was used as a residence for Tokugawa leyasu, the first shogun (a commander in feudal Japan) of the Edo period, up until it was donated to the city in 1939 and opened up as a historical site. This castle on this site has some best surviving feudal era architecture including Ninomaru Palace, the ruins of Honmaru Palace, gardens, and two rings of fortifications. To enter Ninomaru Palace, visitors must first pass through the Karamon (a Chinese style gate), which is a popular spot for photos as the gate is quite beautiful. Wood carvings and intricate detailing are showcased on this historical relic. Ninomaru Garden is also a great place to have a stroll while visiting Nijo Castle. This famous garden was designed by Kobori Enshu, a famous landscape architect and is a great place for quiet reflection. One of the top Kyoto attractions, Nijo Castle is also a great place to witness the changing of the seasons, whether in spring during the cherry blossom season, or in the fall when the autumn leaves change, so visitors are sure to have a beautiful view no matter when they visit the castle.
Address: 541 Nijo-jo-cho, Nakagyo Ward
Entrance fee: 620 yen and an additional fee of 410 yen to enter Ninomaru Palace
Hours: 8:45 a.m. to 4 p.m., daily
Higashiyama District
Higashiyama District is a wonderfully preserved historic district in Kyoto and is very popular both with tourists and locals. This area is full of machiya, as well as temples and shrines, pottery stores, restaurants and much more and gives visitors a good look at what the city may have looked like during feudal Japan. Higashiyama also makes for a beautiful place to explore and walk through on the way to Kiyomizu Temple or other Kyoto attractions, where visitors can get their souvenir shopping done, as many of the little stores along the way sell great gift items.
Address: Located between Kiyomizu Temple and Maruyama Park
Hours: Open 24 hours
Kyoto Imperial Palace
The Kyoto Imperial Palace was once the ruling palace of the Emperor of Japan, though the Emperors have lived in the Tokyo Imperial Palace since the late 1800s. Located in Kyoto Imperial Park, the palace was reconstructed after a fire in 1855 and the exterior can be explored by visitors with or without a guided tour, though the interiors of the buildings are still accessible. Many visitors enjoy walking through the area, and some even bring their bikes to cycle on the gravel paths through the park. In addition to the palace, visitors can also explore the Kaninnomiya Mansion, which formerly housed the court nobles. The Kyoto Imperial Park is another great place to witness the changing of the seasons, and visitors can appreciate the view as the cherry blossoms bloom in the spring, or when the autumn leaves start to change color in the fall.
Address: 3 Kyotogyoen, Kamigyo Ward
Entrance fee: Free
Hours: Hours change depending on the time of year. From April to August, the palace is open from 9 a.m. to 5 p.m., for September and March, from 9 a.m. to 4:30 p.m., and from October to February, 9 a.m. to 4 p.m. The last admission is 40 minutes before closing.
Kiyomizu Temple
Kiyomizu Temple, also known as Otowa-san Kiyomizu-dera is a Buddhist temple located in the Higashiyama District of eastern Kyoto. This historical monument is one of the most famous Kyoto attractions and is situated on Mount Otowa. This multi-leveled wooden temple is a marvel of traditional Japanese construction and has been made without the use of any nails. Dedicated to the goddess, Kannon, local and international visitors frequent this temple to pray and enjoy the beautiful surroundings. Aside from the natural beauty of the area, there is also a waterfall that is said to grant wishes located on the premises. Otowa Waterfall can be found just below the main hall of the temple and visitors are encouraged to drink with the provided cups – though only from one stream as it's considered bad luck to drink from all three.
Address: 294 Kiyomizu, Higashiyama Ward, Kyoto
Entrance fee: 400 yen for adults to see the temple; visiting the waterfall is included in the fee
Hours: The opening time is generally 6 a.m. daily, though the closing time will depend on the time of year. Visitors should check the temple's online calendar prior to planning their trip to the temple to confirm closing times.
FIND & BOOK A HOTEL IN KYOTO TODAY
Transportation in Kyoto
Kyoto is very well connected to the rest of Japan by way of trains, bullet trains, and flights (generally, Kyoto is serviced by Kansai International Airport, in Osaka), so getting to the city is relatively easy and depends on the method of travel that is most convenient for visitors. Bullet trains are efficient and connect Kyoto to Tokyo via a train ride that takes about two hours and 15 minutes and costs about 13,000 yen.
Many travelers will arrive directly from Kansai International Airport, in Osaka which is located approximately 70 minutes away from Kyoto via direct express train, the Haruka Express, which will take visitors all the way to Kyoto Station. The Haruka Express is accessible from Kansai International Airport via platform four and is covered by the Japan Rail Pass, and if travelers do not have a JR Pass, individual tickets can also be purchased for the trip and costs between 3,000 to 3400 yen, depending on whether travelers wish to reserve a seat or not.
For travel within the city and for visitors who enjoy using the subway, Kyoto has two main subway lines, the east-west running Tozai Line (red), and the north-south running Karasuma Line (green). This is the main subway service that is owned and operated by the Kyoto Municipal Transportation Bureau, and this service also interests with a number of privately owned railway lines, which visitors can use to travel all over Kyoto, in addition to other parts of the country.
Tickets for the subway range in price from 210 to 350 yen for adult fares. Travel cards are available for multiple trips, as are combinations bus and subway fare cards. If visitors are looking for cards that will give them access to multiple fares and public transportation methods, they can purchase these passes and find out more information at the Kyoto Tourist Information Center, which is located on the second floor of the Kyoto Station Building, at Kitaoji Bus Terminal, and at the Bus Information Office at the main entrance of Kyoto Station.
Taxis are also a great option for travel in Kyoto and can be a quick and efficient way to travel to sites. While taxis are more expensive than traveling on public transit, they have the added benefit of being able to get visitors closer to the sites than most of the subway and train spots. Visitors who are looking to do a little less walking may wish to opt for a taxi after a long day of sightseeing.
Another great way to get around Kyoto is by bike and the city is consistently voted one of the best cycling cities in Asia, which is great news for visitors who like to keep fit and stay active while they travel. Bikes are incredibly popular in the city as it is rather flat, with its lowest elevation being only nine meters above sea level. There are plenty of bike rental shops located all around the city and visitors may find that their hotels even offer such services as well.
Biking has the added convenience being able to get close to attractions without having to walk, and also eliminates the need for visitors to have to navigate through the subway and bus system, if they'd prefer not to do so. Drivers are generally quite considerate in the city, so cyclists shouldn't need to worry. Cyclists are also allowed to ride on the sidewalks when they're available, but they may wish to either purchase or ensure that their bike has a bell to keep walkers informed of their presence while biking. There are plenty of bike parking lots around the city and generally, attractions will have designated spots for bikes as well. There may be a fee for parking bikes (generally, between 100 to 200 yen) and visitors should be certain that they only park their bikes in designated areas as the city may remove any bikes that are not parked in the proper areas.
FIND & BOOK A HOTEL IN KYOTO TODAY
The Best Areas to Stay in Kyoto
Choosing the right area to stay in Kyoto is a great way to ensure that travelers have a great vacation and access to the best Kyoto attractions. While the city is lovely, there are areas that will be more convenient for some visitors than others as certain areas will be more modern and others will have better access to nature and the sites, so it is best if travelers decide what kind of neighborhood they'd like to stay in prior to choosing a hotel. Here are some top locations to stay in Kyoto and the benefits of each location.
Downtown Kyoto
Located near easy access to the subway and within walking distance of restaurants, clubs, shops, and bars, downtown Kyoto is a great area to stay in for visitors who want access to the sites (Southern and Northern Higashiyama are within walking distance of downtown) but also want to have a little fun and are looking for lots of hotels to choose from. With shopping arcades, Nishiki Market, one of the city's best traditional food markets, department stores, museums, and more, there's always something to do in downtown Kyoto.
Shimogyo-ku
Located nearby Kyoto Station, Shimogyo-ku is modern, busy and full of fun things to do. Travelers can visit Kyoto Tower where they can witness stunning views of the city, or stop by one of the malls or underground arcades and get some shopping done, or grab a bite to eat. With plenty of pubs in the area, there's always something good to drink. Or visitors can hop over to Shosei-en Garden and enjoy some tranquility while taking in the beautiful scenery – the garden is especially beautiful during the cherry blossom season. With all this, the Kyoto Aquarium, and more, Shimogyo-Ku is a great choice for a home base in Kyoto.
Gion District
Gion District is a great district to stay in if visitors are looking for a beautiful historical area that still has strong ties to traditional Japan. Gion District is primarily famous for being the home of geiko (also known as geisha), and these women can often be seen going about their daily routines in this neighborhood. Geiko and maiko (these are geiko who are in training) are trained in classical Japanese performing arts, including art, singing, and dancing. These women are known for their distinct makeup and dress, and their performances are highly regarded and exclusive. The area is also famous for its machiya (traditional houses) and is home to great shops and restaurants. Gion District is also close to the popular Higashiyama District and is the perfect neighborhood to stay for history lovers.
Pontocho
Though small, Pontocho is a lively and fun area to stay in as it is full of great Kyoto attractions and nightlife, including bars and clubs. During the day, the area is also busy as it's full of shops and restaurants, as well as for its traditional architecture and tea houses – visitors may even see geiko who are on their way to appointments in this famous area. While it's not really an area that tourists frequent, Pontocho is a great place for visitors who are looking for something a little different or who are looking to experience a more local-feeling Kyoto. Known for its dining opportunities, step out and enjoy the amazing food options in Pontocho before heading to the club to have some nighttime fun in the area.
Nishijin District
Nishijin District is famous for being Kyoto's weaving district and is located in the northwestern part of the city. This traditional area and one of the most popular Kyoto attractions is known for its many machiya and is also home to many museums and galleries that feature the city's beautiful weaving arts. This is a great neighborhood to stay in if visitors want to stay in a place that retains an old-world feel, as well as a reverence for textile arts and history.
FIND & BOOK A HOTEL IN KYOTO TODAY