Most visitors know that the most popular Kyoto market is Nishiki Market, but to find the best souvenirs from Japan, travelers should explore the other great markets, flea markets and second-hand shops in Kyoto as well. Foodies will adore a visit to Nishiki Market, which has been open for hundreds of years, and shoppers will love browsing for handmade goods, accessories and second-hand treasures in some of Kyoto's other market districts.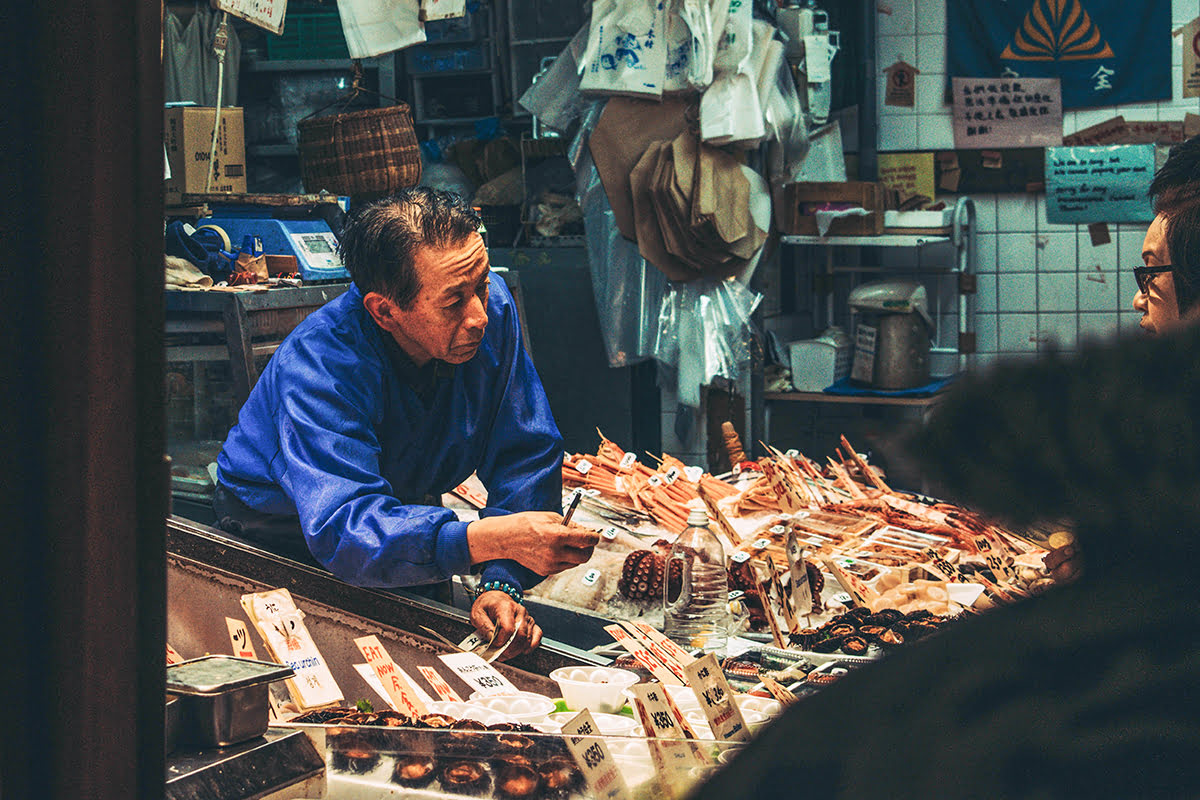 Kyoto Market Guide | Start with Nishiki Market
Nishiki Market is a fantastic place to get a first-hand view of a traditional Japanese shopping street (shotengai), so visitors who are looking to pair their shopping experiences in the area with some culture should love a visit to the market. For visitors who are unused to markets, Nishiki Market has been a popular market for hundreds of years and offers everything from fresh and preserved foods to cookware, spices, paper goods, and other fun souvenir items. It is a busy market, so expect that it will be crowded. Fortunately, the locals are known for being polite, so navigating through the market shouldn't be an issue, whether it is busy or not. For visitors looking to avoid crowds, it is best to go early in the day, right when the market opens, and explore during that time.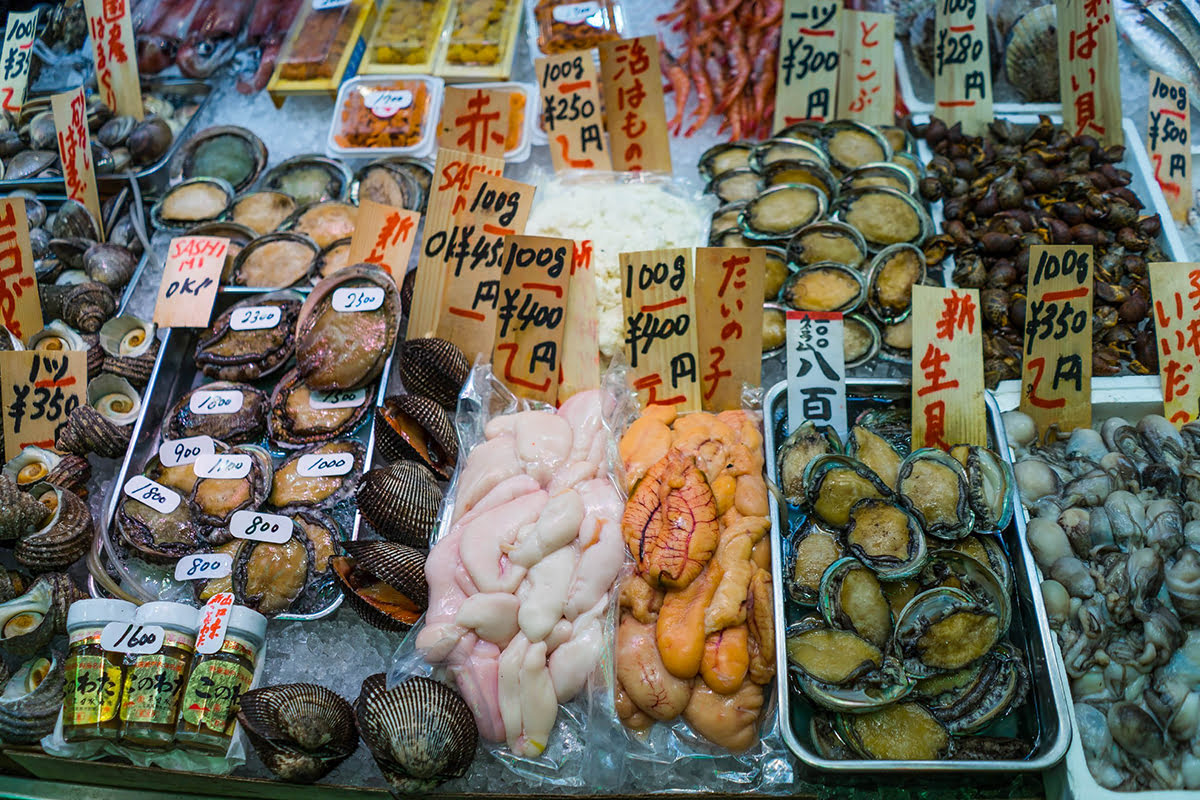 What to Expect at Nishiki Market
While many locals will use this market to get fresh goods for their cuisine, tourists also enjoy visiting this area because there is a dizzying array of items to admire. Travelers can expect to see plenty of food that is generally used in local cuisine on display, including tsukemono (Japanese pickled vegetables), kyoyasai (heirloom vegetables from Kyoto), fresh tofu, tea, wagashi (traditional Japanese sweets), fresh fish, and more. There are even stalls that sell food to go, so guests should be sure to enjoy some freshly made yakitori (grilled chicken skewers) or sashimi (bitesize raw fish) as they explore.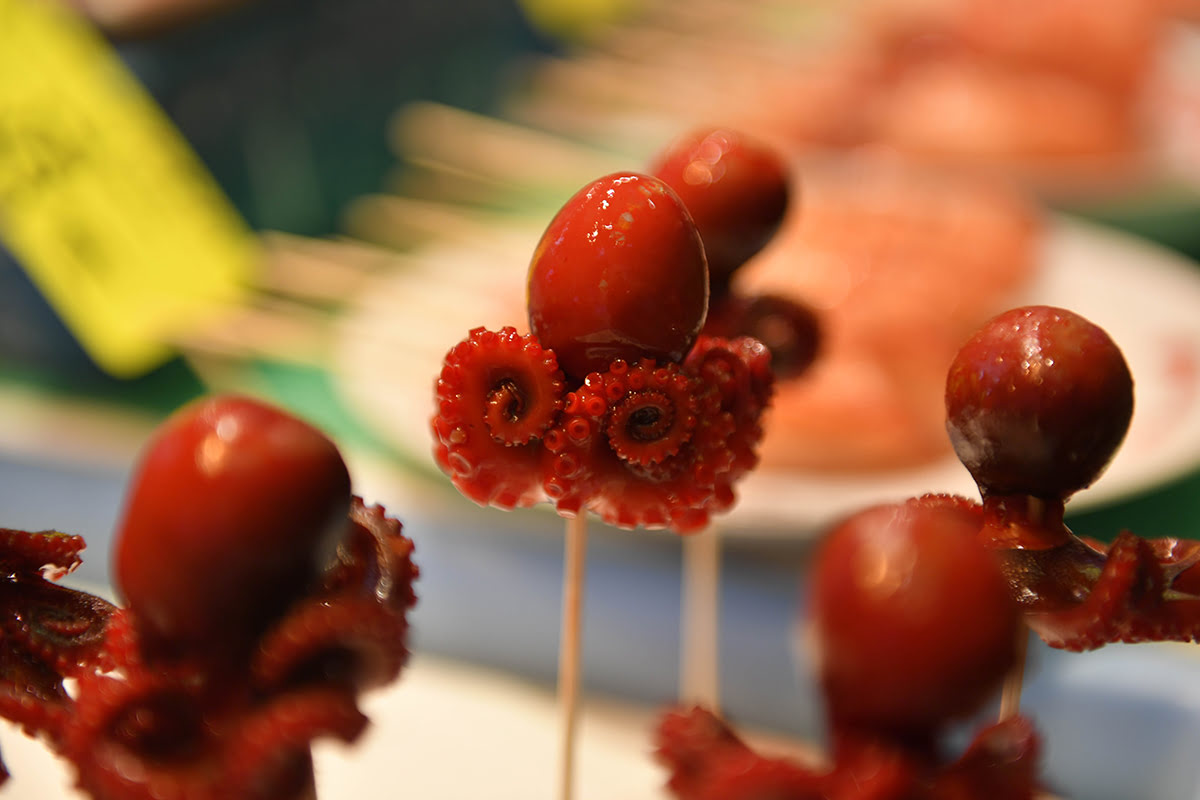 Make the Most of a Trip to Nishiki Market
Visitors should plan on spending a few hours in Nishiki Market to get the whole experience. Additionally, there are plenty of great sites located near Nishiki Market, including shopping arcades and the Kawaramachi Shopping District, a popular retail shopping area where Shijio and Kawaramachi Streets intersect. The nearby area, Pontocho, is known for its geiko (geisha) and maiko (geiko in training) who live in the area, in addition to traditional tea houses and buildings. Whether visitors are only spending a little time in Nishiki Market or are visiting it during an extended shopping trip, this Kyoto market area makes for a great addition to any itinerary.
Address: Located one block north and parallel to Shijo Avenue
Hours of Operation: Hours of operation will vary depending on the stalls, shops, and restaurants visited, but generally the market opens around 9:00 a.m. daily and closes between 5 to 6:00 p.m.
FIND & BOOK A HOTEL IN KYOTO TODAY
How to Access Nishiki Market
Nishiki Market is located in downtown Kyoto, runs parallel to Shijo Avenue and is west of Teramachi Street. Both of these areas are also famous for shopping and are great places to check out once visitors are finished with the market. From Shijo Station, travelers can reach Nishiki Market after a quick 10-minute walk northeast, following the road north along Karasuma Street, and then east on Nishikikoji-dori Street, which will take visitors right to the market.
To get to Nishiki Market from Kyoto Station by bus, visitors should catch the 101 bus from the station and travel to the stop on Shijo Avenue. From there, the market is located about seven minutes to the east, and the total time for the entire trip should take around 15 minutes. To reach the market by subway from Kyoto Station, visitors should get on the Kyoto Subway Karasuma Line (green) traveling towards Shijo and then get off at the Shijo Avenue stop. The market is located about seven minutes away to the east and the total time for the trip is about 10 minutes.
FIND & BOOK A HOTEL IN KYOTO TODAY
Kyoto Market Guide | Flea Markets & Souvenirs Shops
Kyoto has plenty of great markets at which to shop, and visitors who are looking for unique gifts to take back home with them or for fun souvenirs should enjoy a visit to one of these exceptional markets. Find everything from paper crafts to handmade pottery items at these popular Kyoto markets.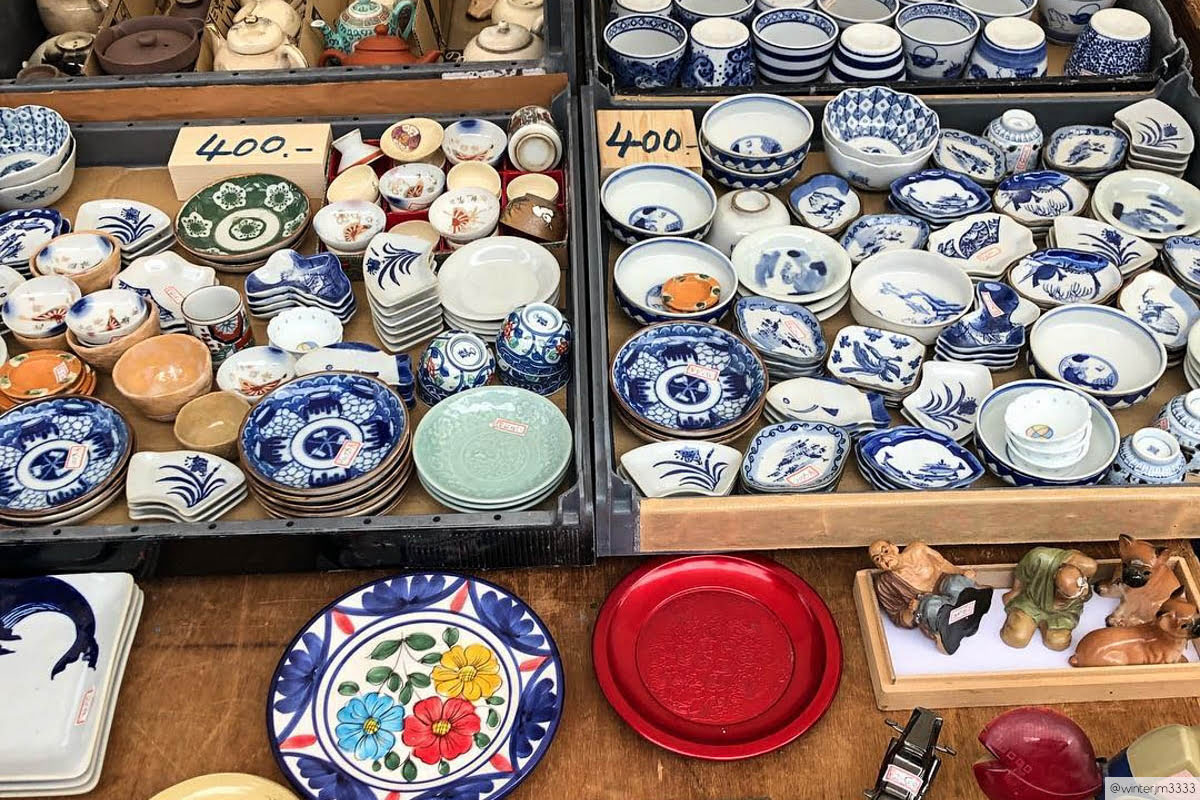 Kobo-san Flea Market
Kobo-san Flea Market, also called Toji Flea Market (as it is held near Toji Temple), is a flea market that's held on the 21st of each month and is also part of a local religious festival. This festival commemorates the death of Kukai, a revered Buddhist monk and also shares his name. Here, visitors can find amazing stalls that are filled to the brim with everything from second-hand kimonos and other clothing items to handmade pottery, cut paper art, plants and snacks. This market is held at the famous Toji Temple which is a UNESCO World Heritage Site and one of the 17 designated Historic Monuments of Ancient Kyoto, making this a great site to visit whether the market is there or not.
Address: 1 Kujo-cho, Minami Ward at Toji Temple
Hours: Monthly on the 21st, from early in the morning until around 4:30 p.m.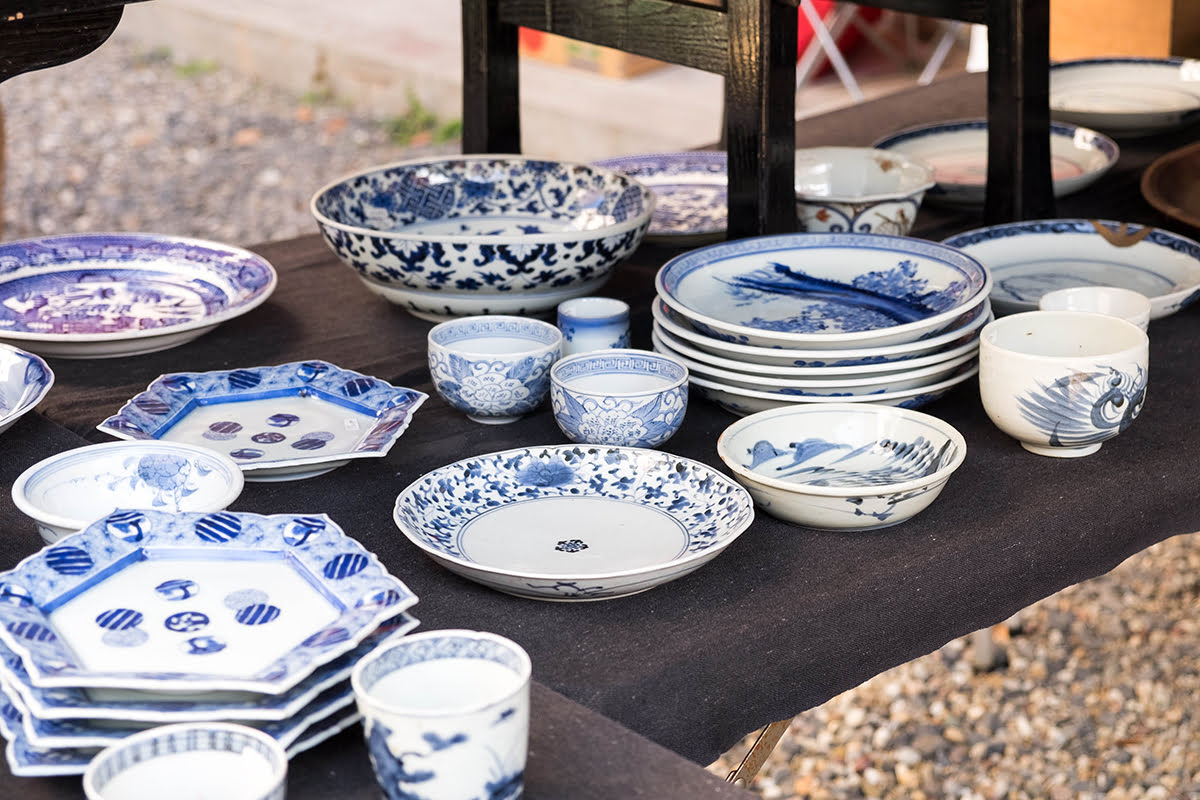 Tezukuri-Ichi Market
The Tezukuri-Ichi Market is held each month on the 15th in the courtyard of the Hyakumanben Chionji Temple. This fabulous market is known for its handmade arts and crafts, as well as food items. In addition, visitors can expect to find an amazing selection of goods, ranging from ceramic art, jewelry, bags, soap, honey, baked bread, and more. Visitors who enjoy searching for a deal or who are looking for the perfect item to bring home will love spending a few hours weaving in and out through this market. The market stands are awarded on a lottery-based system, so the goods can change from month to month, ensuring that there is always something new and interesting to enjoy at the market.
Address: 103 Tanaka Monzencho, Sakyo Ward
Hours: 8 a.m to 4 p.m.
Tenjin-san Flea Market
Tenjin-san Flea Market is one of the largest markets in Kyoto and also in the Kansai region and is named after the god, Tenjin, who is the god of scholarship and learning. With over 1,000 individual stalls, there is a lot to choose from and explore at this flea market. Anyone who is looking for a second-hand kimono or who is a fan of antiques and ceramics should love exploring this flea market. Food stalls are also available, so visitors can take their time and enjoy the market. This market is held on the 25th of each month and takes place at Kitano Tenmangu Shrine, which is a beautiful area to explore all on its own. Though this market is held monthly, the events at the beginning and the end of the year are said to be the busiest, so plan accordingly and prepare for crowds during that time.
Address: Bakurocho, Kamigyo Ward
Hours: Generally open around 6 a.m., though closing can vary depending on the time of year.
Umekoji Park Handicraft Market
Umekoji Park Handicraft Market is held the first Saturday of each month, except for January and May, in Umekoji Park, which is very close to Kyoto Station. This market is popular with locals and offers a variety of handmade goods, foods, and other items. Because it is in a park, it is also relatively spread out which means it can be relaxing to walk slowly through each area while enjoying each stall as this market is not as crowded as others. With great attractions nearby, including the Kyoto Railway Museum and Kyoto Aquarium, this market makes for a great addition to any daily itinerary for the area.
Address: 56-3 Kankijicho, Shimogyo Ward
Hours: 9 a.m. to 4 p.m.
FIND & BOOK A HOTEL IN KYOTO TODAY