Whether you're looking for delightful delicacies to tantalize your taste buds, a rich, multi-century history to discover, or a common cultural experience in which to immerse yourself, look no further than Nishiki Market in downtown Kyoto. Nicknamed "Kyoto's Pantry" by locals, the 400-meter covered street is brimming with over 100 vendor stalls, some selling skewers of takeaway food, some with small spaces for a quick sit-down meal, and others with groceries from fresh fish to locally grown produce (oftentimes grown by the vendors themselves).
Hours, Location & What to Expect at Nishiki Market
Conveniently located just a five-minute walk from Shijo Station, Nishiki Market is typically open from 9 a.m. to 5:30 p.m. Monday through Friday and 9 a.m. to 4:30 p.m. on Saturdays, making it the ideal stop for a mid-day treat while you're on the go. Keep in mind, though, that the market is closed on Sundays, and not all vendors hold to the exact same hours as the market itself. If you have your heart set on visiting a specific vendor, we recommend checking the vendor's hours prior to your visit.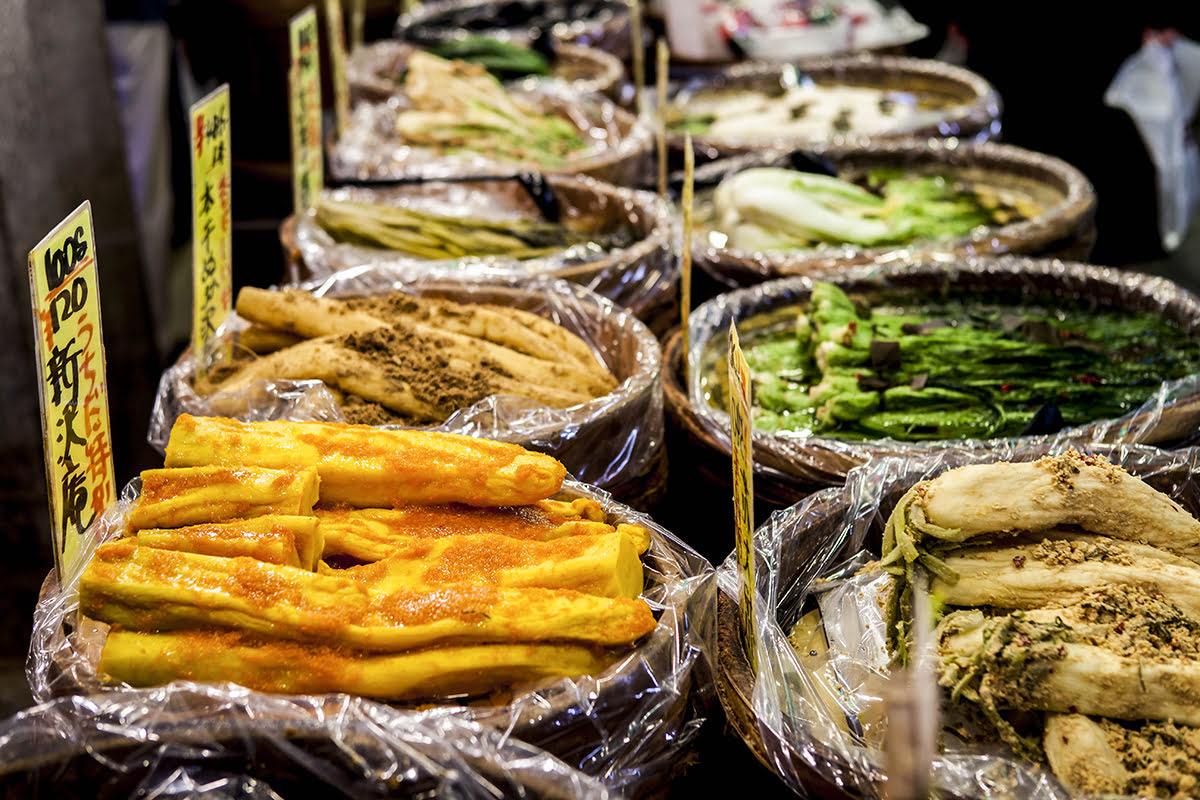 Food at Nishiki Market
You will find plentiful food vendors at Nishiki Market, ranging from sit-down restaurants to grocers to quick bites for on the go. Whether you're looking for luscious local ingredients with which to cook your own meals, a fully prepared cuisine experience, or a small snack to satiate your hunger during your day of exploration, you're sure to find scrumptious eats at the market. In fact, many vendors give out free samples, so make sure you leave room in your stomach to taste test a myriad of options.
Kyo Yasai Kanematsu
If locally grown veggies are your fancy, Kyo Yasai Kanematsu is a must-visit at Nishiki Market. A proud display of a wide variety of in-season veggies greet you in this shop. As this vendor sources its produce only from the Kyoto area, you may find that their pricing is higher than what you'd find in a typical grocery store. But just looking at the produce on display, it becomes clear that these products are high quality. Picture perfect, these veggies are just waiting to be sliced, diced, and roasted up in your favorite recipe. Or, if you're in the mood for a meal right then and there, there's a sit-down restaurant connected to the shop.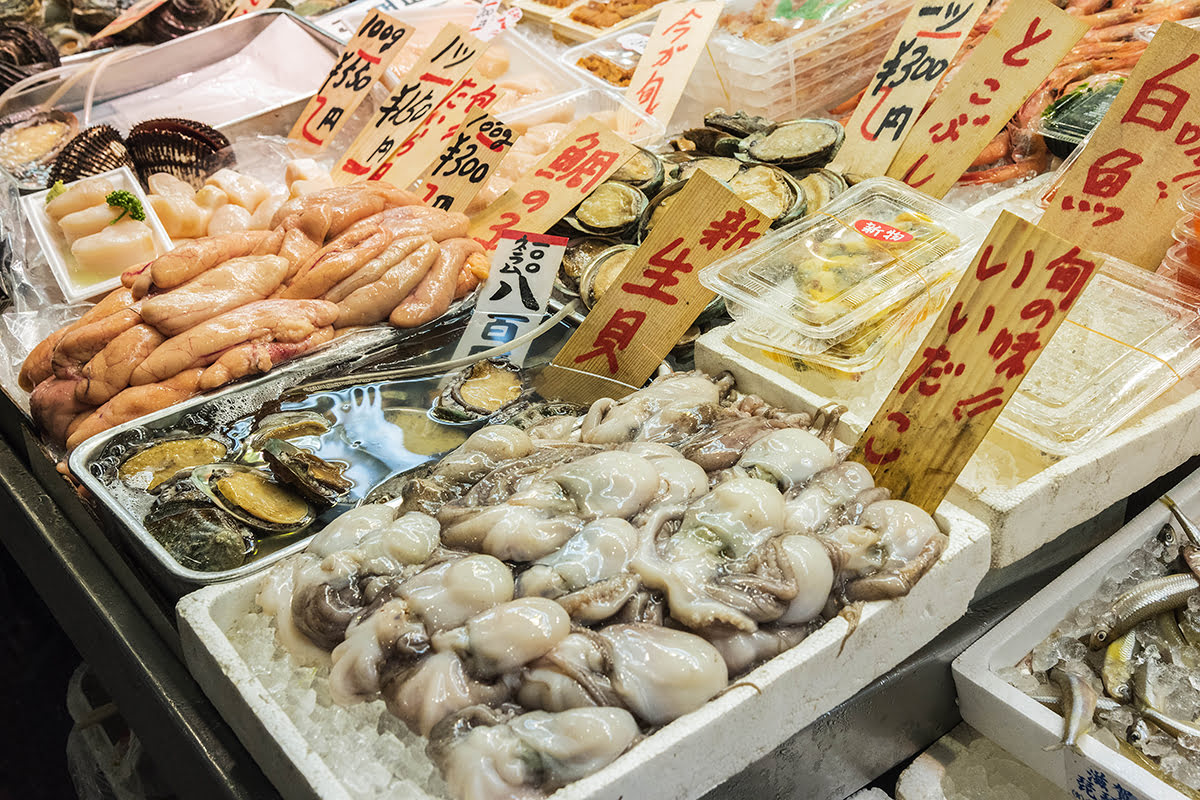 Kimura Fresh Fish
Japan is known for its fresh, raw seafood and the oldest stall in Nishiki Market, Kimura Fresh Fish, is the destination for some of the best fresh fish you'll taste in your life. This stall has the option to stand and eat, possible availability in a small sit-down area, and takeaway food options. Some delectable fan-favorites to consider trying out at this vendor are:
Sashimi-on-a-stick
Squid
Oyster
Clam
Sea urchin
Shirako
Tuna
Yellowtail fillets
Liver ponzu
Lionfish
Oysters at Watahan
While we're talking about fresh fish, Oysters at Watahan is another great option for both classic and exotic seafood. Fan-favorites include oysters, salmon, crab and pufferfish! Previous guests tout the pufferfish (called fugu in Japan) as being deliciously exotic, giving a slight stinging sensation, because pufferfish contain something called tetrodotoxin, a poison stronger than cyanide. Only experienced chefs prepare this delicacy, as it is a highly prized dish. On the whole, Japan eats 10,000 tons of fugu each year, and very few people (some statistics say an average of 44 people) fall sick or die from fugu poisoning annually. If you're willing to play those odds, Oysters at Watahan is the place to go.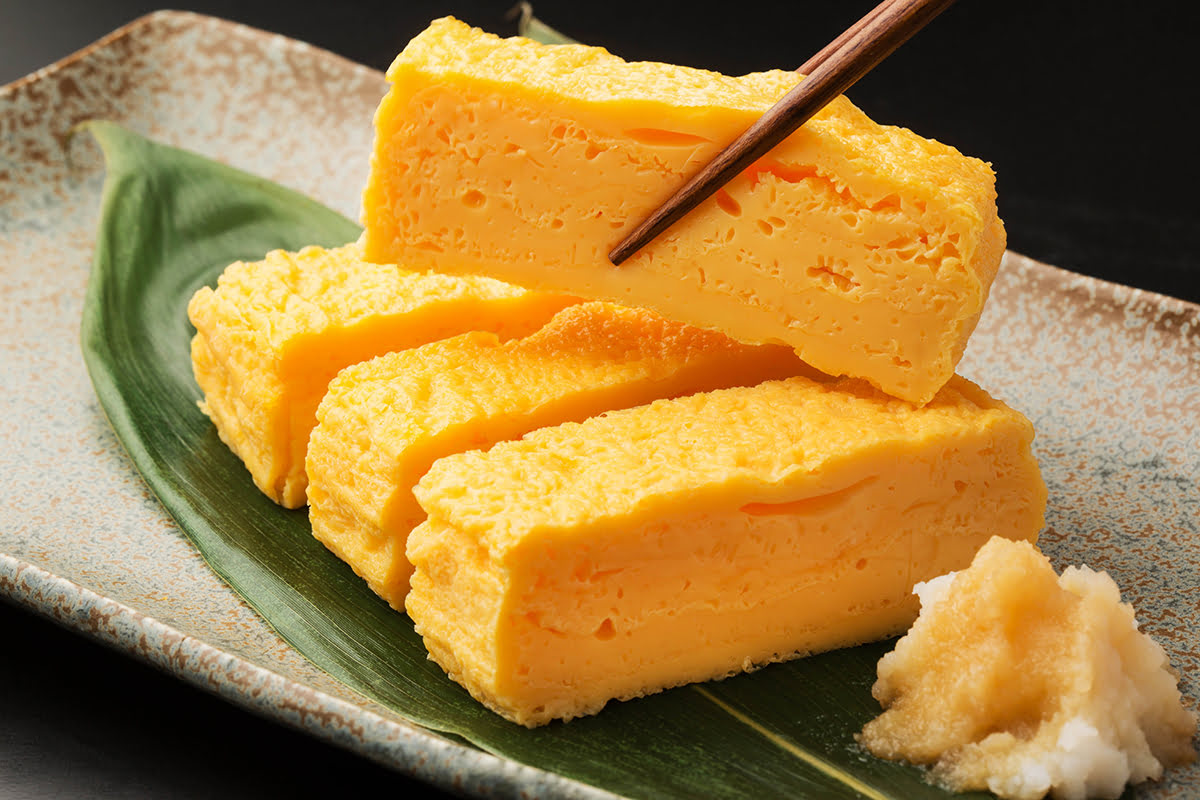 Tanaka Keiran
Said to be the go-to spot for the Japanese dish tamagoyaki, Tanaka Keiran is definitely worth stopping by. Tamagoyaki (which literally translates to "fried egg") is a type of omelette, often prepared in a rectangular pan called a makiyakinabe or tamagoyakiki. It is made by rolling together several layers of cooked egg and can be prepared using a number of different ingredients that may result in a salty, sweet or savory flavor, so whatever your craving, this dish can satisfy it. The soup at this spot also receives rave reviews.
Kai
If you've heard about any delicacy at Nishiki Market before, it is probably the Tako Tamago (which translates to "octopus egg"). These tiny octopi have hard-boiled quail eggs stuffed into their heads, then they are skewered, glazed and grilled. This odd-looking dish is a must-try at the market, as this may be your only chance to do so.
Karikari Hakase
Karikari Hakase does not have a sit-down option, but is a takeaway counter only. Fans of this spot recommend the takoyaki, which is generally considered an appetizer dish in Japan. This delight is prepared with a wheat flour-based batter that is shaped into a ball, and then stuffed with octopus, pickled ginger, tempura and green onion. The balls are then glazed with a mixture of mayonnaise and takoyaki sauce, which is similar to Worcestershire sauce.
Torisei Takoyakushi
When you're finished tasting the many seafood cuisines of Nishiki Market, hop on over to Torisei Takoyakushi for other meat-based delicacies. Known for their aigamo duck meat and yakitori (skewered, charcoal-grilled chicken), this vendor has been perfecting their recipes for over 100 years. You may find the freshest chicken you've ever tasted here, as fresh poultry is delivered every morning and displayed in front of the shop.
FIND & BOOK A HOTEL IN KYOTO TODAY
Shops to Visit at Nishiki Market
Along with local vendors, you'll also find a peppering of shops throughout Nishiki Market selling Kyoto-inspired trinkets as souvenirs. A handful of shops sell kitchenware as well, from personalized chopsticks to flatware.
Aritsugu
A must-visit and one of Japan's original knifemakers, this vendor's history dates back to the 1500s. Originally crafters of swords for the Imperial House of Japan, Aritsugu adapted in times of peace, producing instead sharp knives for the carving of statues. Eventually, this vendor expanded into the kitchenware industry, which is what you will find if you visit their shop within the market. Their location in Nishiki Market has been their main storefront since 1981. Be sure to grab yourself a brand new kitchen knife with a personalized engraving as a one-of-a-kind souvenir (but don't forget to put it in your checked luggage before boarding a flight — these high quality knives are not carry-on friendly).
Sugi Honey Shop
Open from 10 a.m. to 6:45 p.m., the Sugi Honey Shop storefront at Nishiki Market offers honey delights from head to toe (literally — even the floor tiles are shaped like honeycomb). Pick up a bottle or a pack of sticks of one of their fruit-flavored honeys. They offer options from blueberry to lemon, mango and more. You can also try out a delicious cup of hot or iced tea in an array of flavors, or grab a cup of honey ice cream.
You're sure to find sweet treats for more than just your taste buds, too. Sugi Honey Shop sells a number of skincare products and dietary supplements, including a rare ingredient called royal jelly. Royal jelly is different from honey nectar in that it is a creamy substance created by worker bees for consumption only by the queen bee. It can only be extracted in very small quantities, but is said to have many nutritious and energizing properties. You'll also find honey-infused night creams, lotions and cleansers to rejuvenate your skin.
Rumored to sell the best honey in Japan, Sugi Bee Garden has been perfecting the art of beekeeping and honey extraction since its founding in 1946 by Takeo Sugi. Sugi identified Kumamoto on the Japanese island of Kyushu as the perfect spot to make and harvest honey, as it was known for having a relatively warm climate year-round. Beginning with just three beehives, he worked tirelessly to develop the best possible system for both the rearing and the extraction of his sweet, golden honey. Through the generations, Sugi Bee Garden has grown to have beekeeping and honey extraction facilities in Kumamoto, Akita and Hokkaido. They have also opened honey shops across Japan, and even a few overseas. For the best honey products around, Sugi Honey Shop is a must-visit at Nishiki Market.
Tsunoki
If you're in the mood for a treat with a little more kick to it once you've satisfied your sweet tooth, Tsunoki is the place to go. This 200-year-old shop boasts an array of liquor options from sake to Japanese whiskey to local craft beers. You can rely on the quality of the beverages this vendor sells, as the proprietor has been known to sample all local brews before agreeing to offer them in the shop. Though many local hotel restaurants will offer sake, if you want an authentic taste of premium, local brews, it is recommended that you pick up your own at the market. If you're planning to partake, keep in mind that the legal drinking age in Japan is 20 years old, and be mindful of if your hotel has any policies regarding bringing outside drink into your room.
FIND & BOOK A HOTEL IN KYOTO TODAY
Nishiki Market Etiquitte Dos & Don'ts
Whenever you're traveling in unfamiliar territory, it's vital that you be aware of the cultural customs and etiquette of the locale. Not only does this help you avoid sticking out like a sore thumb as a tourist, it also can help ensure you have positive interactions with locals and are considered to have good manners.
You'll want to keep the following in mind as you peruse Nishiki Market and throughout your travels in greater Kyoto.
Do:
Remain at the stall where you purchased your food if you would like to eat it immediately
If you purchased takeaway food, leave it in its container until you have exited the market and located an appropriate place to eat
If you choose to eat at the stall where you purchased your food, be sure to dispose of any trash in the appropriate receptacles located next to the stall you've purchased from, as littering is very heavily frowned upon in Japanese culture
It is recommended that you bring a plastic bag with you to hold onto your trash if you produce any outside of the market or not near a bin. You can bring your bag of trash back to your hotel and dispose of it there. The housekeeping staff should empty those receptacles frequently.
If you are out with others and have the opportunity to pour a drink, ensure you do not pour your own drink. Instead, pour your companions a drink first, and allow one of them to pour you one in return. In Japan, the order in which a group pours each other's drinks is often informed by status and seniority. But, it is also simply a polite action to participate in with your travel companions.
When asking for or giving directions, instead of pointing, gesture in the direction to which you're referring with an open hand
When eating noodle-based foods, feel free to slurp your noodles rather than biting them. This is a compliment to the chef and an indication that you are enjoying your meal.
Reserve any nose-blowing you need to do for restrooms and your hotel room
Learn the basics of bowing. Bowing is a common greeting in Japan. A bow is appropriate body language to pair with expressing hello, goodbye, thank you and apologies. To bow in proper fashion, keep your back and neck straight and just bend at the hips. Nodding is sometimes an appropriate physical expression of thanks as well.
Don't:
Walk around while eating food you've purchased or stand outside of the stores surrounding the market to eat your purchases. This is considered unsafe and a possible liability at the market, and is seen as rude behavior in Japanese culture.
Dispose of any trash you produce throughout your visit in the bins near vending machines on the outside streets. These bins are specified for use by vending machine patrons.
Litter. As mentioned above, this is very offensive behavior in Japan.
Pour your own drink or make your travel companions pour their own drinks.
If you'd like to offer a bite of your food to a travel companion, do not use the end of chopsticks that you have already eaten from. Instead, use the other end, as eating from the same utensils as others is frowned upon and seen as unhygienic.
Use your chopsticks to point at anyone/anything.
Play with your chopsticks or use them for anything other than their intended purpose.
Point at anyone or in any direction, as pointing is considered threatening and aggressive.
If you are given complimentary green tea with a meal, do not add sugar or cream to it. This is considered impolite.
If you catch cold or have allergies, do not blow your nose in public, as it is seen as unhygienic and rude.
Tip your servers or vendors. This could be perceived as an insult, implying that you believe the server's intention in giving you good service was to procure a reward, rather than simply to hold themselves to a high standard of service.
FIND & BOOK A HOTEL IN KYOTO TODAY
5 Other Attractions Near Nishiki Market
Once you've eaten your fill at Nishiki Market, you'll definitely want to get a taste of more Kyoto culture. We recommend the attractions below:
Kyoto International Manga Museum is teeming with Japanese graphic novels and comic books. If you have a fancy for learning the ins and outs of how manga came to be, and how it's grown in popularity over the years, you'll want to prioritize visiting this museum. Plus, there are reading areas available if you want to dive in deeper — but be aware that the vast majority of what you'll find here is written in Japanese, so you will need to have a pretty solid grip on the language to make sense of the manga.
The Kawaramachi Shopping Area is a nearly 300-year-old street featuring an array of shops selling everything from footwear to handbags to fashion. Be sure to pop into the DUCEMIX shop to pick up souvenirs and check out some local art.
Shinkyogoku Shopping Street, located conveniently right near the end of Nishiki Market street, is a perfect spot to explore shops and grab some great souvenirs. This street is entirely covered as well, so you can enjoy a visit rain or shine. The shops feature everything from fashion to decor to housewares across a wide range of prices, ensuring you'll find delightful trinkets to fit any budget.
Higashi Hongan-ji Temple, also known as the Eastern Temple of the Original Vow, or Ohigashisan, is a Shin Buddhist temple. Since 1670, its grounds have featured a mausoleum that houses the ashes of Shinran, the founder of the Shin Buddhist faith. This holy place has a storied, tumultuous history, having been rebuilt multiple times throughout the centuries due to fires. Here, you can walk the same grounds that a number of highly influential Shin Buddhist philosophers have walked.
Detached from Higashi Hongan-ji Temple you'll find Shosei-en Garden. This beautiful garden's park-like grounds are an oasis of tranquility in the midst of the noisy urban areas of Kyoto Have a stroll among traditional villas and over bridges along a large pond as you unwind from the hustle and bustle of the city streets.
FIND & BOOK A HOTEL IN KYOTO TODAY