Knowing where to stay in Jakarta before you get there gives you a head start on attractions in this capital city's six most popular regions. Check out the most popular places to visit in each unique district, and get your holiday in Indonesia underway!

1. South Jakarta (Jakarta Selatan)
South Jakarta is a favorite with expats and international travelers because of its close proximity to Jakarta's business district and embassies, upscale shopping centers and bustling nightlife. Known as the "Beverly Hills" of Indonesia, Pondok Indah is the headquarters for Jakarta's elite and upper middle class as well as Blok M mega mall and Kemang, popular for its variety of nightclubs, restaurants, hotels and entertainment centers. Families love to stay close to Ragunan Zoo and Wiladatika Recreation Park.
Check In to The Gunawarman, Step Out to Kemang
Discover more hotels and guest houses near Blok M
2. East Jakarta (Jakarta Timur)
East Jakarta is considered the city's industrial region and home to Jakarta's "second" airport, Halim Perdanakausuma Airport. The most popular attraction in the district is Taman Mini Indonesia Indah, a sightseeing park with walkthrough tours of multi-ethnic native pavilions. A few more attractions in the area include Lubang Buaya Memorial Park & Museum, SnowBay Waterpark TMII, Cibubur Campgrounds and Museum Telekomunikasi.
Check In to Harper Hotel M.T. Haryono, Step Out to Taman Mini Indonesia Indah
Discover more hotels and apartments near Halim Perdanakausuma Airport
3. Central Jakarta (Jakarta Pusat)
Central Jakarta might be the city's smallest region by area, but because it serves as the administrative and political center, it is the most densely-populated community in Indonesia's capital. Major landmarks in the area, like Merdeka Square and Jalan Jaksa, can easily be explored on foot. Upscale neighborhoods worth a visit include Senayan and Menteng, which offer museum tours, international and local cuisine and nightlife areas. Art lovers flock to Cikini to watch performances at Taman Ismail Marzuki cultural center and Graha Bhakti Budaya. Also don't miss the Hotel Indonesia Roundabout, Jakarta Cathedral, Istiqlal Mosque, and MONAS.
Check In to Four Seasons Hotel Jakarta, Step Out to the National Monument (MONAS)
Discover more hotels and apartments near Merdeka Square
4. West Jakarta (Jakarta Barat)
Rich in Dutch colonial history, street food, Chinese temples and shopping malls, West Jakarta is part of Jakarta Old Town, or Kota Tua. In addition to a number of architectural attractions from early Dutch occupation, West Jakarta also hosts the largest Chinatown (Glodok) in Indonesia, the posh Mall Taman Anggrek and bargain center Mangga Dua Square. The area is well known for Kembangan, the newest business and shopping district in the city, as well as Mangga Besar, which boasts a rambunctious nightlife scene. Also check out Srengseng Urban Forest, Jakarta History Museum, National Archives Building, and Puri Indah Mall.
Check In to Sheraton Grand Jakarta Gandaria City Hotel, Step Out to Jakarta Old Town (Kota Tua)
Discover more hostels and guest houses near Chinatown, Jakarta
5. North Jakarta (Jakarta Utara)
Stretching along the coast of the Java Sea, North Jakarta's heritage dates back to the city's humble beginnings when Dutch traders began settling what would become Indonesia's busiest sea port, Tanjung Priok. The port serves as the gateway to the Thousand Islands, and parts of the region overlap Jakarta Old Town. Spend a day shopping and dining by the sea at Sunda Kelapa Harbor and Pluit Village Mall, and plan to spend another afternoon at Ancol, famous for its multiple theme park and water park attractions, like Dunia Fantasi, Atlantis Water Adventure Park, and Ocean Dream Samudra.
Check In to Best Western Plus Kemayoran Hotel, Step Out to Sunda Kelapa Harbor
Discover more hostels and bungalows near Thousand Islands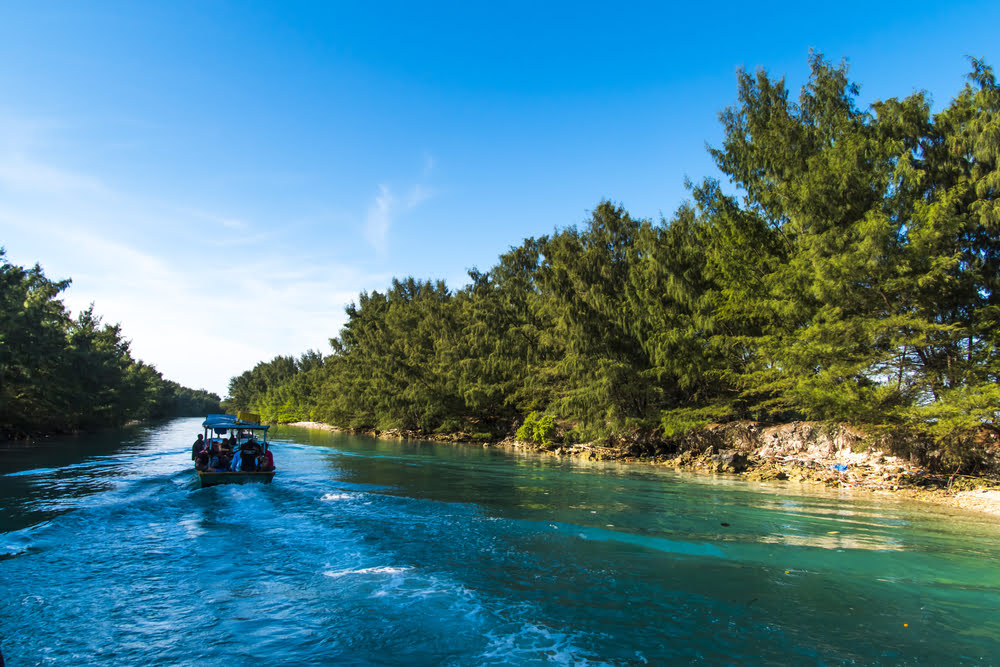 6. Thousand Islands (Kepulauan Seribu)
Known as Pulau Seribu by locals, Thousand Islands, just off the coast of Jakarta in the Java Sea, consists of 110 islands devoted to tourism and conservation. While only 13 of the islands are fully developed, boat tours offer journeys through the waters to view the uninhabited islets. Other tours offer diving and snorkeling expeditions at more popular destinations, like Bidadari Island and Ayer Island, and a cultural excursion to Pramuka Island, which serves as the administrative capital for the region and also hosts a hawksbill turtle conservatory and mangrove forest tours.
Check In to Pulau Ayer Resort and Cottages, Step Out to Ayer Island
Discover more hotels and guest houses in Kepulauan Seribu
Best Time To Go
Jakarta is warm and sunny all year, but hottest temperatures arrive from June through September. Rainy season, or monsoon season, tends to run from about October to May, with the heaviest rainfall in January and February.